To conduct online surveys, collect feedback or contact information of users, special tools are most often used – form builders. If you are already using Google Docs or Sheets cloud solutions, you should pay attention to their "relative" – Google Forms. What if there is something more interesting? For example, Typeform, which was included in the top of the best online form builders of 2022. So that you can make your choice, we offer you a comparison of Typeform vs Google Forms.
What is Typeform?
Typeform is an online form builder used for feedback, surveys, and mind quizzes. This no-code tool was developed by the Spanish company Typeform in 2012. At first, after the release, it had minimal functionality, and access to it was provided exclusively by invitation. After the shortcomings were eliminated, the capabilities of the service expanded significantly, and it began to rapidly grow in popularity (in 2014, the number of its users was more than 100,000 people). It was appreciated by large companies: Apple, Nike, Uber, Airbnb chose this particular constructor among many alternative solutions.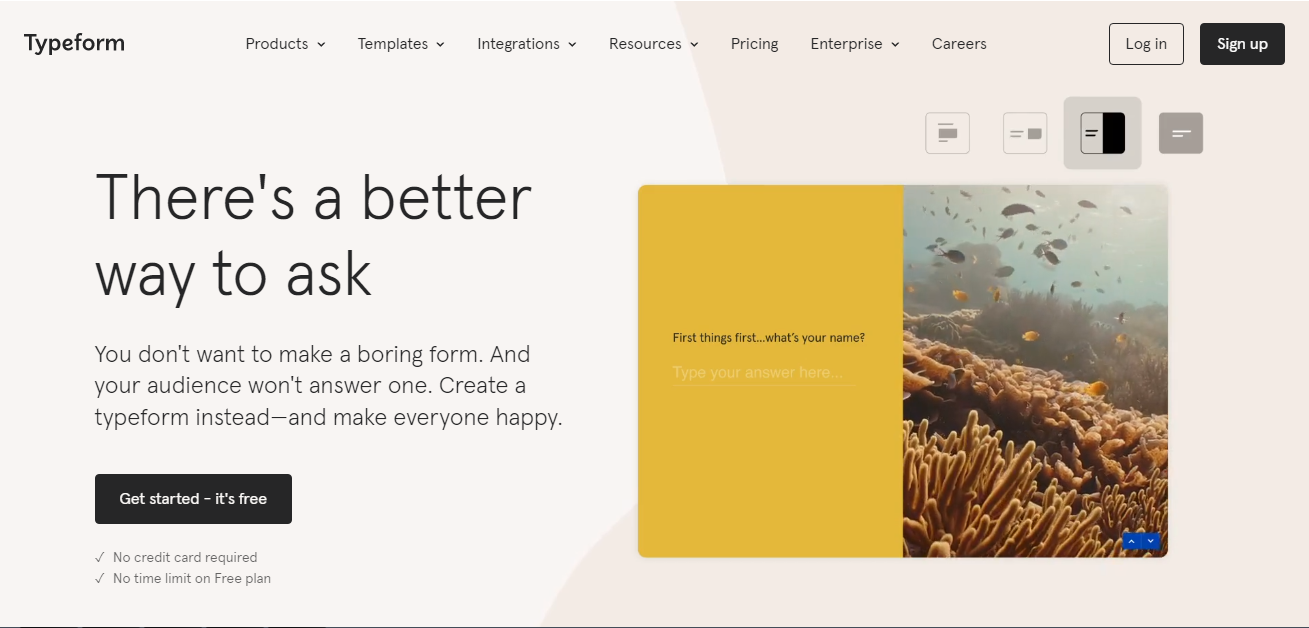 What is Typeform used for? This service is a great helper for collecting contact information, feedback, as well as running contests, testing hypotheses, and creating interactive content. In addition, it can be used in the process of lead generation. The intuitive interface makes it easy to create forms that will look equally good on both desktop and mobile devices.
The working area is designed minimalist, its most important elements are brightly highlighted for ease of interaction with them. To create a form, you can use ready-made templates from the service library or make it completely on your own, from scratch. Right in the process of working on it, the user can immediately check how the finished form will look on a mobile device.
What is Google Forms?
In 2006, the developers of Google released a free cloud-based office suite of tools that became a serious competitor to Microsoft Office. Access to them could be obtained by anyone via the Internet. The absence of the need to install additional software on your computer and unhindered access to documents through the browser of any device attracted many users and made the package popular. In 2008, it was replenished with another tool – Google Forms. Then it was one of the first services that allowed to collect information through digital forms.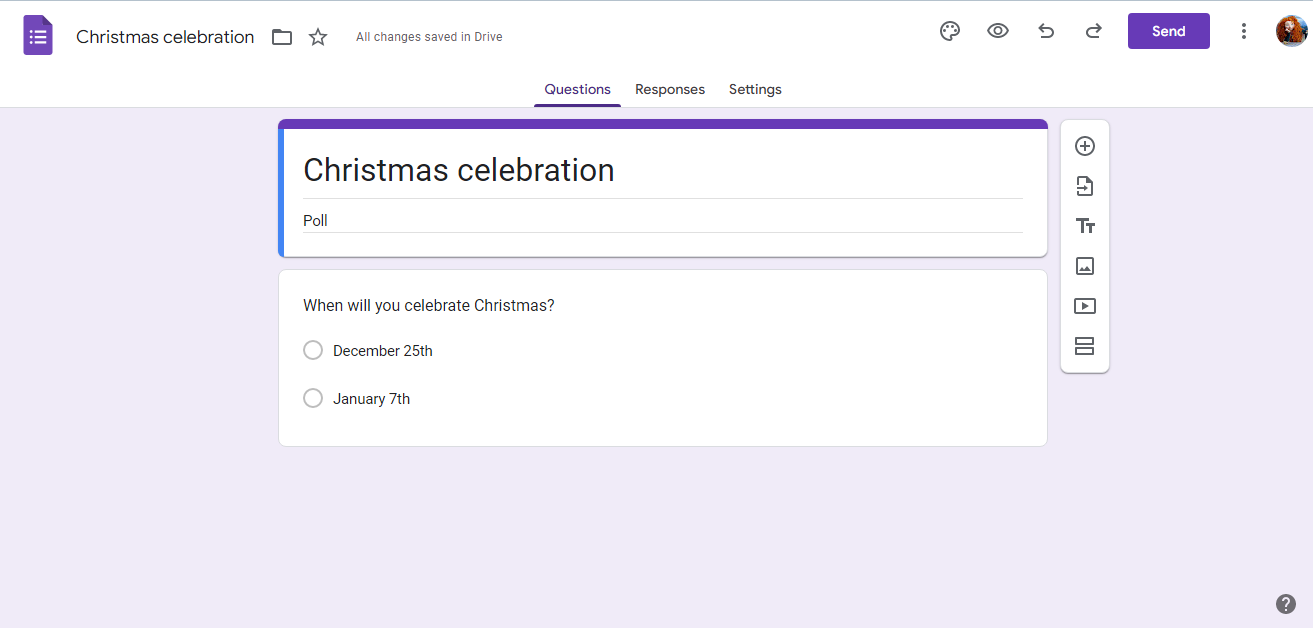 Google Forms is a free online form creation tool that allows you to collect data, conduct online polls, and quizzes. This is a reliable and at the same time simple service with an intuitive interface. It is easily mastered even by those who are not very well versed in programs. This constructor is used today very widely: from education to business.
Google Forms makes it possible to successfully solve such tasks:
conducting surveys;
collecting feedback;
receiving feedback;
conducting tests and quizzes;
collection of contacts for subsequent mailing;
customer segmentation;
preparation of briefs;
registration of event participants.
Excellent usability and discreet design are attractive characteristics for those who do not like multi-level menus and digging into the settings for a long time to get the desired result from the service. At will, the "appearance" can be changed using a set of themes proposed by the developers. Creatives are given the opportunity to create individual, author's themes. To do this, you need to upload a header or company logo to Google Forms, after which the algorithm will automatically suggest the most appropriate web interface palette. In the process of creating forms, you are allowed to add images and video files. In addition, the program has many flexible settings that allow you to significantly expand the range of its applications and open up an almost limitless space for creativity.
Google Forms is a cross-platform service. This means that it can be used both on a personal computer or laptop, and on mobile devices. Data synchronization ensures uninterrupted work, which is important for those who practice a mixed form of organizing activities (office and remote options). Both one specialist and a whole team can compile and edit forms – it provides for the possibility of collaboration and general access of employees to projects. An additional convenience lies in the easy and quick export of the collected data to related services of the Google package for further processing.
Typeform vs Google Form: Functions
Google Forms is a reliable tool for collecting information through digital forms. Since its release and to this day, it has been periodically updated, supplemented with useful features (for example, uploading media files, connecting plugins, the ability to customize themes). However, from 2010 to 2022, during the next round of digital evolution, a number of other services for creating forms entered the market. One of them is Typeform. Both platforms have decent functionality. Consider it in the Google Forms vs Typeform comparison format.
Templates
Templates help speed up the process of compiling a form and minimize manual work. Typeform offers users a solid gallery of templates on numerous different topics: conducting surveys, sociological research and quizzes, compiling briefs, questioning applicants for a position, and so on. You can take them as a basis and additionally customize them for your own brand by setting individual parameters for the background, color and font of the text, and the appearance of the buttons. If none of the template suits you, create your own author's form yourself.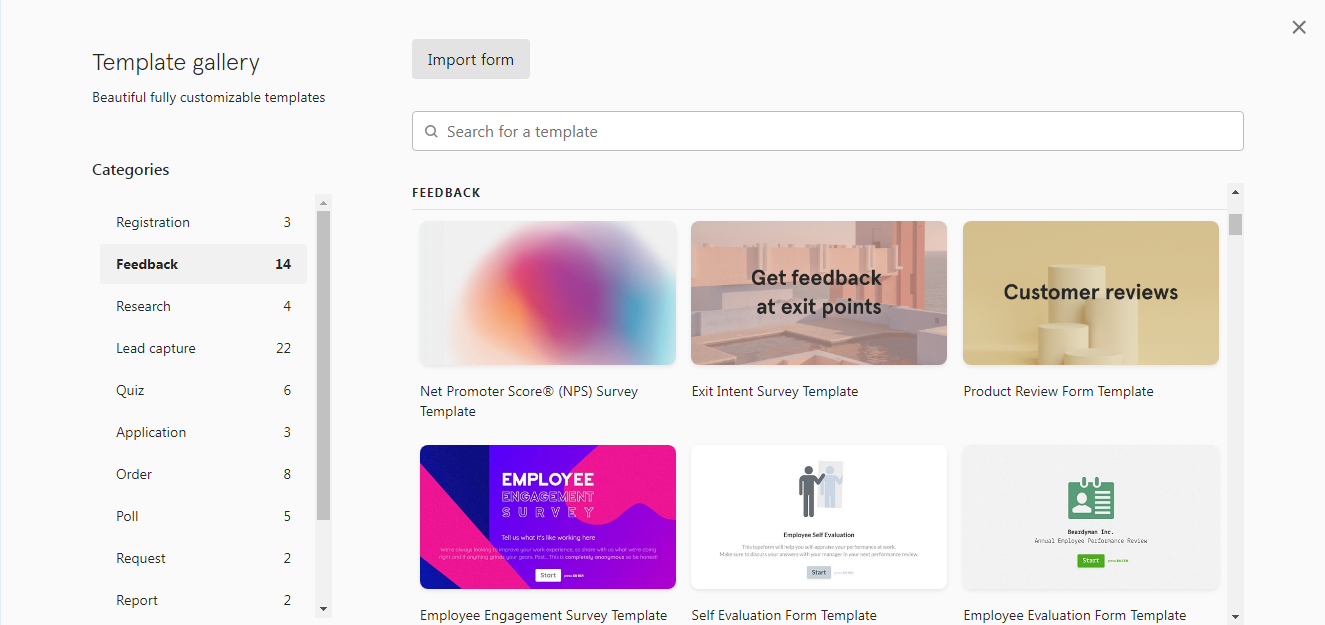 Google Forms also has a library of templates designed for contact and feedback forms, opinion polls, and event registration. Unfortunately, their number is very scarce – only 17 varieties. The customization of this service's templates is limited: the user can only change the color of the text and choose a different font.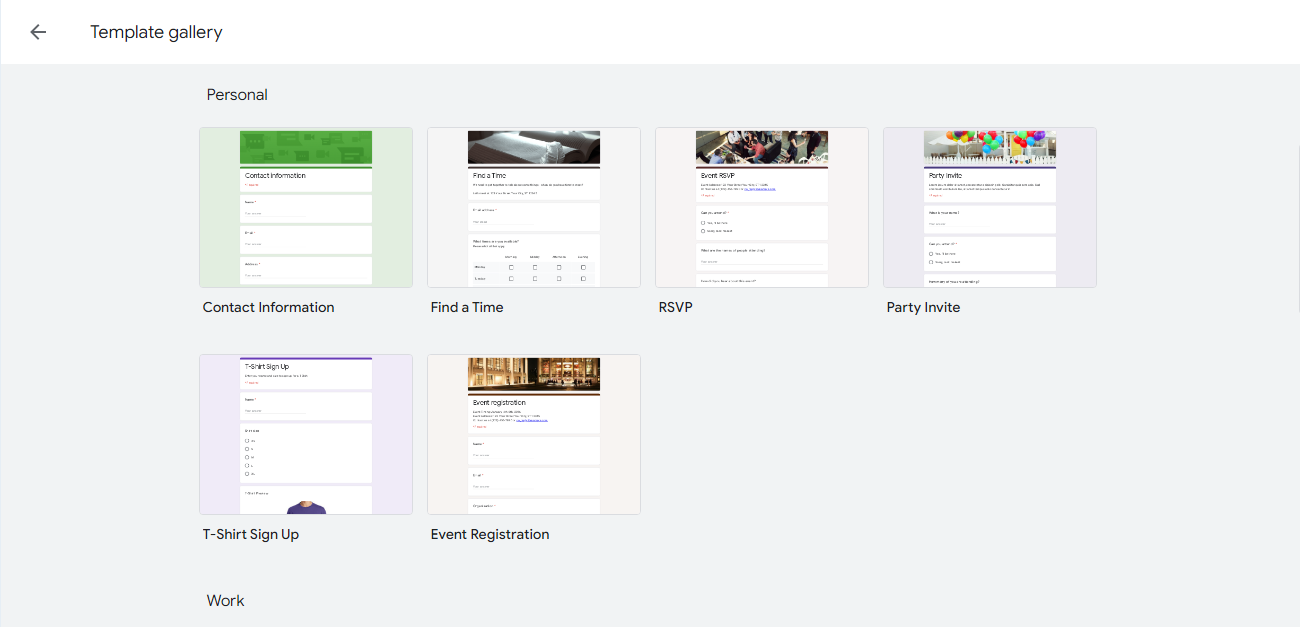 Inserting media files
Graphic images, photos and videos embedded in the form make it attractive. Google Forms allows you to insert them even outside of questions. For example, if you need a beautiful photo or a funny video at the very beginning of your questionnaire, this is quite possible to do. It is very convenient that pictures and videos can be downloaded both from your device and from the Internet using the Google search option.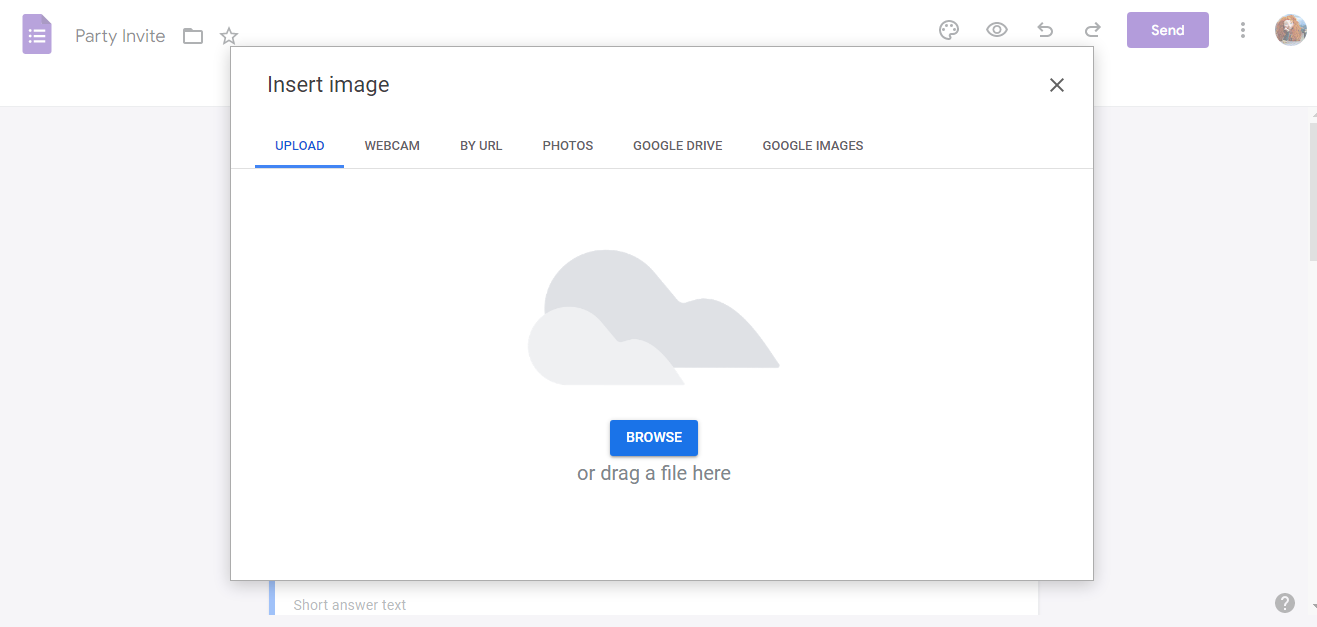 Typeform also provides the ability to embed images and videos. They can be added both directly to questions and between them.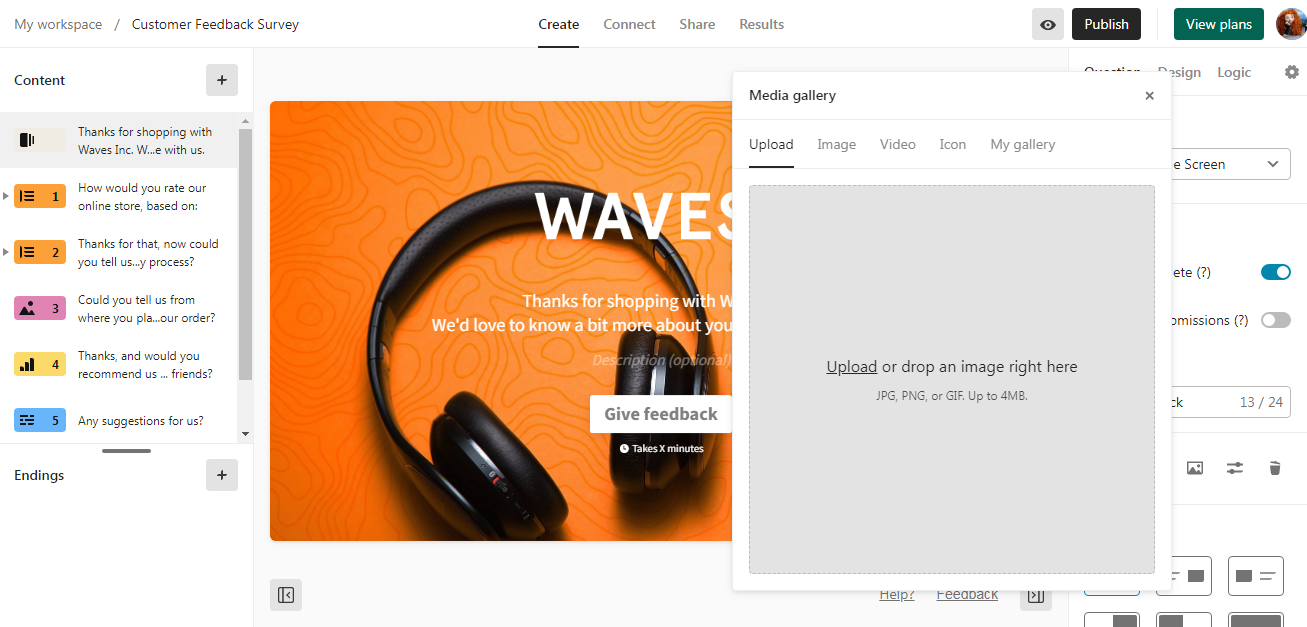 Import questions
In one of the updates to Google Forms, a useful feature has appeared to import questions from forms created by the user earlier. For this opportunity, those who are involved in compiling forms in which some of the questions are constantly duplicated (for example, "first and last name", "date of birth", "wishes and suggestions") will be grateful to the developers. This feature saves time and increases productivity.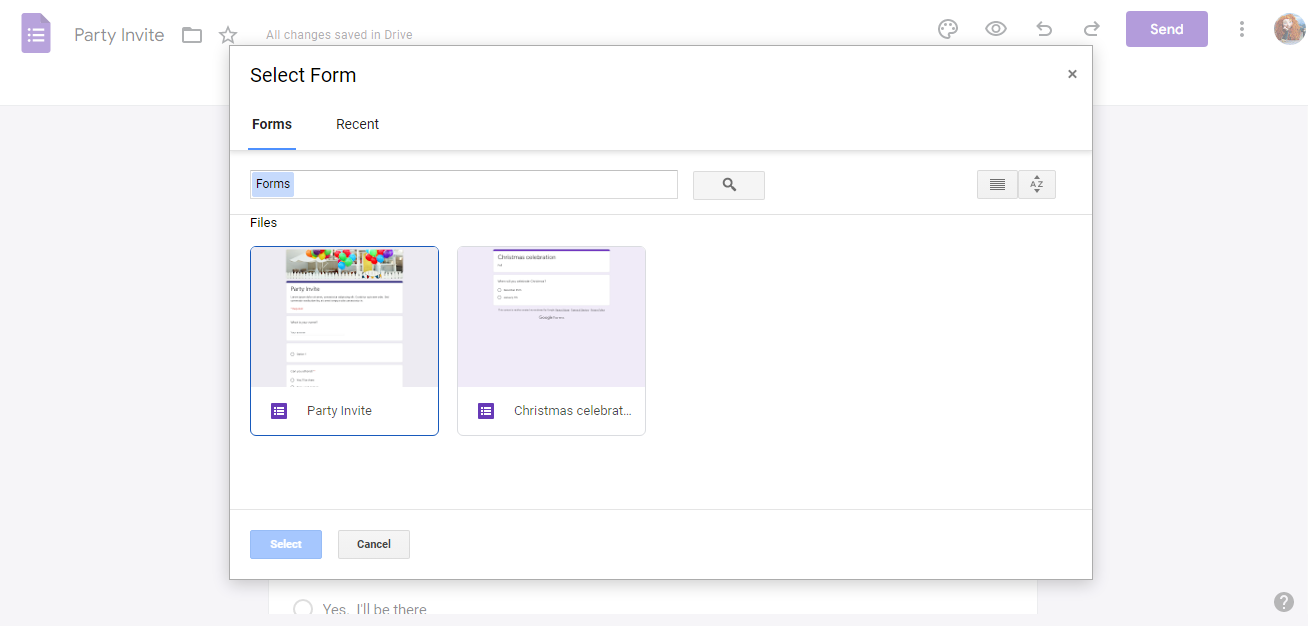 In Typeform, there is no function to import questions from already created forms into new ones. At least not at the time of this writing. However, when creating a form, you can import questions from Google Docs or Google Forms.

Teamwork
The functionality for collaboration is necessary for the team to quickly and efficiently cope with the tasks. Its presence in the service for creating forms is very desirable. Unfortunately, Typeform does not have this functionality. Its users cannot leave comments for other members of their team and give them instructions within the form itself. If you can't do without it, you will have to activate Typeform integration with tools that allow you to manage projects. They will provide an opportunity to organize teamwork with online forms and their results.
Connect Facebook Lead Ads to CRM, Email, SMS & Spreadsheets
Use SaveLeads to connect Facebook to different apps. Over 120+ ready-made integrations available now
Automate the work with leads from the Facebook advertising account
Empower with integrations and instant transfer of leads
Don't spend money on developers or integrators
Save time by automating routine tasks
Test the work of the service for
free
right now and start saving up to 30% of the time!
Try it
The Google Forms service, unlike Typeform, has a native collaboration feature. Google Forms users can make corrections to forms themselves, invite colleagues to do so, and add their corrections online.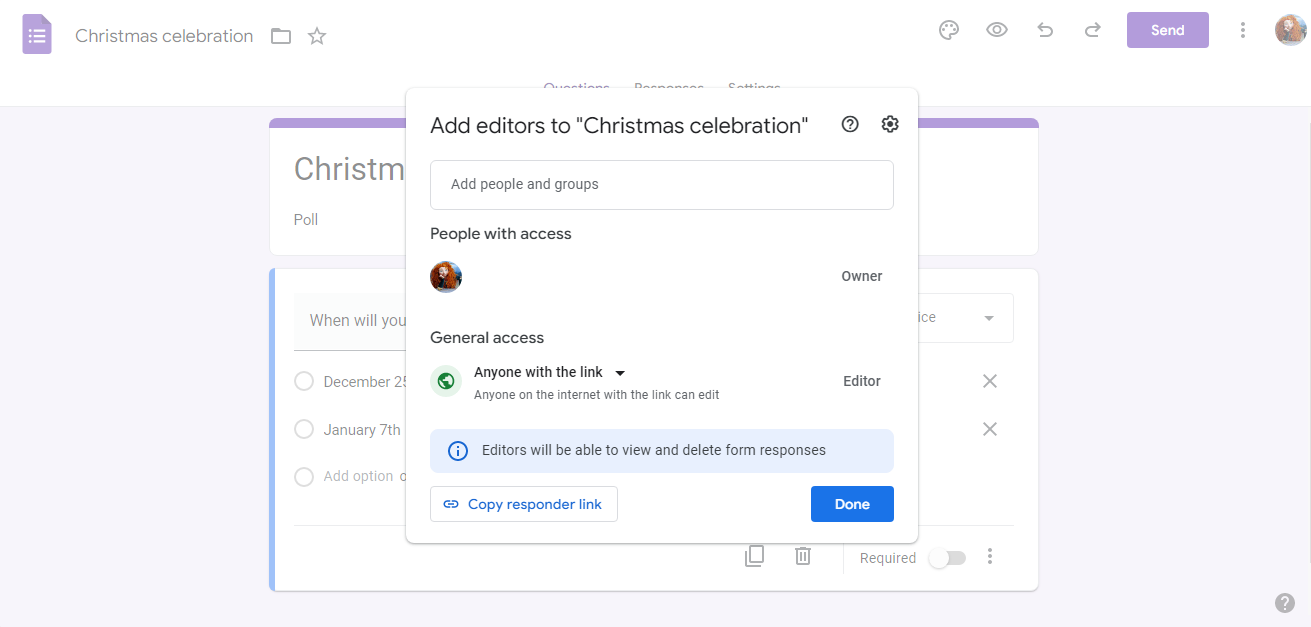 Integrations
Get more from Google Forms and Typeform than just digital forms by integrating them with other services. This will improve the efficiency and productivity of your work. Typeform is able to integrate with many popular platforms, which will expand the existing functionality with options for analyzing the collected data and compiling relevant reports, lead generation, project management, and so on. Among the most popular options are HubSpot, Mailchimp, Airtable, Slack, Google Analytics, Google Drive, Webflow, Coda.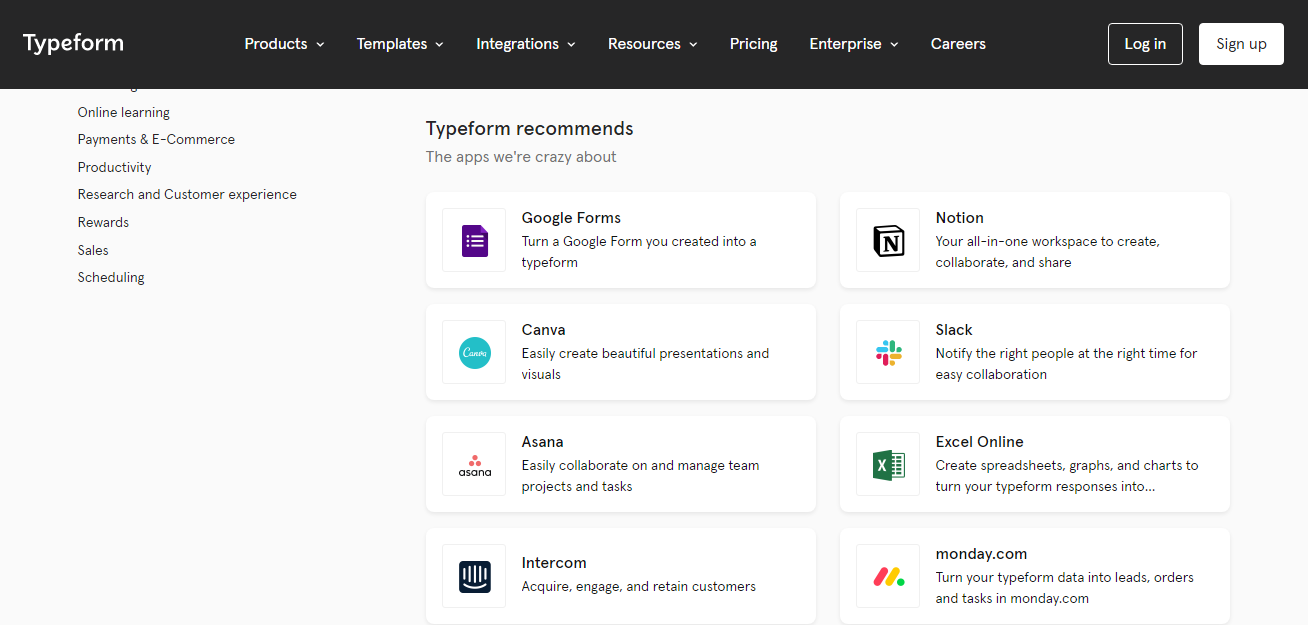 The integration capabilities of Google Forms are much weaker. This service can only be linked to related Google Workspace programs (such as Google Sheets). The only way to connect it to third-party applications is to use the services of an intermediary. As an alternative to integration, developers offer to expand the functionality of the service using a wide variety of plugins.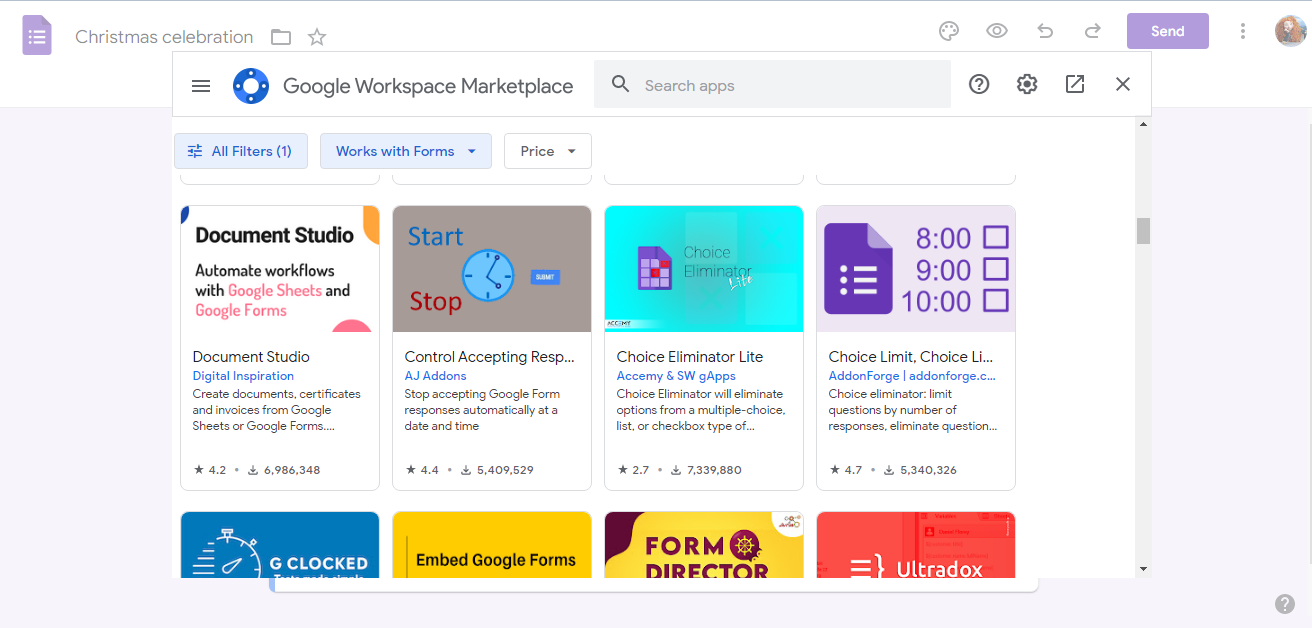 Browser compatibility
Forms are never used by just one person. Each of them has a creator and at least one respondent. Therefore, it is important that everyone who will interact with the form has access to it. To do this, you need to know which browsers your builder is compatible with. Typeform is suitable for popular Opera, Chrome, Firefox, Safari, Microsoft Edge on desktop devices with Windows and Mac operating systems. As for mobile devices, the service supports Android and iOS.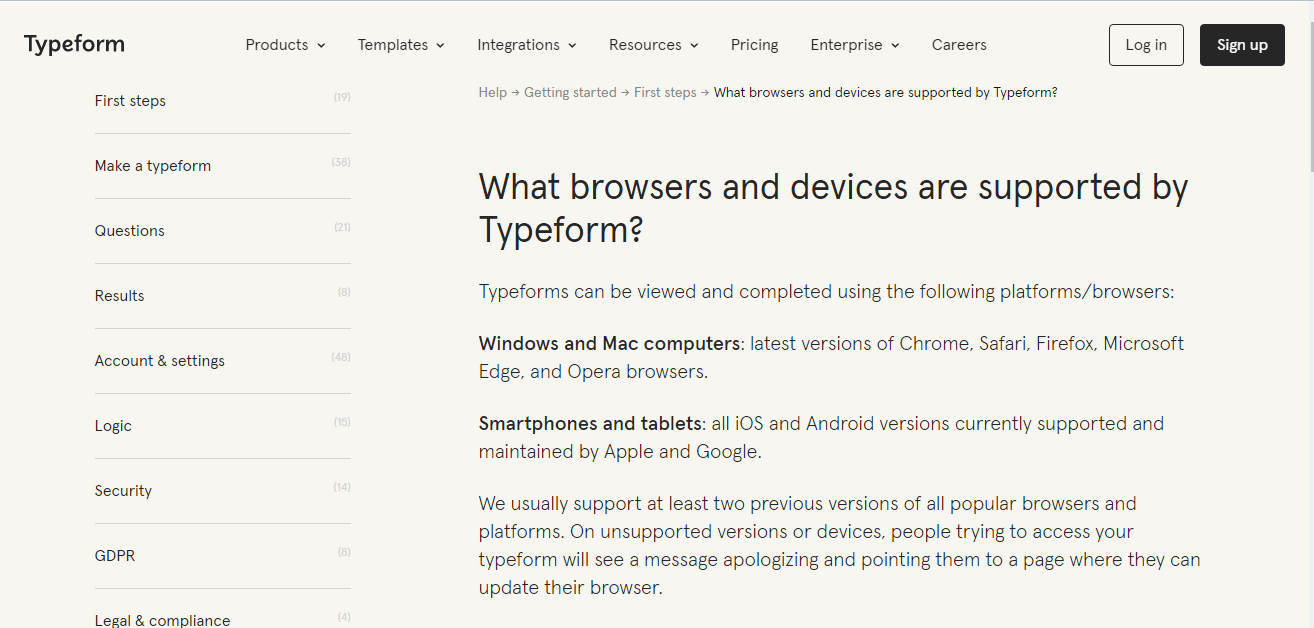 Google Forms, like Typeform, supports most of the top browsers: Firefox, Chrome, Microsoft Edge (Windows only), Safari (Mac only). You can use this service on both desktop and mobile devices.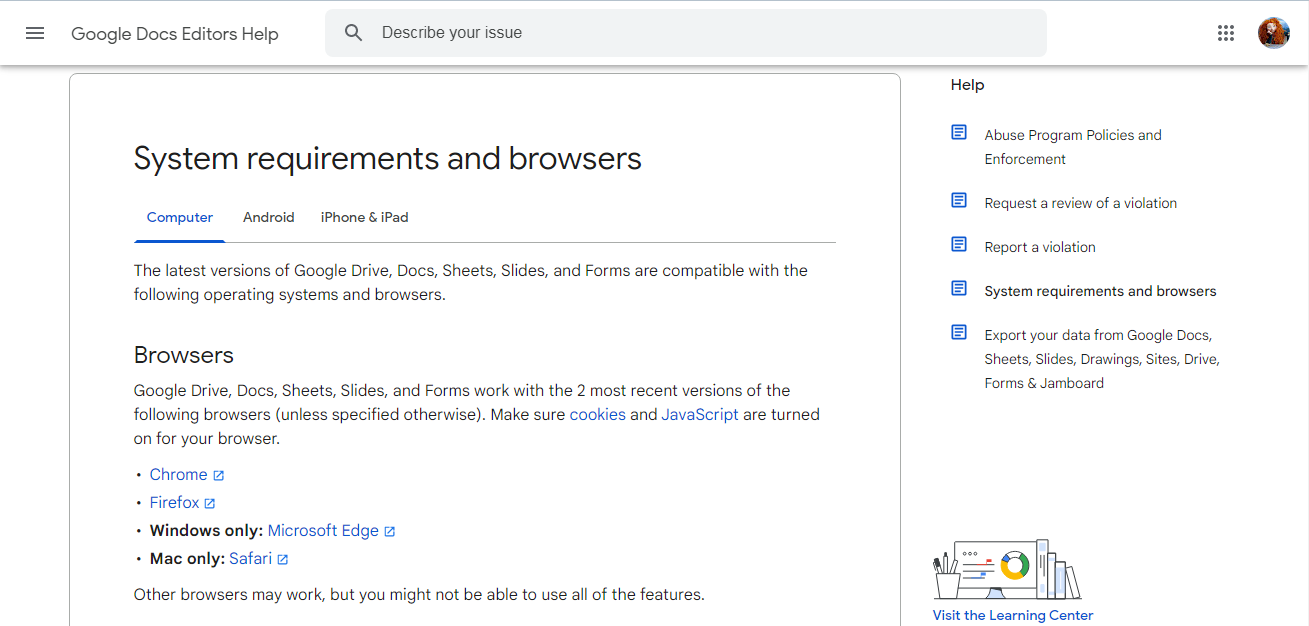 Price
There are also some price difference between Google Forms and Typeform. Typeform offers users 4 pricing plans:
"Free" (free, limited to 1 user and 10 respondents per month);
"Basic" ($29 per month or $25 with an annual subscription);
"Plus" ($59 per month or $50 with an annual subscription);
"Business" ($99 per month or $83 with an annual subscription).
Please note that the basic tariff allows only one user to work with the service. If there are more, you will have to pay at least $59 per month. Don't want to see Typeform mentioned on your forms? In this case, you also need to choose at least the "Plus" plan.
For personal use, Google Forms is provided free of charge. If the service is needed for the company, you will have to purchase the whole Google Workspace package by choosing one of 4 tariff plans:
Business Starter ($6 per user per month);
Business Standard ($12 per user per month);
Business Plus ($18 per user per month);
Enterprise (the cost is discussed individually).
Apparently, Google's prices are lower than Typeform's. The only downside is that the Google Forms service is not sold separately. To access it, you need to buy the entire Google Workspace package.
Main Differences
After analyzing the functionality of both form builders, it becomes clear that Typeform is in the lead in terms of the number of custom templates and integration options. Google Forms, in turn, is ahead of it in the "Collaboration" and "Cost" categories.

Let's take a closer look at the main differences between Typeform and Google Forms:
Form content. In Typeform, one form can have up to 25 elements. You can use all of them for free, except for one – "Payment". Google Forms offers a total of 13 components.
Templates. Typeform has hundreds of pre-made templates cataloged in detail on a variety of topics (marketing, recruiting, lead generation, case study, student testing, quizzes, and so on). In turn, Google Forms provides users with only 17 templates, divided into 3 categories: "Personal", "Work" and "Education".
Import questions. Google Forms has such a useful feature for constantly recurring questions. Typeform has the functionality to import content from Google Forms or Google Docs.
Integrations. Typeform can be connected to many other services and applications (Slack, Notion, Asana, Salesforce, etc.). This list is quite impressive – to get acquainted with it, it is better to visit the official page. Google Forms does not support stand-alone integrations with any services at all. You can enrich the functionality using plugins, as well as use integrations with services from the Google Workspace package.
Price policy. Typeform offers users a free plan, but its restrictions are so severe that it is clearly not suitable for active use of the service. The cost of the most budgetary basic plan is $29 per month (subject to an annual subscription – $25). Google Forms also provides the opportunity to use the service for free, but does not impose restrictions. The price of the Google Workspace enterprise package, based on the calculation for 1 user, is more profitable than Typeform tariffs.
Final Thoughts
Now you know what is a Typeform and Google Forms, what features they have and how they differ. Both services seem to be good enough. But still, which one to choose?
If you need to create forms for office, corporate or education needs, you want full integration of ready-made forms with Google cloud products, but your budget is very limited, it is better to prefer Google Forms. If you are looking for a functional yet easy-to-use form builder with an attractive design that will help you create meaningful forms for solving marketing problems, registering participants for events, conducting fun quizzes and tests, Typeform is the best option. In our blog, this is not the only comparison of popular form builders. Read the article Jotform vs. Typeform.
***
You probably know that the speed of leads processing directly affects the conversion and customer loyalty. Do you want to receive real-time information about new orders from Facebook and Instagram in order to respond to them as quickly as possible? Use the SaveMyLeads online connector. Link your Facebook advertising account to the messenger so that employees receive notifications about new leads. Create an integration with the SMS service so that a welcome message is sent to each new customer. Adding leads to a CRM system, contacts to mailing lists, tasks to project management programs – all this and much more can be automated using SaveMyLeads. Set up integrations, get rid of routine operations and focus on the really important tasks.