Today, you can find a lot of convenient and functional online form builders for websites and web applications on the Internet. Most of them provide users with approximately the same set of options, and sometimes it can be difficult to make the best choice. Therefore, we decided to make a detailed comparative analysis of two popular online form builders: Jotform vs Typeform. We invite you to take a look at it in our new article.
What if Typeform?
Typeform is an online platform that includes a very wide range of options for developing various types of forms. A convenient catalog of ready-made solutions is available here, allowing users to immediately get what they need without understanding the intricacies of the interface. For example, you can select apps to create quizzes, surveys, studies, tests, and other types of forms.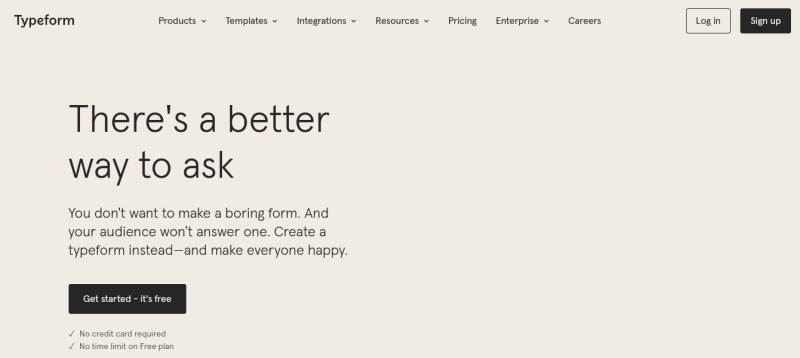 The service is optimally suited for lead generation and feedback collection, as well as solutions for various fields of activity: marketing, HR, production, education, customer service, etc. Typeform was created in 2012 and is actively developing, in addition to the form builder, it offers a Chat sub-service for no-code chatbot development and a VideoAsk sub-service for communicating with customers via video messages.
Key features and capabilities of Typeform:

Users can design the form themselves from scratch using the drag and drop editor or use the template gallery. All topics in it are conveniently categorized: request/registration/feedback/evaluation/contact forms, marketing surveys/research, HR surveys, reporting forms, etc.
After creating and designing the form, you can evaluate its appearance and performance on different devices, thanks to the preview mode. There is also an option to display the form as a presentation.
Single-page and multi-page forms are available with questions of different types: with answer options, free-form answers, dates, addresses, required or optional fields, transition logic between questions, etc.
It is possible to flexibly customize templates by changing the design of each of the blocks. For example, change colors and backgrounds by selecting them from the library or external sources. It is also available to upload third-party content to forms: images, videos, links, files.
Built-in analytics tools allow you to track detailed response results and compile participant statistics. For example, how many users submitted the form, which devices they used, how many opted out, and so on. The received information is automatically structured in a table and is available for download.
To expand the basic capabilities of the form builder, a catalog of integrations is offered, divided into dozens of categories: analytics and reports, automation, CRM, collaboration, user support, developer tools, documents, etc. The list includes integrations with popular systems such as Airtable, Slack, Google Sheets, Google Analytics, Salesforce, MailChimp, HubSpot, and many more.
A free plan with a reduced set of features is available, as well as several paid plans: Basic (unlimited forms/questions, 1 user, up to 100 responses per month), Plus (up to 3 users, up to 1000 responses per month, own subdomain), Business (up to 5 users, up to 10,000 responses per month, subdomain, reduced rates for additional services, conversion tracking).
What is Jotform?
Next, consider the equally popular online form builder Jotform. It was released in 2006 so it had more time to develop and engage the audience. The developers of this service claim that by 2022 the number of users of Jotform has reached the 15 million mark, and with its help more than 20 million forms have been created.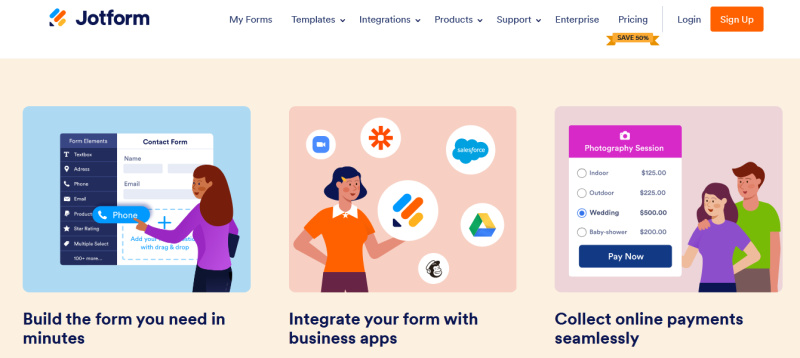 Jotform is actively used by companies and organizations from different fields of activity around the world. Its forms are used in the work of such famous brands as Adobe, AMC, RedBull, Nickelodeon, Ford and many others. The global distribution of the service is largely facilitated by its multilingual interface, available in more than 20 languages.
Key features and capabilities of Jotform:

Over 10,000 templates are available to users, including templates for forms, applications, tables, cards, online stores, as well as approval templates, PDF templates, templates with an E-sign function.
The form templates in the Jotform library are conveniently organized into different categories. In particular, by type (order, registration, payments, applications, surveys, bookings, voting, etc.), industry (business, e-commerce, HR, IT, education, marketing, etc.) and professions (for salespeople, teachers, recruiters, photographers, etc.).
It is possible to modify templates in the block editor with an extensive selection of free and paid themes. Content from external sources is also supported: for example, you can brand forms by uploading a logo, fonts, and colors. What is a Jot form? This is a flexible solution that can be easily customized to suit your needs.
Jotform has over 150 integrations with popular business apps and widgets. With their help, you can significantly expand the standard features of the service: for example, automatically send leads or other data to Internet marketing services, CRM, cloud storage, etc. The list of integrations includes: Google Sheets, PayPal, MailChimp, Dropbox and a lot of other software.
The service allows you to create multi-page forms with a large number of fields (up to 40), including those with conditional logic and branching. You can also protect them from spam using verification methods (security code, captcha), as well as introduce restrictions for participants.
Jotform provides a wide range of options for those customers who need forms to accept payments. The catalog has a large selection of templates and themes for payment forms, as well as integration with several payment gateways.
Other features of the service include collaboration options, offline mode, built-in analytics and data visualization tools. You can use it through the web interface, desktop program and mobile application.
Jotform has a fairly wide selection of pricing plans, which includes a free plan with up to 5 forms available. In addition, there is a bronze (up to 25 forms), a silver (up to 50 forms), and a gold plan (up to 100 forms). Special plans with individual conditions for corporate users are available.
Typeform vs Jotform: Functionality
In general, the functionality of these online form builders is quite similar. Both of them have built-in drag and drop editors that allow you to create original forms using a set of blocks and additional elements to customize their design. These services also offer a built-in gallery of design templates, which allows you not to spend time developing forms from scratch.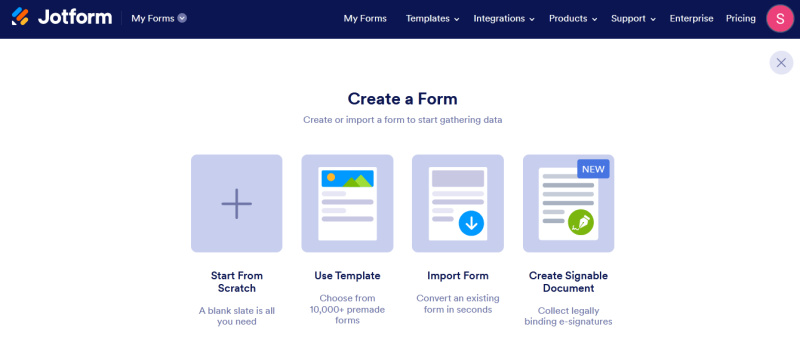 The user can quickly select the template he needs from the library, where they are conveniently sorted into thematic categories. Then he will only have to fill in the blocks with questions and, if desired, brand the form with a logo, corporate colors, fonts, background or other elements.
Connect applications without developers in 5 minutes!
The Jotform and Typeform services are also equipped with a rather extensive list of integrations with external systems. All of them are also divided into a number of sections and subsections, which greatly simplifies the search for an application. The presence of integrations significantly complements the standard features of the form builders, making them more optimized not only for private, but also for professional or commercial use.
The industry is rife with examples of such collaborations that streamline data collection and processing. A standout instance of this is the integration of robust survey tools with Salesforce, a world-leading customer relationship management service.
This type of comprehensive service integration significantly enhances functionality, as seen in the case of a well-executed Salesforce survey. By linking a capable survey system to Salesforce, users can enjoy a seamless data flow between platforms, augmenting their scope and control over collected data. In essence, the search for the perfect application becomes less about finding a standalone product and more about identifying a versatile solution that can collaborate effectively with other powerful systems.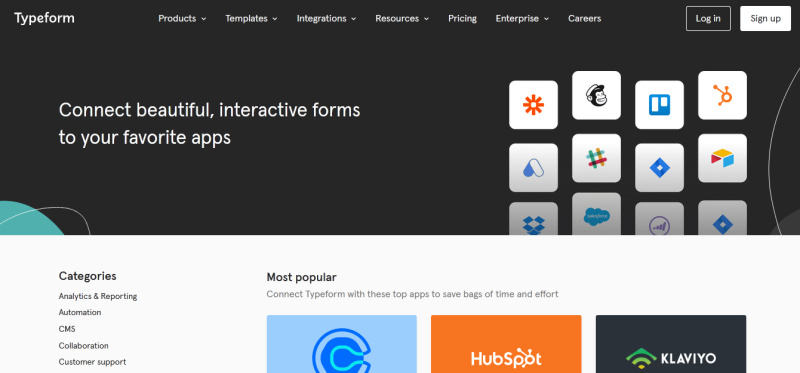 Among other general details of the functionality of these services are built-in analytics options. They allow you to automatically collect and process data on filling out forms by users, and then visualize them in the form of graphs/charts and export them to various formats. Both builders also support data protection options that help you effectively deal with spam or incorrectly entered information when filling out forms.
Other features of both builders include tools for collaborating on forms with other users and working offline. Both Typeform and Jotform allow you to create complex multi-page forms with support for the logic of transitions between questions. They also have a choice of tariff plans with different prices and sets of included options, among which both have a free plan.
Main differences
However, Typeform and Jotform are not 100% identical constructors, otherwise it would not make sense for us to do this comparative review. They have not only similarities, but also differences, and some of them are quite significant. The main ones include:
Typeform offers users over 600 templates for different types of forms. Whereas the number of templates in Typeform competitor's Jotform catalog is much more numerous and exceeds the 10,000 mark.
All templates in the Typeform library are divided into several categories: forms, surveys, quizzes, etc., as well as a number of topics: inquiry forms, registrations, reports, business forms, marketing surveys, HR surveys, etc. Jotform has a more detailed division of templates: not only by type (order forms, feedback, registration, etc.), but also by industry and profession.
Each of the services provide the ability to integrate user accounts with more than a hundred third-party platforms. Typeform integrations are organized by thematic categories, while Jotform offers several more criteria (besides categories) divided by industry and platform type (web app, desktop app, mobile app).
Typeform has ready-made solutions for developing not only forms, but also other materials: quizzes, studies, surveys and tests. No-code chatbot builder is also available to users. Jotform offers an even wider list of additional options: templates for apps and online stores, Google Analytics tracking forms, embed forms, sales funnel forms, e-signature forms, etc. Also available here is auto-translation of forms into different languages, a visual report tool, customization of form design via CSS, email validation, support for ACH payments, and much more.
Jotform provides a sub-service called Jotform Teams specifically for teamwork on forms. It includes a single workspace where you can create teams, add members, assign roles and access levels, manage data collaboratively, and more. Typeform has no such tool, except for some Enterprise options — the corporate version of the service.
The Typeform service is currently available in two languages (English and Spanish). Jotform has a much richer list. The platform interface is available in more than 20 languages, the list of which is growing.
Final thoughts
So, we have presented to your attention the main features, capabilities, similarities and differences between the popular online form builders Typeform and Jotform. Each of them has been working for more than a year and has a very extensive user base. Jotform came early, so it has the distinct advantage of having a larger template base and a wider range of options. As for Typeform, it is a very convenient and functional service with significant advantages. It has everything you need to easily and quickly create forms of various types for different areas and tasks.
***
Would you like your employees to receive real-time data on new Facebook leads, and automatically send a welcome email or SMS to users who have responded to your social media ad? All this and more can be implemented using the SaveMyLeads system. Connect the necessary services to your Facebook advertising account and automate data transfer and routine work. Let your employees focus on what really matters, rather than wasting time manually transferring data or sending out template emails.