Online forms are considered to be a very common and useful element of modern websites. The versatility and ease of editing allow you to create them for different purposes: collecting leads, receiving feedback, conducting surveys or accepting payments.
In our new article, we will talk about which form builders were popular in 2022, describe their features, capabilities, advantages and disadvantages.
Google Forms
A simple and understandable free form creator with which you can develop forms for different tasks. The service first became available to users in 2008 as a Google Sheets tool, and in 2016 it was separated into an independent application. This platform is often used for business purposes, for example, as a way to collect feedback or contacts for lead generation, send briefs to customers, place online orders or registrations.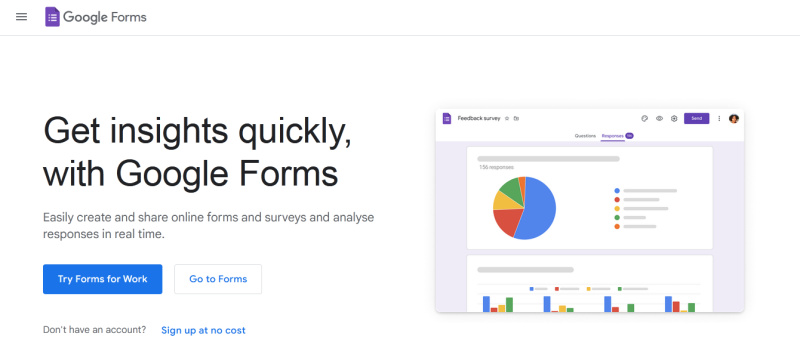 Google Form maker has the following features:
The interface offers a wide range of settings — it allows you to select different types of questions, change their sequence and structure of answers. For example, these can be polls with ready-made options or with respondents' answers. It is possible to shuffle questions randomly and add media content to them in image or video format.
This software to build forms includes a number of tools for styling their appearance. Users can choose colors and fonts for form content, and set rules for displaying questions based on user responses. There are also ready-made templates available.
The interface provides options for visualizing responses in the form of charts that are updated in real time. It also supports automatic data export to Google Sheets for processing and analysis.
The service allows you to create, edit, manage, view, fill out and submit forms from both desktop and mobile devices. Their appearance and other parameters automatically adapt to the size of the user's display.
The form builder software is capable of processing and storing up to 2 million responses for each individual form.
Google Forms supports collaborative work on creating forms and processing their results in real time. They can also be sent by e-mail, published on the website or in social networks.
The service makes it possible not only to create a form free, but also to set up algorithms for automatically checking the correctness of answers. For example, it is possible to track whether users enter numbers, email addresses, or other data correctly in their responses.
The platform has a number of add-ons that help expand its basic functionality. Among the main ones, it is worth noting Email Notifications for Forms (sending notifications and auto-replies via email/push), Form Notifications (sending customized responses), Advanced Summary of responses (visualization of response statistics), QR Code maker (generator of QR codes with links to forms), Form Scheduler (automatic stop collecting responses on triggers). The additions Form Recycler (transferring questions between forms) and Telegram Notifications (sending notifications to Telegram) are also very useful.
Typeform
Next on the list of best software for creating forms is Typeform. It provides users with a convenient online form builder for creating many types of forms: for feedback, surveys, quizzes, reviews, and more. Suitable for businesses from different areas and different scales (from start-ups to large companies), as well as for individual users.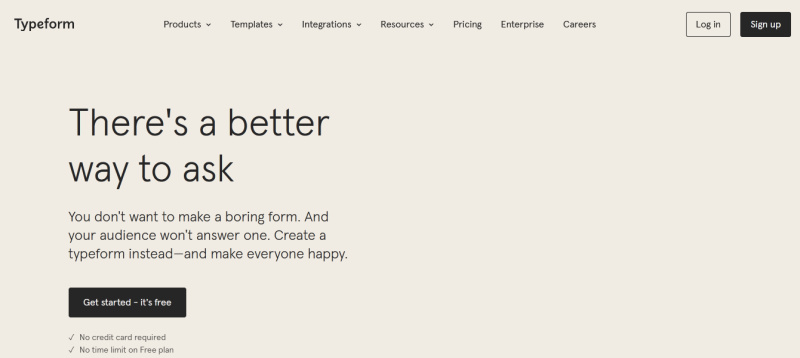 In the interface, you can create forms from scratch or use a library of ready-made templates. After creating a form, you can immediately evaluate its appearance and functionality on desktop or mobile devices in preview mode.
The software to create forms supports single-page and multi-page forms with different types of questions and tests: blocks with choice of option, dates, unique answers, required/optional fields, etc.
You can add links, images, videos, and other types of files to forms.
Form builder Typeform allows you to flexibly customize the design of each block for branding forms. For example, you can set custom colors and backgrounds from the library or external sources.
There is a wide range of integrations with many third party systems including MailChimp, Google Sheets, Airtable, Stripe and more.
There are built-in analytics tools that allow you to view detailed response results, get statistics on users (how many people filled out the form and from which devices, how many refused, etc.) or calculate the average time to complete the form. The received data is automatically added to the table and available for download.
The interface of this form creator free also contains the option to view the finished form in presentation format, as well as personalization elements in the form of logical transitions. Forms can be sent by email, published on the website or in social networks.
Among the shortcomings of the Typerform service, it is worth noting a rather limited set of functions on the free plan.
Jotform
Another of the best software for creating forms is the cloud-based no-code constructor Jot Form. It was created in 2006 and has been actively developed ever since. Its functionality is optimally suited for small and medium businesses, individual users and non-profit organizations.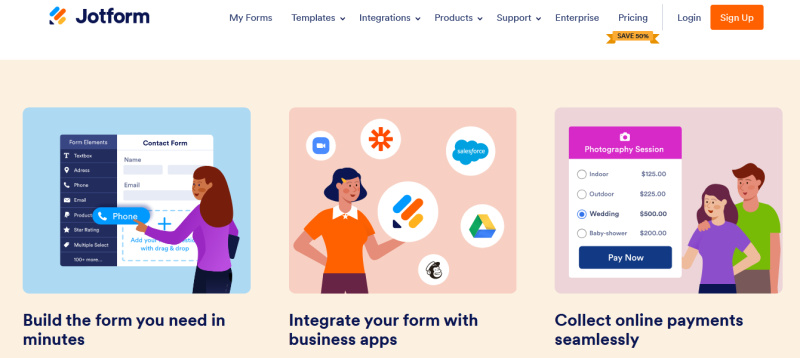 The features of the Jotform constructor are quite extensive:
Its library contains more than 10,000 ready-made form templates, sorted by type, purpose and scope. Templates can be edited with a wide range of free and premium themes.
The service is easily integrated with third-party widgets and applications, which allows you to expand its basic functionality. For example, insert pictures, videos and other content into forms, design presentations, etc. The list of integrations includes Dropbox, PayPal, MailChimp, Google Sheets and many other services.
Jotform allows you to develop both simple and complex multi-page online forms by adding up to 40 fields. With it, it is possible to create forms for subscription, sending contact information, collecting feedback, online payments, donations, etc.
Forms with branching and conditional logic are available, they can also be protected from spam using captcha and security code, as well as various restrictions.
Jotform supports collaborative work with forms, offline mode and the function of conducting analytics on forms with visualization are also available here. In addition to the web interface, it can be used through the desktop version and mobile application (iOS, Android).
The service offers an extensive range of pricing plans, which includes a free plan with a full range of options, on which you can create no more than 5 forms (with Jotform branding). There is also a bronze plan (up to 25 forms), a silver plan (up to 50 forms) and a gold plan (up to 100 forms). Corporate plans with extended functionality are presented separately.
Paperform
The next member of our best online form builders ranking is Paperform. Like the platforms mentioned earlier, it is multifunctional and suitable for different purposes: subscription forms, registration, data collection, surveys, payments, etc. The service is optimally suited for small businesses and all those who are interested in simple and quick creation of forms without the use of programming or design skills.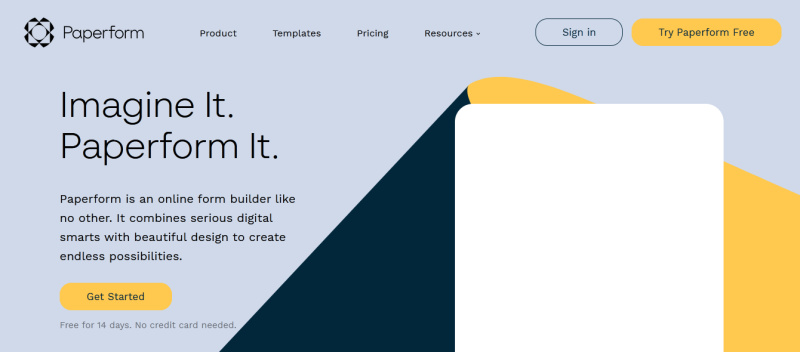 Paperform functionality includes:
Block editor for creating beautiful online forms from scratch or based on ready-made templates adapted for desktop and mobile devices. This process consists of several stages: first, the user selects a topic and prepares a list of questions. Further, he can brand the form by changing the background and fonts, adding images, video or text.
When developing forms, different types of questions are available: with a choice of answer option, assessment, unique answer, data collection (email, phone, address, etc.). It is possible to prescribe the logic of the forms so that the choice of the next question depends on the answer to the previous one.
Forms software Paperform supports the processing of statistics on the results of filling out forms, the authentication of participants, and the modification of form metadata. It is also possible to analyze response data in detail using the built-in analytics panel, Google Analytics or Facebook Pixel.
Extensive opportunities for integrating third-party applications: payment gateways (PayPal, Stripe, Braintree, Square), Google Sheets, Trello, Dropbox, Slack, Campaign Monitor and many others. You can create forms with product cards, connect online payment and get a ready-made online store.
Forms created using this service are easily embedded on a website or web application via API and webhooks. They can also be sent to the audience via email or downloaded in PDF format.
There is a 14-day free trial period.
Formsite
The list of best online form builder is completed by the Formsite service. It has a very extensive functionality and is ideal for creating forms at a professional level. At the same time, this constructor has a simple and intuitive interface, which makes it friendly for inexperienced users as well.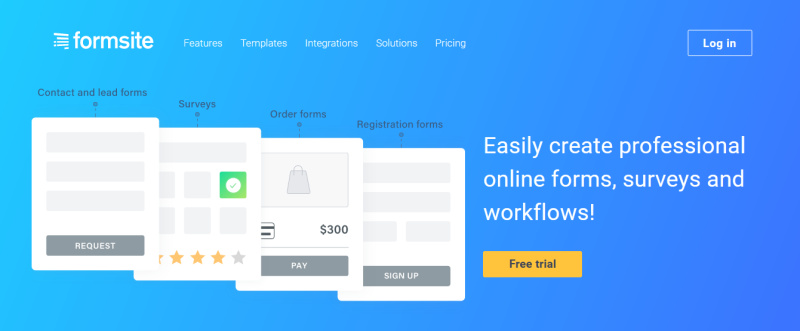 Its key tool is a drag and drop editor with over 100 customizable templates and over 40 question types. With it, you can create many types of forms: registration forms, ordering forms, surveys and questionnaires, payments, as well as lead forms, etc.
All forms have an adaptive design, it is possible to flexibly customize them using a number of additional elements. These include images, videos, links, sliders, buttons, or attachments. These elements can be edited in a separate style menu, changing their appearance or the design of the entire form. There is a professional editing mode via CSS code, as well as a Look & Feel option for branding forms.
Another useful tool in the online form builder is the rules menu. It allows you to set the logic of questions by building a chain of transitions between them.
Formsite provides the ability to quickly and easily distribute forms by sending them as links or embedding them on website pages.
In addition, users of the service can quickly track the results of filling out the forms they have created, thanks to the option to send email notifications. Also available here is the export of results and their integration with external applications.
The constructor allows you to generate detailed reports with response data, visualizing them in the form of tables and graphs.
It supports the integration of payment collection forms with different payment gateways: PayPal, Stripe, Authorize.net, Braintree, Pay by Check. It is also possible to link them to user systems.
Final thoughts
In 2022, the method of creating online forms in Word has ceased to be relevant, because instead it is time to use more convenient and functional tools. After reading the article, you have seen the list of the most popular form builder apps, and now you can test one or more of them yourself. It is unlikely that it will be possible to objectively choose the best of them, since in general each one is at a very decent level.

Connect applications without developers in 5 minutes!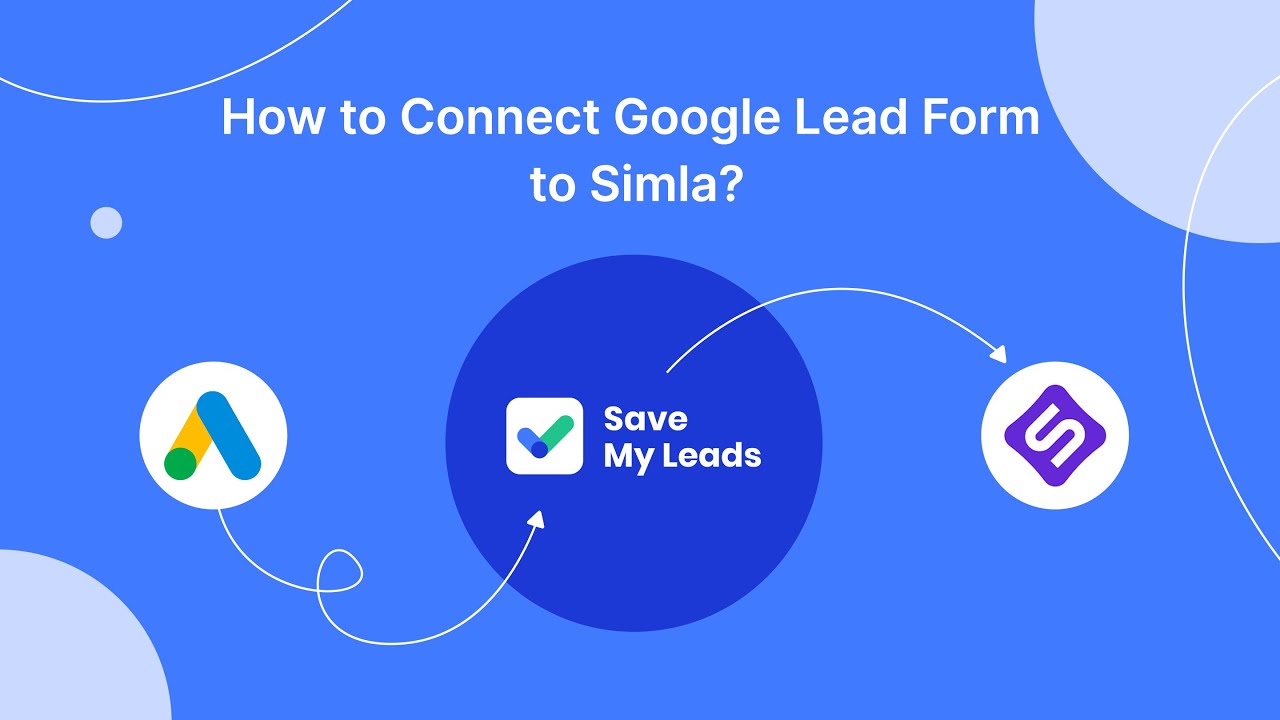 How to Connect Google Lead Form to Simla (task)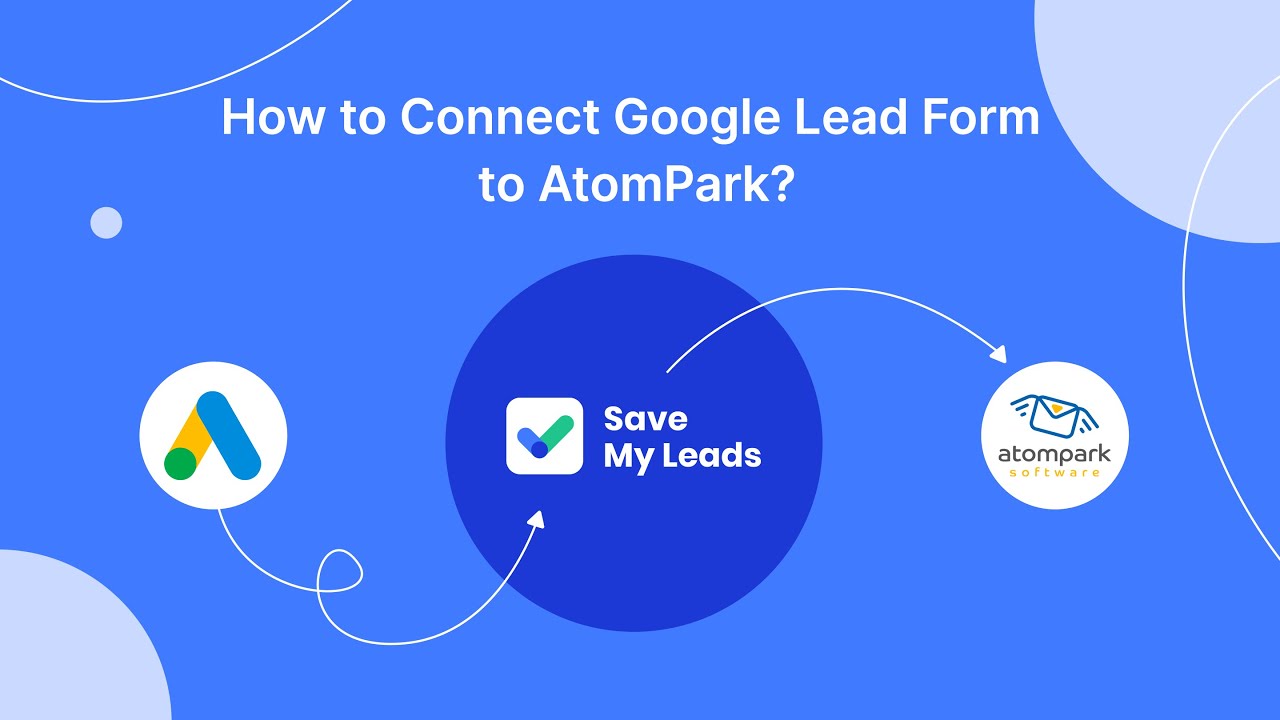 How to Connect Google Lead Form to AtomPark
***
Would you like your employees to receive real-time data on new Facebook leads, and automatically send a welcome email or SMS to users who have responded to your social media ad? All this and more can be implemented using the SaveMyLeads system. Connect the necessary services to your Facebook advertising account and automate data transfer and routine work. Let your employees focus on what really matters, rather than wasting time manually transferring data or sending out template emails.