To collect data from leads and customers, conduct surveys and quizzes, and register participants for events, online forms are usually used. To create them, you need a special service – a form builder. Which is better to choose? Among the most popular today are Jotform and Google Forms. Here is a Jotform vs Google Forms comparison to help you decide.
What is Jotform?
Jotform is a full-featured cloud-based form builder for creating and publishing online forms. Jotform was founded in 2006 by American Aytekin Tank. To such a step, as he himself claims, he was prompted by the desire to get rid of the need to program online forms and simplify this process as much as possible. Since its inception, the company has been steadily developing: if in 2013 it had 1 million registered users, now there are more than 15 million. The success of Jotform is also confirmed by the fact that in 2022 it took first place in the summer report of the G2 soft marketplace.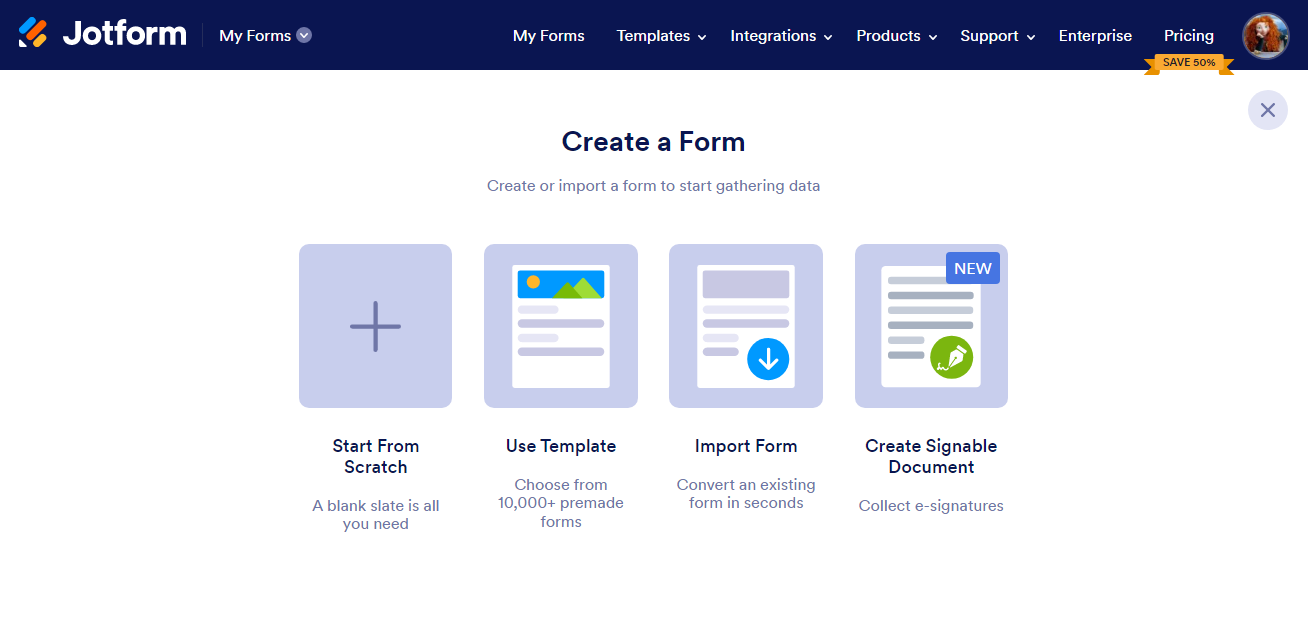 The service's notable customers include automotive company Ford, software company Adobe Systems, energy drink maker RedBull, and furniture chain Pottery Barn.
The main functionality provided by Jotform is the creation of forms that are used to collect information in various fields. This service is a good choice for small and medium-sized businesses, education, non-profit organizations, and even medicine. For example, an online sales company can use it to generate leads, conduct market research, survey applicants for vacancies, and build a whole secure system of orders and payments for their customers. Health worker – to receive important data about the health of patients. Community organization – to register participants for scheduled events.
the ability to create multi-page forms that can contain 26 basic and 43 payment fields;
over 10,000 customizable templates;
more than 400 integrations with third-party services;
hundreds of widgets (image slider, checklists, electronic signature and many others);
multilingualism (English, German, Ukrainian, Spanish, Turkish, French, Serbian, Chinese, and others – 23 languages in total);
the presence of a mobile application;
security provided by the SSL protocol.
What is Google Forms?
Google Forms is a service for creating online forms from the Google Workspace cloud package, which was released in 2006 as a competitor to the then familiar Microsoft Office. The cloud toolkit immediately began to gain fans among users because its developers offered quick and unhindered access to programs via the Internet. Many people really liked the absence of the need to install software on their device and the ability to work with documents (including collectively) through a browser literally from anywhere in the world. Actually, this has become the main competitive advantage of the Workspace package. Initially, the Google Forms service was not part of it. It was added later, in 2008. At that time, it was among the first tools for creating forms for gathering information.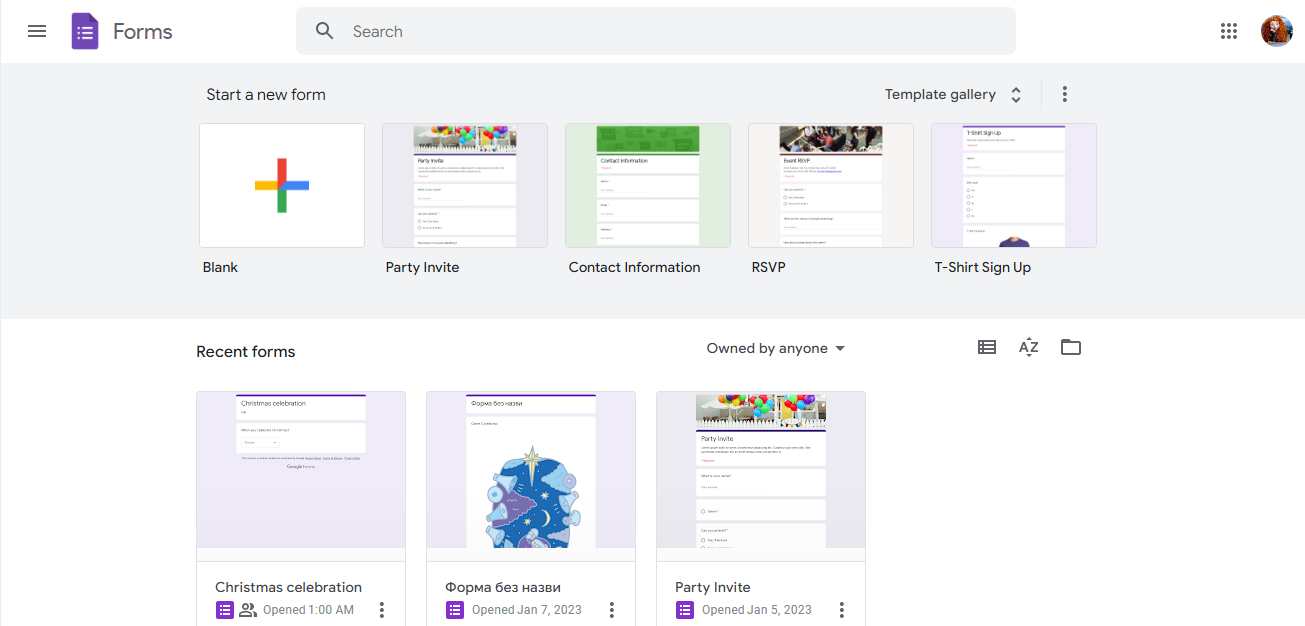 Google Forms is a reliable and extremely easy-to-use service with a comfortable interface. Even those who usually experience difficulties in working with programs can make friends with it. It can be used in any field of activity with almost no restrictions. With Google Forms, you will be able to:
conduct polls;
collect reviews and receive feedback;
conduct quizzes and study tests;
collect contacts of leads;
segment customers;
draw up briefs;
register participants for the event.
High usability and modest design attract those who do not like to understand the multi-layered menu tabs for a long time and spend extra time looking for the desired function. When creating forms, the user can insert pictures, photos, and videos into them. In addition, the service has a fairly large number of flexible settings that make it possible not only to show creativity, but also significantly expand the horizons of its application.
Jotform vs Google Forms: Functions
Google Forms is one of the "oldies" among the online-form builders that exist today. Despite the large number of modern analogues, it is often considered one of the best tools for creating forms. But if you still don't want to dwell on it and are considering alternatives, you should pay attention to Jotform. Let's take a closer look at the functionality of both services to find out who will win in the Google Forms vs Jotform comparison.
Templates
In the process of creating a form, many use ready-made templates. Google Forms has a small library – only 17 of the most common and popular options. They are divided into thematic categories "Personal", "Work" and "Education".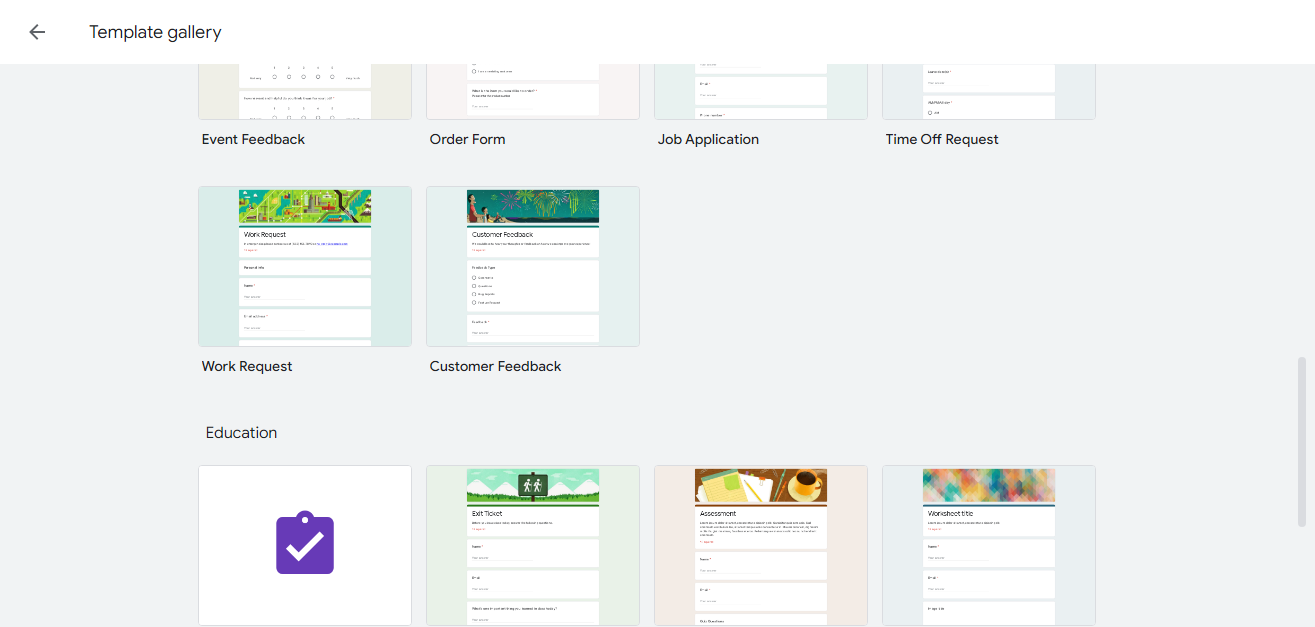 Perhaps, Jotform overdid it a little with the number of templates – it has over 10 thousand of them. So that the user does not get lost in such an abundance, the developers have divided them into categories that make it easier to find the right option. This service offers ready-made forms for conducting surveys, testing, collecting contacts, feedback, booking, ordering and payment, membership and registration for events, and many others – for almost all occasions.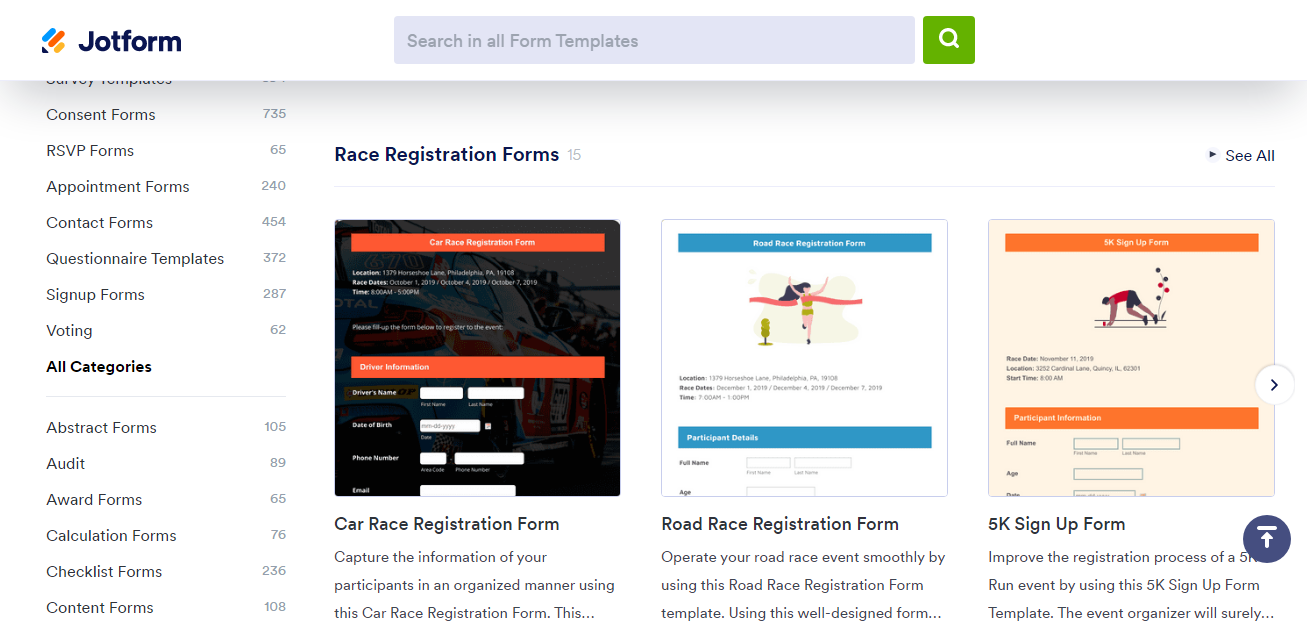 If a solid choice of templates is very important to you, and you do not plan to make forms from scratch at all, then Jotform is the best choice. If you are quite satisfied with something simple, unpretentious, and the appearance of the form is not particularly important, the blanks that Google Forms offers will be enough for you.
Themes
Google Forms allows the user to select an individual shade by inserting a hexadecimal color code into the appropriate field. You can also put the own picture or photo in the header, and also choose the appropriate font.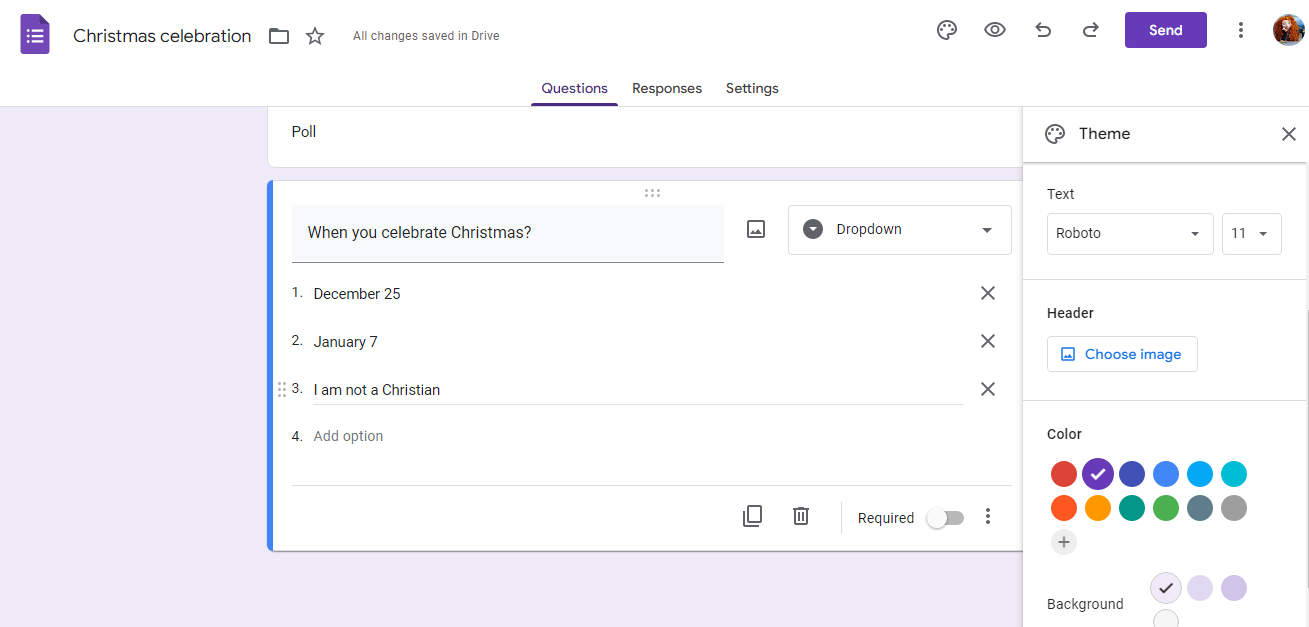 Jotform provides hundreds of themes, which are divided into separate categories for the convenience of users. There are both free and paid options among them. The cost of the latter starts from $1 and goes up to $19.99. Such themes can save a lot of time for beginners who do not yet know how to design original forms on their own.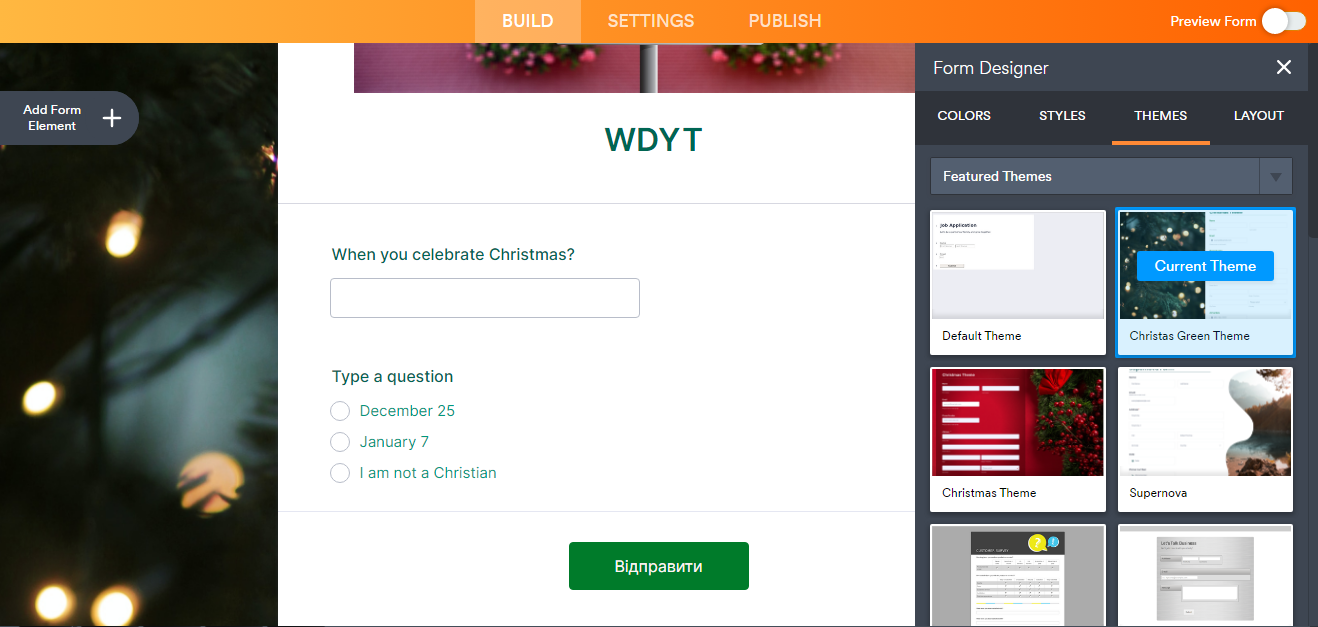 Create Forms
The Google Forms service allows you to make questions with different types of answer design: short answer, paragraph, multi-choice (the ability to select several answers at once), checkboxes, drop-down lists, grid, linear scale, file upload, date and time. In fact, these are the most important and common options. It is convenient that each form element can be moved using the drag&drop mechanism.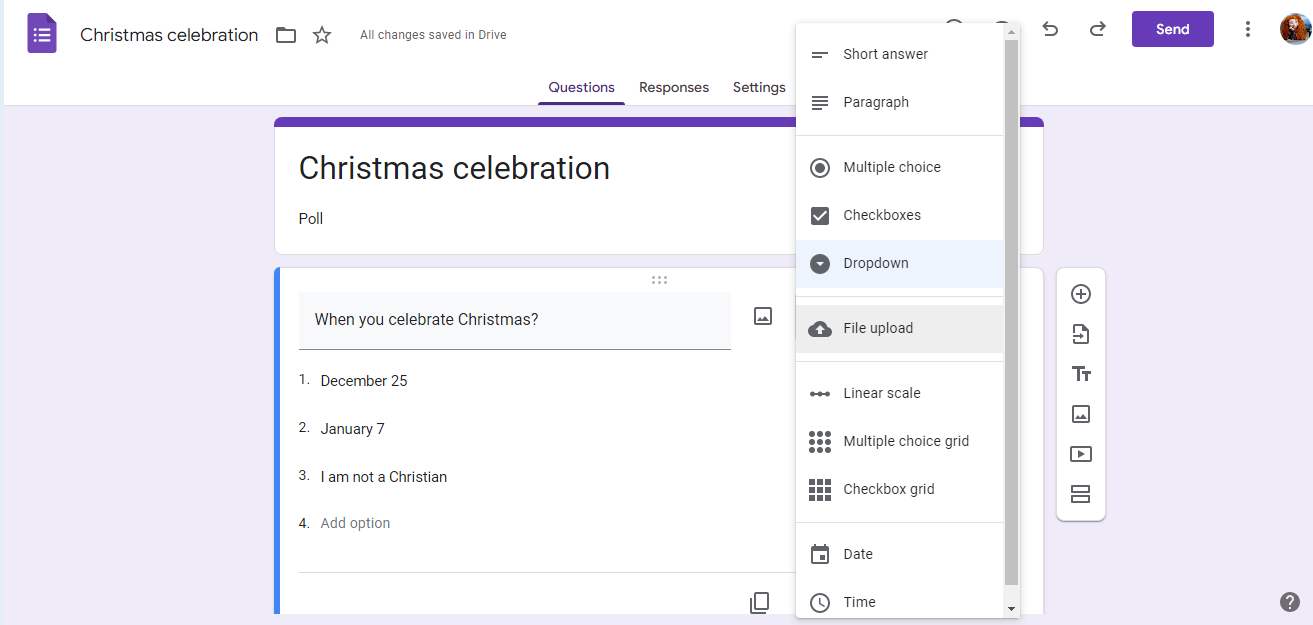 Jotform, like Google Forms, has a way to handle drag&drop form elements. For its compilation, various field options are provided: long and short text, drop-down list, multi-selection, picture, captcha, file upload, tables, rating, and others. The service is integrated with the most popular payment systems (for example, PayPal, Stripe) and offers ready-made fields that you just need to insert into the form. They will be useful to those users who need to collect payments from their customers.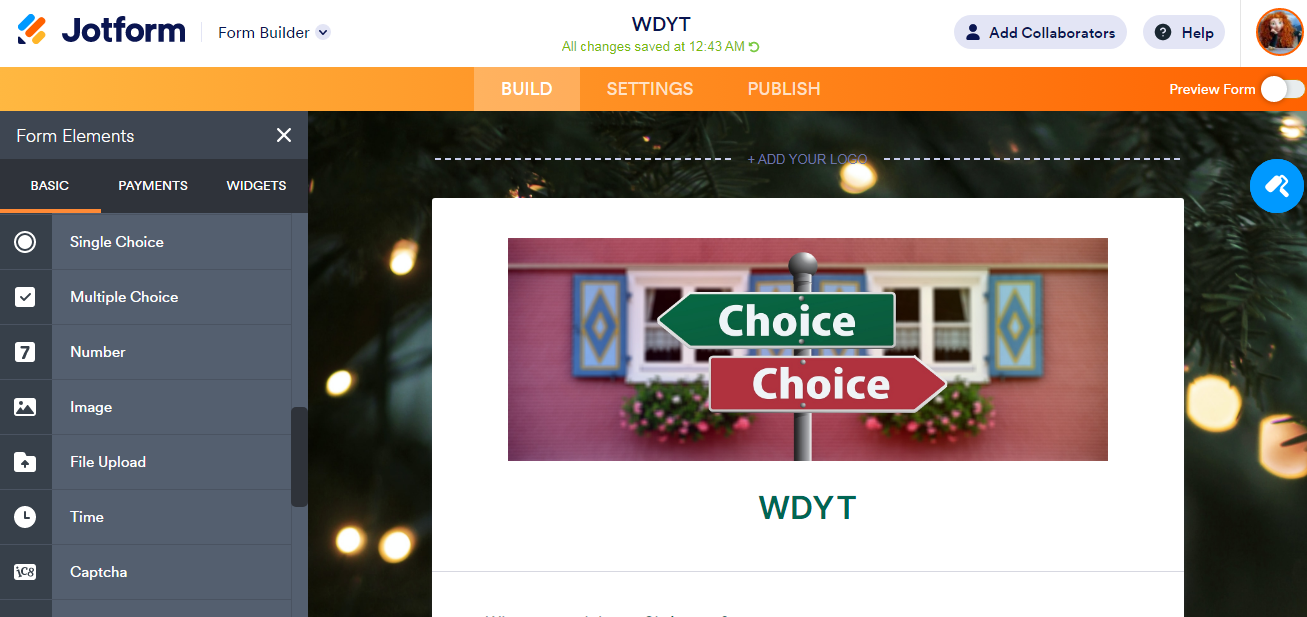 Jotform is the leader in the number of widgets and other useful additions that can be provided with forms. For example, to improve the quality of feedback, you can implement stars or a rating scale. The service offers more than a hundred different widgets to choose from (for example, for Google Analytics and YouTube, a calculator, and others).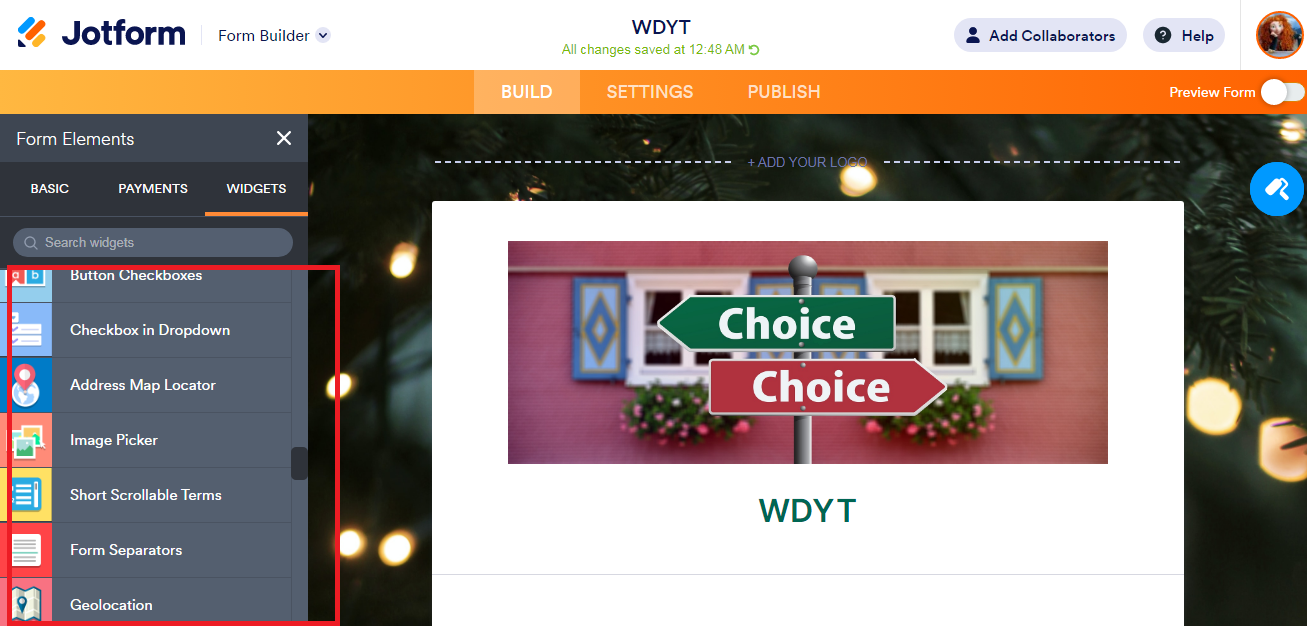 The Google Workspace Marketplace provides 100 plugins that are compatible with Google Forms. They can be screwed to forms, thus expanding their capabilities.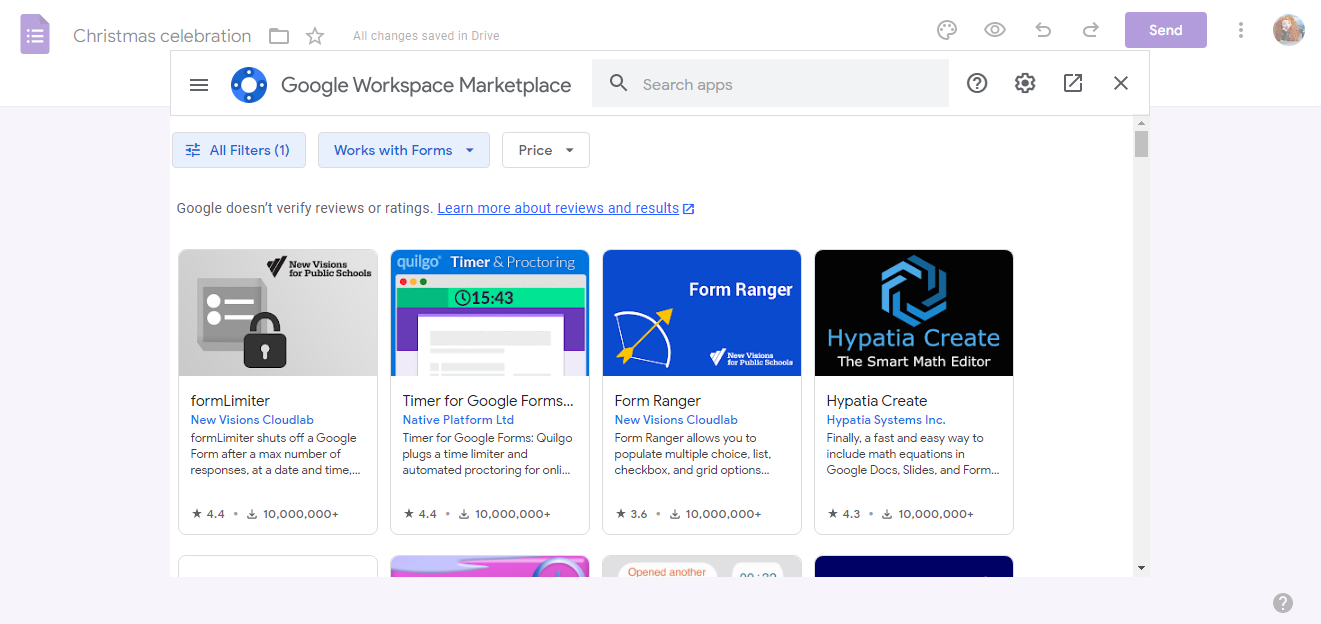 As for conditional logic, both services support it. Only in Google Forms it is not easy to find (located in the three-dot menu in the lower-right corner of each section).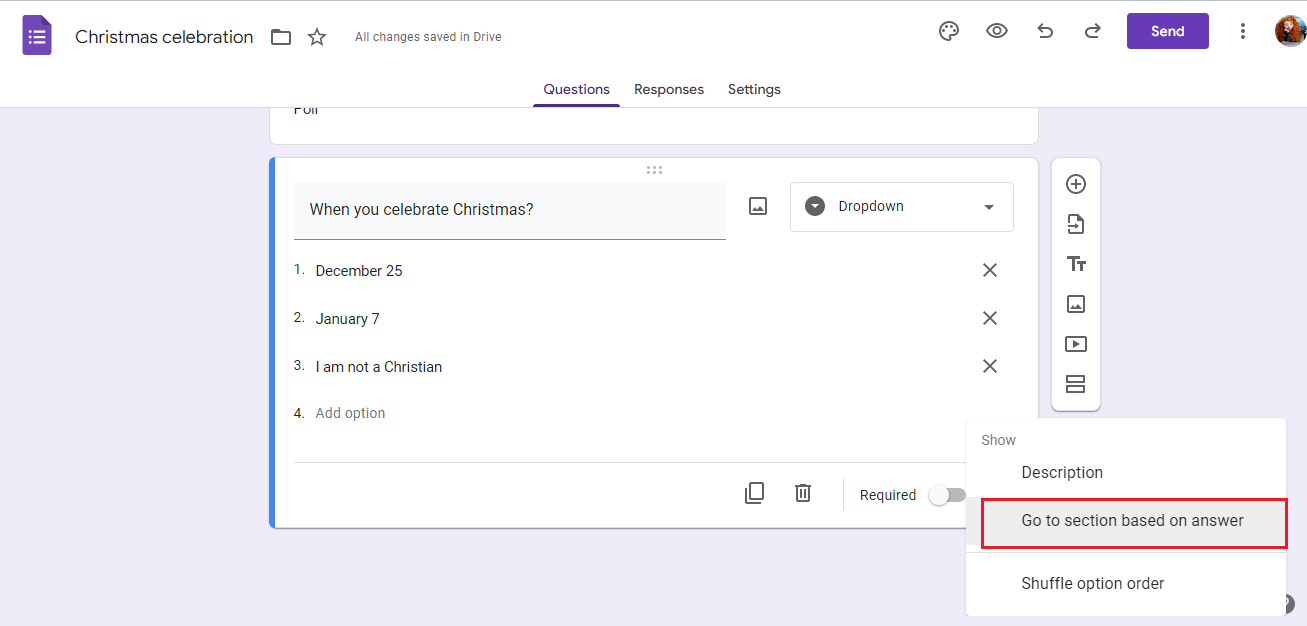 It's much easier to find it in Jotform. Just go to the "Settings" section and select "Conditions".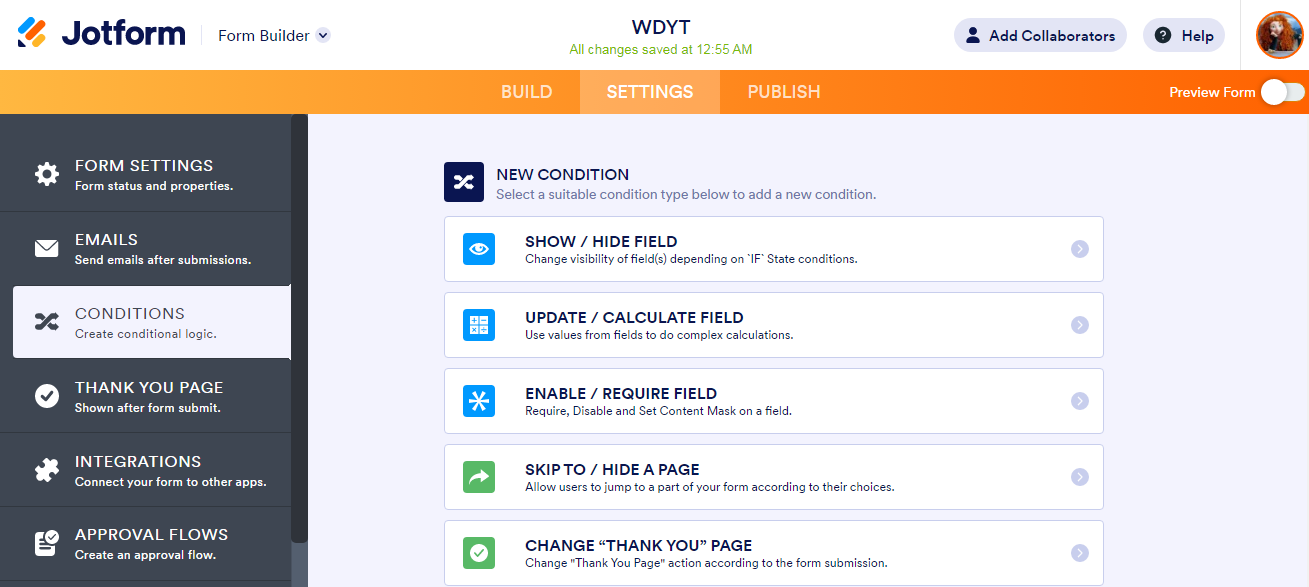 Sending
When comparing Google Form vs Jotform, both offer their users several ways to share a form:
via link;
by email;
by inserting HTML code;

through social networks.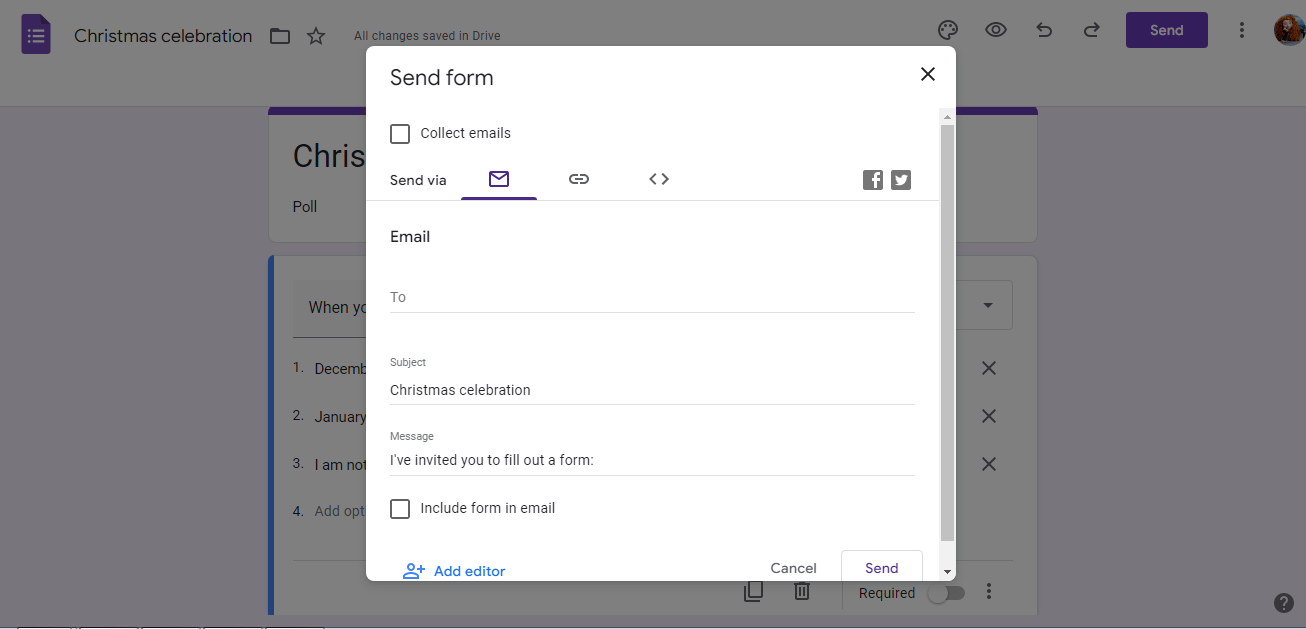 In addition to the above, Jotform provides the ability to download a form in PDF format if necessary.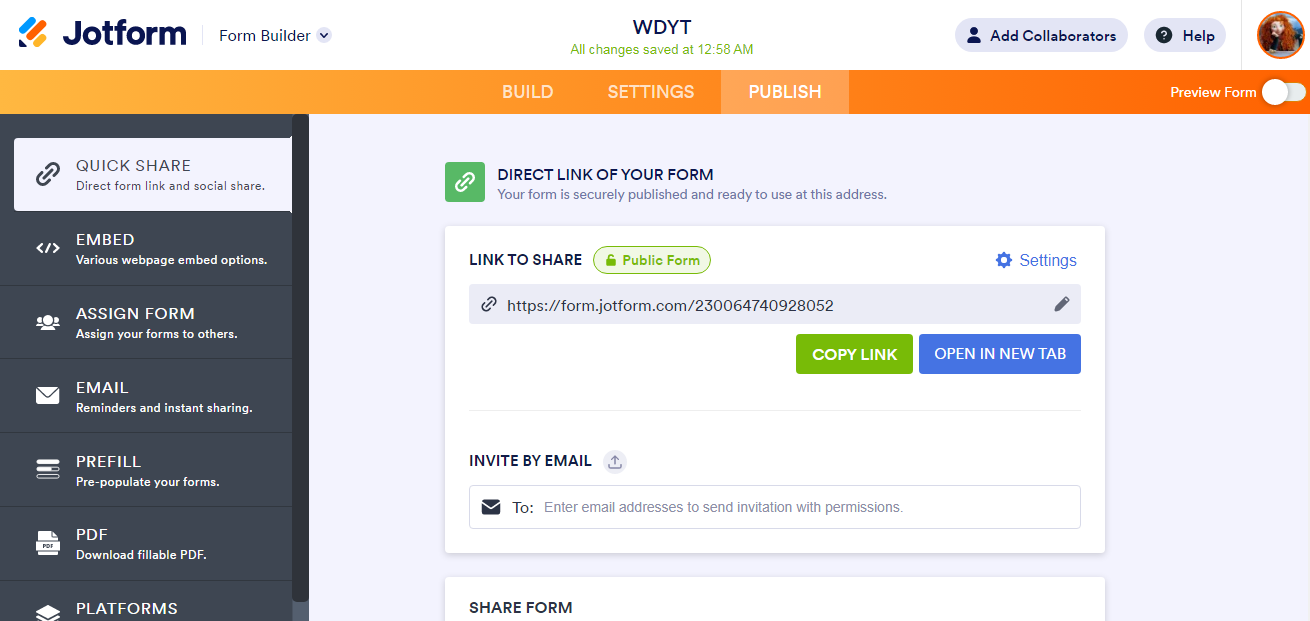 Integration
The winner in this nomination is Jotform. It can be integrated with hundreds of services (video hosting, payment systems, cloud storage, CMS and CRM systems, project management tools, autoresponders, contact managers). For the convenience of users, they, like templates with themes, are divided into categories, areas, and even platforms. Jotform loves order and structure.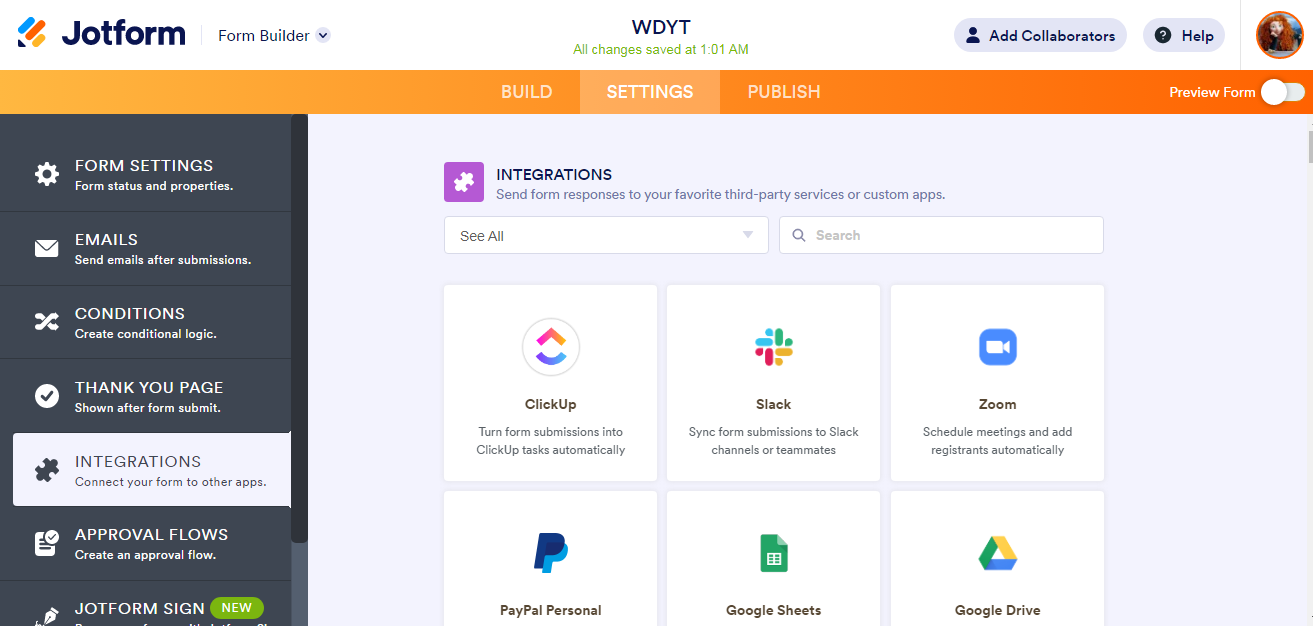 Google Forms is a product of Google, which means that you can insert photos, videos, and documents directly from your Google Drive into your forms, as well as attach YouTube videos to them. If you need to integrate this service with third-party systems, you will need the help of intermediaries. Both services support exporting data to Google Sheets.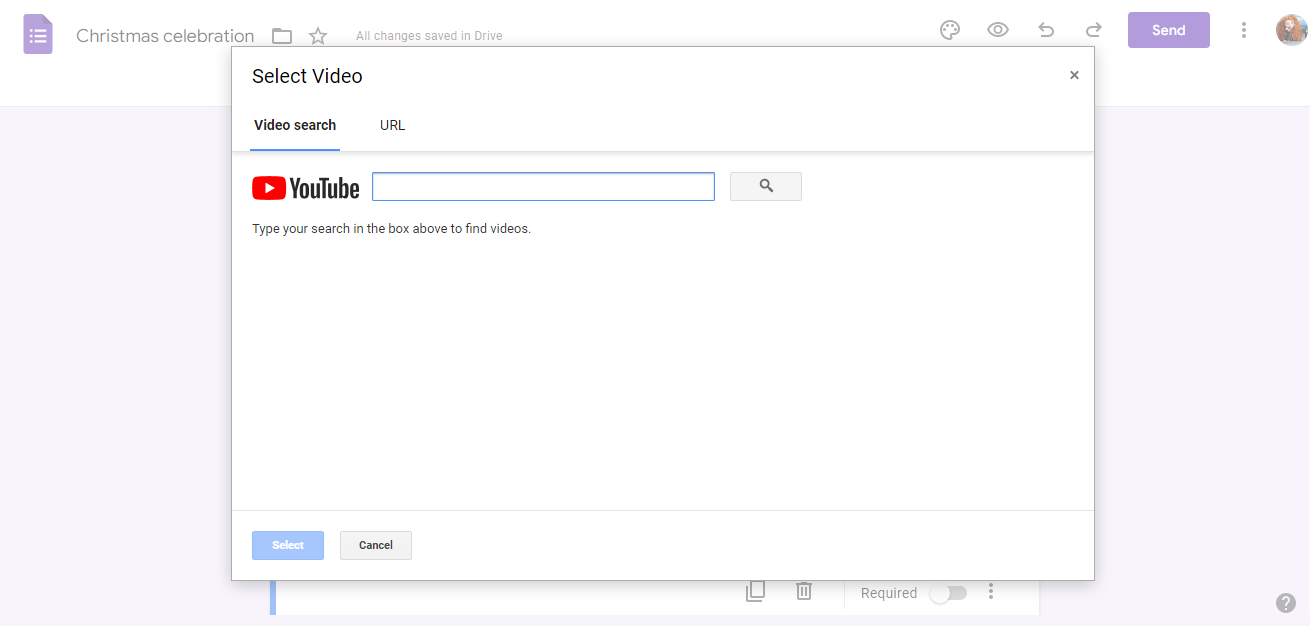 Teamwork
The developers of Jotform took care of the implementation of the collaboration function, understanding its relevance, especially during the COVID-19 pandemic, when many were forced to work remotely. Here, the user can assign individual forms to specific employees, who thus gain the ability to manage them from any device, both stationary and mobile.

Connect applications without developers in 5 minutes!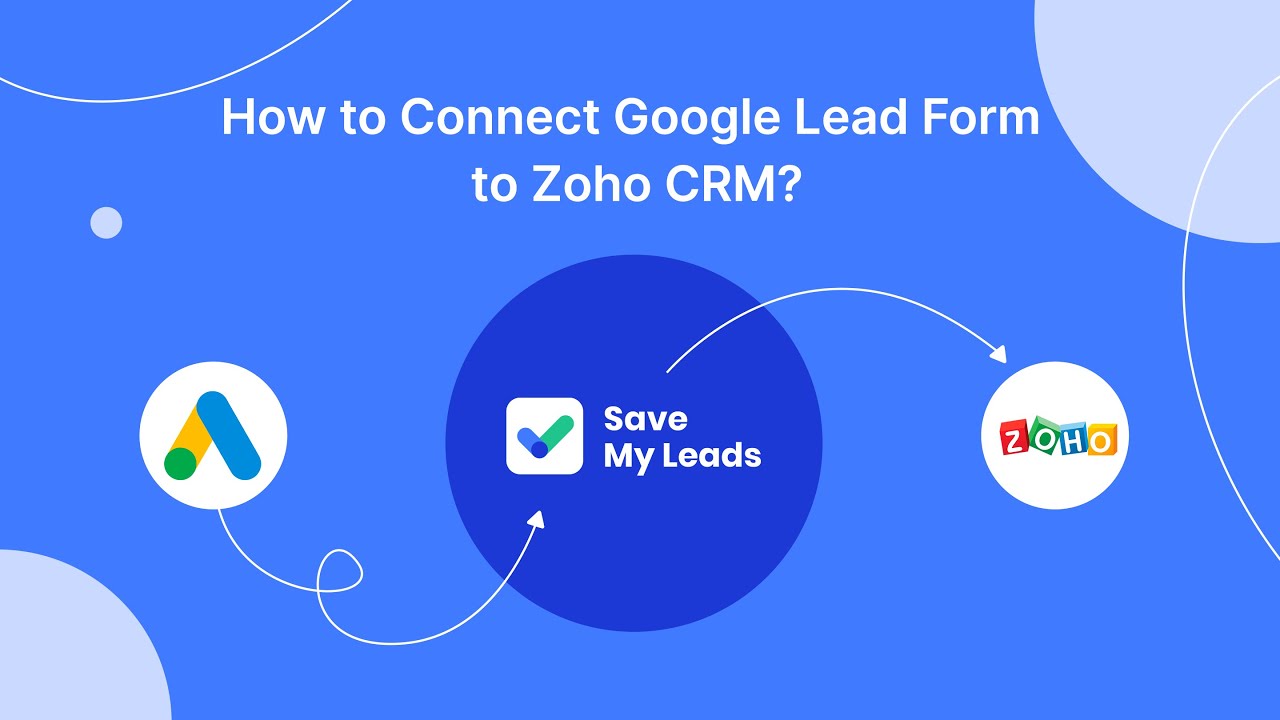 How to Connect Google Lead Form to Zoho CRM (lead)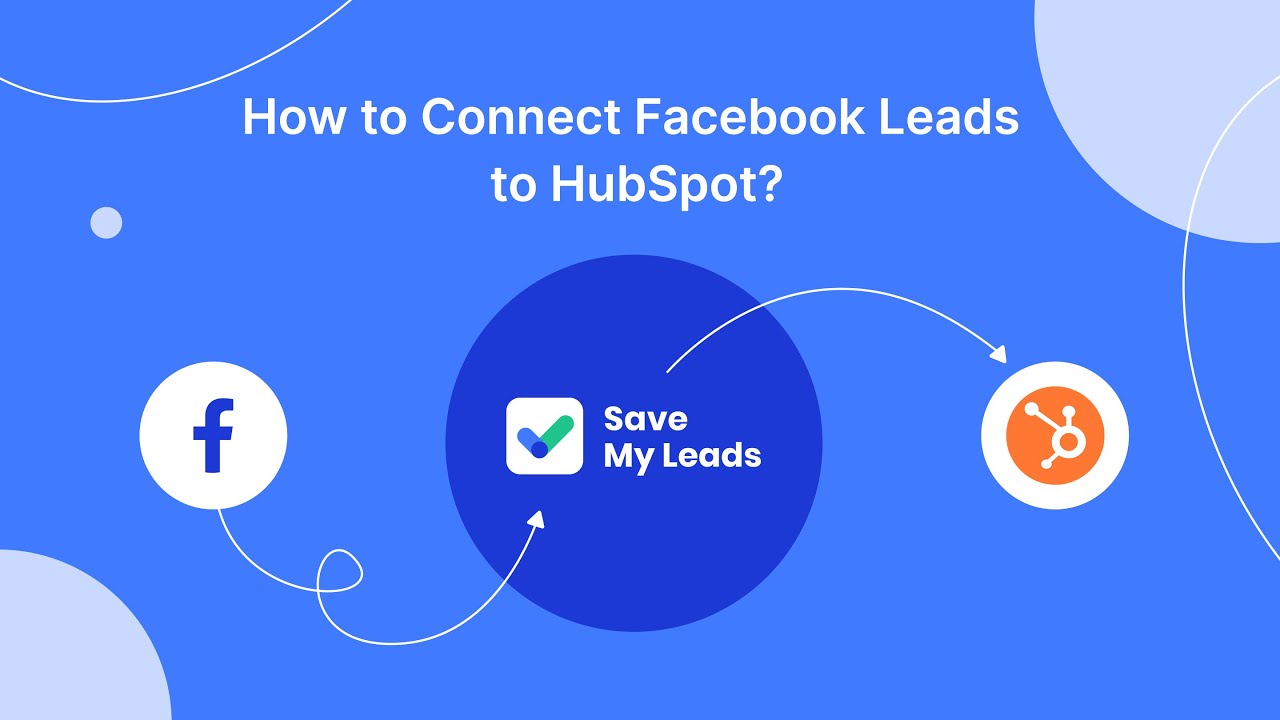 How to Connect Facebook Leads to HubSpot (Create Deal)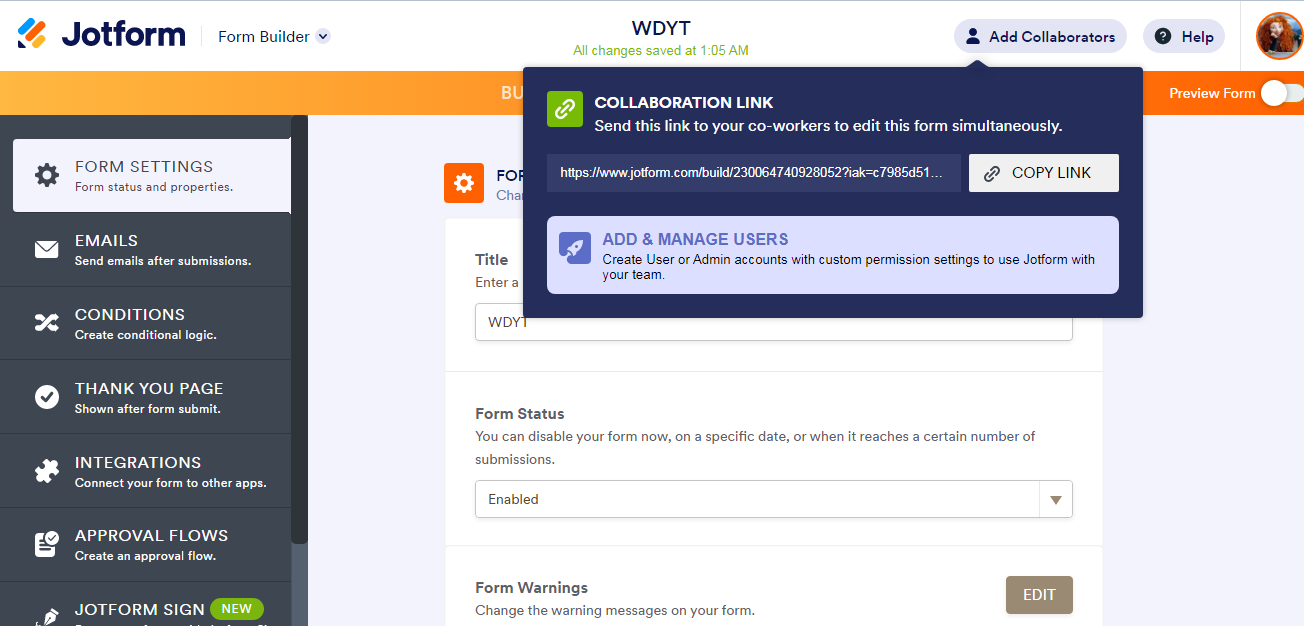 Collaboration functions in the Google Forms service are presented more modestly. The user can add co-authors of the form and give them the rights to edit it.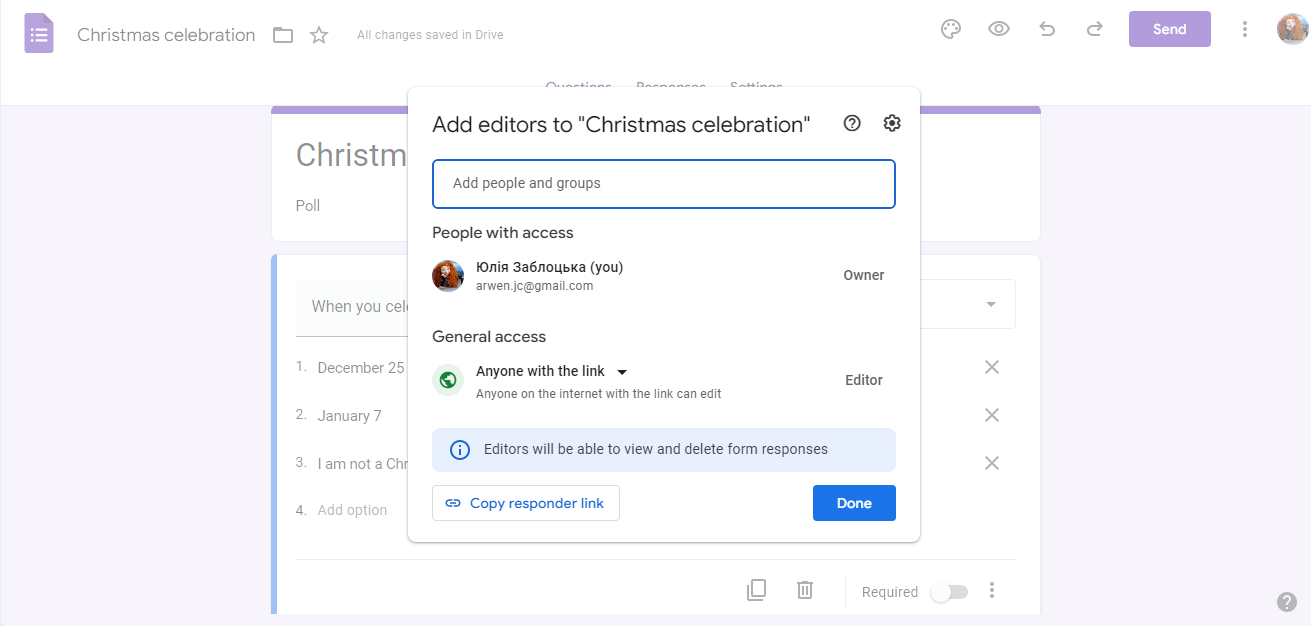 Platform compatibility
In the Jotform vs Google Form comparison, Jotform wins in this parameter. It has a separate mobile app for Android and iOS devices. This is convenient because a stationary PC or laptop may not always be nearby at the moment when you urgently need to modify the form, create a new one or send it to the client. In such cases, the mobile application helps out very well. Unfortunately, Google Forms does not have a mobile app. Users can access the service exclusively through the web interface.
Other features
Jotform received from its "parents" a free PDF editor that enhances the usability of the online constructor. What does it give? All forms collected by you from respondents can be converted into PDF files in just a couple of clicks. They are easy to make the necessary corrections and post on the Internet. The PDF editor comes with a set of ready-made templates – forms are filled out right there, after which they can be sent immediately by e-mail. Google Forms does not have this feature.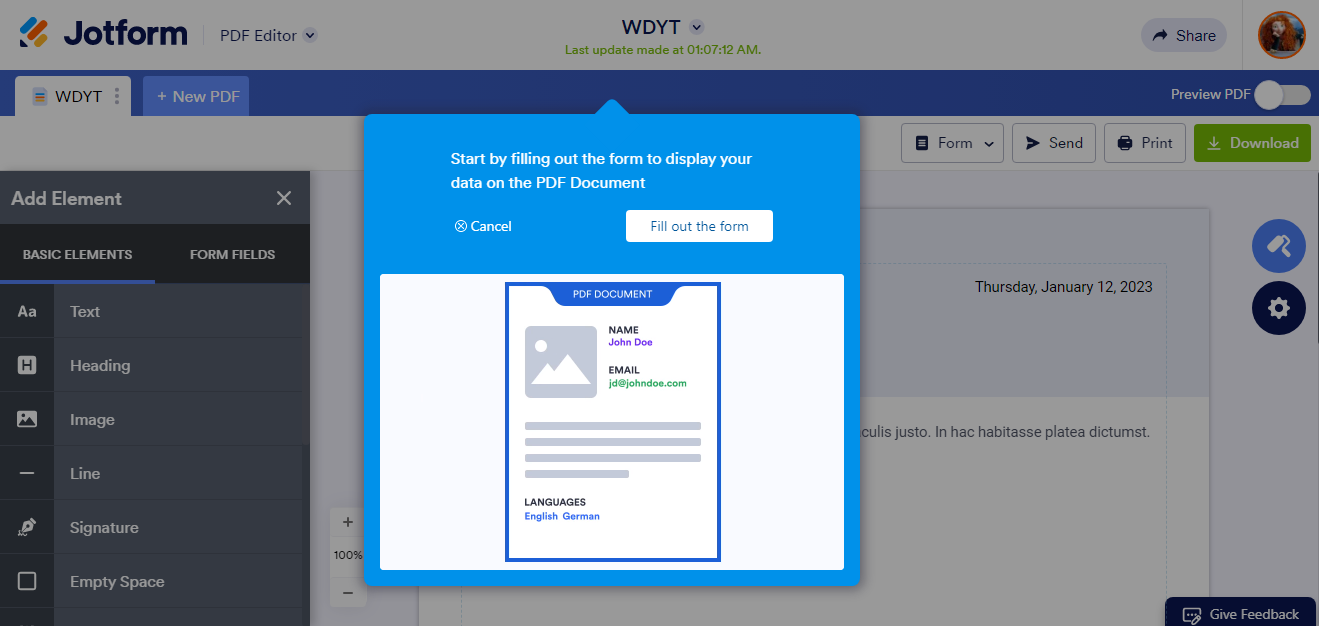 It is very important for healthcare professionals to comply with the HIPAA compliance policy when compiling forms, as patient data is highly confidential information. The Jotform service provides users with templates that are HIPAA-compliant. True, they are paid
It is theoretically possible to implement HIPAA compliance in Google Forms, but in practice you will have to spend a lot of time and effort: there are no special templates for the healthcare industry (you have to "draw" them from scratch). There are no questionnaires with automatic scoring, there is no way to add an electronic signature without installing a plugin.
The Jotform service has support for QR codes that the users can generate for any form they create. The presence of a QR code greatly simplifies the interaction with the form for respondents. To open it, instead of clicking on the link, they only need to scan the code. There is no such feature in Google Forms.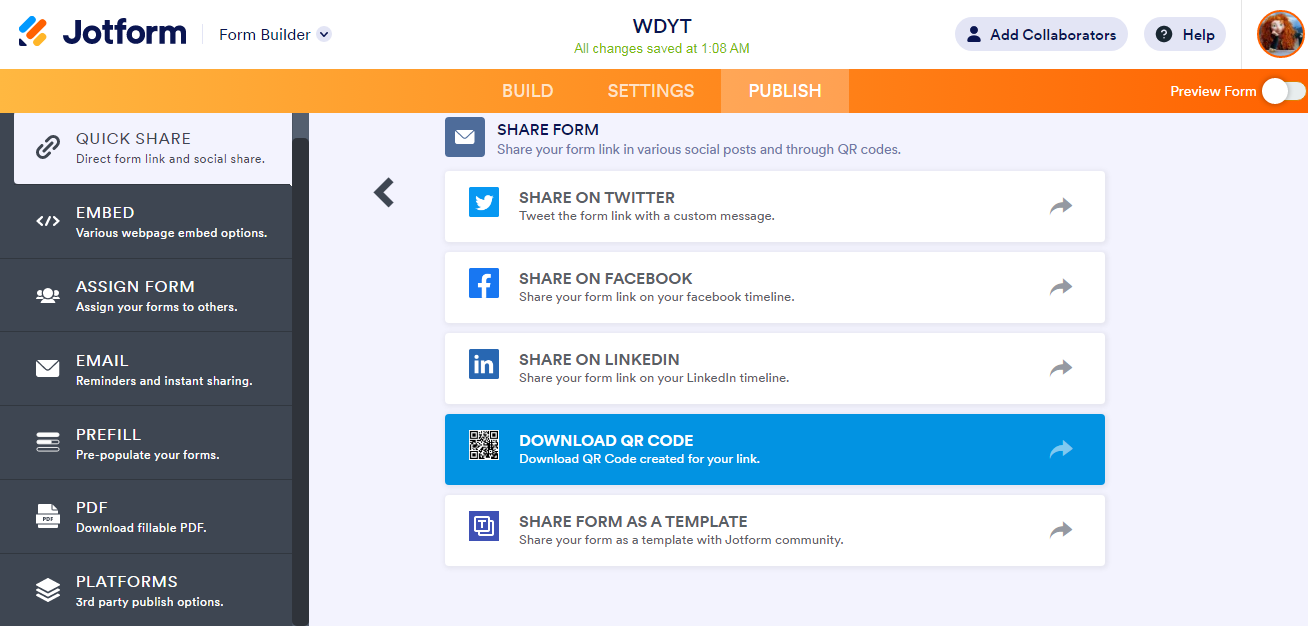 Price
Google Forms is a free service, but you have to pay to use Jotform. To be fair, Jotform also offers its users a free "Starter" plan. However, it has severe limitations – it is allowed to create only 5 forms per month. The service also offers the following tariff plans:
Bronze: $34 (25 forms per month)
Silver: $39 (50 forms per month);
Gold: $99 (100 forms per month)
If you want to avoid being limited in the number of forms, but still want to receive the service for free, select Google Forms. If you need an expanded arsenal of functions, and you don't mind paying for the service, pay attention to Jotform.
Main Differences
As you can see, Jotform is stronger in some features, while Google Forms wins in others. Let's try to figure out what are the main differences between these services, based on which you will make your choice.
What Jotform has that Google Forms doesn't:
removal of branding;
the presence of a mobile application;
the ability to put an electronic signature;
payment integrations;
PDF editor;
QR code support.
Google Forms, in turn, boasts the ability to customize the URL for the form. Jotform does not have this feature.
Now let's focus on the characteristics that both services have:
Templates are definitely stronger in Jotform. It leads the way with over 10,000 form options and hundreds of themes, versus the 17 templates and limited theming options that Google Forms offers.
The number of form field options in Jotform is significantly greater than in Google Forms. The first service provides 26 basic and 43 payment fields, while the second provides only the most popular ones.
In terms of integrations, Jotform is again in the lead. It offers hundreds of links to useful third-party services, while Google Forms only integrates with Google products.
Price. According to this criterion, the absolute winner is Google Forms. You can fully use it completely free of charge, which cannot be said about its paid competitor Jotform.
Final Thoughts
Google Forms is considered one of the most user-friendly Google tools. It is extremely easy to use, and most importantly – absolutely free, provided that you do not need to buy a corporate Google Workspace package. If you don't plan to pay close attention to the appearance of the form, collect payments, or write complex surveys, you can opt for Google Forms.
Jotform allows you to create almost any form. The customization options for this service are wide. This applies to external design and content, and functionality. Does your budget allow you to pay for one of the tariff plans, and are you sure that you will not exceed the limits allocated for a month? Then you should choose Jotform. If your work is related to surveys, feedback collection and sociological research, such costs can be considered not as expenses, but as an investment.
***
Would you like your employees to receive real-time data on new Facebook leads, and automatically send a welcome email or SMS to users who have responded to your social media ad? All this and more can be implemented using the SaveMyLeads system. Connect the necessary services to your Facebook advertising account and automate data transfer and routine work. Let your employees focus on what really matters, rather than wasting time manually transferring data or sending out template emails.