The capabilities of artificial intelligence are being actively improved, providing it with a wider scope of application. Earlier we discussed services that generate texts, images, speech and music. Now it's time to introduce AI systems for automatic video creation. From our article, you will learn what AI-enabled video generators are, how they work, and which services of this type are most popular among users.
What are AI video generators, and how do they work?
Services for automatic video creation use a combination of specially trained AI algorithms and video editors. Although these programs are now at the initial stage of development, their possibilities are already very extensive. They have large libraries of built-in video scripts, avatars, voices, backgrounds, music, visual and sound effects. This combination allows you to effectively automate the process of creating professional videos of different formats, types, genres and durations.
AI-generated videos are most often short, which makes them optimally suited for the social media format. Of course, you are unlikely to be able to make a full-fledged movie even in the most advanced AI editor. At least for the current moment. However, such services will be extremely useful for creating short advertising or promotional videos, educational, entertaining or informational content, video greetings, and so on.
Most of these platforms work on the principle of text-to-video. Users enter a script in the workspace – the text to be read on the video, or put a link to a published article. Then they choose a suitable avatar – an AI-generated image of a person who will read the text on the video. At the next stage, they select the necessary background, tone of voice, music / sound effects and adjust other settings. Modern AI services have an impressive database of ready-made videos, images and other media content. This allows them to generate high-quality original videos in just a few minutes.
Synthesia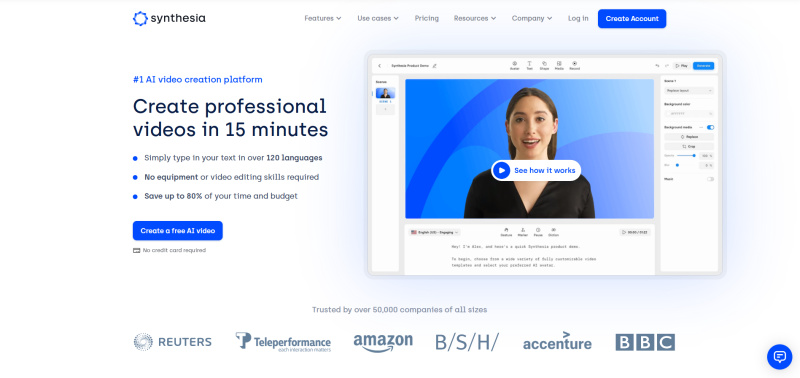 Synthesia is a powerful and user-friendly generator service that can create original realistic videos featuring AI avatars. Its library includes over 55 pre-installed video templates, as well as over 85 different avatar images. All of them can read texts in more than 60 languages, using about 120 voices and accents for voice acting. It is possible to add micro gestures for each AI avatar (nods, winks, frowns, etc.) to make it look more human.
The AI video content generator uses advanced Natural Language Processing (NLP), Machine Learning (ML) and Deep Learning (DL) algorithms. This allows it to generate high-quality video recordings based on text, images or other videos. For example, you can upload an ordinary photo of a person into it, after which the neural network will process it, recognize the details of the appearance and create a video with the most identical avatar.
In addition, Synthesia generates professional videos literally from scratch. Just enter the text you want to read in the video, and also choose the style of the future video and the appropriate AI avatar for it. In addition to realistic faces, its AI algorithms can create videos with harmonious backgrounds and lighting. The content generated by the neural network looks the same as from professional video makers. The service is universal and suitable for videos of different types and topics: advertising, entertainment, informational, personal.
InVideo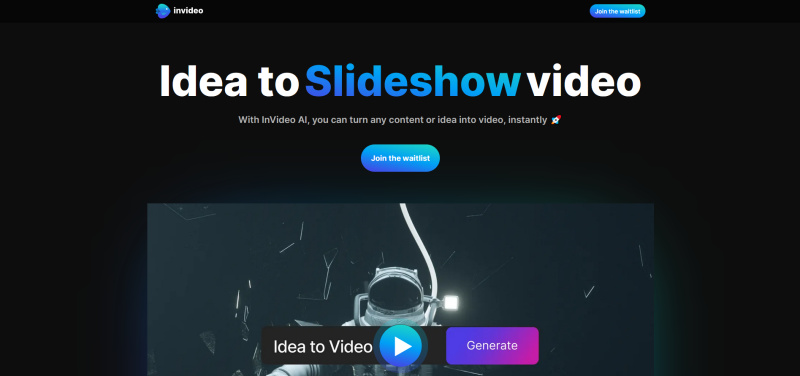 InVideo is another popular AI generator with which you can automatically create videos based on the text you enter. It allows you to generate unique realistic videos based on images or existing video content.
In the InVideo catalog, users have access to more than 50 ready-made video templates prepared by professional video makers. Complementing this library is a solid collection of music and sound effects that will make your content brighter and richer. In addition, InVideo offers an extensive library of free images and videos that you can freely use to work on new content.
The service allows you to create high-quality videos of various types, topics and volumes from scratch without any action from the user. You can also edit the created videos by changing one or another of their parameters. At the final stage, it is possible to download the finished product or send it to social networks (YouTube, Facebook, Instagram) directly through the system interface.
InVideo is best suited for automatically generating a variety of video content: promotional videos, presentations, instructions, slide shows, memes, and so on. The service is available to users for free, but please note that videos created in the basic version will be marked with a watermark.
Pictory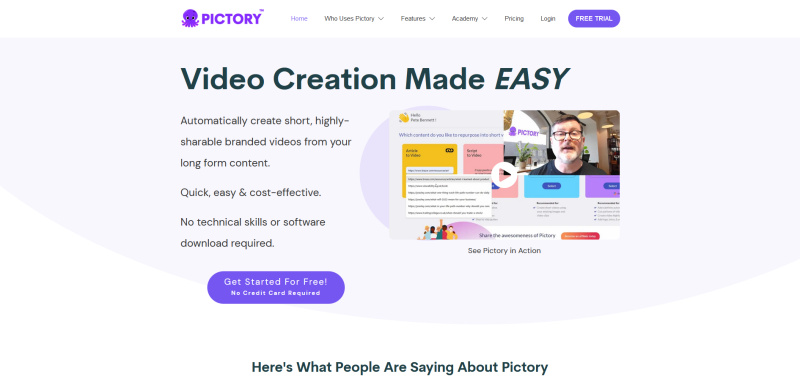 Pictory is an AI video generator that can not only create videos from scratch, but also automatically process them using artificial intelligence algorithms. For example, the built-in AI editor allows turning long-time recordings into capacious short videos (shorts) – the optimal format for social networks. The impressive library of templates that it has allows you to quickly and easily create any content you need.
Pictory offers several video processing formats:
Article to Video. It is enough to provide a link to the published text to turn it into a video. Suitable for blogs, press releases and other text content.
Script to Video. Allows you to create a script-based video by simply copying and pasting it into your workspace. Suitable for brand/product promos, instructional videos, personalized content.

Visuals to Video. With this format, you can create original videos based on existing images or videos. To achieve this, you just need to upload them to the service from a computer or mobile device.

Edit Videos with voice Using Text. Using the functional editor, you can trim the video, highlight key moments, add logos, intros and outros, as well as automatically create subtitles and descriptions for any video.

AI service Pictory provides users with a free trial period. This makes it possible to try out its functionality before purchasing a subscription.
VEED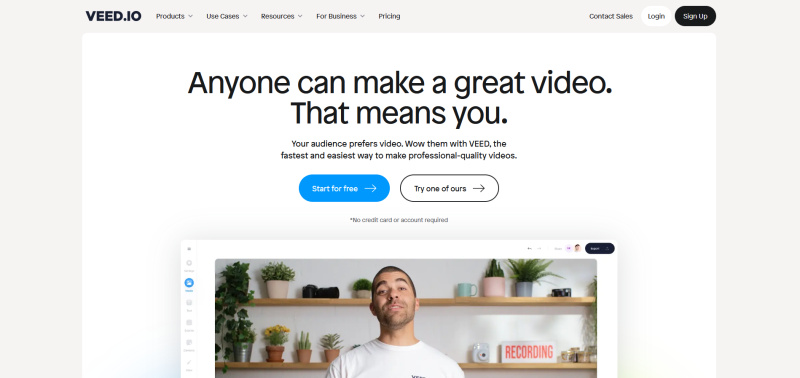 VEED is an AI video editor that allows you to create professional videos without any special skills. With this service, you can generate videos in different styles and formats, applying it in many areas and solving a wide range of tasks. It can be considered as a tool for preparing content for social networks and other channels.
The AI-enabled video editor generates unique video content by accurately selecting the appropriate visual (texts, fonts, colors) and sound (voices, music) effects. An extensive list of topics that the platform has, gives users the opportunity to most capably convey certain messages through video.
In addition, VEED allows you to transcribe video files with just one click. To achieve this, you need to create or upload a video to the service, click on the "Auto Transcribe" button and download the transcript. Also, available in its library is an impressive list of ready-to-use video templates. Their convenient distribution by subject makes it easy and quick to choose the right template in the required style for different fields of activity.
Artificial intelligence algorithms automatically create high-quality videos based on user input. You can use text, images, or finished videos as a data source. The presence of customization tools allows you to flexibly edit the created videos: for example, add a logo, corporate identity or other elements.
Connect applications without developers in 5 minutes!
Low prices make VEED accessible to a wide audience of users. The free basic version provided by the developers allows you to evaluate the functionality of the platform and decide on a subscription.
Lumen5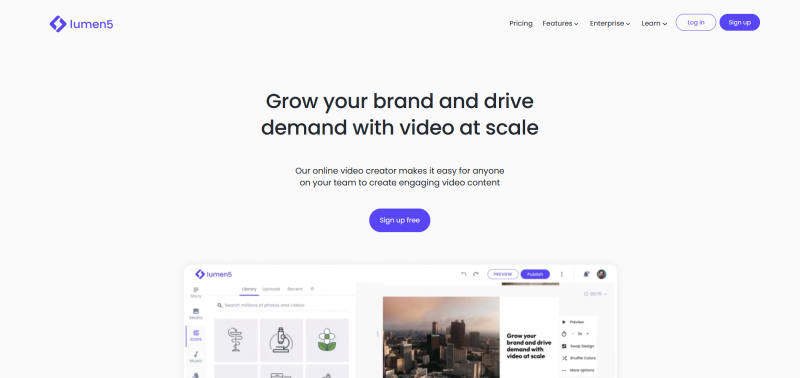 Lumen5 is another decent AI video generator. It is optimally suited for professional use, allowing you to quickly and easily create video content of different types, styles and formats. The functionality of the platform combines artificial intelligence technologies and a powerful video editor. Thanks to this, users can generate realistic videos in a couple of minutes without any preparation or additional funds.
Like other AI generators, Lumen5 offers tons of carefully crafted video templates. Among them, you can easily choose the perfect template for your future content. Separately, it is worth noting a wide range of video customization functions, thanks to which you will be able to edit the videos created by AI in accordance with your wishes.
Lumen5 allows you to use different types of content for automatic video generation: images, ready-made videos, texts. For example, using smart algorithms, you can translate an article from a blog into a video format in a matter of minutes. To achieve this, you just need to insert a link to this publication and indicate your wishes.
The presence of a convenient editor allows you to flexibly change the created videos using the drag-and-drop method, adding pictures, text or other videos there. In addition, Lumen5 has a built-in library of video clips and stock images, which is available to anyone absolutely free.
Synths.Video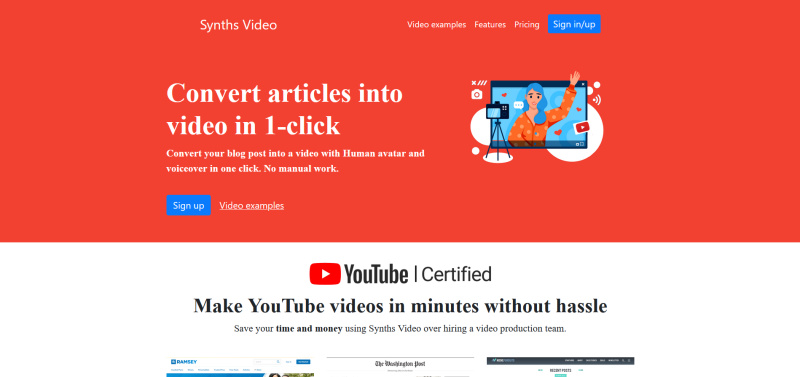 Synths.Video is a powerful and user-friendly AI-enabled video editor that offers over 45 AI-created avatar characters for video generation. You can easily choose the right image that will professionally read your text in 40 languages. Tools for customizing avatars will allow you to flexibly adapt them to your wishes.
Synths.Video has an impressive library of styles that allow users to generate videos of different types, formats and genres. This service is a very useful tool for entrepreneurs and influencers who want to effortlessly create high-quality dynamic content for websites and social networks.
The videos generated by the neural network can be downloaded in HD format (1920x1080). There is also a function of autoloading videos on YouTube with built-in optimization for the standards of this video hosting. The developers plan to soon add analytics for uploaded YouTube videos and link tracking.
An equally useful function of Synths.Video is automatic lip-sync (synchronization of lip movements with generated speech). AI algorithms give avatars the ability to move their lips naturally as they read text.
The free trial period allows you to test the potential of the service without any payment. Using it, you will be able to evaluate the functionality of the platform and understand whether it is worth signing up for a paid subscription.
Designs.ai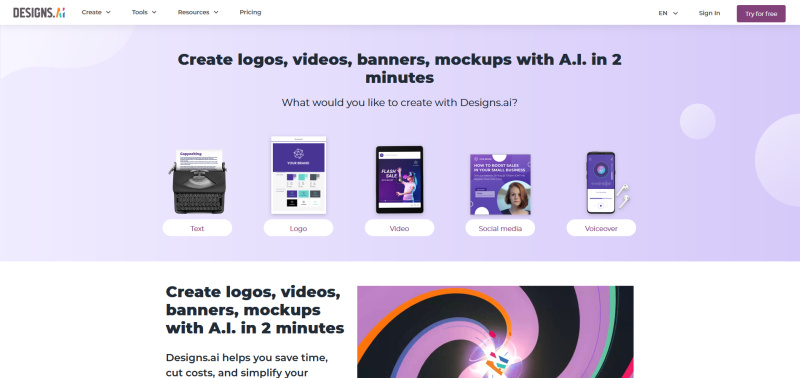 Designs.ai is an all-in-one AI generator for creating high-quality professional multipurpose videos. It is suitable for developing both short training videos and promotional content. The platform has a large library of templates with extensive customization options. It also provides access to a detailed catalog of stock video clips and photos that can be used for video editing.
Designs.ai supports not only built-in content, but also third-party content. Users can easily personalize the videos they create with logos, images or texts. The service has a convenient and understandable user-friendly interface that allows you to generate original videos in minutes without special skills and tools. In addition, Designs.ai provides tools for generating logos, banners, and video voice-overs.
To create a video, the user only needs to visit the Designs.ai online service, come up with a title, write a script for the future story, select a language (20 voice acting languages are available) and a suitable AI voice, and then download the finished video or share it on social networks. The AI generator can create videos of the optimal size for Facebook, Instagram, Twitter and TikTok.
Users can choose from two tariff plans. The platform offers a cheaper Basic (for personal purposes, training, marketing) and a Pro plan (for companies and teams) – it costs more.
DeepBrain AI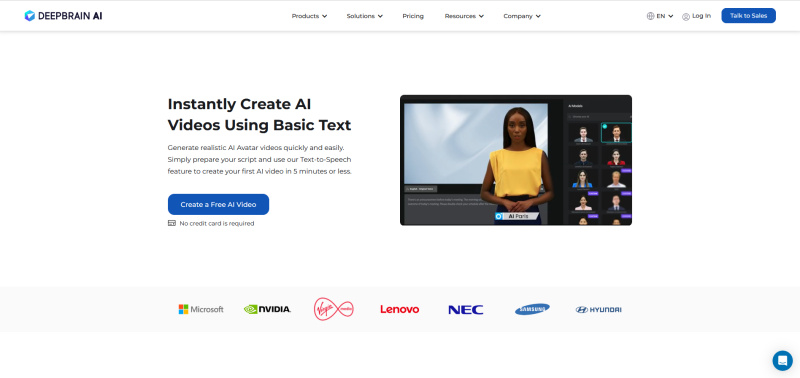 DeepBrain AI is another handy generator service that provides users with high-quality original AI videos in just a few minutes. To achieve this, you just need to choose one of the preset templates in the library or upload your own layout in PowerPoint presentation format. The next step is to add the script for the video. You can do this both manually and through copy-paste. The content from the uploaded PPT presentation will be placed in the video automatically.
Finally, you should select the desired language and AI model, after which the artificial intelligence algorithms will generate a unique video clip within just 5 minutes. A large selection of settings helps to make it as unique as possible, which allows you to choose the type of voice, background, fonts and colors of inscriptions, as well as add music and sound effects.
The presence of a large catalog of avatars and advanced customization options give DeepBrain AI users the ability to easily and quickly create videos of various types: from commercials to video greetings. This is a simple but very functional text-to-video editor.
One of the most useful features of this AI service is the presence of a built-in video script generator based on the famous ChatGPT smart chatbot. With its help, you will be able to prepare, for example, a slogan, a more detailed text for a sales video, and any other type of voice acting. The finished video can be quickly downloaded to the device or exported to third-party systems.
Summing up
As you can see, artificial intelligence has already reached the point of creating videos. Whether this is good or not is debatable. But there is no doubt that we will now have to accept a new reality. Instead of looking for a hypothetical negative, we suggest trying to benefit. The AI video creation tools listed in our article will save you time by automating the video generation process, as well as make content creation faster and easier. In addition, they will help you do it more professionally. They can be used to create videos of various types and purposes, in particular advertising, presentation and explanatory.
Many AI video generators offer a free plan or at least a free trial period. This way, you will have the opportunity to try out a new tool before you start paying to access it. We recommend that you familiarize yourself with 8 services from our article to understand which one will suit you best. Choose and start creating with AI.
***
Personalized responses to new clients from Facebook/Instagram. Receiving data on new orders in real time. Prompt delivery of information to all employees who are involved in lead processing. All this can be done automatically. With the SaveMyLeads service, you will be able to easily create integrations for Facebook Lead Ads and implement automation. Set up the integration once and let it do the chores every day.