Artificial intelligence technologies are effectively mastering not only routine work, but also creative activities. In addition to AI services for generating text and images, AI audio, music, and voice generators are becoming increasingly popular. Their capabilities are quite extensive: for example, music services not only create original compositions, but also perform audio mastering and online streaming. Moreover, these tools can be used for designing music videos, or more precisely – for overlaying audio recordings on video sequences.
In this article, we will talk about modern AI audio, speech, and music generators. You will learn about the principles of operation and features of these services, as well as get acquainted with 8 of the most famous online platforms of this type.
How AI Audio Content and Voice Generators Work
The principle of operation for such services, as well as other AI generators, is based on machine learning technologies. Developers literally train neural networks by uploading extensive arrays of thematic data for analysis. By processing this information, artificial intelligence finds patterns and relationships in it, and then learns independently to reproduce similar results.
For example, during the development of an AI service for creating music, programmers upload sets of chords, melodies, and beats in the form of digital data to its algorithm. The neural network processes this information, analyzes its unique properties, and then creates new compositions based on what it has learned.
As for human voice generators, they use text-to-speech (TTS) technology. The development of such neural networks is considered a very complex and comprehensive process, which involves a range of methods: machine learning (ML), deep learning (DL), IVR, SSML, and voice samples from professional voice actors.
Efficient generation of synthetic voice requires powerful resources and a huge volume of data. Unlike creating music and other audio content, speech synthesis requires the active participation of voice actors with voices of different timbres, tones, and other parameters. They read aloud a multitude of texts for recording, which is then uploaded to the neural network and analyzed by it.
In the next stage, sound designers join the process, forming fully-fledged personalities from the voices. During this process, a number of dynamic effects, filters, and musical backgrounds are added to the recordings. As a result, the service's library gradually fills with realistic artificial voices of people of different ages with various emotional nuances, speed, timbre, intonations, and other individual features.
LOVO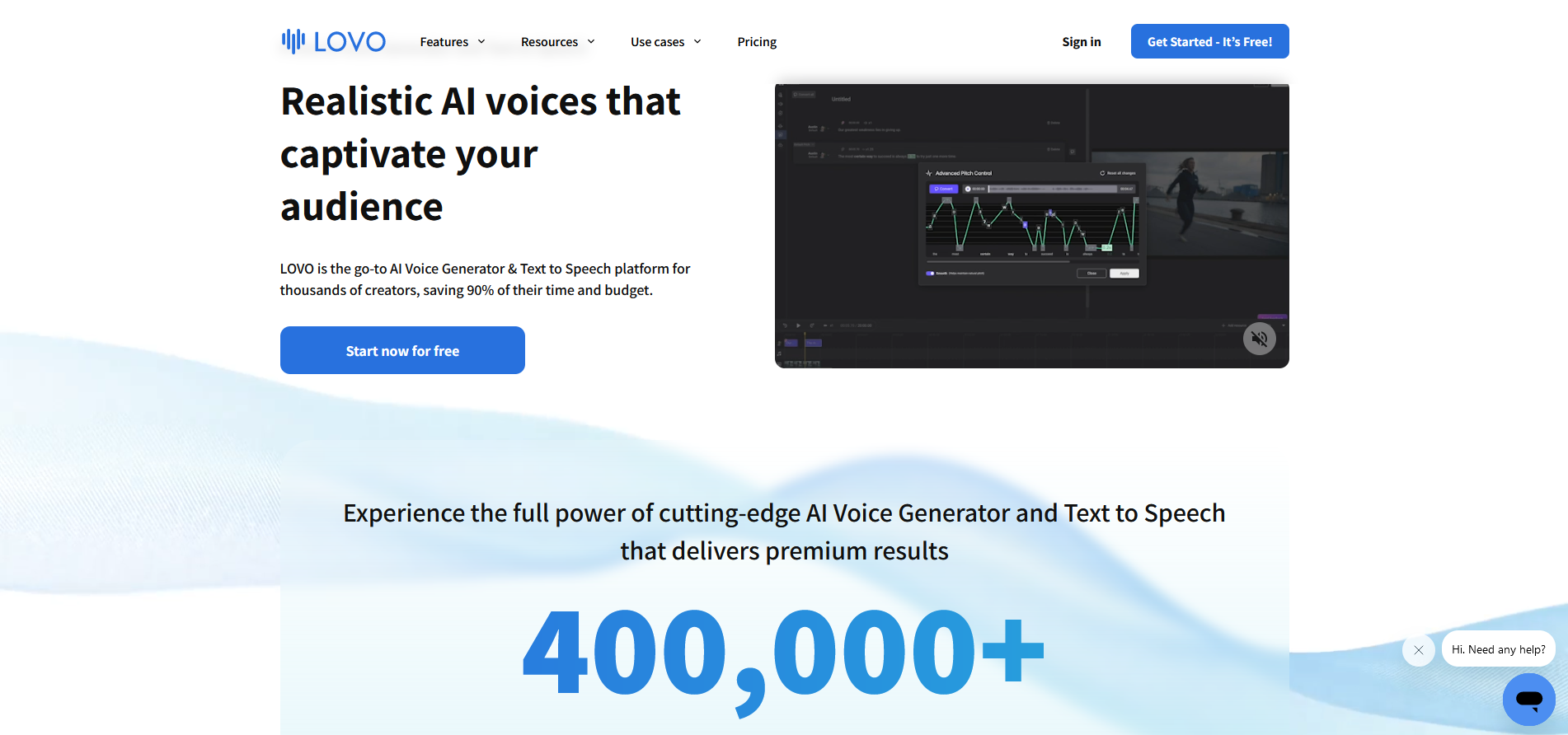 LOVO – a popular service for voice generation and text-to-speech conversion. The artificial intelligence and machine learning technologies it uses effectively reproduce the human voice. Its library offers more than 400 voices with different tones, capable of expressing 25 different emotions.
The service's capabilities allow for high-quality speech generation in over 100 languages, making it fully identical to natural human speech. LOVO algorithms reproduce voices with various timbres and intonations, suitable for many fields: entertainment, education, banking and finance, media, gaming, and so on.
The LOVO platform gained widespread recognition in 2022, earning prestigious awards as the highest-performing service in the categories of "Natural Voice Processing" and "Text to Speech". It recently launched a next-generation voice generator called Jenny with AI support. It is equipped with text-to-speech conversion and video editing features.
LOVO offers a range of tools not only for synthesis but also for speech editing. Users can change several of its parameters, such as pronunciation, speed, accent, and pitch. In addition, the generator provides an extensive database of non-verbal interjections, sound effects, musical compositions, stock photos, and videos. The service is highly popular among video makers and creators of other media content formats.
Synthesys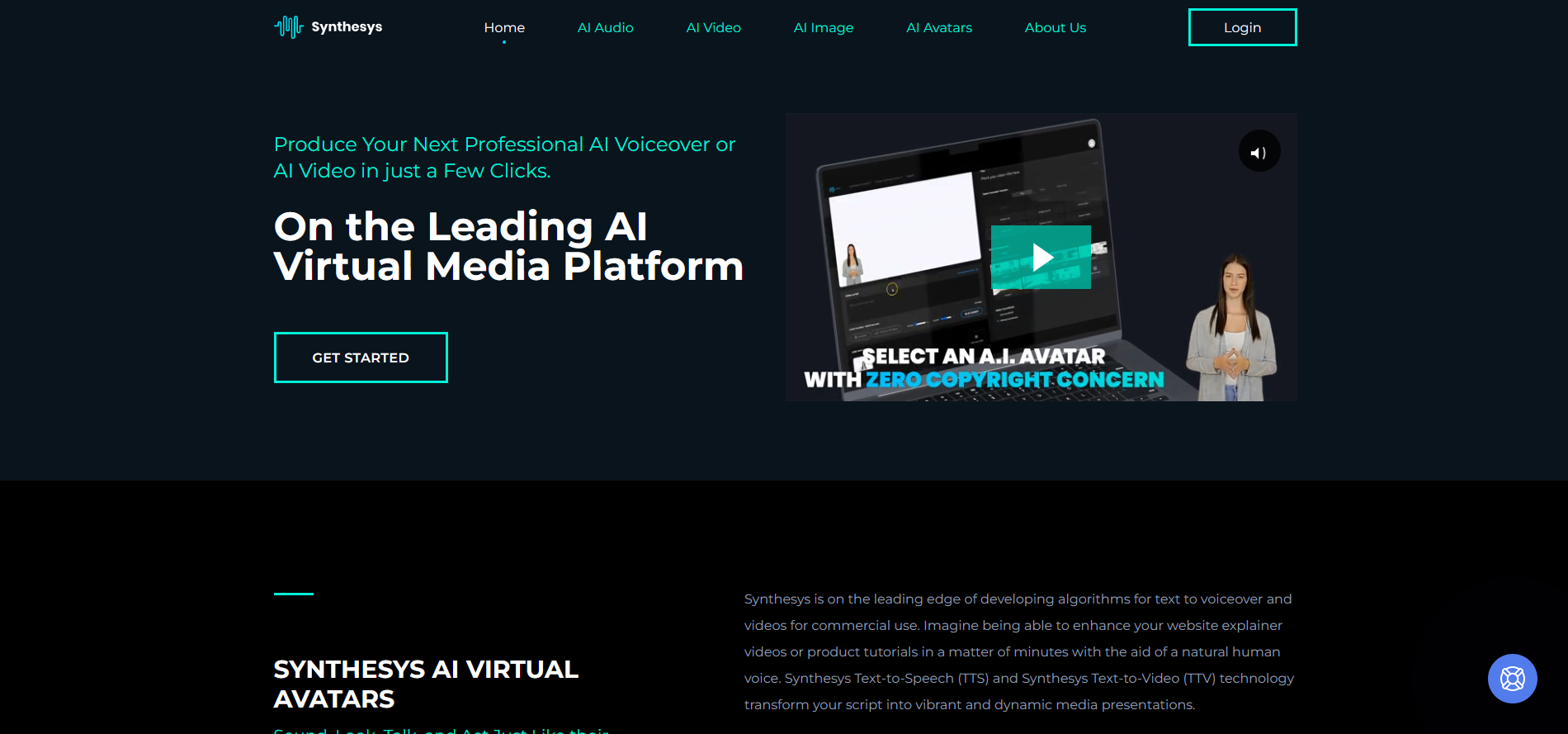 The Synthesys platform allows for generating various media content using AI technologies, specifically audio, video, images, and avatars. One of the key products of the service is a voice generator capable of quickly and effectively converting text to speech through a web interface.
The AI generator has an extensive library of professional voices with different tones, accents, timbres, and other parameters. Among them are 35 female and 30 male voices. The text-to-voice and video conversion algorithms it uses are optimally suited for commercial and private applications. With Synthesys, users can create various types of audio and video content in just a few minutes.
The service's functionality is based on Synthesys Text-to-Speech (TTS) and Synthesys Text-to-Video (TTV) technologies, developed with the involvement of artificial intelligence and machine learning capabilities. They help generate realistic human voices in different languages, with different tones, speech rates, and other parameters.
Synthesys is suitable for producing a variety of audio and video content formats: sales and educational videos, podcasts, documentaries, tutorials, and so on.
Listnr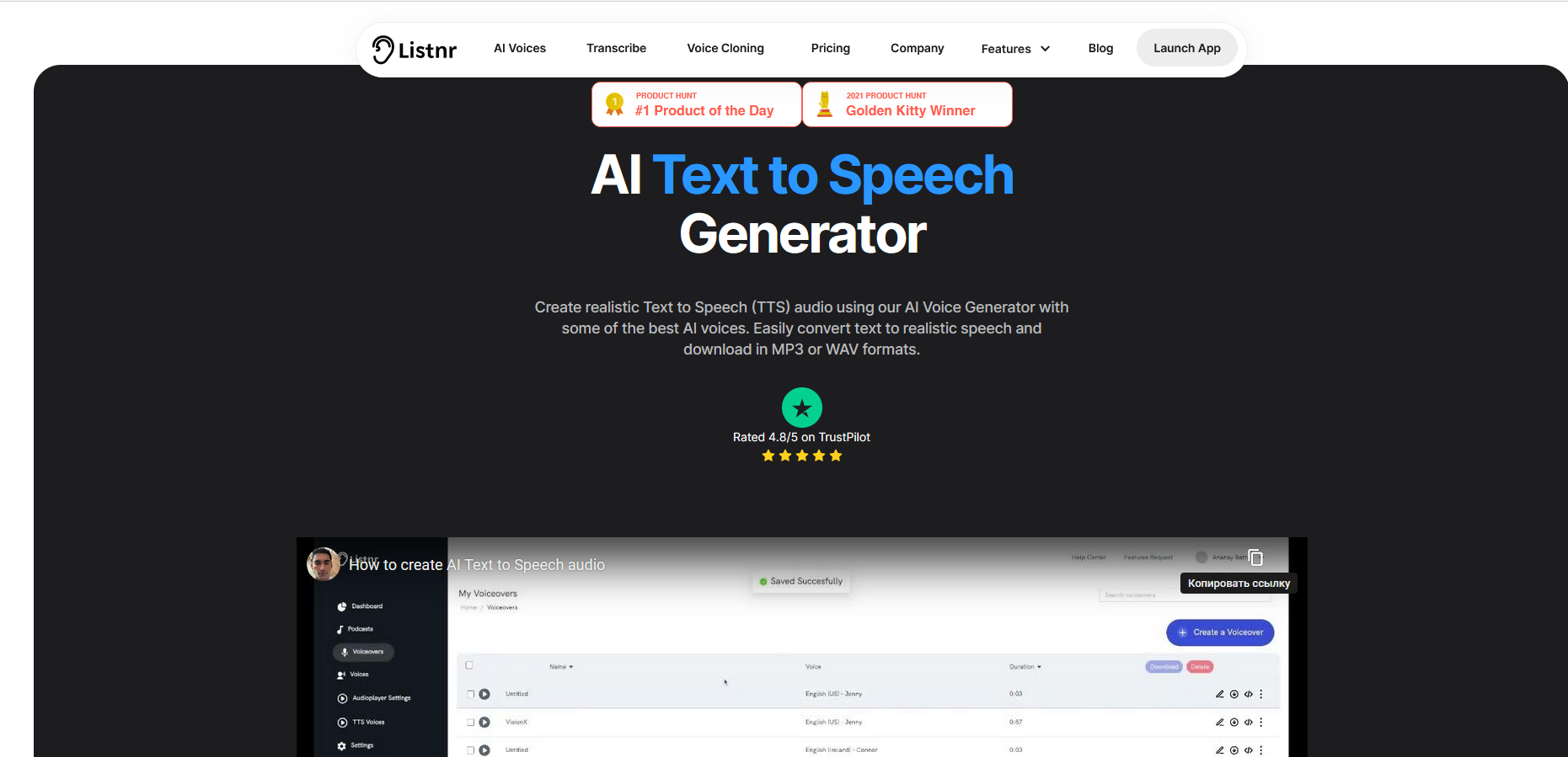 The next on the list of most popular voice generators is the Listnr service. Like the ones already mentioned, it is an AI tool for transforming text into speech. With its help, users can quickly and effectively convert text into speech, taking into account various parameters such as theme, pauses, accents, and so on. One of the main advantages of this platform is the presence of its own audio player, available for placement on a website or in an application.
In addition to the flexible customizable player, Listnr offers a range of personalization options. The service's library contains over 900 voices and more than 140 languages. Its extensive capabilities make it a universal AI solution that can be used to create content in popular formats: for example, voice-overs for YouTube videos, audiobooks, podcasts, educational and sales materials, social media content, and so on.
Listnr is an optimal tool for creating, publishing, and managing podcasts. It is suitable for both professionals in the field and amateurs. For the latter, it helps with formatting, placement, and monetization of content. With this voice generator, users can convert text to audio and distribute it with commercial broadcasting rights through popular thematic platforms: Spotify, Apple, and Google Podcasts. The service supports podcast translation into 17 languages, and its AI technology quickly turns text posts on blogs into multilingual audio podcasts.
Play.ht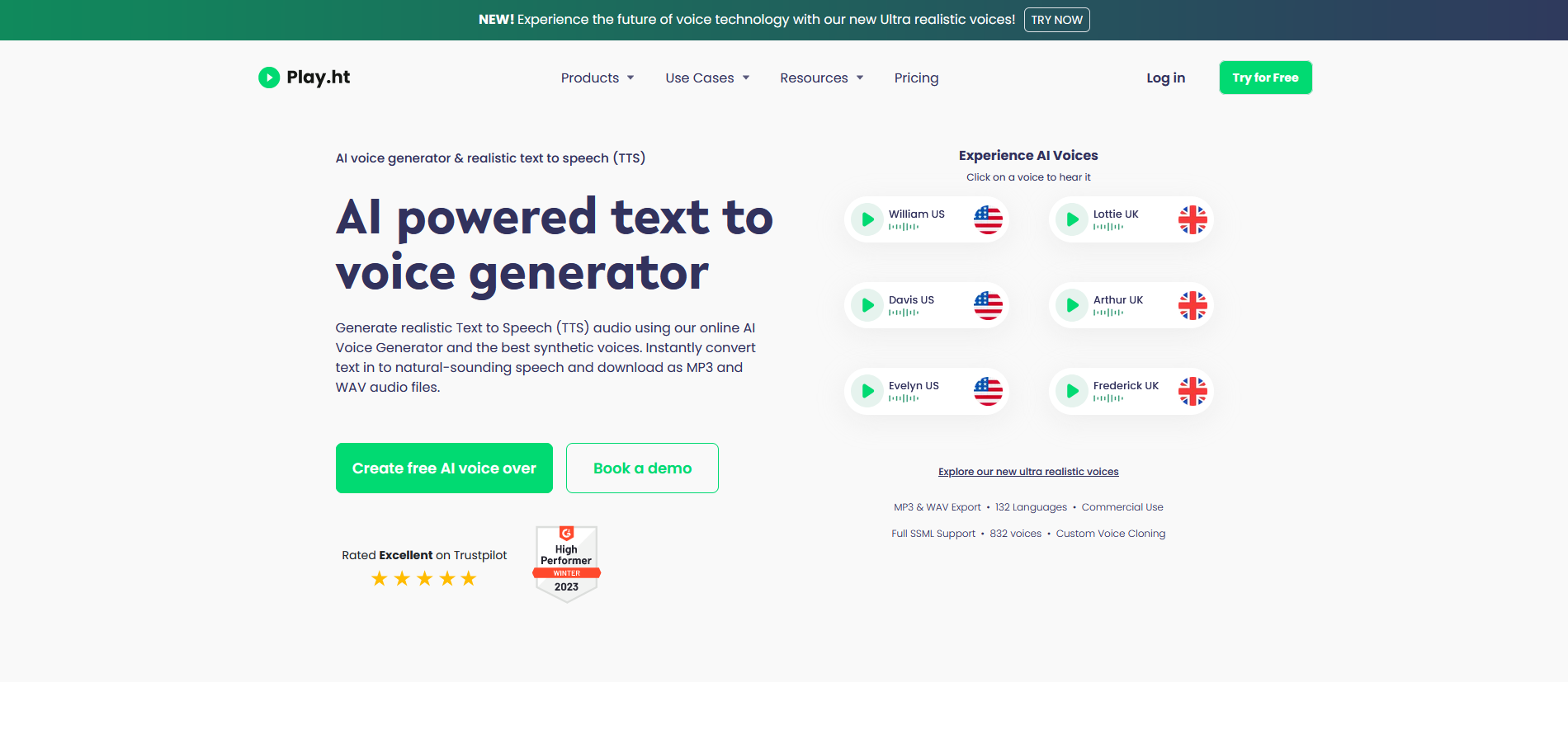 AI technologies from IBM, Microsoft, Amazon, and Google, on which the Play.ht service was developed, allow it to automatically convert text into realistic synthetic speech. The resulting recordings are available for download as audio files in MP3 and WAV formats. As of April 2023, the service's library contains more than 900 voices that can reproduce speech in 132 languages.

Connect applications without developers in 5 minutes!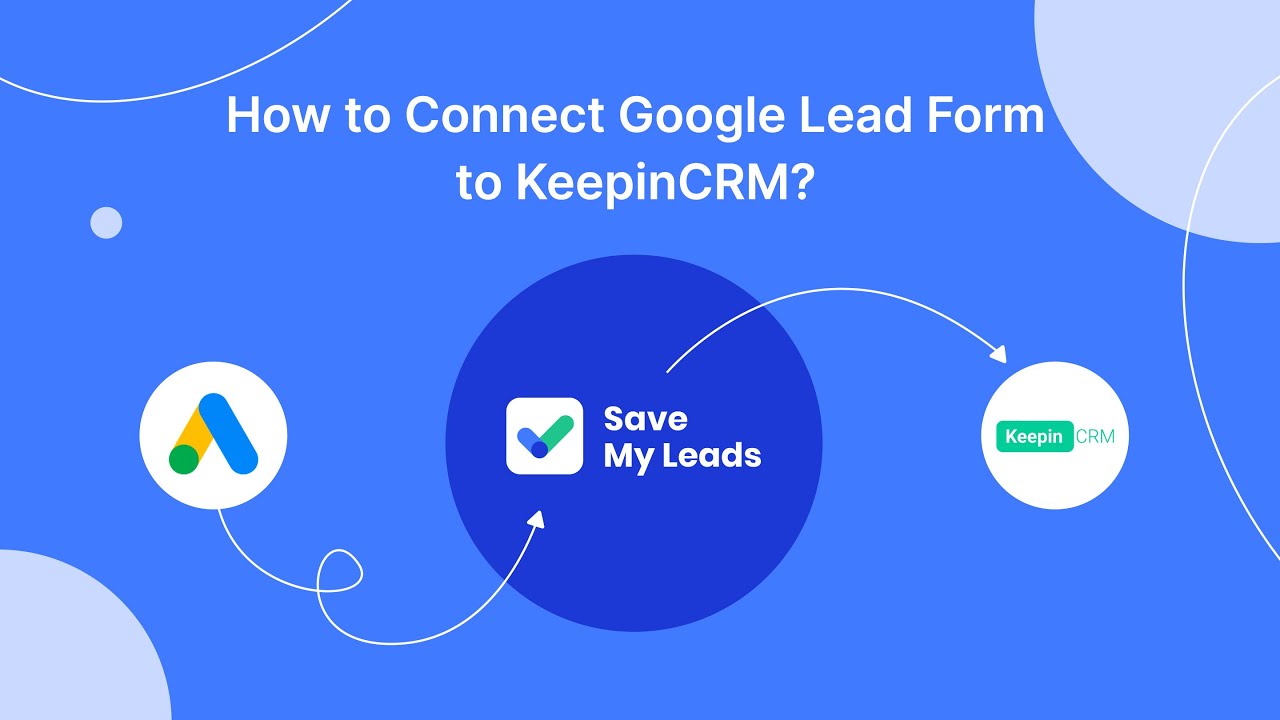 How to Connect Google Lead Form to KeepinCRM (clent/lead)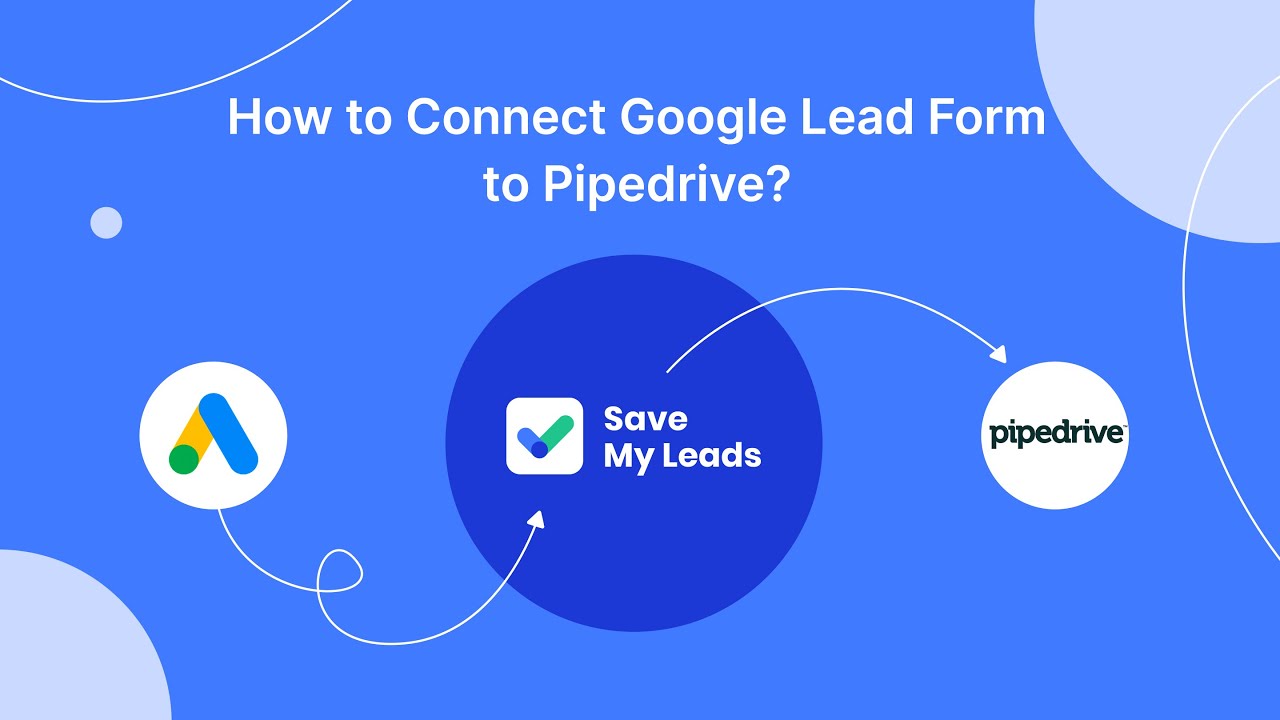 How to Connect Google Lead Form to Pipedrive (Deal)
Play.ht offers the ability to precisely adjust the voice tone by editing a number of parameters: speed, pitch, accent, pauses. Users can also customize the pronunciation of specific words, then save the result and automatically apply it during the AI speech synthesis process. Additionally, there is a preview mode for pre-listening to individual sentences or paragraphs.
With Play.ht, you can voice conversations with multiple participants, using several voices to voice different text fragments in a single file. This tool also allows integrating voice synthesis in real-time mode. The service is suitable for many purposes, including creating videos, podcasts, educational or advertising content.
AIVA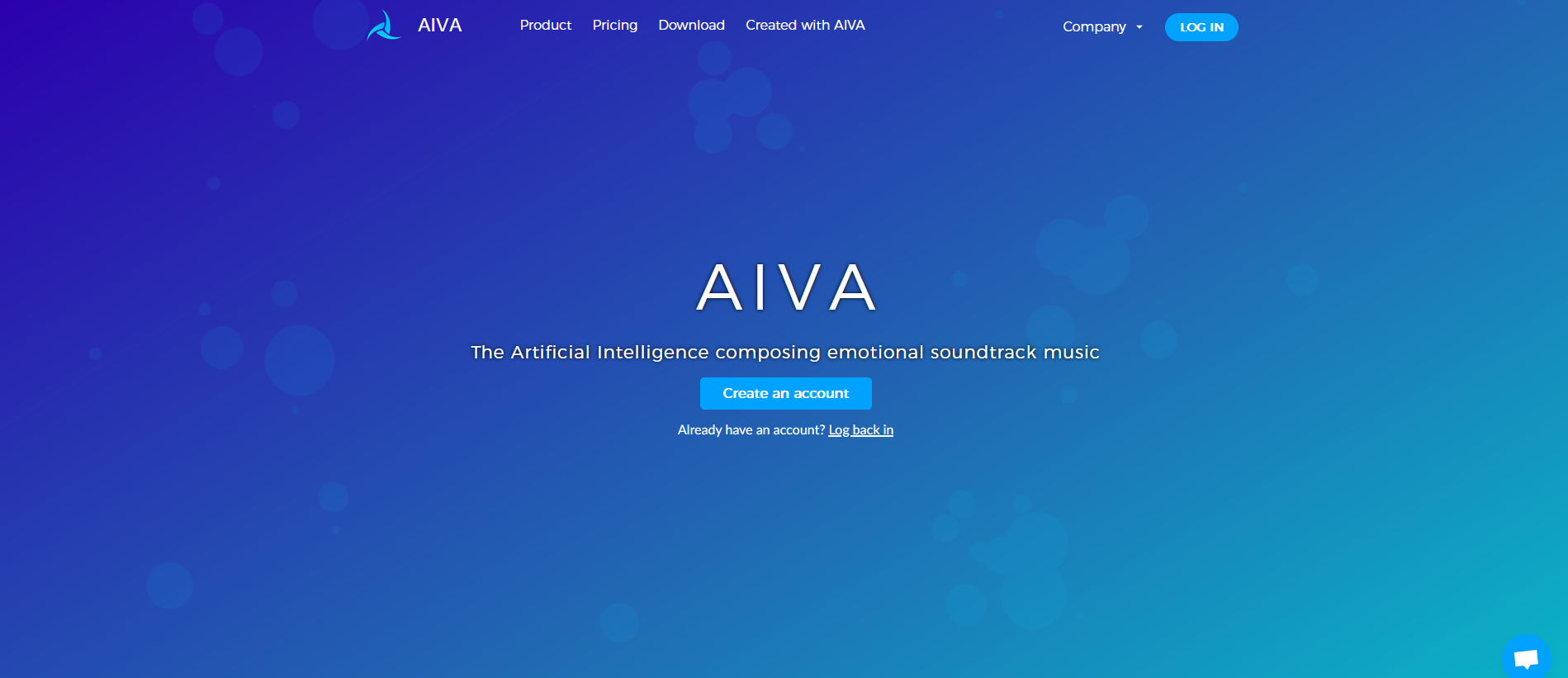 The AI music generator AIVA was developed back in 2016. Today, it offers a range of tools for creating soundtracks for advertisements, films, games, and other media content. The service allows users to generate musical compositions in various genres and styles, pre-selecting the necessary preset - a template-guide for AI algorithms when creating new tracks.
AIVA has an extensive library of presets for creating music in many popular genres: contemporary movie soundtracks, electronic music, pop, ambient, rock, fantasy, jazz, and more. In addition, the generator offers specific musical formats: Chinese, tango, 20th-century cinema, and others.
AIVA users have the opportunity not only to create new tracks, but also to modify existing compositions and edit soundtracks. At the same time, they do not have to worry about the licensing processes for the fruits of their creativity. The free plan allows you to create tracks for personal needs freely. The paid PRO plan is designed for developing compositions that will be used for commercial purposes later. It provides a full set of copyright protection for any music created on the AIVA platform.
Soundful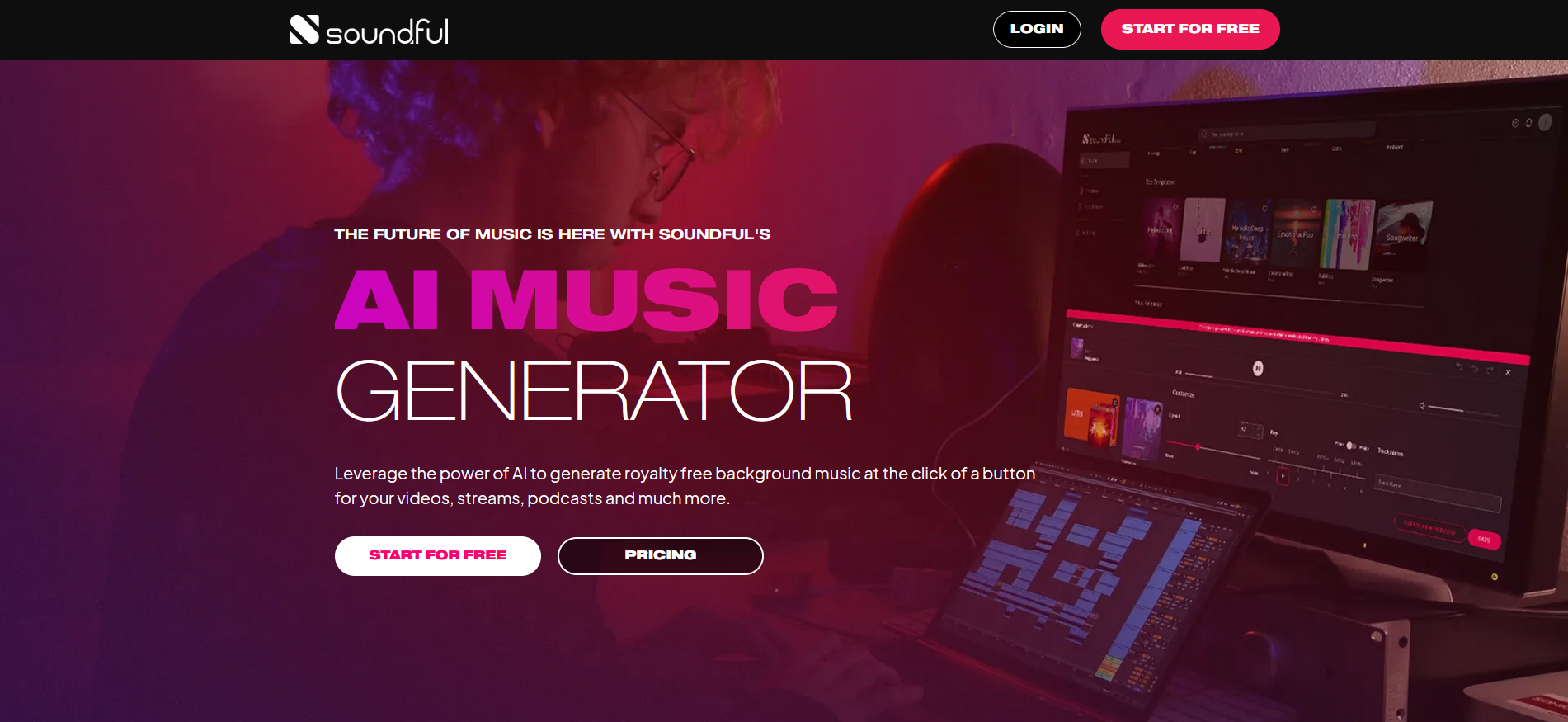 The AI music generator Soundful utilizes artificial intelligence and machine learning technologies to generate free background music. The resulting content can be used for various purposes, including videos, streams, and podcasts. The service has a user-friendly and intuitive interface: to create music, users only need to choose a genre and specify input parameters.
Developers claim that Soundful's AI algorithms can create exclusively unique compositions, as they learn from one-time samples. As a result, the neural network will never generate melodies that already exist elsewhere, including those created by it before. The service's library offers more than 50 templates for music of different genres, allowing users to save time on developing tracks from scratch.
Soundful is suitable for audio content creators, producers, and brands. With this platform, you can not only create original musical content, but also license it for various purposes: from commercial distribution to monetization on social networks. In particular, licenses for YouTube, Twitch, and other streaming services, social networks like Facebook and Instagram, websites, corporate videos, internet advertising, applications, broadcasts, video games, NFT tokens, background music for stores, events, and more are available.
Ecrett Music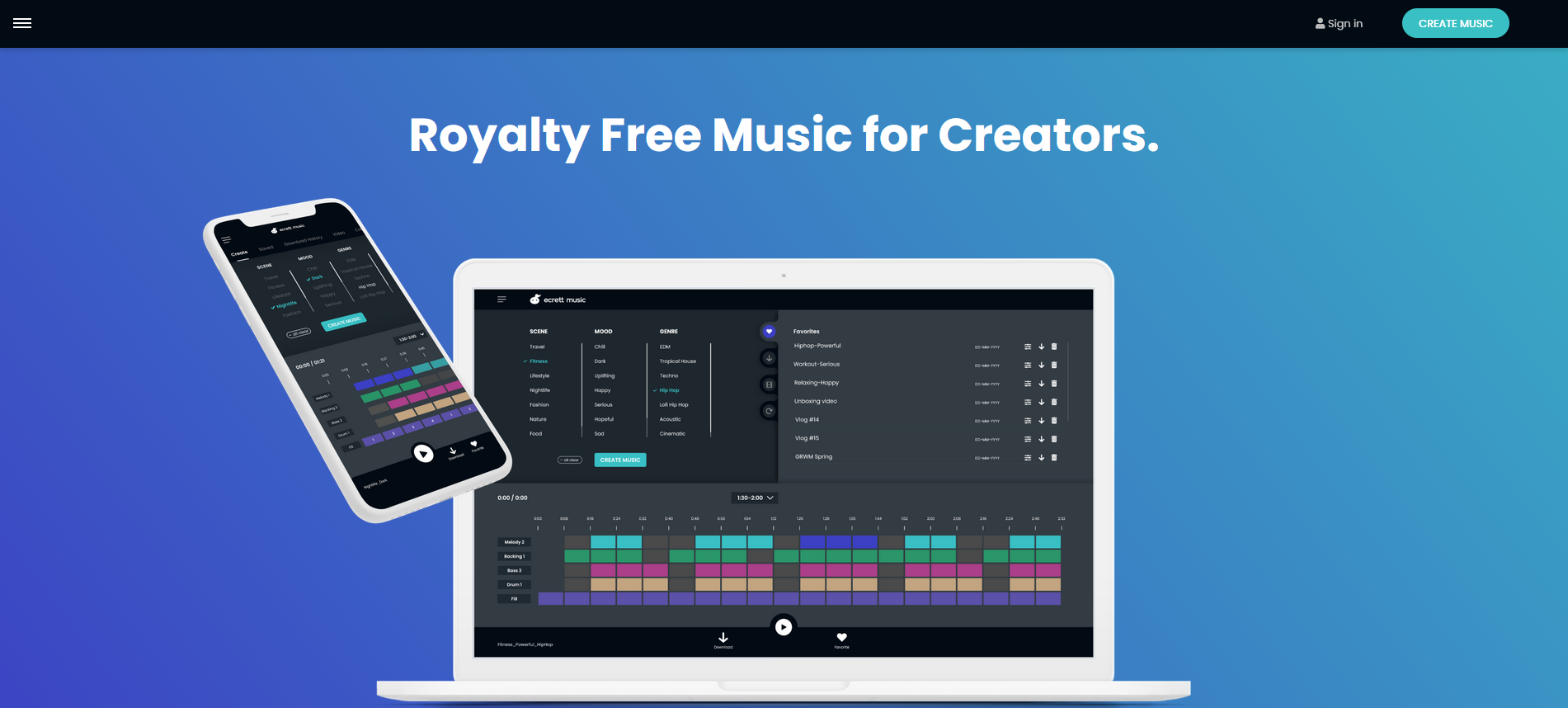 Ecrett Music is a service designed for creating original music and clips using AI technologies. The generator offers users a convenient and functional interface, as well as an impressive library of templates. It is suitable for both amateurs and professionals. To generate tracks, you just need to perform a few simple actions: specify the desired theme, genre, and mood, and then press the "Create music" button.
Ecrett Music's catalog features a variety of themes: travel, fitness, fashion, lifestyle, nightlife, nature, and food. As for genres, this platform allows you to create compositions in styles such as electronic music, tropical house, hip-hop, acoustic, and cinema music, among others. Additionally, users can choose the emotional tone for their music: relaxing, sad, serious, or happy.
The service allows you to save compositions to your favorites and generate new ones based on them, as well as create different tracks with the same settings. The algorithms used quickly "write" original works based on user preferences. Ecrett Music also offers the ability to flexibly customize the music created on the platform, including changing its structure and various parameters: melody, background, bass. Users of this AI generator can freely manage their tracks: add them to favorites, view the recording history, download them to a computer or send them over the internet, and combine them with uploaded videos to create clips.
The platform offers several pricing plans with different prices and capabilities. A free trial period is available.
Soundraw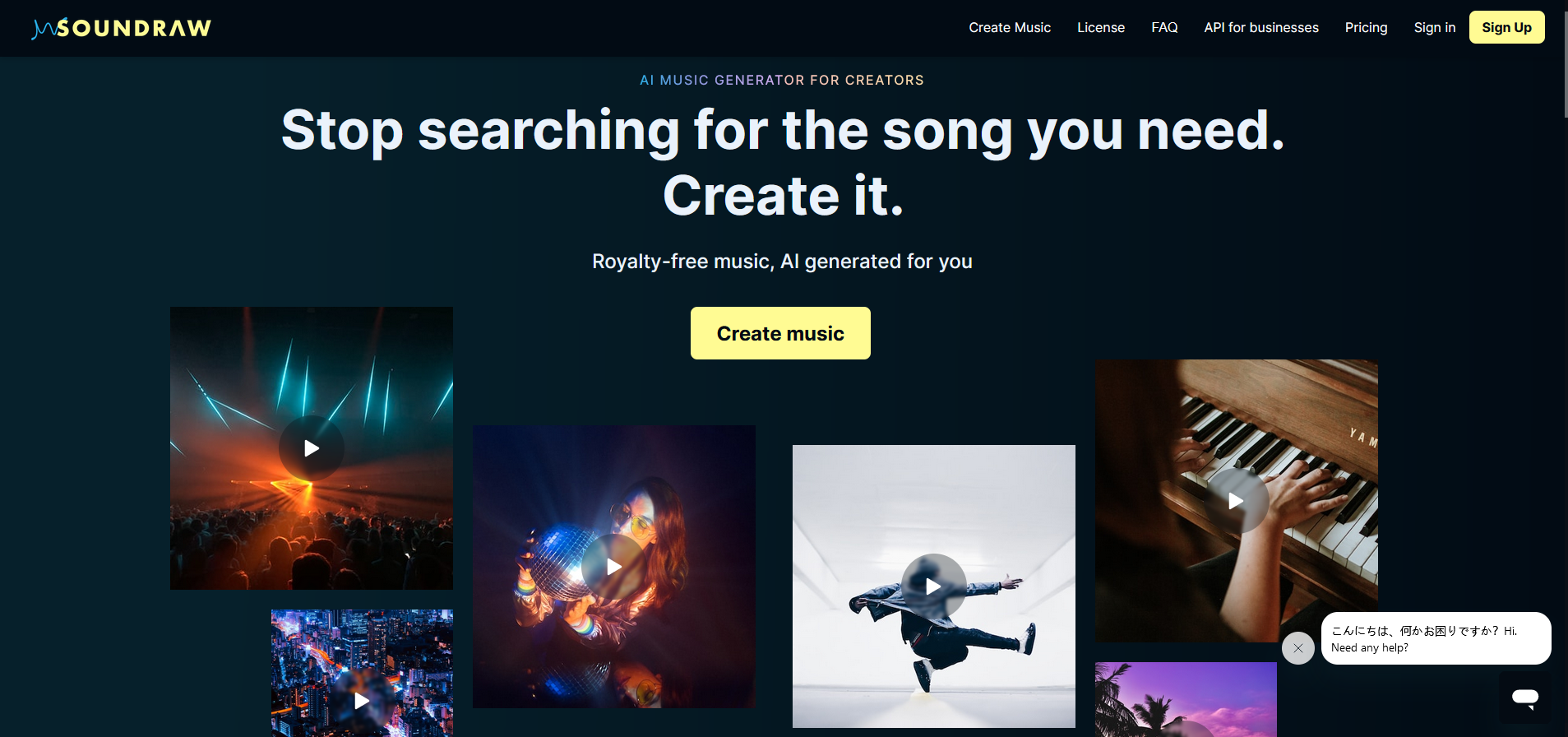 Soundraw service combines advanced AI technologies with a wide range of manual adjustment tools. This combination makes it useful and convenient for both beginners and experienced content creators. One of its main advantages is a set of features for customizing the created music. They can help, for example, easily and quickly shorten or extend the intro, change the position of the chorus in the track.
Soundraw is convenient because it allows you to adjust and customize musical compositions on a second-by-second basis. You can also combine text with video recordings when working on clips. Music generated through this service is protected by a universal permanent license, which allows you to use it for any type of content: video (YouTube, TV, cinema, internet advertising, streams, corporate videos), audio (podcasts, radio, audiobooks, music streams), games, applications, NFTs, and events.
The service is suitable for solving both personal and professional tasks. The free plan allows you to generate an unlimited number of tracks and add them to bookmarks. The paid subscription significantly expands the basic capabilities of Soundraw. Users who subscribe can take advantage of the full functionality of the service, download up to 50 tracks per day, and use them for any commercial or non-commercial content.
Let's Summarize
The popularity of AI voice and music generators is rapidly growing today. With their help, practically any user can now create voice-overs and "compose" music. Neural networks and deep learning algorithms used by these services allow for the creation of original tracks and realistic, naturally sounding speech. Voice generators transform text into speech and provide the ability to maximize its realism by choosing a suitable age, gender, and even accent. Generated human voice simulations can be used for voice-overs in videos, audiobooks, and the creation of virtual assistants.
AI music generators are another step into a new era of creative technologies. Thanks to them, anyone can become a composer. Without programming skills and experience in writing music compositions, a user can create fairly complex music in just a few clicks, adjusting sound rhythms and landscapes.
How do you choose the right AI voice or music generator for your tasks? First, explore different services to determine which one best meets your needs and capabilities. Pay special attention to the sound quality level, the type of music generated, ease of use, and subscription cost.
***
Personalized responses to new clients from Facebook/Instagram. Receiving data on new orders in real time. Prompt delivery of information to all employees who are involved in lead processing. All this can be done automatically. With the SaveMyLeads service, you will be able to easily create integrations for Facebook Lead Ads and implement automation. Set up the integration once and let it do the chores every day.