The capabilities of modern AI tools exceed the wildest expectations of science fiction writers of the past. Today, artificial intelligence algorithms are able not only to create texts of all kinds, but also to generate visual content. In our article, we will tell you what an AI art generator is, how it works, what advantages and disadvantages it has. In addition, you will get acquainted with a small selection of the most popular services of this type.
What is an AI art generator?
Art AI generator is a computer program capable of generating images and other visual content using artificial intelligence. Modern software of this type has expansive possibilities: it can create works of art in different styles, including two-dimensional and three-dimensional graphics. Some of these programs can even combine 2D and 3D graphics in their work.
Today there are two main types of this software: AI image generator from text to image and image generators based on other images. The first type is designed for automated creation of visual creativity based on text prompts. It is trained on large datasets that contain text and images, gaining the ability to find the relationship between them.
Programs of the second type turn imagination into digital art. They allow users to upload photos or pictures from various sources into their interface, and then modify them or generate new content based on them using artificial intelligence.
Visual content generator services are being actively refined by developers, so their potential is constantly growing. Already, they are not just creating random images based on a user request, but they are doing it in different art styles. For example, at the request of the user, they can generate the most realistic or, conversely, abstract images.
How do AI art generators work?
The principle of operation of such software directly depends on the technology used by it. AI art generator from text is trained through giant arrays of images that developers fill them with. A mandatory component of such content blocks is a text description that acts as an annotation for these data sets. Then the neural network is tuned and calibrated until it starts to recognize these photos and pictures by the text you enter.
As a result, text-to-image AI gains the ability to find differences between images and independently generate content using the available data. New images are created through algorithms, their content can be noticeably different even with a minimal change in the text prompt from the user.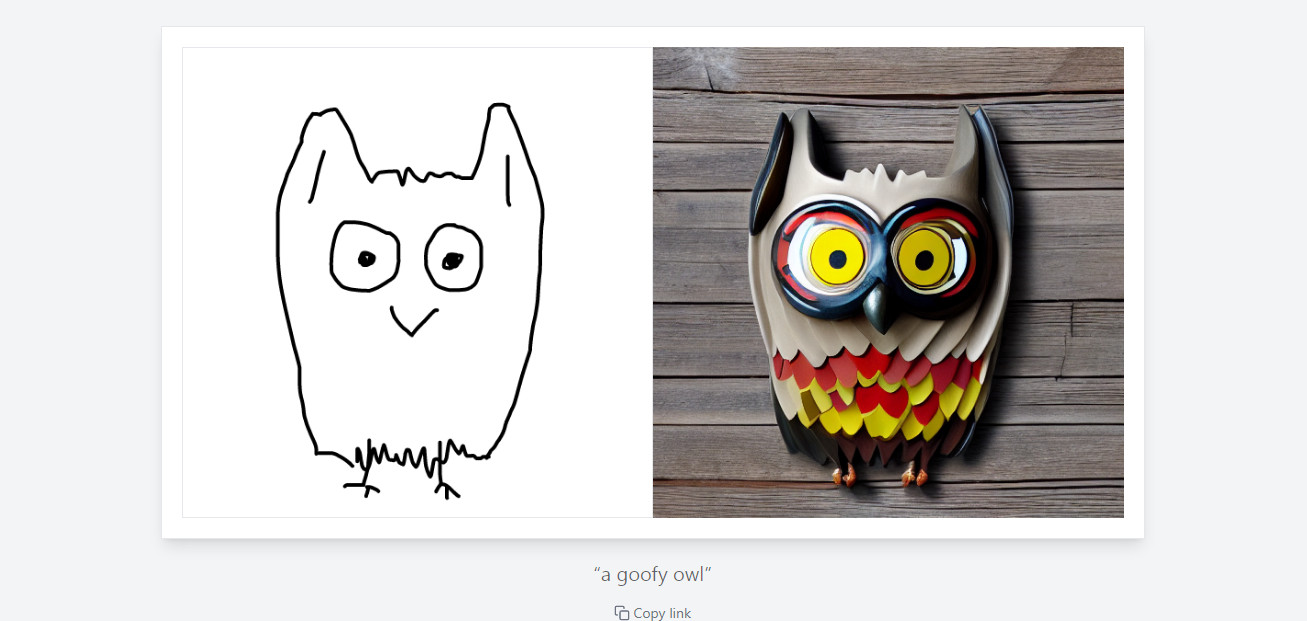 As for programs like image-to-image, they use a simpler technology called neural style transfer. Namely, they process the image uploaded by the user in a certain style of painting, design, and so on. As a result, the content processed by the neural network gets a very original look. For example, thanks to the AI image generator free, you will be able to generate a drawing in the chosen technique based on your selfie or any other photo.
The pros and cons of using an AI art generator
Creating digital art by artificial intelligence has its pros and cons.
Creativity and innovation. AI text to image generator provides artists, designers, illustrators and other creative professionals with new ideas. The neural network can represent any picture or photo in its original vision by combining patterns and trends from many existing works.
Efficiency. AI services make it possible to create art much faster and with higher performance than without their participation. They can be used not only to generate images from scratch, but also to perform intermediate tasks: sketching, coloring, editing, etc.
Availability. Such programs make graphics available to the public, who no longer need to learn special techniques and master complex tools. With their help, art will be accessible to everyone, including people with disabilities.
Lack of humanity. Even the most powerful and functional generator tool today does not have thoughts and emotions, so it cannot put them into its creativity. The images created by the algorithms are emotionally empty. They do not convey any ideas or appeals to the audience, but simply compile and modify already created content.
The depreciation of art. The proliferation of AI image generators could devalue the very principle of art. Many creative professions will become unclaimed, and masterpieces of human creativity will be replaced by a mass of monotonous content from neural networks.
Plagiarism and copyright infringement. In fact, AI art generator text processes pictures and photos without the permission of the authors, using them to create new content (including for commercial purposes). As such software spreads, this problem will become more and more urgent and may lead to the introduction of restrictions on its use.

The best AI image generators
The most famous and popular services in this area include:
DALL-E 2;
MidJourney;

Dream by WOMBO;

Jasper Art;

NightCafe;

DeepAI;

Stable Diffusion.

DALL-E 2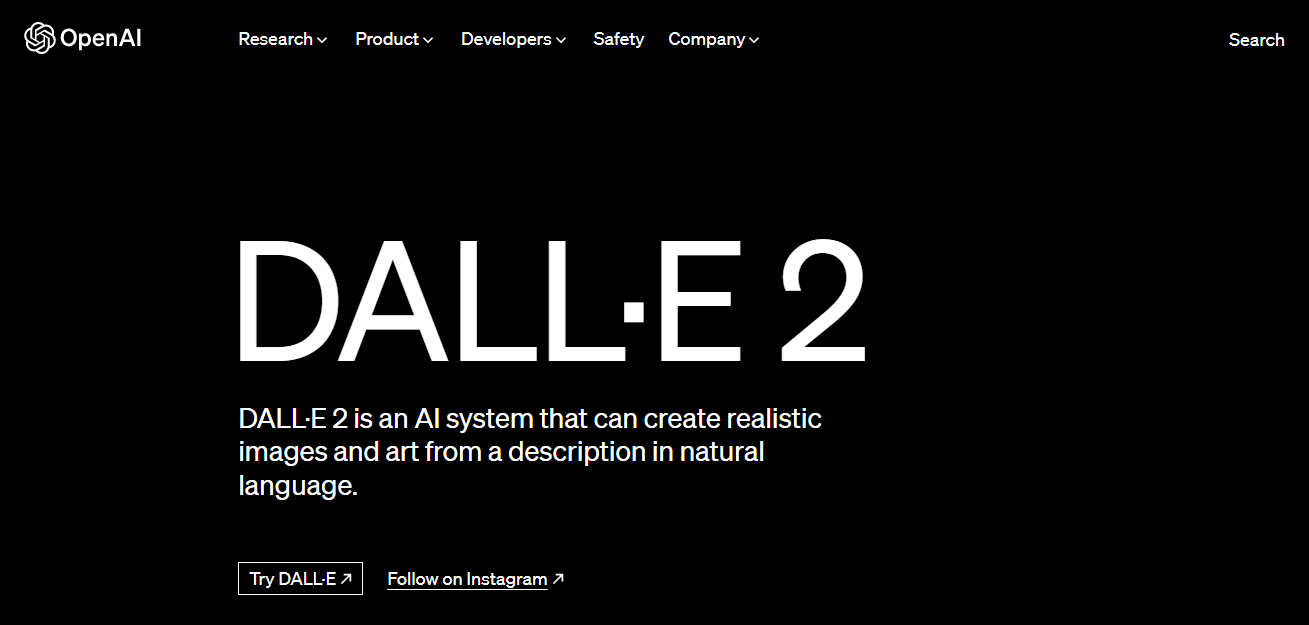 The highly demanded image generator developed by OpenAI is a neural network that generates images based on text descriptions in English (text-to-image). The artificial intelligence it uses can combine different styles, concepts and attributes. It not only recognizes individual objects in images, but also understands the relationships between them.
DALL-E 2 is considered the best AI art generator for a reason. It has expansive possibilities and high functionality. Users can not only write text, what kind of visual content they need to create. You can also upload an image to it, and it will create a certain number of variations. For example, by presenting it differently, from a different angle, etc.
OpenAI developed the first version of this program in January 2021 and released the second one a year later. DALL-E 2 has more options, which allows it to create images with a higher resolution – 4 times higher than the first version. Also, the program is equipped with a built-in visual editor that allows users to manually change the images created by the neural network.
MidJourney

If you are looking for the best free AI art generator, then this service is unlikely to meet your expectations, but it generates high-quality images and has a number of other advantages. MidJourney uses the same technology as DALL-E, although its artificial intelligence was created using a different machine learning model.
The neural network was trained based on billions of images and text descriptions – just like other similar programs. A feature of MidJourney AI art generator is its ability to create exceptionally beautiful and stylish, though not always realistic, images.
Connect applications without developers in 5 minutes!
In addition, the service has a clear and friendly user interface, which can be controlled using commands and text prompts. It also provides high-resolution images, making them more attractive and rich in detail.
As for the cons of MidJourney, it is worth noting a slightly complicated system for accessing it. As of today, the program is only available in beta, so to use it, you need to go to the official website and register through the Discord platform. After that, the user gets the opportunity to create 25 images for free, and then can subscribe to a paid subscription starting at $8 per month.
Dream by WOMBO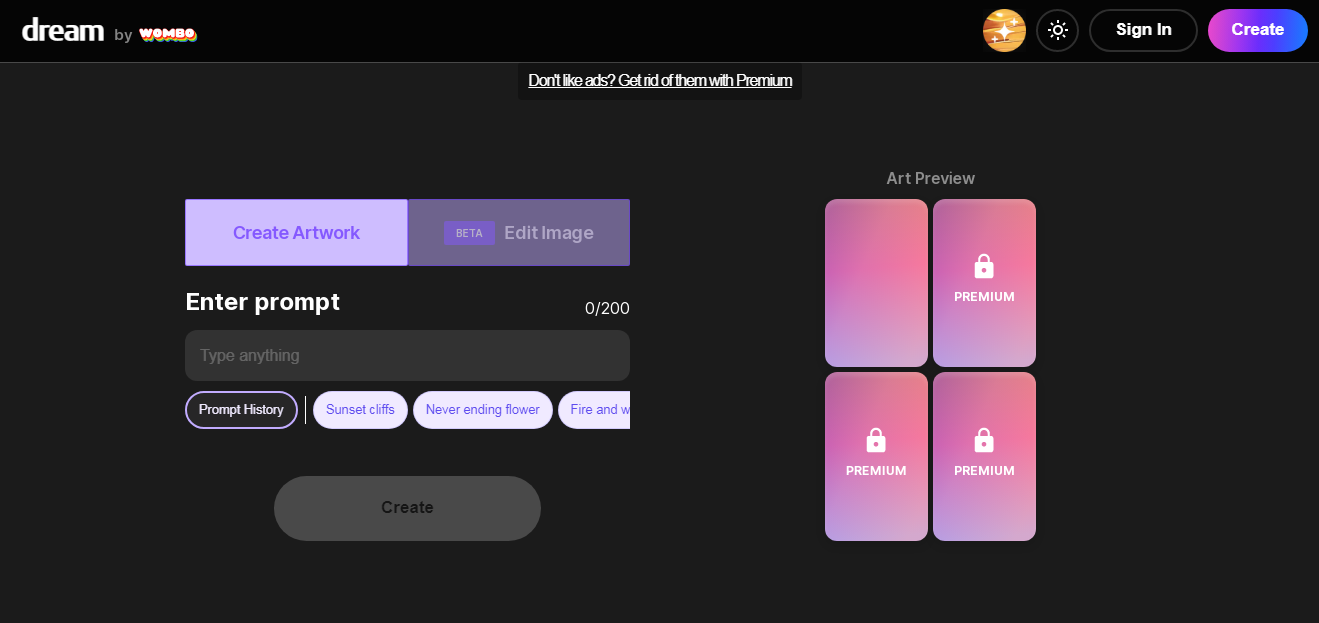 The neural network capable of generating images was developed by the well-known startup WOMBO, which specializes in creating lip-sync deepfakes based on user-generated content. Wombo AI art generator allows users to create not only images, but also NFT pictures. It is available as a mobile app (received the prestigious Best App status in Google Play 2022). In addition to it, the Dream by WOMBO interface is available as a desktop program.
An important feature of the service functionality is the ability to select the art style of the created image. In particular, users have access to such styles as realism, expressionism, abstractionism, as well as the ability to create comical pictures, make ink drawings, etc. They can flexibly modify their photos by giving them a cartoon style or turning them into fake paintings through a variety of templates.

This AI art generator free to use, but only the standard version. In addition, there is also a paid version with advanced features. You can buy a subscription to it for $10 per month, $90 per year, or $170 forever.
Jasper Art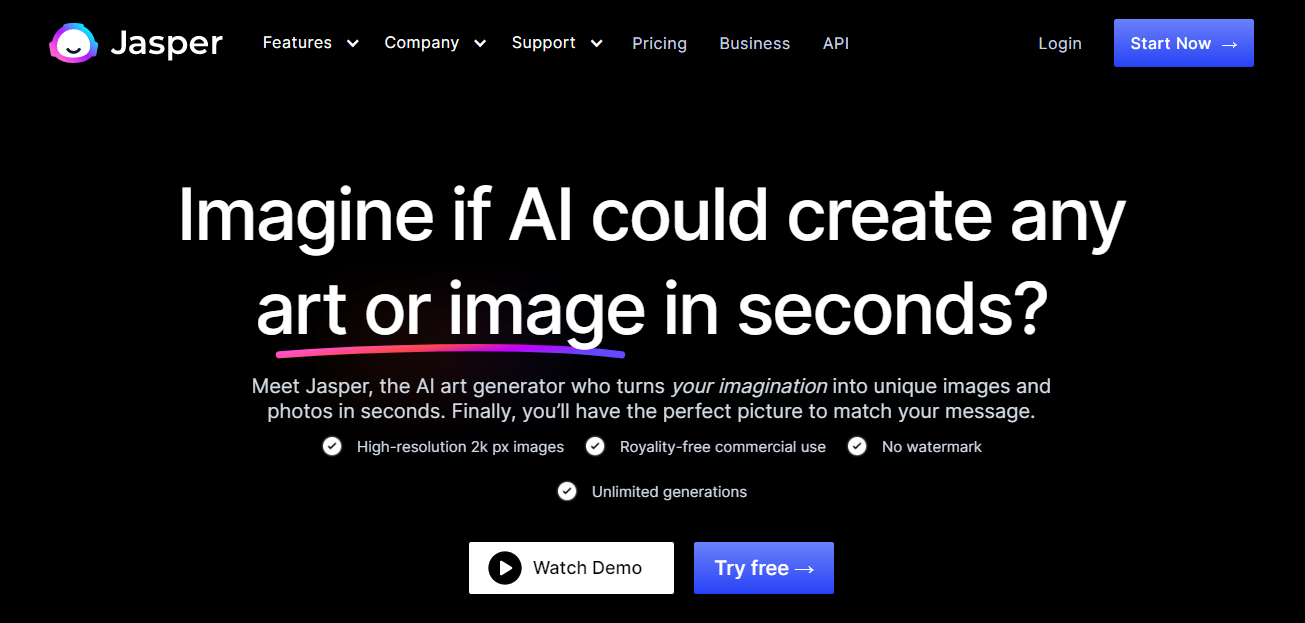 Jasper Art is rightfully considered one of the most popular programs for automated generation of realistic images with AI. It was created based on the Jasper AI neural network, which has attracted the attention of a wide audience as a powerful auxiliary tool for copywriters.
The service has a fairly simple and intuitive interface without overly complex and confusing settings. The users can specify a textual description of the picture they need to create, as well as mark its additional characteristics: style, technique, drawing style (you can choose artists), theme, keywords, etc.
This free AI art generator from text is capable of generating photorealistic images, cartoons and many other graphic content formats. According to a number of thematic rankings, Jasper Art consistently scores highly in terms of functionality and user experience. It is optimally suited for simple and quick creation of original images for various purposes (blogs, social networks and more). With it, you can save a lot of time and money by replacing them with stock image searches.
NightCafe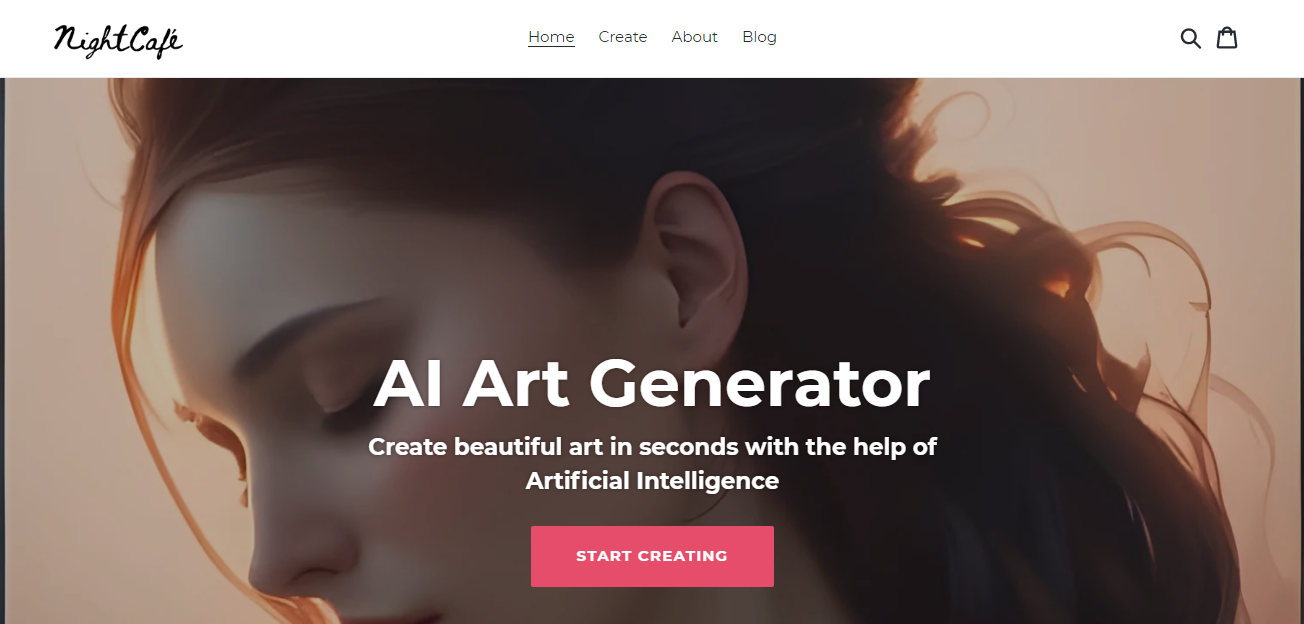 NightCafe is another popular free AI art generator that combines powerful algorithms and decent functionality with a simple and clean interface. Also, this art generator work is very fast. It creates high-quality original images according to given descriptions in no more than 30 seconds. In addition, the service has advanced settings that provide many options for advanced users.
Everyone can use it absolutely free of charge, without registering and sending bank card details, thanks to the trial period. An interesting feature of this service is the system of credits required to use it. They can be bought for money or earned in various ways in the thematic community of fans.
NightCafe AI is capable of making images not only from text, but also from sketches. In addition, the platform makes it possible to purchase printed works created by the neural network, as well as generate original videos.
DeepAI

This art AI generator was released in 2016. Its main advantage is the simplicity of the interface: users just need to provide a brief text description of the image and indicate in what style it should be generated. You can also use it to change certain details in the pictures.
DeepAI's artificial intelligence capabilities allow it to create original pictures in seconds, as well as color existing ones. This text-to-art generator includes an extension called Zendo that can recognize user-specified objects. This option makes this neural network in demand for many promising industries, for example, for training software for unmanned vehicles.
Also, DeepAI is an AI pixel art generator. With it, you can easily and quickly turn different image formats into pixel art. There are also several built-in tools for creating photorealistic images (StyleGAN and BigGan) and the CartoonGan option, which allows you to give pictures a cartoon style.
Stable Diffusion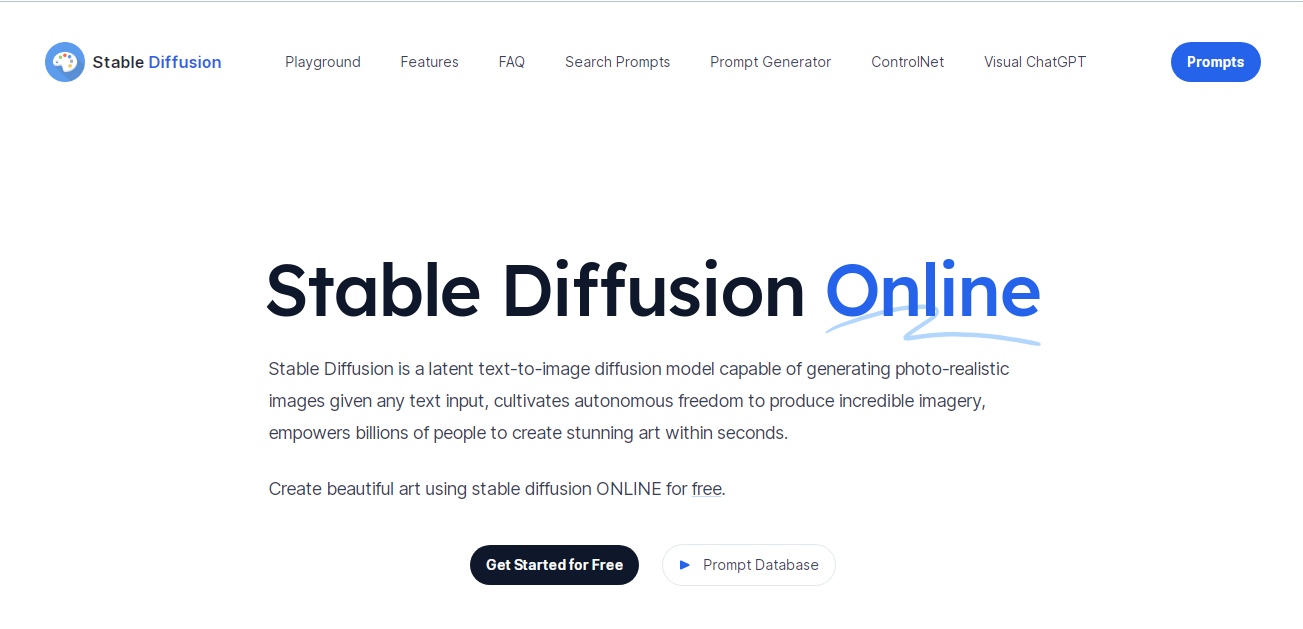 If you are looking for an AI art generator from text free to use, this algorithm will be the best option, as it is available absolutely free. It was developed by Stability AI, which released a lot of AI-enabled software.
An important advantage of the Stable Diffusion neural network is that it has two versions. The first generates images based on text descriptions (text-to-image), and the second modifies existing images in accordance with requests (image-to-image).
A certain disadvantage of this AI image generator is its user interface. Since currently, Stable Diffusion is more of a technology than a ready-made service, to work with it, you need to find a site that provides such an opportunity. However, the reward for the search will be the really high quality of the images generated by this neural network.
Another feature of SD is the relatively long waiting time for the result. If you use the demo version, it will take from 1 to 15 minutes to create one image due to a large queue of applicants. The technology license allows it to be used for non-commercial and commercial purposes. Also, this algorithm is used in other similar services – for example, in NightCafe and Deep Dream Generator.
Summing up
Presently, the digital world is experiencing a powerful AI revolution. Rapidly emerging and improving algorithms and artificial intelligence models have opened the door to Web 3 for us, dividing the life of Internet users into "before" and "after". The number of AI-based art generators is also growing rapidly. They are actively developing and are not going to disappear in the near future. Apparently, their new versions will become even better and more functional, and the results they produce will amaze with their realism and indistinguishability from man-made masterpieces.
While AI is revolutionizing the very nature of art, intelligent image generators were not designed to completely replace artists. Their goal is to become helpers. Thanks to them, artists and graphic designers have gained the ability to generate a variety of unique and really complex works in a relatively short time. Visual artists can use these tools to inspire, generate new ideas, and create rough sketches that can then be refined and enhanced in their own style.
***
Personalized responses to new clients from Facebook/Instagram. Receiving data on new orders in real time. Prompt delivery of information to all employees who are involved in lead processing. All this can be done automatically. With the SaveMyLeads service, you will be able to easily create integrations for Facebook Lead Ads and implement automation. Set up the integration once and let it do the chores every day.