How AI is Helping to Improve the Service Desk Experience
The versatility of artificial intelligence and machine learning technologies makes them effective for a range of tasks. Initially, AI was used only in routine, repetitive work processes. This made it possible to free employees from such work and increase their productivity by solving more important tasks. Today, the possibilities of AI have stepped far forward, so neural networks are increasingly involved in more complex processes. One of the most demanded segments for the implementation of AI in customer service is data analysis. Specially trained algorithms quickly and efficiently process large amounts of information, forming accurate and profound insights on their basis.
Thanks to artificial intelligence, companies can significantly increase the speed and efficiency of customer service. Its technologies enable large-scale automation of a number of processes, which positively affects the effectiveness of the help desk and increases audience satisfaction. AI integration has a positive impact on the user experience, increases engagement and retention rates, and improves the brand's image.
Ways to use AI in the field of user support:
Ticket processing. Automatic labeling allows you to easily and quickly classify all incoming help desk requests. With this type of tool, companies can much faster and more efficiently distribute tickets to thematic categories. Different typing formats are supported, depending on the task at hand: by the part of the functionality (to which the request belongs), by urgency, and so on.
Sentiment analysis. This is a common use of AI for customer support that allows you to analyze customer sentiment based on their customer support calls. For example, it can be used to effectively identify cases of mass dissatisfaction of users with a particular function/service of the company and take timely action.

Text analysis. AI technologies effectively perform text analysis based on the task and the given labels. For example, you can set up a neural network to search and analyze customer reviews or any mentions of a company and its products on the Internet.

Chatbots. This is one of the most common applications of artificial intelligence for user support. AI-powered chatbots automate and optimize the work of the helpdesk, processing customer requests faster and providing them with the necessary information. With them, employees will be able to focus on more complex and non-standard cases, which will improve the quality of service while reducing operating costs.

Next, let's take a look at the seven most popular AI services for help desks.
TheLoops AI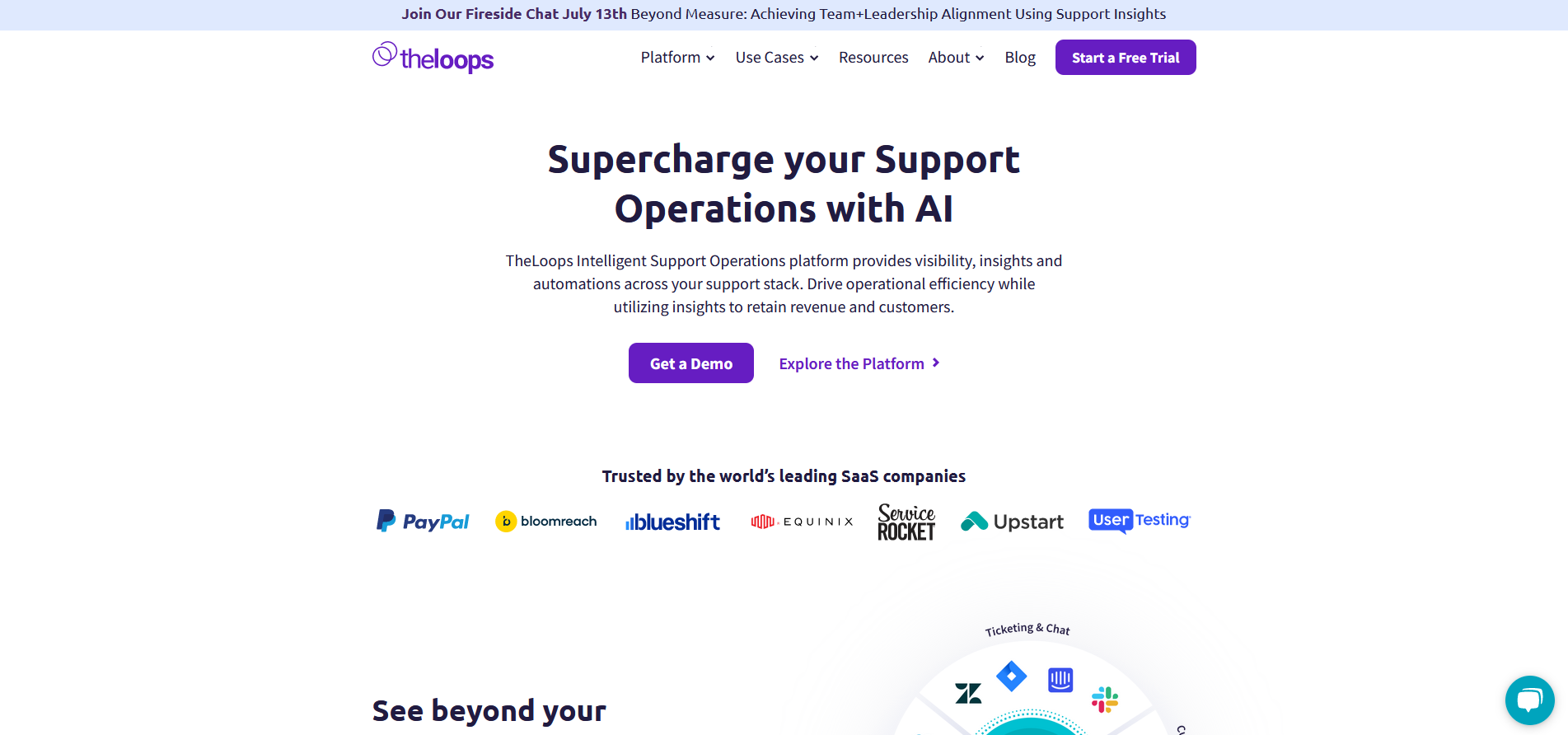 TheLoops AI contains a set of AI tools for customer support that enable you to improve the quality and effectiveness of all aspects of customer interaction and support. One of its key functions is to ensure full transparency in the service's operations. Flexible integration of information about products and their users helps management understand what is happening in its structural departments and beyond without the participation of data scientists.
Another important tool of the platform is a set of Customer 360 dashboards. The AI algorithms involved in them analyze the communication of support staff with customers and create insights to optimize their work. In addition, they inform which customers should be given more attention. A dashboard called Trending Analysis helps you identify the most trending topics for support calls.
Real-time reporting is one of the most requested features of TheLoops AI. The artificial intelligence algorithms used by this module can replace a whole group of data processing and analysis specialists by automatically generating reports based on information from various sources. The system analyzes customer support calls against a range of indicators and flags tickets as high-risk. It can also automate a number of workflows and train support workers to expand their skills.
Richpanel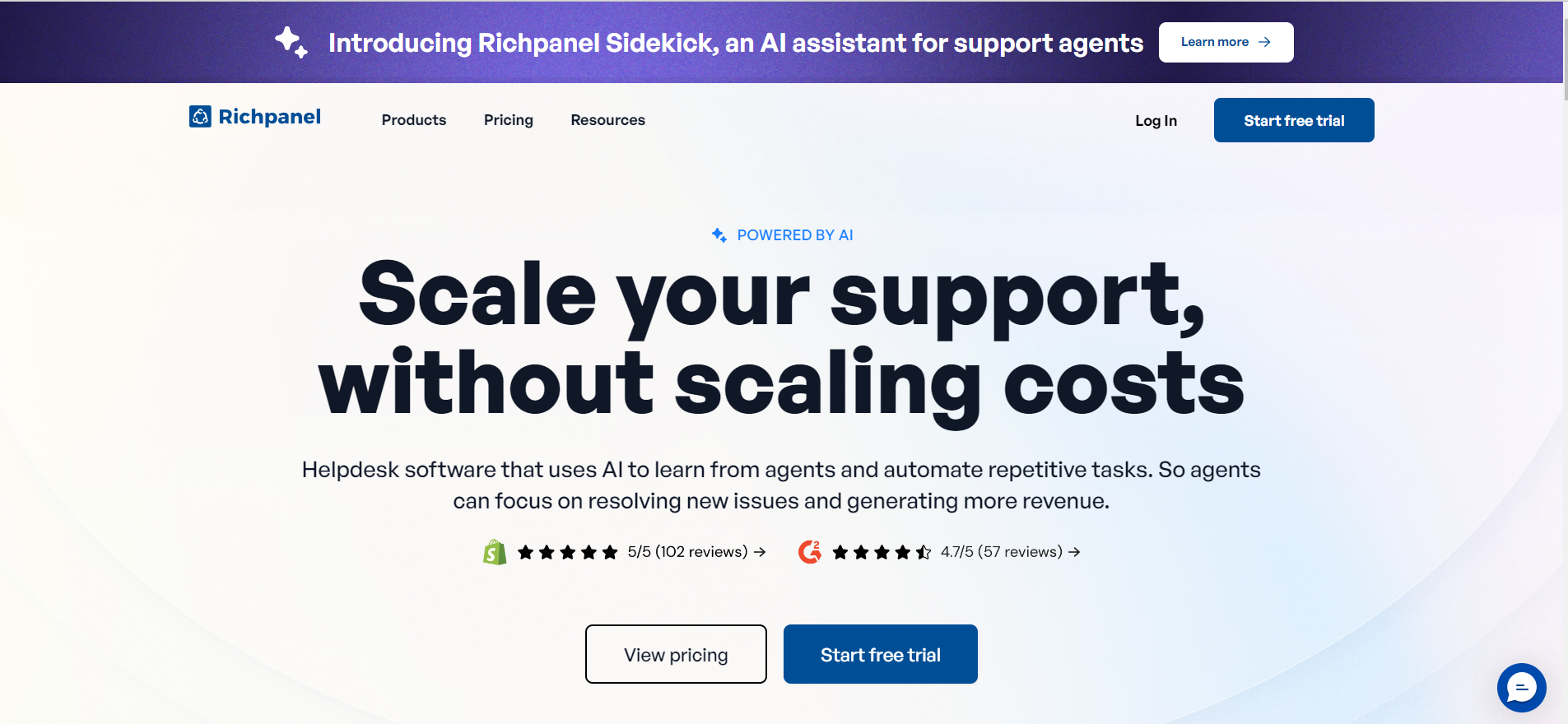 Richpanel is a popular helpdesk software that integrates every feature you need to deliver incredible customer service for every interaction. It is designed with self-service capabilities at its core so that customers can instantly resolve common queries by themselves, reducing the frustration of waiting for agents. As many as 50% of tickets feature repetitive queries and self-service enables companies to reduce investment in frontline support teams while maintaining great CSAT.
For the other situations when the agent is best placed to respond, Richpanel includes Sidekick, an AI chat assistant for customer service agents. Sidekick is a GPT-powered assistant that is one of the most meaningful applications of AI that we have seen in customer service. Agents can use it to draft a response, summarize a ticket, or even translate interactions in real time. Sidekick learns from your customer service interactions and tickets to offer accurate and personalized responses. It even references earlier tickets while suggesting responses. Sidekick is also available as a standalone extension so that its powerful AI assistant capabilities can be used with popular platforms like Zendesk, Freshdesk, Helpscout, Salesforce, and others.
Yuma Ticket Assistant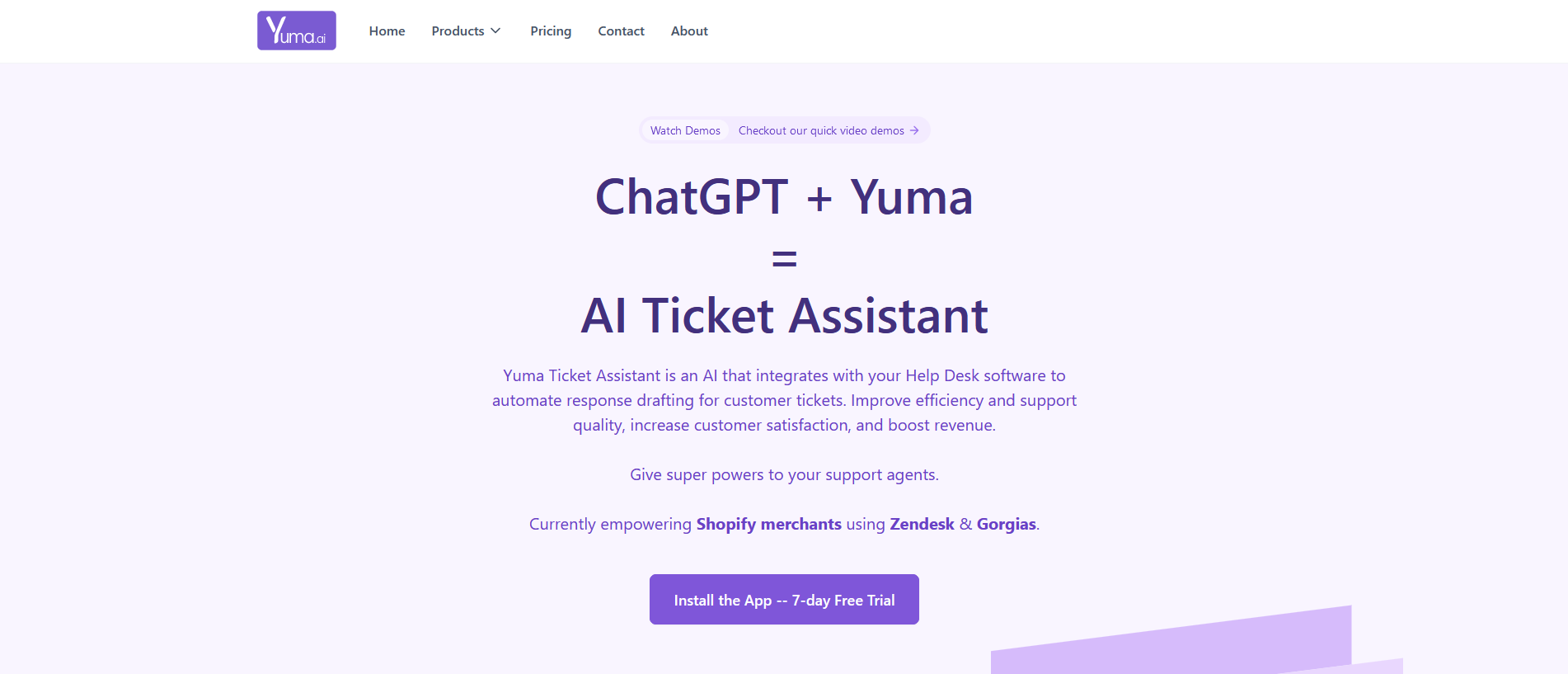 The Yuma Ticket Assistant platform is a virtual assistant for the helpdesk, developed based on artificial intelligence technologies. It integrates with help-desk programs and automates the process of compiling and sending response templates to user requests. After a new ticket arrives, AI algorithms analyze the request and develop the most relevant response to it. Further, the ready draft of the answer will be automatically offered to the support staff currently they open a ticket.
AI chatbot customer service noticeably optimizes and accelerates the process of support communication with users. It is easy to learn: response templates are based on text recommendations (for example, regarding brand voice), and their spelling is checked automatically. Immediately after integration with the help-desk system, Yuma creates a separate knowledge base where all information about the brand and its products is stored. In the future, the neural network will use this data when compiling response templates.
In addition, the algorithms of this platform can change the style of the message after studying the previous correspondence with clients. Yuma Ticket Assistant can summarize chat threads and automatically translate the response templates it creates into 15 languages. In addition, it collects data about products from online stores and marketplaces, using this information to prepare more accurate and high-quality answers.
AutoResponder.ai

The AutoResponder helper service allows help desk staff to automate their communication with users by sending automatic replies to their messages. It seamlessly integrates with multiple communication channels, including WhatsApp, Facebook Messenger, Instagram, Telegram, Signal, and Viber. To gain access to the program, you need to install a mobile application (iOS or Android) for the required messenger. The service can also be run on a computer through an Android emulator.
Connect applications without developers in 5 minutes!
The application has a wide range of settings for customizing auto-replies. This allows you to make them as human and personalized as possible. According to the developers, this customer support AI platform maintains an unlimited number of messages. Thus, its users can create as many automation rules here as they need.
AutoResponder supports integrations with more than just messenger accounts. It is possible to link this platform with a web server, connect it to ChatGPT, GPT-4, Dialogflow AI, or set up custom triggers to automatically send messages using Tasker. The service supports creating backups of settings for later export. This is relevant when reinstalling or installing software on another device. If you have a premium account, all settings are automatically transferred to your Google account.
Chatfuel AI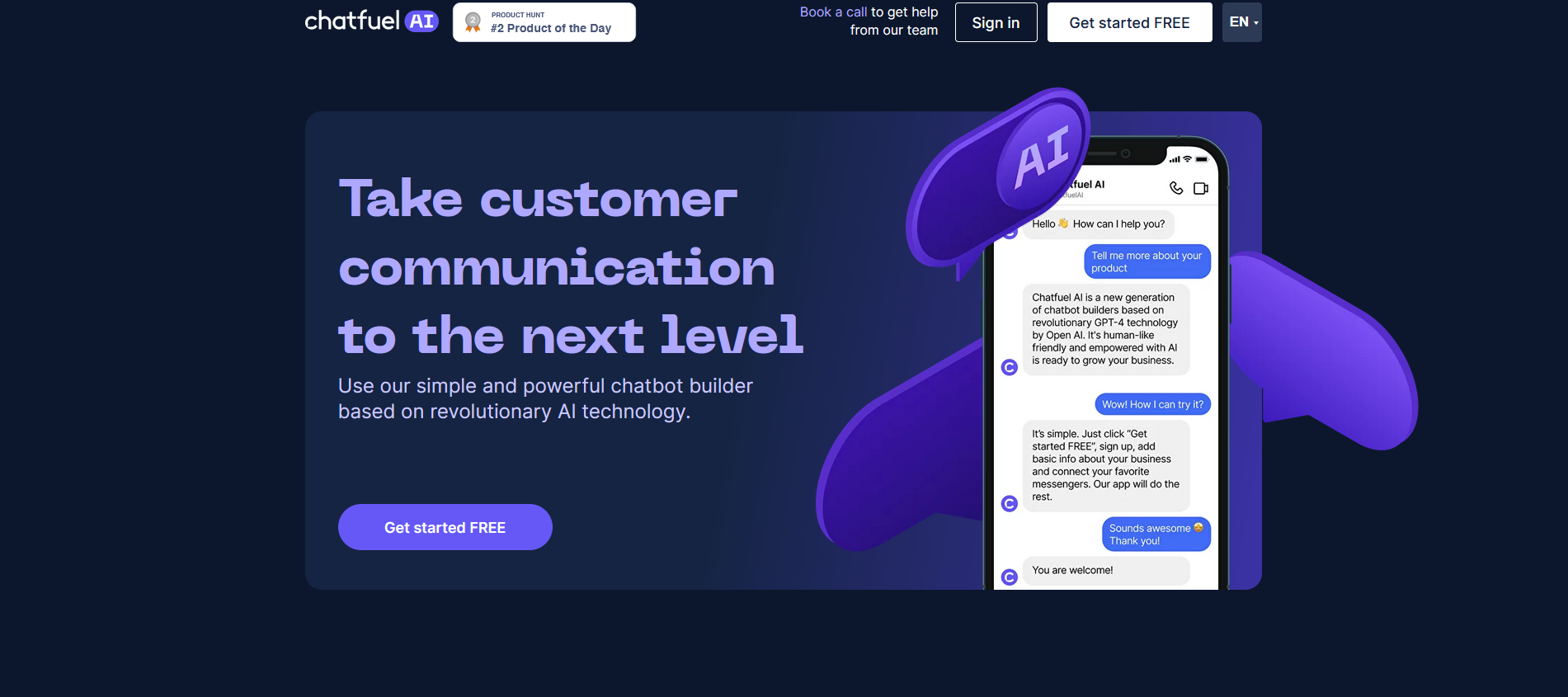 The Chatfuel AI platform is a popular tool at the intersection of AI and customer service. With its help, companies can easily and quickly develop powerful and functional chatbots driven by the GPT-4 neural network from OpenAI. The participation of advanced artificial intelligence technologies provides ample opportunities for the application of such a program.
Chatbots created with Chatfuel AI are effectively trained to perform various communication tasks with the audience. For example, they can answer customer questions, provide them with information about the company and its products, select suitable products or services according to their needs, and so on. A ready-made chatbot can be embedded into websites and integrated with a number of popular instant messengers: Telegram, Facebook Messenger, Instagram, WhatsApp, Line. The capabilities of the latest version of the GPT language model allow you to create not only productive and functional but also human-like chatbots.
Another important advantage of the Chatfuel service is its simple and intuitive interface for AI training. In the process of training the bot, you only need to provide basic information: the language it supports and brief information about the company and its products (name, contacts, links, and so on).
The platform provides three pricing plans (Start, Grow, and PRO) with different feature sets and prices ($29, $79, and $149 per month, respectively). There is also an Enterprise plan designed for large businesses. It offers more flexible AI settings, unlimited messages, and other bonuses.
EmailTree.ai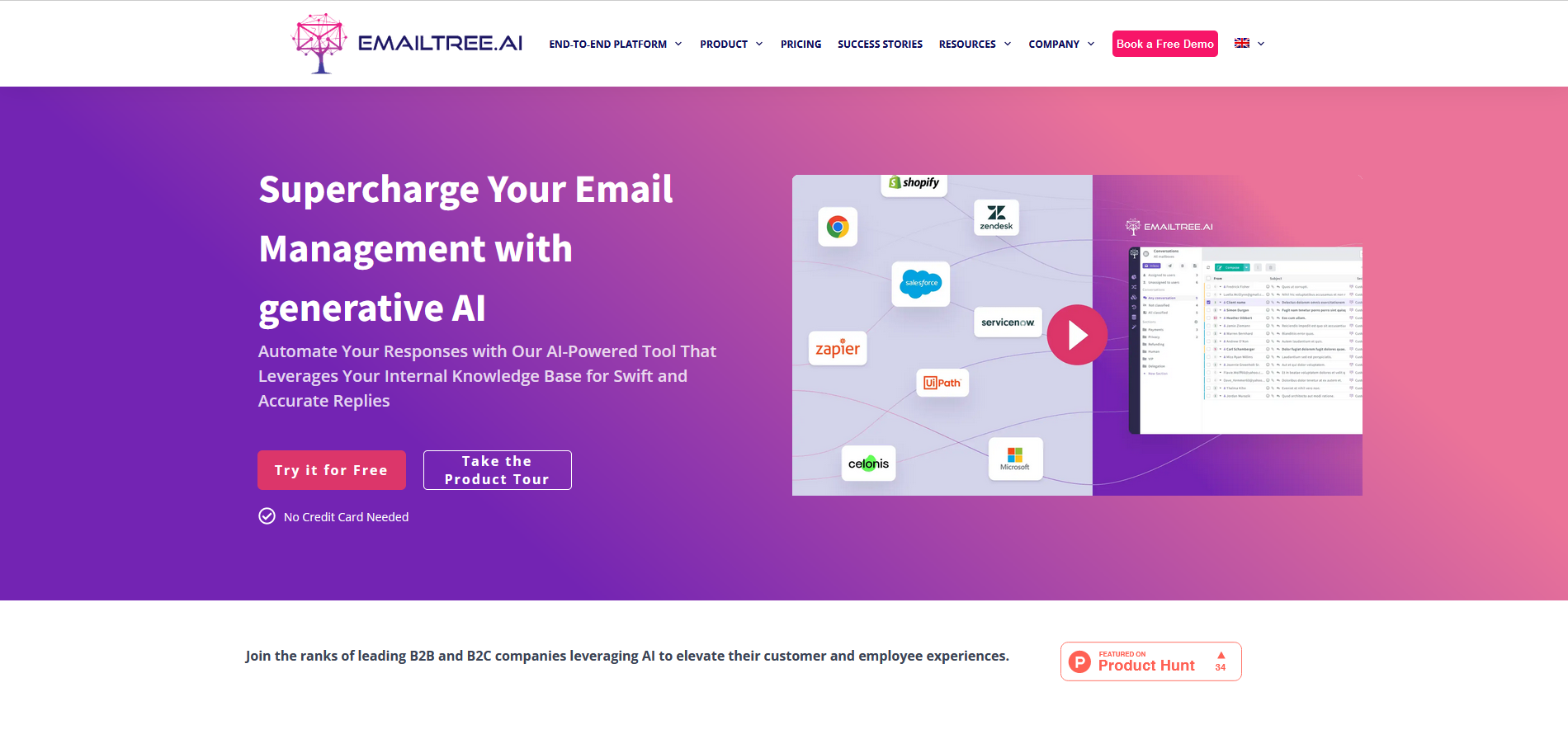 EmailTree, an AI platform for optimizing the work of help desks, contains comprehensive solutions for setting up and managing email processes. With its help, companies can flexibly automate the processing of incoming emails and send responses to them. The functionality of the service is based on algorithms of a generative neural network that can effectively maintain communication with the audience. Once configured, the neural network will respond to user questions, comments, and complaints in a personalized manner within seconds.
This AI powered customer support allows you to quickly and accurately organize, classify, and prioritize received tickets, as well as route them to the most relevant or available employee. The system flexibly integrates with company data, which allows it to automate 80% of work processes within the first month (according to the developers). AI algorithms analyze user requests and create insights for quick decision-making to keep response time to a minimum.
The neural network used by EmailTree automates the execution of a number of multitasking workflows using the Workflow Orchestration feature. The Document Automation tool allows you to extract and process the unstructured content of PDF and Excel documents. If necessary, you can launch RPA processes from text requests. Another significant advantage of the service is its flexible integration with third-party CRM and ERP platforms via API.
Tiledesk


Tiledesk is a multichannel user engagement platform that will benefit not only help desks but also sales and marketing professionals. Its key component is an online chat widget available for quick embedding on websites and subsequent customization. Users can change the widget style, interface language (more than 10 languages are supported), and add their own logo. In addition, the service can be quickly integrated with online stores on PrestaShop, Magento, WordPress, Shopify, and other sites.
The Tiledesk AI customer support platform contains other useful tools for the helpdesk. One of them is a no-code chatbot builder that allows you to create a bot for various purposes based on a wide range of templates: user support, feedback processing, help-desk tickets, and so on. The Conversational Ticketing feature allows you to convert customer chats into support tickets. No less important is the fact that this service makes it possible to create online chats and chatbots not only for websites but also for WhatsApp and Facebook Messenger.
OneContact Suite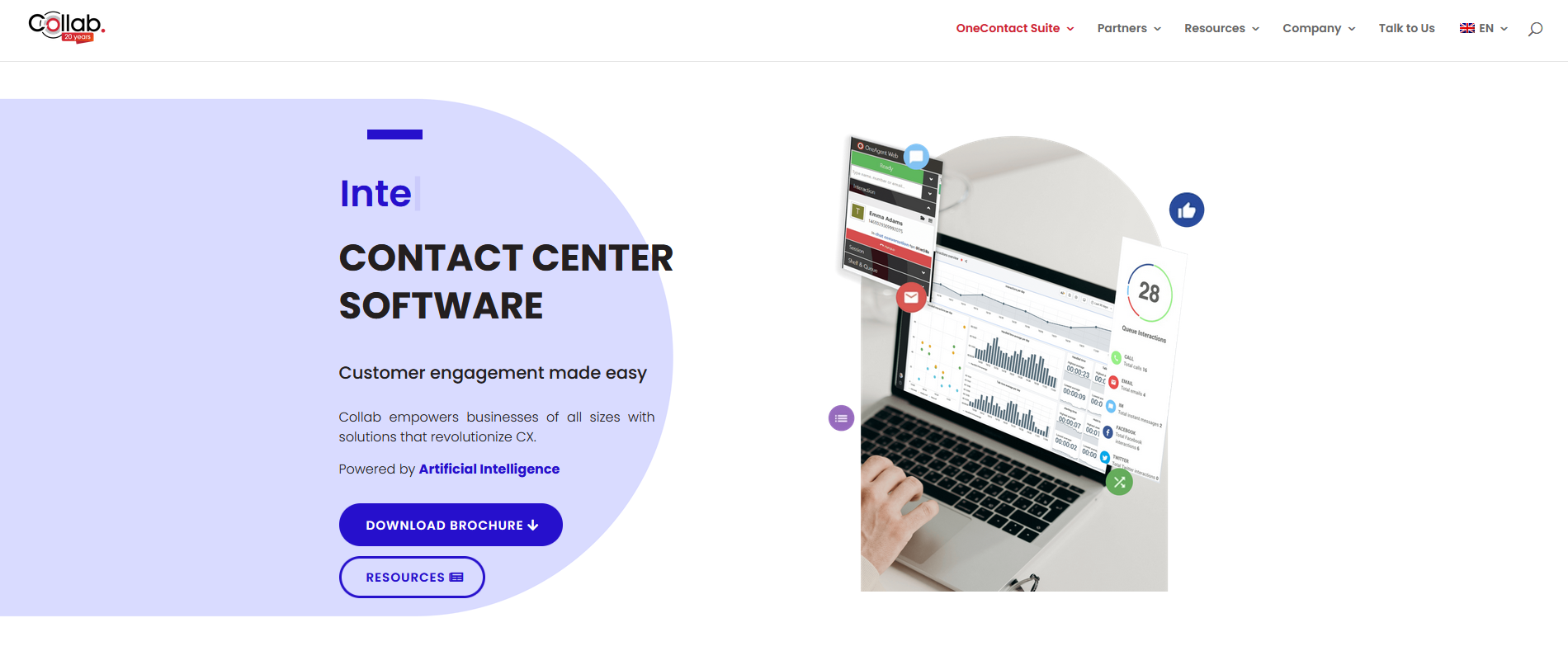 Last on our list, but far from least important, is OneContact Suite, a cloud-based contact center. This AI based customer support service provides a number of options for managing different channels of interaction with the audience through a single interface. In particular, it can be used to communicate through voice and video communications, e-mail, instant messengers and social networks.
The platform supports WebRTS technology, which allows you to work with it in any browser. It also has ample opportunities for user self-service, thanks to the presence of bots and IVR. The artificial intelligence technologies implemented in OneContact Suite can significantly speed up and optimize communication with customers.
The service easily integrates with a CRM system for automatic data processing, provides speech analytics functions, monitors employee performance, and allows you to create scripts for support agents. In addition, call and screen recording, gamification elements, customer experience monitoring and real-time reporting are available.
Conclusion
We hope our review gave you the opportunity to understand how to use AI in customer service. It should be noted that modern artificial intelligence technologies can successfully perform a number of tasks to optimize and automate the work of the support service. For example, TheLoops AI platform improves the efficiency of help desk interaction with customers. Yuma Ticket Assistant offers the functionality of a virtual assistant, and AutoResponder allows to automatically respond to user requests. Chatfuel is a popular platform for developing AI-enabled chatbots, while EmailTree helps manage email processes. Tiledesk contains an online chat widget and a number of other useful modules, while OneContact Suite provides a cloud-based contact center service with many features.
***
SaveMyLeads is a simple and effective service that will help you automate routine tasks and optimize business processes. Stop wasting time uploading leads from Facebook manually – you can do it automatically, saving a lot of time and money. Eliminate routine from workflows and achieve more with minimal investment of money, effort and human resources.