AI paraphrasing tools have emerged as indispensable companions for writers, bloggers, and content creators, revolutionizing how we transform our written content. In a world where originality and uniqueness hold utmost significance, these cutting-edge AI solutions offer a refreshing breeze of creativity, elevating the quality of your content like never before. Whether you seek to paraphrase sentences, rewrite an entire paragraph, or add a new flair to your ideas, the top AI paraphrasing tools are at your disposal, streamlining the process with their efficiency and precision.
Here, we will explore five of the most remarkable AI paraphrasing tools that are shaping the landscape of content creation. From user-friendly interfaces to powerful algorithms, each of these tools brings a unique set of features to help you craft captivating and compelling content effortlessly. So, without any further ado, let's get started!
Paraphrasetool.ai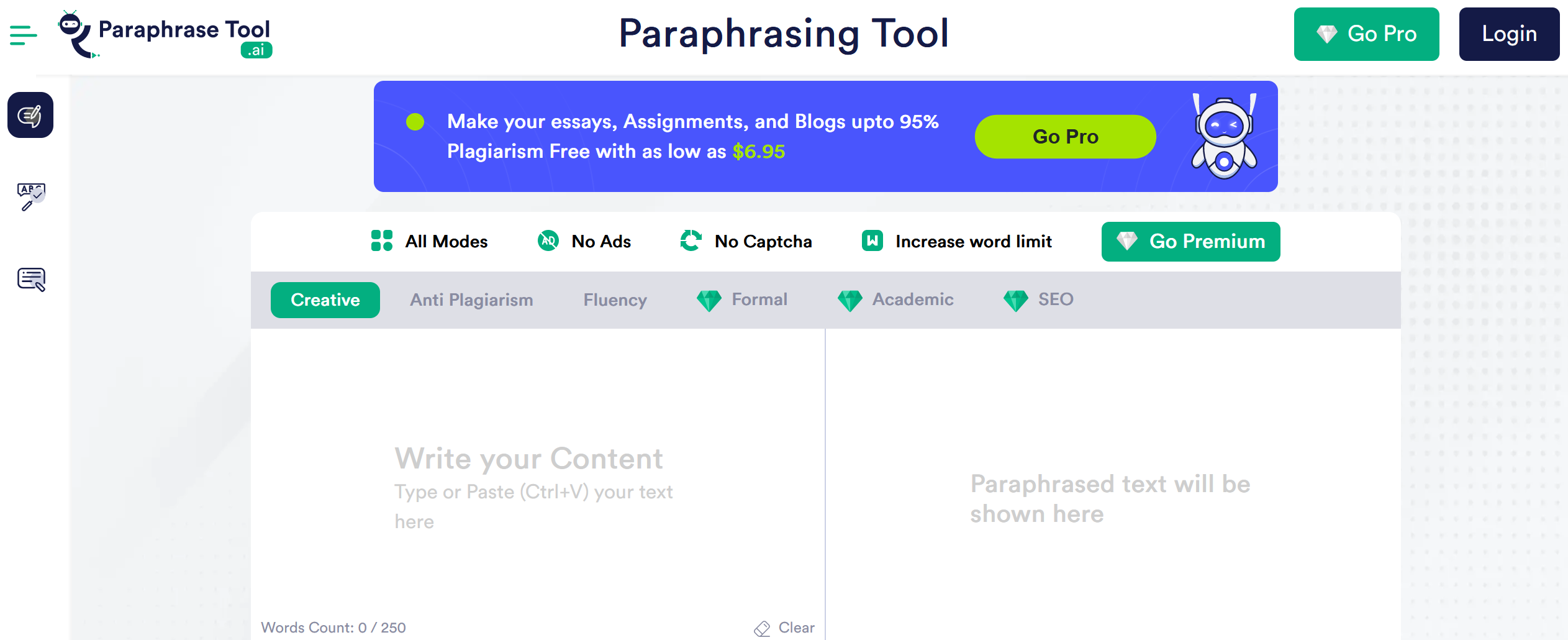 A magical paraphrasing tool is here to revolutionize how you write and express your ideas. You know the struggle - finding the right words to convey your thoughts while keeping your content engaging and unique. That's where this AI Paraphrasing Tool comes to the rescue. Powered by cutting edge artificial intelligence (AI), this tool can paraphrase sentences, paragraphs, or articles with great accuracy and precision.
A User-Friendly Interface. The first thing you'll love about Paraphrasetool.ai is its simplicity. No complicated navigation buttons to figure out. The interface is so intuitive that even a newbie can use its power effortlessly.
Spellbinding Accuracy. Paraphrasing is an art, and Paraphrase Tool has mastered it to perfection. This enchanting tool can breathe new life into your content while preserving its original meaning. Say goodbye to awkwardly phrased sentences or ridiculous alterations - this AI tool knows its stuff.
Time-Saving Performance. Imagine being able to paraphrase lengthy articles in the blink of an eye. With this Paraphrasing Tool, you can. Say farewell to countless hours spent on rewording and rewriting - this tool can do it all at the speed of thought.
Craft Your Unique Style with Synonyms. One of the coolest features of this Paraphrasing Tool is its vast collection of synonyms. It offers an extensive range of word choices in its database. So, if you have a specific writing style, fear not. The tool lets you customize the output to match your unique voice.
Diverse Paraphrasing Modes. This AI Paraphraser comes with different paraphrasing modes that you can choose as per your requirements. These include Creative, Formal, SEO, Anti-Plagiarism, Academic, and Fluency.
Spelling and Grammar Protection. No more embarrassing typos or grammar blunders in your work. Paraphrasing tool casts a spell to safeguard your content from any irritating errors, leaving you with a polished and professional piece.
AI Paraphrasing Tool is your ticket to an enchanting drive if you're ready to take your writing to the next level. Elevate your content, save time, and unleash your creativity with this powerful paraphrasing platform.
Paraphraseonline.io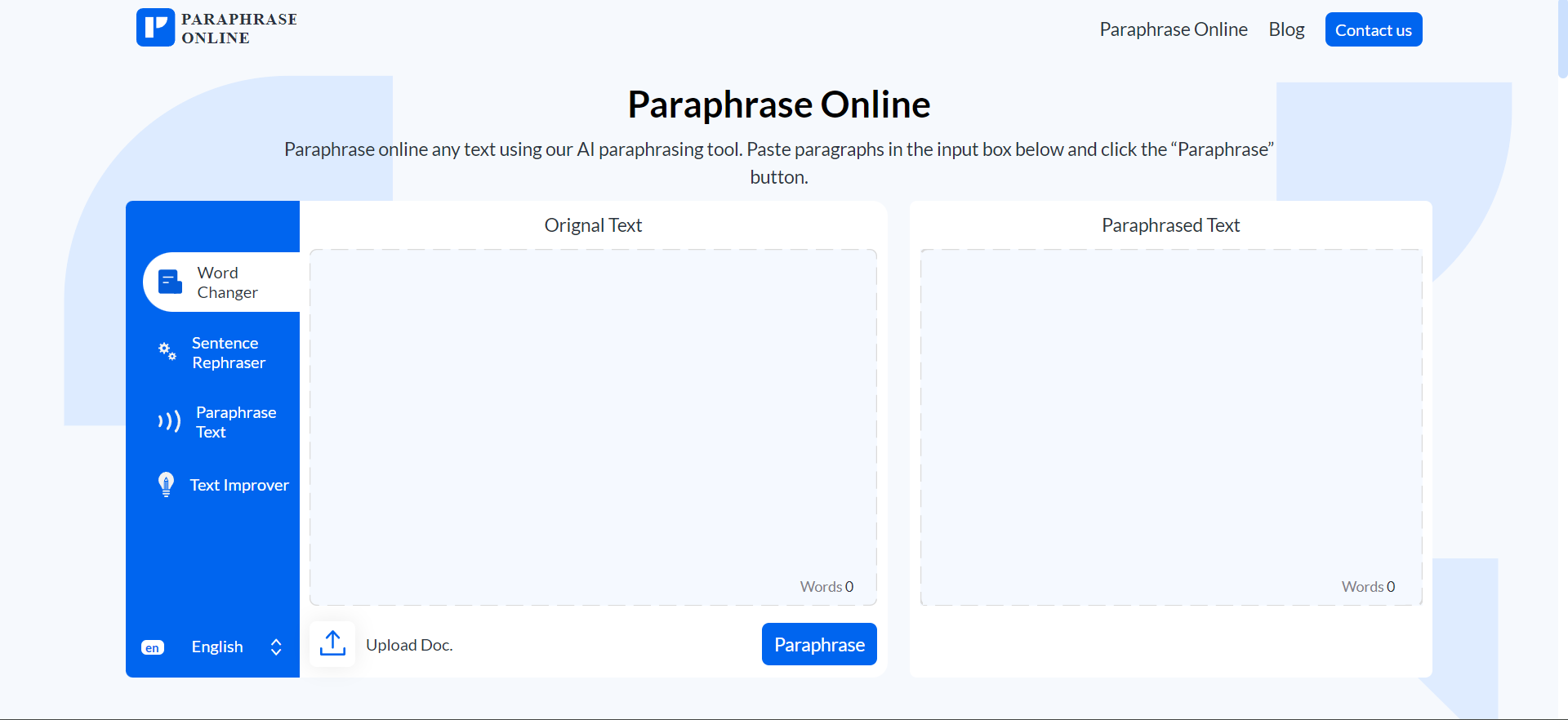 Paraphrase Online is yet another AI-powered paraphrasing tool that will allow you to quickly and efficiently improve content quality (readability, clarity, and uniqueness). The best thing, it paraphrases the given text in a human manner, all thanks to the diverse set of AI algorithms on which it operates.
For this, reason, it can be an excellent option, when it comes to paraphrasing sentences, paragraphs, articles, and research papers, in an improved manner.
Multiple paraphrasing modes: This AI tool offers four different AI-based paraphrasing modes. All these modes work on different algorithms, which means each of them will generate output results for the same input. This feature can be highly beneficial for users with different paraphrasing requirements.
Availability in different languages: Apart from multiple modes, it is also available in six different languages (English, Spanish, Tagalog, Indonesian, Deutsche, and Portuguese). This means users from different parts of the world can utilize it in their native language.
Word count limit: This paraphrasing tool allows users to paraphrase text of up to 2500 words at once. This is more than enough for students, teachers, bloggers, and writers.
Connect Facebook Lead Ads to CRM, Email, SMS & Spreadsheets
Use SaveLeads to connect Facebook to different apps. Over 120+ ready-made integrations available now
Automate the work with leads from the Facebook advertising account
Empower with integrations and instant transfer of leads
Don't spend money on developers or integrators
Save time by automating routine tasks
Test the work of the service for
free
right now and start saving up to 30% of the time!
Try it
Completely free to use: It is completely free to use for all. This means you can make use (including all the modes) unlimited times without paying a single penny.
Different input options: It supports multiple input options. For instance, you can either type or paste the text in the input box or upload the text file from the local storage.
Comprehensive output results: The tool offers comprehensive output results. You can either copy the output to the clipboard or download the text file for later use.
So, if you are looking to improve your content quality in terms of readability, clarity, and uniqueness in no time, then Paraphraseonline can be a good option.
WordTune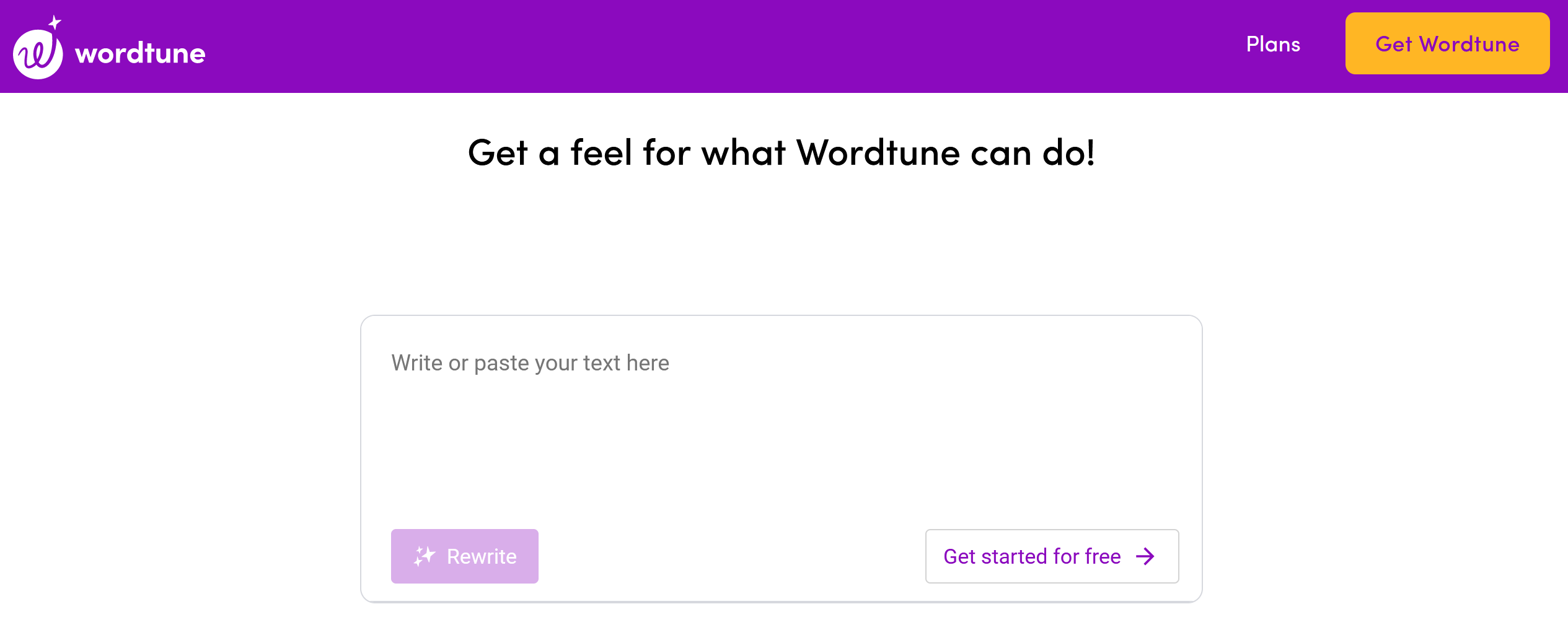 WordTune is more than just a run-of-the-mill paraphrasing tool; it's a versatile platform that pushes new life into your writing with its AI-driven capabilities. The AI suggestions provided by WordTune are not random replacements but carefully crafted alternatives that maintain the original meaning while refining the phrasing. It learns from vast amounts of text data, which means the more you use it, the smarter and more personalized its recommendations become.
AI-Driven Smart Suggestions. Upon entering your text, you'll be presented with a range of smart suggestions that paraphrase your content and enhance its overall expression.
Improved Clarity and Impact. Whether you're working on a blog post, an academic paper, or a marketing copy, WordTune ensures that your message is conveyed with the utmost clarity and impact.
Grammar and Style Coaching. WordTune can be your personal grammar and style coach. It alerts you to potential errors, suggests improvements in sentence structure, and helps you maintain consistency throughout your content.
With WordTune as your writing companion, you'll witness a remarkable improvement in the sophistication and polish of your writing.
AISEO


AISEO, the AI paraphrasing assistant, sets its focus on coherence and logical progression in your writing. Ensuring that your ideas flow seamlessly from one sentence to another is crucial for keeping your readers engaged.
Smooth Logical Flow. AISEO achieves this by analyzing your content and providing paraphrased versions that preserve the logical flow while avoiding shaking transitions.
Bridging Gaps in Content. One of the standout features of AISEO is its ability to identify and bridge gaps in your content. If certain parts of your writing lack clarity or coherence, AISEO will suggest ways to improve those sections, thereby strengthening the overall structure of your content.
Ideal for Complex Materials. AISEO is particularly valuable for complex documents, research papers, and academic writing, where maintaining a clear and coherent narrative is essential. It allows you to focus on the substance of your writing while ensuring that the final output is cohesive and well-organized.
Text Cortex


Text Cortex is not your typical paraphrasing tool; it's a treasure trove of paraphrasing templates that unlock your creative potential. Rather than relying solely on AI-generated paraphrases, Text Cortex offers a selection of stylistic templates with unique voice and tone.
Tailored Content for Specific Audiences. Text Cortex allows you to experiment with different writing styles, from formal and professional to casual and playful. This diversity enables you to tailor your content to specific audiences, platforms, or branding guidelines.
Paraphrasing Templates for Diverse Styles. Whether you're creating engaging social media posts, informative articles, or persuasive marketing materials, Text Cortex has the right template to make your content stand out.
Infusing Content with Unique Flair. With Text Cortex, you'll discover fresh approaches to expressing your ideas, making your writing more exciting and captivating. It's an excellent tool for content creators seeking to infuse their work with unique flair and personality.
Spinner Chief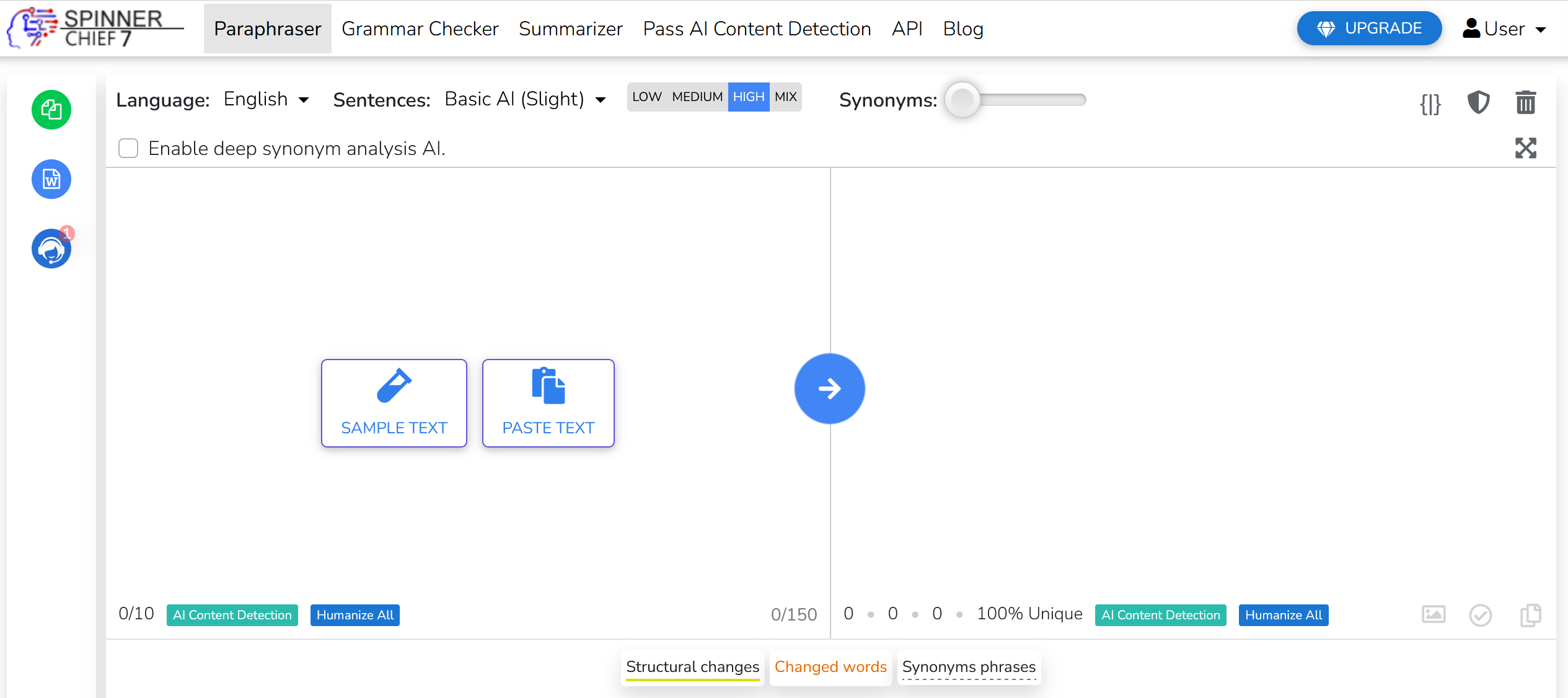 Spinner Chief is the ultimate ally for content creators looking to effortlessly generate multiple versions of their content. While it excels in paraphrasing, its real strength lies in content spinning and rewriting.
Generating Multiple Unique Variations. Using advanced algorithms, Spinner Chief can create many unique variations of your content, each with its distinct phrasing and structure. This feature is incredibly valuable for content marketing, where producing diverse versions of the same message can effectively target different audiences and platforms.
Control Uniqueness Level. Beyond mere paraphrasing, Spinner Chief allows you to control the level of uniqueness in the output, ensuring that the variations are significantly different while still conveying the core message.
Versatility and Precision. Whether you're a content marketer, an SEO specialist, or a blogger seeking to repurpose content, Spinner Chief provides the versatility and precision required to meet your content distribution needs.
Ending Remarks
These paraphrasing tools cater to content creation, from refining expression and coherence to amplifying creativity and diversifying content. By harnessing the power of these paraphrasing tools, you can upgrade your content quality and leave a lasting impact on your audience. So, explore, experiment, and let the magic of AI paraphrasing take your writing to new heights.
***
You probably know that the speed of leads processing directly affects the conversion and customer loyalty. Do you want to receive real-time information about new orders from Facebook and Instagram in order to respond to them as quickly as possible? Use the SaveMyLeads online connector. Link your Facebook advertising account to the messenger so that employees receive notifications about new leads. Create an integration with the SMS service so that a welcome message is sent to each new customer. Adding leads to a CRM system, contacts to mailing lists, tasks to project management programs – all this and much more can be automated using SaveMyLeads. Set up integrations, get rid of routine operations and focus on the really important tasks.