We will tell you how to automatically unload leads from an advertising account on Facebook in the MessageBird service for SMS-mailing. Any employee in 5 minutes without programming knowledge will be able to set up a connection in order to conveniently work with leads.
***
If you are working on lead generation through a Facebook ad account, then you probably already have a question about how to handle them in the future. Facebook's business opportunities are quite broad. But, as a rule, companies use several sources of customer acquisition: their own website, other social networks, instant messengers, etc. As a result, leads come from different channels, and it is much more convenient to work with them in a single interface.
For example, to send transactional or promotional emails, you can use the SMS messaging service. This will help you conveniently interact with leads, guide them through the sales funnel, remind you of your brand by sending small notifications, which, in turn, demonstrate a high open rate compared to other communication channels.
How to set up Facebook and MessageBird
In order for leads to automatically flow from the Facebook advertising account to the MessageBird SMS-mailing service, it is necessary to integrate these two systems. This will require the help of programmers. But even in a situation where a company has a developer on its staff, it is not always possible to entrust him with this task, since not all developers can work with API-interfaces, requests, protocols. In such a situation, you will need the help of outside specialists, and this is an additional expense of time and money.
To avoid problems with setting up integration, use the convenient and simple SaveMyLeads connector. This service was specially created in order to conveniently link the operation of various systems and applications via API.
In our case, we will configure the connection between the Facebook advertising cabinet and the MessageBird service for sending SMS messages. All you have to do is turn on automatic data update and all leads with each new request will be sent to the Message Bird service. There you can conveniently work with them - send SMS mailings. For example, you can send SMS notifications through the MessageBird service to all new leads who have shown interest in your ad. This will significantly increase the interest of potential customers in the products and let them know that you will contact them as soon as possible.
Register on SaveMyLeads
To start the configuration, create a new connection.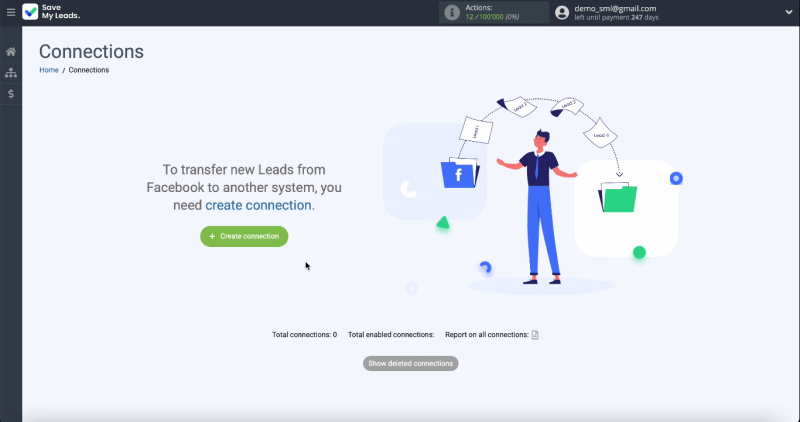 Use one of the ready-made templates for the system to which you want to transfer data - the MessageBird system template.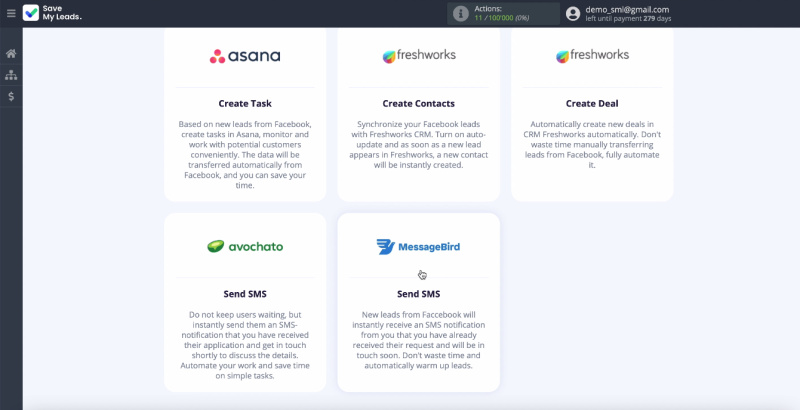 Connect Facebook Leads Ads
Connect your Facebook account to the SaveMyLeads system. To do this, enter your username and password from your personal account.
You can now see all the ad pages that you have access to. Check the boxes for all pages at once. So in the future you will be able to work with them.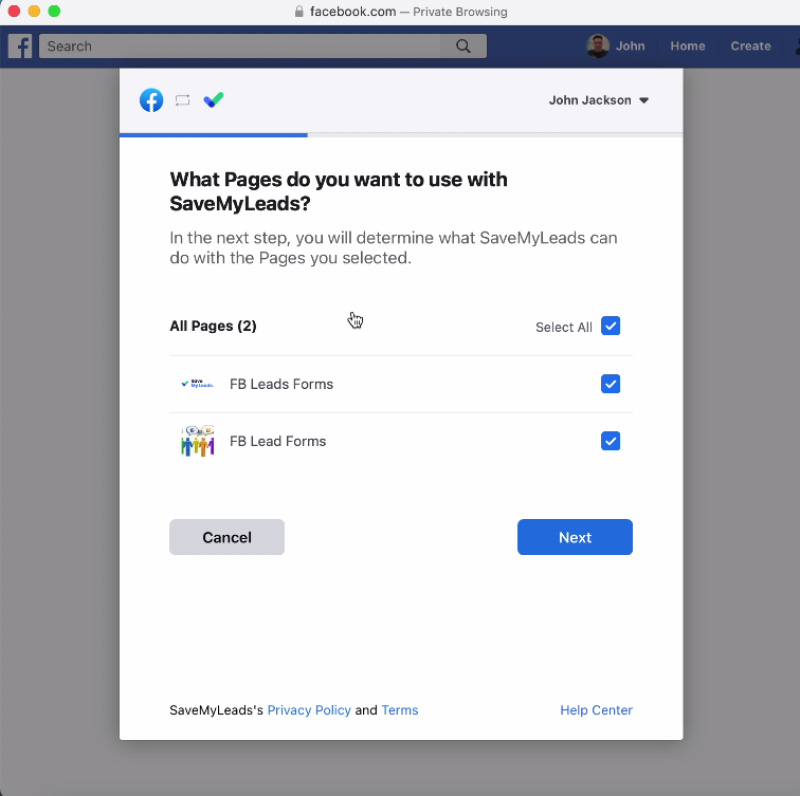 Leave all access checkboxes active.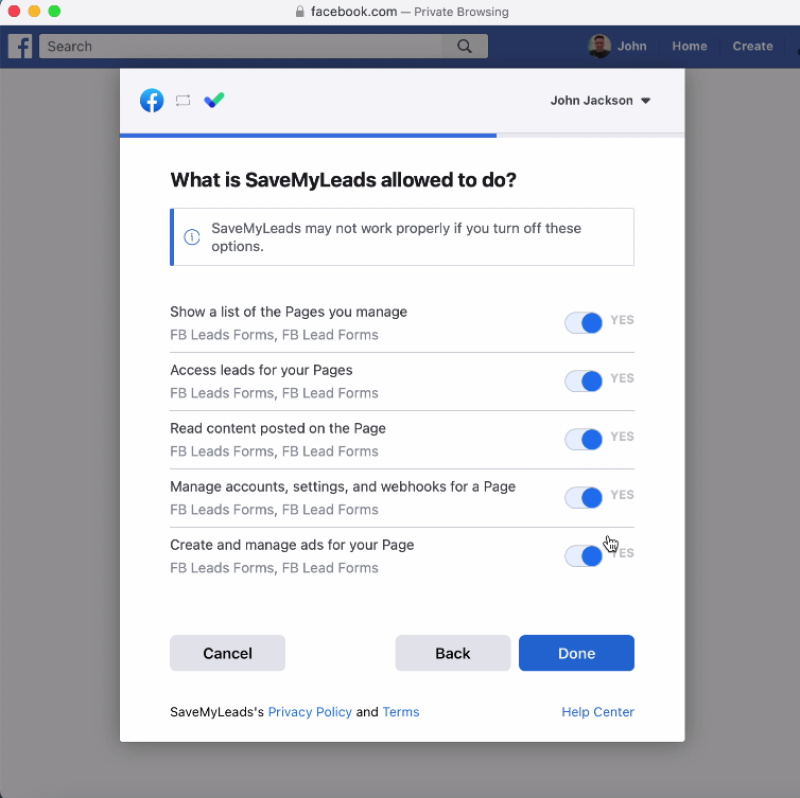 In a new window, in the list of connected accounts, select your account. Select an advertising page for transferring leads and a form for uploading data. If you have multiple forms, you will need to create a separate connection for each of them.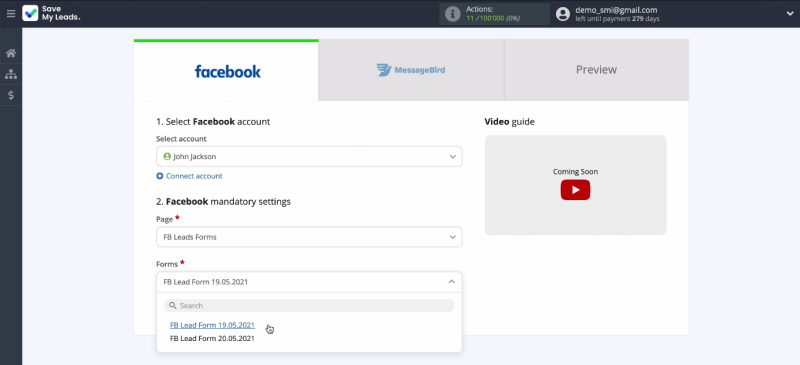 Connect MessageBird
To proceed with the configuration, connect your MessageBird account to the SaveMyLeads service. In the new window, enter the API key. It is located in your MessageBird account.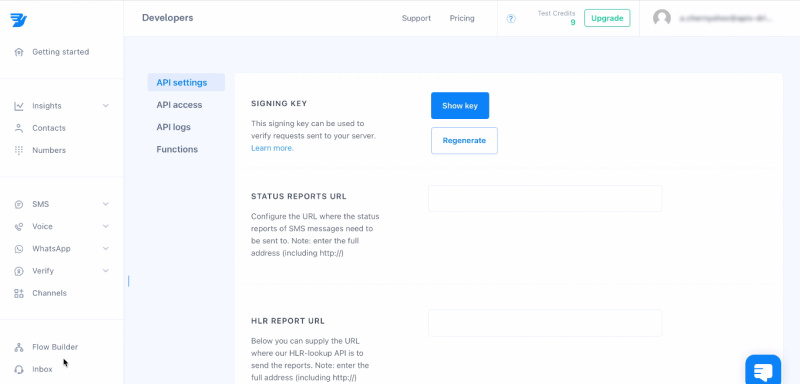 In your personal account, select the Developers section, and then the API Access item.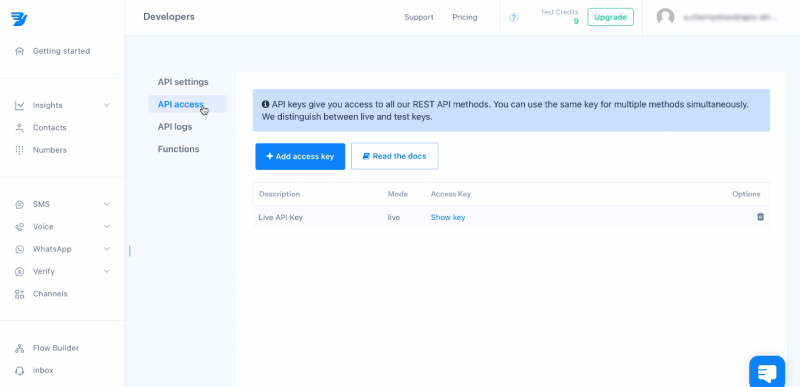 If you don't have a generated API key, create one. In the window that appears, you need to specify its name. When creating a key, specify its type - Live.

After creating the API key, click Show Key, copy it and paste it into the corresponding field of the SaveMyLeads service.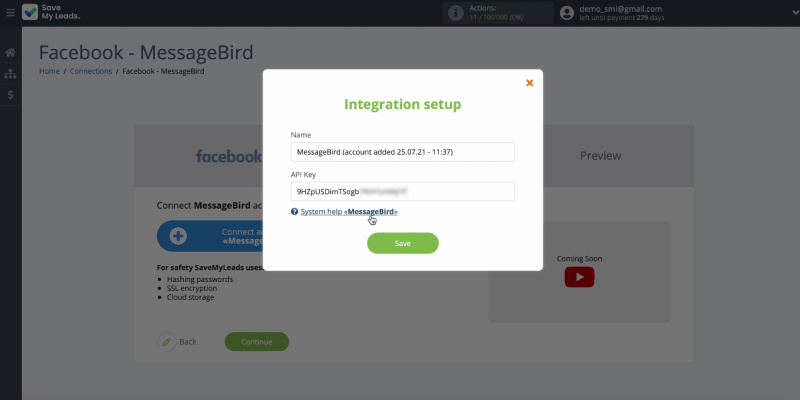 Select yours from the list of connected accounts. In the same section, you need to fill in all the relevant fields to send SMS.

Connect applications without developers in 5 minutes!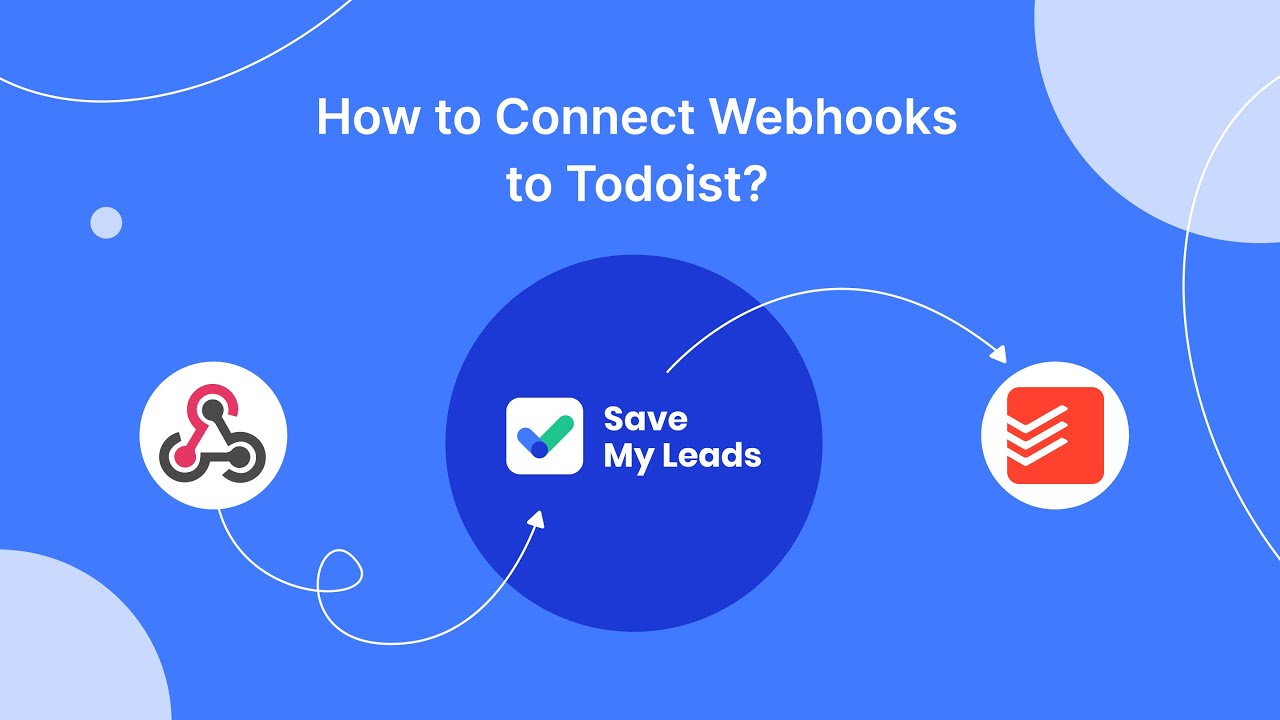 How to Connect Webhooks to Todoist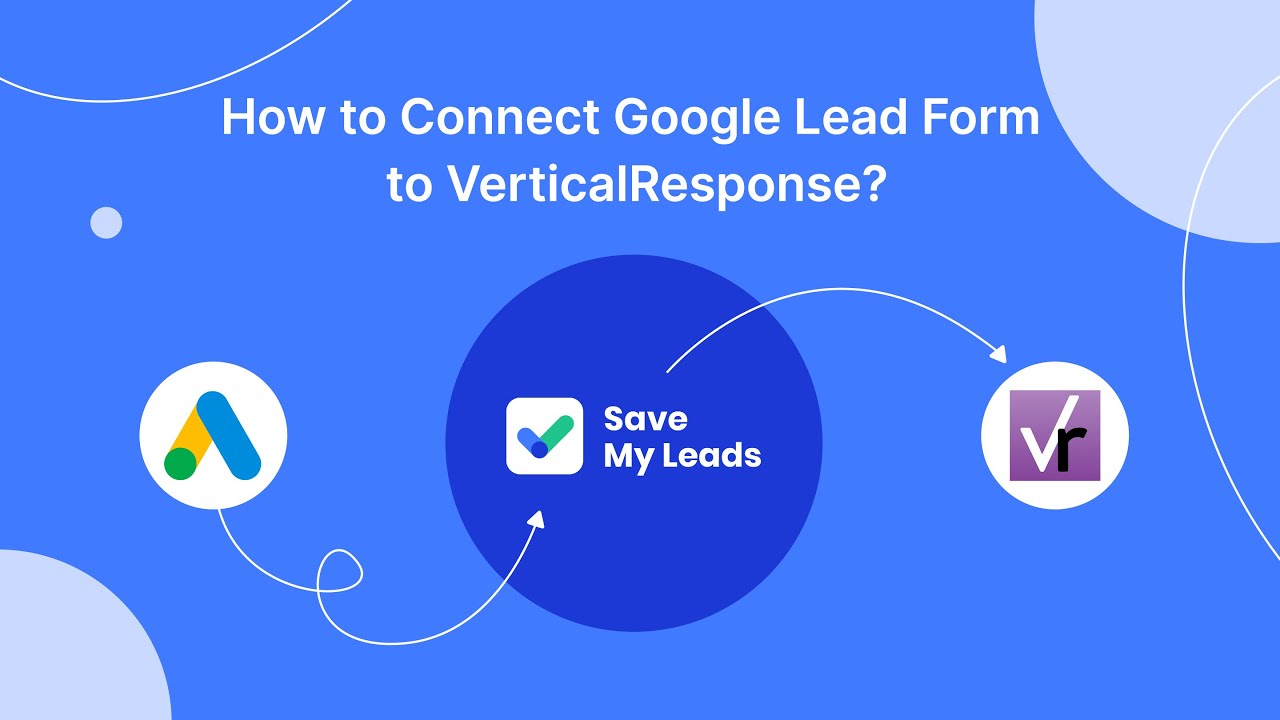 How to Connect Google Lead Form to VerticalResponse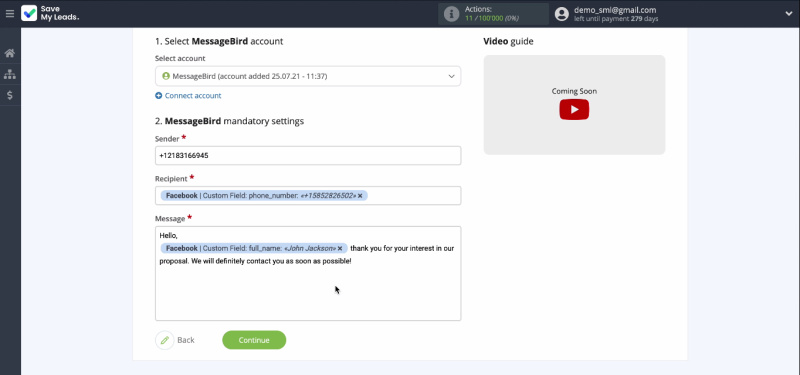 To add variables from Facebook, select them from the drop-down list.


In the Message field, you can independently compose the text of the message that will be sent to each new lead from Facebook. Fill in all the required fields with the variables, and then click Continue.
Now you can see an example of the message that every new Facebook lead will receive that has shown interest in your ad.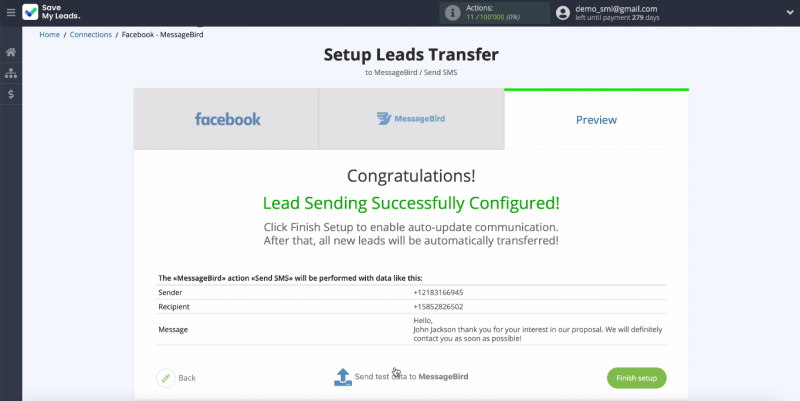 If you want to check the correctness of the settings made, click Send Test Data to MessageBird.
To check the result, go to your MessageBird account.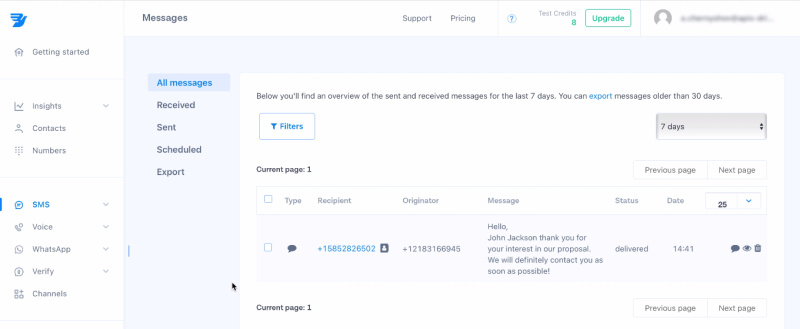 Automate data update
To instantly send SMS messages to new leads from Facebook, turn on auto-update:


If necessary, the name of the link can be changed in the settings.
Conclusion
It will not take you or your employee no more than 5 minutes to set up the connection between the Facebook advertising account and the MessageBird SMS service. This is made possible by the simple and intuitive interface of the SaveMyLeads connector. You can cope with this task effortlessly, and our step-by-step instructions will help you with it.
The online connector has already done all the integrations for you. You just have to add your accounts to it and set up a connection. Automatic updates will help you not miss a single lead and stop manually controlling this process.