Effective search engine optimization of sites is a complex process consisting of a number of stages. This includes analyzing competitor sites, collecting semantics, preparing relevant text content, creating a database of internal and external links, speeding up page loading, and so on. Previously, all these and many other operations were performed manually by specialists, which required a lot of time as well as the availability of special knowledge and skills.
Thanks to the emergence and spread of AI SEO tools, optimizing websites has become much easier today. In this article, we will talk about such services and their capabilities. You will also find out which of these programs are the most popular in 2023.
What are AI-enabled SEO tools?
AI-enabled SEO tools are specialized services that help automate website SEO processes. The capabilities of modern software of this type are wide: it effectively performs not only relatively simple tasks (for example, selecting keywords) but also complex ones (analyzing content, its relevance, and its performance).
Thanks to SEO AI tools, site owners and administrators can independently perform the work that they previously entrusted to optimizers. Thanks to the potential of artificial intelligence and machine learning technologies, it now requires almost no manual action. AI-enabled software can automate many processes: from site monitoring and analysis to selection of recommendations for its optimization.
Among the most requested functions of such services are the following:
Finding suitable topics and keywords when preparing SEO content.
Analysis of opportunities to improve the position of the site in search results for given topics or keywords.

Auto-generation of unique, relevant, and optimized text content.

Recommendations for internal linking and other optimization methods.

Comprehensive SEO analysis and audit of the site, with a search for shortcomings and recommendations for their elimination.

All these and other functions of AI services allow you to perform tasks for external and internal SEO of the site in automatic mode. As a result, you get an acceleration of its work and an increase in the position in the search results for the queries you are interested in.
Semrush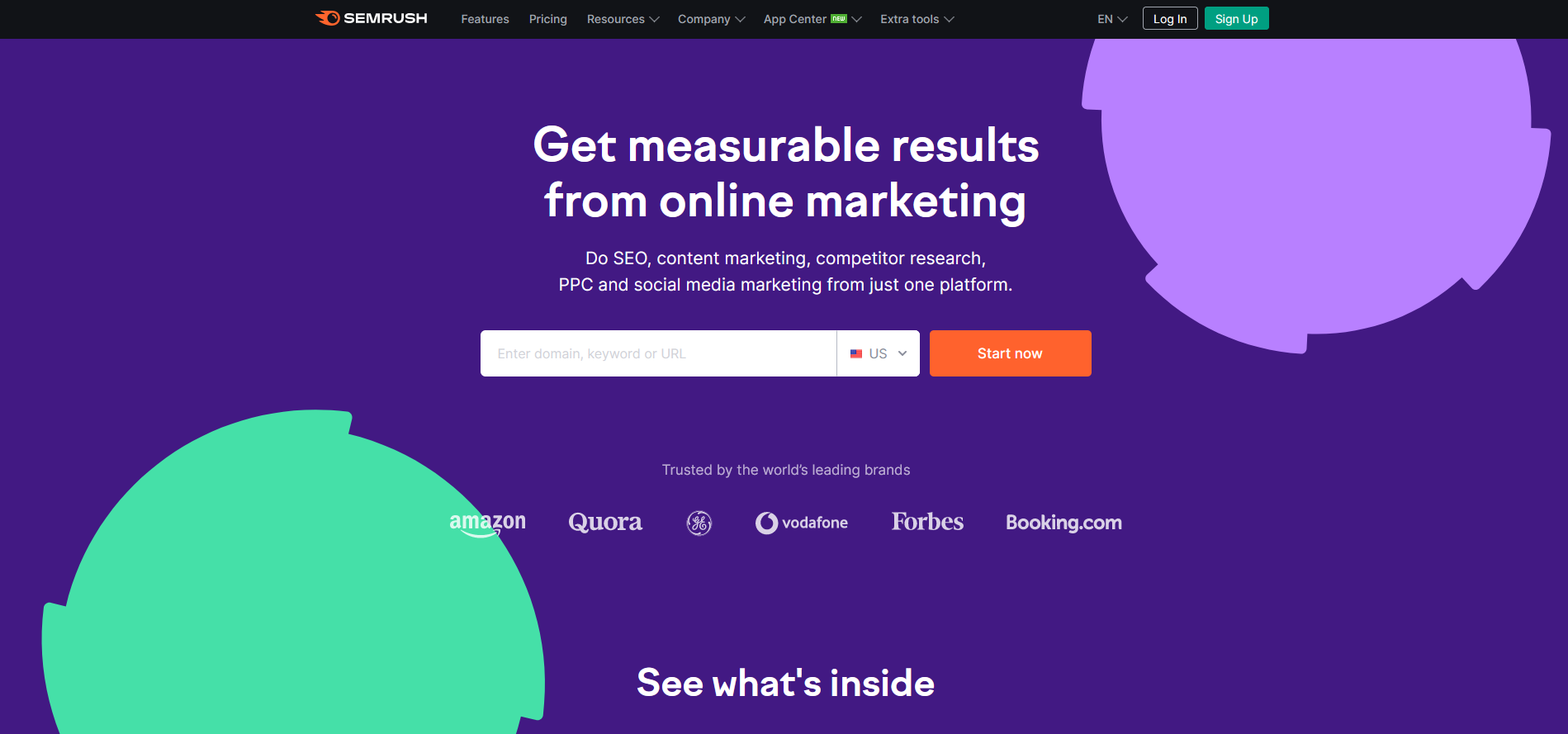 If you are interested in artificial intelligence technologies in SEO, you probably know about Semrush. This all-in-one AI platform contains over 70 tools for SEO, content marketing, SMM, contextual advertising, competitor analysis, and more. Most of the functionality of Semrush is dedicated to the search engine optimization of sites.
Using the service, users can automatically compose and analyze semantics, manage linking, perform internal optimization of web pages, and so on. In addition, it allows you to automate the analysis of competitors and web traffic, generate meta descriptions, FAQs, and images based on text descriptions (text-to-image).
Semrush's smart algorithms analyze the current site optimization, identify weaknesses, and provide recommendations for improvement. It also has a Writing Assistant feature that helps you create SEO-friendly content by tracking its readability, volume, percentage of keywords, and other parameters. Through the Social Media Toolkit, users can schedule and automatically publish social media posts, measure their performance, and manage their reputation.
Alli AI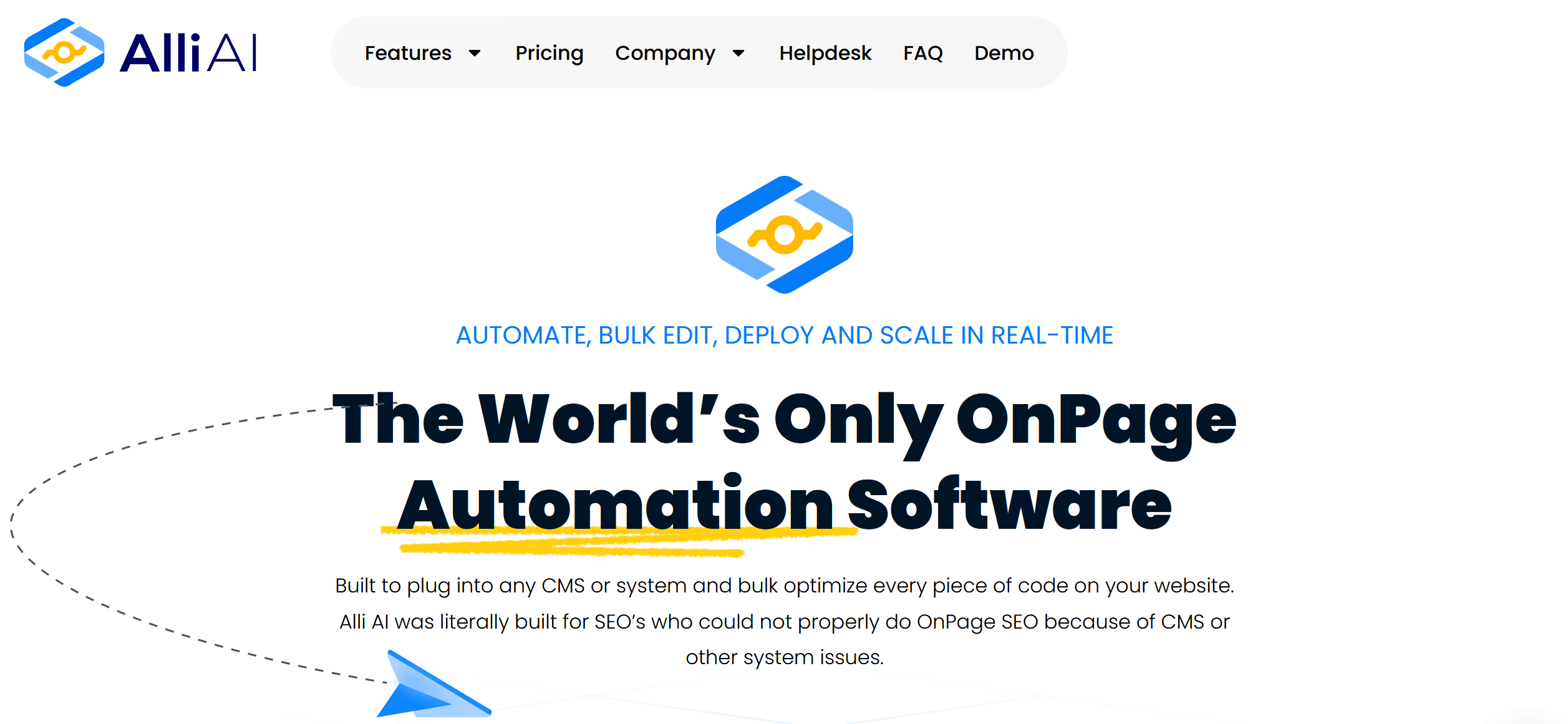 Alli AI service is one of the advanced AI tools for SEO. The program provides powerful and flexible functionality to automatically perform SEO and content management tasks. It allows not only to automate single processes, but also to create mass optimization rules for the entire site or individual pages. By setting up automation through Alli AI, users can perform the actions they need in one click. The tool works with all popular platforms, including WordPress, Joomla, Drupal and Shopify.
Another important advantage of Alli AI is the self-tuning of its smart algorithms. Thanks to it, the neural network performs the tasks assigned to it faster and better, and the user gets the opportunity to effectively automate a wide range of SEO processes and stages, in particular, the compilation of meta tags, link descriptions, images, and so on.
An equally useful tool of this service is the Live Editor. With it, you can quickly edit and optimize text content, instantly saving and publishing changes. In addition, the program has the functions of A / B testing of keywords in real time, as well as writing and debugging web page code with the ability to perform this operation directly in it. And finally, Alli AI automatically analyzes the site and gives advice on how to optimize it as efficiently as possible.
Surfer SEO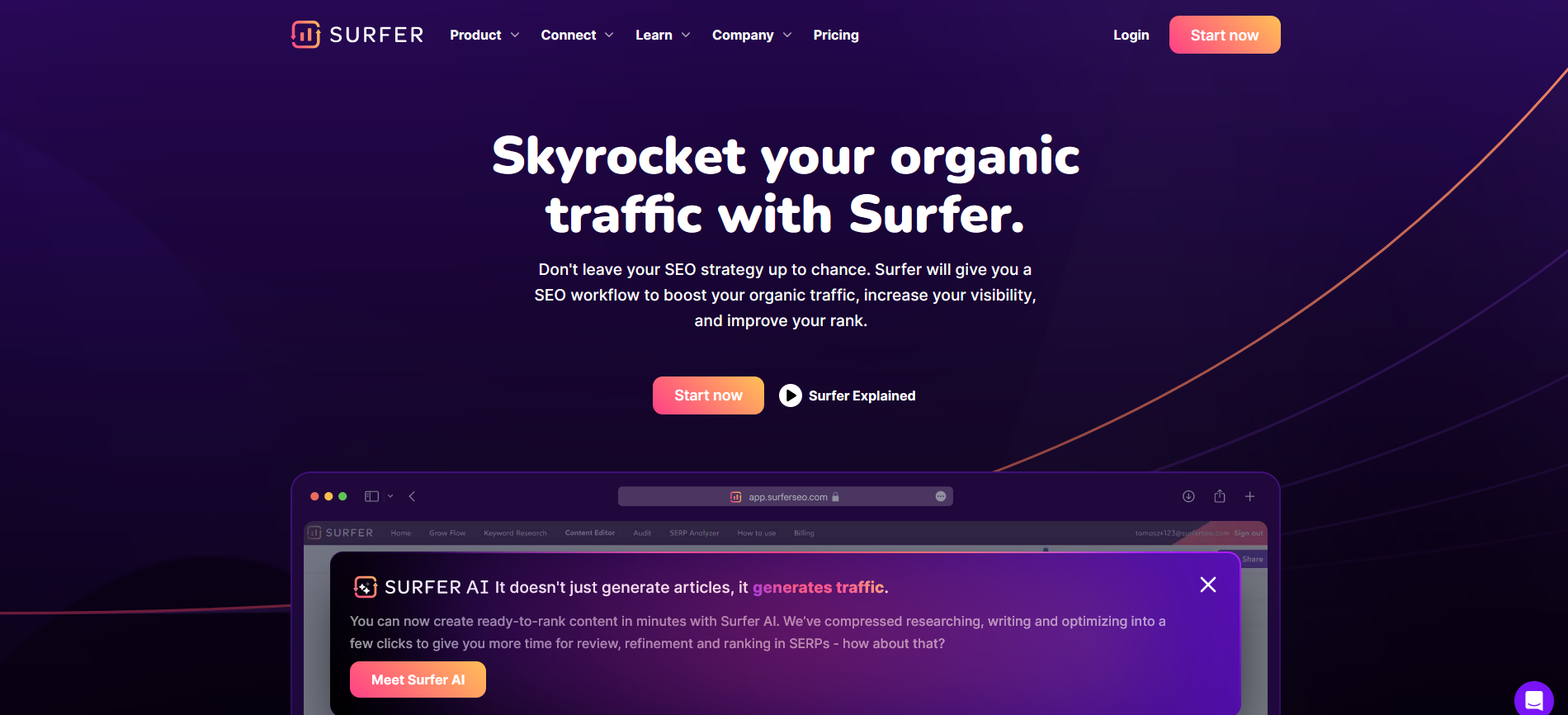 The Surfer SEO platform is a worthy example of the competent implementation of AI in digital marketing. Its NLP algorithms allow you to perform high-quality site SEO and generate relevant text content. The service is optimally suited for individual webmasters or bloggers, as well as for companies with one/several sites or large digital agencies.
Surfer SEO has a number of useful tools. One of them is the content planner. With it, you can automatically categorize thousands of queries and generate relevant article topics. There is also an AI content editor that carefully analyzes the keywords on the site pages and points out the existing shortcomings.
An equally useful Surfer SEO tool is designed for SEO audit. It automatically performs a comprehensive site analysis and evaluates it according to a number of parameters: content volume and quality, internal and external links, meta tag structure, keyword density, page loading speed, and so on. The Grow Flow feature gives individual recommendations and tasks for optimizing content, keywords, and links. Integration of the service with WordPress, Chrome, Google Docs, Jasper AI, and other systems increases the speed of working with it and makes it more convenient.
Frase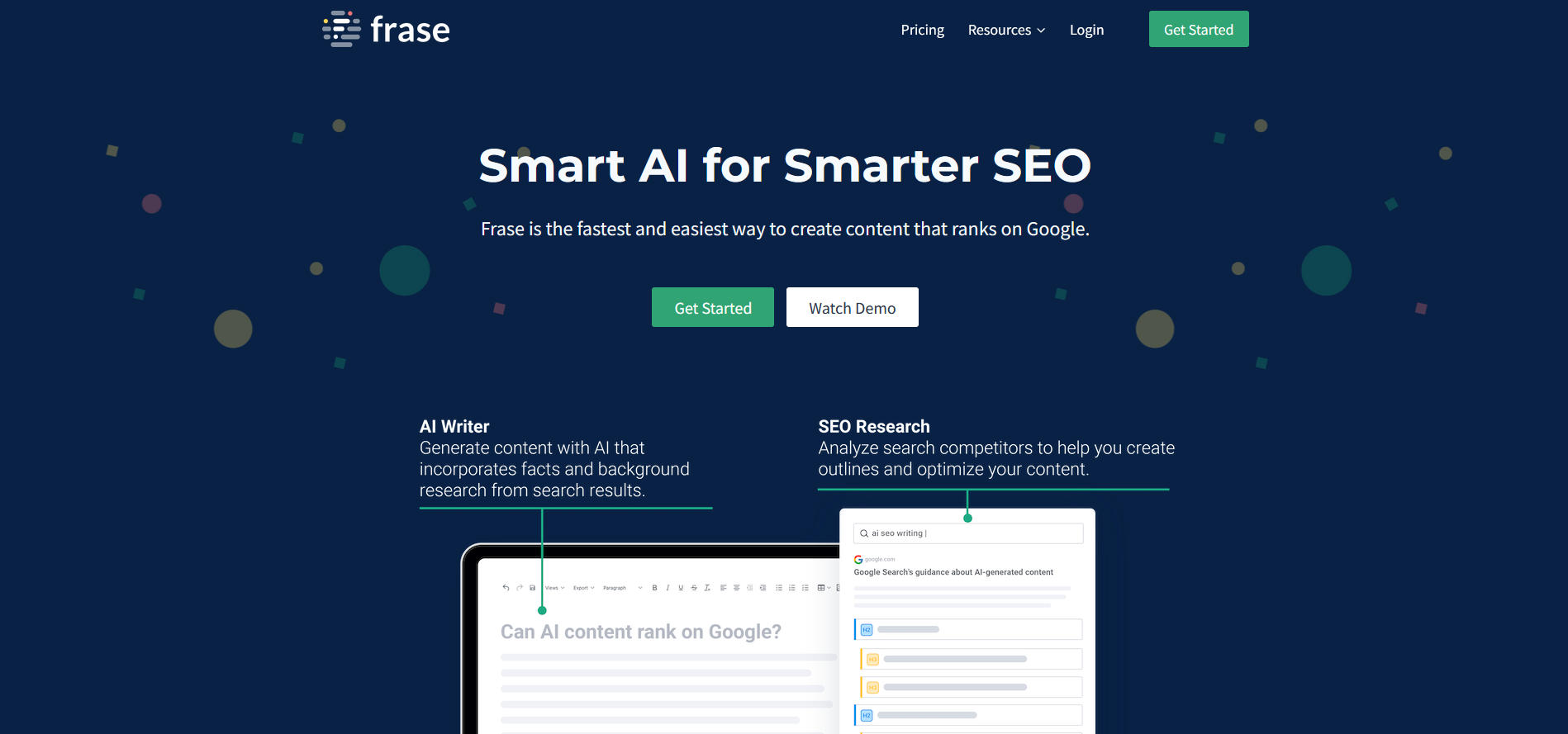 Frase is a service used to prepare, write, and optimize texts using a built-in AI generator and content editor. It allows you to automate the process of selecting keywords and optimizing finished texts. Like Surfer SEO, this program is more suitable for generating SEO content from scratch than editing it.
Frase's main tool is an AI assistant that helps you create relevant and well-optimized texts. The AI in SEO tools algorithms of this service analyze 20 results from Google search results for a user-provided query, evaluating them on a scale from 0% to 100%. They also extract relevant keywords from them to collect semantics.
Connect applications without developers in 5 minutes!
Frase analyzes the effectiveness of SEO content both on the site as a whole and on its individual pages, quickly identifying shortcomings and giving advice on how to eliminate them. In addition, its AI can create content plans and briefs, analyze internal and external web links. Integration of the service with the Google Search Console allows you to flexibly manage your SEO strategy by receiving reports on KPIs and other important indicators: page ranking, impressions, cost per click, and so on.
Scalenut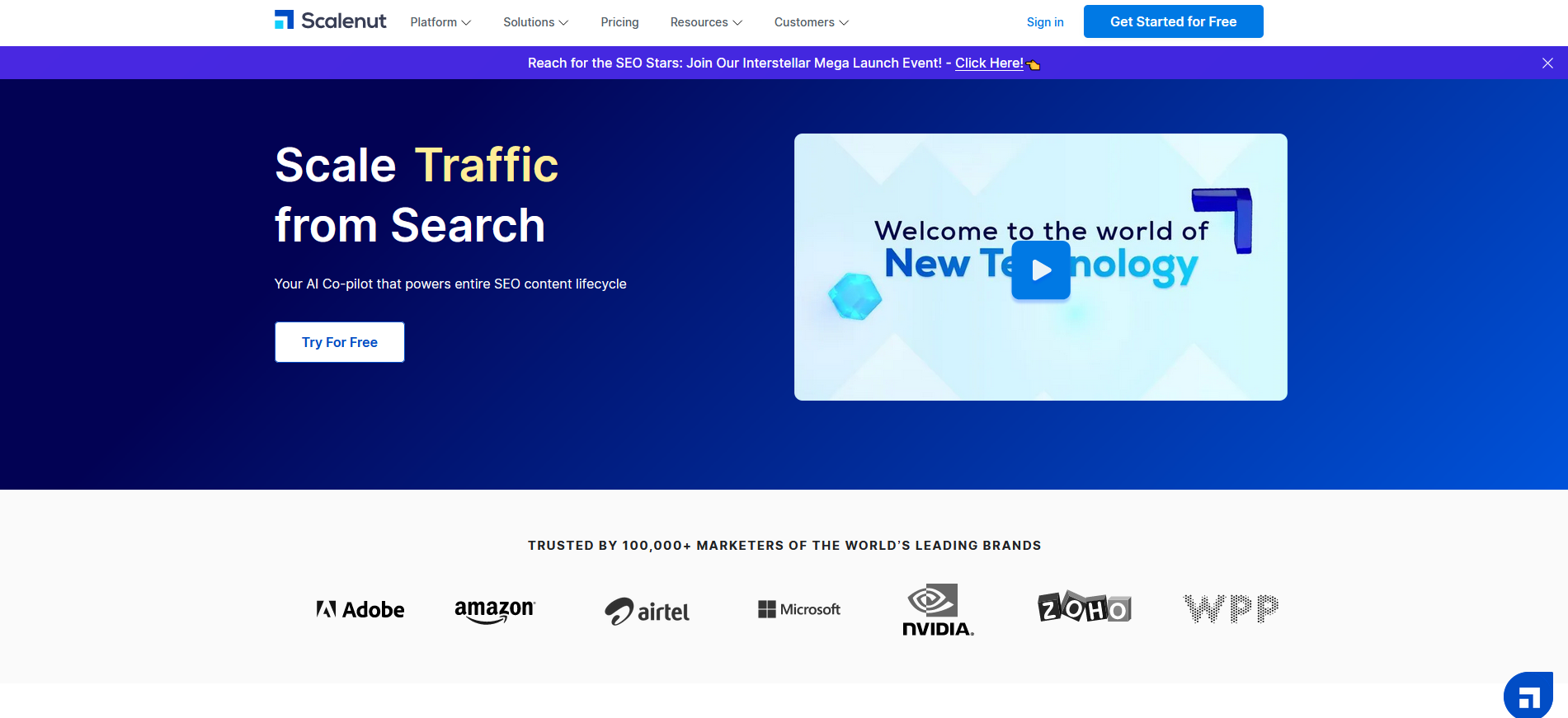 Scalenut is an AI-enabled web content creation service. Using NLP and ML technologies, it recognizes the context, analyzes the content of articles and provides recommendations for their improvement. The AI solutions it offers are suitable for both preparing content from scratch and editing existing texts.
There are 4 groups of search engine optimization tools available in the Scalenut functionality:
For analysis. They allow you to generate ideas, draw up promotion strategies and collect relevant semantic queries.
To create content. They can generate original relevant texts, as well as optimize them in real time based on search results statistics.
To automate the process of SEO-optimization of the site and content on it.
To automate the process of developing promotional materials. Over 40 copywriting templates help you create eye-catching product descriptions, texts for web pages and email newsletters, and so on.

In addition to all of the above, the service has a built-in plagiarism checker, and also integrates with the popular WordPress and Semrush platforms.
SE Ranking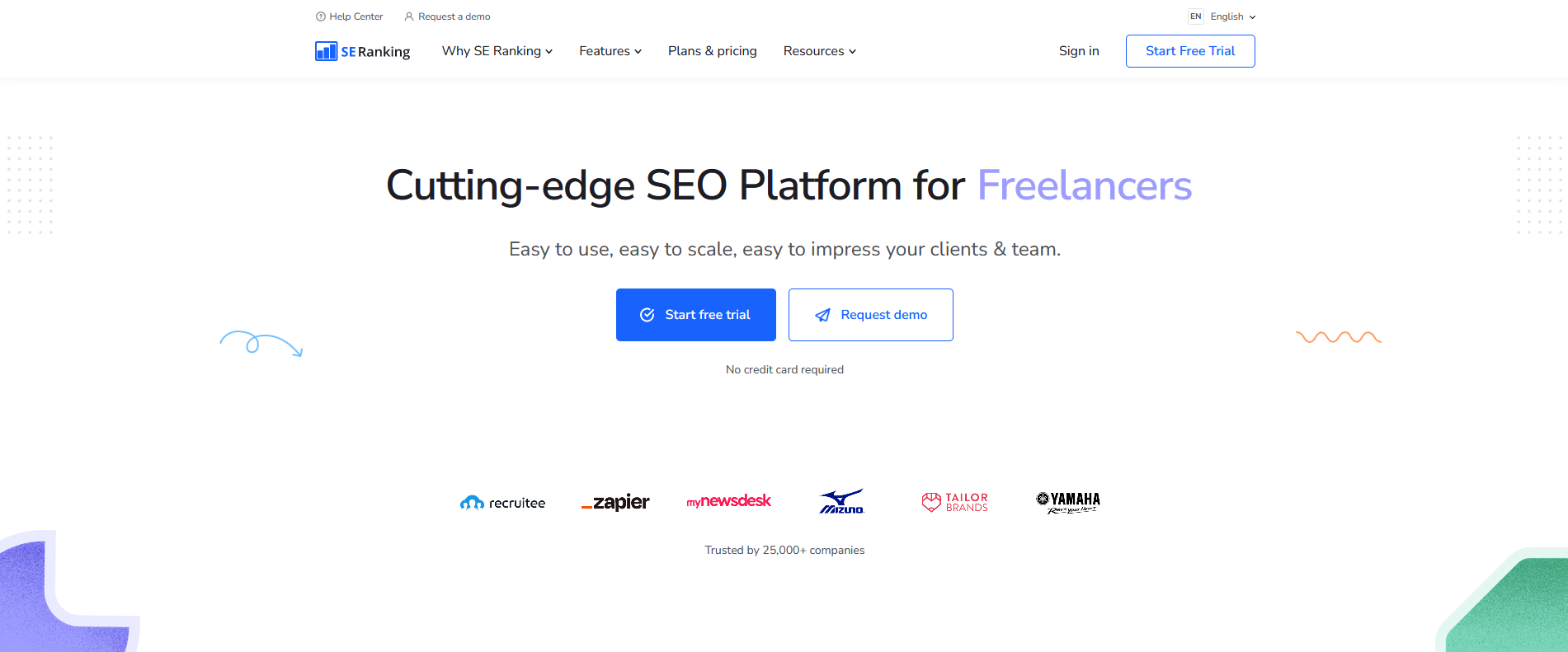 Content marketing platform SE Ranking has a set of useful tools for authors, marketers and SEO professionals. It has many features that will help increase organic traffic and improve the position of the site in search results. One of the main ones is the ranking tracker. It automatically tracks the performance of keywords on a site and compares them to competitor sites.
Next in the list of best AI SEO tools of the SE Ranking service is the SEO audit module. It provides the results of a comprehensive review of the site, and also helps to improve it for maximum performance. The White-Label feature is mainly used by marketers and other professionals in the field of commerce. It allows you to generate detailed reports for clients.
Other SE Ranking tools include a keyword tracker, an SEO checker (evaluates the SEO performance of individual pages), as well as auto-editing of content clusters using AI. The user only needs to indicate the desired topic of the article, after which the service will analyze competitors and provide the best SEO parameters for it: volume, number of headings and images, a list of key phrases, and so on.
Diib

The Diib service, using advanced AI algorithms, provides a comprehensive set of information about the site's SEO metrics and incoming traffic. With it, you can effectively automate SEO processes and compare their current parameters with those of competitors.
Diib has the ability to create an optimization plan with customizable goals and alerts. It can be used not only for SEO, but also for other areas: social networks, mobile applications, user experience, and so on. This service allows you to track keywords and backlinks, select new keywords, generate ideas for content, monitor the performance of competitors' sites and their changes.
In addition, Diib can do automatic complex site monitoring. With it, you can find flaws in the field of technical optimization (for example, page loading speed) and security. AI algorithms daily test the performance of a web resource and give the user a report on 12 indicators.
Outranking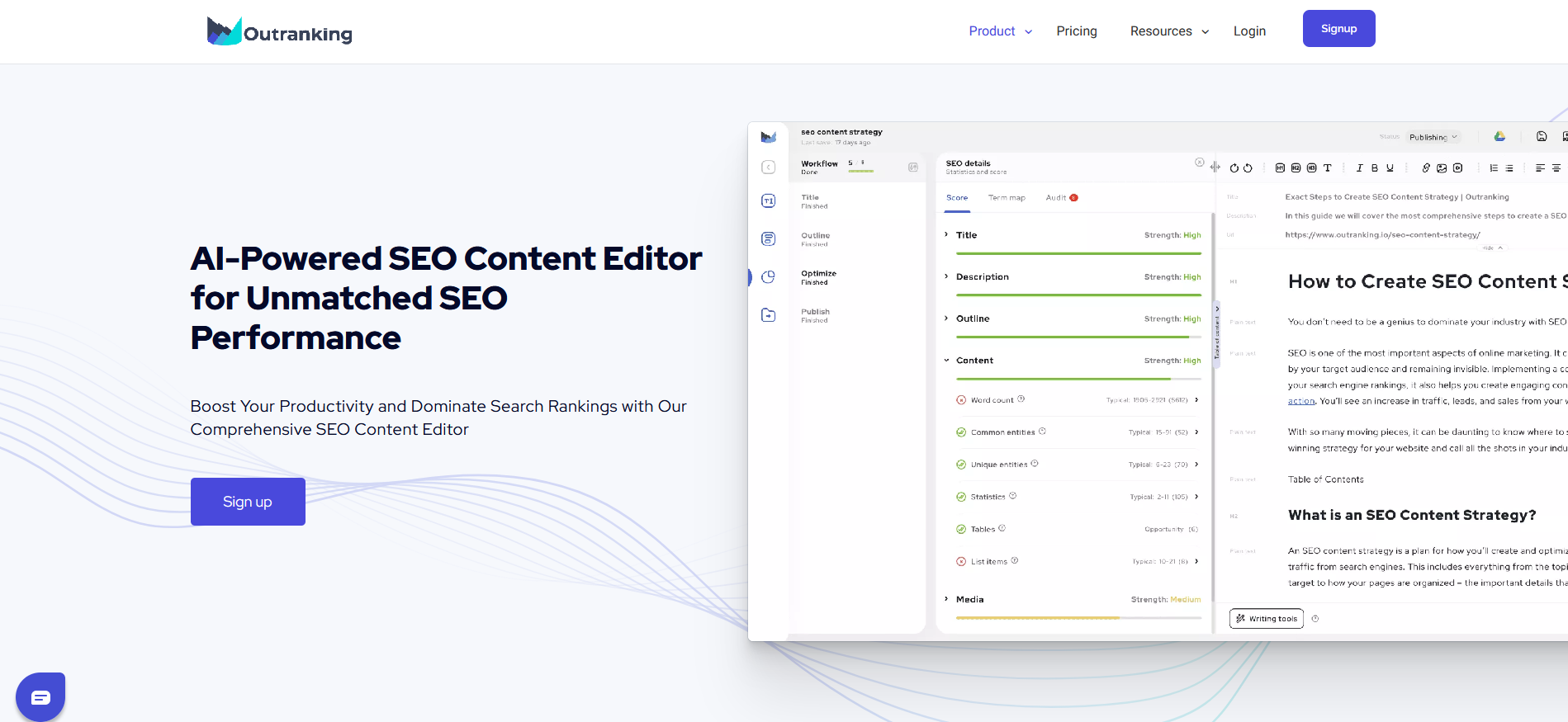 Outranking service is one of the useful AI tools in SEO for bloggers and content authors. This versatile tool helps you automate writing SEO content from scratch and optimizing finished texts. The platform has such important functions as data monitoring and analysis, content auto-generation, web page optimization.
Outranking users receive instructions on how to create effective SEO text content for different purposes and scenarios. They also have access to practical advice on preparing posts for blogs and social networks, long read articles, press releases, descriptions for online stores, and so on. In addition, the service quickly selects the best keywords for given topics, and also performs SEO scoring of the site using more than 40 parameters.
AI platform algorithms automatically generate relevant text briefs for any keywords, topics, or niches based on the analysis of search results. Outranking also provides users with an auto-generator of blog posts and a tool for developing SEO content plans, which allow generating clusters of topics through NLP technology and automated prioritization. Integration of the service with Google Docs, Grammarly, Google Search Console and WordPress creates additional convenience of working with it, increases its speed and efficiency.
NeuronWriter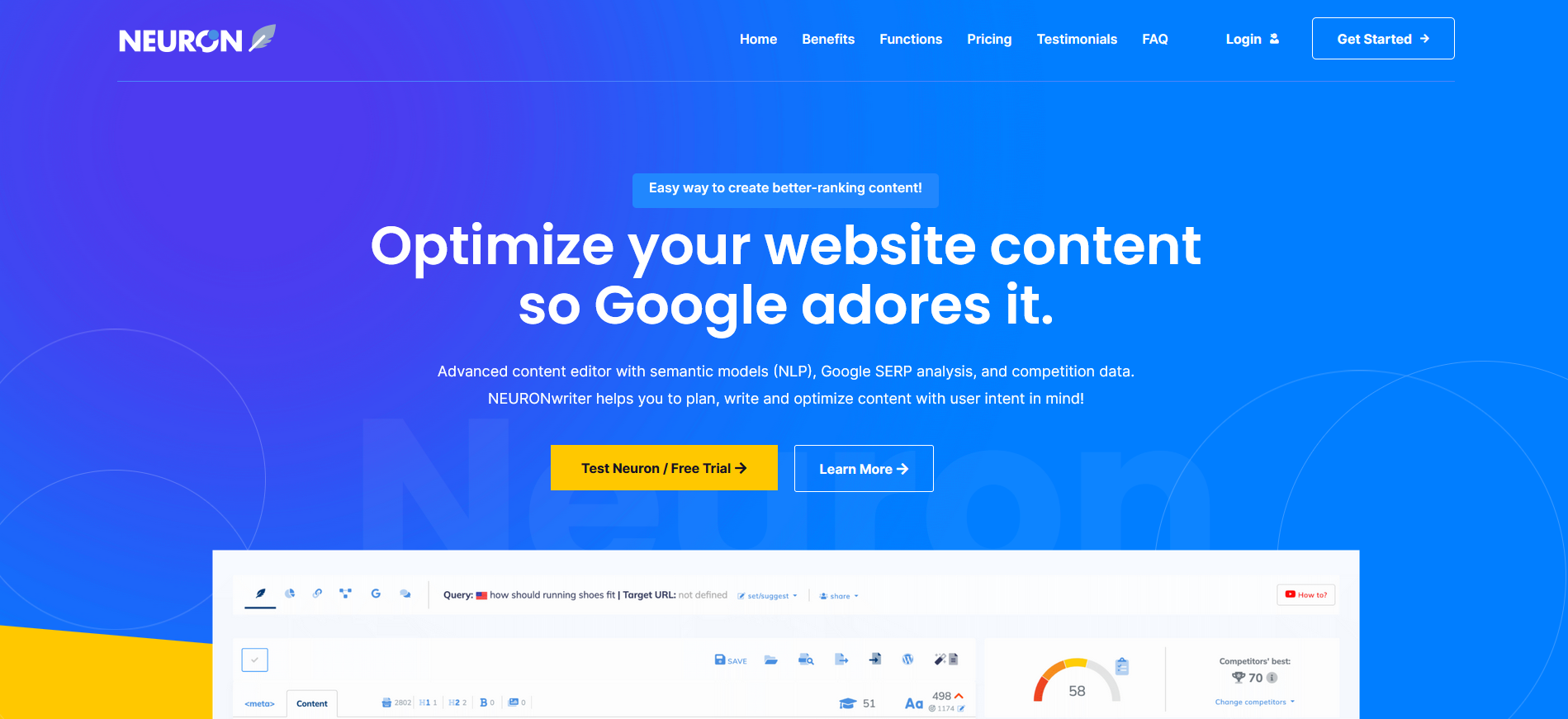 The NeuronWriter service can automatically generate SEO texts for websites, blogs and social networks using the built-in AI Writer editor. It uses data from Google search results, analysis of competitor sites and natural language processing (NLP) technology. An integrated approach helps it create unique and keyword-relevant content.
NeuronWriter provides an internal optimization capability. The service analyzes the SEO parameters of the site and gives recommendations for improving them. Another of the valuable SEO automation tools of this platform is competitor analysis. With its help, users can quickly and efficiently assess the status of selected sites, draw appropriate conclusions and optimize their resource.
NeuronWriter supports over 170 languages, has a built-in content scheduler and document management module. In addition, it allows you to export analytical reports in a number of formats, as well as create and save draft documents. The service easily integrates with Google Search Console, allowing you to quickly track the effectiveness of content.
INK Suite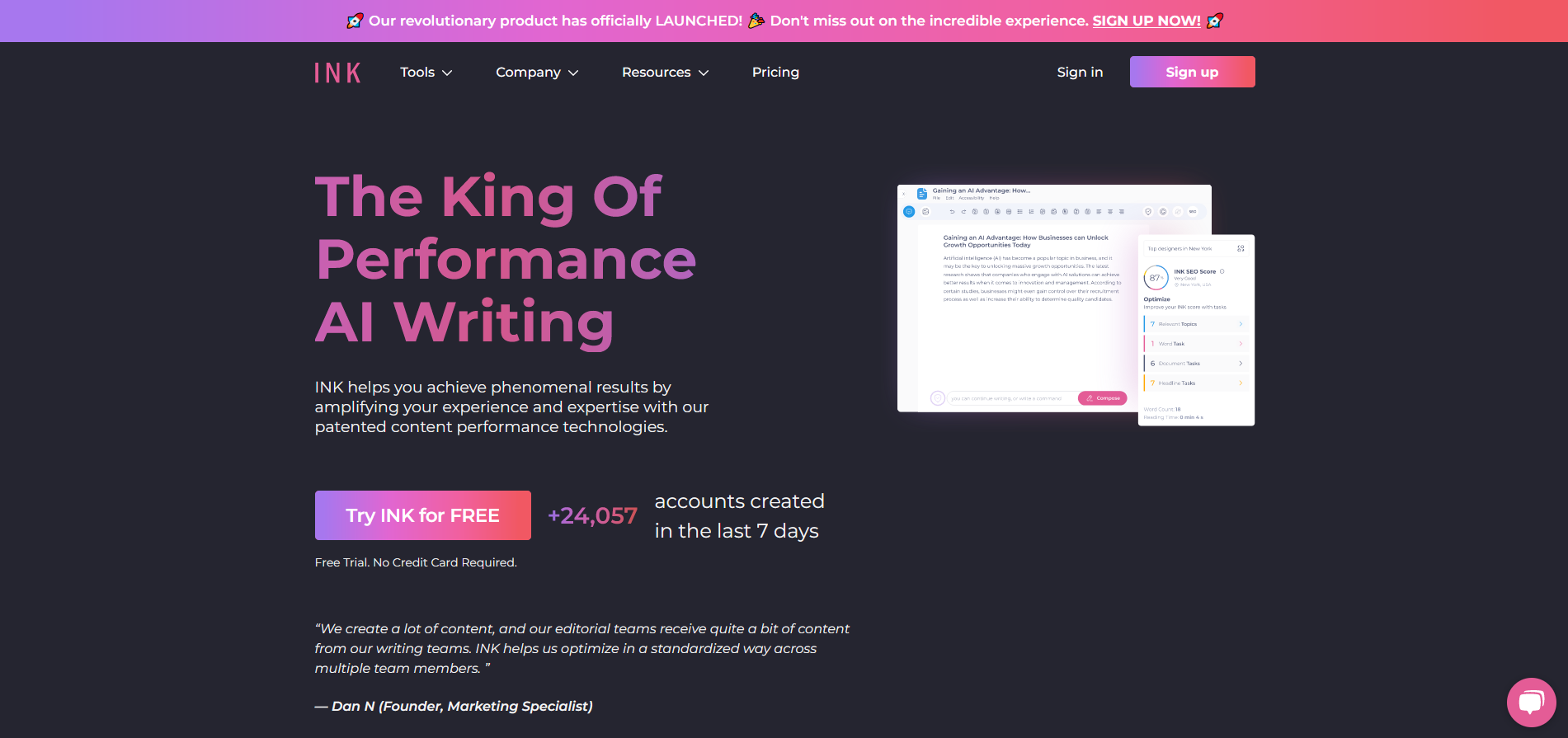 Rounding out the list of the best SEO automation tools of 2023 is the INK Suite platform. This one-stop service is designed primarily for content marketing and SEO. It combines the functions of an AI assistant for writing texts and an SEO assistant. It enables users to more easily and quickly create high-quality, relevant content that will increase the position of their sites in search results.
Other important features of INK Suite include optimization of meta descriptions and images (for example, compression, resizing), as well as spell checking. The AI Writer module has over 120 tools for creating effective web content, email newsletters, blog articles, landing page texts, and more.
The SEO Optimizer module automatically evaluates the quality of content in terms of its ranking by search engines. In addition, it provides relevant keywords to compose the semantic core. The Content Planner module efficiently groups keywords into clusters to prepare a content plan. INK Suite integrations with WordPress and Google Chrome make it much easier and faster to work with this service.
Conclusion
Today, there are many effective SEO tools of various types and formats on the web. When choosing such a program, you should pay attention to several factors. For example, some platforms are intended for content authors, others are more useful for SEO and webmasters, and still others are more useful for online marketers. In addition, you should consider what opportunities this or that service offers. Some focus on maximum automation, so they will be especially convenient for novice users. Others provide ample room for customization, making them more suitable for experienced professionals.
***
If you use Facebook Lead Ads, then you should know what it means to regularly download CSV files and transfer data to various support services. How many times a day do you check for new leads in your ad account? How often do you transfer data to a CRM system, task manager, email service or Google Sheets? Try using the SaveMyLeads online connector. This is a no-code tool with which anyone can set up integrations for Facebook. Spend just a few minutes and you will receive real-time notifications in the messenger about new leads. Another 5-10 minutes of work in SML, and the data from the FB advertising account will be automatically transferred to the CRM system or Email service. The SaveMyLeads system will do the routine work for you, and you will surely like it.