Keyword research is a crucial aspect of SEO and content marketing, shaping strategy and guiding content creation. While many tools exist to aid in this process, not all require a hefty investment. In this article, we introduce and detail five free tools – Google Keyword Planner, Ubersuggest, Soovle, AnswerThePublic, and Keyword Surfer. Each has unique strengths, ready to elevate your keyword research, whether you're an SEO beginner or seasoned content marketer.
Overview of Keyword Research Tools
Keyword research tools play a pivotal role in understanding the digital landscape of your industry or niche. These tools help you identify the words and phrases that people are using in their online searches, which directly relates to the content they wish to consume. By understanding these patterns, you can craft your content to match these search terms, thereby increasing the visibility and reach of your website or blog.
A good keyword research tool typically provides features such as:
Keyword Suggestions: These are alternative or related search terms to your original keyword, which can expand the scope of your content and ensure it reaches a wider audience.
Search Volume Data: This feature reveals how often a particular keyword is searched for in a given timeframe. High search volume keywords could mean more potential traffic, but also more competition.
Keyword Difficulty or Competition: Some tools assess how hard it would be to rank well for a particular keyword, considering factors like the number of companies competing for it and the strength of their SEO.
Cost per Click (CPC) Data: Particularly useful for those running or considering paid search (PPC) campaigns, this data estimates how much you'd need to bid in Google Ads to show up at the top of the page for a given keyword.
Trends and Seasonality: Some tools provide insights into whether a keyword's popularity is stable, growing, or tends to peak at certain times of the year.
In the following sections, we will dive into five free keyword research tools - Google Keyword Planner, Ubersuggest, Soovle, AnswerThePublic, and Keyword Surfer - shedding light on their unique features and how they can be utilized for effective keyword research.
Google Keyword Planner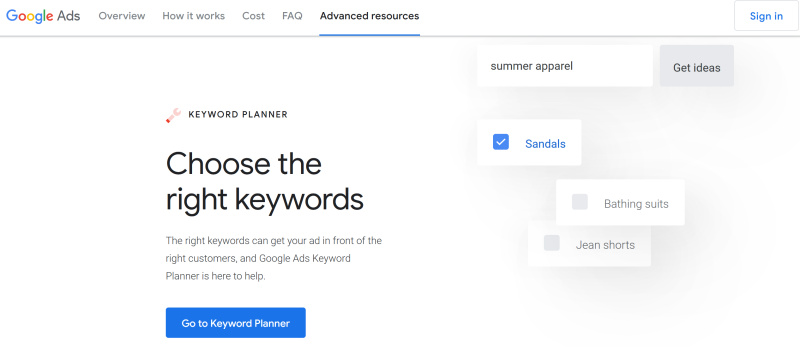 First on our list is Google Keyword Planner, a free tool provided by Google within its Google Ads platform. Originally designed for aiding advertisers in planning their Google Ads campaigns, Google Keyword Planner also offers substantial benefits for those looking to conduct comprehensive keyword research.
One of the key strengths of Google Keyword Planner is its direct access to Google's vast database of search data. Here are some main features you can leverage:
Keyword Ideas: By inputting a word or phrase, or even a URL, Google Keyword Planner will generate a list of related keyword ideas, expanding your keyword strategy and helping you find terms you may not have considered.
Search Volume Data: Google Keyword Planner provides historical average monthly search volumes for specific keywords. This information can guide you in identifying high-volume keywords that are relevant to your content and audience.
Competition Data: While it's mainly intended for paid search competition, this data can also give you a sense of the competitiveness of organic search for specific keywords.
Forecasting: For those interested in running paid campaigns, Google Keyword Planner can forecast performance based on your keywords, like estimated clicks and estimated conversions.
Despite its many strengths, Google Keyword Planner does have limitations. For example, it is inherently tied to Google Ads and pushes users toward PPC activity. It also doesn't provide as much detail on keyword difficulty for organic search as some other tools might.
Nevertheless, Google Keyword Planner is a powerful starting point for any keyword research endeavor due to its extensive data directly sourced from Google's search engine.
Ubersuggest


Ubersuggest, developed by marketing expert Neil Patel, is another tool that deserves a place in your keyword research toolkit. It's a versatile tool that offers both free and premium options, with the free version offering substantial benefits for beginners and small businesses.
Here are some standout features of Ubersuggest:
Keyword Suggestions: Ubersuggest generates a broad array of related keyword ideas based on your initial input. These suggestions can help you diversify your keyword strategy, providing alternative angles and semantic variations.
Search Volume Data: The tool provides data on average monthly search volumes for each keyword, assisting you in identifying popular search terms relevant to your niche.
Keyword Difficulty: Ubersuggest provides an SEO difficulty score for each keyword, which estimates how challenging it would be to rank highly for that term on Google.
Content Ideas: This feature generates a list of content pieces from the web that are related to your keyword, providing inspiration for your own content and showing what kinds of articles are currently performing well.
Backlink Data: While not directly related to keywords, this feature can help you understand how many backlinks high-ranking pages for a certain keyword have, indicating the level of competition.
One downside of Ubersuggest is that the free version does limit the number of searches and results per day. If you need to do intensive, daily keyword research, you may need to consider their paid plans.
Overall, Ubersuggest is a robust and user-friendly tool for both beginners and experienced marketers looking to enhance their keyword and SEO strategy.
Soovle


Soovle is a unique tool that allows you to explore keyword suggestions from multiple search engines, not just Google. By harnessing data from sources like Bing, Yahoo, Amazon, and Wikipedia, Soovle provides a broader perspective on how your target keywords are being used across the web.
Connect Facebook Lead Ads to CRM, Email, SMS & Spreadsheets
Use SaveLeads to connect Facebook to different apps. Over 120+ ready-made integrations available now
Automate the work with leads from the Facebook advertising account
Empower with integrations and instant transfer of leads
Don't spend money on developers or integrators
Save time by automating routine tasks
Test the work of the service for
free
right now and start saving up to 30% of the time!
Try it
Here are the main features of Soovle:
Multiple Source Keyword Suggestions: When you type in a keyword, Soovle generates suggestions from several search engines and platforms. This can be invaluable if you're looking to optimize for platforms other than Google, or if you're simply seeking a more comprehensive view of your keyword strategy.
Customizable Platforms: You can customize which platforms you want to include in your search, allowing you to focus on those most relevant to your business.
Save and Download: You can save your favorite keywords and download them for later analysis, which is convenient for longer-term planning.
Simple, User-Friendly Interface: Soovle is straightforward and easy to navigate, making it a good choice for those new to keyword research.
One thing to note is that Soovle does not provide detailed metrics like search volume, competition level, or keyword difficulty. It's primarily a tool for brainstorming and gathering keyword ideas. Therefore, it might be best utilized in conjunction with other tools that can provide more in-depth data.
In sum, Soovle is a helpful resource for generating keyword ideas from a variety of sources, broadening your perspective and potential SEO reach.
AnswerThePublic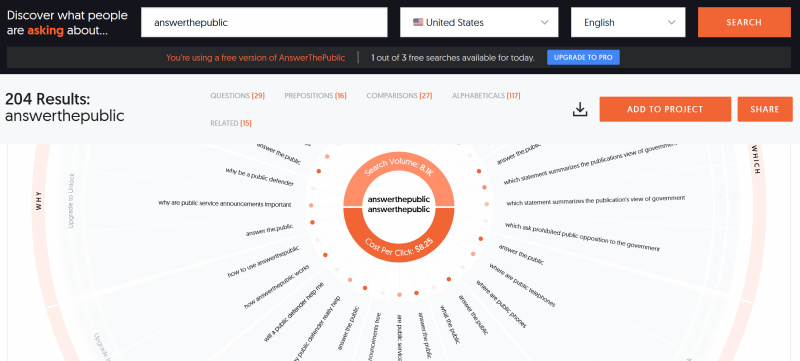 AnswerThePublic is a distinctive keyword research tool that presents its findings visually, offering a different approach to understanding and exploring keyword data. This tool bases its keyword suggestions on the questions that people are asking online, providing valuable insights into user intent.
Here are some of the core features of AnswerThePublic:
Question-Based Keyword Suggestions: This tool generates a list of questions that people have asked online related to your keyword, helping you understand what information your audience is seeking.
Prepositions, Comparisons, and Alphabeticals: AnswerThePublic provides keyword suggestions based on prepositions (e.g., for, like, with), comparisons (e.g., vs., and, or), and alphabeticals, offering diverse and creative avenues for content creation.
Visual Data Representation: The tool presents its findings in an interactive visual format, known as a search cloud, which can help to see patterns and associations that might not be as obvious in a traditional list format.
Data Export: You can export the data for offline viewing and analysis, which is useful for sharing insights with your team or integrating with your existing keyword research process.
A limitation of AnswerThePublic is that the free version does not include search volume, competition, or CPC data. To access these features, you would need to upgrade to the Pro version. The free version also has usage limits.
In conclusion, AnswerThePublic is a valuable tool for understanding user intent and generating content ideas, especially when used in conjunction with another tool that can provide more detailed keyword metrics.
Keyword Surfer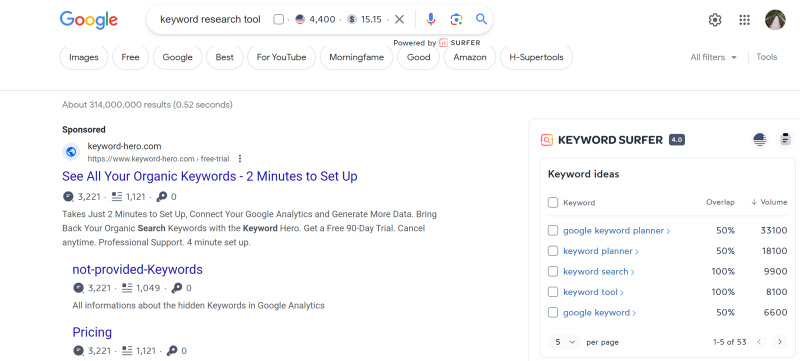 Keyword Surfer is a free extension for the Google Chrome browser that integrates keyword data directly into your search results. Unlike other tools that require you to navigate to a separate website or platform, Keyword Surfer provides insights as you perform regular Google searches, making the process of keyword research seamless and efficient.
Here are some of the key features of Keyword Surfer:
Search Volume Data: For any search you perform, Keyword Surfer will display the estimated monthly search volume for that term directly in your search results.
Keyword Suggestions: Alongside the search results, Keyword Surfer provides a list of related keywords, along with their estimated search volumes.
Country-Specific Data: You can select a specific country to view keyword data for, which is helpful if you're targeting audiences in different geographical locations.
Correlation Data: Keyword Surfer shows the correlation between the number of words or exact keywords on a page and its position in Google's search results, giving you insights into what strategies are working for top-ranking pages.
One limitation of Keyword Surfer is that it doesn't provide keyword difficulty scores or CPC data. Moreover, as a browser extension, it can only be used within Google Chrome.
Despite these constraints, Keyword Surfer is an easy-to-use and convenient tool that allows you to access keyword data directly from your browser, streamlining your keyword research process.
Conclusion
Choosing the right keyword research tool is an important step in your SEO journey. Each tool offers a unique set of features, and the best choice for you will depend on your specific needs and circumstances.
Google Keyword Planner provides extensive data directly from Google's search database, making it a reliable and comprehensive tool. Ubersuggest expands on this by providing additional features like SEO difficulty scores and backlink data. Soovle broadens your perspective by providing keyword suggestions from multiple sources, while AnswerThePublic gives you unique insights into user intent by focusing on the questions people are asking online. Lastly, Keyword Surfer offers the unique advantage of integrating data directly into your Google search results for a seamless research experience.
Remember that keyword research is only one part of the SEO puzzle. It's also important to focus on creating high-quality, engaging content that provides value to your audience. With the right tools in hand and a solid understanding of your audience's needs, you're well on your way to mastering the art of SEO and content marketing.
***
Use the SaveMyLeads service to improve the speed and quality of your Facebook lead processing. You do not need to regularly check the advertising account and download the CSV file. Get leads quickly and in a convenient format. Using the SML online connector, you can set up automatic transfer of leads from Facebook to various services: CRM systems, instant messengers, task managers, email services, etc. Automate the data transfer process, save time and improve customer service.