Twilio is an American cloud-based business communications software company that offers clients a PaaS (platform as a service) products. It provides merchants with API integrations to communicate with customers through audio-video calls, text chats, emails and other channels.
***
In our next article from the series about well-known online brands, we will tell everything about the Twilio brand, including the history of its emergence and development, interesting facts and information about the key figures of the company.
History of the Twilio brand
Twilio was founded in 2008 by Jeff Lawson, Evan Cook and John Voltius and was originally based in two US cities: Seattle (Washington) and San Francisco (California). To date, the head office of the company is located in San Francisco, there are also 25 brand offices in 17 countries around the world.
Connect applications without developers in 5 minutes!
In November 2008, the company launched Twilio Voice, a product that allows users to manage incoming and outgoing calls through a cloud service and API integrations. In February 2010, the Twilio platform acquired an API for instant messaging via web chat, and in 2011, an API for sending SMS messages.
In the first 5 years of its activity, the Twilio brand was able to attract a total of more than $100 million in venture capital investments. The first round of investment took place in March 2009, during the round A, the company received $3.7 million from the Union Square Ventures fund and $12 million from the Bessemer Venture Partners fund during the round B. In 2011, the investment round C was completed, in which Bessemer Venture participated Partners and Union Square Ventures, who invested $17 million in the project. In July 2013, Twilio received another $70 million from Redpoint Ventures, Draper Fisher Jurvetson (DFJ) and Bessemer Venture Partners. 2015 was marked by a $130 million E round from Fidelity, T Rowe Price, Altimeter Capital Management, Arrowpoint Partners, and Amazon and Salesforce. Between 2014 and 2018, the company's annual revenue increased from $88 million to $492 million.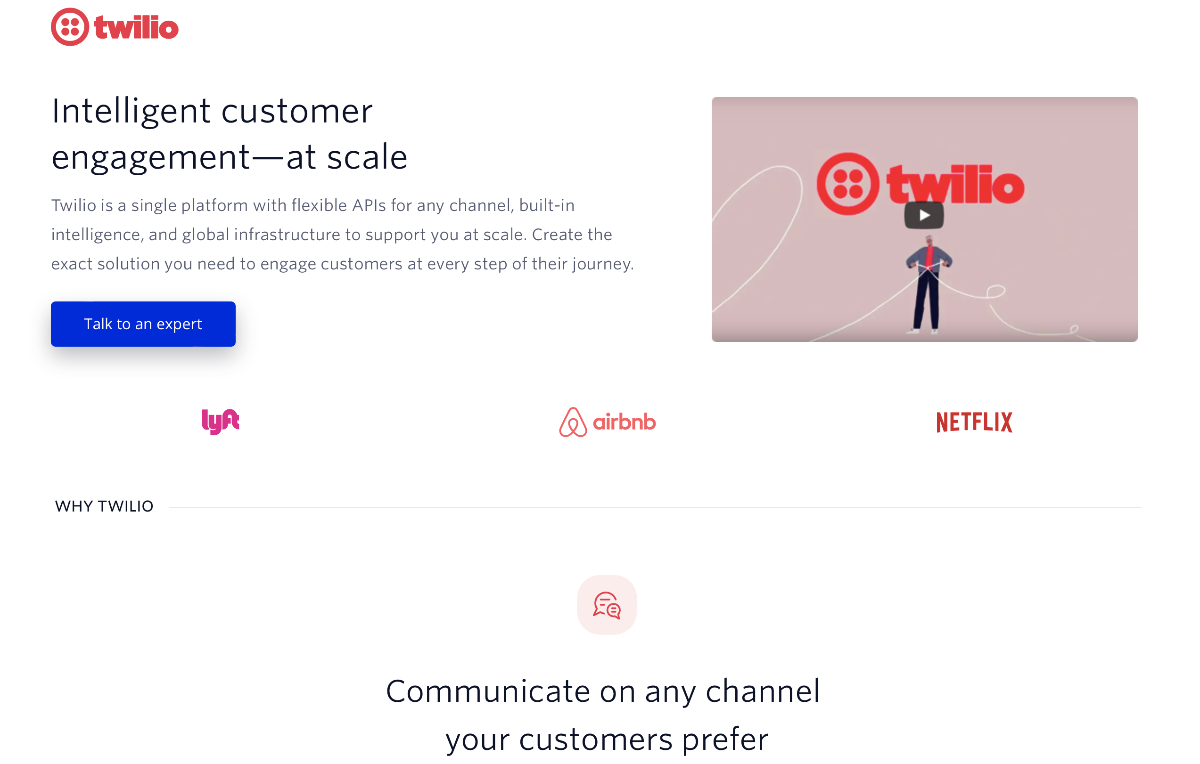 In June 2016, Twilio held an initial public offering (IPO) and was listed on the New York Stock Exchange (NYSE) under the acronym TWLO. The value of the company's shares rose by 92% on the first day of trading.
In 2015, the company acquired Authy, a startup that provides two-factor authentication services. In 2016, it acquired Tikal Technologies, the software company behind the Kurento WebRTC open source project. In 2017, a deal was made to purchase the Swedish SMS provider Beepsend. In September 2018, Twilio acquired Ytica, a Czech company that develops speech analysis software. In October 2018, Twilio announced its intention to acquire bulk email service SendGrid for $2 billion, with the deal closing in the first half of 2019.
In November 2018, Twilio completed the acquisition of Core Network Dynamics, a German telecommunications technology company EPC (Evolved Packet Core). It bought IoT platform Electric Imp in July 2020, customer data infrastructure developer Segment in October 2020, and text messaging provider Zipwhip in May 2021.
Key figures of the brand
For February, 2022 the post of the CEO is occupied by one of founders of the company Jeff Lawson. In addition, the list of her leadership includes:
Courtney Potter, CFO
Ealga Aodha, Chief of Staff

Erin Reilly, Chief Social Impact Officer

Evan Cooke, Co-Founder, Chief Technology Officer

Firdoos Bhatnagar, Executive Business Partner

Heather Hansma, Chief of Staff, Office of COO

Kat Sweeney, Chief of Staff to CEO

Katelyn Frick, Lead Executive Assistant

Marc Boroditsky, Chief Revenue Officer

Interesting facts about the Twilio brand
The first public mention of Twilio occurred in 2008 in the context of a joke app developed by Jeff Lawson. With his help, investor Dave McClure managed to prank TechCrunch founder and editor Michael Arrington.
Twilio uses the power of Amazon Web Services to provide cloud services to customers. The company also developed its own markup language TwiML, which provides users with direct data exchange with its services through webhooks.

Twilio supports open source software development: in 2010 it launched OpenVBX (an open source software that allows entrepreneurs to use their personal phones for business communications) and Stanboard (an open source program that provides a status bar).

***
SaveMyLeads is a simple and efficient system connector that will help you automate routine tasks and optimize business processes. You can save time and money, direct these resources to more important purposes. Test SaveMyLeads and make sure that this tool will relieve your employees and after 5 minutes of settings your business will start working faster.