Dreaming of your own SaaS startup? Before you start developing an application, you need to "give birth" to an innovative SaaS idea, choose the right business model and, of course, study your competitors well. From our article, you will find out who are included in the top SaaS companies in the world and get acquainted with the top SaaS startups 2022.
Demand for SaaS
SaaS (Software as a Service) is rapidly developing. The world's leading research and consulting IT company Gartner predicts that by the end of 2022, the SaaS platform market will come close to $172 billion. Today, approximately 99% of all companies use at least one such service, and the larger the enterprise, the more SaaS programs it uses.
Areas where SaaS is being most actively implemented and used at the moment:
IT development – New Relic, ServiceNow, Splunk;
Marketing – Marketo, HubSpot, MailChimp, iDevAffiliate;
Sales – Salesforce, Shopify, Zuora;
Finance – Bill.com, SAP, Intuit;
Project management – Notion, Trello, Jira;
HR – Workday, BambooHR, Zoho People;
Customer support – Zendesk, LogMeIn.
In addition, the demand for SaaS solutions for collective remote work is increasing:
Miro (team collaboration service) – 30 million users;
Slack (corporate messenger) – 12.5 million users;
Zoom (video conferencing platform) – 505,000 corporate clients.
According to the authoritative British publication Sifted, in 2020, European SaaS startups managed to attract a record amount of venture investments – €12 billion. Investors attribute such a high interest to the huge potential of such companies in the conditions of remote work, which is practiced by more and more organizations and enterprises today.
Top SaaS Companies 2022
Let's take a look at the list of the biggest SaaS companies that were among the first in this area and have maintained a high level of demand among users over the past few years. According to the French market research company ReportLinker, their constant development will allow them to remain at the forefront even with the massive expansion of the SaaS industry and the emergence of many competitors.
The list includes the best SaaS companies with the largest and most sustainable implementation base for their solutions:
Google
Microsoft
Adobe
Salesforce
Atlassian
Zoom
Freshworks
Zoho
ServiceNow
Xero
Best SaaS Startups of 2022
As you have already seen, there are promising startups in almost any field. Today, for example, B2B SaaS companies are successfully developing, enterprises offering solutions in cybersecurity, IT development, accounting, content creation and other areas.
We have highlighted 5 of the best and fast growing SaaS companies that can inspire you to start your own business in the same niches. Consider very recent startups that are only 1-2 years old, as well as existing for several years and introducing innovations during the current year. These are the best SaaS companies to work for 2022.
Phyllo
Purpose: integration of copyright data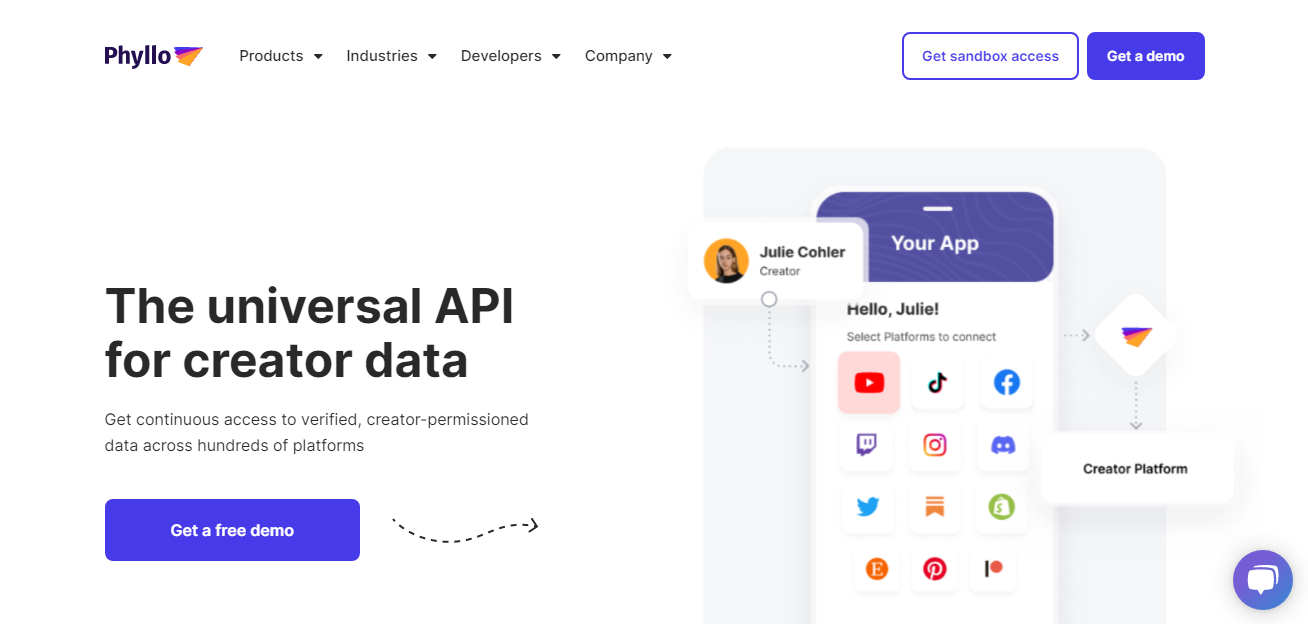 Startup SaaS Phyllo was created with the goal of developing a universal API for author data. Its main target audience is companies providing services for the creation and placement of content, financial and marketing services. Using the API provided by the Phyllo service, the company gains access to the verified data of the authors with whom it cooperates, information from their accounts in various social networks and platforms, as well as the ability to interact with the posted content.
The API can be easily integrated into web services, native applications for Android and iOS operating systems, cross-platform React Native and Flutter. Implementation requires only a few lines of code to be written. You can connect Phyllo today on many popular platforms (Cameo, Patreon, Twitch, Pinterest, Udemy, Medium, OnlyFans, Fiverr, Dribbble and others).
Phyllo has raised $2.8 million in upfront investment in 2021, according to online platform Crunchbase. In 2022, its income was $594,000. Given that it entered the market only last year and is considered a newcomer, this is a definite success. Phyllo's goal is to become an influential SaaS solution in its niche, and they are working hard today to achieve it in a short time.
Seedata.io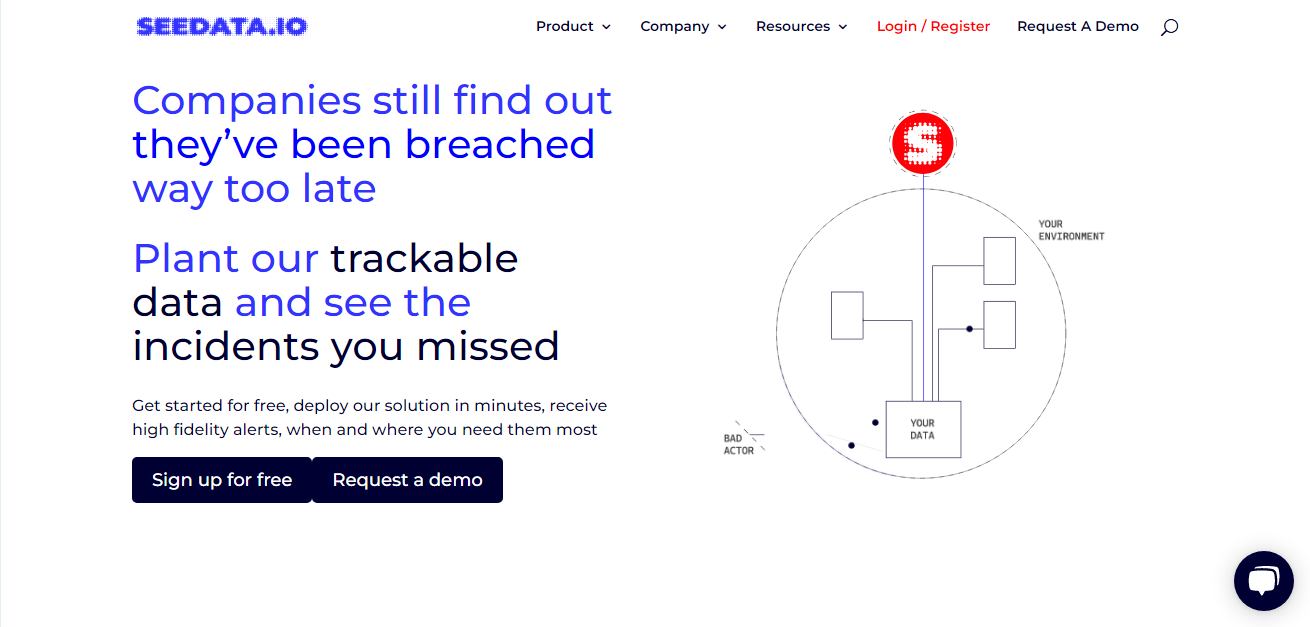 A data breach is not always immediately detectable, and when it is noticed, the damage to the company is usually already done. The Seedata.io service successfully copes with this problem. It is an AI-powered cybersecurity innovation to help businesses mitigate the risk of data breaches. The platform uses AI technologies to find hidden threats and eliminate them before they begin to harm.
Seedata.io catches hackers "on live bait". The service traps them with fictitious data that mimics real client data. When a cybercriminal takes the bait, the platform carefully monitors and analyzes their every interaction with that data. If attempts to commit illegal actions are detected, the client immediately receives appropriate warnings. This gives him the opportunity to instantly respond to a threat and save real data.
The main target audience of the Seedata.io service is enterprises with a high threat of cyberattacks and a low level of their reliable prevention. It easily integrates with the Microsoft Office 365 software package, Google Drive cloud services, Slack corporate messenger and other services.
Connect applications without developers in 5 minutes!
Today, Seedata.io is one of the best SaaS startups in cybersecurity. It already has 10 investors. The company has managed to raise £640,000 in upfront investment. This money will give the founders of the startup the opportunity to increase the team of employees, upgrade the service and add additional integrations. By the way, the latters should appear in the near future.
Qobra
Purpose: automation of commission calculations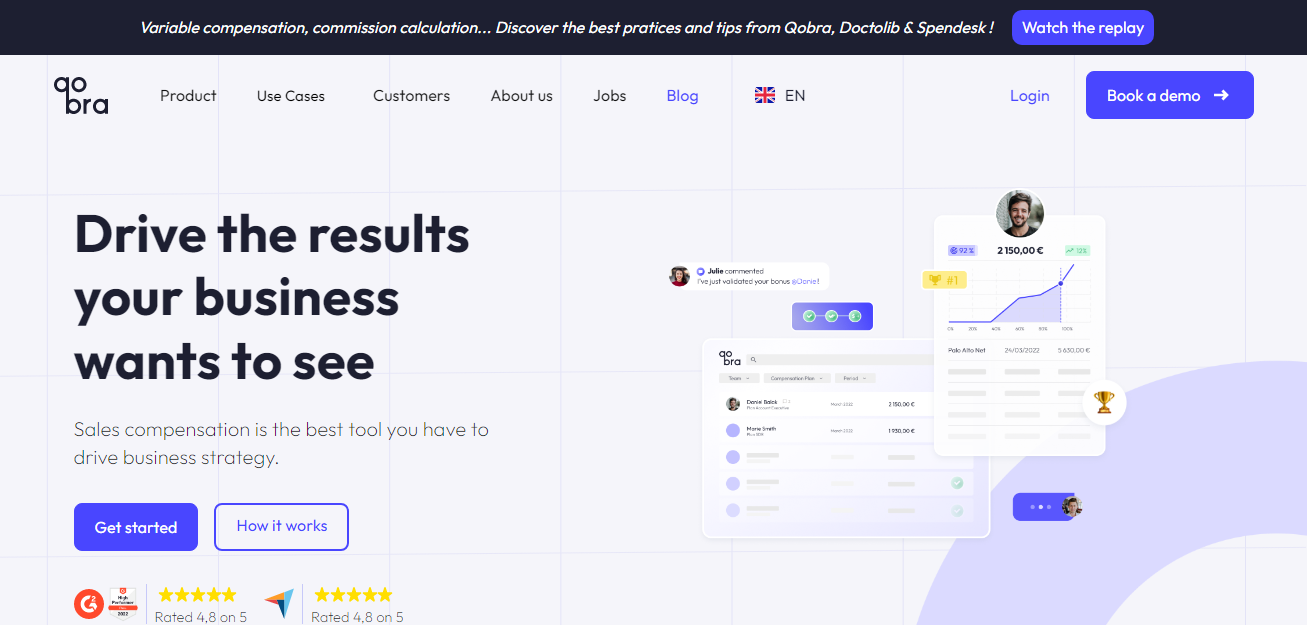 Qobra is a SaaS platform that calculates sales compensation rates for companies that use a commission model in their work. It is one of the best SaaS startups for such businesses. The service is useful for both the head of the sales department and the ordinary manager.
This tool allows you to automate routine calculations made in manual mode, as well as avoid inaccuracies and errors arising from the influence of the human factor. Qobra provides the user with the functionality to set individual rules for calculating commission payments, manage disputes, control approval workflows, generate commission reports online.
Just a year after its official launch, the startup helped process over €100 million in commissions from high-profile clients, including Spendesk and Doctolib. In 2022, Qobra managed to attract investments in the amount of €5.1 million. The company plans to increase the transparency and efficiency of commission calculations, the introduction of several useful integrations: with data warehouse tools, ERP (enterprise resource management) and HRIS (human resources management) systems. The goal of the Qobra team is to keep the service among the best European SaaS start-ups for businesses working with a commission model.
Copy.ai
Purpose: AI-based content generation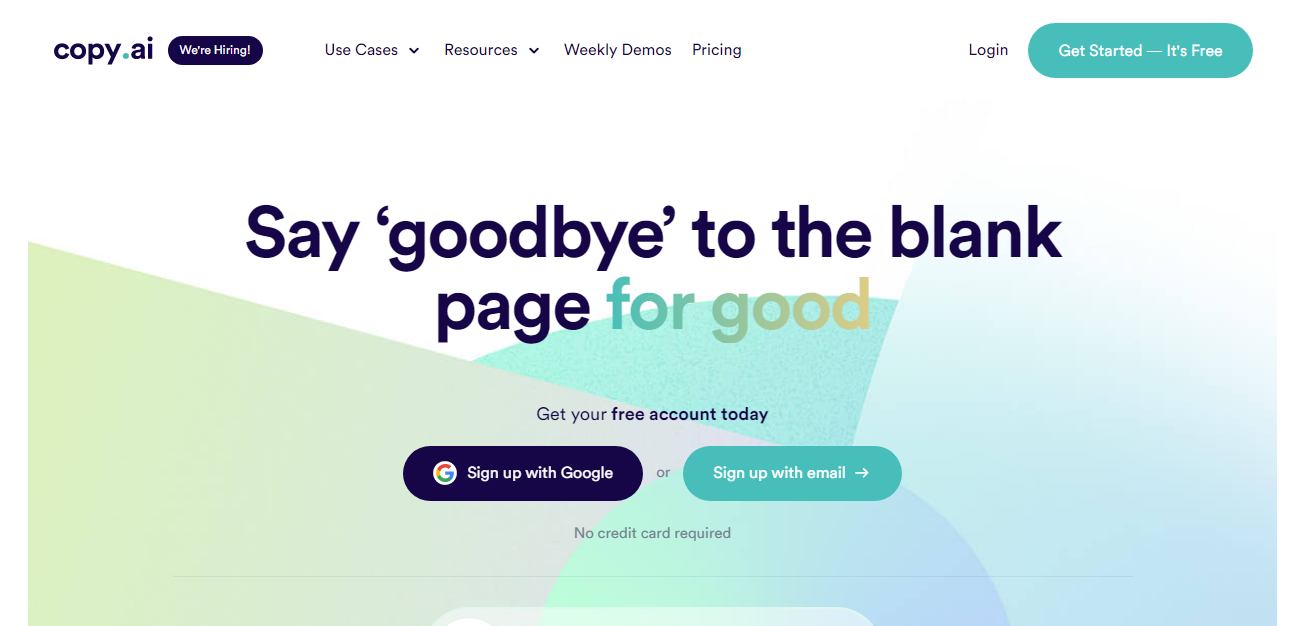 Copy.ai is a service for automated generation of texts, business proposals and slogans, developed on the basis of AI technologies. Today, it is considered one of the best SaaS start-ups in the field of content marketing. This is a real find for information or advertising agencies, enterprises and brands whose activities are related to the creation of business texts (high-converting posts, sales letters, and so on). Now you can get ready-made high-quality content in just a couple of clicks. To formulate a task for the service, the user only needs to enter the following data: title, set of keywords, style, goal, accents. After that, Copy.ai produces the finished text, which you can edit if necessary and upload the polished version to the CMS for further placement.
The service has an impressive library of templates and tools – at the moment there are more than 90 of them. For example, a bio-generator will write a biography for a social network in a couple of seconds. There are other generators as well. Some create titles for posts, websites, virtual events, others create content ideas. The latter are suitable when the author of a blog or page on a social network is experiencing a genre crisis and does not know what to write about next.
After its launch, more than 380,000 people used the Copy.ai service in a year, which gave the company the opportunity to receive a stable income of $2.4 million – more than 5,000 subscribed customers from more than 50 countries. This is a prime example of one of the successful SaaS startups. Representatives of Copy.ai note that today the service is used by over a million teams of employees and individual specialists, in particular from such large-scale world-famous companies as eBay, Nestle, Microsoft. In 2021, the company managed to attract investments in the amount of $11 million.
Setapp
Purpose: a collection of software for iOS and MacOS.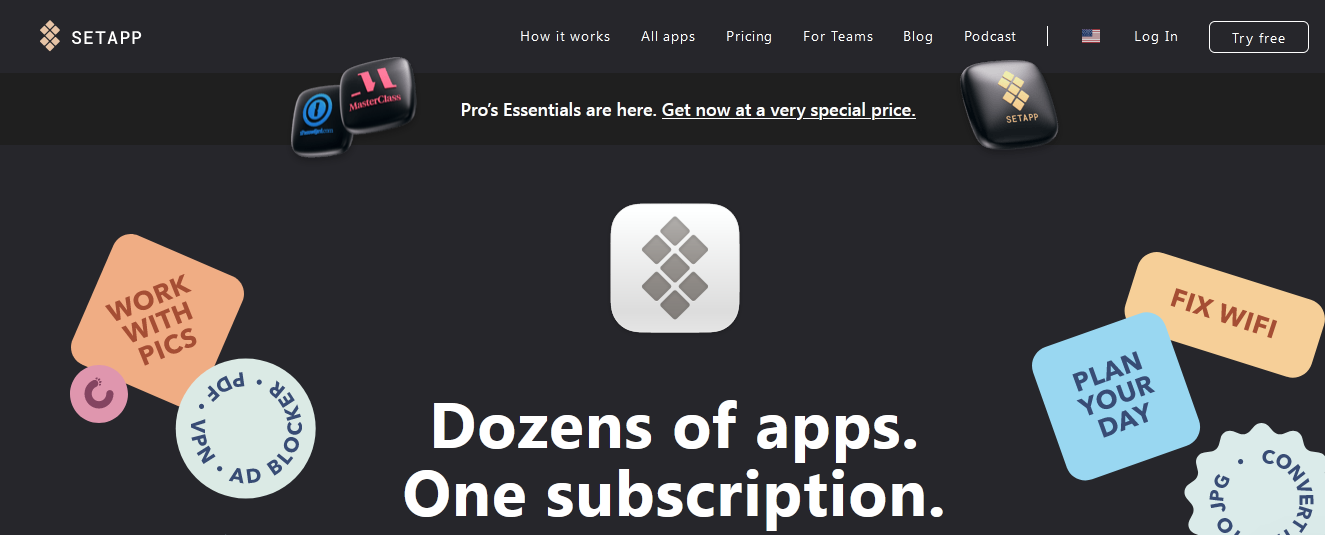 Setapp is a service that provides access to a growing collection of software for macOS and iOS from different vendors. It gives the user the opportunity to have access to many applications at once, subscribing just once. Thanks to it, you no longer need to purchase licenses for each program separately, as well as download and install them yourself. In July 2022, the Setapp collection included 200 apps for iOS and macOS.
This service is deservedly included in top SaaS startups. Today, the number of its users exceeds 1 million. Already six months after the launch, it reached a stable income of $1 million annually. In 2018, Setapp participated in the Interactive Innovation Awards ("New Economy" category) and reached the finals. At the 2019 SaaS Awards, it won the "Best Productivity SaaS Product" award.
Developers periodically supplement Setapp with new functionality, respectively, the library of programs available to users continues to expand. In June 2022, it was replenished with Tripsy, a travel planning application. This SaaS startup is leading the way in the travel website development space and is making it easier for travel companies to reach and connect with their customers online. Today, Setapp is well on its way to achieving its goal of becoming one of the largest and fastest growing collections of iOS and macOS software in the SaaS market.
Prospects for Investing in SaaS
Despite the slowdown in the global economy provoked by crises, 2022 cannot be called unfavorable for SaaS startups. According to Silicon Valley Bank (SVB), they were able to raise the second-largest amount of venture capital in their history from investors.
During 2022, $48 billion in venture investments were pumped into SaaS startups as part of 2,518 successful deals. SVB predicts that by the end of December this amount may increase significantly and reach $72 billion. True, even in this case, it will be approximately $26 billion less than a year ago. Commodity price hikes and other economic problems have had a negative impact on startup funding, as the figures show eloquently.
At the same time, the researchers note that some large investors are apparently not afraid of crises – they continue to conclude about 20-30 large-scale venture deals every month. For example, as a fintech development company, it has been closely monitoring the market and has identified some of the top SaaS startups in this space. According to them, high-quality startups and companies that have reached the final stages of financing will be able to attract more investments without much difficulty. But small SaaS companies, which have yet to prove the viability of their concepts, will have to compete for funding.
Summing Up
Most likely, in the foreseeable future, the SaaS model will firmly occupy its niche in the field of IT solutions and actively develop in its direction. Along with innovative business models enhanced by the latest technological advances, SaaS will also contribute to the convenience and automation of the economy.
Large-scale digitalization and the rapid development of IoT are already leading to an increase in the number of options and ways to use SaaS. The attractiveness of startups based on this cloud computing model is also growing rapidly. Given the "infant" state of the European SaaS market and the readiness of this technology to spread to those niches where it has not yet been heard of, now is the right time to offer interesting SaaS business ideas to the market.
***
You probably know that the speed of leads processing directly affects the conversion and customer loyalty. Do you want to receive real-time information about new orders from Facebook and Instagram in order to respond to them as quickly as possible? Use the SaveMyLeads online connector. Link your Facebook advertising account to the messenger so that employees receive notifications about new leads. Create an integration with the SMS service so that a welcome message is sent to each new customer. Adding leads to a CRM system, contacts to mailing lists, tasks to project management programs – all this and much more can be automated using SaveMyLeads. Set up integrations, get rid of routine operations and focus on the really important tasks.