We regularly talk about different tools for online business, especially when you're in the early stage of starting an online business. In this material you will find a list of services for working with SMS mailings. If you are planning to promote your business or are already doing it, pur list of the best sms services for small business may be useful to you.
What are SMS services? These are extremely useful tools to keep in touch with your customers in the easiest way possible. Some of these services allow you to send messages not only via SMS, but also via email, WhatsApp, Viber, Telegram, Facebook Messenger and other communication channels. But what is the best text message marketing service? Let's figure it out.
TheTexting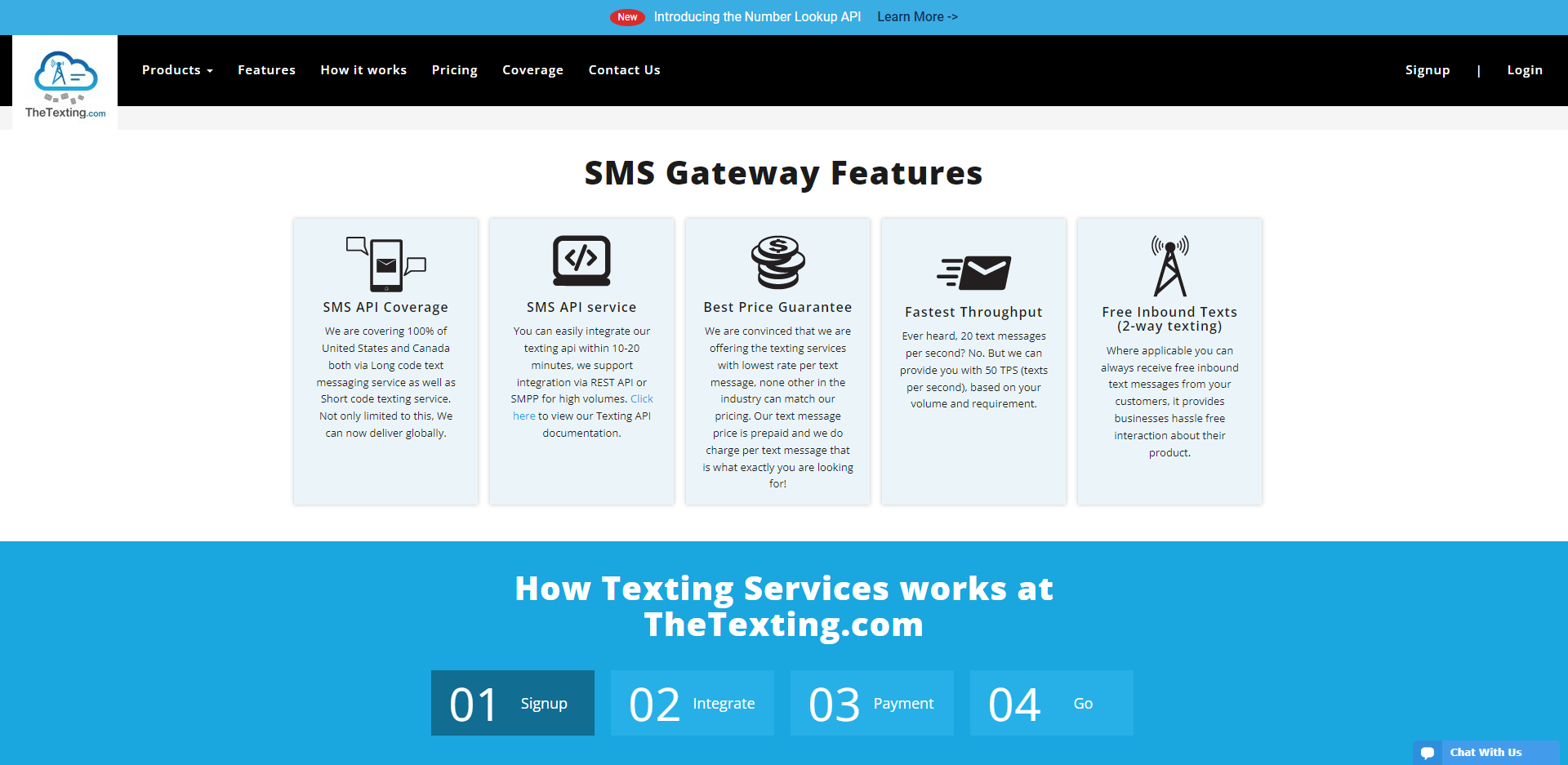 TheTexting is a cloud platform with SMS API and SMS gateway tools that provides functionality for conducting mass SMS mailings of various types: marketing, informational, service (reminders, notifications). The service helps to send SMS to subscribers in more than 200 countries of the world, and most of all its services are in demand in the USA and Canada due to the maximum coverage of the territory of these countries.
TheTexting supports online integration (in 10-20 minutes) with external software via SMPP, SOAP, HTTP or REST API protocols. Platform services are available on a prepaid basis, tariffing is calculated based on the number of SMS sent by users. The service allows you to send up to 50 messages per second, but its real potential depends on third-party factors (hardware and user software).
Another popular TheTexting service is receiving and processing incoming SMS messages (2 Way Texting), thanks to which entrepreneurs can receive messages from their customers and respond to them. After registration, funds will be automatically credited to their internal account to launch a test mailing.
TheTexting platform easily integrates with various types of third-party software written in any common programming languages (Java, NET, PHP, etc.). An equally important tool of the service is the Phone Number Lookup API module, with which you can flexibly manage your contact database by filtering inactive numbers.
Smsmode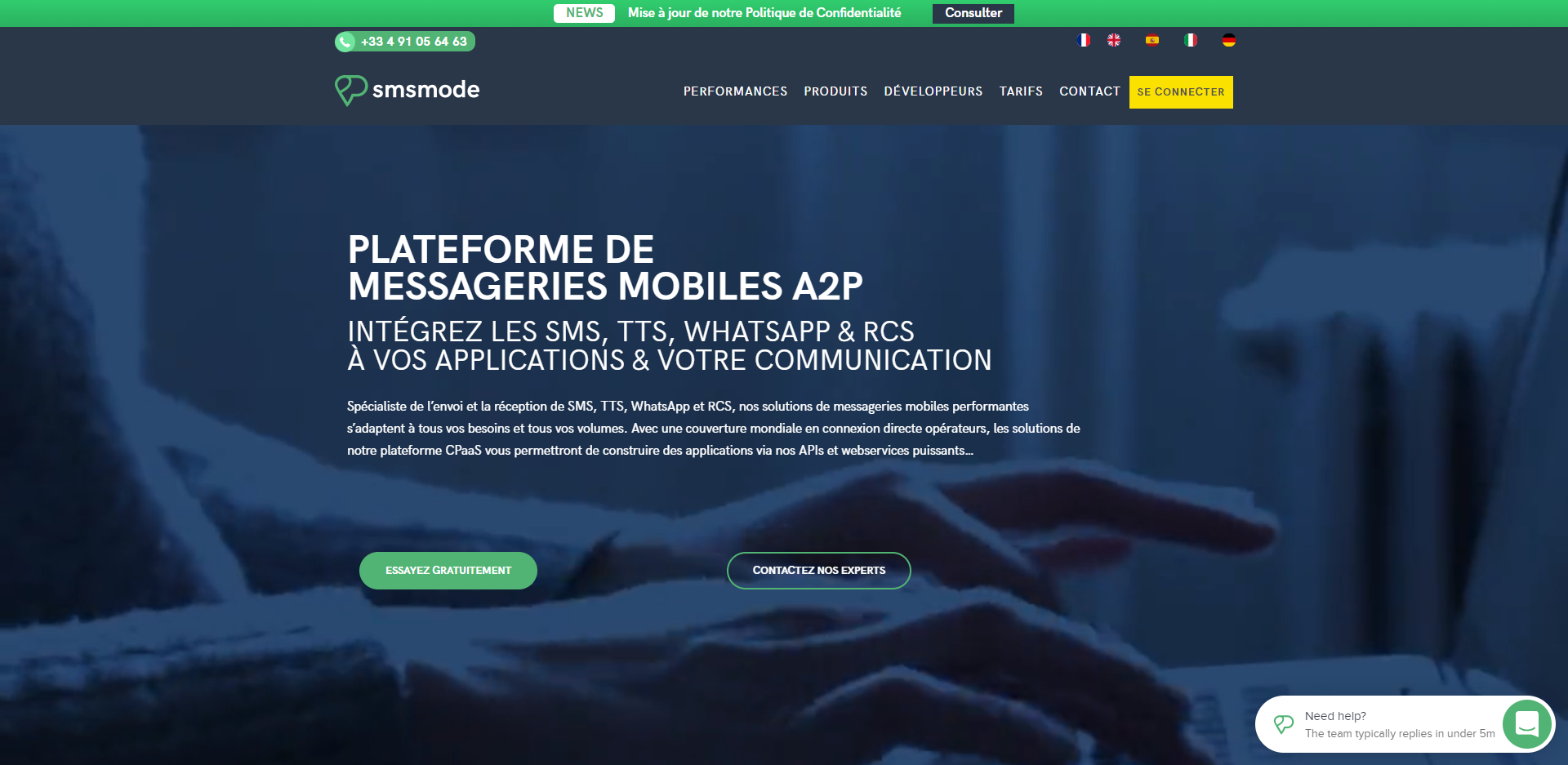 The Smsmode online platform offers a range of tools for mass SMS messaging and other A2P communication formats (between services/applications and users). It has been operating since 2004, the platform servers are located in France, but the coverage covers 166 countries of the world, due to direct connection with local telecom operators. The aggregator promises users uninterrupted operation 24/7/365 and multi-level data protection. At the same time, tools have robust telecom analytics solutions that can provide business intelligence and data visualization.
Using Smsmode, you can create and launch SMS messages of various sizes (160 or 335 characters, including emojis and other special characters), personalize them by setting SenderID, send one-time passwords (OTP), keep detailed statistics on campaigns, and filter inactive subscriber numbers.
In addition, Smsmode supports TTS mailings that allow you to record and send audio messages up to 35 seconds long, and there is also an option for their automatic playback (read by a robot). The platform easily integrates with the WhatsApp Business API, after which you can send messages to users of this messenger and automatically respond to their messages through the built-in chat bots.
Additional features of Smsmode include a virtual mobile number (DID) for receiving incoming SMS, mass messaging via the RCS protocol, integration with external services and applications via the SMPP protocol, and other options. Separately, it is worth noting the functionality for user self-service and the function of analyzing / exporting campaigns.
Affilnet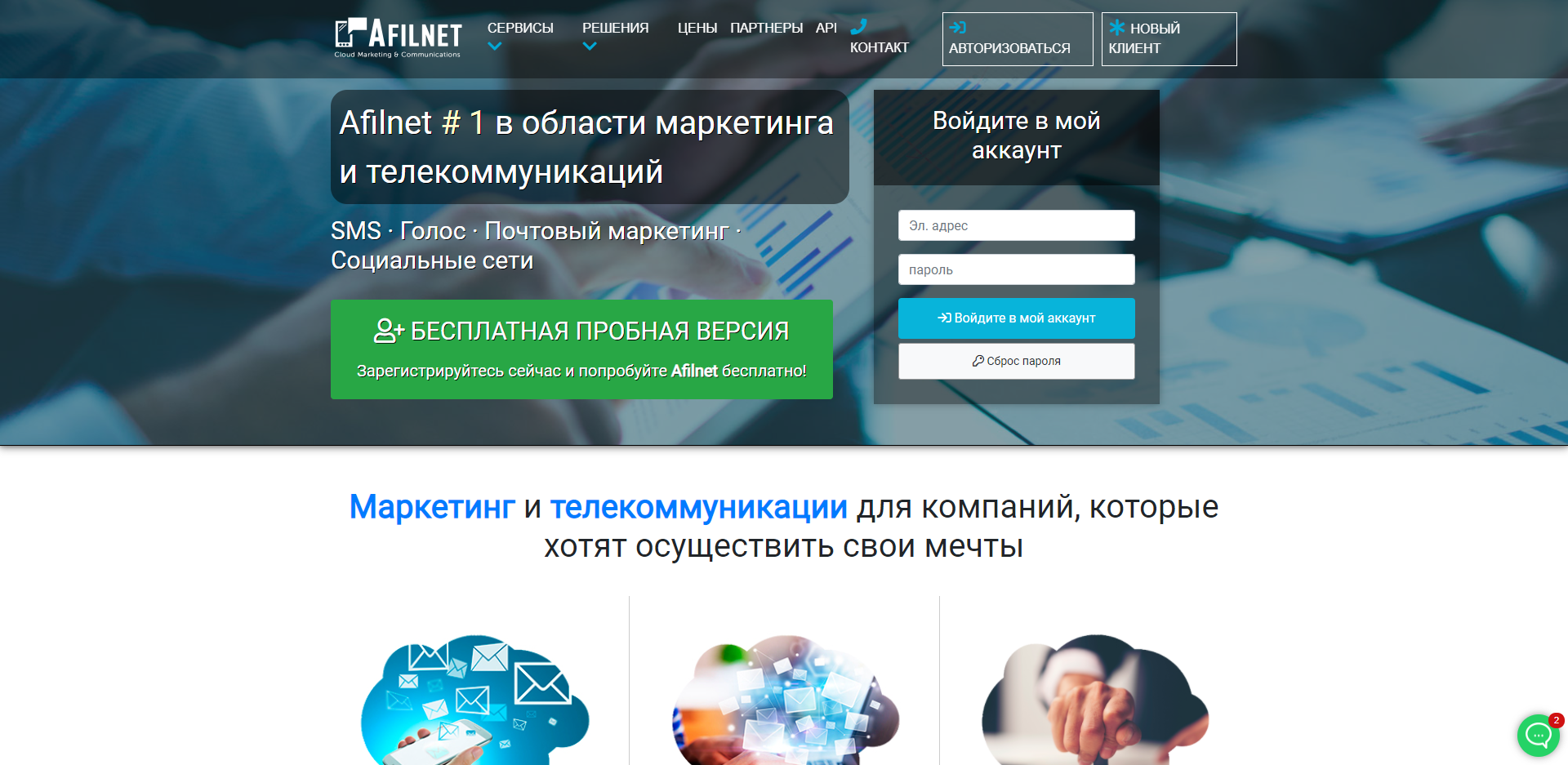 Afilnet for small business text message marketing service from Spain. It helps to create, launch and control various formats of mass SMS mailings: advertising, service, information, etc. This can be done both through the PC program and through the online interface. The platform also contains a set of SMS marketing functions, SMS plugins and the ability to integrate with third-party sites and applications via the SMS API.
Another of the key functions of Afilnet is the automatic calling of subscribers in different countries of the world using a built-in interface or API integration. The service also allows you to create and manage SMS mailings through email clients, and also supports sending SMS certificates.
Afilnet provides functionality for creating, managing and analyzing promotional emails, along with tools to automate them. Users receive a set of tools for creating a landing page in order to replenish the subscription base, there are also delivery and contract signing services, email certification, and SMTP mail servers.
Separately, it is worth noting a number of data protection options, including one-time passwords (OTP) and two-factor authentication. Available online chats with chatbots, instant messaging service, as well as integration with WhatsApp Business API. Afilnet allows you to launch marketing campaigns (surveys, coupons), automate social networks, store user data in the cloud, and use a QR code generator.
SMSAPI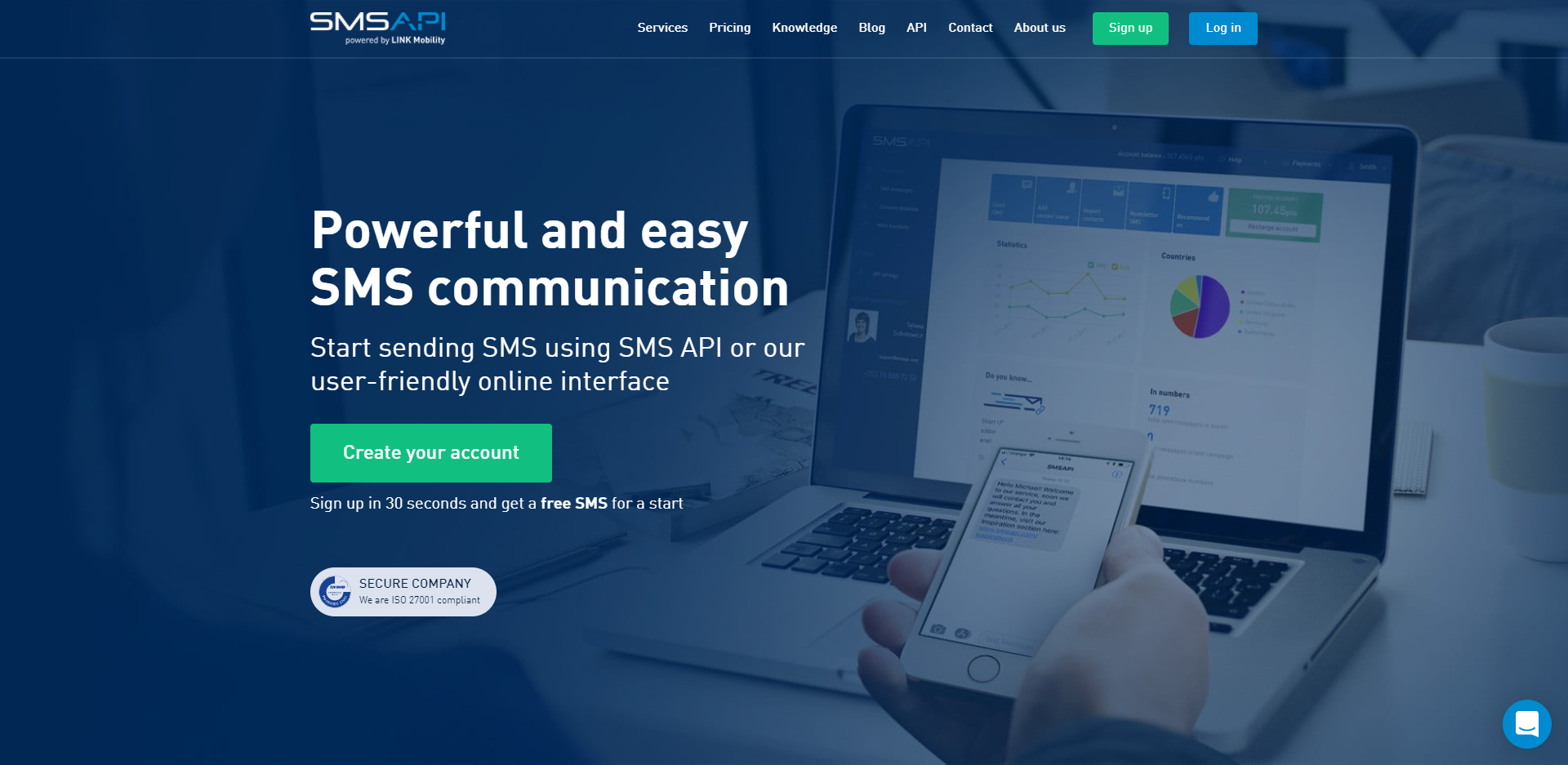 The SMSAPI online service helps businesses launch and automate SMS mailings, primarily various types of notifications: news digests, congratulations, promotional codes, etc. The platform is available through a mobile application and a self-service portal, and it can also be integrated with a number of external services and applications: CRM systems, ecommerce platforms, etc.
SMSAPI supports sending messages with short links and a variety of media content, including files, images, videos, etc. Also, users can place them on the hosting service. Using the service, you can launch scheduled mailings, create sub-accounts for employees, and perform pre-targeting text message marketing.
Another important tool of SMSAPI is to quickly launch mailings via Fast SMS, for example, urgent notifications or other similar content. It is possible to connect virtual mobile numbers for receiving and processing incoming SMS messages (the so-called 2 Way Messaging system).
Separately, several channels of communication with the audience are available here, including online chat, WhatsApp and RCS. In addition, SMSAPI provides a gateway (SMS Gateway) for mass mailings with the ability to configure SenderID and auto-remove inactive phone numbers from the database. Users are also offered integration with the WhatsApp Business API and other third-party IT products.
Karix

Karix is an Indian online service (founded in 2000) providing a wide range of business telecommunication services. With it, you can organize SMS/email mailings of various types, conduct voice broadcasts and automate campaigns in the field of Internet marketing. Also available here are RCS (Rich Communication Services) tools, customizable web apps, chatbots, and WhatsApp Business API integration.
The SMS mailing module as part of Karix allows entrepreneurs to send advertising (personalized, trigger), informational, service (notifications, alerts), as well as authentication mailings (one-time OTP passwords, etc.) to their customers.
In addition, Karix allows you to launch marketing emails, service emails with passwords or notifications, as well as automatic mailings with attachments (reports, checks, invoices). Through the service interface, you can conduct multilingual voice broadcasts with support for various communication formats (PRI, SIP, VN, TFN) and the option of number masking. There are also options for organizing telephone surveys and voting.
An equally important part of Karix is the Internet marketing automation module, which helps to personalize different types of content: email newsletters, push notifications, banners on websites, and much more. A wide range of marketing analytics tools are also available here.
SMSGlobal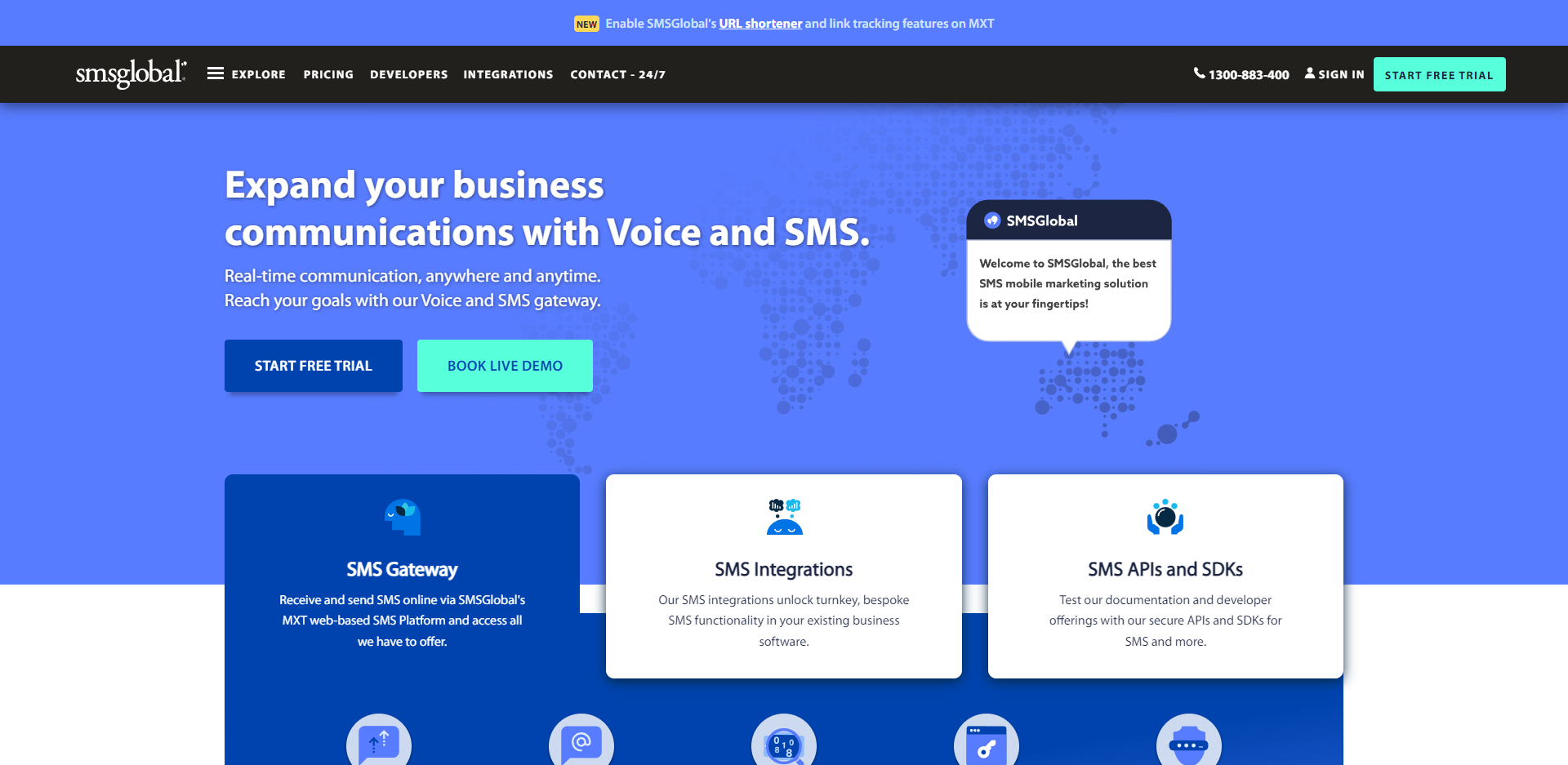 SMSGlobal online marketing and communication service helps businesses to flexibly interact with customers through mailing lists, voice calls and other channels. It was launched in 2007 and is headquartered in Melbourne, Australia. The platform coverage covers over 180 countries of the world. The main service of the platform is the SMS mailing module, which allows you to send messages in bulk and receive incoming SMS from subscribers.
SMSGlobal offers a number of additional features, including Email to SMS (sending SMS messages through external email clients) and virtual mobile numbers for processing incoming messages and two-way communication with subscribers. Separately, it is worth noting the ability to send one-time passwords (OTP) and the MXT SMS Gateway service.
SMSGlobal users can implement turnkey solutions for a range of industries, including online and offline commerce, financial services, education, healthcare, municipal and government organizations, etc. Internet marketing services are no less in demand, including methods for automating mailings (schedule, triggers), Opt-In mailings, and a number of other options.
The SMSGlobal platform can be integrated with third-party services, applications and websites via API. There are also ready-made integrations with HubSpot, Magento, Salesforce and other platforms. Separately, it is worth noting the online telephony module for processing incoming / outgoing voice calls and templates for SMS mailings.
ShoutOut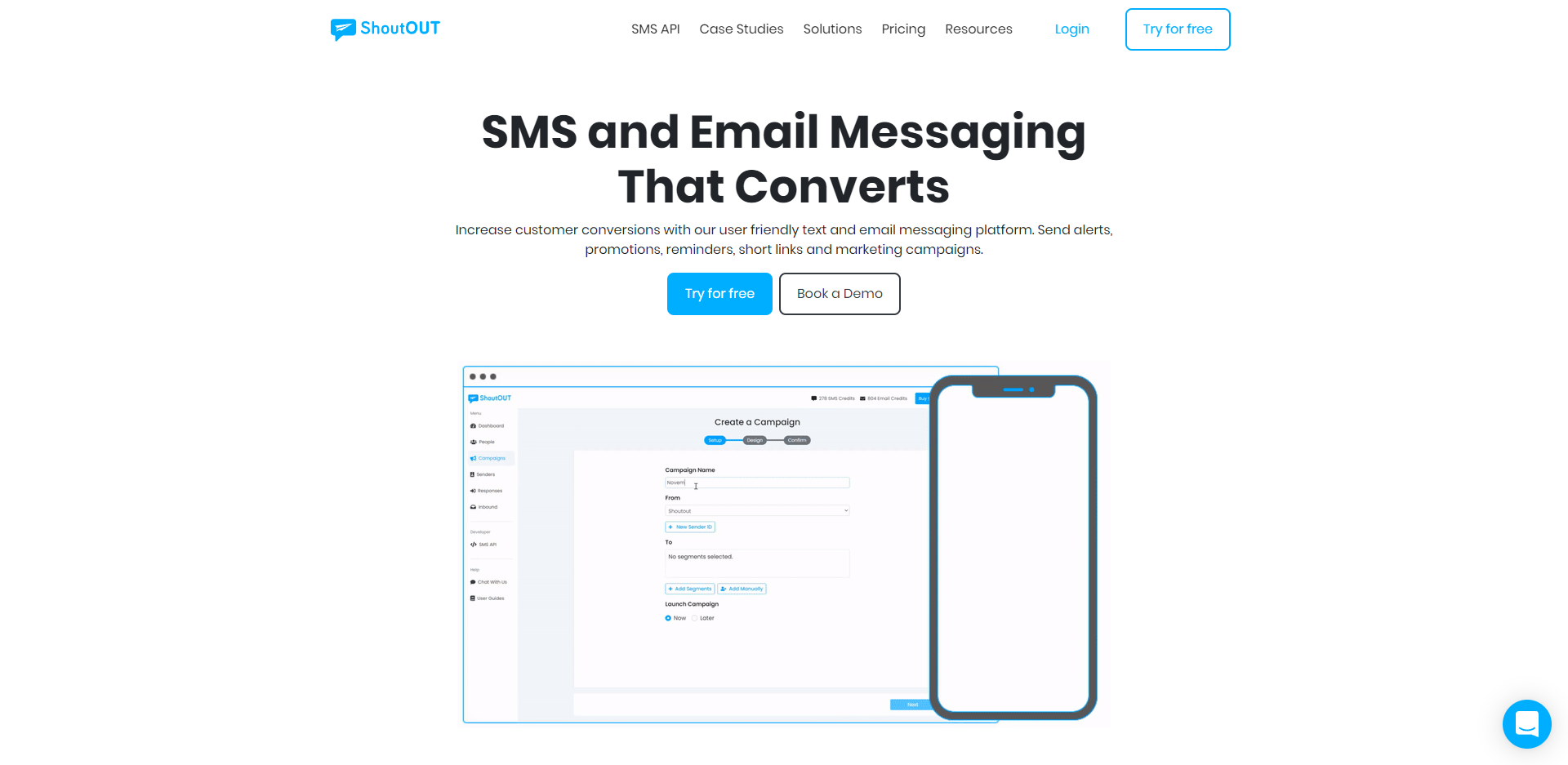 ShoutOut is a cloud-based service with a set of Internet marketing features that helps business representatives communicate with the audience through various types of mailings (marketing, information, service, etc.). One of the key features of the platform is the SMS mailing module, which allows you to automatically send bulk messages with URL tracking, personalization and targeting.
Another important ShoutOut tool is a module for conducting email newsletters, which allows you to develop email with adaptive design from scratch using an online editor or based on various design templates. The platform offers these two options for free, and users can also send messages via Facebook Messenger and WhatsApp.
At the heart of the ShoutOut interface is a built-in dashboard with a wide variety of settings and metrics. Among them, it is worth highlighting such parameters as the balance of the internal account and the tariff plan, the list of Sender ID, the list of email addresses and phone numbers in the contact list. It also allows you to see a list of campaigns with their status (active, completed) and results (how many messages sent, delivered, opened, etc.).
On the ShoutOut control panel, you can keep statistics on campaigns and contacts for the last 7, 14, 28, or 90 days. The functionality of the platform is available not only through the interface, but also through third-party software, provided that it is integrated with the system via the SMS API. Separately, it is worth noting a set of extensions for sites on WooCommerce, Magento, Shopify and other popular CMS.
Infobip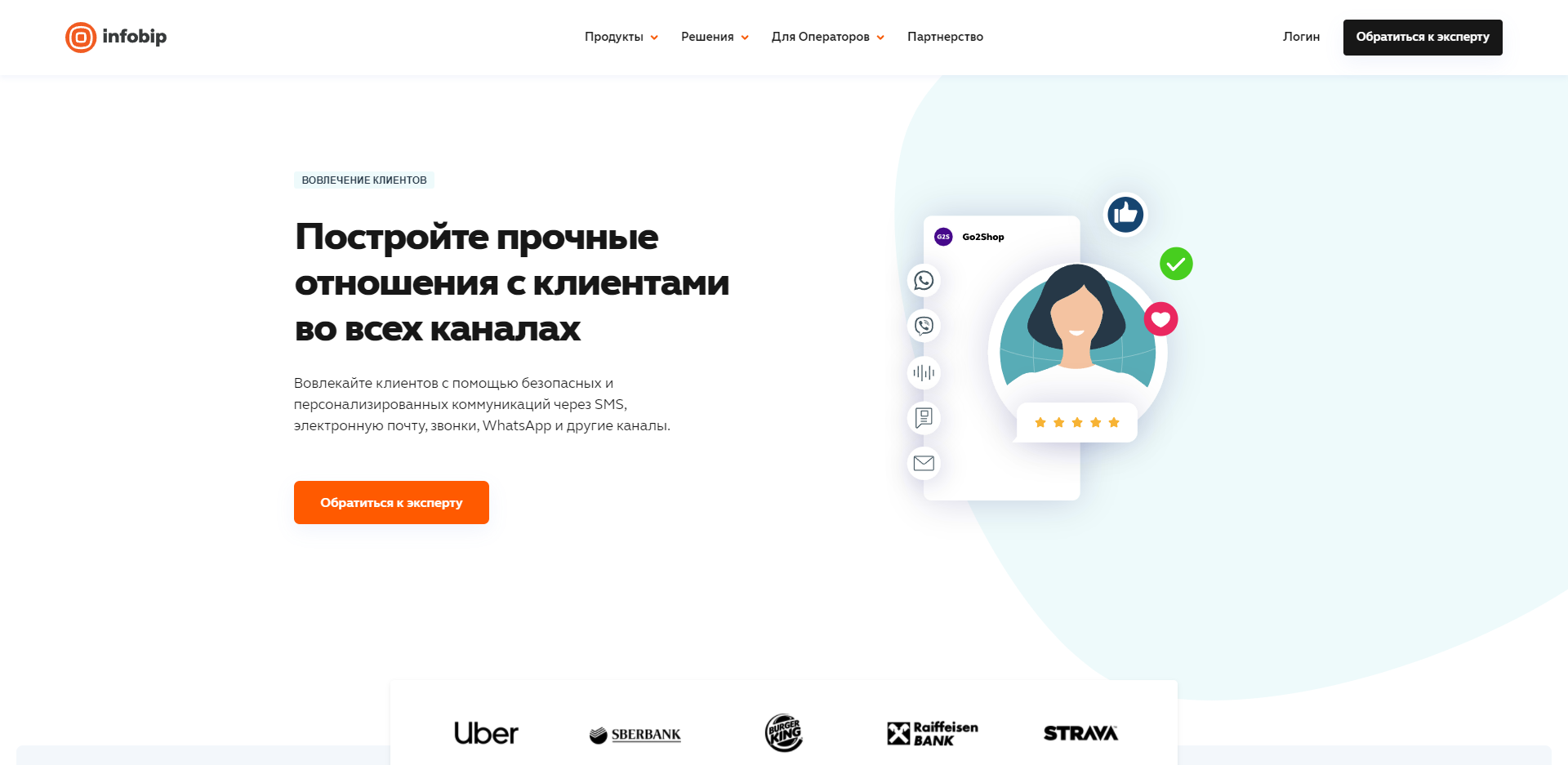 The Infobip business service was launched by a Croatian company of the same name in 2002 and provides entrepreneurs with a range of opportunities for marketing, communication and customer interaction. With its help, they have access to a number of mailings (advertising, service, information, transactional) through various communication channels. These include SMS messages, instant messengers (Viber, Facebook Messenger, WhatsApp), online chats, voice messages, etc.
Connect Facebook Lead Ads to CRM, Email, SMS & Spreadsheets
Use SaveLeads to connect Facebook to different apps. Over 120+ ready-made integrations available now
Automate the work with leads from the Facebook advertising account
Empower with integrations and instant transfer of leads
Don't spend money on developers or integrators
Save time by automating routine tasks
Test the work of the service for
free
right now and start saving up to 30% of the time!
Try it
Infobip allows you to send SMS messages to subscribers in many countries of the world, as it has a direct connection to the networks of more than 400 mobile operators. The service allows you to verify and personalize mailings, for example, by specifying the brand name as SenderID, placing logos in them and publishing links with a preview option.
In addition to SMS mailings, you can create and run email mailings through Infobip. For these purposes, the platform includes a visual editor with a set of functions for designing and editing content (images, blocks, buttons, styles, layouts). It also contains an extensive gallery of design layouts for ready-made letters with ample opportunities for personalizing them and automating a series of mailings.
Among other Infobip tools, it is worth noting the Conversations sub-service (a ready-made solution for contact centers), Answers modules (development and implementation of chat bots), People (creation and management of a contact database), as well as functionality for communicating with customers through mobile applications . In addition, the platform provides turnkey solutions for onboarding, engaging, serving and retaining the audience, as well as protecting its personal data.
Textlocal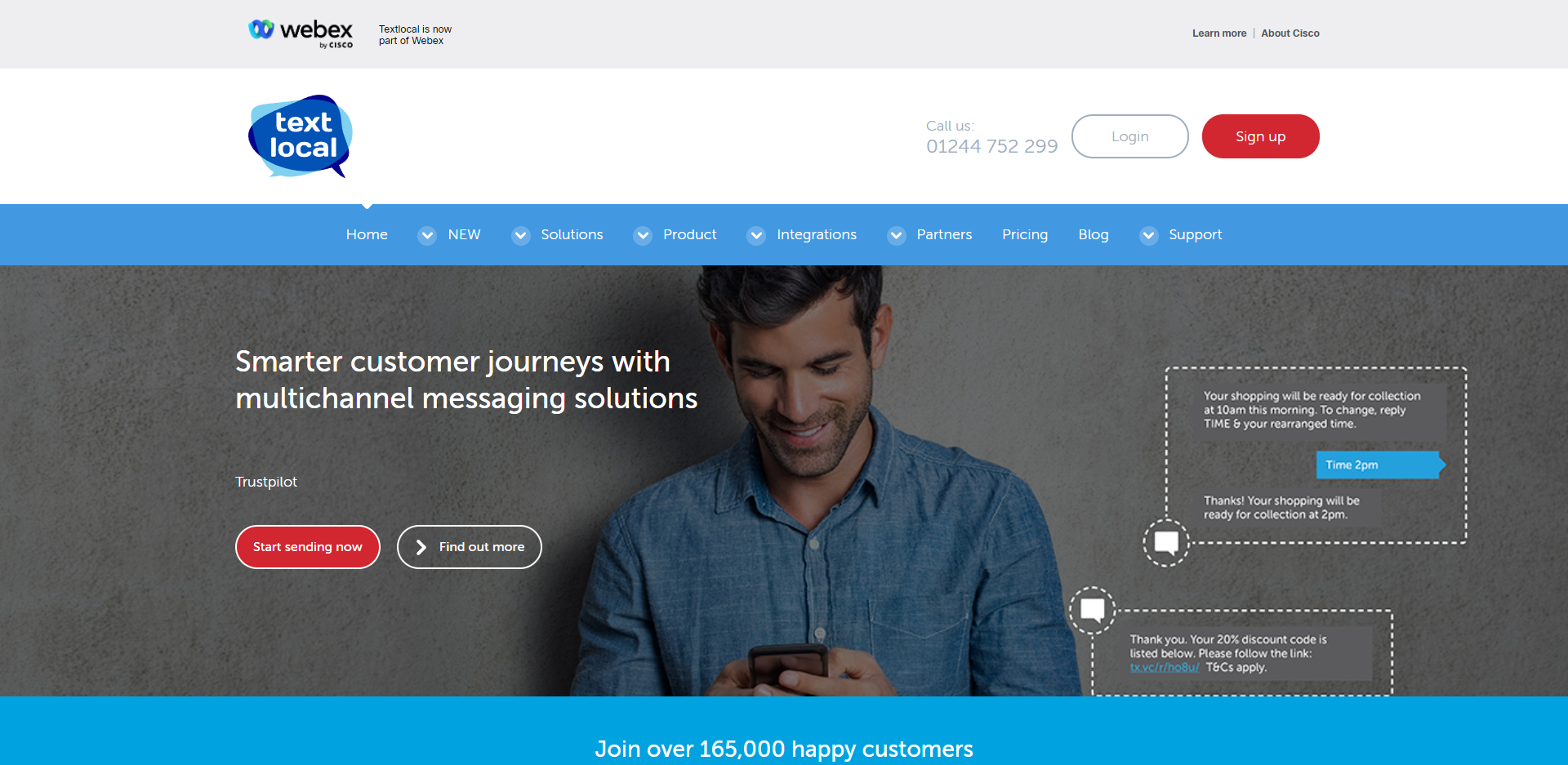 Textlocal, a UK-based SMS marketing service provider, provides businesses with an extensive set of tools to promote brands and their products, as well as communicate with customers. The service was launched in 2005 and has over 165,000 users. With it, you can conduct mass mailings via SMS, MMS, chats and instant messengers with extensive scalability.
Textlocal functionality is available through the web interface, SMS gateway, built-in messenger, extensions and API integrations. The platform allows you to personalize your mailings and place various digital content formats in them, including files, forms, web pages, tracked links, etc. It is also possible to add unique codes to messages, which will be useful for tickets, vouchers and other similar things.
An equally important component of Textlocal are virtual mobile numbers. They help to receive incoming messages for two-way communication with the audience (2 Way SMS). In addition, the system interface has the option of forwarding incoming SMS and auto-replies to them.
The Textlocal service allows you to conduct mailings not only through the internal interface, but also through third-party mail clients, thanks to the Email to SMS service. Separately, it is worth noting the functionality for maintaining financial records, as well as tracking statistics and analytics for campaigns. The platform is equipped with its own messenger with extensive messaging and mailing options, as well as a mobile application (Android, iOS).
SMS Gateway Center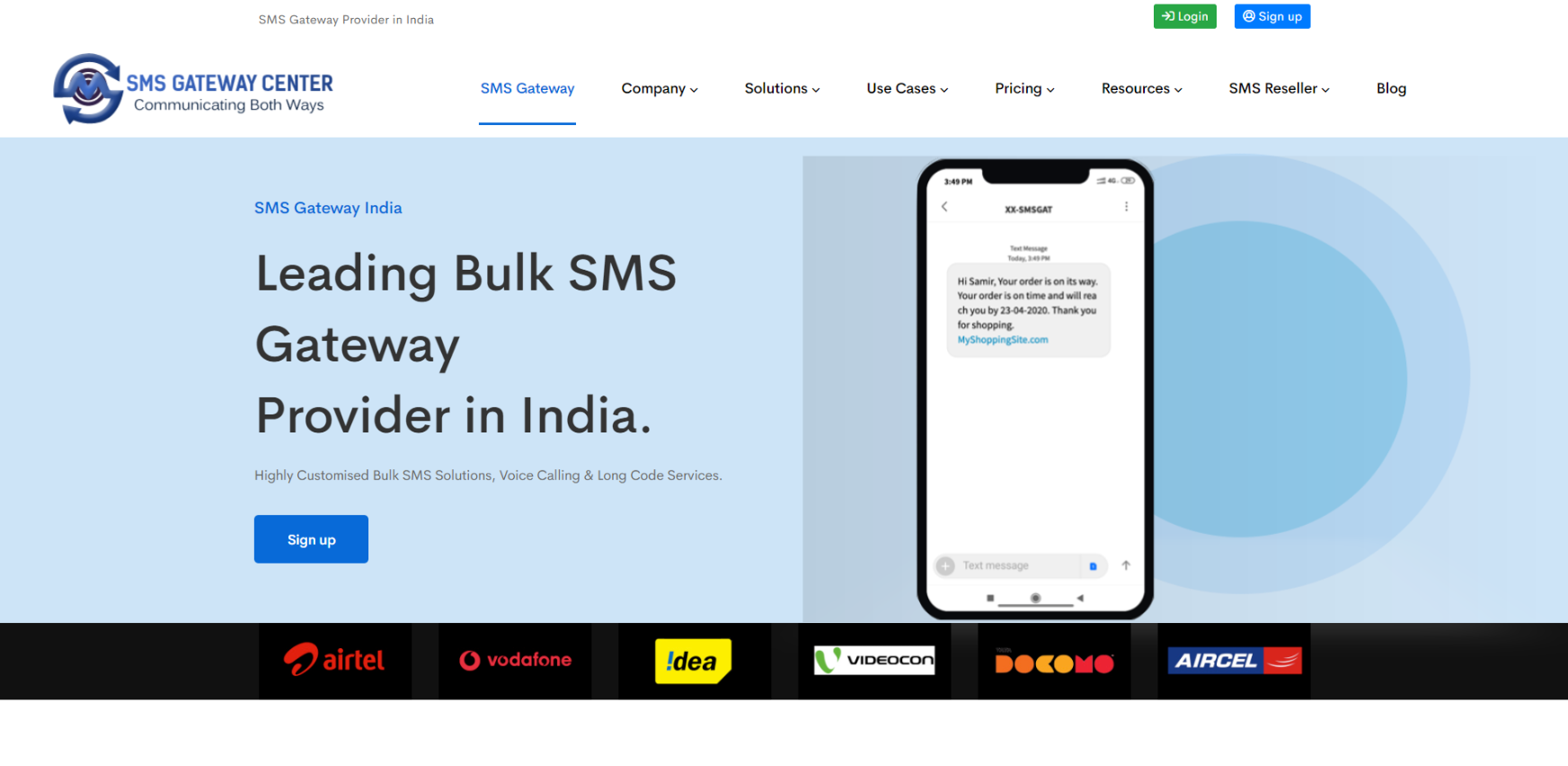 India's SMS Marketing Platform SMS Gateway Center enables businesses to communicate and serve customers through a range of channels. In particular, it can be used to create mass SMS mailings, process and respond to incoming SMS, call subscribers and track missed calls, as well as send SMS with file attachments and surveys.
You can use SMS Gateway Center through the website interface and third-party services through their integration via API or SMPP. Another option of the platform is the branding of newsletters, achieved by uploading a logo, favicon and company colors. The content processed by the platform is protected by SMS Message Encryption technology, which allows you to maintain the confidentiality of personal data.
SMS Gateway Center allows you to create and manage different types of mailings: marketing and advertising, informational and service. Among them, it is worth noting such popular formats as Opt-In messages (subscription confirmation), transactional messages, one-time OTP passwords, etc.
The cloud telephony module built into the platform makes it possible to process voice calls (incoming and outgoing) and monitor missed calls. No less in demand is the 2 Way SMS option, which allows you to receive incoming SMS to a virtual number. You can add monitored links to SMS Gateway Center mailing lists, as well as personalize and schedule them.
Burst SMS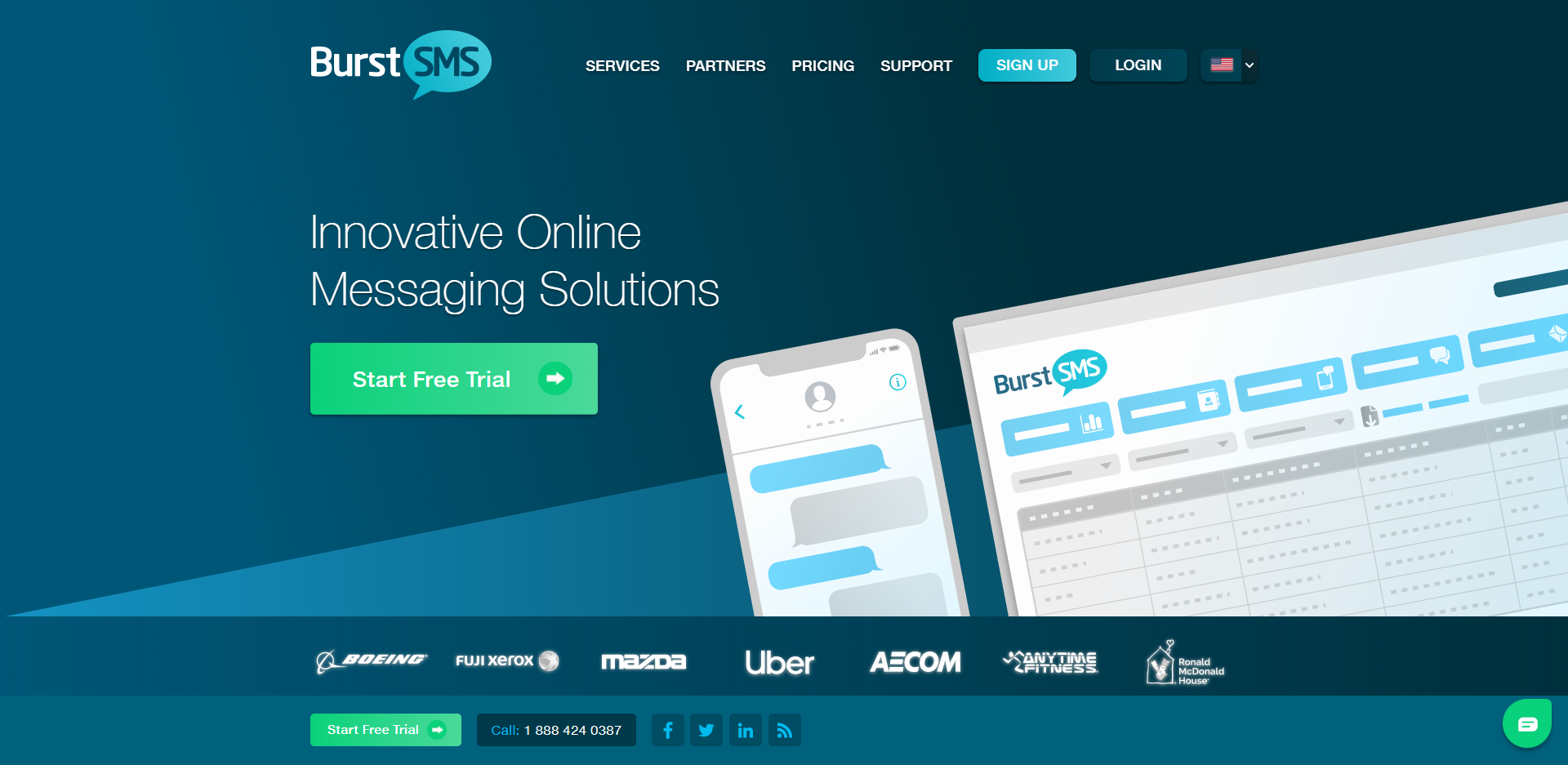 Burst SMS is a US-based SMS messaging service provider that offers businesses a suite of tools for communicating with customers. One of them is Burst SMS, it is a web interface for processing outgoing and incoming SMS messages. The platform control panel allows you to track all campaign parameters (including status and actions), contains functionality for managing a contact list and importing it into CSV/XLS formats.
Another feature of Burst SMS is the presence of auto-replies to incoming messages and the option of forwarding messages - both all and specific ones, which are marked with keywords. Separately, it is worth noting the function of sending SMS messages through external mail clients, it is called Email to SMS. There is also a Quick SMS option to quickly send SMS with urgent notifications.
Using the module for processing incoming messages (2 Way SMS), Burst SMS users can conduct full-fledged two-way communication with their audience. An equally important function of the system is devoted to mailing automation, it allows you to configure automatic sending of various types of messages: from reminders and congratulations to trigger marketing chains.
In addition, the Burst SMS platform has capabilities for reporting and analytics, placing emoji and links in messages, as well as personalizing them. Users are given access to Burst SMS integration with more than 1500 third-party applications and services, both through connectors and through the REST API.
D7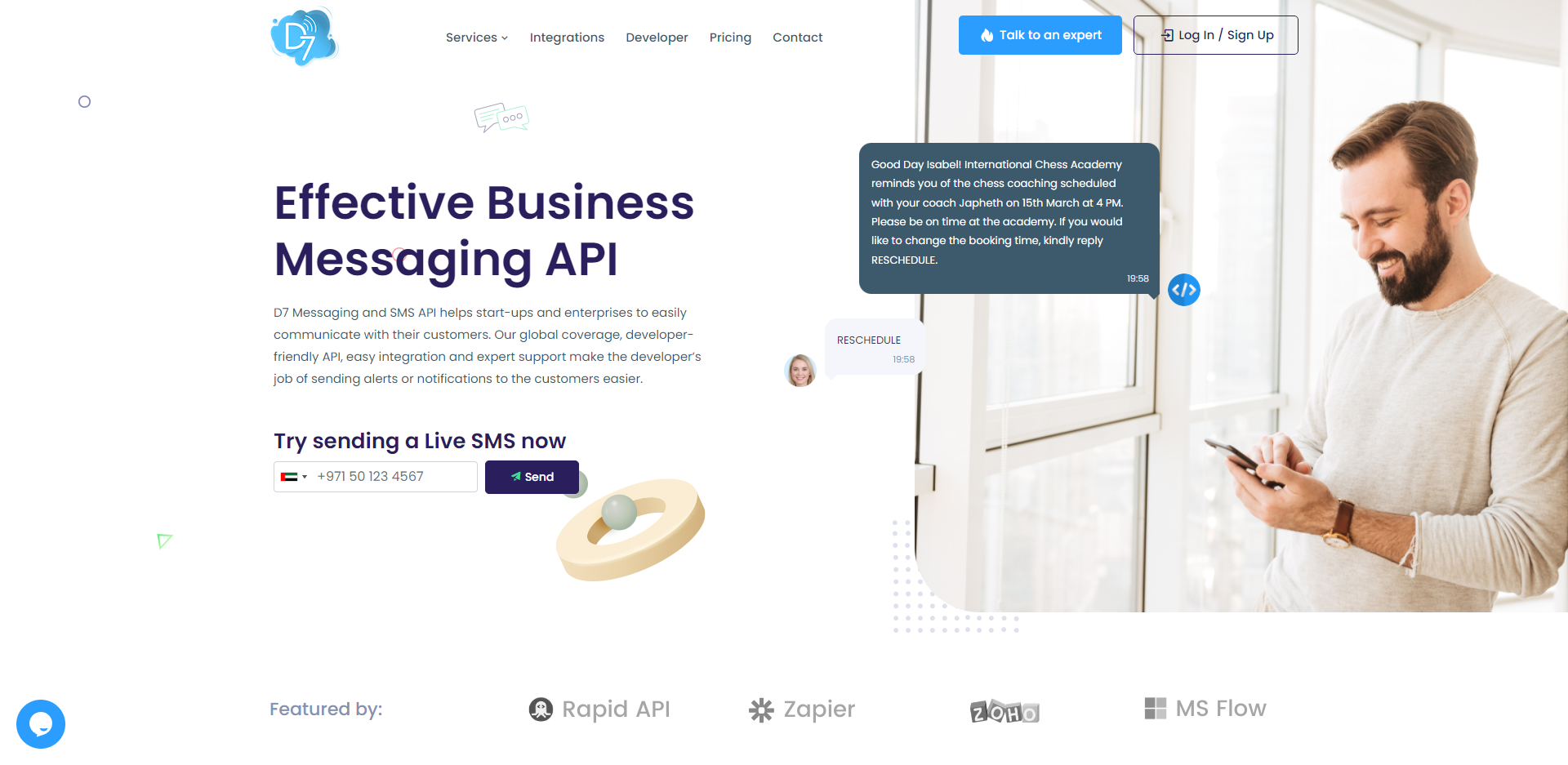 The D7 online platform provides SMS provider services for businesses and non-profit organizations. With its help, you can send SMS-mailings to subscribers around the world, including advertising and informational messages, as well as service mailings (notifications about orders, transactions, etc.). A separate service is urgent mailings, which are delivered within 15 seconds.
At the heart of the D7 interface is a control panel that allows you to create mailings, manage them, as well as conduct analytics and reporting on them in real time. In addition, users can set up integration with third-party software via the SMS API, coordinating mailings through third-party services and applications. Also, as part of the system, user identification tools are available, namely, 2FA authentication through the distribution of OTP passwords.
An equally important part of D7 is the 2-Way Messaging option, which allows you to receive incoming messages from subscribers in order to conduct two-way communication with them. The platform easily integrates with third-party applications and services, a complete list of which is available on its website. New users are provided with 10 free mailings, as well as a special sandbox mode for testing them.
Separately, it is worth noting the extensive catalog of ready-made mailing templates offered by D7. Among them are solutions for such areas and industries as taxi services, car rentals, deliveries, brokers and exchanges, restaurants, hotels, other service companies, as well as state, municipal and other non-profit organizations.
Apifonica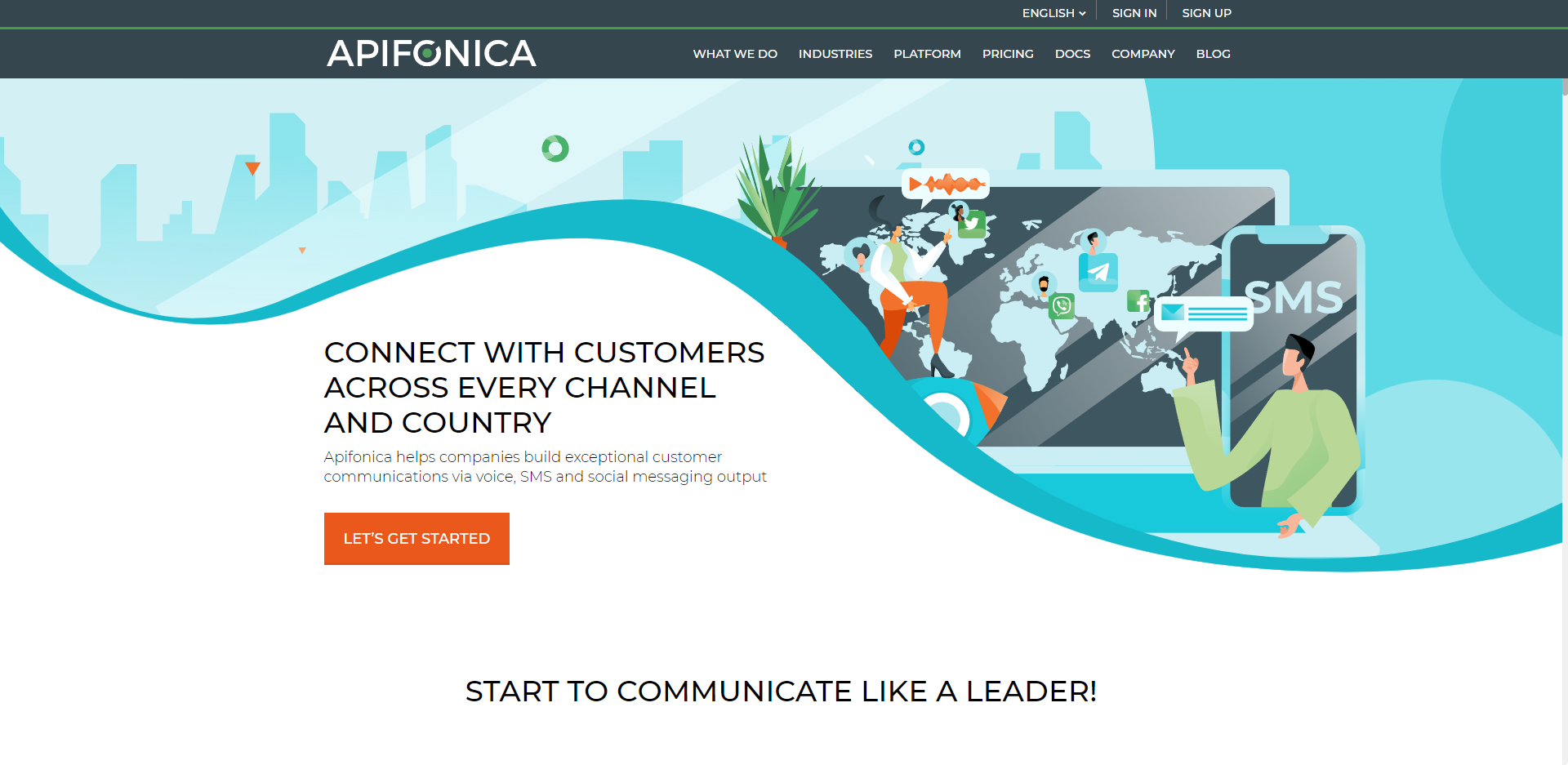 Apifonica is an online business service that provides a set of tools for multi-channel communication with customers and users. With its help, companies can organize SMS mailings, make voice calls, send messages via instant messengers and social networks: Telegram, Facebook Messenger, Viber and WhatsApp. Apifonica allows you to conduct advertising, marketing, information and service mailings, send urgent alerts, order notifications, etc.
For the convenience of users, all Apifonica functions are available through the internal interface or through integration with third-party software through the API. It is possible to create online chats and integrate them with websites, helpdesk modules, CRM systems, contact center software, etc.
In addition, Apifonica allows you to send triggered notifications, quizzes and surveys, send out OTP passwords for two-factor authentication. Multi-channel distribution functionality helps to automatically send messages through an alternative channel to those customers who failed to deliver them through the main communication channel.
Other features of the platform include automatic logging of mailings and other formats of interaction with the audience, and detailed reporting. Apifonica provides businesses with virtual mobile numbers to process incoming messages and calls - two-way communication. There is also an SDK for mobile applications, a module for recognizing and generating speech, turning text messages into voice messages, and also a chat bot constructor.
SMS.to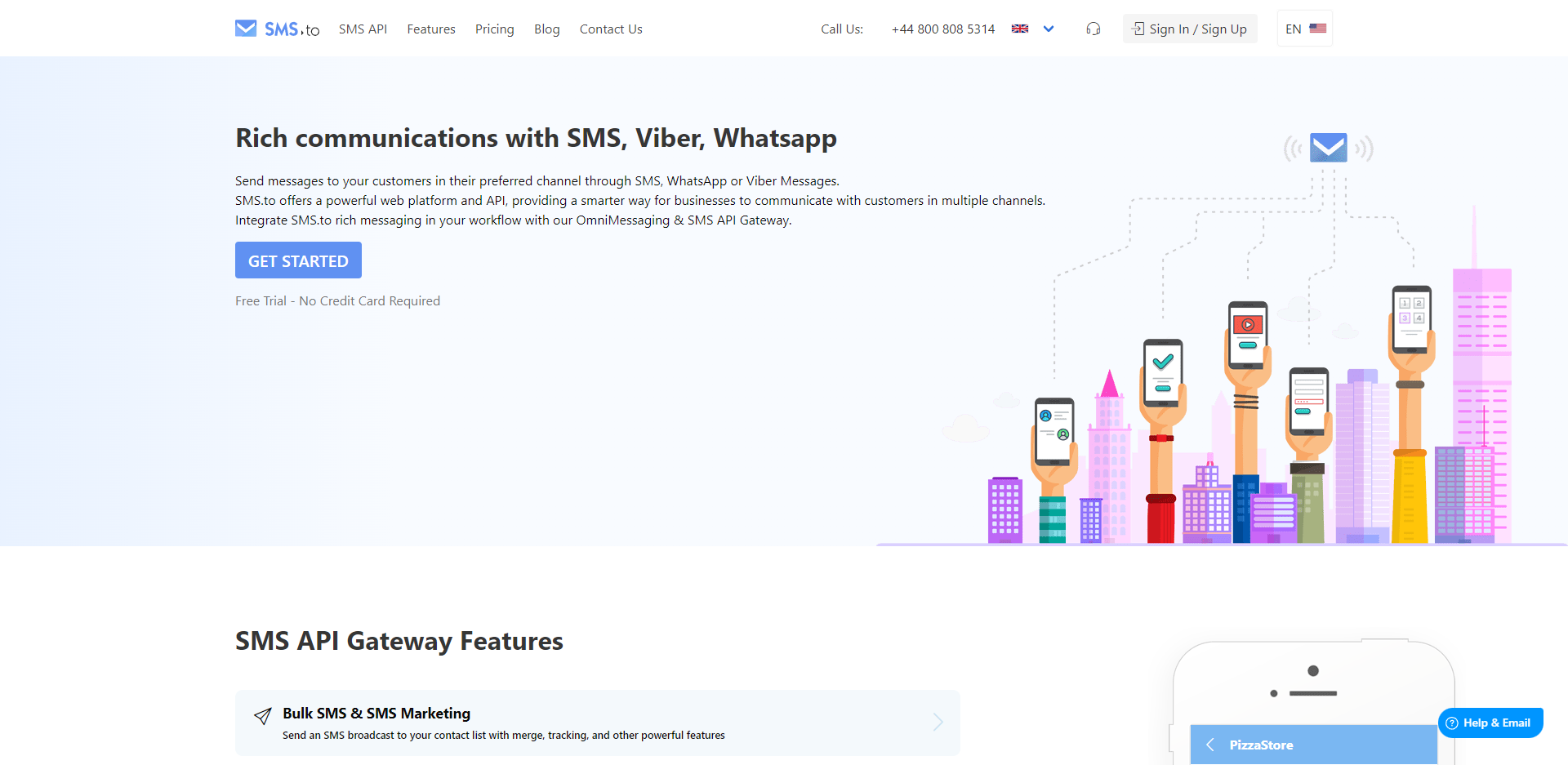 The SMS.to online communication service helps businesses conduct mailings via SMS, WhatsApp and Viber. The built-in mailing list builder provides ample opportunities for personalizing them by placing dynamic tags in messages. Another important service tool is short links, which can be used for A/B testing and other analytics methods.
SMS.to users can use a virtual mobile number for two-way communication with the audience (2 Way Messaging). In particular, it can receive incoming SMS messages and send outgoing mailings. In addition, the system allows you to filter inactive mobile numbers using the HLR Number Validation option.
In addition to promotional mailings, SMS.to supports sending information and service mailings with a variety of notifications and alerts (reminders for bookings, appointments, events), two-factor authentication (OTP passwords), surveys, quizzes and other feedback tools.
SMS.to also offers an SMS API for developers that is compatible with projects in different programming languages: PHP, Node.JS, Ruby, Python, Java, etc. In addition, there is an SDK for mobile applications, SMPP API, SMS Gateway API, support for a wide range of integrations with external software, and functionality for RCS mailings.
CM.com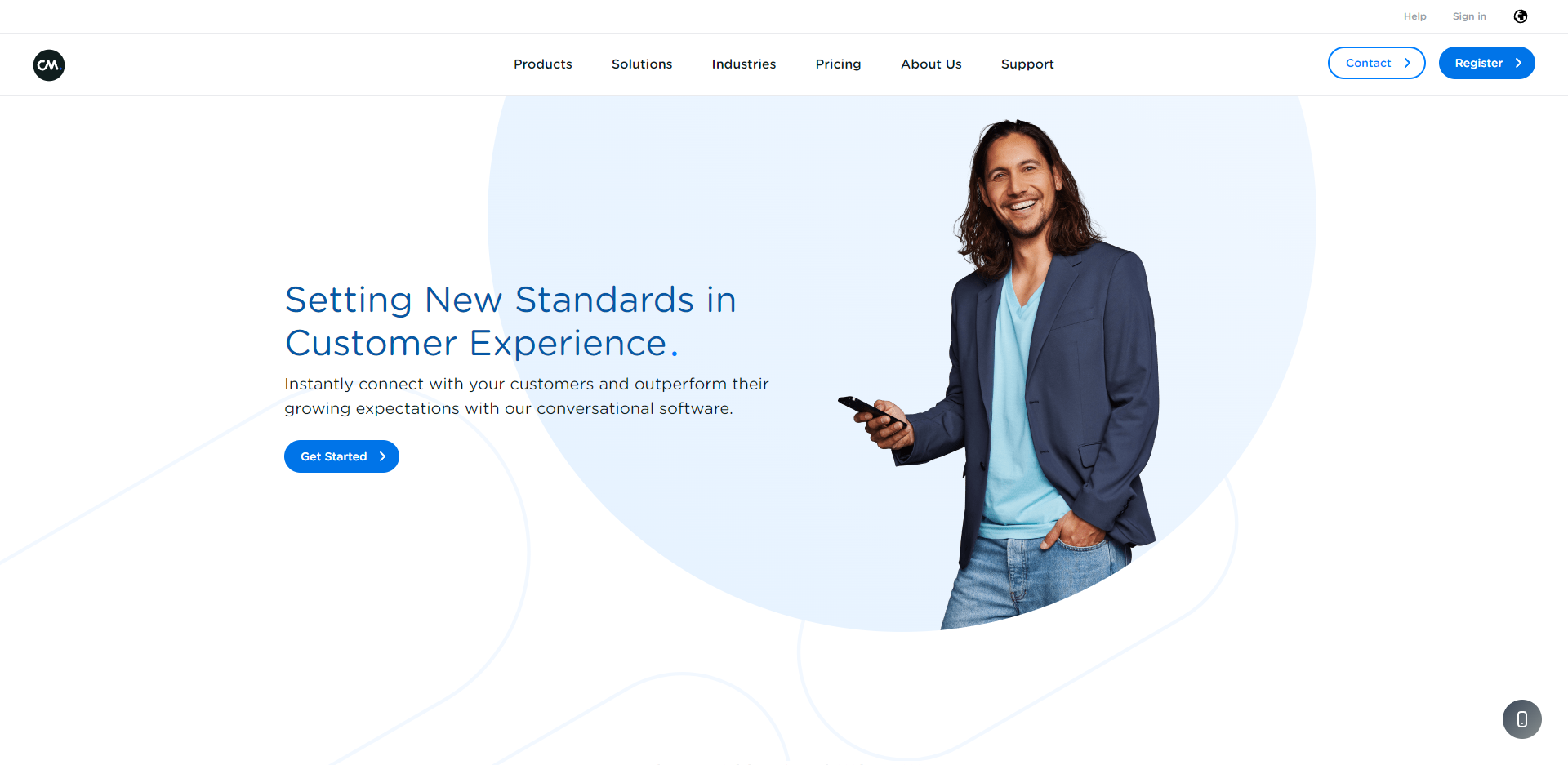 The telecommunications services platform CM.com was launched in 1999 in the Netherlands. It provides a wide range of telecom tools for businesses, helping them to flexibly communicate and interact with customers through a range of communication channels. Among the main options of the system, it is worth noting mailing and voice calls, accepting payments, verification and authentication.
CM.com allows you to launch personalized SMS marketing campaigns to subscribers in many countries around the world using an internal interface or integration with other software through the SMS API. Alternatively, you can send mass messages through social networks and instant messengers such as WhatsApp Business Solution, Apple Business Chat, Viber, Facebook Messenger, Instagram Messaging, Telegram, Twitter, Google Business Messaging.
In addition, CM.com has options for sending push notifications and RCS mailings, as well as a variety of payment technologies. Using this platform, companies can accept online payments through more than 10 methods (Visa, MasterCard, Maestro, etc.), as well as use payment links, payments via QR codes, POS terminals, etc.
Separately, among the services of CM.com, it is worth noting the options for implementing chat bots, electronic signature systems for documents and ticketing, as well as iDIN identification and IBAN verification. The service also makes it possible to authenticate users using OTP passwords and contains a cloud telephony module with virtual mobile numbers, Voice API and SIP Trunk.
***
You probably know that the speed of leads processing directly affects the conversion and customer loyalty. Do you want to receive real-time information about new orders from Facebook and Instagram in order to respond to them as quickly as possible? Use the SaveMyLeads online connector. Link your Facebook advertising account to the messenger so that employees receive notifications about new leads. Create an integration with the SMS service so that a welcome message is sent to each new customer. Adding leads to a CRM system, contacts to mailing lists, tasks to project management programs – all this and much more can be automated using SaveMyLeads. Set up integrations, get rid of routine operations and focus on the really important tasks.