In this text you can find the history and some interesting facts of the IT-brand Squarespace.
***
Squarespace Inc. is an American IT company offering SaaS (software as a service) website creation and hosting services. It provides users with a constructor service, allowing them to quickly create websites based on ready-made design templates and modular (drag-and-drop) web page elements.
History of the Squarespace brand
The founder and permanent head of the company is the entrepreneur Anthony Casalena. In the early 2000s, while at university, he developed a blog hosting service called Squarespace. At first he used it for personal purposes, but soon decided to develop his service through the university's business incubator program. Squarespace was founded in January 2004 with a $30,000 investment from his father, a small university grant, and initial contributions from 300 beta testers who received a discount on the service from Casalena.
Connect Facebook Lead Ads to CRM, Email, SMS & Spreadsheets
Use SaveLeads to connect Facebook to different apps. Over 120+ ready-made integrations available now
Automate the work with leads from the Facebook advertising account
Empower with integrations and instant transfer of leads
Don't spend money on developers or integrators
Save time by automating routine tasks
Test the work of the service for
free
right now and start saving up to 30% of the time!
Try it
As early as 2007, Squarespace's annual revenue was $1 million. By that time, Anthony Casalena had moved to New York and began to recruit a team, the total number of which reached 30 people by 2010. In the same year, Squarespace received $38.5 million from venture capital funds Index Ventures and Accel Partners during the first round of investments. This allowed the company to double its headcount and marketing budget, and continue to update and expand its software.
Between 2009 and 2012, the annual revenue of the Squarespace brand increased by 266%. In April 2014, the company received another $40 million in another round of investments, and by 2015 its revenue reached $100 million, and the number of employees grew to 550 people.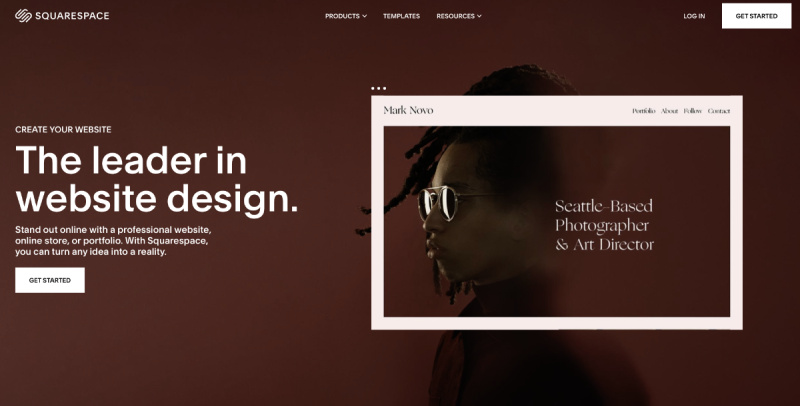 In 2017, Squaespace raised an additional $200 million in investments, after which the company's valuation increased to $1.7 billion. Constantly increasing volumes of investments testified to the consistently high interest of investors in the company and its products. In 2018, Squarespace partnered with Madison Square Garden to host the $120,000 Make It Awards for aspiring entrepreneurs.
In April 2019, Squarespace acquired Acuity Scheduling and its meeting and event scheduling service. In October of the same year, it acquired Unfold, which developed an application that allows users to edit their social media content.
Squarespace today
In early 2021, the company completed the necessary paperwork with the US Securities and Exchange Commission, which allowed it to conduct a public offering on the New York Stock Exchange NYSE by listing under the abbreviation SQSP. In March 2021, Squarespace raised $300 million in a round of investments involving Dragoneer, Tiger Global, D1 Capital Partners and Fidelity Management & Research Company. Thanks to this investment, the estimated value of the company increased to $10 billion. In April 2021, Squarespace closed a deal to buy online hospitality management platform Tock for over $400 million.
Anthony Casalena, CEO
Courtenay O'Connor, General Counsel

David Lee, Chief Creative Officer

John Colton, Senior Vice President, Engineering

Kinjil Mathur, Chief Marketing Officer

Marcela Martin, Chief Financial Officer

Mary Good, Chief People Officer

Paul Gubbay, Chief Product Officer

Raphael Fontes, Senior Vice President, Customer Operations

Roberta Meo, Vice President, Channels and Services

Interesting facts about the Squarespace brand
In the company's early years, the founder had to run the business on his own, and Squarespace's first office was in his dorm room at the University of Maryland. At the same time, at the beginning of 2022, the company's staff consists of 1,143 people.
As of December 2020, Squarespace had over three million subscribers. It offers clients a wide variety of ready-made website layouts, modular drag-and-drop widgets, as well as services for developing design templates from scratch, SEO optimization of websites and promoting e-commerce businesses.

Squarespace was originally created and developed as a blogging platform. The functionality for e-commerce (integration with the Stripe online payment service and other options) was added only in 2013. In 2014, the platform acquired a mobile version, a drag-and-drop interface, as well as functions for developing design layouts and logos from scratch. In 2016, it provided the ability to sell domains, an analytics dashboard, and PayPal integration.

***
SaveMyLeads is a simple and efficient system connector that will help you automate routine tasks and optimize business processes. You can save time and money, direct these resources to more important purposes. Test SaveMyLeads and make sure that this tool will relieve your employees and after 5 minutes of settings your business will start working faster.