The Pinterest social network can be used as an additional platform for promoting your business. In order for it to bring the expected results, you will have to "kick" there regularly. In this article, you will learn how to create pins from images and videos on your computer and mobile device, as well as how to make boards to organize them.
What is Pinterest
Pinterest is a social network with visual search functionality. The content here is represented by pictures, GIF-animation and videos. Users can save what they like, collect entire collections and show them to their friends online. Attendance of this social network is 38 million people daily. Most of the traffic comes from the USA.
Who owns Pinterest? All rights to this social network belong to Pinterest Inc. American Ben Zilberman founded it in 2008. The launch of the network itself took place in 2009. At first, it was possible to register in it only by invitation. Free registration for everyone was opened in August 2012.
What is Pinterest used for? For many, this is a kind of "moodboard". Here you can look for sources of inspiration, adopt other people's creative ideas, and also offer your services. Let's illustrate with examples:
search for fashionable bows (viewing new seasonal trends in clothes, shoes and accessories);
choosing a haircut or hairstyle (studying photos of models);

vacation planning;

ideas for a children's party;

search for interior design options for an apartment or mansion, landscape design;

everything for the wedding (make-up and hairstyle ideas, dress models).

The main advantage of Pinterest for business is that they look here not after making a purchase, as, for example, on Instagram, but before that. According to a survey conducted by the social network, 83% of users view the content offered to them in order to plan something, and 58% of those registered noted that it helps them make the final decision to purchase a product or service.
To promote your business, you can use Pinterest as an additional catalog platform by posting photos of goods or services provided on pins and accompanying them with a link to the main site. In addition, this social network is one of the best tools for building a loyal community for your brand. Attractive, interesting and, most importantly, exclusive content will encourage visitors to make transitions to your site and place orders. Thus, the platform will help you achieve 2 goals at once: increase your target audience and increase sales.
How Pinterest works
The Pinterest page looks like an endless stream of images, animations, and videos. Its content is formed on the basis of user requests. How does this happen? The user registers and starts using the service: he likes the pins, saves what he liked the most. The smart algorithm of the social network tracks his every action, understands his preferences and starts giving him the most relevant content in his feed.
Pinterest offers its users 3 tools:
pin - a post that is added to the board;
board - a tape consisting of posts;

repin - repost (adding another user's pin to your board).

How to use Pinterest? Here you can post your own pins, create entire catalogs with goods or services, create themed boards, add links to third-party sites and repin content you just like or on mutually beneficial terms with its authors.
How to add a Pin
formats - only JPEG and PNG;
"weight" of the file - no more than 20 MB;

file dimensions – at least 1000 x 1500 pixels;

the aspect ratio of the image is 2:3 (if this value is exceeded, the pin is shown truncated in the feed, and you can view it in full if you click on it);

orientation is portrait.

formats - MP4, M4V, MOV;
"weight" of the file - no more than 2 GB;

video aspect ratio - 1:1, 2:3, 9:16;

length - minimum 4 seconds, maximum 15 minutes;

encoding type: H.265, H.264.

From a computer (laptop)
Step-by-step instruction:
Sign in to your personal Pinterest account. Click the "Create" button and select "Create pin".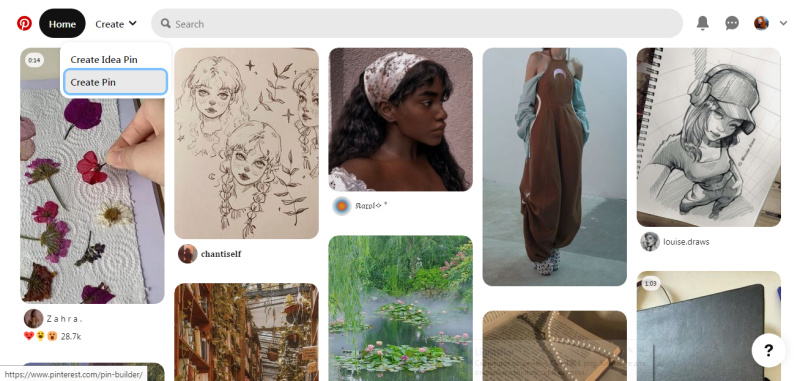 Drag an image to the appropriate field or upload it from a computer. Write a title and description for your Pin, add an alternative description (voiced by a special program) and link to the desired resource.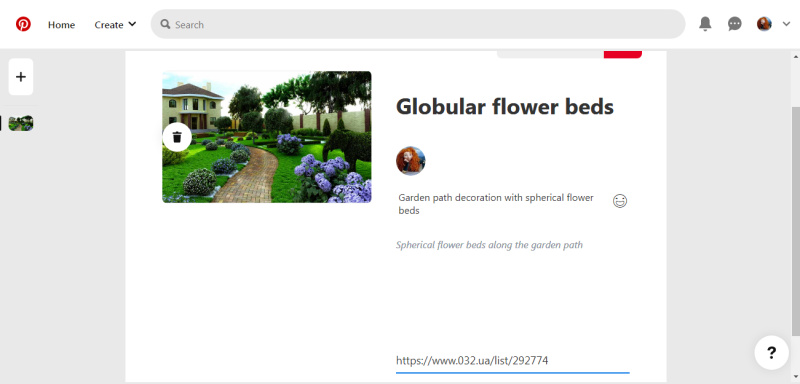 Press the "Select" button and select a board. If it doesn't exist yet, click on the icon in the form of a red circle with a plus sign "Create bord".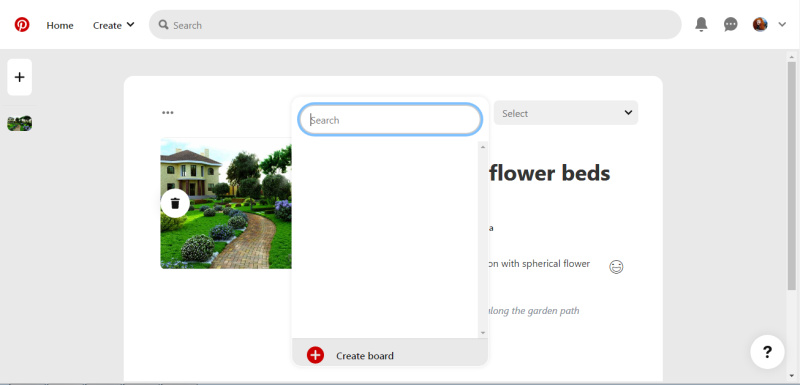 Give the board a name and click the red "Create" button.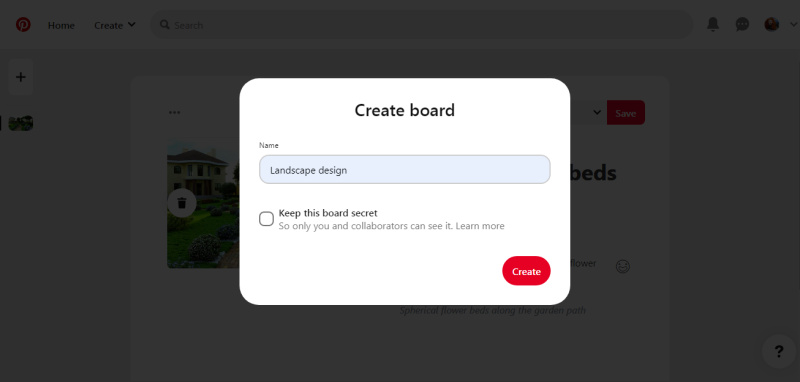 Save the result by clicking on the red "Save" button.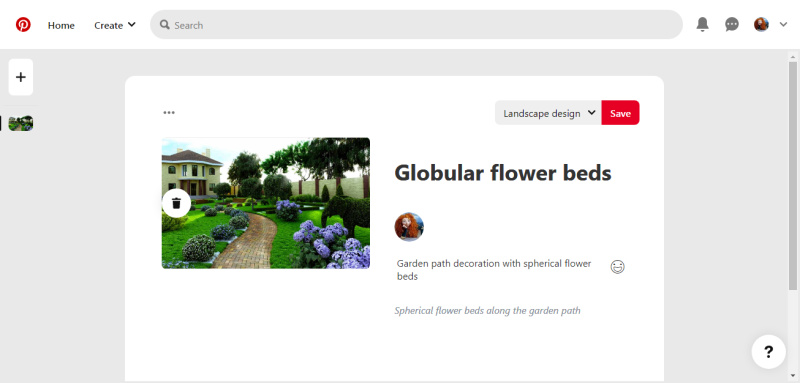 From a mobile device
Go to your page in the official Pinterest app. To do this, click on the icon with a little man (located in the lower right part of the window). Click on the plus sign.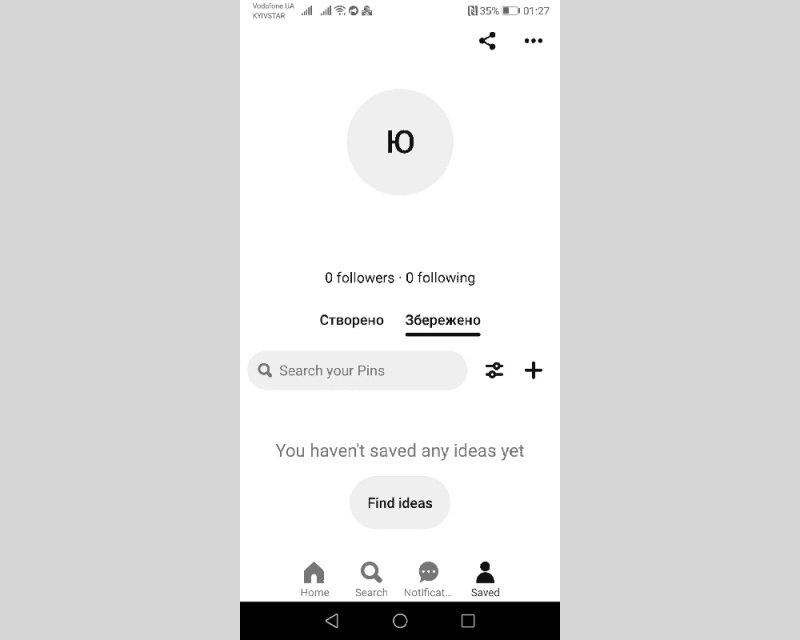 In the "Create" menu that opens, select "Pin".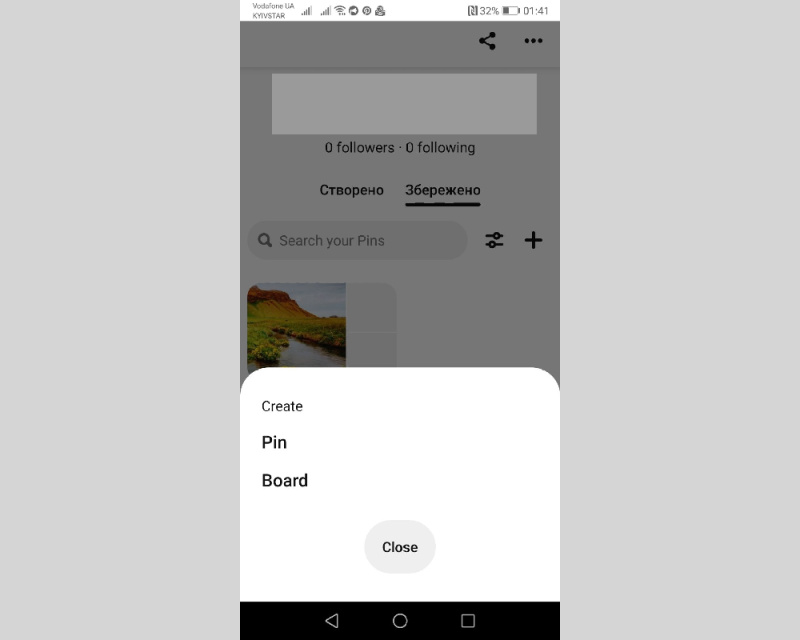 The app will prompt "Allow Pinterest to access photos, media and files on your device?". Select the "Allow" option.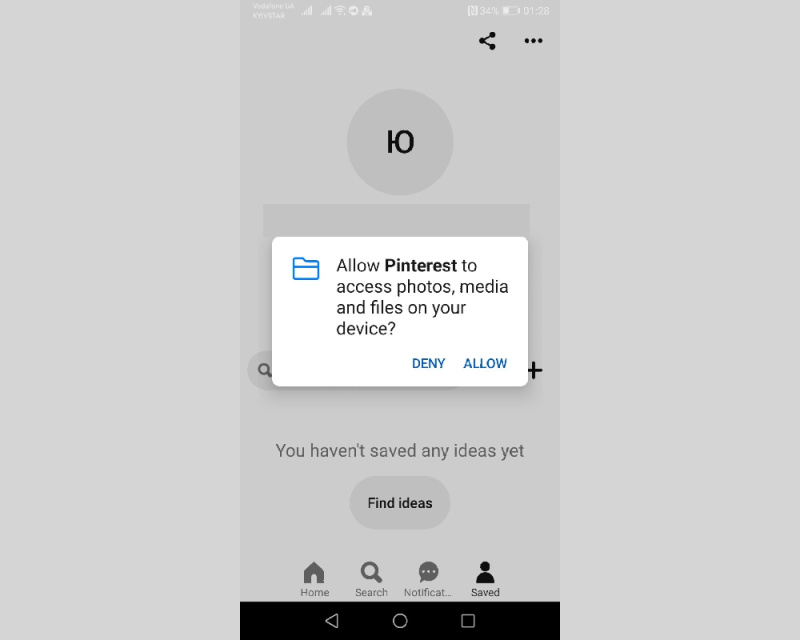 Find the desired photo in the gallery and click the "Next" button.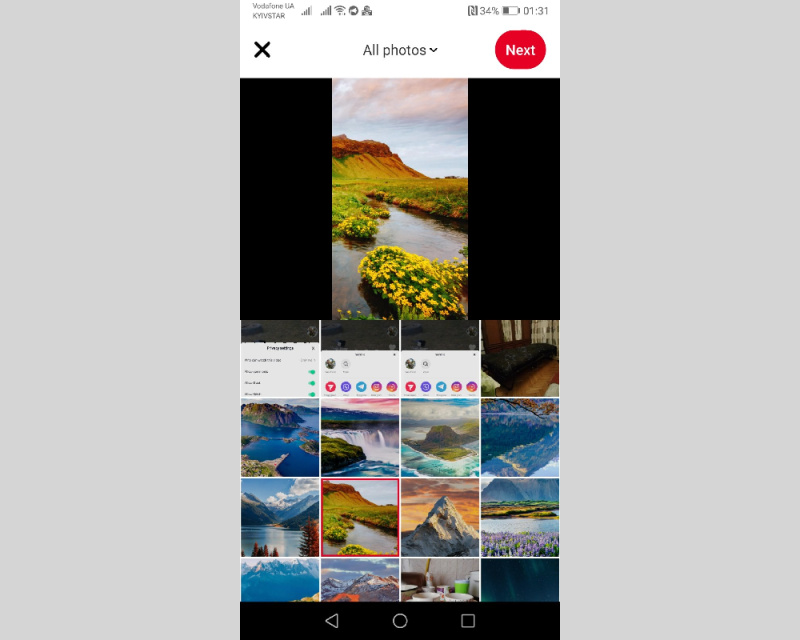 Come up with and write a title, make a description and put a link. When all this is ready, click the "Next" button.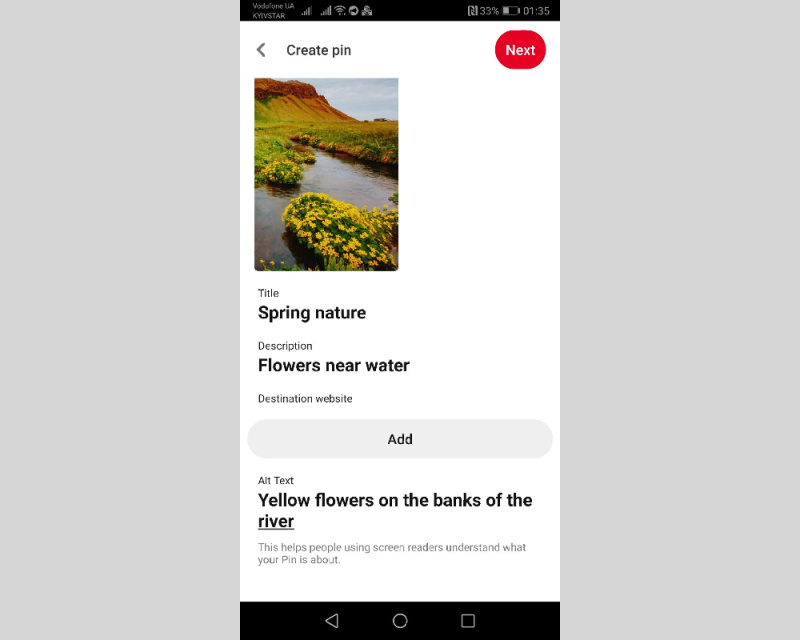 In the window that opens with the offer "Save to board", click "Create board".

Give the new board a name and click "Create".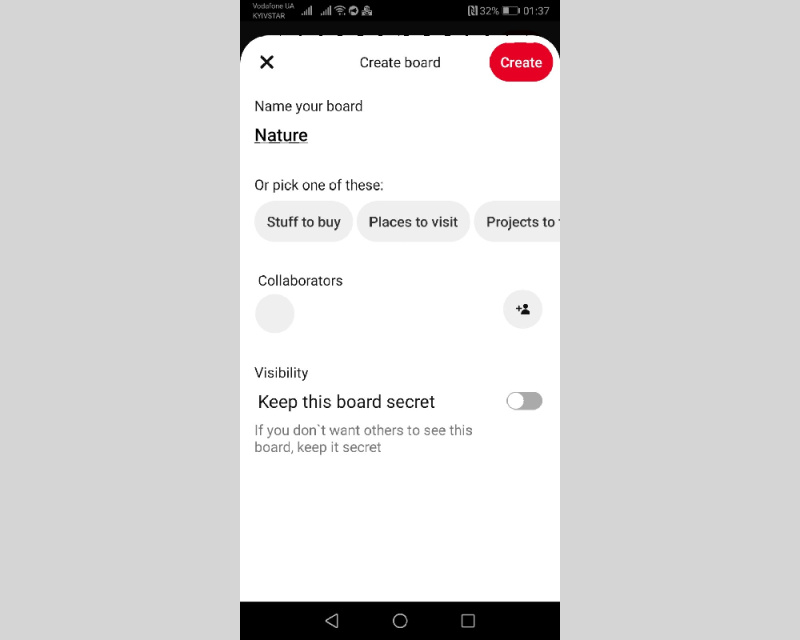 How to create a title for a Pin
The title for a pin is not just a formality of the system that can be neglected. Some mistakenly believe that filling in this field is not worth much attention, and enter the first thing that comes to mind there. Thinking through each name is important because it:
indexed by search engines, which means that you can count on attracting additional traffic;
helps other users find the right pins on the social network;

characterizes the added pin.

An important nuance: the maximum length of the title is 100 characters, of which only the first 30-35 characters will be visible in the feed.

Connect applications without developers in 5 minutes!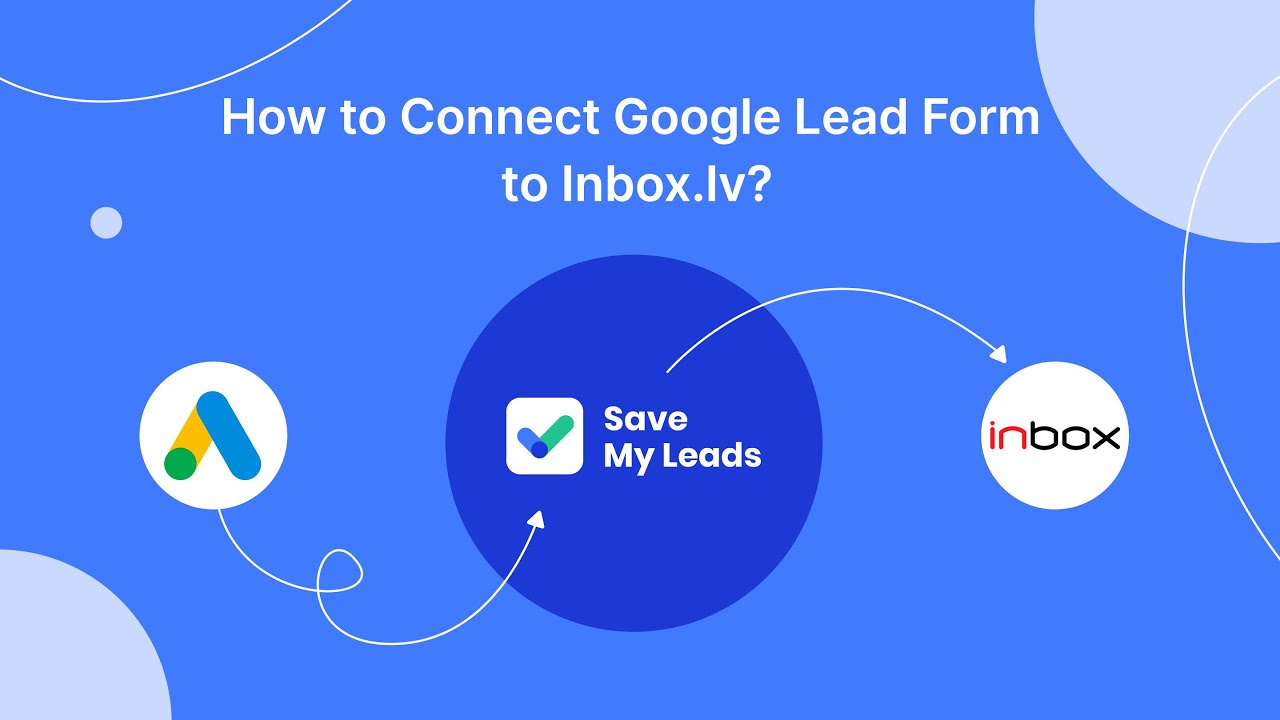 How to Connect Google Lead Form to INBOX.LV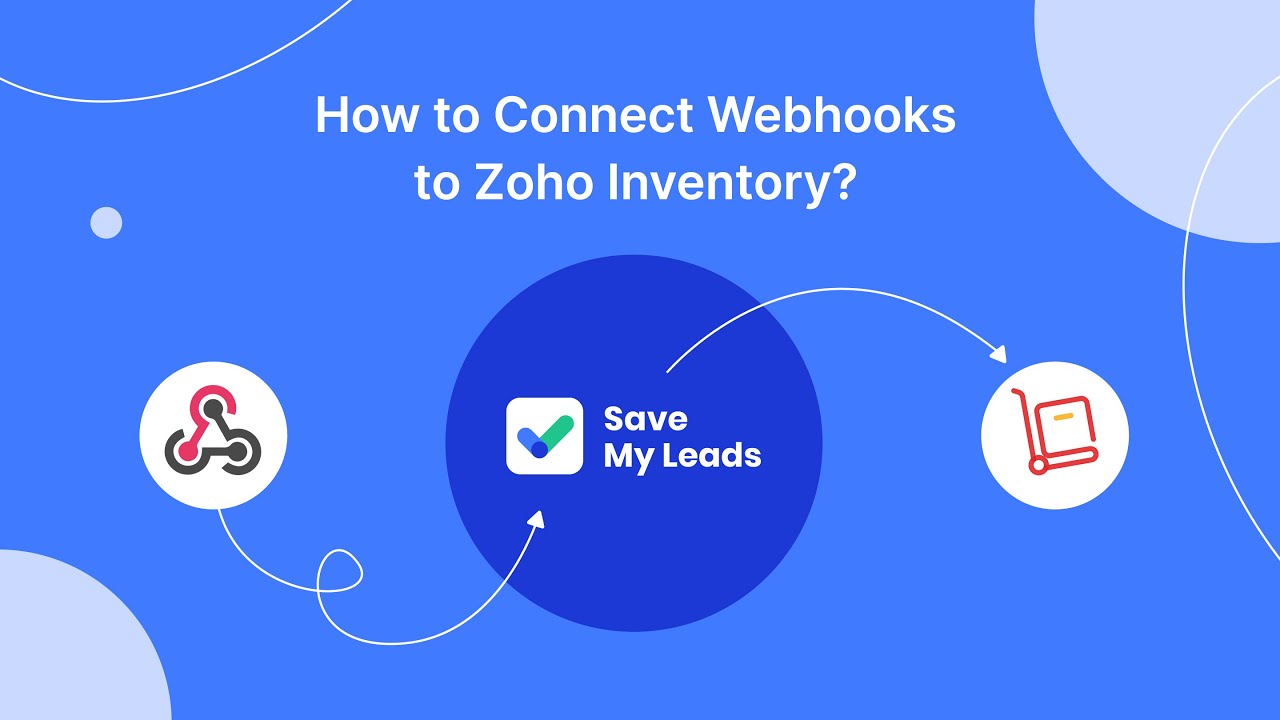 How to Connect Webhooks to Zoho Inventory (contacts)
How to write a description for a Pin
The maximum length of a Pin description (image, video or animation) is 500 characters, of which only the first 50-60 will be visible in the feed. When composing it, consider this point and try to include the most important information.
As in the title, it is recommended to use keywords in the description. It can also be supplemented with a call to a specific action. For example, invite users to follow the specified link to find out the details (see the drawing, diagram, read the step-by-step instructions), or simply save the pin on your page. If your goal is promotion, the description text should encourage you to click on a link, download an image or video for yourself, or repin.
Remember that the link you attach to a Pin must be sure to redirect the user to the corresponding web page. For example, if you add a pin about how to sew beautiful curtains yourself, then the link should lead to an article with drawings and calculations or to a video with a step-by-step demonstration of the manufacturing process. Redirecting users to inappropriate pages is prohibited by Pinterest's policies. A Plum Pie Recipe Pin cannot contain a link to an online gaming site. The penalty for such a violation is the removal of the pin. Repeat offenders risk getting their account banned.
How to upload video to Pinterest
Since the Pinterest social network most often sits on mobile devices, it is recommended to upload videos in a vertical format. In addition, it is worth considering that it can be viewed in silent mode, so the essence of the video should be obvious without the audio sequence. If in doubt, add subtitles.
You can upload a video pin from your phone, laptop or computer. The instructions for adding such a pin are identical to the algorithms for image pins. You can check them out above.
To post someone else's video on Pinterest, it is not necessary to first download it to your device. If it's on YouTube, you can add it directly from there.
Step-by-step instruction:
Find a video on YouTube and copy its link.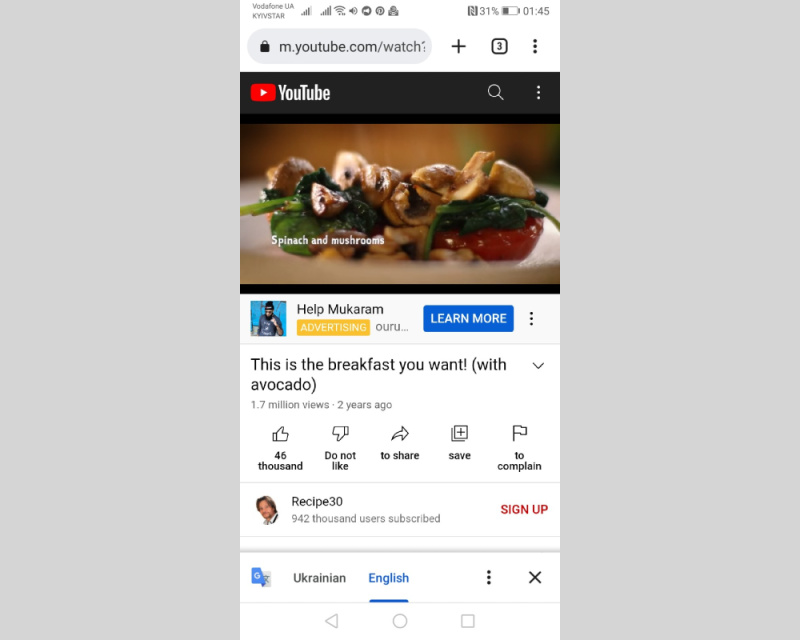 Log in to your Pinterest page, click on the icon with a man and a plus sign. Click on the "Create pin" button.

Select the source of the pin - the "Internet" icon.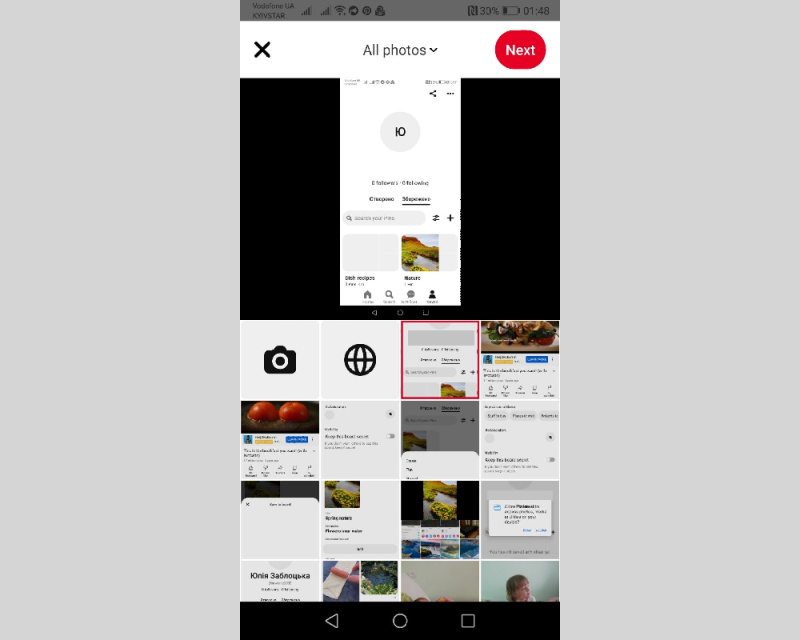 In the window that opens, paste the copied link to the video and click the "Search" button.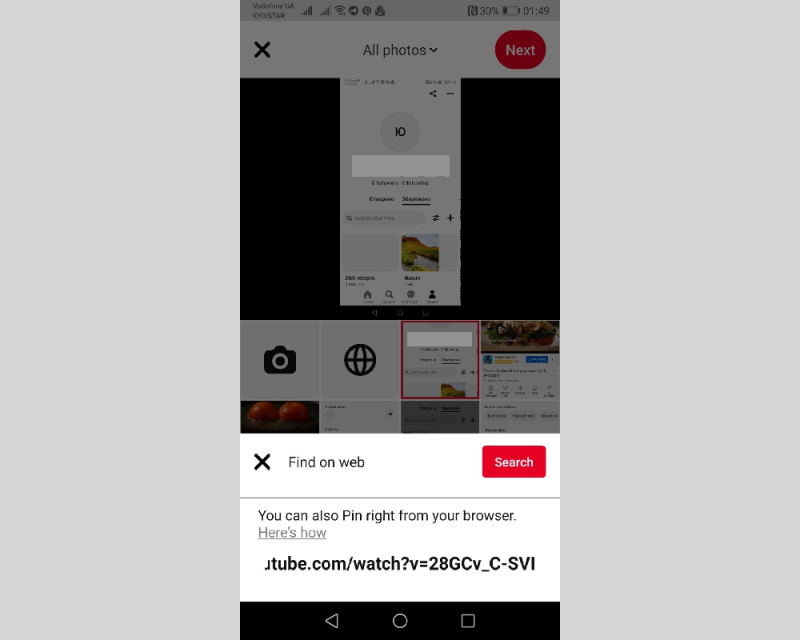 Click on the video pin thumbnail.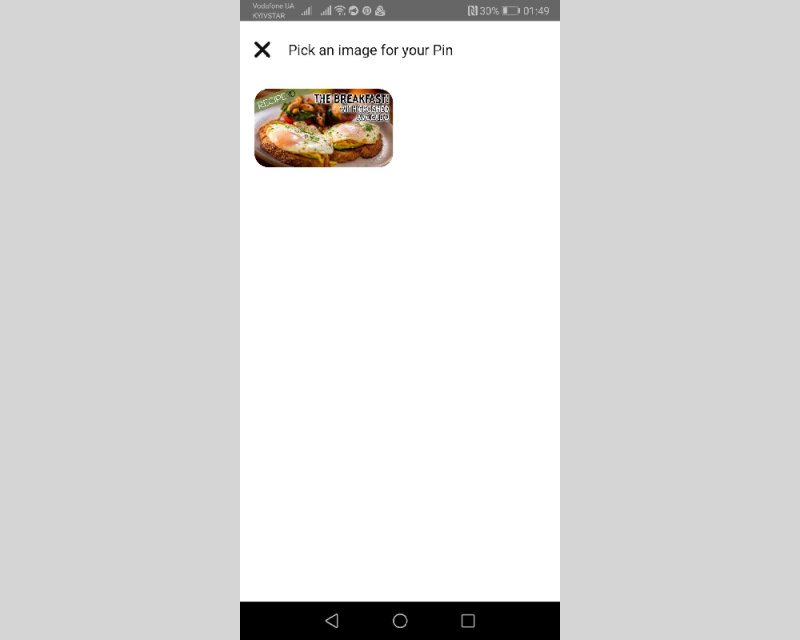 In the "Save to board" menu that appears, select the board where you want to save the Pin, or create a new one.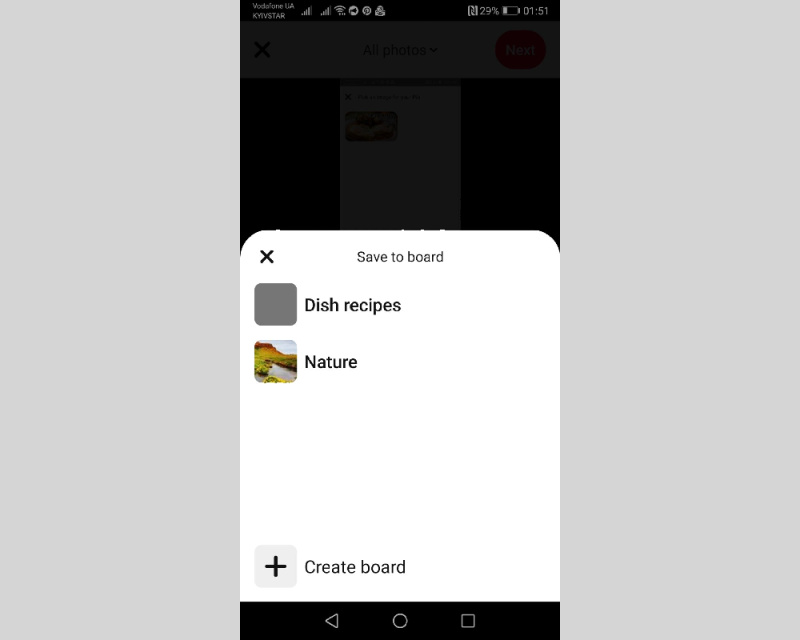 Enter the board and long-click on the pin thumbnail. Select the "Pencil" icon.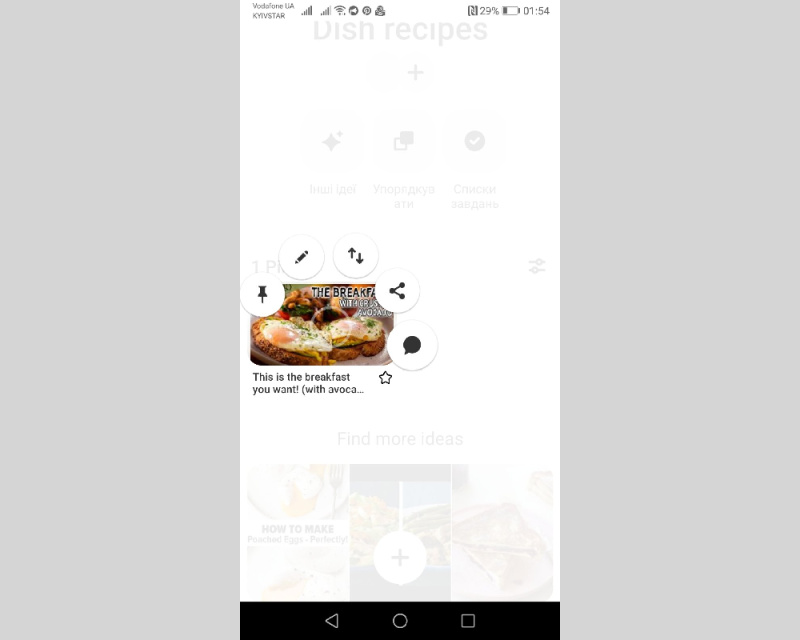 Add a description and an alternate description for the video Pin. Here, if necessary, you can delete it. If everything is ready, click the "Done" button.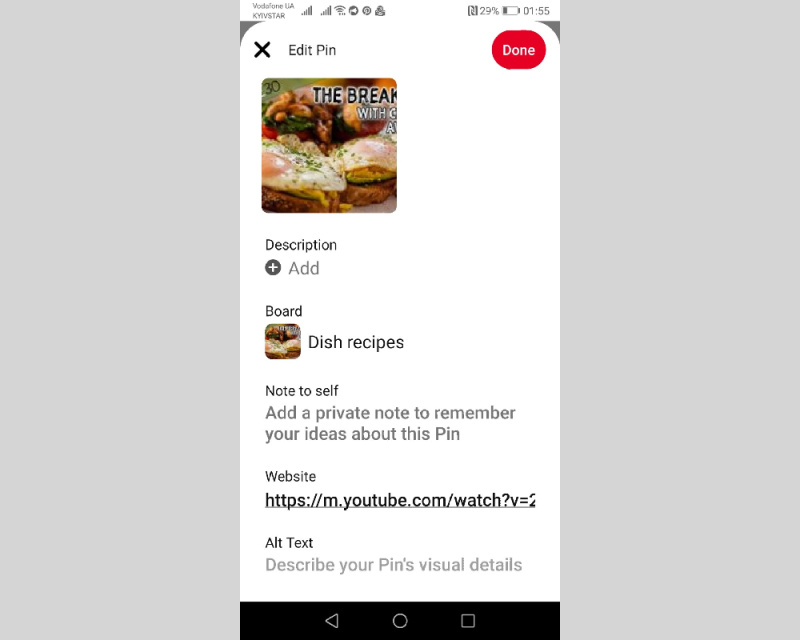 How to create boards on Pinterest
Boards on Pinterest are divided into 2 types: public and private. Their purpose is thematic systematization of pins (beauty and health, fashion and style, recipes, and so on). In fact, these are kind of folders for an orderly collection of content.
The secret board will be available only to you or also to your co-authors. This type is useful for working on shared projects and exchanging ideas.
Adding a pin to a board is easy. Choosing a board is part of the loading process for the Pin itself. After you write a title, make a description and insert a link, the system will prompt you to save the pin to one of the existing boards or create a new one.
Instructions for a computer:
Log in to your Pinterest page, click on the little man icon and click on the plus sign. In the menu that opens, click "Create board".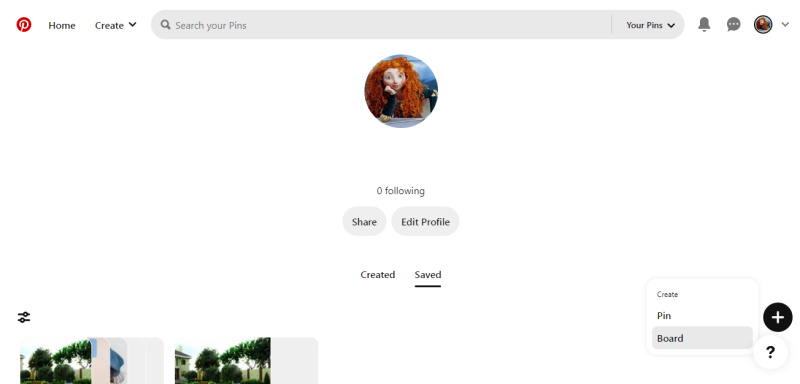 Give the board a title and set privacy if necessary. Click "Create".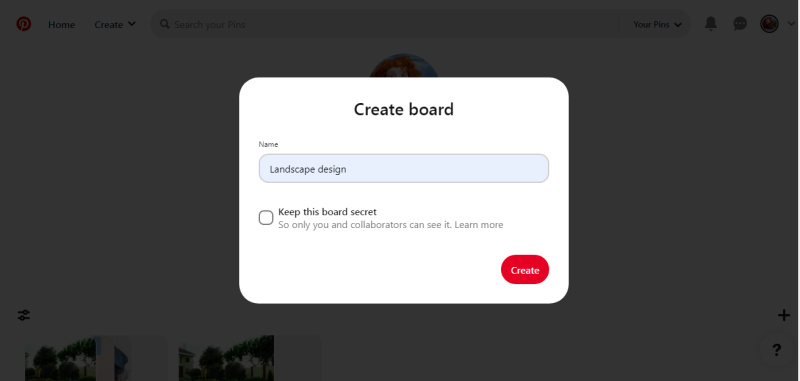 Instruction for mobile device:
Log in to your Pinterest page, click on the little man icon and click on the plus sign. In the "Create" menu window that opens, click the "Board" button.

Give the board a name and click "Create".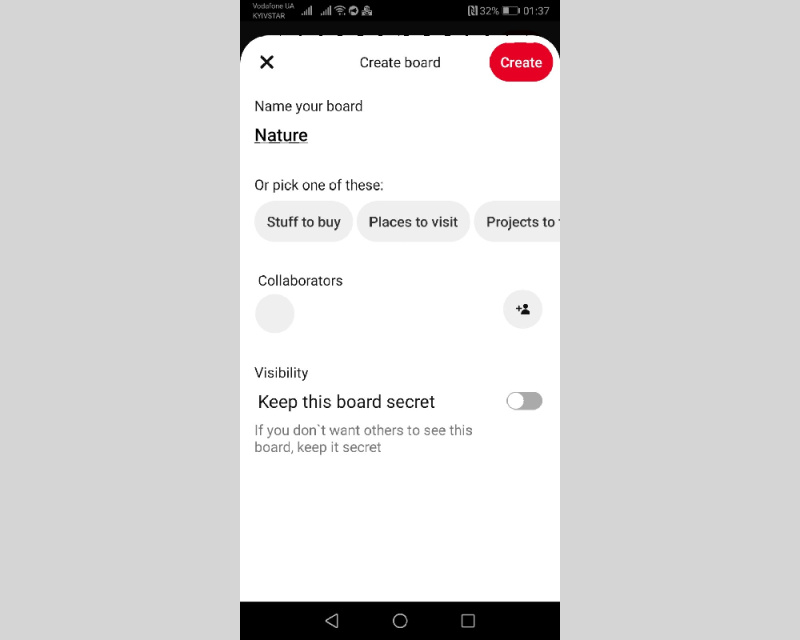 Summing up
Pinterest is a social platform for people and brands to find inspiration, catch valuable ideas, and find new customers. Thanks to an intuitive interface, using the service is very easy even for beginners. The value of this social network for business lies in the fact that it provides the opportunity for free promotion. The main thing is to create unique interesting content and cover the target audience with it. If you correctly develop a strategy and content plan, you can achieve an increase in the client base and increase brand awareness.
***
SaveMyLeads is a simple and effective service that will help you automate routine tasks and optimize business processes. Stop wasting time uploading leads from Facebook manually – you can do it automatically, saving a lot of time and money. Eliminate routine from workflows and achieve more with minimal investment of money, effort and human resources.