Creating and distributing video content for both personal and marketing purposes involves constantly expanding your presence in the digital world and striving to reach a wider audience. Most people today traditionally use the largest YouTube platform for this. However, technology does not stand still, and eventually, you will need to go beyond this video hosting to try something more progressive. In our article, we will look at the 7 best centralized and decentralized alternatives to YouTube. Having familiarized yourself with their functionality and capabilities, it will be easier for you to make your choice.
Reasons for Looking for YouTube Alternatives
Founded in 2005, YouTube video hosting has quickly become one of the most popular resources for watching and downloading videos on the Internet. However, over time, many users and content creators had certain complaints about the platform, which, as a result, provoked an active search for alternative services.
Main reasons for dissatisfaction:
Censorship and restriction of freedom of speech. Many users have experienced the issue of having their videos blocked or removed due to violating YouTube's strict guidelines. Some feel that the platform has become less tolerant of alternative opinions and controversial content.
Advertising. The introduction of advertising in most videos began to strain both viewers and content makers. Some vloggers are complaining that their stories are suddenly considered "unsuitable for advertising", which is why their income has decreased.

Recommendation algorithms. Many content creators have noticed that their videos have become less recommended. This led to a reduction in the audience, a distortion of competition, and a decrease in motivation to create high-quality video materials.

Problems with monetization. Many video bloggers are dissatisfied not only with problems with advertising, but also with changes in the monetization system that have made the process of making money on the platform more difficult and unpredictable.

Data privacy and security. The rise in online privacy violations has led users to become increasingly aware of how their data is being used on the platform and to look for safer alternatives.

Competition and innovation. Many users are simply looking for something new, more interesting, more convenient, and more progressive. A variety of platforms provides new opportunities for both content creators and ordinary viewers.

Despite its high popularity, YouTube, like any other platform, cannot satisfy the needs of all its users. When there are many problems and claims arising from content creators and consumers, it becomes necessary to find a worthy replacement. We suggest not waiting for this "critical" moment, but getting acquainted with the 7 best YouTube alternatives, in our opinion.
Twitch
Developer: Amazon.com, Inc.


When it comes to livestreaming, especially in the world of video games, Twitch is practically unrivaled. It is a livestreaming platform where users can stream any of their activities. The main focus is gaming. It is the main one here, but not the only one: music, creative broadcasts, and even "just chatting" sessions are also becoming popular. The site is suitable for gamers, musicians, artists, and anyone who wants to share their hobbies in real time.
The Twitch interface is intuitive. The central place is occupied by the video player. Chat is on the right. There is a division of the array of streams by games, thematic categories, and channels. Twitch is free for viewing and basic streaming; however, a paid subscription may be required to access additional features and functionality (such as improved streaming quality). Twitch provides various ways to monetize: channel subscriptions, donations, bits (internal currency), and advertising. In addition, many streamers actively use affiliate programs and sponsorship contracts.
The main difference from YouTube is the emphasis on live content. While YouTube is perfect for uploading and watching videos, Twitch focuses on livestreaming and real-time interaction. For many content creators, it's this instant feedback that appeals the most.
huge community of gamers;
direct and quick contact with viewers via chat;

many tools for monetization.

strong competition;
the need for constant active interaction with the audience.

Twitch remains a leader in the world of streaming due to its unique atmosphere and focus on real-time. For those who are looking for a platform for online broadcasts and live communication with the audience, this service will be an ideal choice among other alternatives YouTube.
Odysee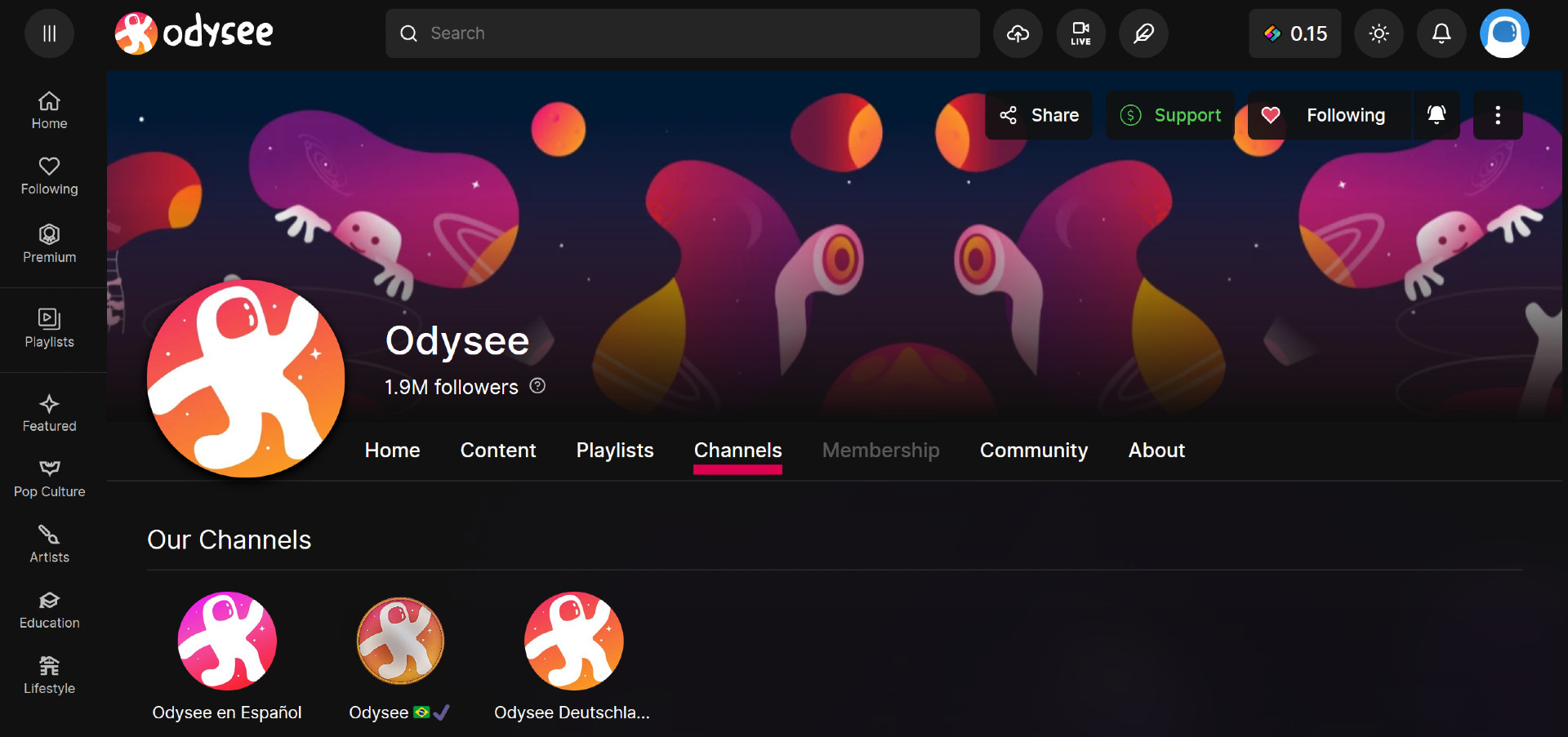 In an age where freedom of speech, digital security, and privacy are becoming top priorities for many, Odysee stands out from traditional video platforms. What makes it special? Odysee is a decentralized video hosting and viewing platform powered by the LBRY blockchain protocol. It provides space for the free and open exchange of information without any censorship. The platform is suitable for content creators who value freedom of speech and want to have more control over their content.
The interface of Odysee resembles traditional video hosting sites and practically copies YouTube. The main focus of the developers was simplicity and convenience, so it's easy to search, view, like, and comment on videos. The main page also contains popular thematic categories that are currently trending.
Odysee is one of the free YouTube alternatives. No money is taken here for watching and downloading the videos you like. To promote and monetize content, its creators usually use the LBC cryptocurrency. In addition, they can earn LBC rewards through community support and popular videos.
The main differences between Odysee and YouTube are the platforms' decentralized nature, peer-to-peer sharing, use of open-source software, and lack of censorship. While YouTube may block or demonetize content for various reasons, Odysee gives more freedom and control to the content creators themselves.
no censorship and more freedom for content creators;
monetization based on cryptocurrency;

transparent, decentralized structure.

smaller audience compared to large platforms;
relatively new platform with an uncertain future.

Among alternatives to YouTube Odyssey is one of the best. It will especially appeal to those who are looking for an uncensored platform with the ability to monetize their content based on cryptocurrency.
Vimeo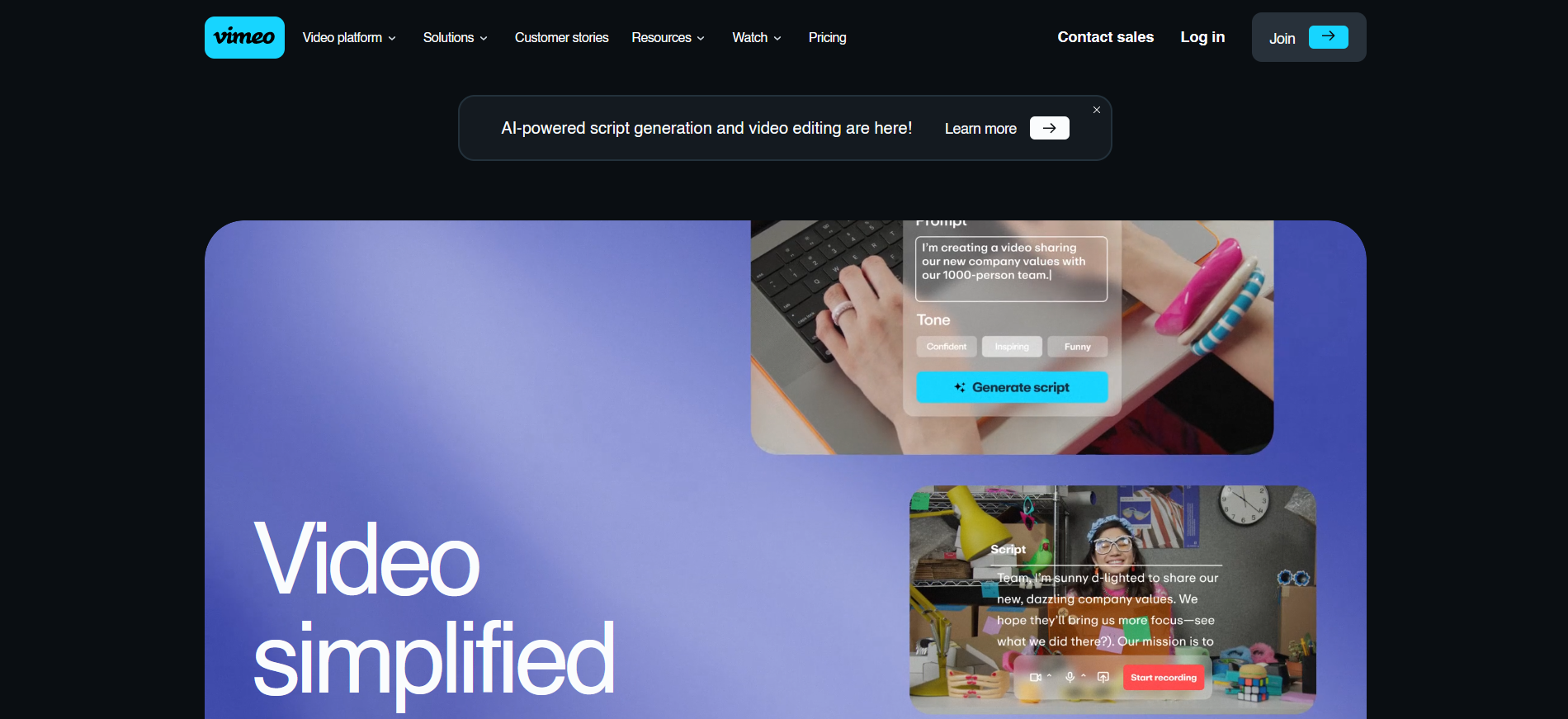 Vimeo is a high-quality video hosting, viewing, and sharing platform. It does not copy YouTube but offers its own approach to user interaction with video materials. This platform is especially popular among professionals in the field of video production, as well as companies looking for a quality service to promote branded content.
Vimeo's interface is simple and elegant. It focuses directly on the video while minimizing distractions. To organize their content, users can create channels, albums, and portfolios here.
Vimeo has a free plan, but it has download limits. Paid plans provide more features and space. Their cost varies depending on the needs of the user:
Starter: $12 per month if you pay for the year right away. You can upload 60 videos. Distribution of materials and joint work on them are available.
Standard: $20 per month, subject to payment for the year immediately. You can upload 120 videos. Content creation and editing are available through premium tools.

Advanced: $65 per month if you pay for the year at once. You can upload 500 videos. Livestreaming of events is available.

Enterprise: the cost is discussed individually. Users are provided with additional security, control, and support.

Vimeo offers monetization tools such as Vimeo On Demand. Using it, content creators can sell or rent their work. For film production or training courses, this is just what you need. The platform also provides powerful functionality for analytics and integration with marketing services.
Vimeo vs YouTube. The main difference between Vimeo and YouTube is the scale of the audience and the quality of the content. Vimeo is aimed primarily at professionals and companies looking for high-quality, ad-free hosting. Although the Vimeo audience is smaller than YouTube's, it is more dedicated and targeted.
high-quality video;
lack of advertising in the player;

flexible privacy settings;

professional tools for content creators.

limited free storage;
smaller audience compared to YouTube.

Vimeo is a powerful yet easy-to-use platform and one of the best alternatives to YouTube. High-quality content, professional tools, and no banner ads make Vimeo the preferred choice over YouTube for many brands and advanced video production professionals.
Dailymotion
Developer: Dailymotion Inc.


Dailymotion is one of the best video sharing platforms and is truly a complete alternative to YouTube. This video hosting service gives space to host and watch videos, serving different audiences around the world. The service is ideal for both content creators and viewers looking for other video sources.
Dailymotion's interface is simple and intuitive. Here, users can easily search, view, and comment on videos, as well as create their own playlists, just like on YouTube.
Connect applications without developers in 5 minutes!
Dailymotion is free to watch and download videos. For companies, the platform offers Starter, Pro, and Custom tariff plans with different conditions and functionality. The cost of their use during the year starts at €6,000.
For content creators, the service offers a monetization program. Thanks to the advertising tools provided to them, they can earn income from their videos posted on the site. In addition, the platform gives them tools for analytics, which allows them to better understand the audience and, accordingly, work with it more efficiently.
Dailymotion vs YouTube. The main difference between Dailymotion and YouTube is the less saturated market for video creators. Beginners and talents get more opportunities for promotion and advancement here. On the other hand, a smaller audience can shackle experienced content makers.
a wide range of content and exclusive shows;
lower level of competition for content creators;

flexible monetization options.

smaller audience compared to YouTube;
the presence of advertising.

Despite some shortcomings, Dailymotion continues to be one of the best video platforms. This service is an attractive alternative for those who are looking not only for a full-fledged replacement for YouTube, but also for an additional site. A huge range of content and monetization options make it a great choice for video creators and viewers alike.
Peertube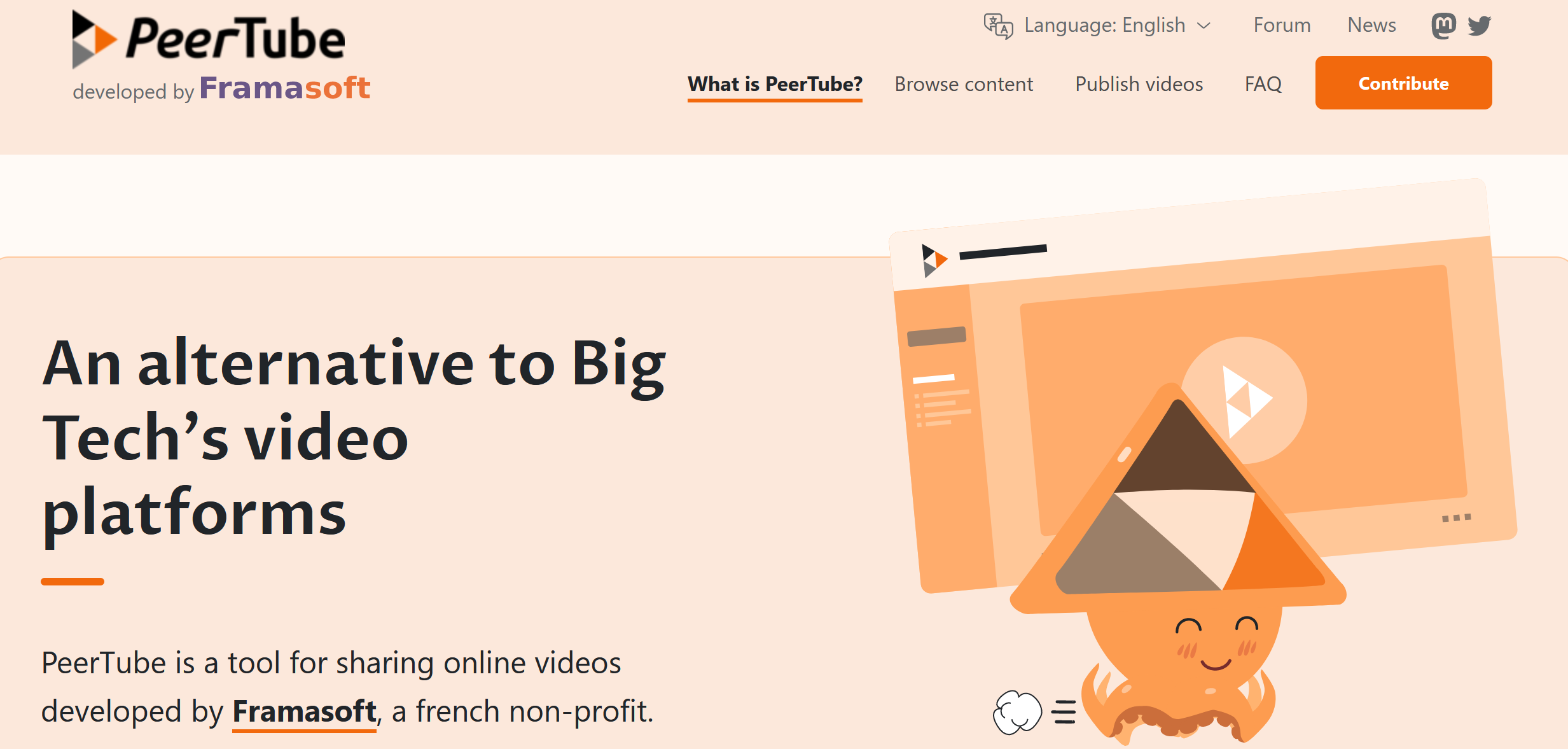 Peertube is an open, decentralized video hosting and viewing platform. This is a worthy alternative solution for those who value freedom and privacy above all else in the world of online video. The service uses P2P technology to broadcast videos. It allows you to reduce the load on servers and allows everyone to create their own video hosting.
The Peertube interface is intuitive. It is almost the same as other popular video hosting sites. You can customize it if you wish. Among the most requested features are viewing and downloading videos, commenting, subscribing to channels, and integration with other platforms and services via API.
Peertube is a free platform; however, if you want to create your own server, you will need the resources and time to maintain it. Here, you can also monetize your videos with donations or paid subscriptions. An open API allows you to integrate other forms of monetization, not just the standard ones.
The differences between Peertube and YouTube lie in the very philosophy of the video hosting system. While YouTube is run by a single company and has a centralized structure, Peertube provides users with a decentralized ecosystem where anyone can create their own server. Peertube also pays much more attention to privacy and freedom of speech.
open source;
decentralization;

lack of advertising;

privacy and security.

less audience compared to the main competitors;
broadcast quality is not always high due to P2P features.

Peertube is an ideal choice for those who consider freedom of speech, privacy, and a high level of data protection to be decisive factors. Despite some shortcomings, this platform is one of the best sites, similar to YouTube.
DTube

DTube is a decentralized video platform powered by blockchain technology. It provides a space to download and watch videos without censorship or interference from third parties. DTube is ideal for those who value freedom of speech and want to avoid the traditional risks associated with centralized platforms.
In appearance, DTube resembles many classic video hosting sites: a simple and intuitive interface with a search bar, content division into thematic categories, and the ability to leave comments. The key feature is the absence of ads and algorithmic recommendations that can limit the visibility of content.
DTube is completely free to use, but like any blockchain platform, it may require small transaction fees depending on the network. DTube allows content creators to earn cryptocurrency from their content. For publications and comments, you can receive rewards in the form of DTC tokens. This encourages the production of quality content and active participation in the life of the community.
The main difference between DTube and YouTube lies in the decentralized nature of the former. DTube is not under the control of the main organization that controls the content or profits from advertising. This makes the platform attractive to those who need more freedom of expression and control over their own content.
decentralization and transparency thanks to the blockchain;
lack of censorship and related removal of content;

the possibility of monetization without intermediaries.

smaller audience compared to traditional platforms;
some knowledge of the blockchain is required to use the service to its maximum.

DTube brings an innovative approach to video hosting, putting freedom and decentralization first. For those who are looking for an alternative to traditional platforms and are ready to explore the possibilities of blockchain, this service can be a great choice.
Dlive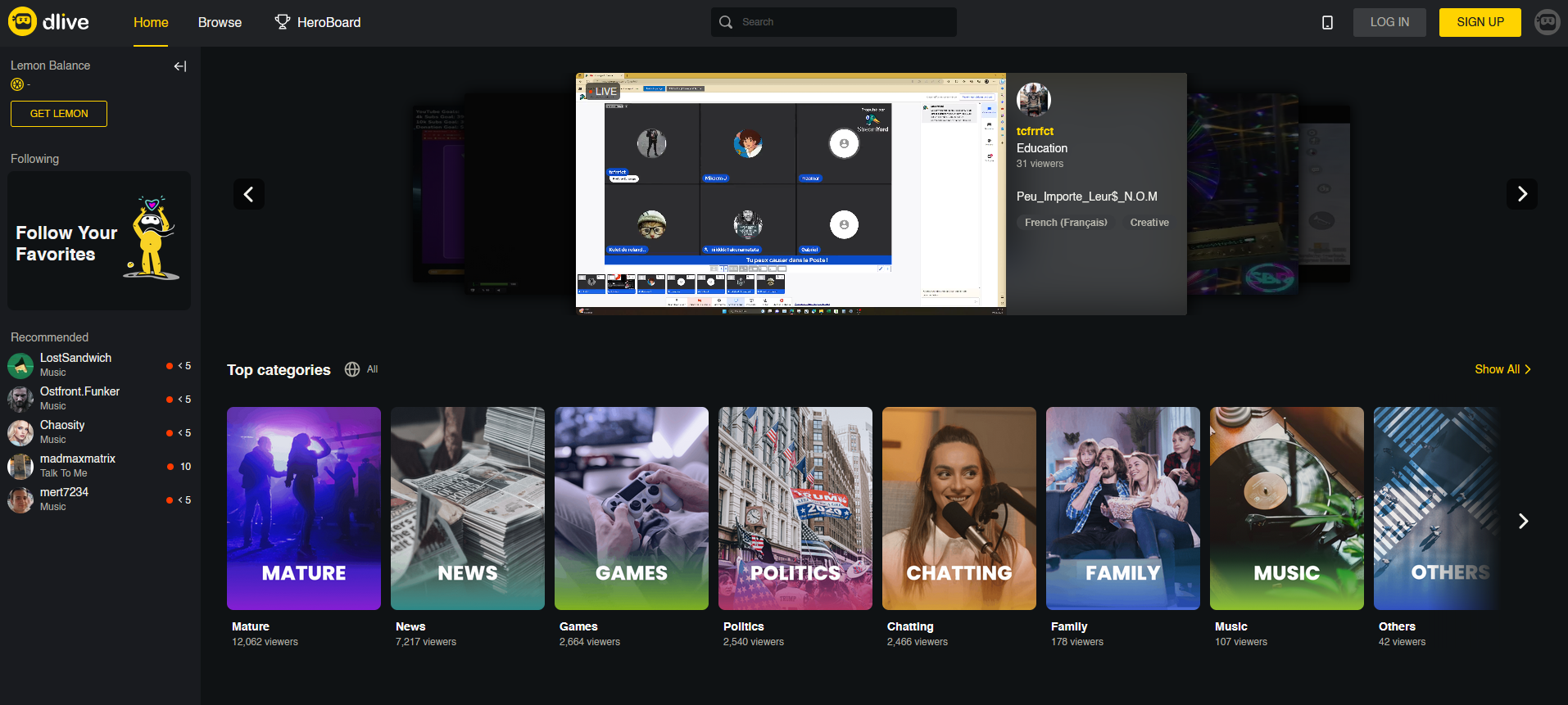 With the development of Internet technologies, the market for streaming services is becoming more diverse. One of the interesting representatives of this segment is Dlive. It is a streaming platform based on blockchain technology and one of the best video hosting platforms. It provides the opportunity to broadcast video in real time, as well as receive rewards in cryptocurrency. Dlive is ideal for streamers looking for alternatives to traditional platforms and those interested in blockchain technology.
Dlive boasts a friendly and intuitive interface. The top bar provides quick access to the main categories, while the feed is constantly updated in real-time, showing active streams.
For streamers and viewers, the Dlive platform is free. However, like any blockchain service, it can set fees for cryptocurrency transactions. Dlive uses its own cryptocurrency – Lino. Streamers can earn money from donations and subscriptions. The absence of commissions and a high percentage of income make monetization here more profitable. To promote your channel and increase income, you can use the platform's built-in tools as well as actively interact with your community.
Dlive and YouTube differ, firstly, in their approaches to monetization and freedom of speech. While YouTube is often criticized for its censorship and not always fair monetization system, Dlive provides a platform where streamers have full control over their content and are fairly rewarded for it.
decentralization thanks to the blockchain;
monetization, allowing authors to receive up to 90% of their income;

lack of censorship and control by third parties;

an active and supportive content creator community.

smaller audience compared to the main platforms;
the need to master the features of working with cryptocurrency.

Dlive is a fresh take on streaming that combines the benefits of blockchain with fair rewards. Those who are looking for alternative ways to monetize and more freedom in content creation should take a closer look at this platform.
How to Choose a YouTube Alternative
YouTube has dominated the video hosting market for years. However, more and more content creators are seriously thinking about finding an alternative. Someone is finally tired of censorship, someone is outraged by the injustice of monetization, and someone is just looking for new experiences. How do I choose the right platform? So that the new service does not become another disappointment for you, we recommend that you focus on the following criteria:
The target audience. Firstly, decide on your target audience. Which resource do your potential viewers spend the most time on? For example, the Vimeo and Dailymotion platforms are suitable for professional content creators, while Twitch and Dlive are ideal for streamers.
Monetization. The method of monetization is one of the main selection criteria. Some platforms provide more favorable conditions, while others focus mainly on cryptocurrencies or donations.

Freedom of speech and moderation. Censorship and moderation have become stumbling blocks for many creators on YouTube. If creative freedom is important to you, look for platforms with an open content policy.

Functionality and interface. A good interface makes the process of uploading and editing videos more convenient. Platforms vary in complexity and functionality, so choose the one that is most convenient for you.

SEO and promotion. If you plan to drive traffic through search engines, make sure your new platform has tools to optimize your videos for search queries.

Community. A strong, supportive community can be a deciding factor for many authors. The DTube and Odysee platforms have close-knit communities that actively support each other.

Usage cost. While many platforms provide basic features for free, some may charge for additional features or increased storage.

Choosing alternatives to YouTube isn't just about finding a new place to upload videos. This is a chance to expand your audience, improve monetization, and give new life to your creativity. Based on the above criteria, you can find the platform that is best for you.
Summing up
In 2023, the world of online video will not be limited to YouTube alone. Despite its dominance in the video content space, today it is successfully challenged by many alternative platforms. To choose the ideal option for yourself, you should first decide what you are going to use it for. Fans of games, eSports broadcasts, or streaming are recommended to pay attention to Twitch. Dailymotion is a great solution to expand your social media influence. If you're looking for a professional video hosting platform for commercial purposes, look no further than Vimeo.
If you are worried about censorship and dependence on the whims of large platforms, and the protection of confidential information is critical, take a look at decentralized sites like Odysee, PeerTube, Dtube and Dlive. While they may not attract an audience or income as massive as YouTube's, they offer benefits like a lack of censorship, improved security and privacy, unique content, and a closer connection with a community of like-minded people.
***
You probably know that the speed of leads processing directly affects the conversion and customer loyalty. Do you want to receive real-time information about new orders from Facebook and Instagram in order to respond to them as quickly as possible? Use the SaveMyLeads online connector. Link your Facebook advertising account to the messenger so that employees receive notifications about new leads. Create an integration with the SMS service so that a welcome message is sent to each new customer. Adding leads to a CRM system, contacts to mailing lists, tasks to project management programs – all this and much more can be automated using SaveMyLeads. Set up integrations, get rid of routine operations and focus on the really important tasks.