The development of artificial intelligence technologies has created many new professions and areas of business. One of them is writing queries for generative language models. It turned out that with the help of AI prompt, you can effectively manage them since the quality of the result produced by neural networks depends on their accuracy.
The high demand for a new area in the AI industry has led to the emergence of not only the profession of query developer but also platforms for trading prompts. Today on the Internet, you can find many marketplaces with prompts for all popular language models: GPT, Midjourney, Stable Diffusion, DALL-E, Openjourney, Jasper, Novel AI, NightCafe, Niji Journey and others. Among them, there are both universal and specialized platforms with templates for only one or two neural networks. Some resources offer free content, while others are classic marketplaces. In this article, we'll tell you about the 5 largest online AI hint libraries and the key features of each.
PromptBase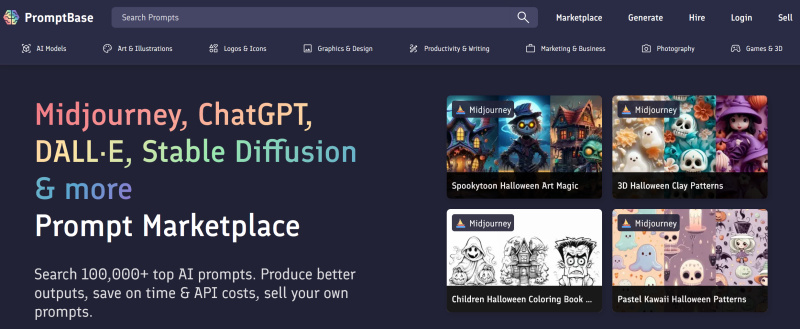 The well-known AI prompt marketplace called PromptBase appeared in June 2022, becoming the first service for buying and selling requests to neural networks on the Internet. Today, it compares favorably with other similar platforms, as it has the most complete base of supporting content for the ChatGPT, DALL-E, Midjourney and Stable Diffusion systems. Another advantage of PromptBase is its versatility. The marketplace allows you to buy and sell hints for AI generators, both text and graphics.
The site's catalog includes a number of thematic categories, including art and illustration, logos and icons, graphics and design, productivity and writing, marketing and business, games and 3D, and photography.
Users can narrow their search by selecting AI prompts only for the language model they are interested in. Each of these groups contains dozens of subject topics, arranged alphabetically.

Another way to find the necessary tips is to enter a corresponding query in the search bar on the main page of the site.

Among other things, the PromptBase home page contains a selection of new, recommended, and popular queries. Each group contains their names and prices to optimize search.

The service provides training materials for query developers. With their help, you can master this profession and start providing relevant services to earn money.

Integration with the Stable Diffusion neural network gives users access to AI image generation tools. They can then upload the requests they have prepared to the catalog for sale.

Another useful feature of PromptBase is a database of resumes and vacancies for query developers that is available to everyone.

The average prices for neural network prompts on this prompts marketplace range from $1.99 to $4.99 per unit. The service charges the seller a 20% commission for each sale. To replenish your account and withdraw funds, the Stripe payment system is used.
PromptHero


The PromptHero service provides users with an extensive database of the best prompts for Midjourney, Stable Diffusion, ChatGPT and Openjourney. The platform successfully competes with Prompt Base, although it was launched later. Today, it is considered one of the largest online catalogs of tips for generative neural networks.
A simple and intuitive interface makes the service very convenient for novice users. To find the necessary content, just use the search bar on the main page. Selecting language models simplifies and speeds up operations.

In addition to the search bar, it is possible to search for prompts for ChatGPT and other AI systems in the "Featured", "Hot", "Top", and "New" sections. Links to them are posted on the main page. There, accordingly, selected, most popular and new queries are published.

All text prompts for neural networks in the PromptHero library are divided into thematic categories: portraits, photography, anime, fashion, concept art, architecture, and so on.

The filter system helps users sort the queries they are interested in according to certain criteria for a more accurate and quick selection.

One of the sections of the platform is the Course Academy portal. Training courses for developers of such content are available here.

Another section of this AI prompt library provides resources for users to communicate. They can order the development of the AI tips they need here and communicate with like-minded people.
The AI Models section contains AI models for chatbots and image generators.
The built-in AI Jobs portal allows you to publish vacancies and find projects in this area.

PromptHero is not a classic marketplace, since it does not have functionality for making purchase and sale transactions between users. The content posted here is offered to everyone absolutely free of charge. This contributes to the influx of audiences to the site, but does not allow query developers to make money from selling them.
PromptSea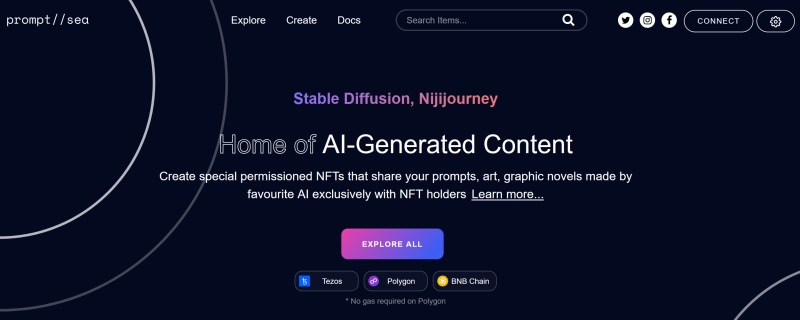 The new prompt marketplace, PromptSea, allows you to trade clues for neural networks in the form of digital NFT tokens. Descriptions are automatically digitized when added to the platform catalog. Buyers are purchasing not just a piece of text, but a unique, non-fungible token. This format confirms the originality and authenticity of the queries contained here, and also protects them from copying.
Connect Facebook Lead Ads to CRM, Email, SMS & Spreadsheets
Use SaveLeads to connect Facebook to different apps. Over 120+ ready-made integrations available now
Automate the work with leads from the Facebook advertising account
Empower with integrations and instant transfer of leads
Don't spend money on developers or integrators
Save time by automating routine tasks
Test the work of the service for
free
right now and start saving up to 30% of the time!
Try it
The service is just gaining popularity, so its content library is inferior in volume to PromptBase and PromptHero.
The AI tips posted in the catalog are divided into thematic categories, including digital art, photographs, graphic novels, social media posts and text content.

The catalog of requests is located directly on the PromptSea main page. All NFTs published there are provided with information about their name, value, language model and prevalence (rare tokens are more expensive).

The Marketplace offers an original system for conducting transactions, with the tips protected by encryption. Only the seller and the buyer can read them.

The platform base contains content for many generative neural networks, including prompts for Chat GPT, DALL-E 2, Midjourney, Stable Diffusion, Jasper, Novel AI, NightCafe, Niji journey.
When added to PromptSea, a new request is tokenized and entered into the blockchain. The process takes some time, so the token does not appear in the catalog immediately. The result is a 100% unique and authentic digital artifact with copy protection.

Tips purchased on PromptSea can not only be used for their intended purpose, but also resold on other marketplaces.

The platform accepts only Polygon, Tezos and BNB Chain cryptocurrencies as payment methods for the AI art prompt. Users with a free account can upload up to 200 MB of content to the catalog and provide the service with a 10% commission on each transaction. A paid account waives this fee and allows you to add an unlimited number of NFT clues.
FlowGPT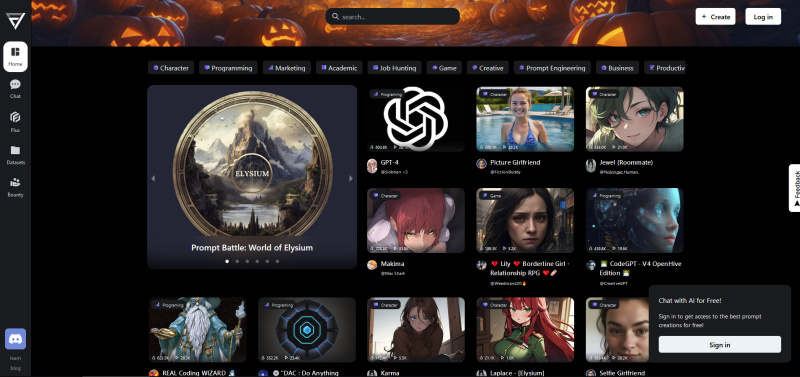 The FlowGPT platform provides an extensive Chat GPT prompts library. This marketplace contains tips exclusively for OpenAI's well-known generative AI model. On the one hand, this makes it too narrowly focused and cuts off users of other popular neural networks, and on the other hand, it allows you to fill the library with the maximum amount of relevant content, including queries for different versions of the GPT algorithm.
A user-friendly interface without unnecessary details makes it easy to find what you need. The search module on the main page of the service allows you to select the necessary tips in a matter of seconds. To increase the speed and accuracy of the process, you can use the built-in chatbot with AI algorithms.
The FlowGPT directory has useful filtering functions for ChatGPT prompts. The user can select the content using a set of tags available in several languages.

All tips in the marketplace library have detailed information: title, description, illustrations, tags and designations.

The search process is significantly simplified and speeded up by the conventions of queries in the catalog: Trending, Most Popular, Most Liked, Most Saved, Latest. With their help, you can sort tips by criteria.

In addition to the groups listed, the FlowGPT catalog contains a number of thematic categories: LinkedIn, UX development, school teaching, virtual character creation and others.

The function of testing prompts directly in the service helps you quickly determine the best prompts for ChatGPT by testing their capabilities in a few clicks.

The FlowGPT platform has its own forum and an extensive knowledge base with a lot of useful information. In addition, there is a bounty system and a hint hackathon that are beneficial to users.

All content posted on the platform is offered absolutely free. This advantage provides it with additional popularity.
AIPRM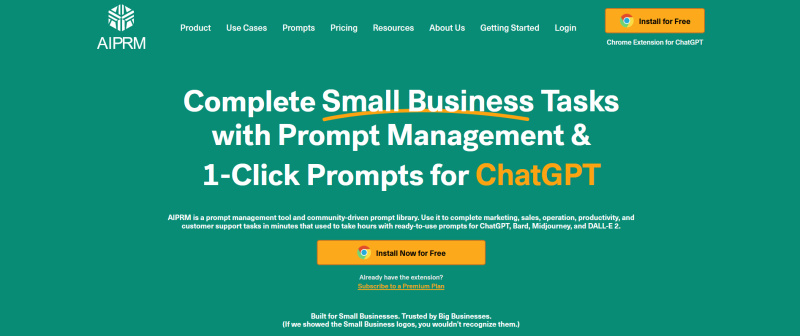 Like some other services from our selection, AIPRM does not belong to the classic prompt marketplaces, since it does not have functionality for concluding transactions between users. At the same time, this is one of the most famous and popular AI prompt libraries.
The basic version of the service is represented by a free extension for the Google Chrome browser. By installing the plugin from the Chrome Web Store, users get access to various effective hints for ChatGPT, Midjourney, and DALL-E.
AIPRM offers an extensive content base. Each user can add their own queries to it and make them available only to themselves or to the entire service audience.

Templates in the platform catalog are conveniently sorted by topic. Each of them corresponds to a specific area: programming, marketing, copywriting, SEO, working with content, and so on.

You can search for tips not only in the catalog, but also by keywords, using the function of sorting content by most popular or new.

Each request in the AIPRM database has a topic, description and counters (views, likes, and comments). Before sending a request to the neural network, you can immediately select the language of its response.

Variables allow you to make hints more precise and specific, and to reuse them for other tasks.

The platform provides a convenient online storage of requests. They can be accessed from any device.

In addition to the free standard version, AIPRM has a line of paid tariff plans. Plus ($9 per month) allows you to store up to 10 private queries, choose their tone and style, and add up to 8 prompts to your favorites. Pro ($29 per month) provides you with access to verified queries, as well as the ability to add up to 16 templates to your favorites and create up to 40 private queries. Elite ($79 per month) increases their number to 120 private and 48 favorites, provides admin rights and allows you to connect to 10 collaborators. Business ($499 per month) provides access to 15 users and includes the Small Business Prompt Pack.
Conclusion
Most of the marketplaces described in our review have extensive libraries of hints for all popular neural networks. There, you are guaranteed to find prompts for Midjourney, GPT and others. The largest among them are PromptBase and PromptHero. The average prices of the first are $2–$5 per prompt, while the second offers them completely free of charge. No less promising is the PromptSea service, all of whose content is hosted in the format of unique digital NFT tokens. FlowGPT is a specialized query library for the famous AI chatbot ChatGPT. The AIPRM service is designed as a browser extension for Google Chrome. It has an extensive catalog of free templates for different language models, as well as a line of paid plans with additional features.
***
Use the SaveMyLeads service to improve the speed and quality of your Facebook lead processing. You do not need to regularly check the advertising account and download the CSV file. Get leads quickly and in a convenient format. Using the SML online connector, you can set up automatic transfer of leads from Facebook to various services: CRM systems, instant messengers, task managers, email services, etc. Automate the data transfer process, save time and improve customer service.