Surely many of you have heard or read positive reviews about Airtable. More than 300K companies already use this service and the platform's client base is growing steadily. In this article, we will review the main functionality, talk about the pros and cons, and also consider several possible Airtable alternatives.
What Is Airtable?
Airtable is a cloud-based data and spreadsheet solution. This is a service for deploying databases that adapt to almost any task. On the Airtable platform, you can create CRM systems, various galleries, task managers, content calendars, marketing campaign trackers, contact lists, product catalogs, etc.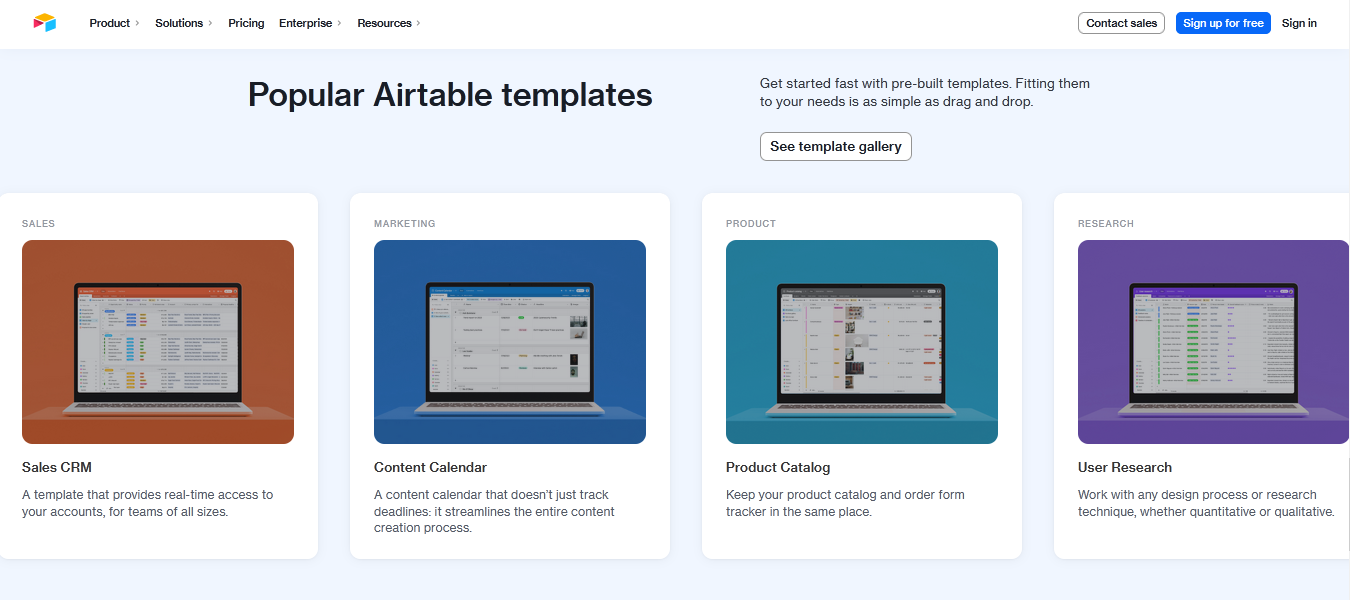 How it works? Airtable is a no-code tool for creating and managing relational databases. In simple words, these are sets of interconnected tables with different information. Perhaps you have never thought about it, but a lot of our lives can be represented in a tabular format. Favorite movies, wish lists, plans for the next year, daily routine, training schedule, current tasks at work, scheduled meetings - all this and much more can be recorded in a table. Airtable provides a complete set of tools for efficient data storage. Users get not just a table or a set of tables, but also a wide range of functionality for managing and using the database.
What features does Airtable provide:
Creation of tables with data of various types;
Defining relationships between tables;
Use of various data presentation options;
Visualization of information in graphic format;
Creation of scripts for processing table records;
Data import (Excel, Google Sheets, CSV file, etc.);
Organization of joint work with databases;
Automation of work processes;
Extensions to enrich the functionality;
Connecting to other services and applications through the public API.
Airtable is a low-code solution that allows anyone to deploy a database on their own. Have you heard of SQL? Not? It's OK. You are still accepted into the club and can easily create and manipulate databases without a single line of code and SQL queries. Optimize processes, organize data warehouses, manage projects, and keep your team productive. Airtable is a huge stack of tools and features that allow you to create custom and user-friendly workspaces.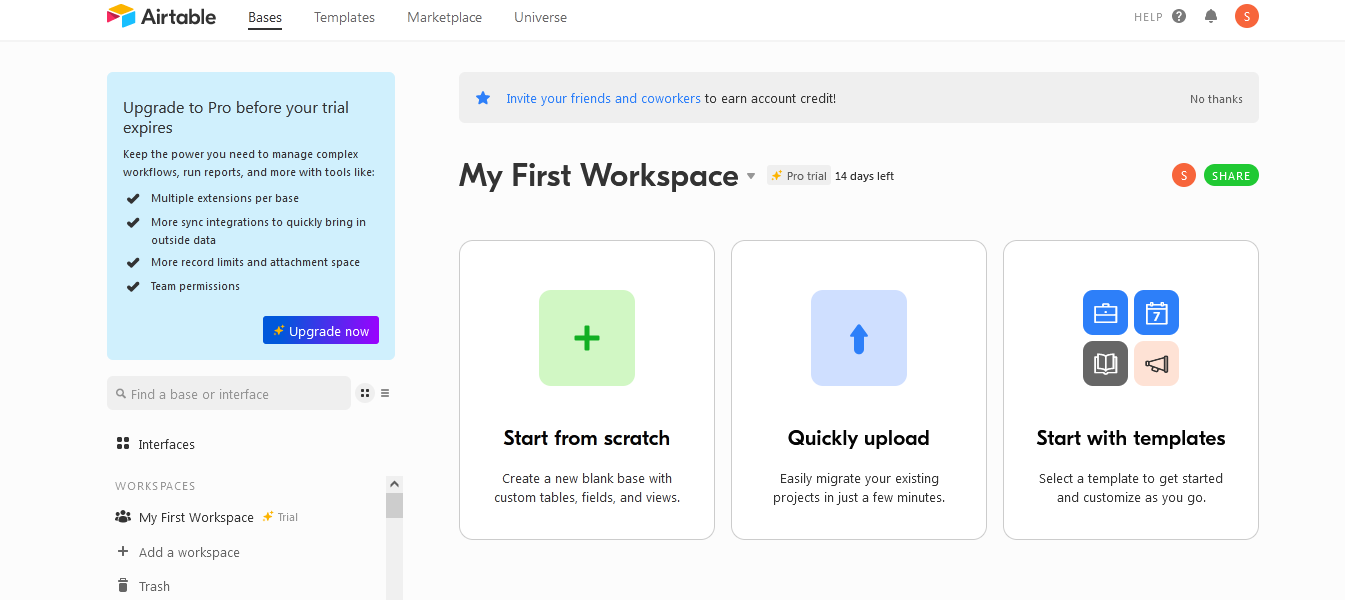 The Pros and Cons of Airtable
There are no perfect services, and Airtable is no exception in this regard. The platform has many advantages, but also some disadvantages. Let's look at the main pros first:
Simple and clear interface;
Large selection of ready-made templates;
Various data presentation options;
Extensive customization options;
Variety of data types (28 types);
The possibility of organizing joint work;
The presence of a large amount of educational content;
Ability to use integrations and automation.
Airtable is a universal solution with which you can both increase individual productivity and build complex business processes. The low-code format allows you to lower the entry threshold so that anyone can use the functionality of the platform. Data can be displayed in various views: table, kanban board, garley, timeline, etc.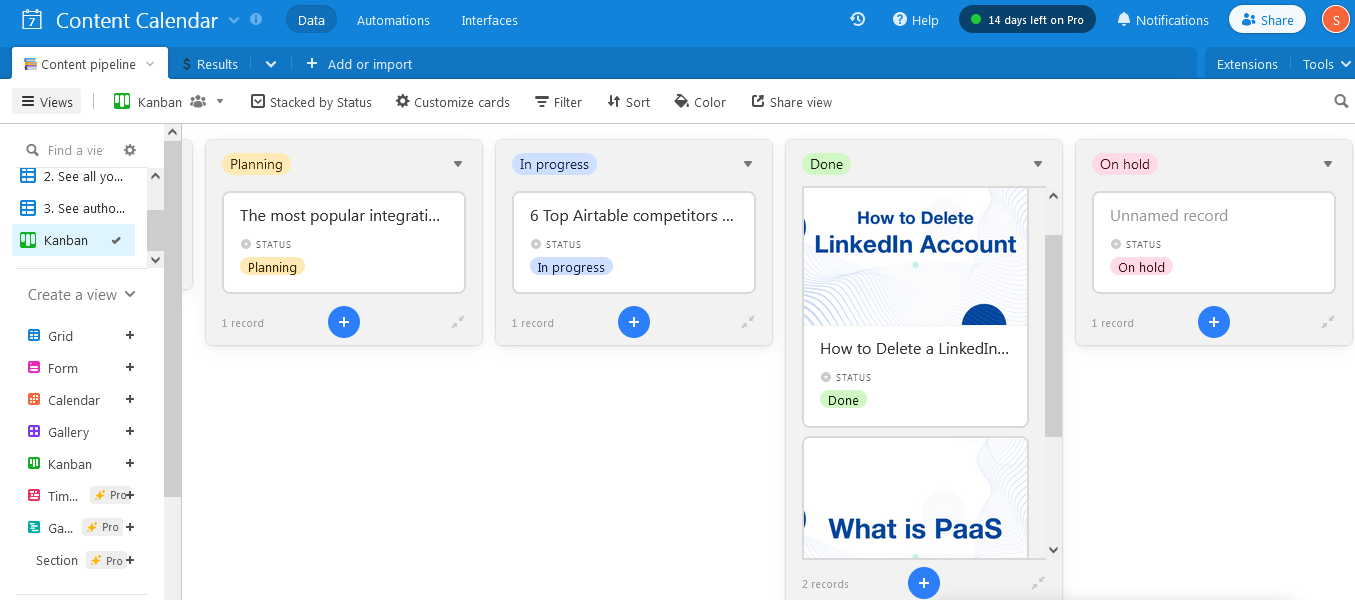 Now let's move on to the disadvantages of the Airtable platform. Users are provided with a free package, but it is only suitable for personal use and small teams. You will have to pay for expanding opportunities, so the implementation of serious projects will require financial investments.
Airtable's impressive feature set takes time to master. Naturally, it all depends on the tasks that the user sets. Many of us have been using various services for years, without even realizing that we are using only a small part of the available functions. Airtable is about the same story. A user-friendly interface, a familiar data structure and ready-made templates provide an easy and quick start. But for professional use of the tool, you need to undergo some training.
Another disadvantage of the service is the lack of detailed settings for access to various parts of the database. The platform offers four statuses for database users: Creator/Owner, Editor, Commenter, Read-Only. More fine tuning of access is not yet provided. It will not be possible to close some of the records in the database for certain users, which leads to the creation of additional tables. However, Airtable is a live and evolving project, so you can count on a solution to this problem.
Airtable is a really powerful database creation, workflow and project management tool. But, of course, this is far from the only solution on the market. Let's take a look at a few notable alternatives to Airtable.
Google Sheets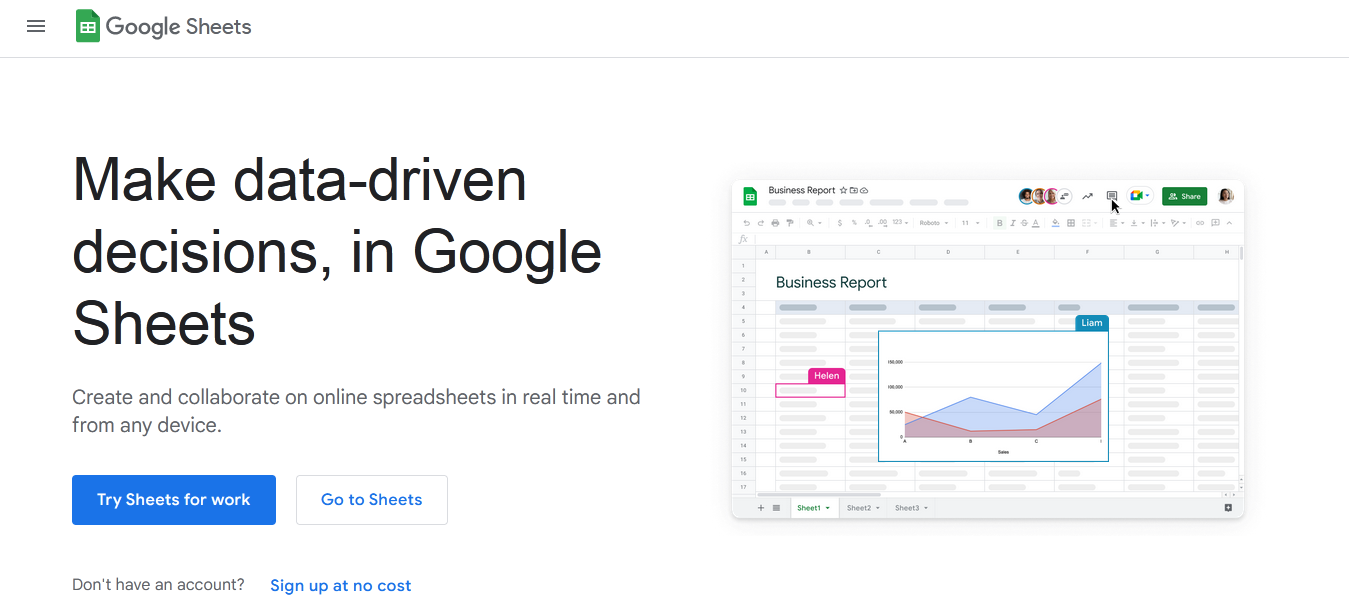 When it comes to free airtable alternatives, people often think of Google Sheets. This platform needs no introduction, since most experienced PC users have come across it in one way or another. The Google Sheets cloud service provides a complete set of spreadsheet tools. The platform is actively used for storing and processing various data. Using spreadsheets, you can set up workspaces that act as task managers, CRM systems, notebooks, planners, databases, etc.
Main features of the service:
Creation and filling of spreadsheets;
Setting different access levels;
Import/export of data (xlsx, csv);
Organization of joint work with files;
Functionality for processing and processing data;
Adding comments and notes.
Google Sheets is a popular spreadsheet service. A huge number of users and companies prefer this particular tool for organizing workflows.
Trello
Cost: free package available, paid packages from $5 per user/month

Trello is a project management, workflow and issue tracking tool. This is a great solution for streamlining team interactions and creating a productive workspace. The Trello board allows you to unite all project participants on one platform, set up effective communication, visualize and standardize processes.
Connect Facebook Lead Ads to CRM, Email, SMS & Spreadsheets
Use SaveLeads to connect Facebook to different apps. Over 120+ ready-made integrations available now
Automate the work with leads from the Facebook advertising account
Empower with integrations and instant transfer of leads
Don't spend money on developers or integrators
Save time by automating routine tasks
Test the work of the service for
free
right now and start saving up to 30% of the time!
Try it
What you can do in Trello:
Set up transparent workflows;
Control the execution of tasks.
Use different options for presenting data;
Implement automation solutions;
Use ready-made templates for various tasks;
Use extensions and integrations.
The Trello platform is a versatile tool that can be used as an issue tracker, CRM system, content plan, knowledge base, and more.
Asana
Cost: free package available, paid packages from $10.99 per user/month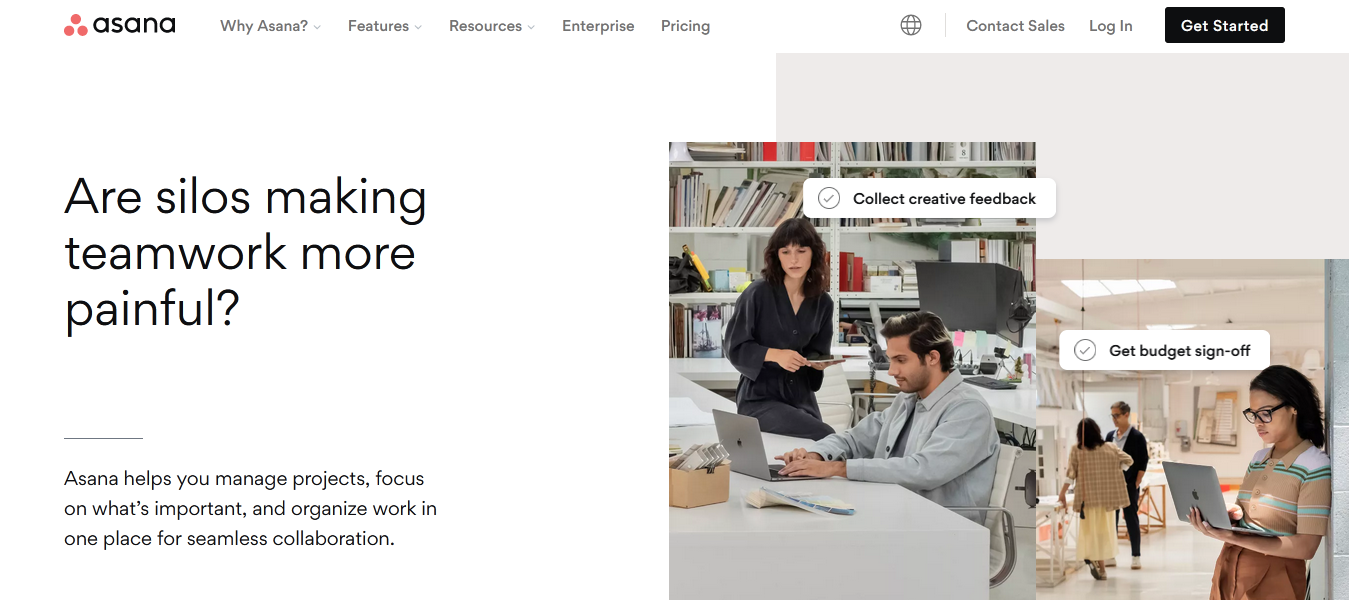 Asana is another serious contender for Airtable when it comes to task tracking, collaboration, and project management. This service allows you to coordinate the efforts of the team, track the productivity of processes, and ensure high-quality communication.
Let's take a look at some of Asana's features:
Creation of automated workflows;
Setting goals and monitoring their achievement;
Use of various data views (table, kanban board, Gantt chart, etc.);
Formation of reports in real time;
Use of forms for requests for the performance of a task;
Using integrations to expand functionality;
Customization of data fields for various tasks.
Asana can compete with Airtable in terms of workflow organization and project management.
Smartsheet
Cost: from $7 per user/month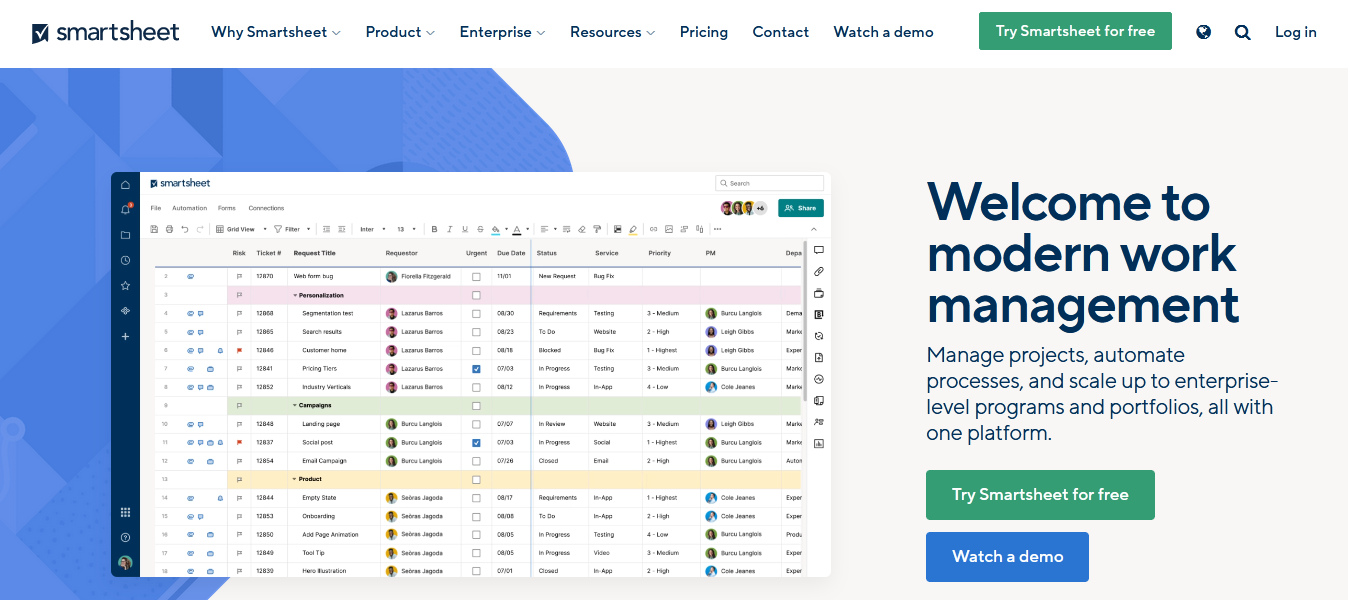 Smartsheet is an intelligent online spreadsheet tool. This service helps to store/process various data, automate processes and manage projects. Smartsheet can solve both simple tasks (acting as a primitive CRM or task manager), and be a platform for building complex multi-component enterprise-level processes.
Key Features and Features of Smartsheet:
Convenient work with data in a table format;
Functionality for communication and organization of collaboration;
Availability of ready-made integrations with various services;
Tools for implementing automation;
Flexibility to customize the workspace;
Availability of templates for a quick start.
Smartsheet Cloud Service is a no-code spreadsheet and workflow management tool. This is another representative from the Airtable database alternatives list. With Smartsheet, you can create a database and efficiently manage records. The wide functionality of the service allows you to customize the workspace and easily scale projects.
ClickUp
Cost: free package available, paid packages from $5 per user/month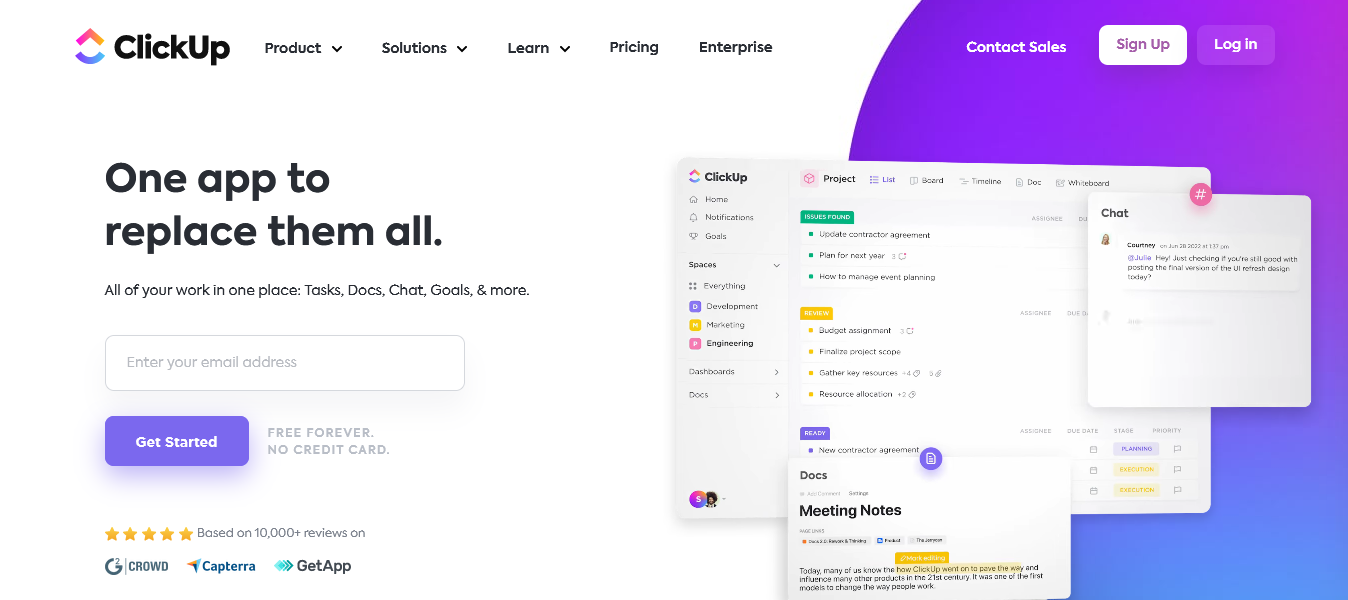 ClickUp is an application that allows you to combine all workflows in one interface. With this platform, you manage projects, track tasks, share data, set goals, and track progress.
What else can you do in ClickUp:
Customize and visualize workflows;
Organize effective teamwork;
Use different data representations;
Implement automation to get rid of routine operations;
Use ready-made project templates;
Create a convenient visual database;
Analyze processes, create reports, visualize key metrics;
Work in a single interface with websites, applications, documents.
ClickUp is a great solution for both individual use and teamwork. This service provides rich functionality for the implementation of most processes and tasks in a single interface.
Quickbase
Cost: starts at $600 per month (up to 50 customizable business apps)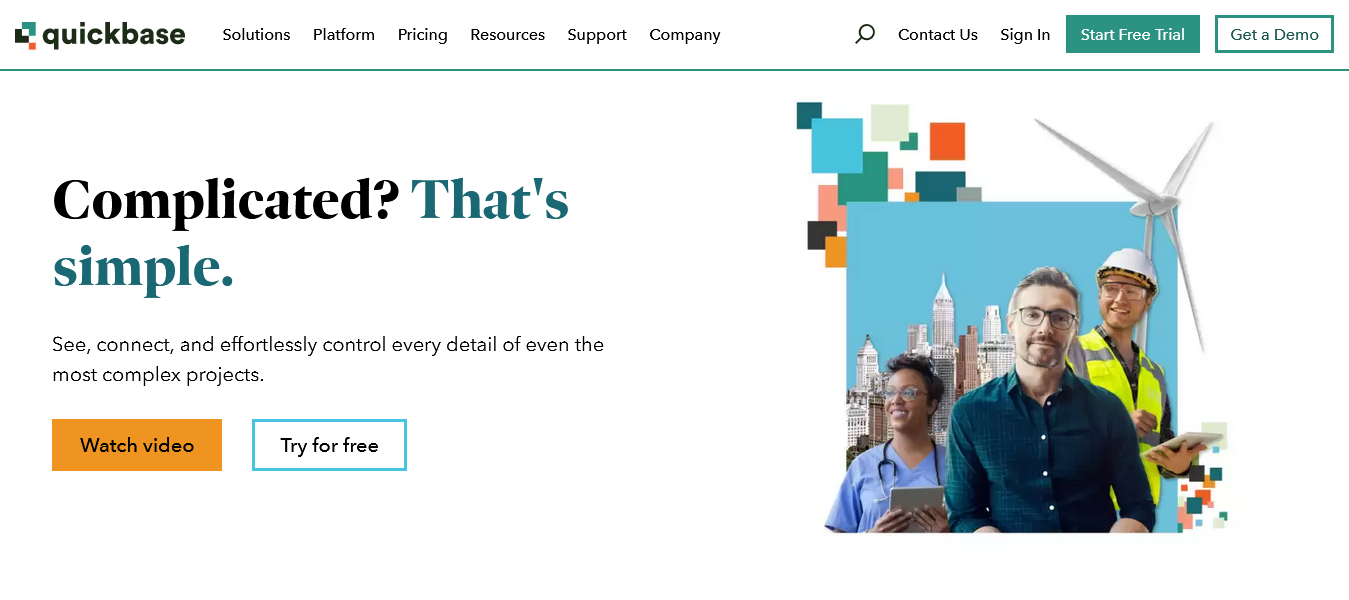 Quickbase is an online business app builder. This no-code tool allows you to deploy an efficient workspace for projects of any direction and scale. Business gets the opportunity to collect all processes and data in one platform for effective management and control.
Features of the Quickbase service:
Development, deployment and maintenance of the project without the use of code;
Automation of work processes;
Ability to dynamically update the application and transform data;
Tracking information in real time;
Using integrations to interact with various services and process data from different channels.
The Quickbase platform is a one-stop solution for managing all segments of a project. With this tool, you can create business applications for industries, healthcare facilities, educational institutions, real estate agencies, construction companies, etc.
Afterword
In this article, we reviewed the features and functionality of the Airtable platform. This is a really versatile and interesting tool that can solve a wide range of problems. We also got acquainted with alternatives and competitors of Airtable. It is always difficult to choose among high-quality services with a large set of similar functionality. We hope that our review article will at least slightly simplify the process of choosing the right platform for your tasks.
***
Use the SaveMyLeads service to improve the speed and quality of your Facebook lead processing. You do not need to regularly check the advertising account and download the CSV file. Get leads quickly and in a convenient format. Using the SML online connector, you can set up automatic transfer of leads from Facebook to various services: CRM systems, instant messengers, task managers, email services, etc. Automate the data transfer process, save time and improve customer service.