Slack is one of the best corporate messengers and Facebook is the most popular social network. For many companies, these services are included in the list of constantly used tools. This article will be useful for organizations that use Facebook as a platform for marketing and lead generation, and Slack as their main corporate messenger. Below, we'll show you how to set up automatic notifications in your Slack channel so that sales managers can quickly and conveniently receive data on new leads from Facebook.
***
Facebook with its huge audience is an excellent platform for advertising campaigns. The social network offers a whole range of tools for promotion, communication with customers and lead generation. Facebook lead forms allow you to accept applications and collect user contacts. This simple tool helps you grow your business and expand your customer base even without your own website or landing page.
How does Facebook lead generation work? An advertising offer is made in the form of a special form, with the help of which the client answers questions and fills in various fields. Thus, through Facebook, customer can order a product or consultation, subscribe to a service, etc. Leads are recorded in the advertising account, and the responsible employee must regularly check for new orders and process them.
A quick response to customer requests on Facebook is an essential factor for high-quality lead processing and increasing customer loyalty. However, it is not always possible to constantly log in and monitor the FB advertising account. One of the most effective solutions to this problem is notifications of new leads in the messenger. For example, it could be a Slack channel.
Slack is a convenient corporate messenger with impressive functionality and a large number of settings. Employees can start different channels for certain departments or tasks. For example, you can create a special channel and connect managers responsible for processing leads from Facebook there. If you set up automatic notifications to such a channel about new orders via Facebook, then the work of managers is greatly simplified, and the speed of processing leads increases.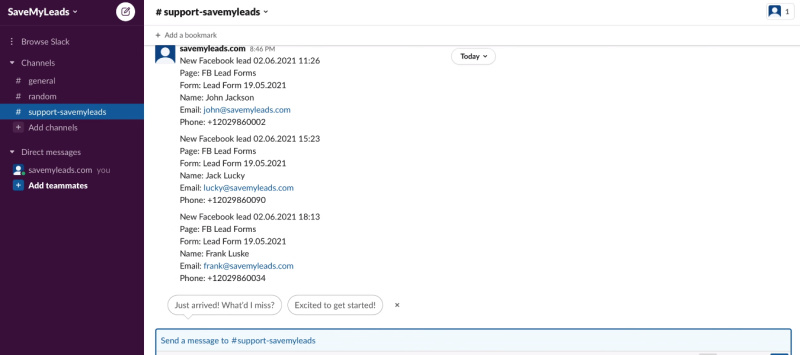 How to link Facebook Ads and Slack channel
Almost all modern services come with the ability to create links with third-party systems. If there are no suitable ready-made solutions for integrations, then you can turn to programmers for help. However, a company does not always have an IT department, and hiring specialists specifically to create integrations is a rather costly and irrational solution. What to do if you need to link two services, but you don't want to allocate a budget for the services of IT specialists and spend an impressive time resource? You can use special online connectors that help you create integrations without special knowledge and significant financial costs.
SaveMyLeads is a cloud no-code tool that allows you to set up Facebook and Slack integration in a few minutes. The online connector automatically tracks changes in the data source and triggers certain actions in the receiver. In our case, the SaveMyLeads system will upload new leads from the Facebook advertising account and send notifications to the selected Slack channel. This automated process is set up in just a few steps.
Connect Facebook Leads Ads
Register on the savemyleads.com website and create a new connection in your personal account.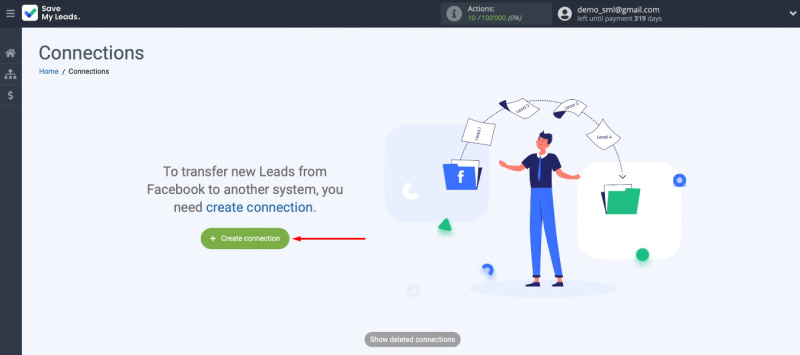 From the templates of ready-made integrations, select the desired option — Slack (Channel Notification).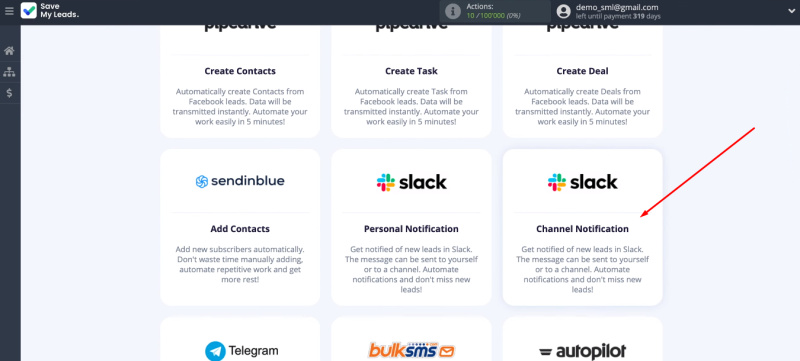 Now let's set up the data source. Connect a Facebook account to the SaveMyLeads service.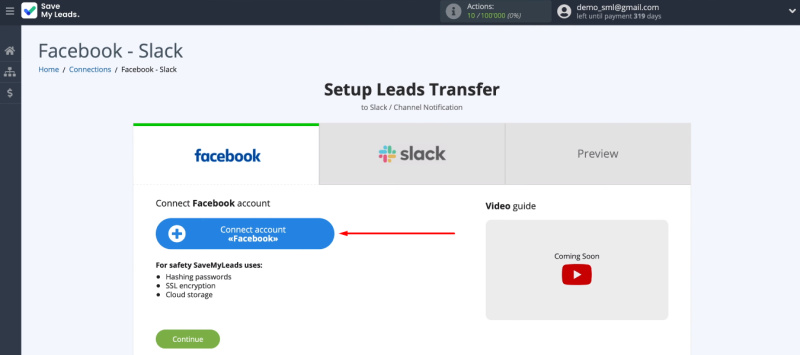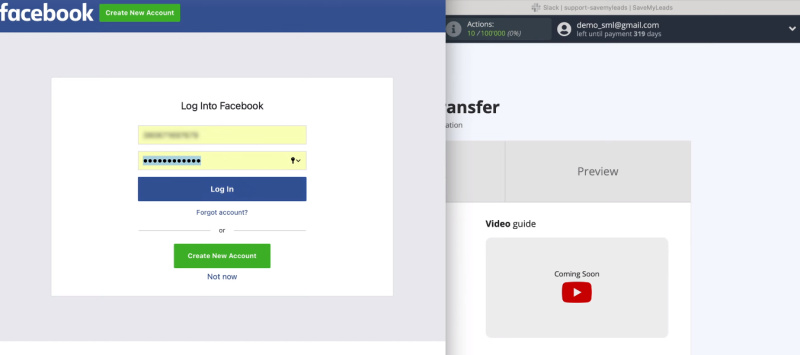 Click the "Edit Settings" button.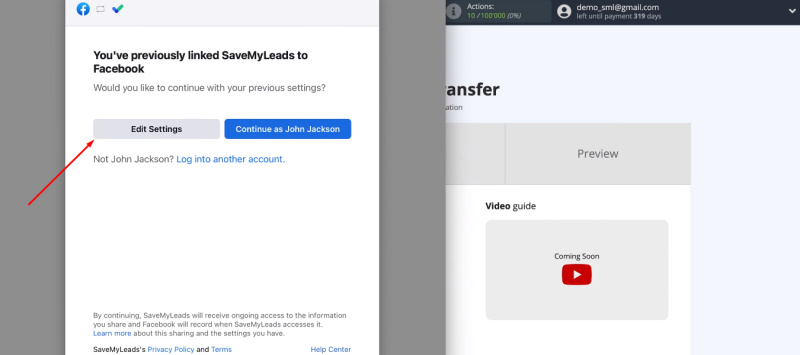 Select advertising pages with which we can work in the future in the SaveMyLeads system. It is possible to select all available pages at once.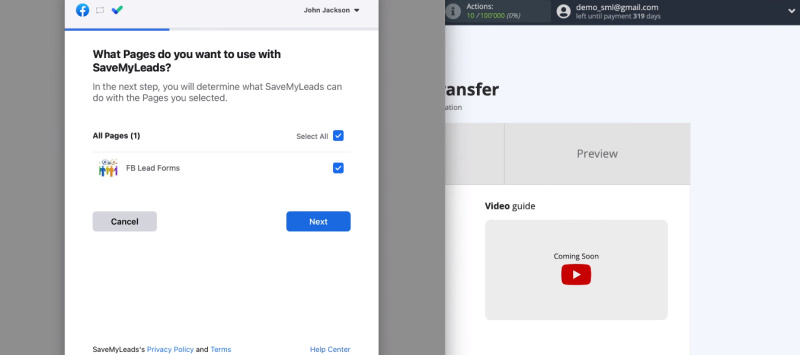 All access checkboxes must be enabled.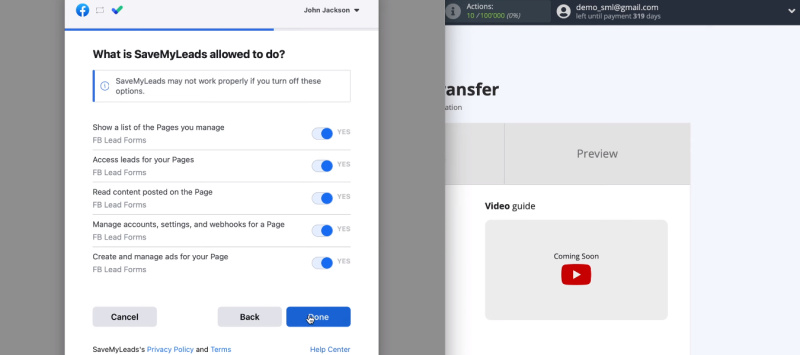 We linked the Facebook account and the SaveMyLeads system. Now we press the "OK" button.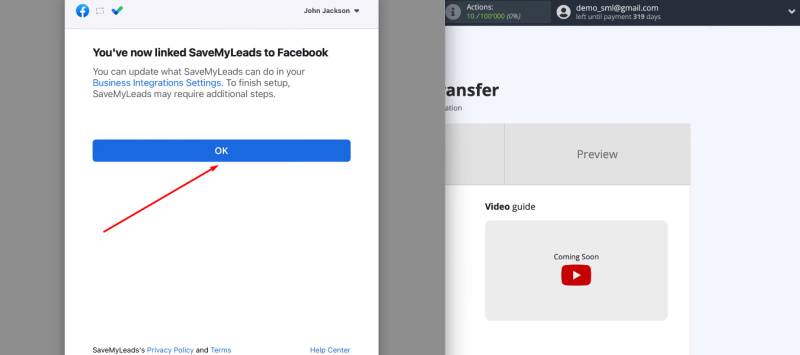 Continue to configure the data source. Select the Facebook account that we added from the list.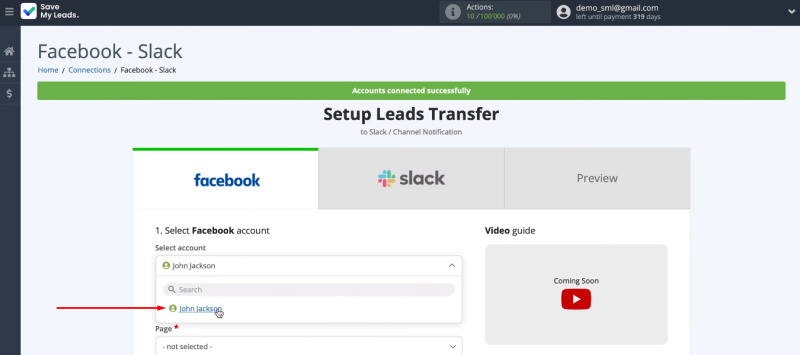 Define an advertising page and a lead form, according to which leads will be uploaded. If you have multiple forms specified and want to work with each of them, you need to create separate connections. When all options are selected, click the "Continue" button.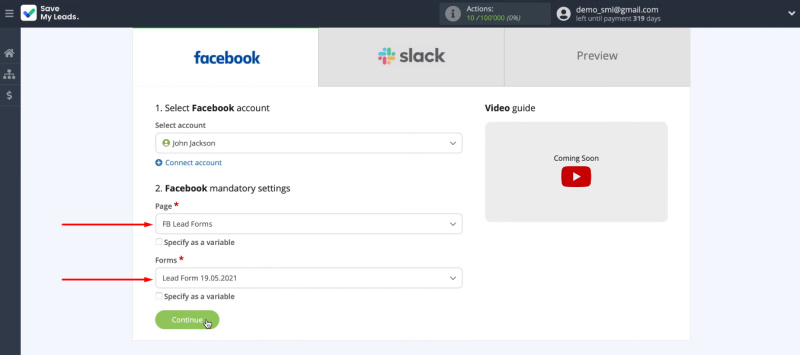 Connect Slack
Now let's connect the Slack account.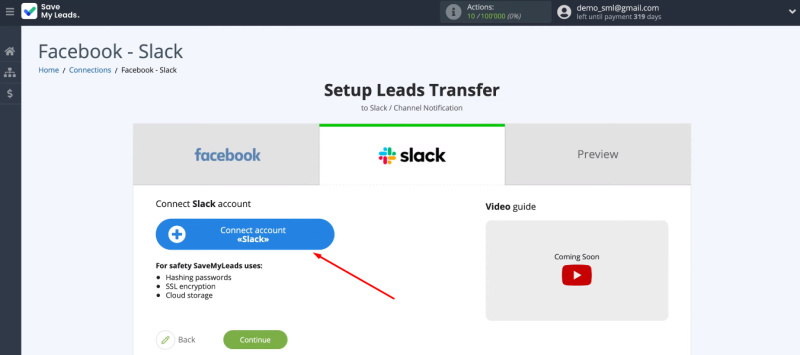 We need to specify the workspace's Slack URL.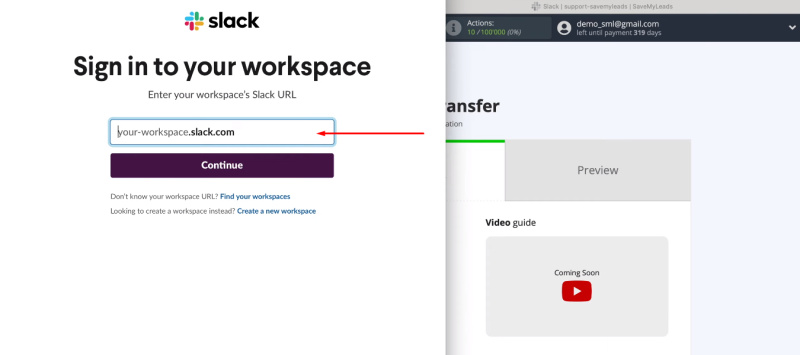 Go to Slack and copy the URL.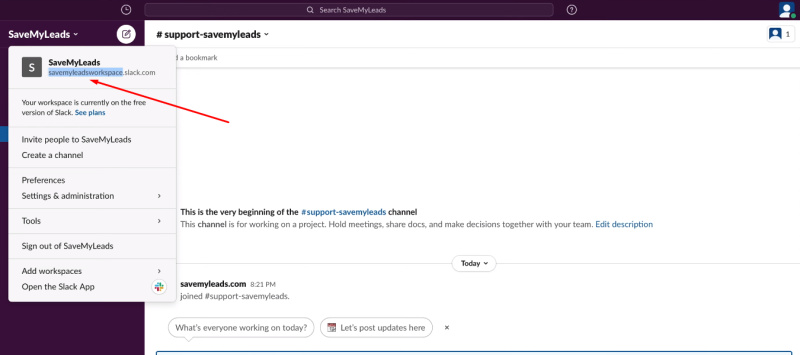 Return to the SaveMyLeads system and paste the copied URL.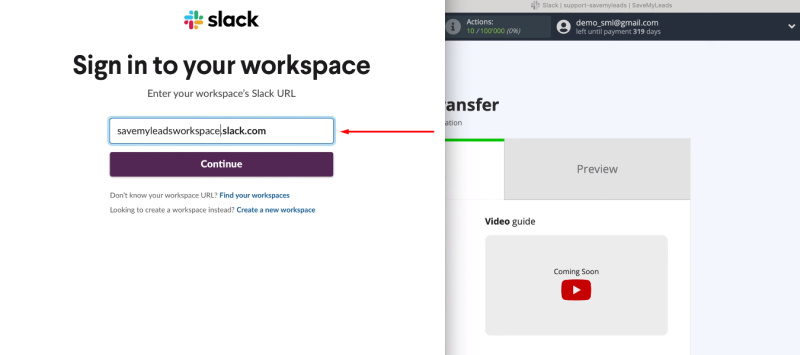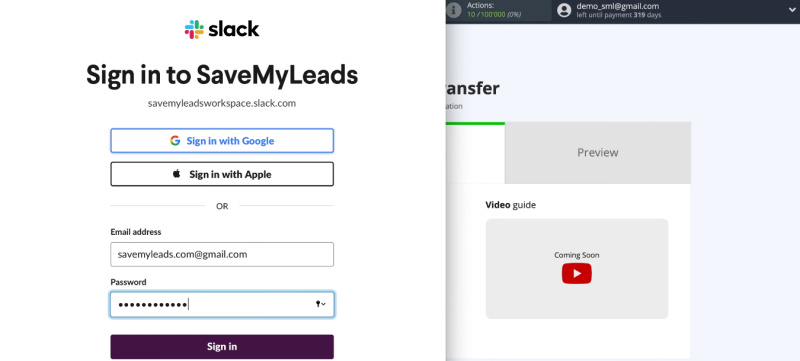 Provide access to the SaveMyLeads service to work with a Slack account.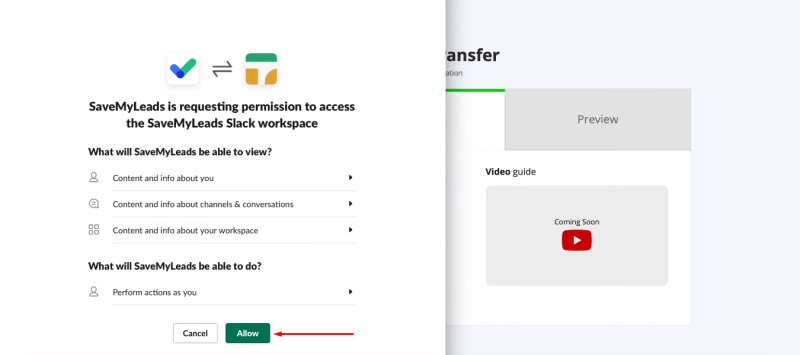 The Slack account you added appeared in the list. We select it.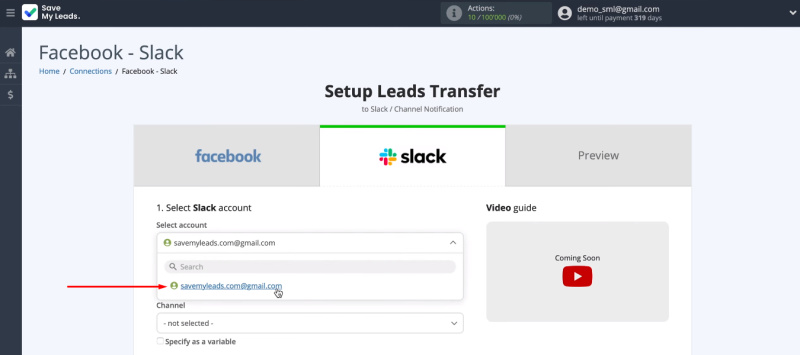 Select a channel to receive notifications of new leads from Facebook.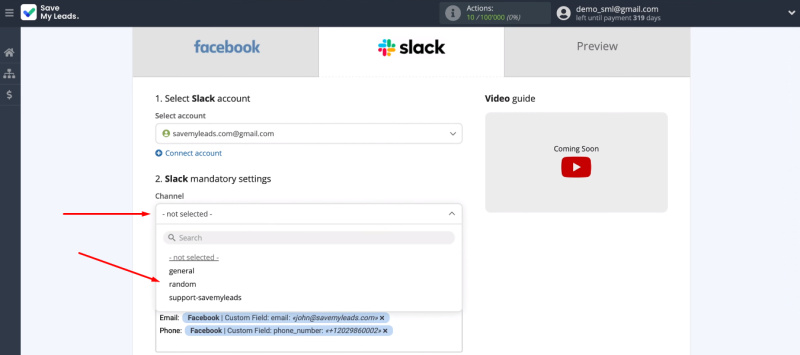 Now we need to customize the text of the message. The system offers its own notification format, you can use this option.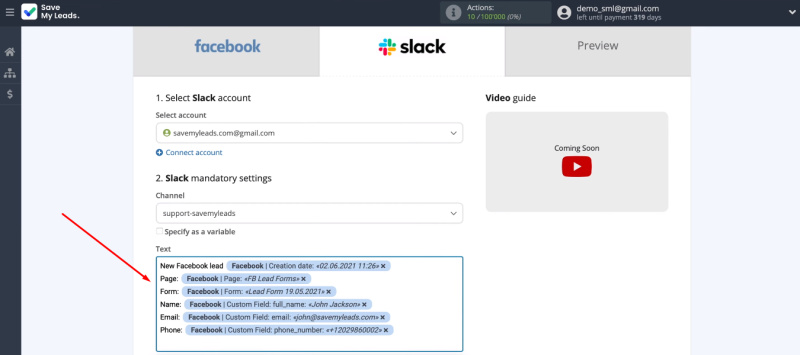 To customize the message, you can use the variables from the drop-down list and add text manually.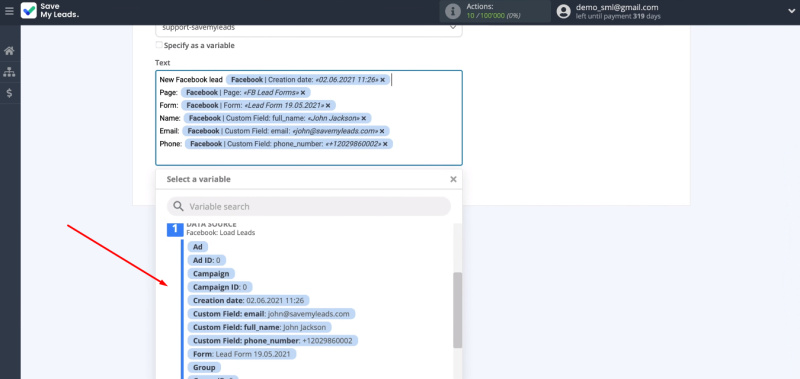 In the next step, we see an example message that will be sent to Slack. Sending the test message.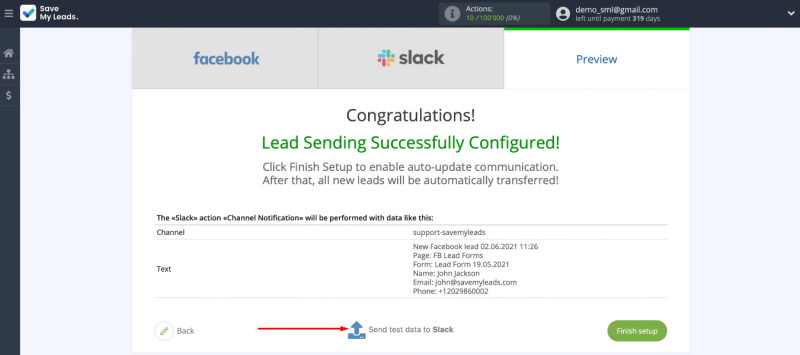 Go to Slack and check for a test notification.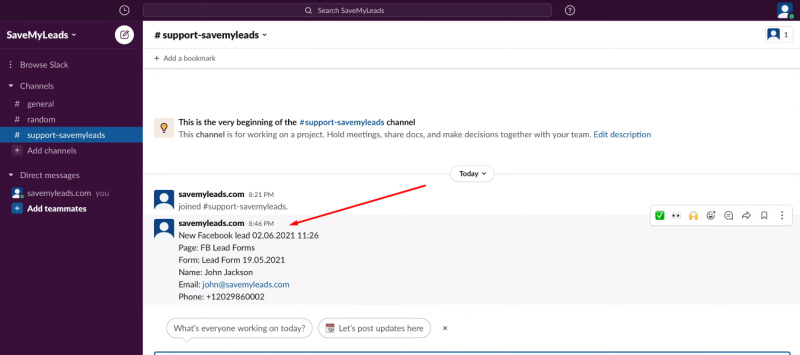 Turn on auto-update
Return to the SaveMyLeads workspace. The final step in configuring the integration is enabling auto-update. To do this, click the "Finish setup" button.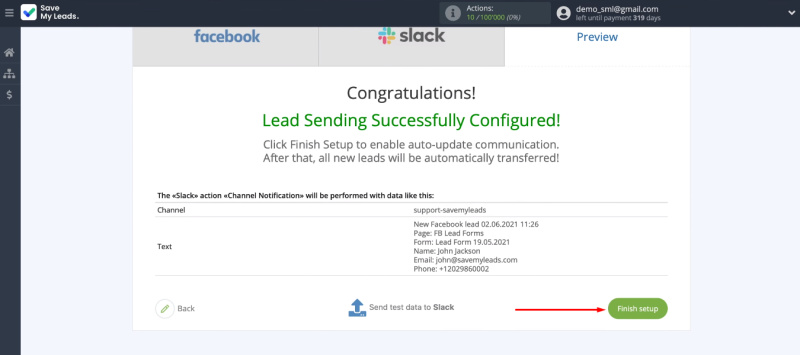 You can change the integration name. Go into the settings, specify the desired value and save.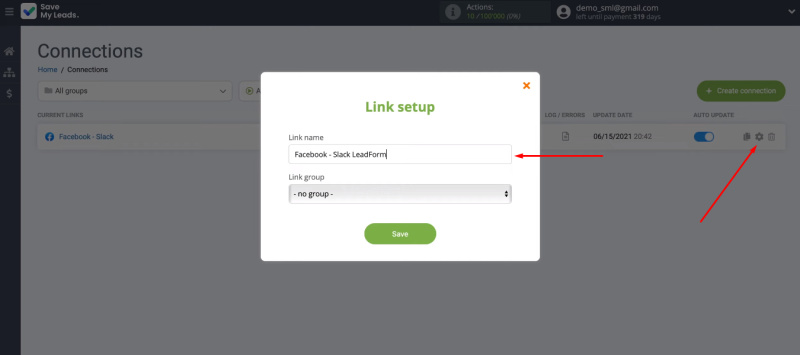 Conclusion
Using the SaveMyLeads online connector, we set up Facebook and Slack integration. The created connection provides automatic notifications of each new lead from Facebook to the Slack messenger channel. Managers receive data on a new order quickly and in a convenient format (the type and content of the message is configured when creating the integration).
Connect applications without developers in 5 minutes!
SaveMyLeads is extremely easy to use. Linking Facebook and Slack does not require special knowledge and skills. There is also no need to study the APIs of the connected systems and keep track of their updates. It only takes a few minutes to increase the efficiency of your sales team and automate the upload of leads from Facebook to Slack.