The Zoom platform gained popularity in 2020 after the outbreak of the COVID-19 pandemic and has since been considered one of the most famous video conferencing service providers. It has many useful features and characteristics, including HD video format selection, cross-platform messaging, end-to-end encryption, web-based access, and both desktop and mobile versions of the application.
However, in this segment, there are many other services for private and group video calls. Many of them are equal to or even better than Zoom on a number of criteria, such as the maximum number and duration of events, customization tools, the number of pre-installed integrations, pricing, and much more. Equally important is enhanced security, which Zoom does not always boast. The shortcomings in this area are well illustrated by the concept of "zoom bombing", which is widespread today – a situation where third-party users (often hackers or trolls) gain access to rallies on this platform. That's why we decided to review the best alternatives to Zoom for you. All the services described in this article also have considerable popularity and many advantages, which makes them worthy solutions for corporate video conferencing.
Microsoft Teams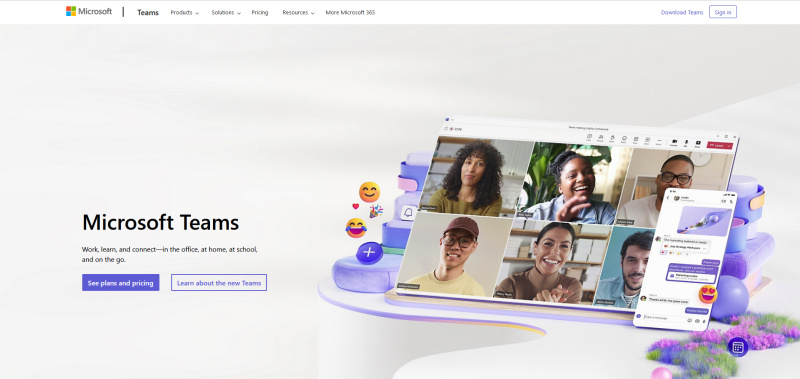 Microsoft Teams is not only a video conferencing service but also a universal platform for communication and collaboration. It is deservedly considered one of the best cloud Zoom alternatives. It has features such as chat, meetings, and file sharing, as well as a number of business applications and enterprise tools. The platform is integrated into the Office 365 ecosystem, making it the best option for Microsoft users. Teams provides easy and quick access to all popular corporate products (PowerPoint, OneDrive, Outlook, and others). In total, you can find 650 related products here. This significantly expands the capabilities of the service, making it much more convenient and functional.
Supports mass video conferences with up to 300 participants. Up to 10,000 users can join certain meeting formats.
Video chat is equipped with a set of functions: chat, screen sharing, file sharing, background change, recording, list of participants, real-time subtitles with translation, and so on.

Participation in meetings does not require signing up for Teams.

You can instantly switch from chat mode to video and audio calls (private or group) through a convenient dashboard.

The platform provides up to 1 TB of cloud space for recording online events.

There are a number of tools for collaboration, including various chat settings, whiteboarding with 41 templates (projects, workshops, brainstorms, and others), doodle fixer, automatic note sharing, presentation streaming, and so on.

In addition to the web version, Microsoft Teams offers a desktop version, a mobile application (iOS and Android), and an extension for Internet browsers (Firefox, Chrome, Edge, and Safari).

Integration with Microsoft Word allows you to collaboratively create, edit, and comment on text documents during a meeting.

Teams is considered one of the best free alternatives to Zoom. The free plan allows you to host video conferences with up to 100 participants and a duration of up to 60 minutes. Private video calls lasting up to 30 hours are also available here. Each user is given up to 5 GB of cloud space. Paid plans start at $4 per month per user. The Microsoft Teams Essentials Basic plan includes video conferencing for up to 300 participants for up to 30 hours, with 10 GB of cloud storage per user.
Google Meet


Formerly known as Google Hangouts Meet, this service is rightfully one of the most popular Zoom competitors. Until recently, it was only available to teachers and paid G Suite subscribers. Today, it can be freely used by others. It is mainly aimed at business users, but it is also quite convenient for those who have nothing to do with the world of commerce but simply want to video chat with friends. The service is part of Google Workspace, which provides its users with direct access to many of the platform's tools. For example, they can join meetings and conferences directly from their calendar, Gmail, or email invitation.
It is possible to conduct video conferences with up to 500 participants.
Integration with Google Calendar allows you to flexibly plan and manage events and meetings.

Screen sharing, custom backgrounds, and online subtitles are available even in the free version. Paid plans provide the ability to record and save online events in Google Drive, as well as access to advanced picture and sound settings (such as applying noise reduction).

To create or participate in a video meeting, you must register for a Google account.

A number of collaboration tools are available: organizers can create breakout sessions, conduct polls, and conduct Q&A events online.

There is a whiteboard tool called "Jamboard". It allows you to change the background, upload images and insert text onto the board, create and attach notes to it, and draw or handwrite on it. Each Jamboard is available for saving and sharing.

You can upload your own images as a backgrounds.
There are breakout rooms.

Integration with Outlook, Skype, and a number of other third-party services is available.

There is a function for sharing files through links to Google Docs or Google Drive.

Google Meet is a worthy representative of Zoom alternatives free. Its free plan allows you to hold video conferences with up to 100 participants for an hour. The basic paid plan of $6 per month per user offers unlimited meetings (up to 100 participants) with 30 GB of cloud storage. The $12 plan allows you to increase these parameters to 150 participants and 2 TB, and the $18 version allows you to increase these parameters to 500 participants and 5 TB.
Cisco WebEx Meetings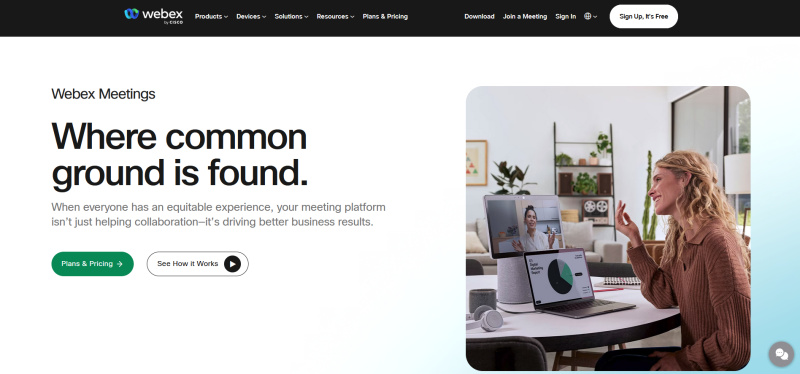 The Cisco WebEx Meetings platform is one of the most popular alternatives to Zoom. It is especially popular at the level of corporations and large businesses, but it is also suitable for companies and teams of different sizes from various fields of activity. This service boasts high-quality video and audio communications. In addition, it provides instant messaging and a number of other equally useful functions.
Connect Facebook Lead Ads to CRM, Email, SMS & Spreadsheets
Use SaveLeads to connect Facebook to different apps. Over 120+ ready-made integrations available now
Automate the work with leads from the Facebook advertising account
Empower with integrations and instant transfer of leads
Don't spend money on developers or integrators
Save time by automating routine tasks
Test the work of the service for
free
right now and start saving up to 30% of the time!
Try it
Cisco WebEx Meetings users can experience exceptional audio quality with built-in features such as speech enhancement, background noise removal, automatic volume control, and mute synchronization.
The settings that personalize the video meeting interface allow each participant the flexibility to change these parameters at their discretion.

WebEx Meetings provides tools for organizing virtual events, conducting surveys, managing people, and more. The platform complies with corporate security standards and supports integrations with more than 100 third-party applications.

The service supports video conferences with up to 1000 participants and a duration of up to 24 hours.

It is possible to use presentations, emojis, and subtitles with real-time translation.

The Gesture Recognition feature uses AI algorithms to recognize real-life gestures from participants and "turn" them into emoji.

Webex Assistant is an AI-enabled tool. Its algorithms can be programmed to recognize trigger words during a meeting and automatically create notes and summaries. This information will be sent to all participants at the end of the meeting. In addition, the AI assistant keeps a transcript of meetings in real time and is activated using voice commands.

WebEx Meetings are considered to be the best Zoom alternatives, in particular due to the presence of the Webex Webinars module. It helps you launch and manage webinars, conduct networking, create and track tickets, and perform a number of other actions through a single dashboard.

Cisco Webex Meetings offers one free and four paid subscription plans, available with a 30-day trial period. Users can create meetings with up to 100 participants lasting up to 50 minutes for free. The basic paid Business plan ($25 per month for 1 user) allows you to connect up to 200 participants to meetings and keep them for up to 24 hours. Each user receives 10 GB of cloud space.
GoToMeeting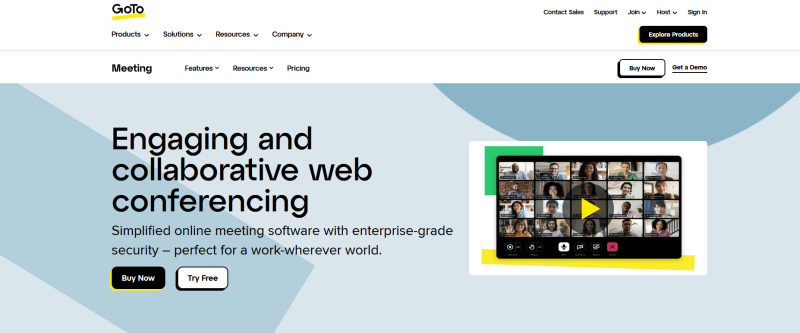 Continuing the review of alternatives to Zoom free, it is worth noting the GoToMeeting platform, which offers users a high level of quality corporate video conferencing. The presence of a wide range of scalable solutions makes this service useful for companies of various levels in various business areas. Like a number of well-known video conferencing platforms, GoToMeeting uses AI algorithms to help it automate workflows for a better user experience.
The functionality of the service allows you to hold online meetings with up to 3,000 participants. Registration is not required to join the event.
Video transmission is encrypted using the AES-128 protocol; text chat and other data transmission channels are encrypted using AES-256. Organizers can provide additional security by setting a password access rule.

GoToMeeting has the following standard features: screen sharing, personalization of the background and other conference parameters, built-in chat, subtitles with real-time translation, cloud recording, and reporting for statistics.

The service is available through a web interface, a program for Windows and Mac, and a mobile application for iOS and Android.

Smart Notes and Smart Assistant tools automate the process of taking notes during events, allowing this information to be shared among all participants.

Additionally, AI algorithms automatically create meeting captions based on various data sources, including video, audio, and text messages. After the meeting is completed, the recording and subtitles are available for sharing and searching by keywords.

GoToMeeting provides special features for document collaboration and file sharing.

It is possible to make private video calls and open session rooms.
The service integrates with many popular platforms, including Slack, Office 365, Google Workspace, Salesforce, and others.

The free plan allows meetings of up to three participants and up to 40 minutes. There are 3 paid versions with a 14-day trial period each: Professional ($12/month per user – up to 150 participants), Business ($16/month per user – up to 250 participants), and Enterprise (individual terms).
BlueJeans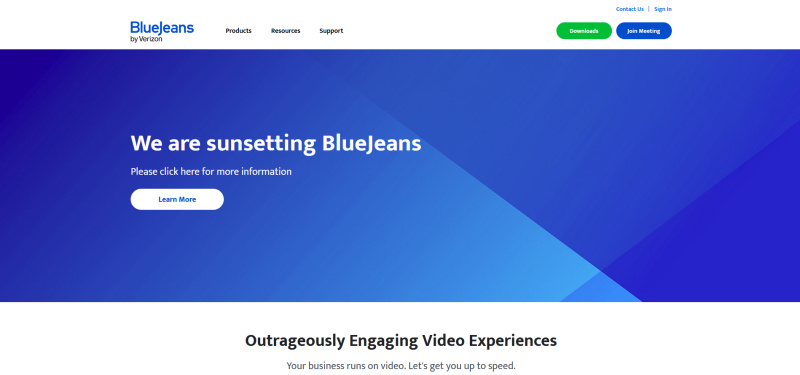 Verizon's BlueJeans platform was launched in 2009 and has since successfully established itself in the corporate video conferencing segment. Today, its services are used by such well-known companies as Adobe, Facebook, and Virgin Hyperloop.
BlueJeans supports unlimited video conferencing for up to 200 participants. The basic functions of the service include virtual backgrounds with the ability to download third-party images, real-time screen capture and sharing, and automatic subtitles with translation.
Integration with Dolby Voice provides high-quality audio with noise reduction, auto-volume control to highlight the speaker's voice, and spatial audio profiling. In addition, there is support for the HD video format.

The Enhanced Gallery View tool allows you to display up to 25 video streams simultaneously, automatically resizing them as participants join or leave. The five most recent speakers appear at the top of the screen.

The presence of the Smart Meeting feature is a strong argument to classify BlueJeans as one of the best alternatives for Zoom. It uses AI algorithms to highlight meeting highlights, user actions, and the most important messages and comments. This information is automatically transcribed and includes screen captures.

With Smart Meeting, you can create to-do lists based on collected data, share notes, and automatically send reminders and notifications to team members.

BlueJeans supports 256-bit encryption for all private and group video and audio calls.

The platform is available on desktop and mobile devices running Windows, Mac, Linux, Android, and iOS. There are pre-installed integrations with such popular services as Slack, Teams, Google Calendar, Microsoft 365, Salesforce, Zoho, and others.

BlueJeans offers four paid plans: Standard ($9.99 per month per user for up to 100 participants and up to 5 hours of recording), Pro ($13.99 per month per user – up to 150 participants and up to 25 hours of recording), Enterprise ($16.99 per month per user – up to 200 participants and unlimited recording). There is a 14-day trial period everywhere.
Conclusion
Our selection consists of free Zoom alternatives, which you can use at no cost. However, you should understand that all free plans have limitations on duration and the number of participants. However, their conditions differ significantly. Microsoft Teams, Google Meet, and Cisco WebEx Meetings allow free video conferencing for up to 100 users, while GoToMeeting only offers group video calls of up to 3 participants without payment. Microsoft Teams offers the most extensive capabilities among paid packages: up to 10,000 event participants and up to 1 TB of cloud space for one user. The platform's base plan costs $4 per month per user; Google Meet costs $6; Cisco WebEx Meetings costs $25; GoToMeeting costs $12; and BlueJeans costs $9.99.
***
Don't waste another minute manually transferring leads from Facebook to other systems. SaveMyLeads is a simple and effective tool that will allow you to automate this process so that you don't have to spend time on the routine. Try SaveMyLeads features, make sure that this tool will relieve your employees and after 5 minutes of settings your business will start working faster.