GPTs are modifications of ChatGPT that are customized for a specific purpose or task. They can be either simple or quite complex. It all depends on what exactly you want to get from them. Such mods can cover all areas of activity, from children's coloring books to real technical support. GPTs will help you understand the rules of a board game, advise your student on the correct math solution, develop original stickers to promote your brand, and more.
To create a custom GPT, no programming skills are needed at all. But before you start creating your own mods, we recommend that you familiarize yourself with the GPTs provided by OpenAI.
DALL-E 3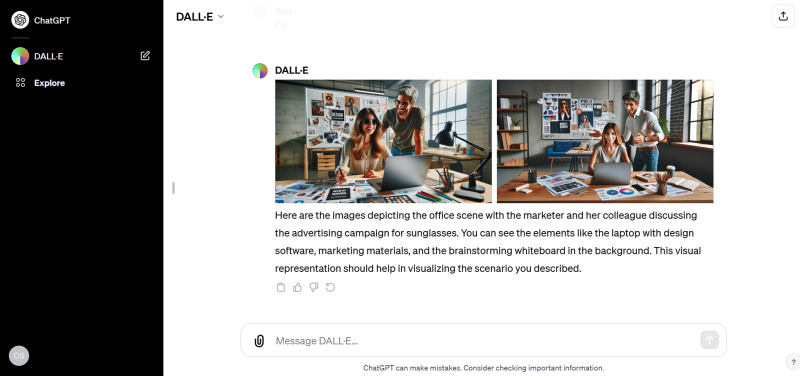 DALL-E 3 is the latest version of the popular image generator with artificial intelligence. Compared to its predecessor, it shows much better results when creating pictures based on complex prompts. This neural network quite accurately and fully generates images with the objects specifically requested in the hint, considering how they are connected to each other and even small nuances. The developers of DALL-E 3 emphasize that the new version has a better understanding of queries and the analysis of multi-level instructions. As a result, the users receive exactly the image they requested.
Data Analysis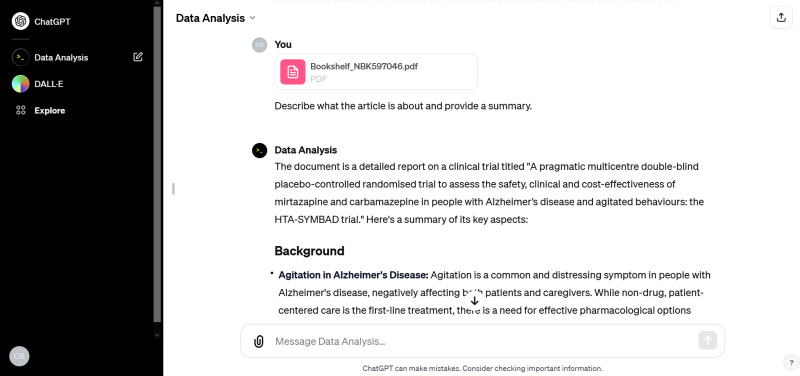 Data Analysis – GPT was created for analyzing downloaded files and visualizing data from them. This model will briefly describe the information provided to it in the document, draw up a summary of it, and perform a detailed statistical analysis of the data with the construction of graphs for a number of indicators or for a selected one. In addition, it can prepare a literature review regarding the document, which can be used to better understand it. And that is not all. Data Analysis is capable of creating ML models and also provides the ability to view code, accompanied by detailed comments for each step of query execution. Everything this GPT gives you (data analysis, prompts, responses, and code) can be saved as a file and shared with anyone.
ChatGPT Classic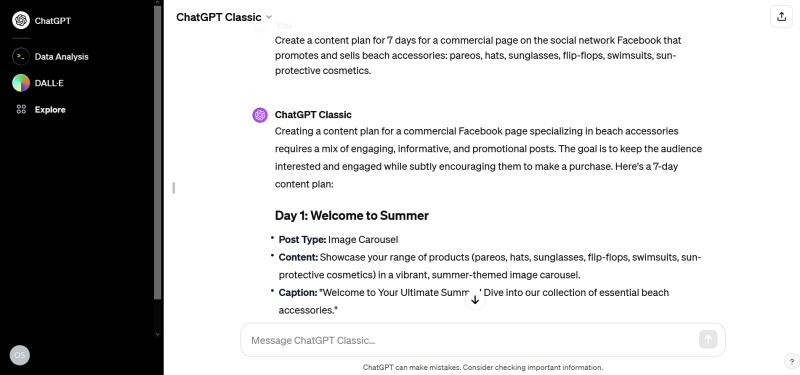 ChatGPT Classic is developed based on the latest multimodal artificial intelligence model, GPT-4, which ensures the most effective AI-human communication. Its main function is to conduct a coherent, intelligent and contextually appropriate dialogue with the user. ChatGPT Classic can answer people's questions, generate original content, and participate in meaningful conversations. It can be used as a tool for getting the information you need (don't forget about fact-checking), brainstorming ideas, or just for casual communication.
Game Time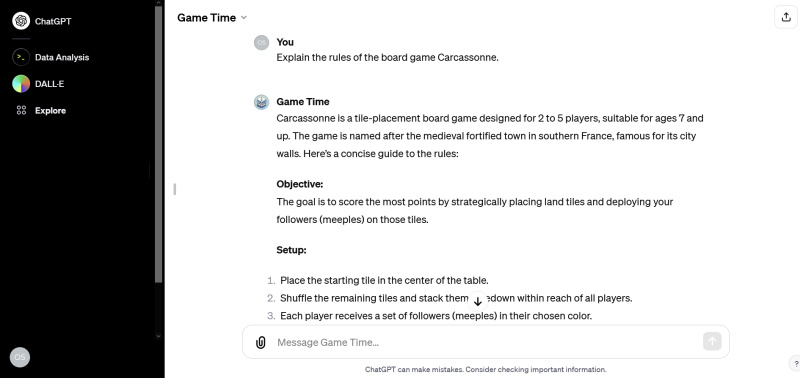 Game Time – GPT with gaming specialization. This model clearly explains all the nuances of various card and board games. Its advanced natural language processing technology allows it to tailor explanations to users of different ages and backgrounds. Game Time will help you with game settings, strategy development and the interpretation of the rules. To give more accurate advice, it even analyzes images of individual game elements. Among the disadvantages of this GPT are the occasional errors in reliability and a lack of profound knowledge in the field of game mechanics (it may not have complete information about a specific card). But its knowledge of concepts in chess is excellent. For this game, it gives answers at the level of a grand master.
The Negotiator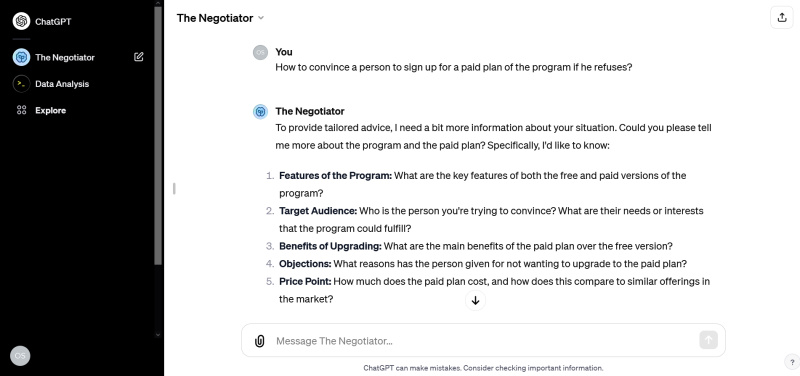 The Negotiator is a virtual trainer teaching the art of communication and negotiation. The main function of this GPT is to provide the users with knowledge and strategies that will help them become more confident and achieve the desired results in the process of communication, both in professional activities and in personal life. The model generates role-playing scenarios and uses them to prepare the user for possible difficulties that arise during negotiations. Of course, you can't share all the details of your personal life or work with a chatbot because, after some time, they may become public knowledge. When working with it, anonymize your case.
Creative Writing Coach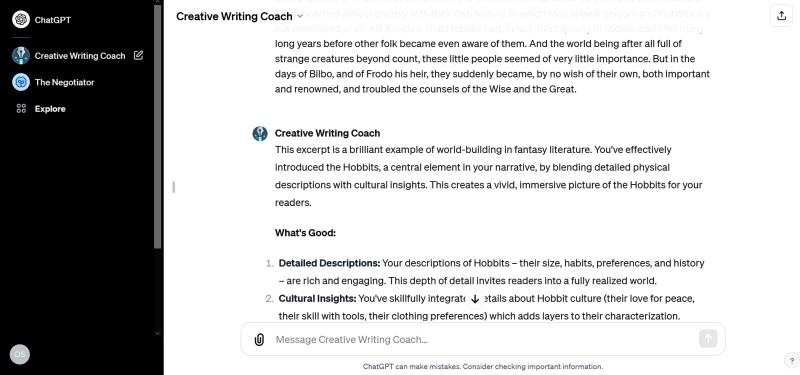 Creative Write Coach is a GPT that specializes in providing meaningful feedback and detailed recommendations to writers of text content. Having profound knowledge of narrative structure, style, and character development options allows it to assist writers in honing their skills. With it, the user will be able not only to overcome the fear of a blank page but also to effectively work on improving storylines. The disadvantage of this model is the limited amount of text. The chatbot can process a maximum of 4096 tokens (approximately 1400 words) at a time.
Cosmic Dream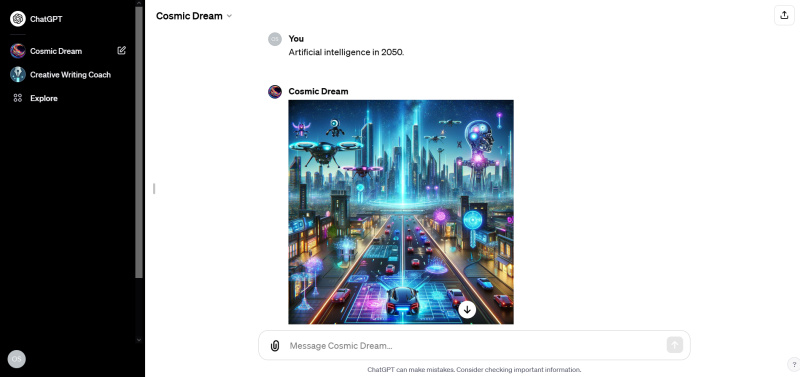 Cosmic Dream will appeal to connoisseurs of psychedelic art. The main function of this GPT is to transform your idea into an original image made in a given art direction. It is enough to write just one word to the chatbot, and you can enjoy the vivid fantasy image it generates in the acidic palette characteristic of psychedelics. Cosmic Dream can serve as a good source of thematic content and inspiration for digital artists working in the corresponding style. Those who expect any other pictures from this model will probably be disappointed. But for them, there is DALL-E 3, which can fully satisfy their needs.
Tech Support Advisor

Tech Support Advisor is a GPT that provides users with expert-level technical support. The model was trained on a solid IT database, so it quickly and effectively helps solve various technical problems. Under its guidance, the user can easily determine the cause of Wi-Fi problems, eliminate them, and install and configure the program necessary for work or personal purposes. When performing complex technical tasks, Tech Support Advisor demonstrates better results than ChatGPT, as it provides more detailed answers that are understandable even to a completely inexperienced person.
Coloring Book Hero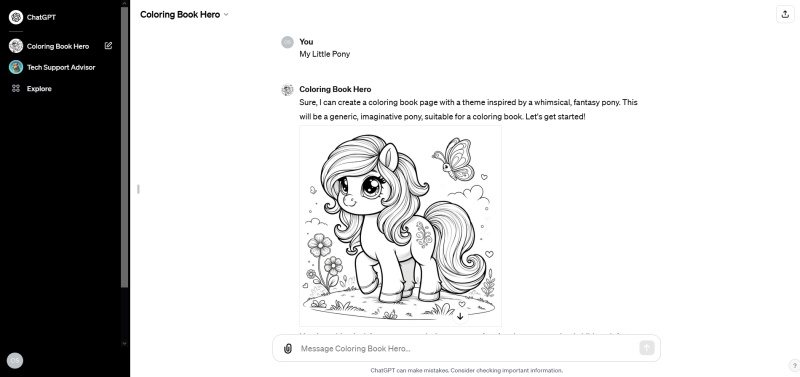 Coloring Book Hero is a children's GPT that generates "cartoon" black-and-white linear pictures for coloring. Write just one word to the chatbot or describe your idea in more detail, and within just a few seconds you will receive a ready-made coloring book, no worse than from the store. The disadvantage of this model is that there are no paint-by-number schemes that would interest teenagers and adults.
Laundry Buddy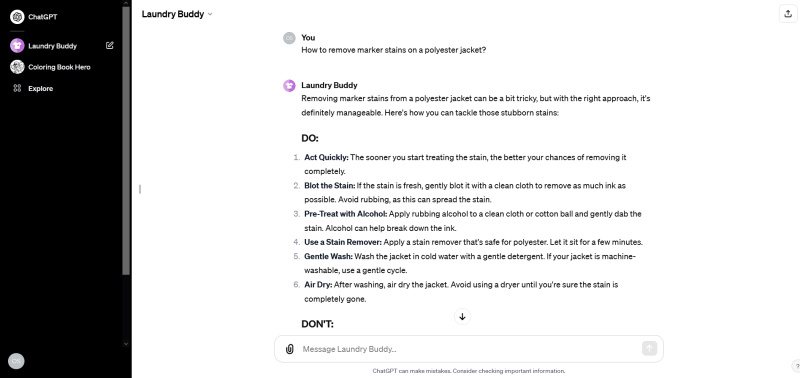 Laundry Buddy is a virtual laundress. This GPT provides valuable recommendations for washing laundry and clothing. Using advanced AI technologies, it finds and offers optimal solutions for removing all types of stains, explains the rules for sorting things, and even helps set up the washing machine. Laundry Buddy gives each user individual advice specific to their problem. For example, you may ask at what temperature to wash silk products and what spin speed to choose, to get maximum cleanliness from the fabric without compromising its durability. The model will give you comprehensive, easy-to-understand answers.
Sous Chef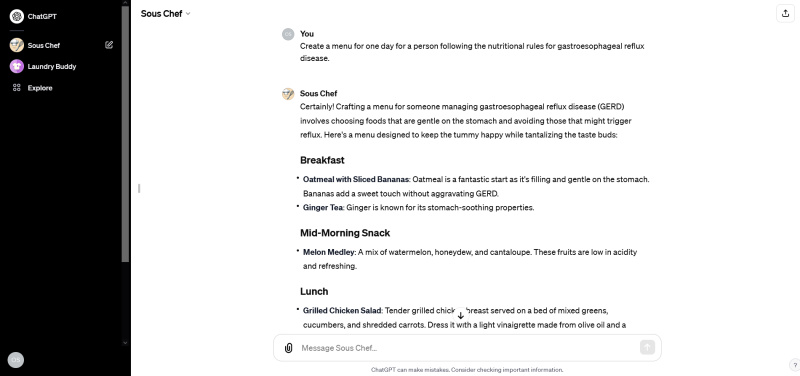 Sous Chef is a culinary GPT. This virtual chef gives advice on preparing dishes, creates personalized recipes at the user's request, and creates grocery lists, considering individual preferences and dietary needs. For example, you could ask it to design a dinner menu that would include gluten-free French cuisine. Sous Chef will not only describe the cooking process in detail but will also show you it, using DALL-E 3 as an illustrator. Such a creative tandem will allow you to see a sample of the finished dish. For inexperienced cooks, this is a critical point.
Sticker Whiz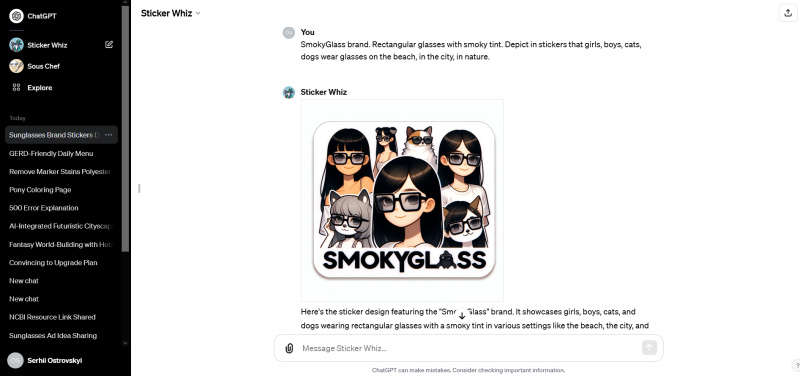 Sticker Whiz – GPT for creating unique stickers. Interestingly, it does not make pictures for them itself, but with the help of the DALL-E 3 art generator. To work with it, the user only needs to enter a request with an idea or a specific task – and the model, after interpreting the information received, will produce attractive sticker design options. This digital product can then be used to increase brand awareness or personalize marketing.
Math Mentor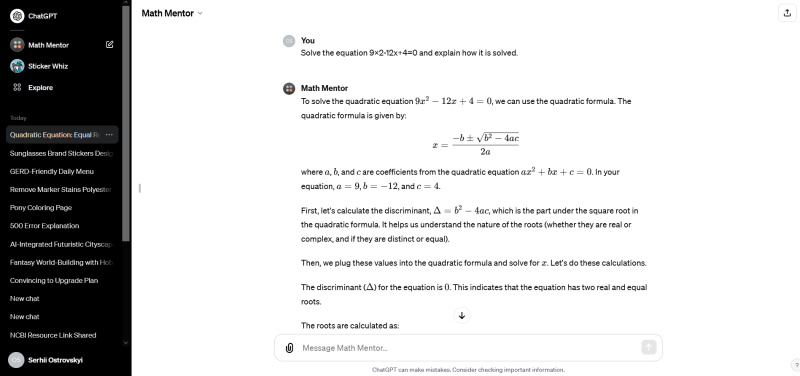 Math Mentor is a GPT created specifically to provide 24-hour emergency assistance to parents of schoolchildren with problematic math homework. This model is valuable because it provides personalized explanations and recommendations, like a personal tutor. Parents can conduct a full dialogue with it, asking questions if something is not clear. Math Mentor clearly explains theoretical material and also shows step-by-step different ways to solve problems, demonstrating the application of rules and formulas in practice. Thanks to it, parents who themselves have difficulties with mathematics gain confidence that they can now help their children successfully cope with homework. It is important that this help does not come down to the banal copying of the correct answers but leads to the acquisition of real knowledge.
Hot Mods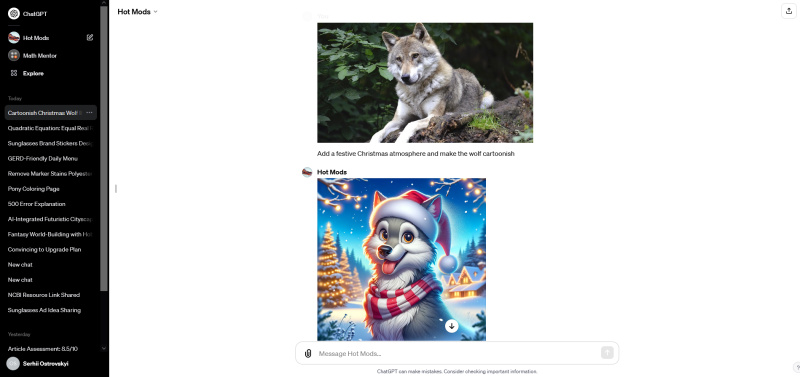 Hot Mods is a GPT for creatively modifying and enhancing finished images. It maintains the core (object and idea) of the picture while adding various artistic effects and creative elements or changing the atmosphere. After the user uploads a graphic file, this model interprets the resulting image and suggests optimal changes for it. In addition, it can generate detailed prompts for other artificial intelligence art generators, thus helping to create even more advanced versions of the image.
Mocktail Mixologist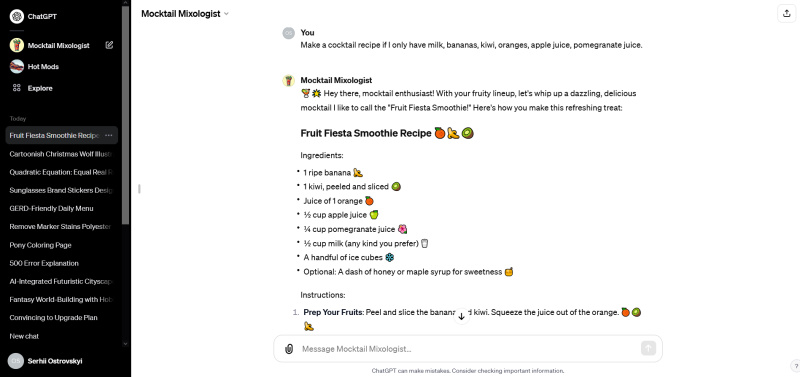 Mocktail Mixologist – GPT "bartender" with a cocktail specialization. It is suitable for lovers of original soft drinks. This model can create individual cocktails without alcohol and gives valuable advice on mixing ingredients. If you want to make a drink that is not only delicious but also visually appealing, Mocktail Mixologist is at your service. Do you think that to make cocktails, you need to have a cabinet full of various exotic products at home? Nothing like this. A GPT bartender will help you prepare a unique drink from just a few basic ingredients.
gen 4 meme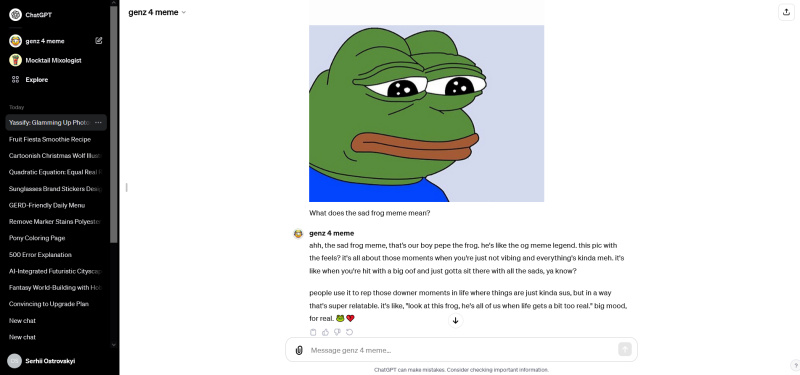 genz 4 meme is a GPT specializing in memes and slang. With the development of technology, this content is produced on the Internet at triple the speed. Therefore, it is not at all surprising if sometimes you catch yourself not knowing the meaning of this or that buzzword or, point-blank, not understanding why everyone is laughing so much at yet another viral meme. With this chatbot, you will no longer feel out of touch. Simply enter a word you're interested in (such as "yassify") or upload a picture of a meme to get accessible explanations of its meaning.
Let's Sum it Up
We briefly looked at 16 GPTs provided by OpenAI developers. Note that the capabilities of all these tools are not limited to basic functions. Their potential allows them to cope with more complex tasks. You can only see everything that they are capable of by experimenting with them. Try and discover new horizons with the help of GPTs in any field. Let your interaction with them be as useful and productive as possible.
***
Don't waste another minute manually transferring leads from Facebook to other systems. SaveMyLeads is a simple and effective tool that will allow you to automate this process so that you don't have to spend time on the routine. Try SaveMyLeads features, make sure that this tool will relieve your employees and after 5 minutes of settings your business will start working faster.