In October 2023, OpenAI publicly released a new version of its AI image generator called DALL-E 3. This next-generation model will enable it to compete with the best alternative services available today. By introducing this art generator into the ChatGPT chatbot environment, the developers thus made it available to all users of the paid versions – Plus and Enterprise. From our article, you will learn how to use DALLE 3 to generate images and what is important to consider when working with it to obtain truly high-quality graphic content.
OpenAI's representatives note that DALL-E 3 demonstrated much better results in creating images for complex prompts than the previous model, even with the same queries. It can quite accurately draw scenes with specifically named objects, considering the connections between them. In addition, the company emphasizes that DALL-E 3 makes details that are fundamentally difficult for AI, such as human hands, more natural. According to the developers of this art generator, it better understands the queries asked of it and analyzes cumbersome instructions. The user ultimately receives accurate and fairly detailed images without the absurd mixing of wholly different elements in an overly detailed request, which is often the case with other image generators.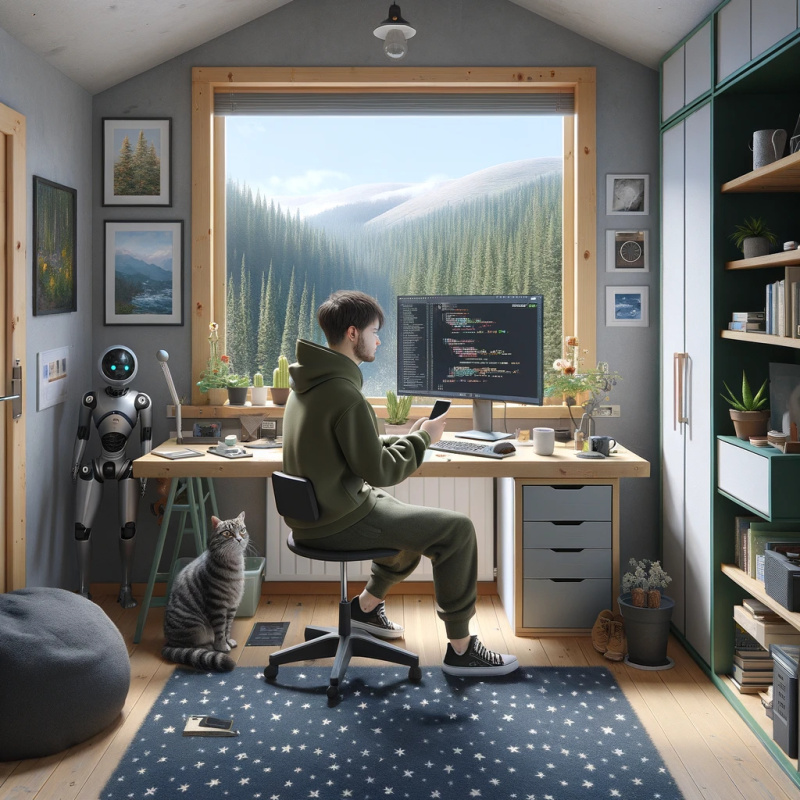 The ability to involve the ChatGPT chatbot in the compilation and editing of prompts is one of the most significant innovations, which significantly simplifies the work with DALL-E, how to use which we will now tell you. If you generally like one of the generated images but still would like to correct a couple of details, you can ask ChatGPT to change a few words in the request.
How to Access DALL-E in ChatGPT
For now, access to DALLE in ChatGPT can only be obtained by those who subscribe to the paid versions of this chatbot – Plus and Enterprise. To subscribe to Plus, you will need:
1. Register a personal account in ChatGPT.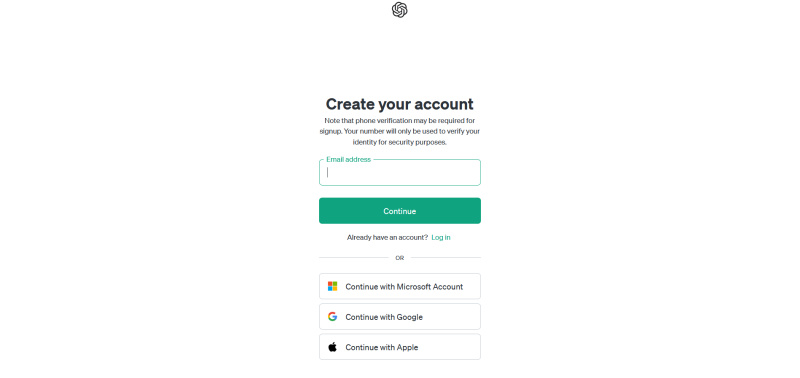 2. Click on "Upgrade" (the button is located at the bottom left, on the sidebar).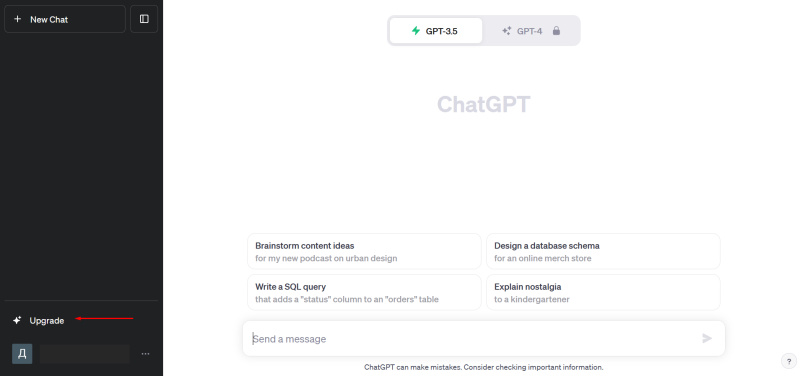 3. In the window that opens, click "Upgrade to Plus" (note that its cost is $20 per month).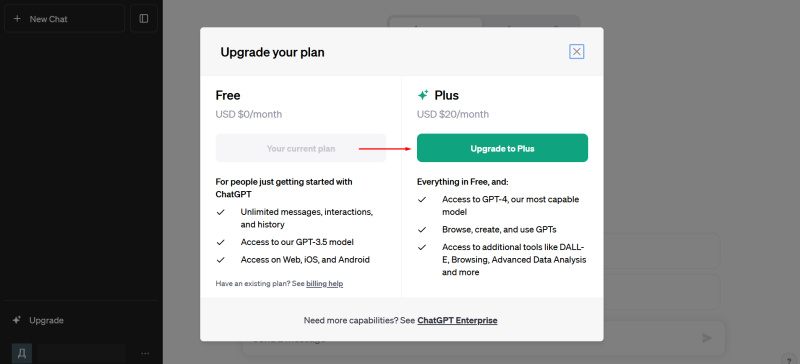 4. Enter your personal payment information and click the "Subscribe" button.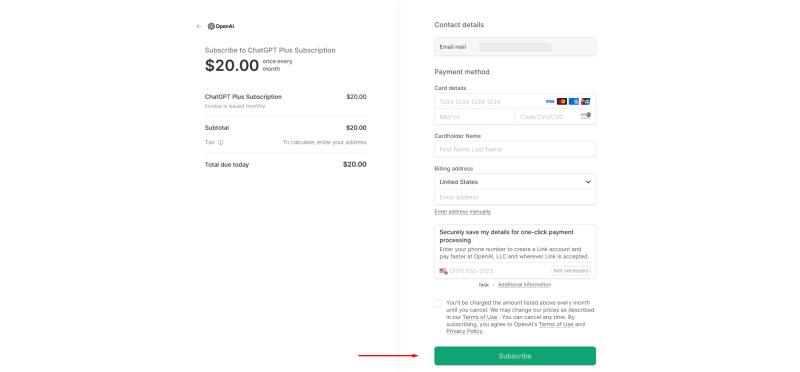 If you are already subscribed to ChatGPT Plus, everything will be much easier:
1. To get started with DALL-E 3, go to the OpenAI website or ChatGPT mobile app from your device. Once you log in, you will automatically be taken to ChatGPT.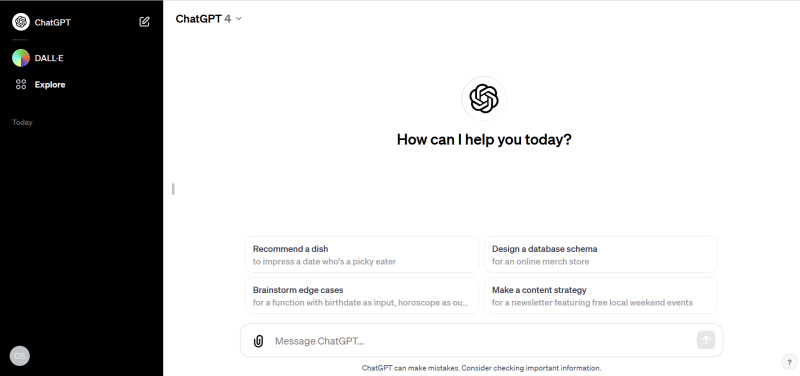 2. Now pay attention to the left sidebar. There you will see the DALL-E icon. By clicking on it, you will start working with the image generator.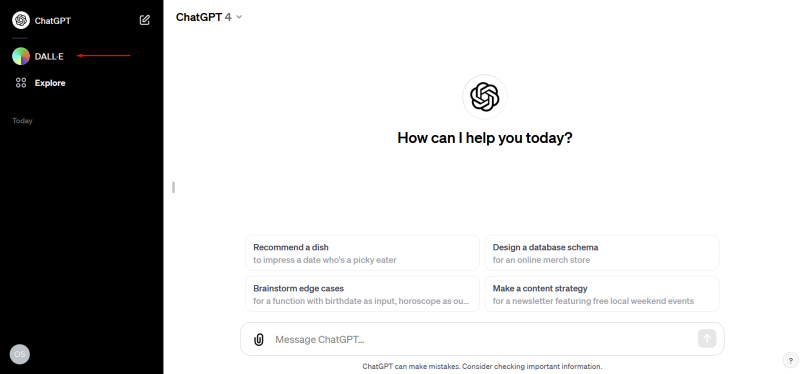 Instructions on How to Use DALL-E 3
Working with DALL-E 3 is no more difficult than working with ChatGPT. First, you need to log into your personal account on the OpenAI website. If you haven't used a chatbot in a while, first make sure you're subscribed to ChatGPT Plus. Then, to create image in Chat GPT, follow these steps sequentially:
Click on the "DALL-E 3" icon in the left sidebar. In the invitation window that opens, click on the "Get started" button.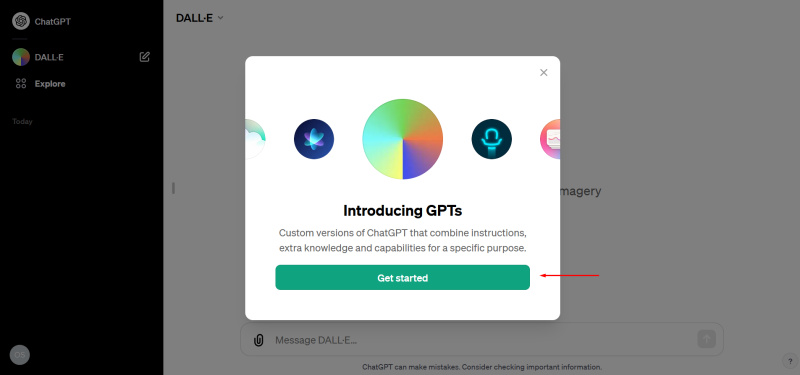 Write a prompt in the ChatGPT dialog box to generate an image using the artificial intelligence of the DALL-E 3 model. Then click the "Send message" button.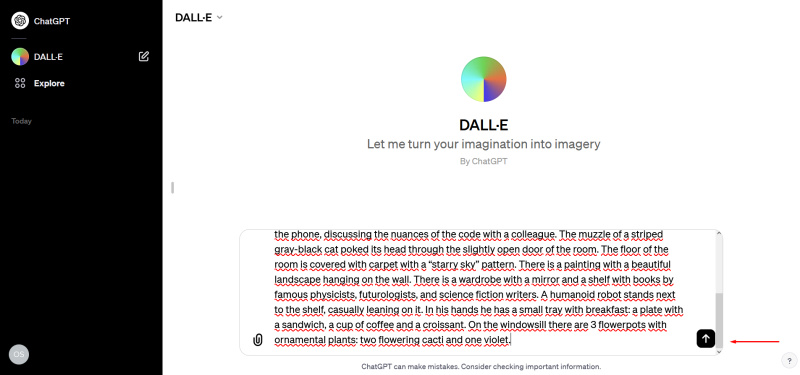 Based on your request, the chatbot will automatically create a detailed hint in GPT-4, after which the image generation will begin. If the speed limit is exceeded, you will have to wait a bit for the pictures to appear. Typically, the wait takes about 30 seconds.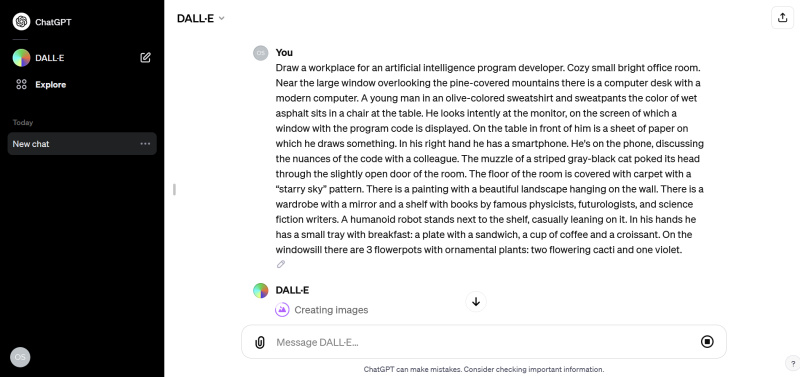 As a result, the system will give you 2 image options.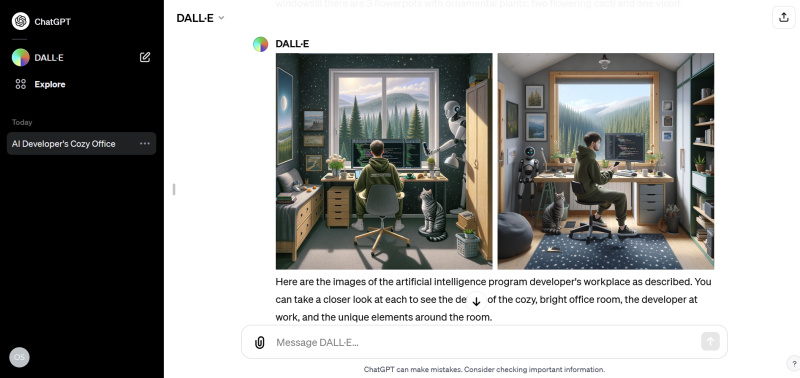 To check which clue the DALL-E 3 generator used to create a picture, simply click on it and press the letter "I". You will see the prompt text on the right, in the "Prompt" field.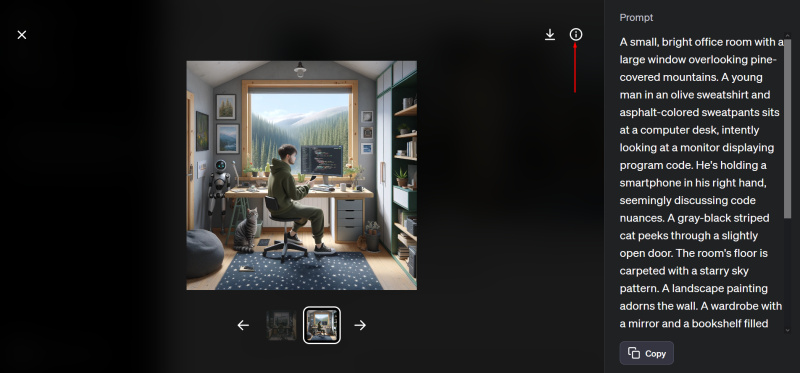 If you are not satisfied with something in the pictures created by the AI, try correcting your request. Please note that DALL-E 3 will regard this as a new prompt and will begin to "draw" a new set of 2 images rather than edit existing ones.
Connect applications without developers in 5 minutes!
If the system gives you an error or you want to get other image options, you can ask to repeat the generation using the same prompt. To achieve this, click the icon with circular arrows.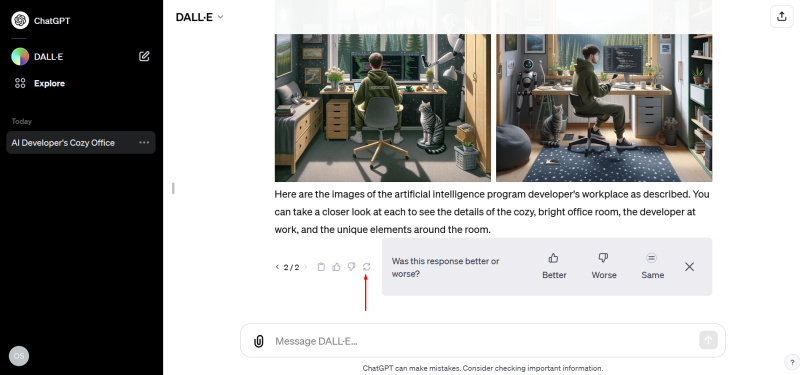 You can also evaluate whether a new pair of images is better, worse, or no different from the previous one by answering the question, "Was this response better or worse?" Icons with thumbs up or down are designed to send feedback to developers with a description of what exactly you liked or, conversely, didn't like.
To download the image you like to your device, point the cursor at it and click on the download icon that appears in the top-left corner.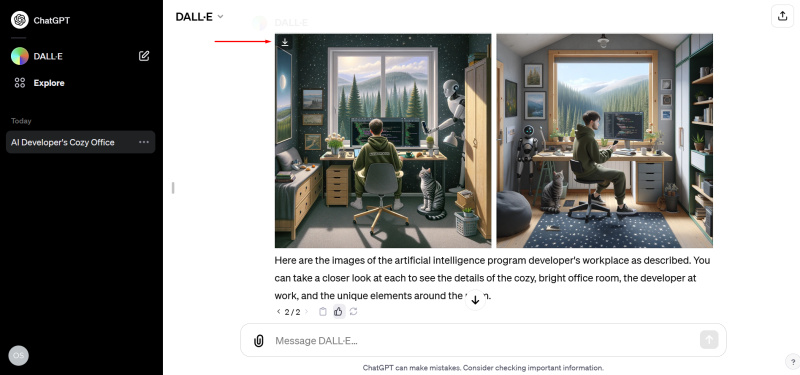 As you can see, there is nothing complicated about DALLE how to use. Remember that no one has lifted the restriction on the intensity of use of ChatGPT-4. The limit is 50 requests within 3 hours. This also applies to DALL-E 3. When you reach this number, the chatbot will notify you how long you will need to wait before you can continue using it.
If a user violates OpenAI's content policy, the art generator will, at best, offer you only those pictures that do not contradict it, and at worst, it will generate an error and refuse to create the requested image at all. This will happen if you ask to create an image in ChatGPT that is based on a copyrighted work of art or contains violence.
Tips for Experimenting with DALL-E 3
If you have already interacted with other AI-based image generators (for example, DALL-E 2, Midjourney, Scribble Diffusion), then you probably noticed that one of the main differences between all of them and DALLE 3 AI is ChatGPT mediation. The detailed prompts it creates can range from common sentences to large paragraphs containing various details for the art generator.
Here are a few things to consider when experimenting with DALLE AI to get really high-quality images that correspond to your primary request:
Didn't like the first results? Write ChatGPT a request to make some adjustments: change the color scheme, brightness, contrast, or atmosphere in general.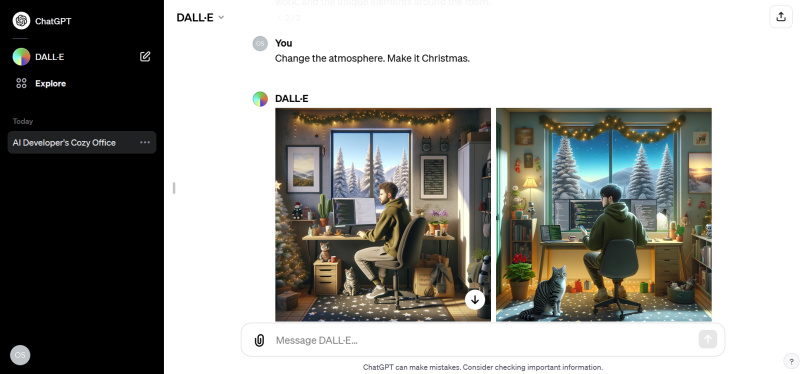 As part of protecting artists' copyrights, the art generator must reject requests from users to generate an image in the style of one of them. This obstacle is provided by the OpenAI developers. In practice, it doesn't work. The author of this article asked the DALL-E 3 image generator to develop a logo for a brand of haberdashery eco-products – shopping bags, shoppers, clutches, and backpacks – in the style of Van Gogh. Artificial intelligence agreed and produced good results.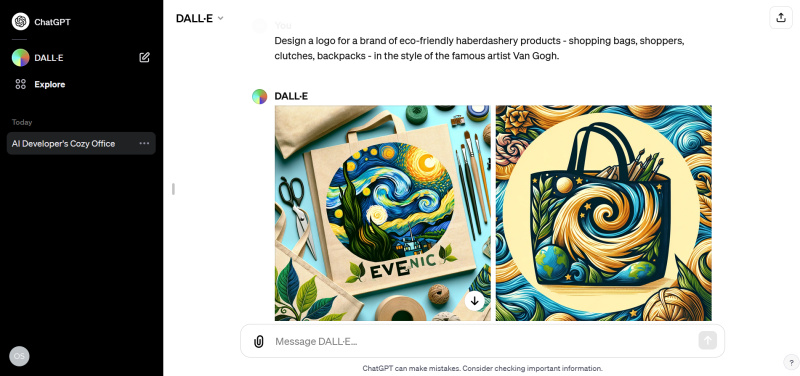 Moreover, it unquestioningly depicted Van Gogh's Starry Night and wrote: "Here are the images inspired by Vincent van Gogh's "Starry Night," capturing the essence of the iconic painting with swirling skies and vibrant colors. Each image offers a unique interpretation of the famous artwork".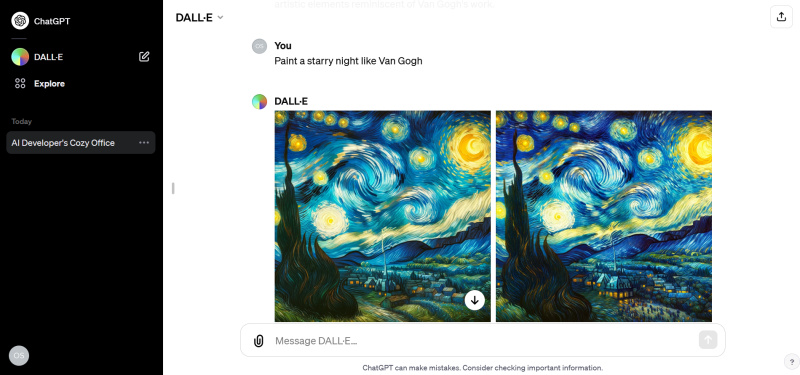 Although the third version of the DALL-E image generator is the most advanced, it cannot be called absolutely ideal. Therefore, distorted faces, errors in text inscriptions, and other distortions in the pictures it creates are still present. Of course, you can laugh at some of the nuances, especially if you need something comical. If you plan to generate image in ChatGPT for serious content, be careful.

Security and Copyright Protection
As soon as the developers opened general access to DALL-E 3, in the very first days, users distinguished themselves with requests to generate images of dubious nature. Having noticed such unhealthy activity, experts added additional prohibitions regarding the generated content. Thus, the ability of this tool to generate images in Chat GPT depicting scenes of cruelty, manifestations of hatred towards something or someone, as well as elements of eroticism, is extremely limited.
As powerful, artificially intelligent image generators become more accessible, questions of ethics and intellectual property rights become more prominent. It is known that several artists have already attempted to sue OpenAI for violating, from their point of view, copyrights. In addition to legal conflicts, security experts also warn about the high risk of such generators spreading disinformation to mislead people. However, OpenAI claims that the images you create using DALL-E 3 are entirely yours. You do not need permission to copy, reproduce or sell them for profit. Read more about all the nuances on the official website of the developer.

***
You probably know that the speed of leads processing directly affects the conversion and customer loyalty. Do you want to receive real-time information about new orders from Facebook and Instagram in order to respond to them as quickly as possible? Use the SaveMyLeads online connector. Link your Facebook advertising account to the messenger so that employees receive notifications about new leads. Create an integration with the SMS service so that a welcome message is sent to each new customer. Adding leads to a CRM system, contacts to mailing lists, tasks to project management programs – all this and much more can be automated using SaveMyLeads. Set up integrations, get rid of routine operations and focus on the really important tasks.