From this article you will learn everything about the Zoom brand, including the history of the emergence and development of the company.
***
Zoom Video Communications, Inc. is an American software company for online communications (audio-video conferencing, online meetings and collaboration tools). The popularity of the brand's products has grown significantly in 2020 after the start of the COVID-19 pandemic and the massive spread of remote work and communication via the Internet. In our article, you will learn everything about the Zoom brand: information about its history and key figures, as well as interesting facts about it and its products.
Zoom brand history
Zoom Video Communications was founded in 2011 by Eric Yuan, who previously worked at Cisco and was vice president of Cisco WebEx. He quit Cisco, taking 40 engineers with him, and started his own company. At first it was called Saasbee, Inc., and in May 2012 it was renamed Zoom.
At the beginning of its activity, it hardly managed to attract the attention of investors, as they did not believe in the prospects for the success of yet another video conferencing service. However, in June 2011, she still managed to get $ 3 million in seed investments. In September 2012, the company released a beta version of Zoom, which allowed for online video conferencing with a maximum of 15 participants. In November 2012, Zoom signed its first major client, Stanford University.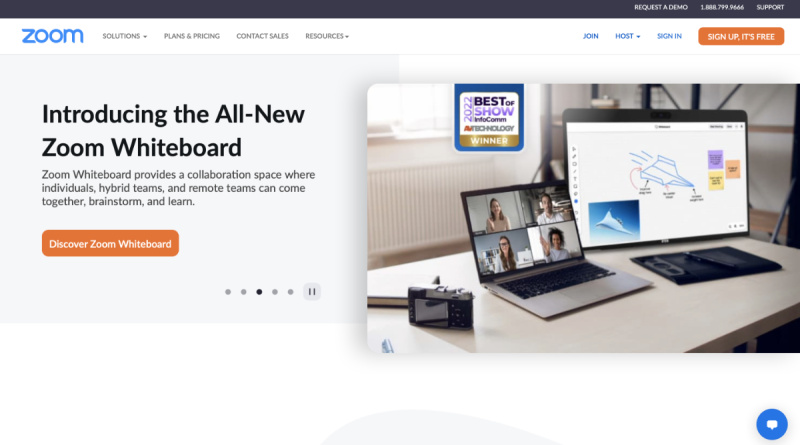 Zoom was officially launched in January 2013 after the company received $6 million from Qualcomm Ventures and a group of private investors. By May of the same year, the number of users of the application reached 1 million, and the maximum number of video conference participants increased to 25 people in version 1.0. In July 2013, Zoom Video Communications partnered with collaboration software providers (Redbooth in particular) and released a program called Works with Zoom with Logitech, Vaddio and InFocus. In September 2013, the company raised $6.5 million from Horizon Ventures and other investors. By that time, her program had 3 million registered users.
Connect Facebook Lead Ads to CRM, Email, SMS & Spreadsheets
Use SaveLeads to connect Facebook to different apps. Over 120+ ready-made integrations available now
Automate the work with leads from the Facebook advertising account
Empower with integrations and instant transfer of leads
Don't spend money on developers or integrators
Save time by automating routine tasks
Test the work of the service for
free
right now and start saving up to 30% of the time!
Try it
In February 2015, Zoom received a $30 million investment from Emergence Capital, Horizons Ventures, Qualcomm Ventures and a number of individuals. Then the number of software users grew to 40 million, including 65,000 companies. Following the results of 2015-2016, the company integrated its product with Slack, Salesforce and Skype for Business. In October 2015, it released version 2.5, which increased the maximum number of video conference participants to 50 for private users and 1,000 for businesses.
In January 2017, Zoom Video Communications raised $100 million from Sequoia Capital, launched a telemedicine app in April of that year, and in May announced Zoom integration with the Polycom conferencing system and a range of popular online calendars, including Microsoft Outlook, Google Calendar and iCal. Since September 2017, the company has hosted an annual user conference called Zoomtopia.
In April 2019, Zoom Video Communications held an initial public offering (IPO) and became a public company. The value of its shares rose by 72% during the first day of trading, after which Dropbox invested $5 million in the Zoom brand. In May 2020, Zoom acquired Keybase, an end-to-end encryption company. In July of the same year, it announced the release of its first HaaS product (hardware as a service), combining its video conferencing software with third-party hardware (DTEN, Neat, Poly, and Yealink).

In July 2020, the company introduced Zoom for Home, a product line designed specifically for remote work from home. A month later, she released Zoom for Home - DTEN ME, which was a 27-inch display with three wide-angle cameras, 8 microphones and pre-installed Zoom software. In June 2021, Zoom acquired Kites (Karlsruhe Information Technology Solutions), which develops AI-based language translation software.
Interesting facts about the Zoom brand
The onset of the COVID-19 pandemic has made Zoom one of the most in-demand apps, with 200 million daily users in April 2020, up from 10 million users in December 2019.
Zoom has been repeatedly criticized for supporting censorship: in June 2020, the company blocked numerous accounts of Chinese human rights activists, and in September 2020, Zoom closed the account of Palestinian political activist Leila Khaled.

For January, 2020 more than 2500 employees worked in Zoom, from them 1396 lived in the USA, and 1136 in other countries of the world.

Key Figures
The CEO and Chairman of the Board of Directors of Zoom Video Communications is Eric Yuan, who is also its founder. Among other key figures of the company are:
Bill Lu, Chief Architect, Executive Operations
Damien Hooper-Campbell, Chief Diversity Officer, Executive Management, Operations

Harry Moseley, Global Chief Information Officer, Executive Engineering, Information Technology

Janine Pelosi, Chief Marketing Officer, Executive Marketing

Jason Lee, Chief Information Security Officer, Executive, Information Technology, Management

Kelly Steckelberg, CFO, Executive Finance

***
Time is the most valuable resource in the modern business environment. You can get more opportunities to implement the most daring plans and ideas if you get rid of routine work processes. It is up to you: to continue to waste time, money, and nerves on ineffective solutions, or to use SaveMyLeads, automating some work processes and achieving results with minimal investment of money, effort, and human resources.