In this article, we will tell you about Jira Software, Atlassian's project management and bug tracking software for IT products. This system is an effective tool for organizing work according to an agile methodology.
The Jira service has gained serious popularity in the IT field. At the same time, the wide functionality of the system allowed it to spread to other industries. Jira is currently one of the most sought after project management platforms.
What is Jira Software
The Jira platform is a set of tools for organizing the work of agile teams. The service, among other functionality, allows you to track software errors (bugs), therefore, first of all, it has become widespread in IT companies. However, software defect handling is only a small part of Jira's capabilities. The platform is being actively implemented as a project management system. The proposed functionality is relevant for all companies that to some extent use the principles of Agile in their work.
The first release of Jira Software took place in 2002. The system was created by the Australian company Atlassian, which is a prominent player in the market of IT-oriented products. Jira is written in the Java programming language.
Planning and execution of tasks of various types;
Assigning and tracking tasks;
Reporting and analytics.
These three points, implemented at the proper level, allow organizing productive and transparent work of the team. Managers can track the overall processes and progress of each employee. Team members control their tasks, communicate with colleagues to solve related tasks, and plan employment.
There are three main templates available for working with Jira Software:
Scrum - for teams working in a sprint schedule;
Kanban - to regulate the workflow, assuming a continuous flow;
Bug tracking is a template for managing software issues and defects.
What is Jira used for
One of the significant parts of the Jira Software functionality is a set of tools for managing tasks and bugs related to software development. To use the capabilities of the Jira platform, you need to create a project, a team, and connect all participants in the process.
The main part of the workspace is reserved for the list of tasks, which can be filtered by various characteristics. Advanced job search is carried out using a special query language JQL (Jira Query Language). This tool allows you to build multi-layer filters in a format convenient for programmers and set the conditions for displaying "tickets" (tasks). JQL is similar to Structured Query Language (SQL) for working with databases, so it should not cause any difficulties for experienced IT people.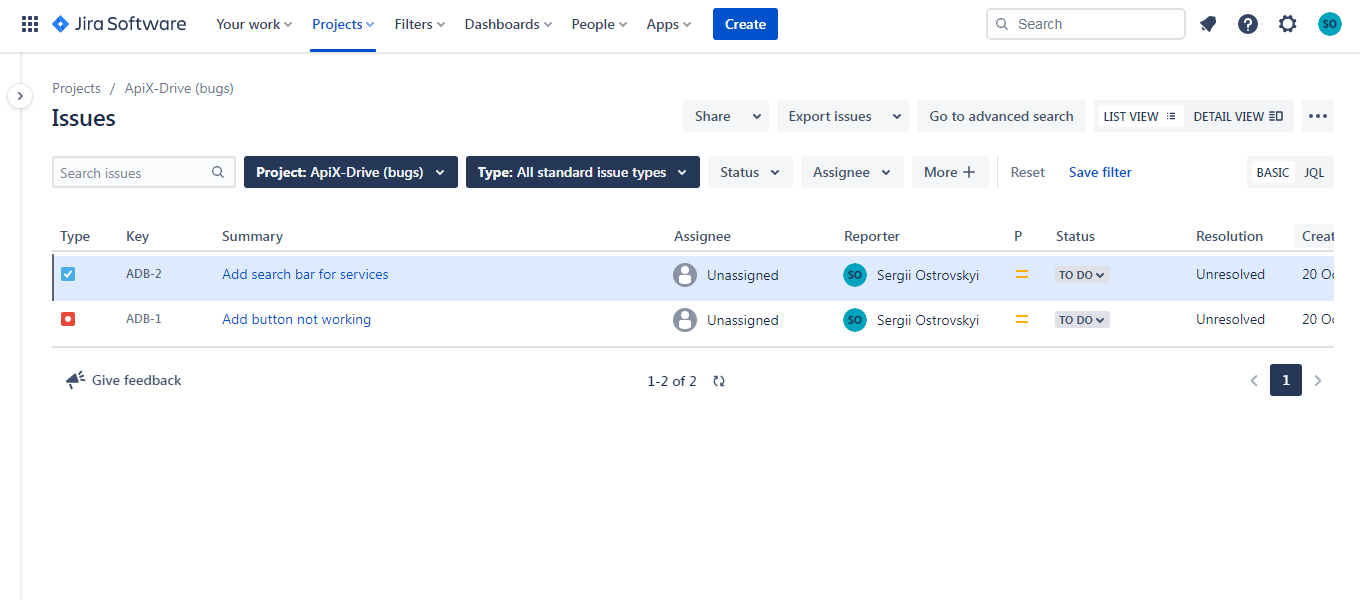 To the left of the main workspace is a navigation bar that provides quick access to the following sections:
Boards;
Reports;
Tasks;
Components;
Releases;
Code;
Settings.
Jira allows you to organize full-fledged work on a project on one platform. It provides the ability to create versions and plan releases, break the project into subsections, track changes in the source code. In addition, routine workflows can be automated.
On the "Tasks" tab, all tools for processing tasks and bugs are available. The form for creating a "ticket" is opened using the "Create" button located in the top navigation bar. You can specify the following attributes:
Project;
Type of tasks;
Brief description (summary);
Detailed description;
Task author;
Priority;
Execution time estimation;
Implementation environment.
In the same window, you can assign an executor and deadlines, as well as link the "ticket" to other tasks. Form fields are easily configured and customized for specific workflows.

What entities can be created:
Bug (software defect);
Task (a certain part of the work);
Improvement (updating an existing task or functionality);
New functionality;
Epic (a large amount of work that can be broken down into tasks).
Jira Software is great for tracking bugs and managing processes related to the development, support, improvement and release of an IT product.
What is Kanban board in Jira
Kanban is an agile approach to project management built on a continuous process, focus on unfinished tasks, and transparent control over them. Jira provides a dedicated environment for working on Kanban principles.
Connect Facebook Lead Ads to CRM, Email, SMS & Spreadsheets
Use SaveLeads to connect Facebook to different apps. Over 120+ ready-made integrations available now
Automate the work with leads from the Facebook advertising account
Empower with integrations and instant transfer of leads
Don't spend money on developers or integrators
Save time by automating routine tasks
Test the work of the service for
free
right now and start saving up to 30% of the time!
Try it
The Kanban template in Jira allows you to control your workflow using a board with tickets assigned to different statuses. The life cycle of tasks can be varied by adding the necessary states and setting up transitions between them. By setting rules, it is possible to automate various actions with task cards.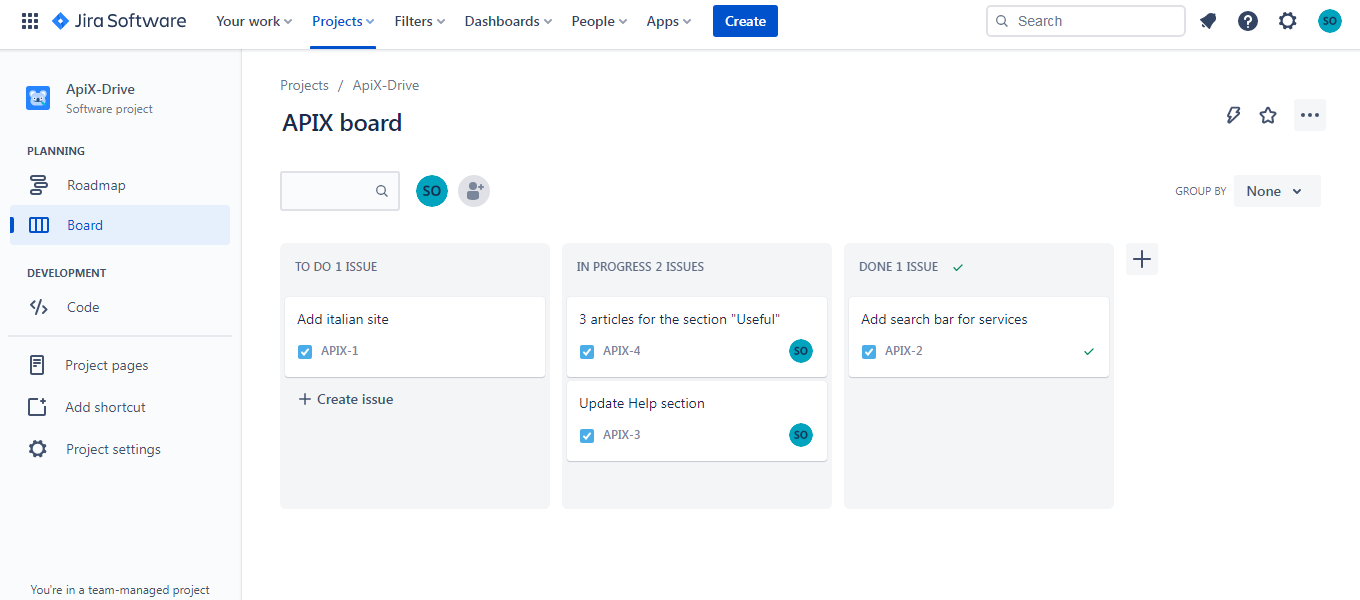 The created ticket is placed on the Kanban board in a column with a certain status. Cards can be moved between columns and opened, studying the details of the task or correcting it. In addition to the classic Kanban space, the "Road map" tab is also available, where progress for each workflow is visually displayed.
Jira also has a dedicated workspace for Scrum teams. The system offers all the necessary tools for creating, maintaining and analyzing sprints, as well as for working with the Backlog.
The navigation panel contains the "Backlog" tab, in which you can perform various manipulations with the list of project tasks. The sprint is also formed and launched here, upon activation of which the goal, duration, start and end dates of the working segment are indicated. All information about the performance of tasks is tracked using the board. In a few clicks, you can edit the attributes of a task, copy a ticket link, assign an executor, update the description, etc.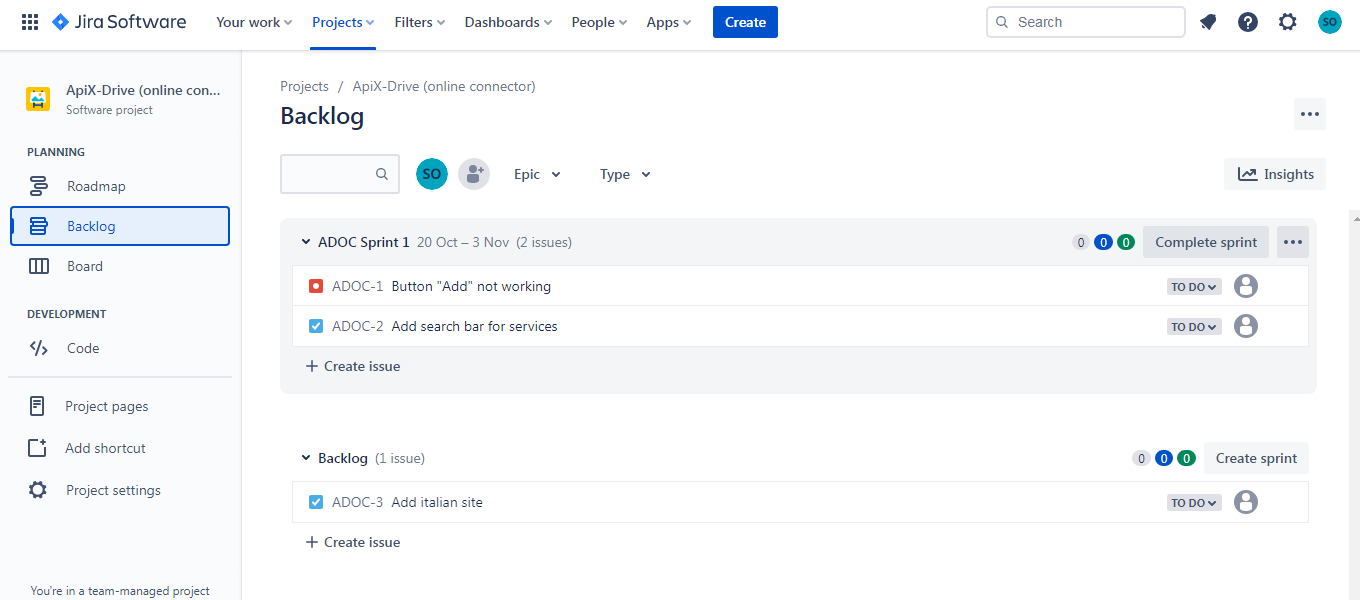 Jira Software is a multifunctional platform for efficient and convenient work on the principles of Scrum and Kanban. The system has all the necessary tools to bring these Agile implementations to life and is great for both developing IT products and regulating workflows in other industries.
Jira integrations and plugins
The Jira Software platform is an extensive functionality for supporting projects of various sizes and directions. At the same time, the system has the ability to be customized and expanded for various tasks through integrations, applications and plugins.
Jira can be "friended" with:
Amazon Web Services;
corporate messenger Slack;
Google products;
Microsoft services;
DropBox;
Zoom etc.
Hundreds of integrations are available for users to help customize Jira's interaction with the necessary services and products.
Also, to expand functionality and improve ease of use, the system can be improved using plugins. For example, there are such plugins for Jira:
Clockify (timer for tracking task completion time);
Jira Workflow Toolbox (plugin for automating routine processes);
Draw.io (a handy diagramming solution);
EasyBI (plugin for charting and reporting);
Jira Calendar (a tool for various calendar manipulations).
Additional applications, plugins, integrations and other tools to extend the functionality of Jira Software can be found in the marketplace on the official website of Atlassian.
Jira advantages and disadvantages
The Jira system is actively used not only in IT companies, but also in other areas. The popularity of this platform is due to a number of advantages:
wide functionality for different tasks;
a large selection of integrations and tools for expanding capabilities;
workspace customization;
a wide choice of interface languages;
availability of a free version for small teams;
the presence of a mobile application;
a large community and a sufficient amount of accompanying information.
Jira has a strong position among the products for bug tracking and project management. But this system also has some disadvantages:
overloaded interface (the reverse side of rich functionality);
heavy implementation process (especially for large or non-technical teams);
free plan only for small teams (up to 10 users);
availability of paid add-ons.
But despite these disadvantages and the presence of a large number of free analogues on the market, the Jira Software system occupies a strong position in its segment and is actively used in many companies.
***
Personalized responses to new clients from Facebook/Instagram. Receiving data on new orders in real time. Prompt delivery of information to all employees who are involved in lead processing. All this can be done automatically. With the SaveMyLeads service, you will be able to easily create integrations for Facebook Lead Ads and implement automation. Set up the integration once and let it do the chores every day.