Webflow and Squarespace programs are mainly used by webmasters for professional website development, as they provide the ability to create and run full-featured projects. Don't know which one to choose? We invite you to familiarize yourself with a detailed comparison of Squarespace vs Webflow, which will help you decide which option is best for you.
What is Webflow?
Webflow is a service that combines the capabilities of a website builder, Dreamweaver HTML editor, Photoshop graphics editor, CMS and WYSIWYG editor. No coding skills are required to use this program, and yet its level of difficulty is rated as "higher than average".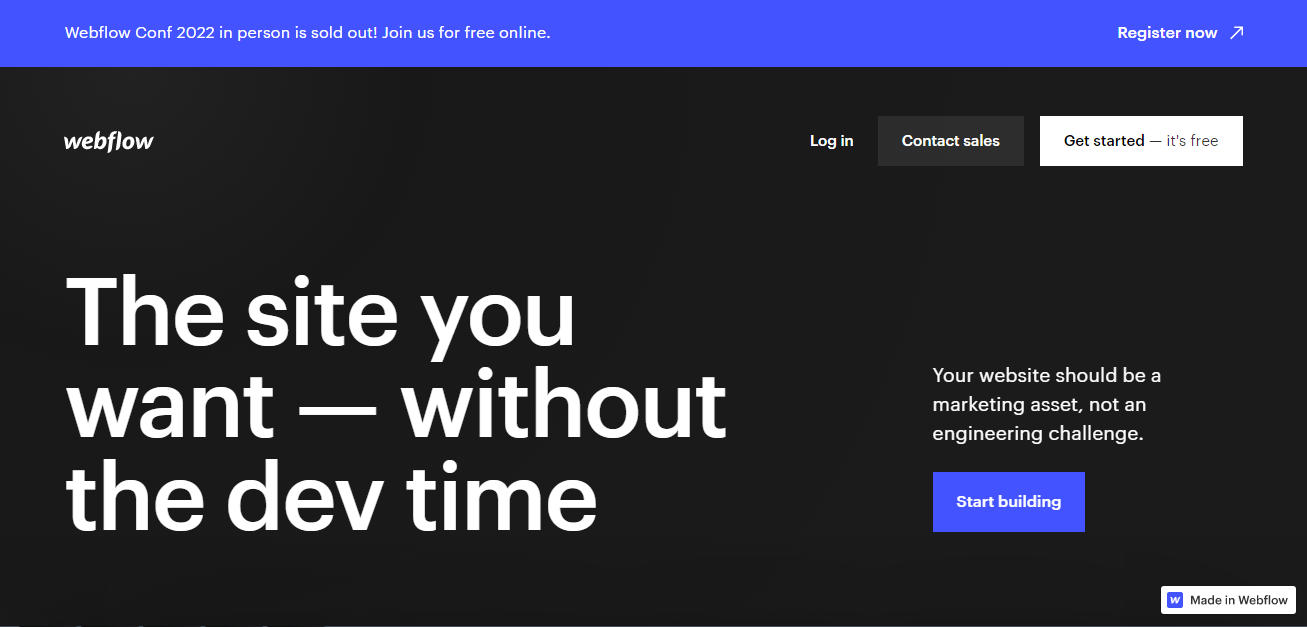 Webflow is a professional program. Only an experienced specialist can "make friends" with the admin panel interface and a whole range of additional functions (for example, a CMS system, a web designer's toolkit). For web development pros, this is a powerful tool with which you can create animation elements, "draw" a website design in just a few clicks, and also perform flexible configuration of forms and links between different objects, change the database binding logic. The result of actions is visible immediately, so the risk of making a mistake is minimized here.
Professional webmasters note the following main advantages of Webflow:
the ability to upload page code in HTML format (important for use on personal hosting);
the ability to demonstrate interface prototypes to the customer without the need to publish the entire project;
organization of site maintenance for several customers, when everyone pays for their hosting and functionality separately.
The second largest category of Webflow users is business. Why do companies choose this particular program? Hiring a new webmaster to replace a retired one or laying off a specialist, a large enterprise does not need to care about maintaining the code component. A person will actually work only with the interface of the site, and the backend will be provided by the program as a "service". In addition, hosting here is provided on the basis of the Amazon Web Services (AWS) cloud platform, which pleases with maximum performance and unlimited growth opportunities.
Important point: For beginners in web development, you can use Webflow except for learning and honing your skills. It is not recommended to rush headlong to immediately make a site on this program. The ready-made templates provided by the service really speed up the process of launching a project, but do not make it easier. Also, with webflow development agency, you can create a website quickly and easily, without needing to know any coding. To do this, you simply need to contact the experts in the field.
What is Squarespace?
Squarespace is an all-in-one SaaS platform that allows you to create websites without programming skills, knowledge of PHP, HTML, CSS, etc. You can create projects from scratch or using ready-made templates from an existing library. In addition, the platform acts as a hosting service, which is very convenient.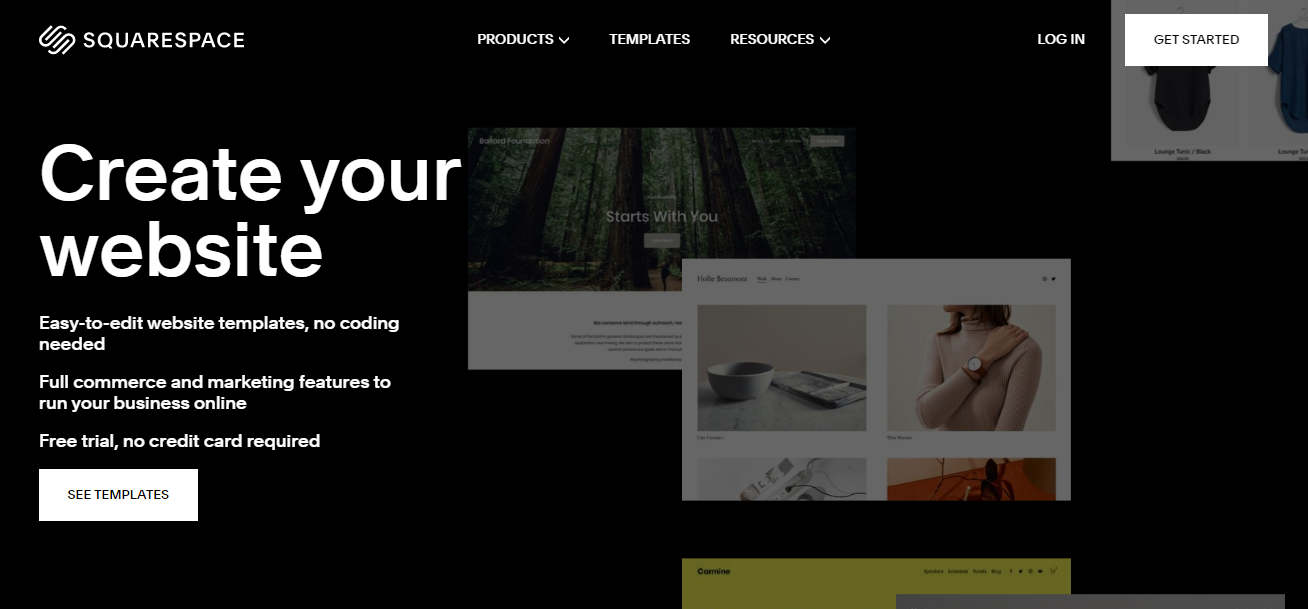 At its core, Squarespace is a deeply detailed, full-featured yet fairly simple, intuitive website builder. It is aimed at a wide audience of users. Ease of use is ensured by the program's interface that supports drag-and-drop technology and a simple menu. Thus, even a beginner who has recently begun to study web development can create a completely high-quality website. Moreover, an impressive library of ready-made templates is given to help him. Accessibility coupled with powerful functionality is not the only advantage that tips the scales when choosing a website builder in favor of Squarespace. Widely represented integration with other platforms is its second major plus.
What exactly is Squarespace best suited for? Many are inclined to believe that this is the best solution for creating online stores. The level of its capabilities in this segment of web development is characterized as very worthy.
Webflow vs Squarespace: Function
Webflow, Squarespace — both programs were designed to solve the same tasks — creating websites. However, each of them has a unique set of functionality. We will tell you how Squarespace and Webflow are similar and how they differ, if we consider them from the perspective of functions and capabilities.
Feature set
Webflow is packed with features to the point that webmasters can use it to work on the most complex projects. Extensive HTML/CSS markup editing options, along with powerful site design customization tools, ensure you get the best result. Webflow is positioned as a platform "sharpened" for blogging and e-commerce. At the same time, it is flexible enough to offer many web design options for almost any request, not necessarily related to business.
The program allows the user to:
make custom forms;
create dropdown menus;
embed CSS/HTML;
create carousels and background sliders;
integrate videos;
"screw" Google Maps with interactive elements;
embed lightbox elements;
add animations, emojis and other tools for interacting with visitors;
create adaptive navigation on the pages of the site.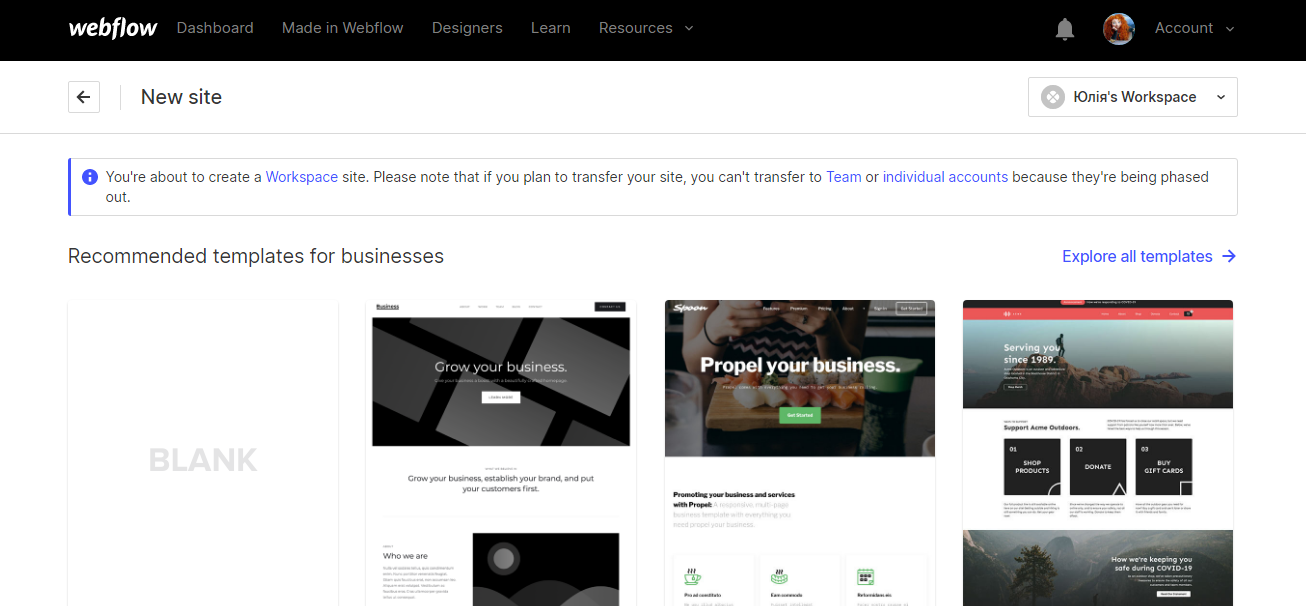 With the help of Webflow, the created website can be immediately optimized for adequate display on mobile devices. This is one of the ways to retain the audience and increase the number of new unique visitors. Adaptation and development of the resource right at the start is a significant plus that you should definitely take advantage of.
Another of the significant advantages of Webflow is the ability to export the site code created using this program. This function is important if in the future it is planned to transfer the finished web resource to some other platform or give it to a specialist for more detailed settings. There are only a handful of programs that offer the same portability and Webflow is one of them.
Among the significant advantages of this website builder is also the function that allows you to change the layout of the website. It is not available in most other services. If you need to make a unique design with interactive elements, Webflow will give you access to the latest motion design techniques.
The Squarespace website builder differs from Webflow in more flexibility. The fact is that it can be used not only to develop a site, but also to ensure the fullest possible functionality of the created resource. The built-in shopping cart, auto-publishing of content and more help to implement this.
Connect Facebook Lead Ads to CRM, Email, SMS & Spreadsheets
Use SaveLeads to connect Facebook to different apps. Over 120+ ready-made integrations available now
Automate the work with leads from the Facebook advertising account
Empower with integrations and instant transfer of leads
Don't spend money on developers or integrators
Save time by automating routine tasks
Test the work of the service for
free
right now and start saving up to 30% of the time!
Try it
Squarespace gives you the opportunity to:
install internal applications and widgets (the platform has an impressive collection);
use a set of special tools to customize the design of the site;
export and import content and products;
work on the project collectively (management of the site by several users with different sets of rights: administrator, content editor, moderator, online store manager, billing and reporting specialist);
synchronize with third-party platforms and services (Dropbox cloud, auto-publishing in social networks, and so on).

In addition to site building features, Squarespace provides users with a set of internal blogging tools. It contains options for content scheduling, the ability to integrate author ratings, post display format settings, support for multiple copywriters, geotagging insertion, URL editing, and more.
E-commerce
Webflow has a built-in mechanism for online commerce. It makes it possible to design, scale and sell an online store, regardless of its "dimensions" and level of complexity. Also, with its help, you can create, edit and replenish product catalogs-galleries from scratch. To do this, you just need to add the right amount of goods and prescribe their characteristics. To do all this, it is not at all necessary to be a web programmer and be able to write code. But the result will pleasantly surprise you, because the created online storefront will look like a real professional worked on it. In addition, Webflow supports integration with other e-commerce software.
The Squarespace builder is also not without features that allow you to work with e-commerce. Selling goods (physical and digital), setting up the nuances of payment and delivery of ordered products, integration with third-party platforms, support for the PayPal payment system — Squarespace has all this and more. In addition, the user gets the opportunity to create discount coupons, export data, add additional managers to the online store, organize an order confirmation system by sending emails to customers.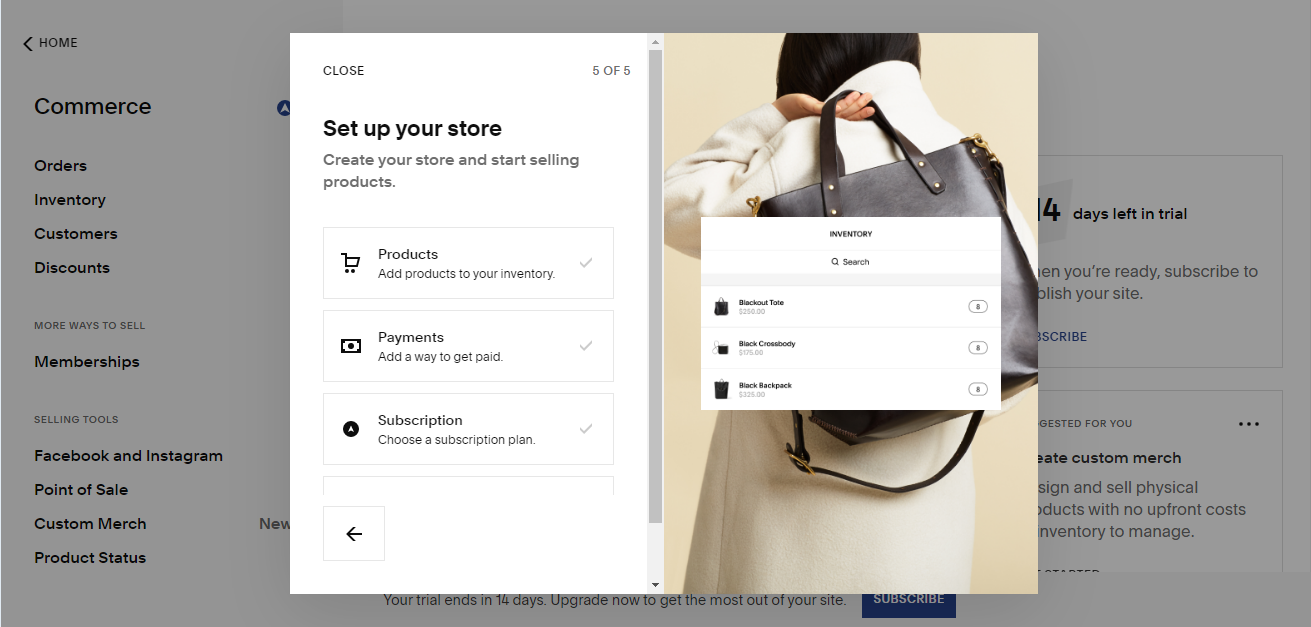 Analytics
Webflow makes it possible to monitor the statistics of an online store, controlling its success rates. The program offers the user tools for analytics, inventory monitoring, setting delivery, payment and taxation criteria, as well as mechanisms for creating/launching special offers and promotions. Every online store made in Webflow is "friends" with SEO. This means that the chances of breaking into the top in the search engine results are quite high. As a result, its owner will receive an increase in traffic and, most likely, income.
Analytical panels of Squarespace give the user a whole package of valuable data: the behavior of site visitors and their geography, traffic sources, individual page views, the number of abandoned carts. In addition, using the analytics tools of this platform, you can get information about the conversions and income generated by the online store for a specific period of time.
The most requested analytics in Squarespace:
traffic and its sources;
geography;
search queries;
button and form conversion;
buying and selling funnel.
Webflow or Squarespace?
Webflow is mainly aimed at professionals in the field of web development, therefore it has advanced functionality and a number of complex specific tools for creating and customizing designs. With their help, the developer can make large-scale website projects of high enough quality for their customers.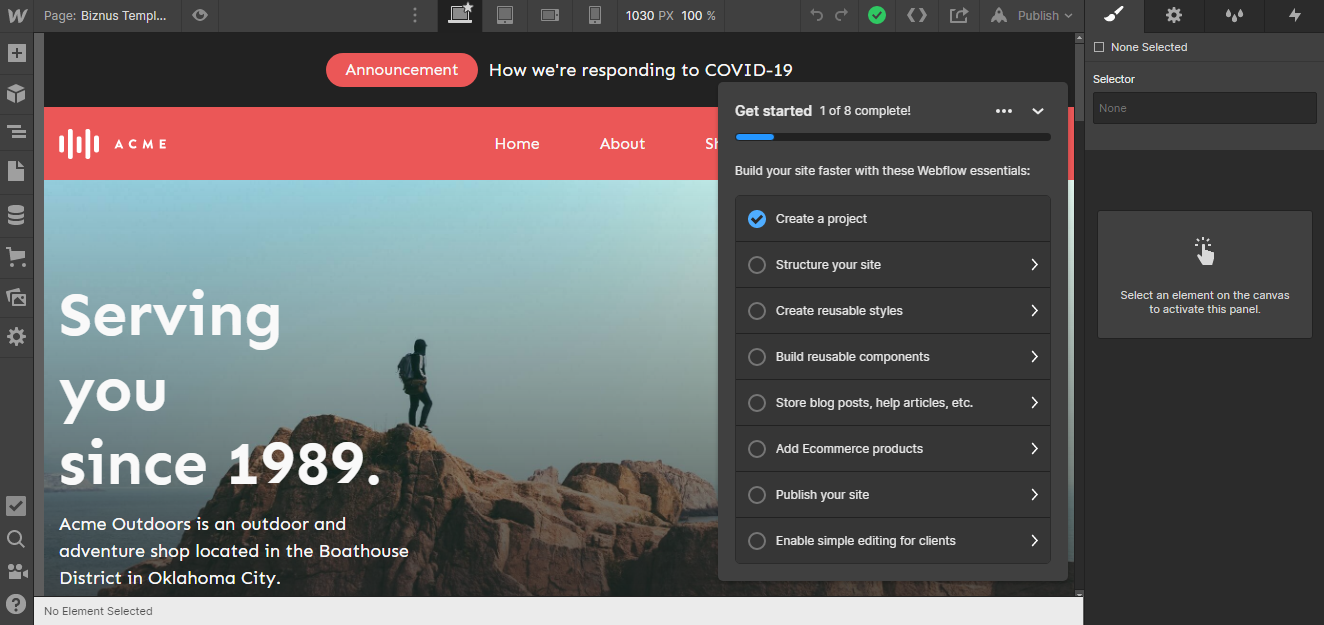 The Squarespace platform is aimed primarily at inexperienced users. Its set of features and customization options differs from the Webflow toolkit in greater flexibility, practicality, and intuitive accessibility. Thus, Squarespace allows you to build a very good website even for a beginner who has never done web development before.
Main differences
Among the differences between Webflow and Squarespace programs, there are 3 main ones:
Webflow is more of a software for professionals. Requires knowledge of at least the basic concepts of web development and site design. But Squarespace is the best solution for those who are not related to the field of programming, and for beginners without any experience in the field of web design.
Webflow is equipped with a more powerful arsenal of tools and functions for flexible customization of the site being created and its design. The Squarespace builder looks more limited compared to the professional program.
Webflow offers users a choice of 7 pricing plans. Everyone can choose the most suitable for themselves in terms of cost. The Squarespace platform only provided 4 pricing plans with a 2-week trial.
Webflow vs Squarespace: Pricing
The Webflow service has a free version. There is no trial period here. It would seem that a catch must be hidden somewhere — it cannot be that the developers simply distribute such a professional program to everyone free of charge. Here it is: the free plan allows you to host sites only on a subdomain webflow.io. In addition, the technical possibilities are also limited.
Paid Webflow plans are divided into 2 categories: General and E-commerce. The block of General plans includes:
Basic — $14 per month (custom domain, 500 monthly form submissions, 50 GB bandwidth).
CMS — $23/month (custom domain, 2,000 CMS items, 1,000 monthly form submissions, 200 GB bandwidth, 3 guest editors).
Business — $39/month (custom domain, 10,000 CMS items, 2,500 monthly form submissions, 400 GB bandwidth, 10 guest editors).
Enterprise — price negotiable (custom domain, SLA uptime, 10,000+ CMS items, custom monthly form submissions, custom bandwidth, custom number of guest editors).
The block of plans designed for e-commerce includes:
Standard — $29 per month (500 items, 2% transaction fee, $50,000 annual sales, all CMS plan features).
Plus — $74 per month (5,000 items, 0% transaction fee, $200,000 annual sales, all Business plan features).
Advanced — $212 per month (15,000 items, 0% transaction fee, unlimited annual sales, all Business plan features).
Squarespace website builder does not have a free version. Instead, the user is offered to test the program during a 14-day free trial period. There are 4 tariff plans to choose from:
Personal — $16 per month.
Business — $23 per month.
Commerce Basic — $27 per month.
Commerce Advanced — $49 per month.
Each of them contains SSL encryption, unlimited bandwidth, the ability to post videos up to 30 minutes on the site, SEO functionality, tools for creating a blog and portfolio, optimizing the site for mobile devices, as well as 24/7 technical support, basic site metrics and more. only. The Business plan is enhanced with CSS and JavaScript customization options, third-party app integrations, analytics, campaign management and launching tools, commerce features, and more. The Commerce Basic and Commerce Advanced plans include all the features of the Business plan, plus a range of useful commercial features (such as automatic emails to customers, calls to subscribers, and more).
Prices are subject to annual payment.
Final thoughts
So what to choose: Squarespace or Webflow? Both programs are considered worthy representatives of the software segment for creating websites. Each of them has an impressive set of tools, features and capabilities for web design. The websites created with these programs are of high quality and look like they were created by a professional programmer. Therefore, it is not easy to unambiguously determine the "winner" in this comparison.
Webflow is a visual website builder that will come in handy for an experienced web developer or web design agency. It meets the high requirements for such software and will help you cope with even the most complex projects. Squarespace is a website building platform equipped with its own arsenal of e-commerce tools. This website builder features an intuitive interface, making it the preferred choice for web design beginners. However, Squarespace is slightly inferior to Webflow in terms of functionality and site design customization options.
Before making a choice in favor of Webflow or Squarespace, it is recommended to test both programs, carefully consider all the advantages and disadvantages of each, pay attention to the positioning of the platform and its target audience. After that, you will be able to draw personal conclusions and make an informed decision.
***
Are you using Facebook Lead Ads? Then you will surely appreciate our service. The SaveMyLeads online connector is a simple and affordable tool that anyone can use to set up integrations for Facebook. Please note that you do not need to code or learn special technologies. Just register on our website and create the necessary integration through the web interface. Connect your advertising account with various services and applications. Integrations are configured in just 5-10 minutes, and in the long run they will save you an impressive amount of time.