According to statistics, almost 90% of new enterprises and startups fall apart. The most common reason for that is that they zeroed in on the attempts to make their product perfect and pay too little attention to customer service.
***
Small enterprises usually don't hurry over CRM (Customer Relationship Management) implementation and this can turn into a fatal mistake.
In this article, you will learn how these systems can help you even at the early stage of a company's development, and provide a brief overview of the most suitable CRM platforms for small businesses.
Why should you hurry over the CRM implementation?
You never lose your potential customers. Most new enterprises try their best to increase sales or orders, so literally, every lead is important to them. Doing this manually it's easy to miss out on some very profitable deals and not to get the maximum ad payout. CRM will never miss a single lead because it automatically collects all requests, letters, and calls from potential customers into a single database.
You comfortably keep customer and sales database. The CRM functionality allows you to keep all information about your customers in a single base, and track all sales, orders, and deals. What is important, all this data is not bound to a certain manager because most CRM systems have access control and collaborative work features.
You have control over business metrics. CRM platforms are equipped with a variety of analytics and statistics tools that allow you to monitor all important performance indicators of your company (for example, working hours and KPI of employees, sales and financial indicators) and identify the most profitable products, key customers, etc.
You optimize work and save time. CRM makes it possible to automate lots of routine processes and operations: mailing, calls, inquiries, requests, reports, invoices, and so on. Moreover, by switching to the platform, all data will be stored in one place which makes it significantly easier to search for necessary information.
So, what platforms are the most suitable for small enterprises?
SendPulse CRM
SendPulse provides a convenient tool for automating sales and communication with customers — a free CRM. There, you can create sales tunnels and see at what stage the client is. This will help to personalize your marketing approach to make his progression toward purchase smooth and fast. To increase the efficiency of the work on a task, distribute transactions among your team members.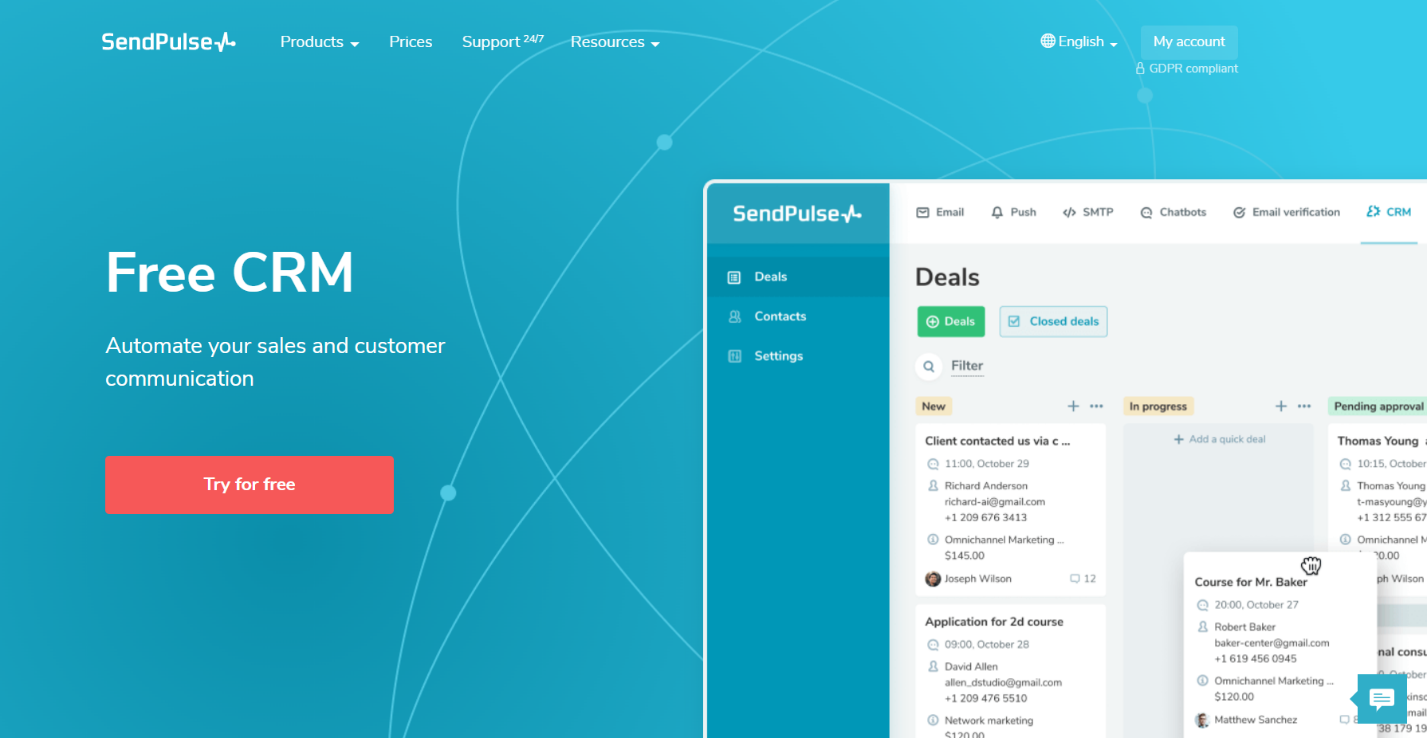 SendPulse allows you to keep all client data in a single database, which will allow the entrepreneur to quickly contact the client using a file with his contacts or directly from an open transaction. Using CRM, you can contact the client through several channels: by email or in Facebook Messenger, Telegram or WhatsApp chats.
No special knowledge is required to use CRM. Any small or medium business entrepreneur can use this tool. A user-friendly interface makes it easy to track the stages of transactions, filter customer cards, and also see the integrations and tasks.
Agile CRM
Agile CRM is a multifunctional service designed for sales, marketing, and customer service automation. Thanks to Agile technology, companies, and startups can keep a user base, automate communications, monitor transactions progress, and optimize work processes.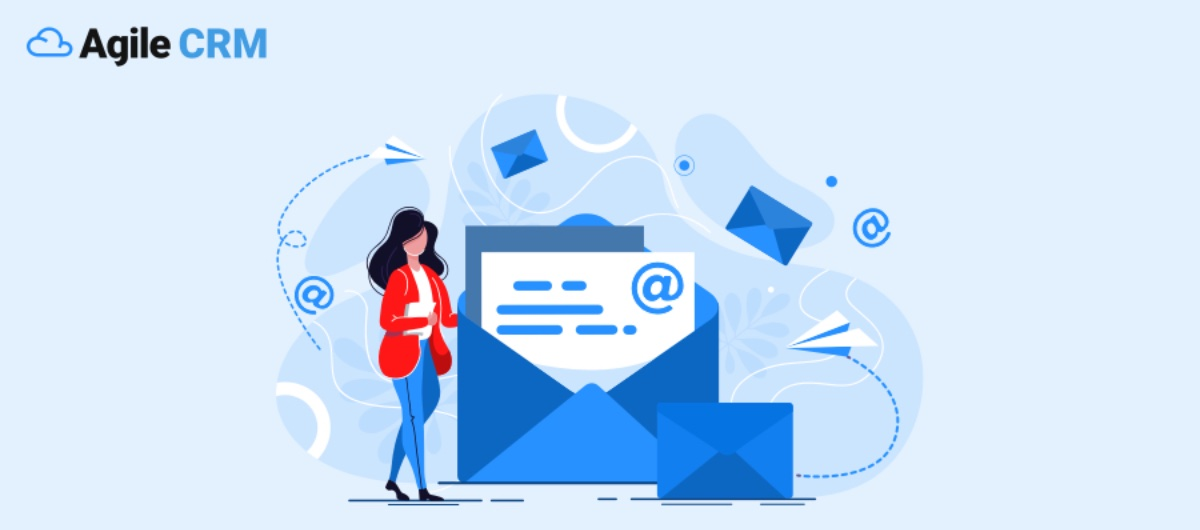 Another unique feature of Agile CRM is marketing tools support, including email marketing and SMM. There is also a landing page creation function, a help desk module, a ticket system, and a knowledge base. The platform supports integration with Twitter, Facebook, Linkedin, Google Apps, Twilio, and other services. There is a free plan (up to 10 users) and three paid plans, starting at $9/month for a user.

Hubspot
The main advantage of Hubspot CRM is the availability of a full-fledged free plan, which makes it especially attractive for small companies and startups. It allows you to maintain an extensive base of customers (up to 1 million contacts), sales, orders, deals, tasks, and meetings. There are also the following options for your convenience: activity feed, contacts tracking, and customer support (tickets) via a feedback form and an online chat.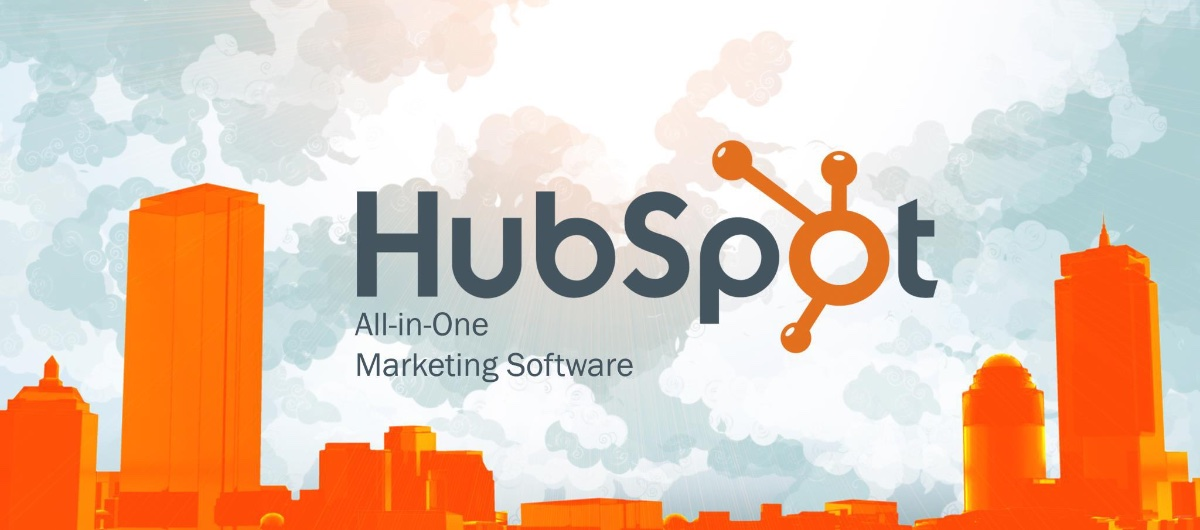 Moreover, Hubspot allows you to chat and make calls, create landing pages and multi-page sites, launch email and other online marketing campaigns. There are lead generation and lead management functions, as well as flexible analytics options for emailing, finance, other marketing campaigns, CTAs, and so on. CRM Hubspot is integrable with Facebook Ads, Salesforce, MailChimp, Google Analytics, WordPress, Tilda, etc.

Salesflare
Salesflare CRM is designed specifically for startups and small companies operating in the B2B field. It helps automate the processes of creating and keeping a customer base, automatically collecting customer data from different sources (websites, social networks, email, etc.) and adding them to the database. It also allows you to track deals and other interaction ways with your audience.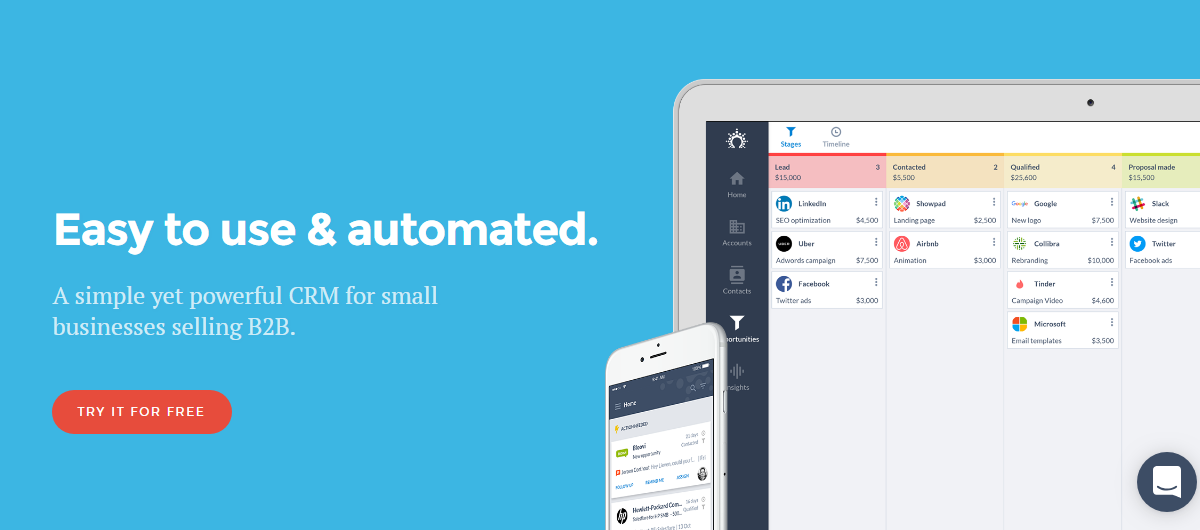 With Salesflare CRM you can automatically receive data from online chats and web forms. The system supports integration with many third-party services, including Google products, Facebook Lead Ads, Slack, MailChimp, and others. CRM Salesflare provides three tariff plans, with the base tariff of $29/user per month.

Salesforce
Salesforce is one of the most popular and well-known CRM platforms, created for small, medium-sized, and large businesses. Its main module Sales Cloud is designed for sales processes support, customer base keeping assistance, invoice issuing, transaction progress monitoring, etc. Marketing and sales analytics tools are also available here. Salesforce Sales Cloud offers 5 price plans, starting at $5/month for a user.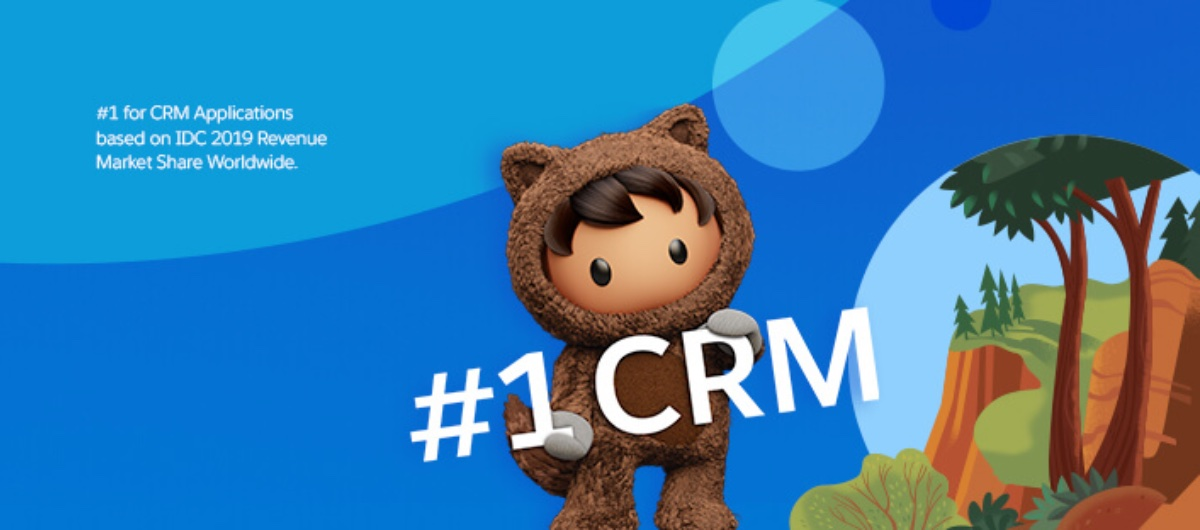 Another key module of this CRM platform is Salesforce Service Cloud – a powerful toolkit for customer support and the creation of a self-service system. There are a knowledge base, webchat, incident and asset management modules, as well as integration possibility with social networks and other web resources (directly or via API). Salesforce Service Cloud offers 3 price plans, starting at $65/ month for a user.

Salesmate
Salesmate CRM is a sales automation toolkit for small and medium-sized enterprises. With its help, you can keep a detailed customer and counterparty database, monitor transactions, and communicate via e-mail, telephony, and online chat. The platform allows you to import a customer database from various third-party sources like Google Sheets, Excel, or phone numbers directory.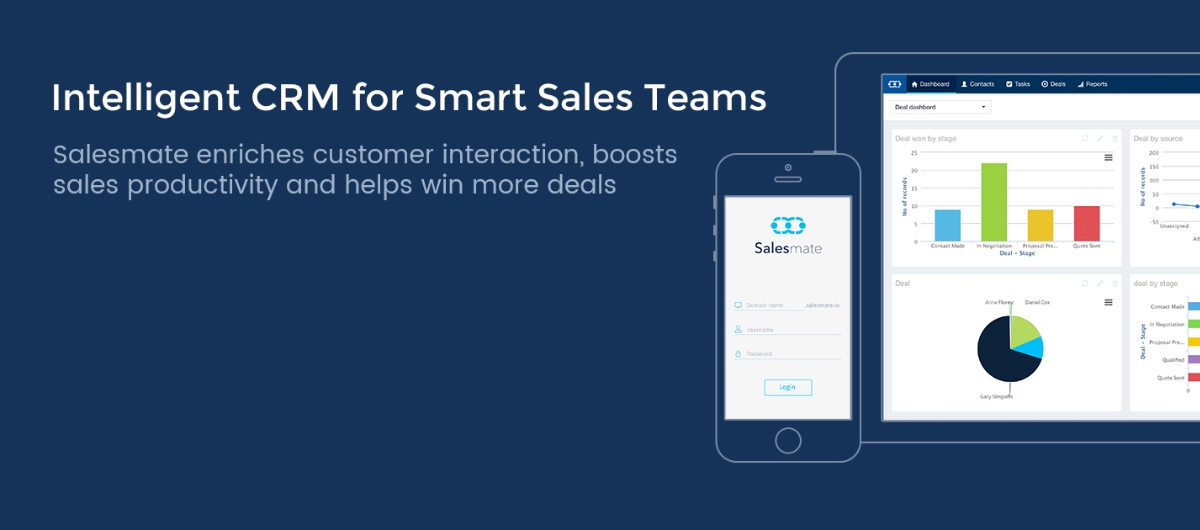 The Salesmate deal management module allows you to set priorities and intermediate tasks, and it also includes full-fledged purchase funnels. In addition, here you can segment your customer base and search for the necessary contacts using different filters. There are a set of email marketing functions (email templates, campaign analytics), a notification, and a monitoring system of employee actions. CRM Salesmate is available as a web service and as a mobile application (iOS, Android), the base rate is $12/month for each employee.

Zoho
Zoho is a universal CRM, used by more than 250,000 companies and entrepreneurs in 180 countries. It provides a comprehensive business management system that includes sales, marketing, resource management, and customer support modules. With Zoho CRM, you can keep a single customer database in one place, including contacts, accounts, deals, orders, and other important data.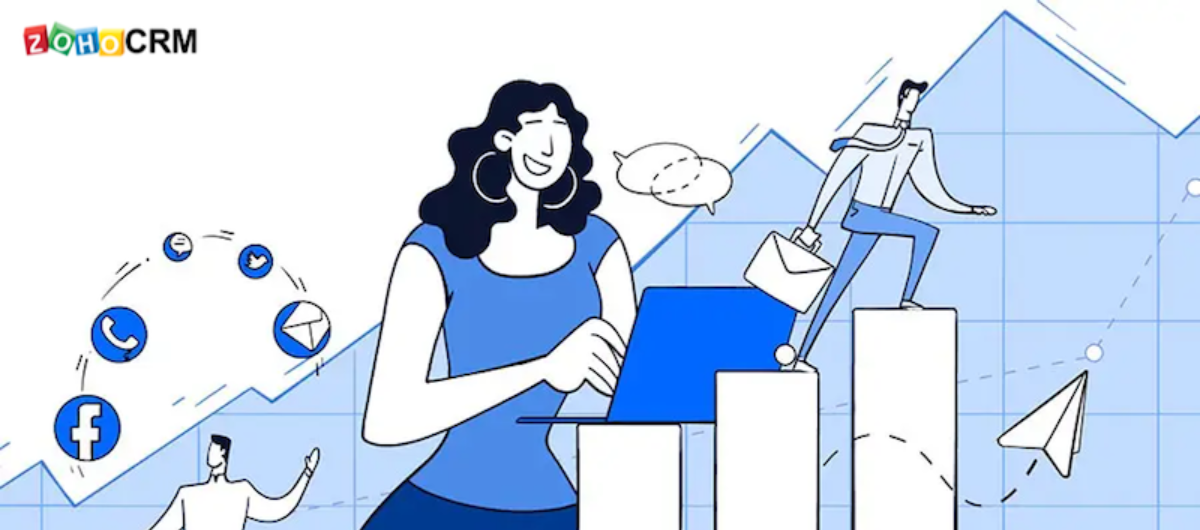 Moreover, Zoho CRM includes many functions for planning and conducting advertising and marketing campaigns, and tracking marketing, sales, and financial indicators. With Zoho CRM, you can control the purchase of goods and services from counterparties, maintain accounting records, manage tasks. There are multiple integration options with Gmail, WordPress, Microsoft Outlook, online telephony, and other software. Zoho CRM offers a wide range of tariff plans, starting with a free service package for 3 users, and a 15-day trial period.

Conclusion. What CPM is the best
Modern CRM platforms are universal tools, which are useful not only for large enterprises but also for small companies. Moreover, they are able not only to automate and optimize customer interaction but also to manage other areas of the company's activities, like sales, marketing, etc.
Connect Facebook Lead Ads to CRM, Email, SMS & Spreadsheets
Use SaveLeads to connect Facebook to different apps. Over 120+ ready-made integrations available now
Automate the work with leads from the Facebook advertising account
Empower with integrations and instant transfer of leads
Don't spend money on developers or integrators
Save time by automating routine tasks
Test the work of the service for
free
right now and start saving up to 30% of the time!
Try it
In this article, we have reviewed the 6 most suitable CRM platforms for small businesses, each of which has its own characteristics, capabilities, and pricing policy. Based on this information, you can choose the best CRM for your company or startup.
***
All of the CRM systems we have named have broad functionality. But their capabilities can be further expanded thanks to the SaveMyLeads service. You will never again have to transfer data from Facebook leads manually, at the risk of forgetting something or making a mistake. New contacts and tasks will be created in your CRM automatically, immediately after a potential client has filled out a lead form on a social network. Take your business automation to the next level! Sign up for free trial!