As the development of artificial intelligence progresses and more powerful AI tools are created for text generation, the need to recognize and differentiate such content from products of human intellect becomes increasingly important. Interestingly, AI-based content detection technologies are also employed to address this challenge. In our article, you will discover the significance and usefulness of this procedure, the various methods that exist for identifying "artificial" content, and the most popular detection services available today.
Why Do We Need AI Content Recognition Services?
Modern AI text generators have extensive capabilities that are constantly being improved as these programs are updated. For example, the well-known AI chatbot ChatGPT, developed based on the GPT-4 algorithm, can produce a fairly large volume of coherent text on a given topic – up to 25,000 words. This amount is more than enough to entrust it with the preparation of a comprehensive technical article, legal contract, or even a literary work.
According to statistics, a significant portion (over 15%) of copywriters, journalists, freelance authors, and other text content creators regularly use AI services to increase their productivity. However, the product generated by neural networks often contains inaccurate or incorrectly presented information, and sometimes even outright plagiarism. Of course, text clients want to avoid uncertainty and be sure that the contractor is paid for the work honestly performed.
As it turns out, content created using artificial intelligence algorithms is negatively perceived not only by readers, but also by search engines. For example, Google has implemented two protection systems against low-quality spam content generated by AI:
A ranking system.
A useful content system.

The first one finds relevant, original content and shows it to users as a priority. The second technology was launched recently: it tracks web pages and articles containing texts with genuinely useful information for readers on the subject, rather than just being well-optimized for search queries but absolutely meaningless.
Google specialists claim that their system uses multiple algorithms that automatically recognize low-quality AI-generated content and reduce the performance of websites where it is located. At the same time, the largest search engine is not aimed at a fundamental fight against "artificial" texts. It can distinguish between high-quality AI content and spammy, incorrect, and irrelevant content. In any case, if you do not want to face Google's sanctions and disappoint your readers, we recommend checking texts for signs of AI work before publication. Best AI detection tools have been developed for the rapid solution of this problem, which we will discuss in more detail in the following sections.
How to Recognize AI-generated Text Independently?
You can sometimes recognize content created by neural networks literally by eye, without the help of special programs. Of course, you need to have some experience and know the main features of texts written by artificial intelligence. You can determine AI's involvement in the following ways:
Pay attention to repetitions or an artificial appearance of the text. Today's language models are still far from perfect, and their vocabulary is limited. Therefore, articles written by neural networks often contain repetitions of the same words in adjacent sentences, which professional authors try to avoid. Also, the generated text sometimes looks too emotionless and artificial.
Check the text through an AI content generator. Launch any service, send it a request to write a text on the topic, and compare the received result with the text that raises your doubts. It is desirable to make the request as specific as possible in terms of topic, structure, and volume. Then you will be able to accurately recognize the similarity between the material sent to you and the "creativity" of the neural network.

Search for plagiarism. Some AI text generators are not equipped with a built-in plagiarism check option. Therefore, the content they create is not always 100% unique. Checking through available AI-driven plagiarism detectors (such as Grammarly or Writer.com) is a simple but effective way to detect non-unique text. It will also be useful if the author generally wrote the text independently but generated some parts using neural networks or simply copied from the internet.

Conduct fact-checking. Review the article and highlight the facts mentioned in it, then check their accuracy. AI generators often create texts based on not quite current or even outdated information, which results in factual errors appearing in them. For example, the widely known chatbot ChatGPT knows nothing about events that occurred after the end of 2021.

Analyze the context. Try to determine the essence and track the narrative thread in the article. As a rule, professional authors follow a specific structure and gradually reveal the topic from general to specific. If you read the text and do not grasp the main point or notice too abrupt transitions in the narrative, this may be a sign of AI work.

Use specialized programs. Modern tools save you from having to track AI content on your own. They effectively automate this process using advanced algorithms specifically designed for such purposes.

Let's focus more on the last method. We suggest getting acquainted with the top AI content detectors, their features, and advantages.
Content at Scale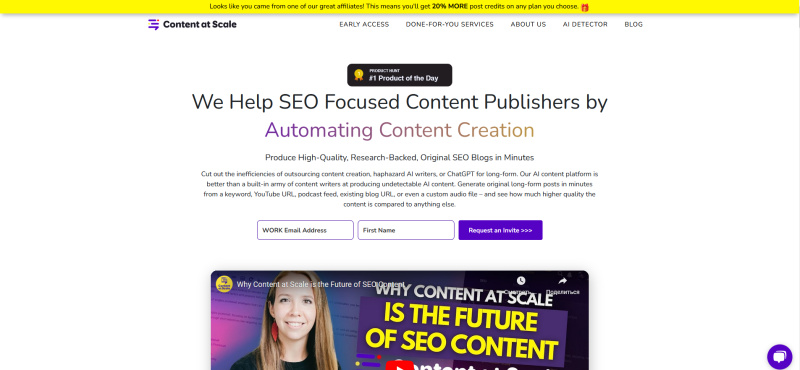 Content at Scale – a new free service for checking texts. It is capable of quickly and accurately detecting artificial content from GPT and other language models. In addition, it can generate SEO posts and articles with a list of keywords. The algorithms it uses can recognize text in more than 100 languages.
As a criterion for evaluation, Content at Scale offers a "human content score," which represents a combination of factors such as predictability, probability, and regularity. This service also helps to "humanize" texts by providing recommendations for their modification.
Another useful feature of the online detector is sentence segmentation. During the check, it highlights sentences that seem too artificial in color. This way, users can edit their texts selectively and quickly, without spending time rewriting them entirely.
Among other advantages of Content at Scale is its integration with WordPress. Another plus is the maximum number available for a single check – 2500 characters (about 400 words).
Writer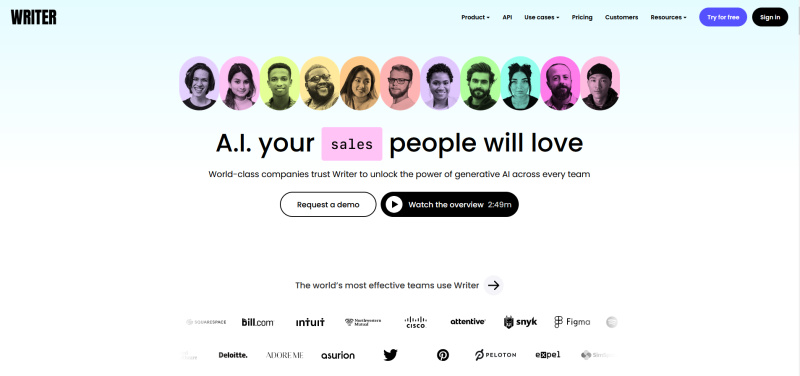 Writer – a universal platform for copywriters, authors, and marketers, offering a range of tools for checking, analyzing, and editing content. With its help, you can check grammar, analyze text style, and track plagiarism.
Another useful feature of the service is the built-in AI content detector. It can quickly determine how artificial a given text is, expressing its evaluation in percentages.
Writer processes a relatively modest amount of text – no more than 1500 characters or about 250 words at a time. On the other hand, it has many useful features for content authors and clients, especially for commercial purposes. For example, tools for brainstorming, quickly creating briefs, and so on are available here.
It is worth noting the promising CoWrite feature, which allows you to train the AI to generate content according to your requirements and preferences. With its help, you can create texts from scratch or edit those already written.

Connect applications without developers in 5 minutes!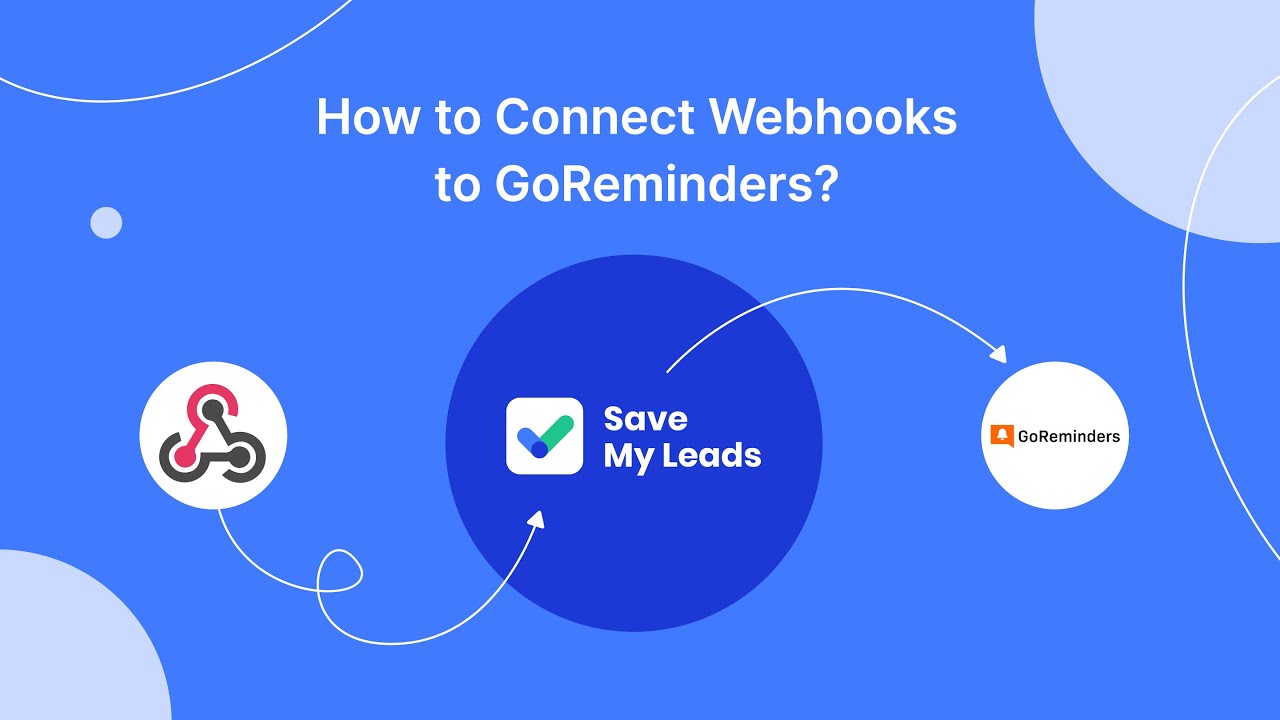 How to Connect Webhooks to GoReminders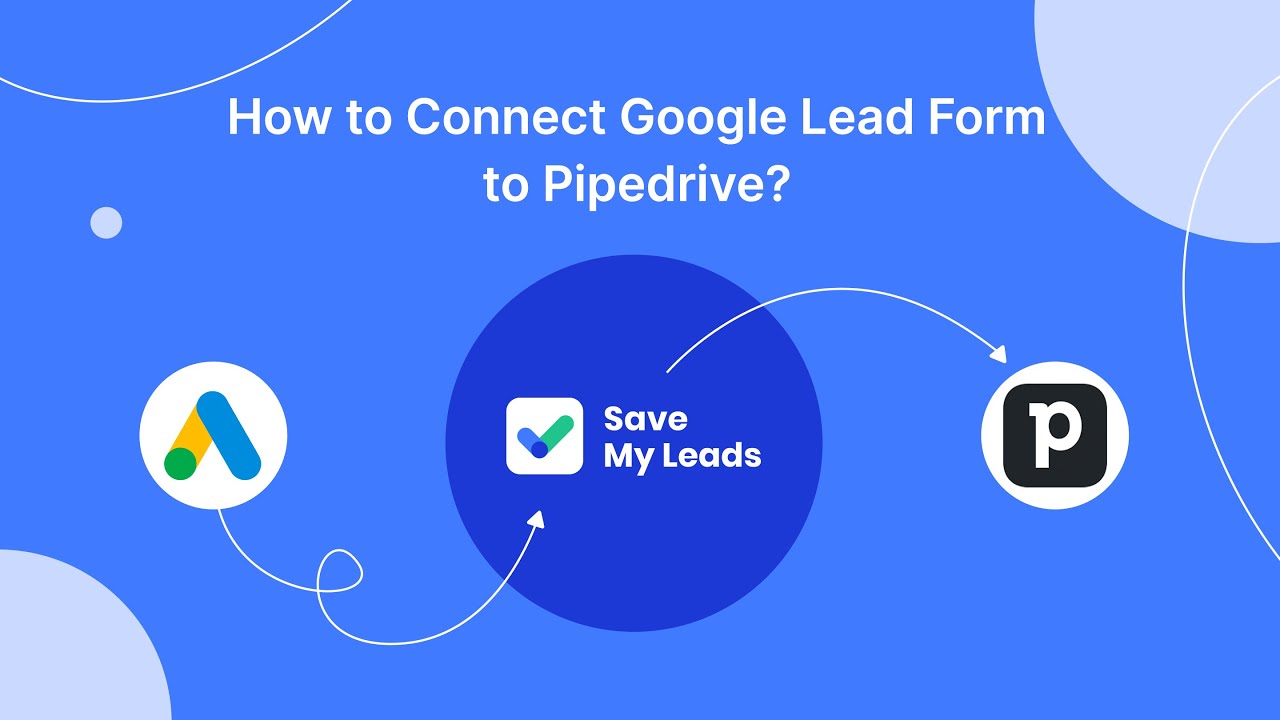 How to Connect Google Lead Form to Pipedrive (lead)
Copyleaks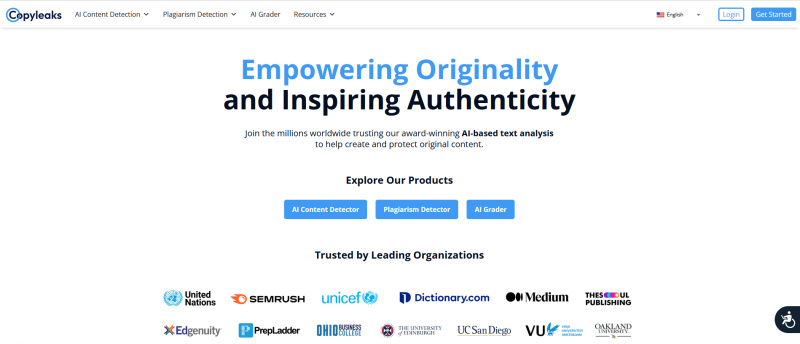 Copyleaks – another useful service for those interested in content analysis with AI. It offers a fairly simple and straightforward, but functional web interface, allowing for a quick check of text for AI-origin. According to the developers, its algorithms are trained to accurately detect content generated by the latest versions of GPT and other language models.
The claimed accuracy rate of Copyleaks is 92%. Unlike multifunctional platforms, this service has a more narrowly focused purpose. For example, there are no tools for content generation, stylistic analysis, SEO, etc. However, it does have an AI Grader feature for checking school and student work.
Among other features of Copyleaks, it is worth noting the presence of a Google Chrome extension. By installing it, users can enable automatic AI content recognition directly on website pages. The service's functionality also includes LMS and API, allowing for flexible integration with third-party systems.
Originality.AI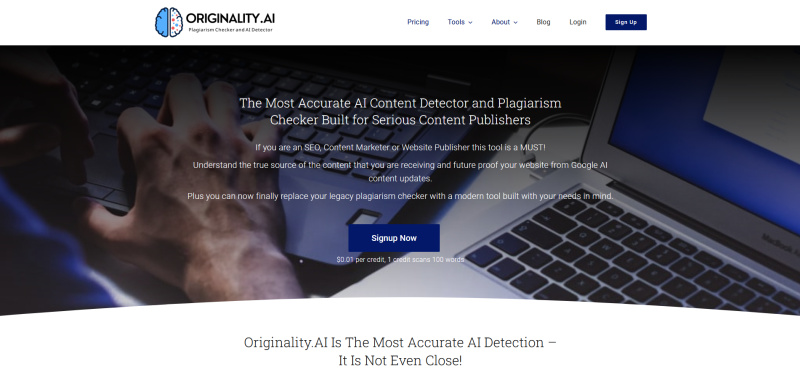 Originality.AI – a powerful online detector that accurately identifies both AI-generated text and regular human plagiarism. Its key advantages are its high speed and ease of use.
Originality.AI is available as a widget for the Google Chrome browser, so users do not need to copy and paste text into a workspace. Instead, they can check it directly at the place of publication. The service allows for analysis of both individual pages and entire websites, providing 95% accuracy in detecting paraphrased content. Its algorithms quickly check large volumes of text and highlight phrases and sentences considered artificial.
The service supports operation not only in individual, but also in team mode. This means that an unlimited number of users can access the account. It also saves the history of checks and can be integrated with external websites and applications via API. To get acquainted with the capabilities of Originality.AI, a limited but free version is available.
GPTZero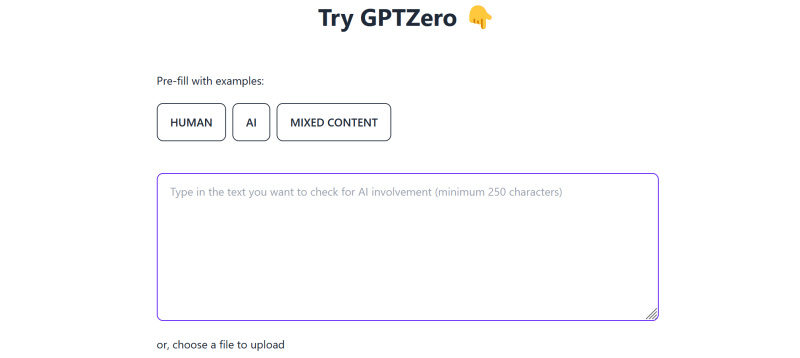 GPTZero – a simple, convenient, and functional service that uses unique scoring markers to track AI content. The developers claim that they created it specifically for teachers, but it is also suitable for other users.
GPTZero algorithms measure text randomness variations, which are usually high for human-written content and low for artificial content. Another important advantage of the service is the ability to check multiple text files at once.
GPTZero is absolutely free for individual users. To gain access to the basic features of the service, users simply need to register and verify their account. In addition, there is a paid premium version, GPTZero X, with an extended set of tools for teachers. An API is available for integrating the platform with external software.
Crossplag


At the core of Crossplag, like other similar services, are natural language processing (NLP) and machine learning (ML) technologies. The system's algorithms quickly check the text and display the degree of its artificiality in the form of a graphical scale with colored divisions: from green to red.
Among the advantages of this advanced AI content checker, we can highlight:
Multilingualism. This detector is capable of analyzing texts written in more than 100 languages.
Versatility. Crossplag is optimally suited for checking both academic and marketing materials, SEO content, and more.

Built-in plagiarism detector.

The ability to check text files in various formats.

As for the drawbacks of Crossplag, users mainly mention only one. They are dissatisfied with the relatively low accuracy in recognizing content generated by the latest versions of GPT.
Hugging Face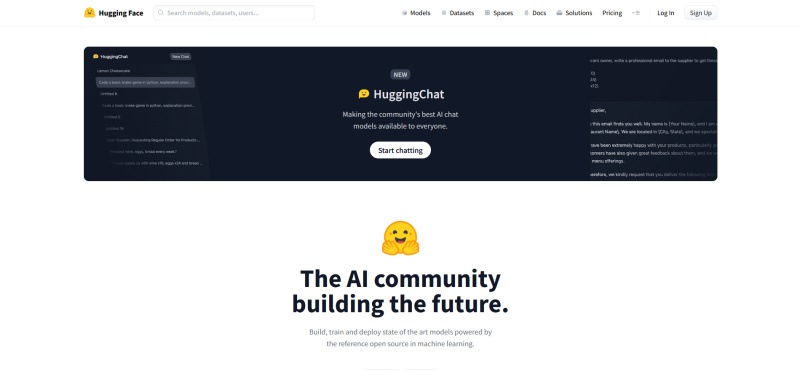 Hugging Face is another popular service for detecting content using AI. It is used by well-known AI content generator development companies like OpenAI and Grammarly. Moreover, OpenAI is the creator of this service.
This is a free, open-source service with a simple, intuitive interface. At the core of Hugging Face's functionality is an algorithm for recognizing AI-generated text called RoBERTa (Robustly Optimized BERT Pre-training Approach).
The detector is capable of recognizing content created by the GPT-3 neural network and the ChatGPT chatbot. However, it was trained on the GPT-2 language model, which significantly limits its ability to identify content generated by more modern algorithms (such as GPT-4).
Let's Sum Up
The pace of AI-generated text content creation is rapidly increasing. It is most often seen in the fields of marketing, online industry, and search engine optimization. Considering the speed at which "artificial" texts are spreading, checking their originality may become an integral part of content creation in the future. Similarly, uniqueness checks are now hard to imagine the text preparation process for websites without. To keep up with progress, it is recommended to start studying detectors now.
When comparing various tools for detecting AI-generated content, pay special attention to their speed, accuracy, price, and ease of use. Speed will directly affect your workflow. If the detector takes too long to process the text, remember that it will slow you down significantly. Slow content checks will give your competitors an advantage. Accuracy is one of the most important characteristics of such services. If the tool you choose cannot accurately distinguish "artificial" content from human-written content, it is probably not worth purchasing a subscription. By the way, the price is also an important factor. Some detectors require advance payment or a continuous subscription. Determine the payment amount and method that suits you. Finally, test the detectors you like for ease of use. The service interface should be intuitive, and settings and notifications should be easily adjustable.
***
Personalized responses to new clients from Facebook/Instagram. Receiving data on new orders in real time. Prompt delivery of information to all employees who are involved in lead processing. All this can be done automatically. With the SaveMyLeads service, you will be able to easily create integrations for Facebook Lead Ads and implement automation. Set up the integration once and let it do the chores every day.