For some Twitter users, the purchase of this social network by Elon Musk and some of his management decisions became the reason for leaving it and looking for a worthy analogue. We suggest you check out the top five alternatives to Twitter. Perhaps you will like one of them so much that you prefer it for "relocation".
What is Twitter?
Twitter is a microblogging service and social network where users can post brief notes (tweets). Each post is limited to 280 characters. Text tweets are allowed to be supplemented with links, images, photos and videos. This social network makes it possible to stay up to date with the latest events in the world, maintain communication and connection with relatives, colleagues and friends.
Twitter was created by computer scientists Jack Dorsey and Biz Stone with investment backing from entrepreneur Evan Williams in 2006. A year after the launch, the social network had several hundred thousand regular users. Due to the high level of popularity and demand, the service has become one of the most effective tools for SMM specialists. Today it is also actively used to promote web resources.
The microblogging service has a number of advantages for the field of Internet marketing:
The ability to build high-quality link mass for a promoted site.
The speed of indexing by search engines of links from Twitter. If the anchor of the link includes a keyword selected by an SEO specialist for the search engine optimization of a web resource, the algorithms determine the page to which it leads as more relevant to this query.
Efficiency of notifying all readers of the tape about any news and changes (appearance of new materials on the site being promoted, expansion of the range of services, promotions and discounts on products, and so on). The "retweet" function allows you to distribute the necessary information in just one click.
Formation of a thematically committed audience, part of which, as the account develops, turns into regular site visitors.
Despite these advantages, many today are actively looking for an answer to the question: what are alternatives to Twitter. What happened? Why did users start moving to other social media alternatives to Twitter?
Reasons for looking for a Twitter alternative
At the end of October 2022, Elon Musk, the founder of the world-famous companies SpaceX and Tesla, made an official announcement about the acquisition of the social network Twitter. Since that moment, it has already managed to survive a number of changes that not all users liked. And, apparently, the transformation did not end there. The main changes in the microblogging service, apparently, are yet to come. From the perspective of some experts, they will affect the policy of free speech, worsening it.
As of December 2022, Twitter had 368 million monthly active users. However, according to Insider Intelligence analysts, over 30 million people are projected to leave this social network during 2023 and 2024. The main reasons for leaving users and search alternative to Twitter: the growth of concern about the technical problems of the service, the increase in the amount of offensive content and the unwillingness of Elon Musk to fight it.
Other equally important reasons for fleeing and looking for other websites like Twitter include:
inciting hatred on any grounds and trolling;
fake accounts;
fake news;
spam;
censorship;
unsatisfactory visibility of advertising;
data security and privacy issues;
development of pathological dependence on the social network.
Because of all of the above, some celebrities have already deleted their Twitter accounts: screenwriter and producer Shonda Rhimes, singer Toni Braxton, supermodel Gigi Hadid and others. Several well-known large companies (one of them - L'Oréal) stopped advertising here. If you decide to follow their example, we suggest that you consider, what are the apps like Twitter, namely the top 5 best alternatives to Twitter, and choose one to switch to.
Mastodon
Type: distributed federated social network
Number of daily active users: approximately 1.8 million (as of January 2023)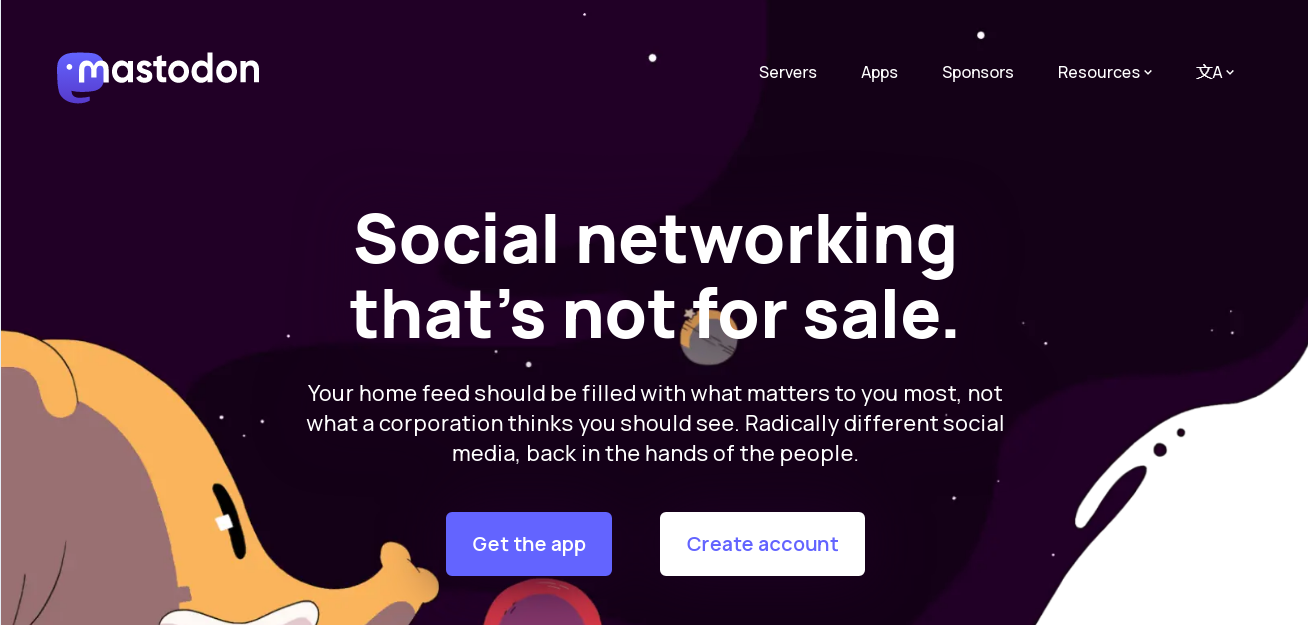 Mastodon is a social network that is a decentralized federation of independent servers with free and open-source software installed on them. If you are looking for social media like Twitter, this is one of it. Users can register on the network on any of servers (they are called "instances"). After that, they get the opportunity to connect to other servers, create their own and communicate freely with members of different communities – in a word, lead an active network life.
Social network Mastodon differs from Twitter in its focus on thematic communities. In this perspective, it is more like Internet forums or the LiveJourmal blog platform, where like-minded people unite in groups for communication. Each group has its own moderation rules. In addition to them, there are also basic network-wide ones that must be respected on all servers (for example, zero tolerance for sexism, racism and transphobia).
Mastodon can be called an alternative to Twitter for conservatives. Externally, it is very similar to the TweetDeck application. Posts on this social network look like short messages – they are called "toots" here. The length of each such message is limited to 500 characters. It is allowed to attach images, photos, audio files, videos, as well as put hashtags to them. In addition, the functionality of the network allows you to hide "adult" content, hide information under a spoiler, set up privacy and add a description of messages for people with disabilities.
Reddit
Creators: Steve Huffman, Alexis Ohanian, Aaron Swartz
Type: entertainment and news Internet service
Number of daily active users: 50 million (as of October 2022)

Reddit is an online platform for communication and exchange of various information. This Twitter alternative app is made up of thousands of user-created communities, referred to here as "subreddits". Each such subreddit has a specific topic (for example, business, medicine, beauty and health, entertainment and hobbies, news). Many communities have their own codes of internal rules, which must be observed by their members dependably. Anyone can read everything posted on Reddit without registration. But to leave comments, make your own posts or create new subreddits, the user will have to register on the service. It is similar to Twitter in this.

Connect applications without developers in 5 minutes!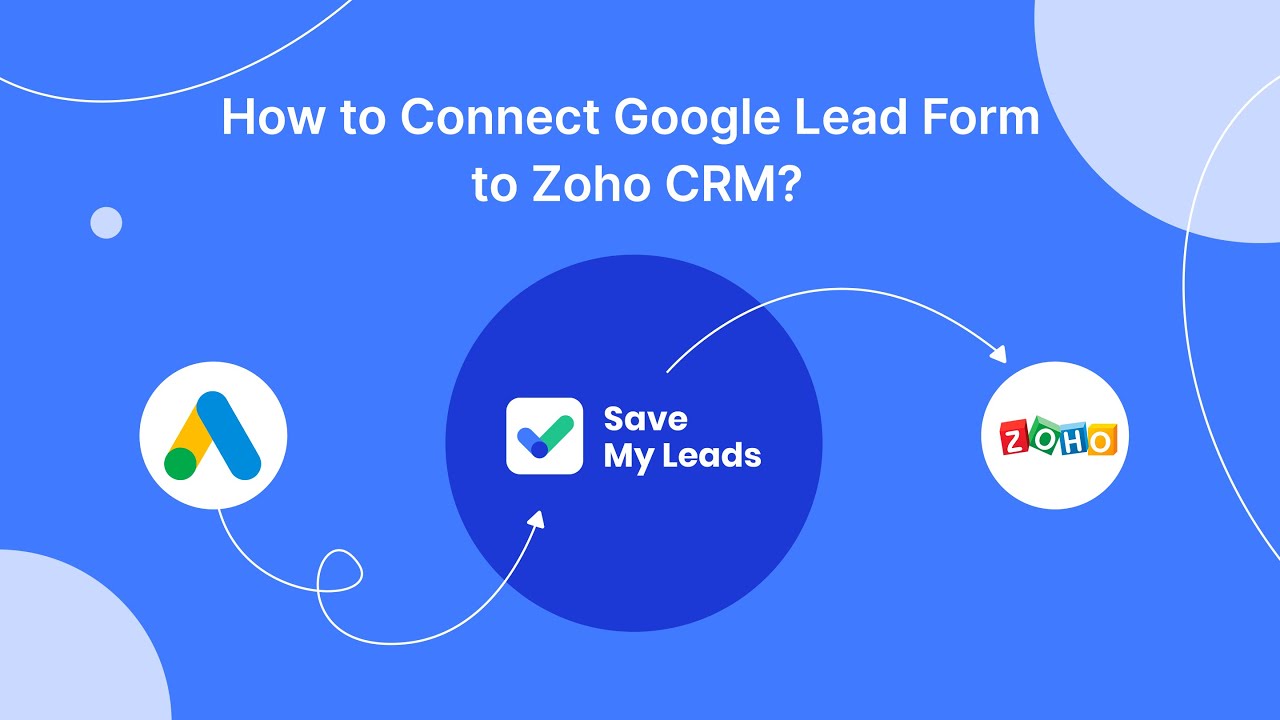 How to Connect Google Lead Form to Zoho CRM (contact)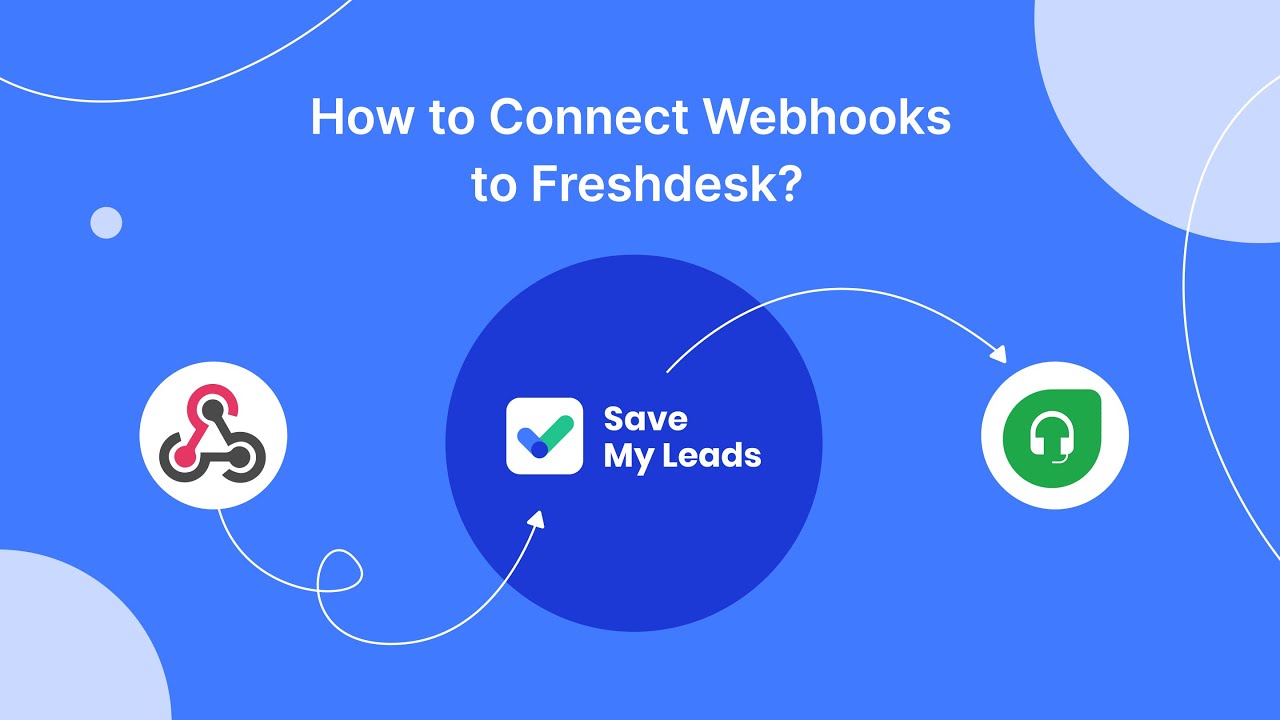 How to Connect Webhooks to Freshdesk (contacts)
Tumblr
Release Date: February 2007
Type: microblogging service and social network
Number of monthly active users: 291.7 million (as of May 2022)

What are the alternatives to Twitter other than Mastodon and Reddit? In third place in our ranking is Tumblr. It is a microblogging marketplace with social networking functionality that shares features of WordPress, Instagram, and Facebook. It hosts over 500 million blogs with content on a variety of topics (e.g. memes, fan fiction, digital art, helpful tips). Likewise, it gives its users the opportunity not only to create personal blogs, but also to share them on other platforms - Facebook, Twitter, Pinterest and Reddit. Tumblr differs from other social networking services in that it allows everyone to freely express their thoughts, as well as choose themes and page design, personalizing their own profile according to their taste preferences.
Today, Tumblr is the best Twitter alternative among the youth because it provides ample opportunities for self-realization, self-expression and creativity. Here you will see representatives of different professions and subcultures: from marketers and businessmen to graffiti artists and gamers. This social network is most popular in the US, UK and Brazil.
CounterSocial
Release Date: November 2017
Creator: Jester (anonymous hacktivist)
Number of monthly active users: over 63 million (as of November 2022)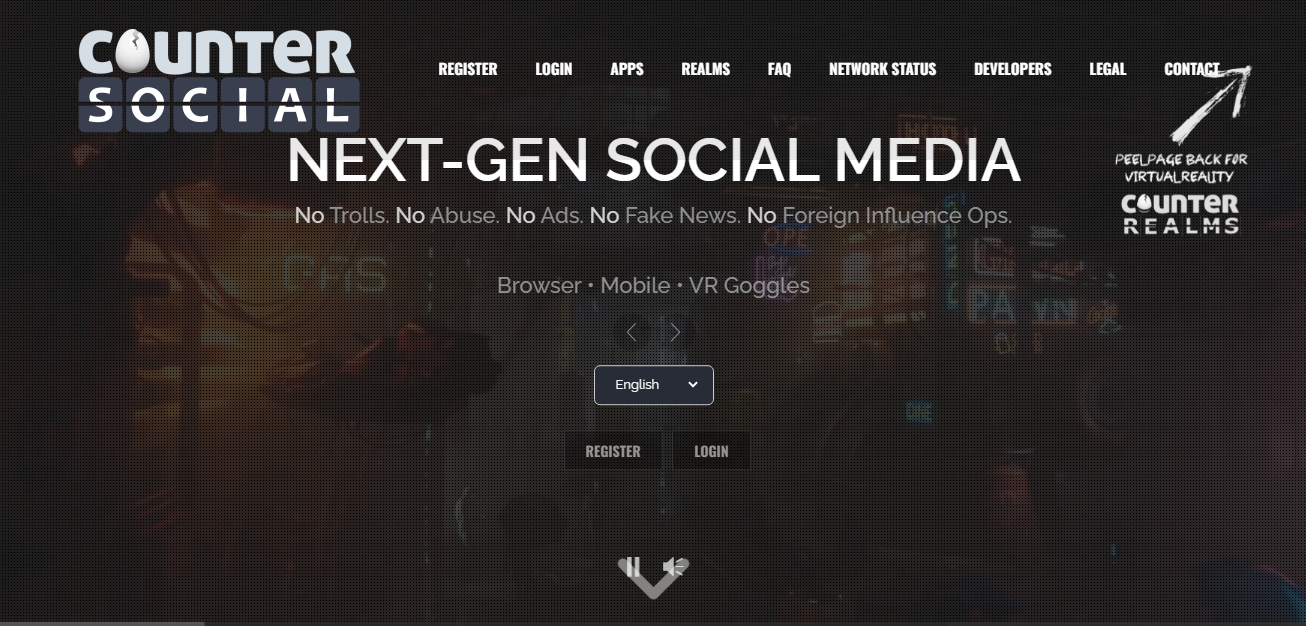 CounterSocial is the first social network with elements of virtual reality (Counter Realms) and special restrictions. On the main page, the user immediately rests their eyes on the information that bots, trolls and fake news are not allowed here. If you scroll down, you can read that this social network, in addition, professes the principle of absolute intolerance towards hostile nations and strongly opposes the use of its platform by people from them. The list of banned countries is as follows: Russia, North Korea, China, Syria, Iran and Pakistan. Citizens of these states will not be able to register with CounterSocial.
The interface is presented in columns rather than the usual ribbon. Those who have had experience with Tweetdeck can get a pretty good idea of what CounterSocial looks like. Therefore, it can also be called one of the Twitter alternatives for conservatives. Thanks to columns, it is convenient to keep track of the desired hashtags or users here. Each of them can be pinned if you need to fix it in a certain place, or move freely within the application window. There is also a link to a chat with network support staff who will help in case of any conflict situations.
CounterSocial is free to use as a Twitter replacement. Those who wish can sign up for a Pro-account, paying $4.99 per month for it. Benefits of the paid version: higher security and access to Counter Realms.
Hive Social
Release Date: October 2019
Creator: Raluca Pop, better known as Kassandra Pop
Type: microblogging service
Number of users: over 1.5 million (as of the end of November 2022)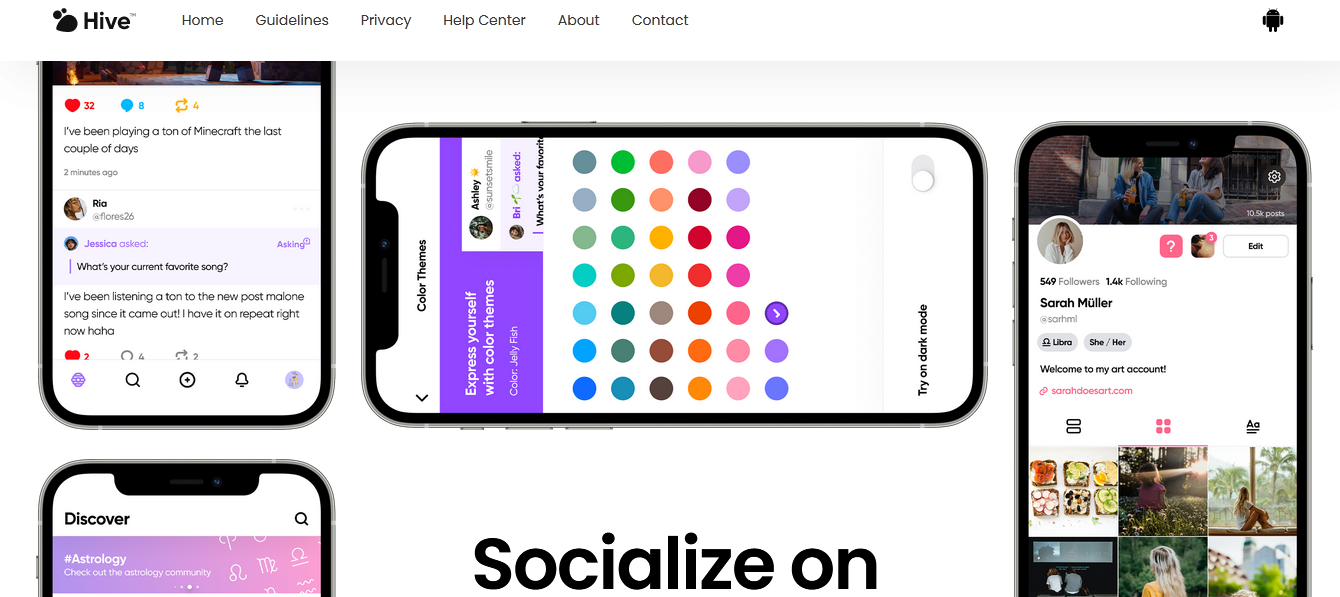 Hive Social refers to social media platforms like Twitter. Since it was created relatively recently, it can be called a new Twitter competitor. Here, users can also scroll the feed, put likes, post their content and search for materials of interest to them by hashtags. This is where the common features of the services end.
The differences in Hive Social are on the inside. Among the main ones are:
Posts in the feed are shown chronologically, algorithms are not applied.
There are no restrictions on the length of the post by the number of characters. This makes it possible to publish full-fledged text materials.
A wide range of flexible settings (choosing a background color for a personal account, adding pronouns and zodiac signs).
The presence of a unique feature – profile synchronization with Spotify or Apple Music and playing 1-2 songs for visitors to your account.
So far, Hive Social does not check the account for the real belonging of the person who registered it. This nuance can be a problem for popular content authors and well-known brands, since in principle, any user can easily impersonate a celebrity here.
Summing up
Although Twitter is losing its users, it continues to be one of the most popular social networks in the world. This microblogging service is a digital communication and publicity tool for world leaders, celebrities and influencers. Therefore, an incredible amount of global news is born here every day.
A 100% analogue of Twitter hardly exists, so those who want to leave this social network will have to choose one of the alternatives, carefully weighing all its advantages and disadvantages. What is an alternative to Twitter? Fortunately, there are plenty of sites like Twitter today, which means choosing one won't be a problem. You can try several services from our article. One or two weeks of "test" use should be enough to finally decide on your new network habitat.
***
If you use Facebook Lead Ads, then you should know what it means to regularly download CSV files and transfer data to various support services. How many times a day do you check for new leads in your ad account? How often do you transfer data to a CRM system, task manager, email service or Google Sheets? Try using the SaveMyLeads online connector. This is a no-code tool with which anyone can set up integrations for Facebook. Spend just a few minutes and you will receive real-time notifications in the messenger about new leads. Another 5-10 minutes of work in SML, and the data from the FB advertising account will be automatically transferred to the CRM system or Email service. The SaveMyLeads system will do the routine work for you, and you will surely like it.