After reading our article, you will learn everything about the Shopify brand, including the history of the emergence and development of the company, interesting facts about it, as well as information about its founders and key figures.
***
Shopify is a canadian e-commerce software development company. It created the SaaS platform of the same name for online and offline stores, which provides functionality for processing payments, advertising and marketing, delivery of goods and customer support.
Shopify brand history
Shopify was founded in 2006 in Ottawa by Tobias Lutke, Daniel Weinland and Scott Lake, who wanted to sell snowboarding equipment online but didn't find a suitable off-the-shelf solution. Then Lutke personally developed an online store using the Ruby on Rails framework and launched it under the name Shopify in June 2006.
In June 2009, the company launched its own Shopify App Store and also allowed the platform to be integrated with external resources via API. In April 2010, it released a mobile application for the Apple App Store, allowing merchants to manage their stores via iOS devices. That same year, the Ottawa Business Journal recognized it as Ottawa's fastest growing company. In December 2010, Shopify received $7 million in venture capital funding, and in October 2011, another $15 million.
Connect applications without developers in 5 minutes!
In February 2012, Shopify acquired mobile app developer Select Start Studios Inc, and in August 2013, Toronto-based design studio Jet Cooper. At the same time, it announced the launch of its own payment system, Shopify Payments, which was renamed Shop Pay in February 2020. It allowed merchants to accept payment by bank cards without the participation of third-party payment gateways. It also introduced functionality for processing card payments through the iPad. In December 2013, the company received $100 million in the next round of investments.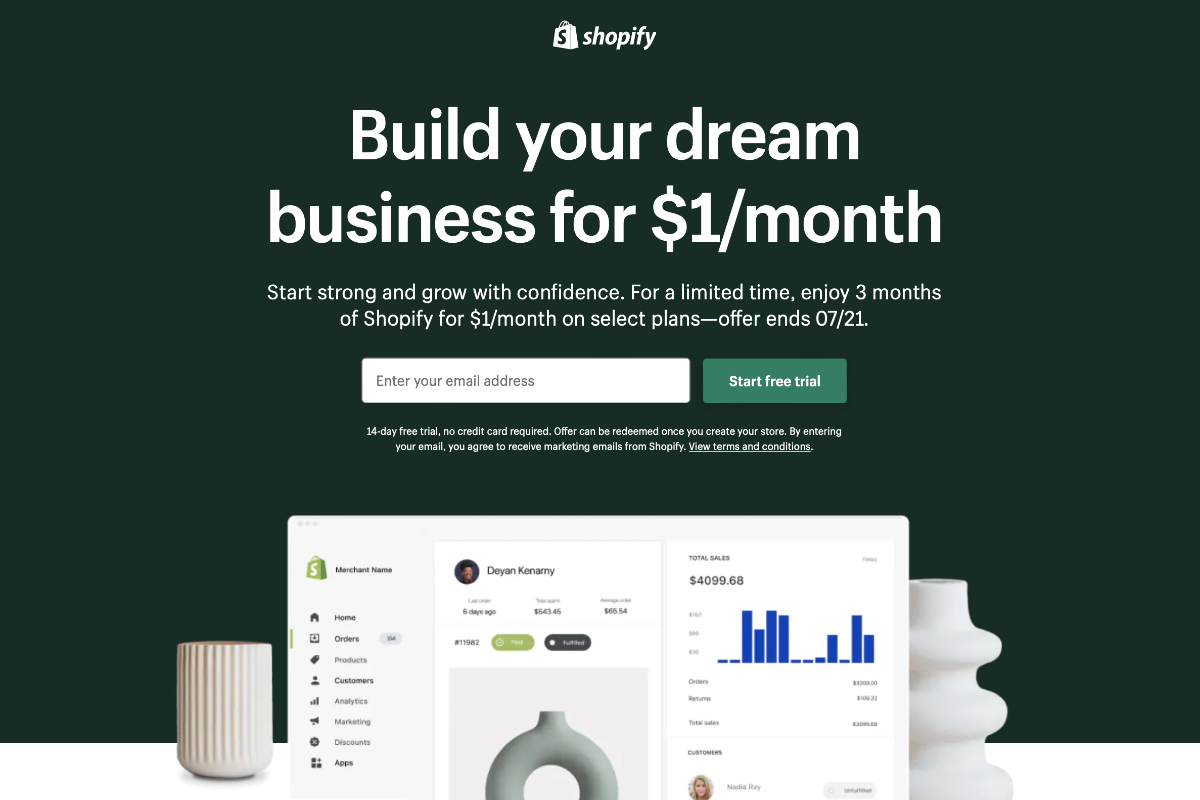 Nearly 100,000 merchants registered on the platform in 2014, and the company's revenue reached $105 million, doubling from a year earlier. In February of the same year, it introduced Shopify Plus, a platform for large businesses with additional features and enhanced support. In April 2015, the company held an IPO, and its shares appeared on the listings of the New York (SHOP) and Toronto (SH) stock exchanges. This procedure increased its cost by $131 million.
In September 2015, Amazon closed its Amazon Webstore service and recommended Shopify as a recommended alternative, causing the Shopify brand's share price to rise by 20%. At the same time, it allowed users to sell goods through social networks by opening a Facebook store integrated with the platform. In April 2016, the company announced the arrival of Shopify Capital, a service that provides US merchants with a credit line of up to $2 million.
In January 2017, Shopify announced an upcoming Amazon integration that gave its users access to sell products on Amazon through their Shopify online stores. In October 2018, the company opened its first customer location in Los Angeles, and in January 2019, it launched Shopify Studios, its own TV and film studio. In March of the same year, Shopify completed an integration with email marketing service MailChimp, and in April announced an integration with Snapchat that allowed merchants to manage ads on the service directly through the Shopify platform.
In June 2019, the company launched its own shipping division, and in August introduced Shopify Chat, a built-in online chat for shops on the platform. In March 2020, Shopify announced the full transfer of business to remote work - due to the start of the COVID-19 pandemic, more than 5,000 of its employees went to remote work. In November 2020, the platform began to cooperate with the Chinese payment system Alipay, which allowed it to increase the number of international purchases and transactions.
Interesting facts about the Shopify brand
In March 2019, Shopify was recognized as the second most popular ecommerce platform on the Internet - in terms of the number of sites created on it.
In February 2021, the company founded the Shopify Rebellion esports team, which included several well-known professional esports players such as Sasha Hostyn and Byun Hyun-woo.

In October 2020, Shopify announced a personal data breach for over 200 online stores hosted on the platform. Two support staff were accused of the theft.

Key Figures
The founder and CEO of Shopify is Tobias Lütke, a German-born Canadian internet entrepreneur. In addition to him, the company's management includes:
Brittany Forsyth, Chief Talent Officer
Charles Stolzenbach, Chief Executive Officer

Craig Miller, Chief Product Officer

Daniella Granzotto, Executive Expansion Pack to the President

Glen Worthington, Chief of Staff

Santosh Singh, Co-Founder

***
SaveMyLeads is a simple and efficient system connector that will help you automate routine tasks and optimize business processes. You can save time and money, direct these resources to more important purposes. Test SaveMyLeads and make sure that this tool will relieve your employees and after 5 minutes of settings your business will start working faster.