The choice of payment gateways is one of the most important tasks facing a small business at the beginning of its development. There are many payment providers on the market today. Each of them has a number of features in the field of services offered, specialization, commissions and other parameters. It can be difficult for aspiring entrepreneurs to understand such a variety and choose the best option for their business and everyday tasks. Given the high relevance of this topic, we decided to devote our article to it. We present to your attention the top 5 payment gateways popular among small businesses.
What is Payment Gateways
A payment gateway or processor is a platform for processing payments made by a business and its customers. It is an encrypted software package that processes confidential data (for example, bank card numbers) during transactions. Such services ensure the passage of information about the payment through secure channels from the bank of the buyer of the goods or services to the acquiring bank of the seller. Gateways are responsible for authorizing a transaction on a card or other payment instrument and also protecting money and financial data at all stages of the process.
Processor services include processing payments from bank cards (online or through a terminal), electronic payment systems (PS), and sometimes from other sources (for example, cryptocurrencies). Most modern services of this type are international payment gateways, and therefore they can make payments between banks and PS from almost all countries in the world, with rare exceptions. In addition to processing transactions, they offer a number of additional services. These include enhanced fraud protection measures, reporting tools to track sales dynamics and financial performance, and so on. Merchants can use them to create merchant and dedicated bank accounts to accept debit and credit card payments.
Service Selection Criteria
When choosing a payment gateway, you should pay attention to the following factors:
Tariffs and commissions. The cost of services is one of the most important criteria for choosing such a service. It directly depends on how appropriate it will be for small businesses to use it. As a rule, processors charge sellers a fixed monthly fee and a certain percentage of the commission for each transaction. Some platforms do not charge a monthly fee, but compensate for it with a higher percentage of commissions. You should also find out additional nuances: does the service have a free trial period, does it charge a fee for connecting and setting up services, is there an additional charge for chargeback or a refund, how are local and international payments charged, what is the minimum limit on the number of transactions per month, etc.
Service type. Today, there are three main types of gateways: redirect (redirect the client to a payment processor like PayPal or Stripe to complete the transaction), hosting (process payments on their own servers, transferring data to banks), and self-hosting (installed on the seller's servers for local transaction processing).

Payment methods. Pay attention to which payment methods are supported by the service you have chosen and under what conditions. For example, which bank PS (Visa, MasterCard, Union Pay, etc.) and other electronic payment instruments (PayPal, Venmo, ACH, eCheck, Bitcoin, etc.) are available to it.

Safety. This is another important criterion for choosing a payment gateway. Learn what encryption technologies and other security measures the service uses to protect financial data from theft. In addition, it must comply with the current bank card data security standard (PCI DSS).

Integrations and settings. Finally, you should consider the capabilities of the gateway for integration with online stores, CRM, accounting programs and other external systems. The functions of customizing the interface and other elements of the service will be useful (for example, branding the payment web page)

Next, we will look at the top 5 payment providers that are most popular among small businesses.
Payflow (PayPal)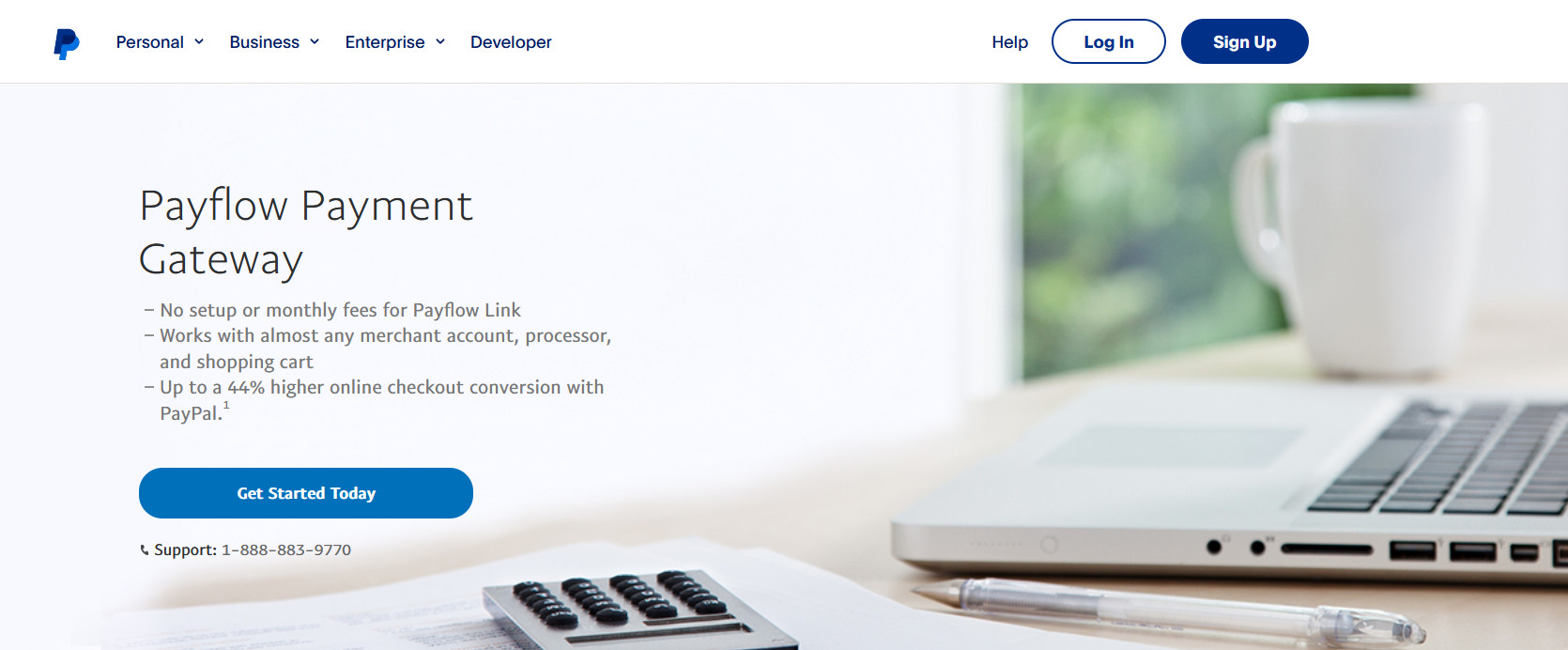 It is natural that one of the best payment gateways belongs to the most famous electronic payment system in the world. The Payflow payment gateway and processor is specifically designed for the needs of e-commerce businesses that need to process cross-border payments quickly and reliably. Its merits are recognized by a huge audience – the number of service users has already reached 325 million. Processor services are available in 202 countries and support 25 currencies.
Payflow does not set monthly minimums, does not charge transaction cancellation fees or any hidden fees.
The service is integrated with most modern ecommerce CMS and works with almost all payment processors.

Ideal for mobile payments.

There are several types of merchant accounts with different capabilities. PayPal Business offers gateway hosting (which redirects customers from the online store to the PayPal website to make payments). PayPal Payments Pro and PayPal Payments Advanced provide self-hosting (transactions are processed on the website of the client company).

Supports the following payment instruments: credit and debit cards, PayPal, Apple Pay, and Venmo.
Additional services of this one of the best payment solutions for small businesses include online invoicing, bank card reader, virtual terminal, barcode scanner, express checkout, item tracking, PCI compliance, merchant protection, fraud protection, chargeback protection, authentication of buyers, recurring payments.
The cost of services on the basic Payflow Link plan is only 1.5% plus $0.10 for any international transaction. Also, this tariff does not have a monthly subscription fee and a connection fee. The Payflow Pro plan with a $25 per month subscription offers more options for customization.
Stripe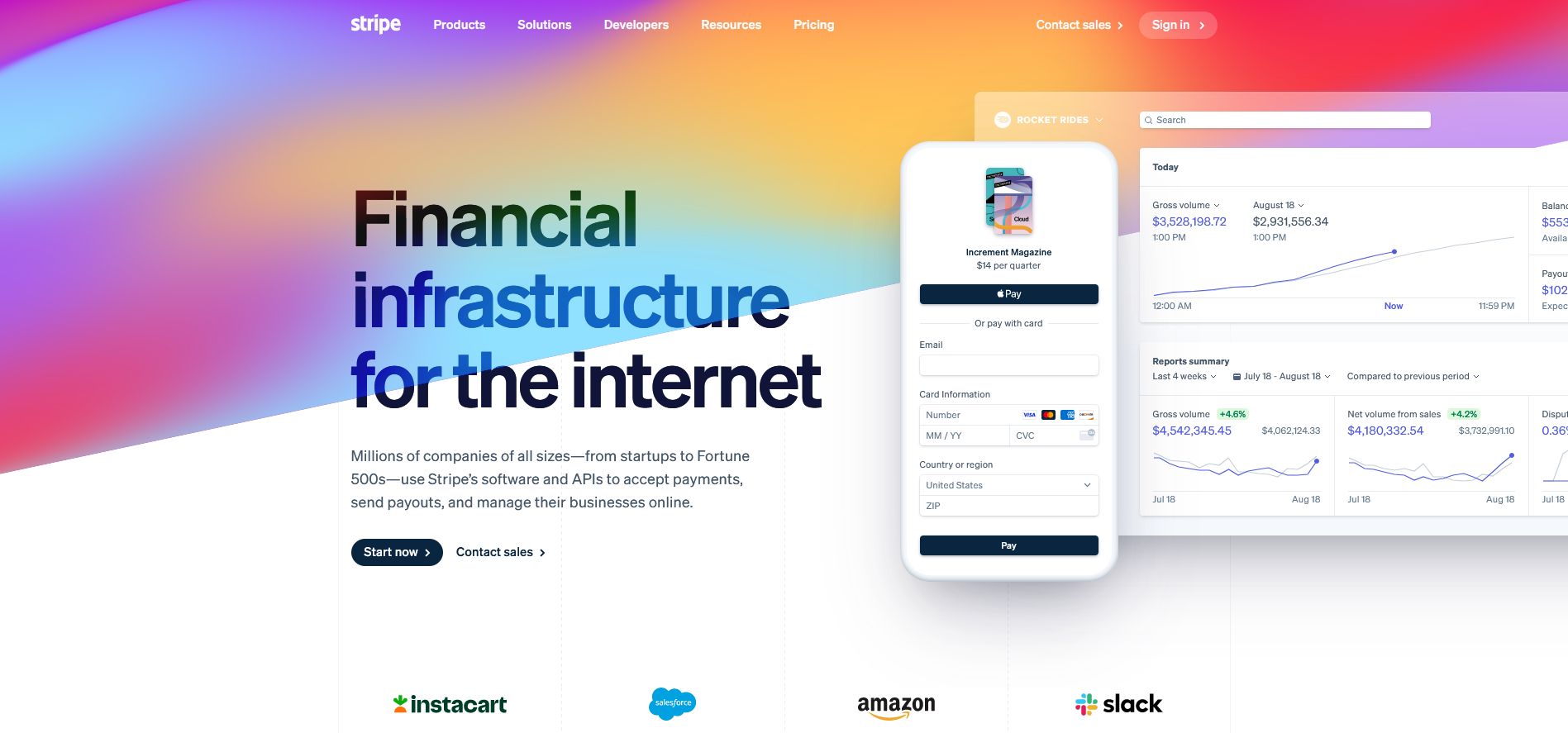 A worthy place in our list of top payment gateways is occupied by the equally well-known Stripe service, which offers a range of solutions for online payment processing. Its products are designed for online stores, digital subscription sellers, software platforms and marketplaces, and many other business formats.
Connect applications without developers in 5 minutes!
Stripe is a universal platform that combines the properties of a payment gateway and a processor. It supports over 135 currencies and payment methods, offers local acquiring in over 47 countries, and handles over 250 million API requests per day.
Users have the opportunity to develop their own system of one-time or recurring payments. The service allows them to flexibly rate the payment for their products by setting fixed, multiple or other types of rates.
Flexible integration with websites, mobile applications, and CRM systems is supported. There are convenient integrated solutions for B2B and B2C businesses of various sizes and directions.

Users without web development skills can use ready-made tools for small business payment processing by selecting them from the catalog of pre-installed order payment pages in Stripe Checkout.

The ability to integrate a payment gateway with an online store, an application server or third-party hosting. Stripe offers over 660 pre-installed integrations with external software from areas such as finance and accounting, marketing and sales, ecommerce, and so on. In addition, it provides an SDK and an API for the self-development of integrations.

Online transaction fees are 2.9% + $0.3 per transaction. When paying with a physical card through the terminal, 2.7% + $0.05 is charged. There is no monthly subscription. Users can send up to 25 invoices per month for free (if the limit is exceeded, the fee is 0.4% per invoice).
Square

Continuing our review of the best payment solutions for small businesses, it is worth noting the Square platform. It is recognized as one of the best services in the field of not only online, but also offline payments. Square is not just a payment gateway, but a full-fledged aggregator that allows you to coordinate multiple merchant payment services in a single centralized merchant account. In addition to processing transactions from websites and applications, the system will provide your business with the functionality of a mobile payment gateway, virtual and POS terminal, as well as a QR payment processor.
Affordable pricing makes Square especially popular with small businesses, including sole proprietorship and startups. If you sell goods or services occasionally and are looking for a low-cost payment gateway, this service will be the best option for you.
The Square Online Checkout module provides ecommerce companies with a set of online payment processing for small business tools. With it, you can create buttons or links for payment, and then post them on websites, blogs, emails, social networking accounts, and so on.
To process offline payments from physical cards, the platform offers the Square POS service. Merchants just need to install the application of the same name on their iPad to turn it into a full-fledged payment terminal. The service also provides additional options for offline transactions, including card readers, cash registers and receipt printers.

Small business owners can process bank card transactions through regular internet browsers thanks to the Square Virtual Terminal solution.

Square's commission for online transactions is 2.9% + $0.30; for offline transactions – 2.6% + $0.10. Monthly subscription fee is charged from $29 to $69 depending on the chosen tariff plan.
Authorize.net


Authorize.net is one of the popular e-commerce payment gateways owned by Visa Corporation. It easily integrates with most modern payment systems, merchants and POS systems that are relevant for the e-commerce industry. This payment gateway supports a variety of payment methods, is PCI-compliant, and offers affordable rates for both small businesses and larger companies.
Users have access to two tariff plans with different service packages. The first includes a "clean" payment gateway with the ability to choose a merchant on your own. The second provides a comprehensive flat-rate payment processing service.
Online payment systems for small businesses offer online and offline transactions from physical bank cards, PayPal, and Apple Pay, as well as virtual terminals and subscription management.
Authorize.net integrates with more than 140 third-party systems in various areas, including sales management, accounting, online store CMS, payment providers, and so on.

Possibility of carrying out transactions on the same day for a fee.

Additional layers of data protection provide users with a high level of data security and privacy. In addition to full PCI compatibility, the platform offers an advanced set of fraud detection tools. The built-in security package includes 13 filters for added protection. The payment processing system automatically blocks all suspicious transactions that do not match the selected parameters.

Authorize.net charges 0.75% e-check transaction fee, 1.5% international payment fee, 2.9% + $0.30 all-in-one transaction fee. The connection fee for the service is $99.
Amazon Pay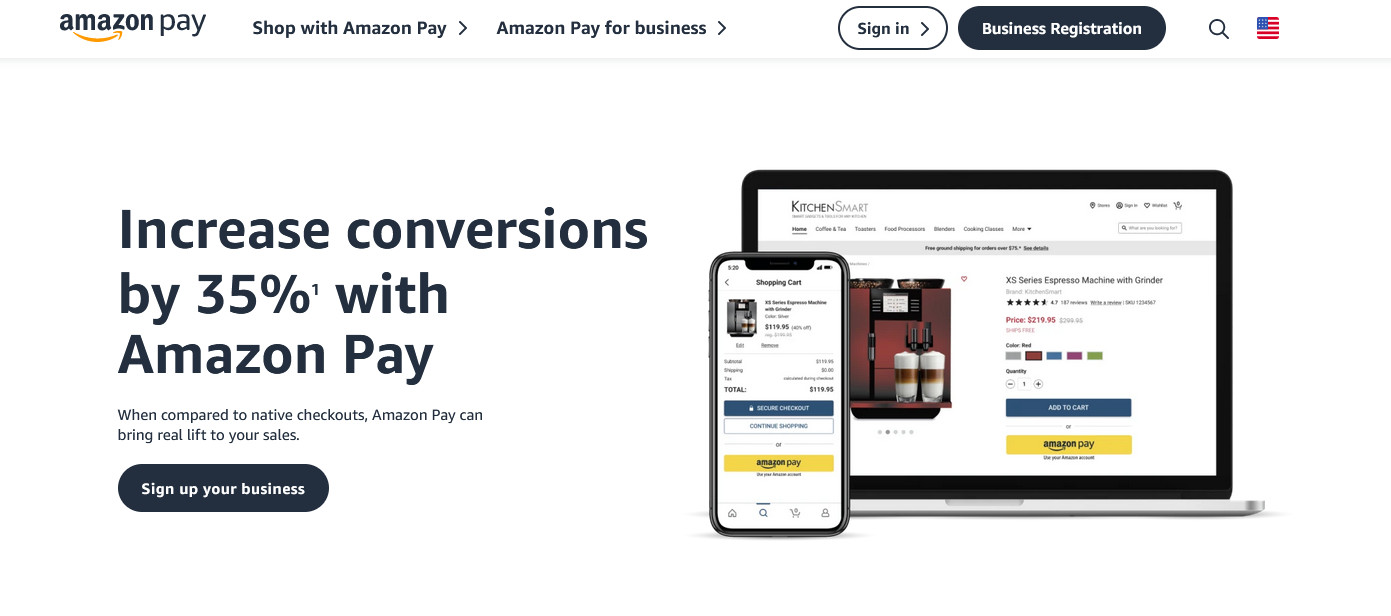 Our payment gateways comparison is completed by a service for processing payments from the largest e-commerce platform, Amazon. The company launched it in 2007 to provide merchants with a full service to support the sales process. Today, more than 310 million merchants use the Amazon Pay payment gateway.
Integration is available not only with Amazon, but also with more than 200 e-commerce platforms, including Magento, PrestaShop, OpenCart, Shopify, and Wix.
The automatic input of payment data greatly simplifies and accelerates the process of paying.

Buyers need to have an Amazon account to complete a transaction.

The service supports payment only by credit and debit bank cards, as well as bank transfers. It cannot be used to pay from a PayPal account, but it can be done through a PayPal Cash Card.

After the initial integration and setup of Amazon Pay, all transactions are conducted directly in the client company's online store. Customers do not need to go to the Amazon website or other external resources during the checkout process.

Support for voice transactions allows you to pay for goods and services through voice commands through your Alexa device. This feature is activated at an additional cost.

There are several options for integrating your online store with Amazon Pay. The user can choose one of the complex plug-and-play solutions or pick up an individual solution with flexible customization.

The standard fee of the service is 2.9% + authorization fee of $0.30 for each local transaction conducted through the website or mobile application. For international payments, Amazon Pay charges 3.9% + $0.3. There are no monthly fees or other fixed fees.
Conclusion
As you can see, the best online payment platforms presented in our rating are large and well-known services that have been operating in the field of e-commerce for more than a year. Almost all of them offer the same set of services, except for some features. Therefore, the most important criterion for choosing a payment gateway for companies in the small business segment is the size of the commission. The most budget-friendly options among those described in the article are Payflow from PayPal (1.5% + $0.10 for any international transaction for the Payflow Link tariff) and Autorize.net (1.5% for an international payment). However, the second platform charges an additional $99 for connection.
***
Are you using Facebook Lead Ads? Then you will surely appreciate our service. The SaveMyLeads online connector is a simple and affordable tool that anyone can use to set up integrations for Facebook. Please note that you do not need to code or learn special technologies. Just register on our website and create the necessary integration through the web interface. Connect your advertising account with various services and applications. Integrations are configured in just 5-10 minutes, and in the long run they will save you an impressive amount of time.