Before you start running ads on Facebook, you need to set up payment in your ad account. With the help of our step-by-step instructions, you will quickly cope with this, as well as learn a few important nuances regarding linking a bank card to your account and changing currencies.
Payment methods
By default, Ads Manager offers 4 ways to pay:
Debit or credit card (supported payment systems – Visa, MasterCard, American Express, Discover);
PayPal (international electronic payment system);
Online banking (the system offers a huge selection of banks providing online banking services);
Ad credit (coupons that can be received as a bonus from the social network Facebook).
Choose the method that is most convenient for you to use.
Step-by-step instruction
To select and set up a payment method in Facebook (Meta) Ads Manager, follow these steps:
Click on the "Settings" gear icon in the vertical menu on the left.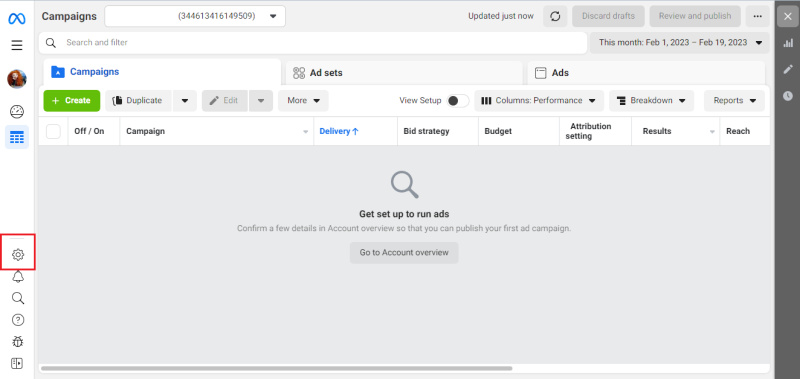 In the menu that opens, click on the icon with the image of a bank card "Payment settings".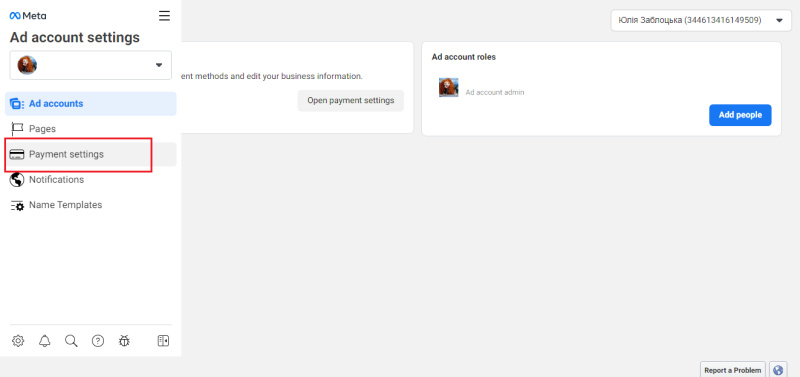 In the "Payment methods" category, click on the "Add payment method" button.

In the window that opens, specify your country, currency, time zone and click "Next".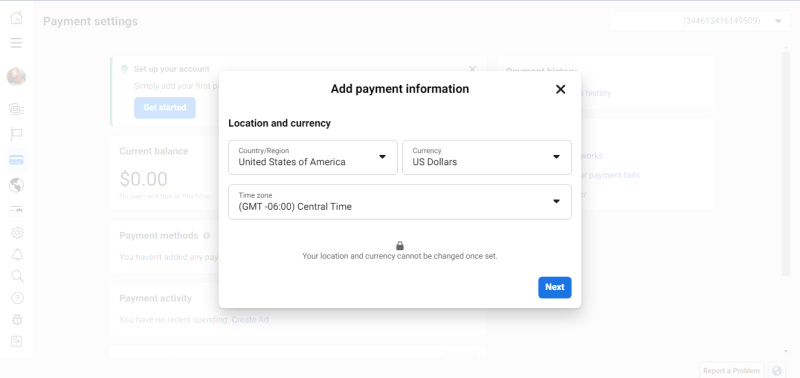 In the "Add payment information" window, select the appropriate payment method: debit/credit card, PayPal, online banking or coupon. Then click "Next".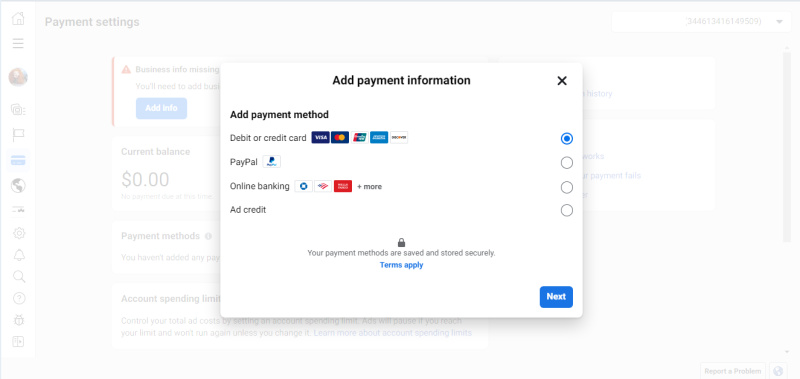 Carefully fill in the bank card details (you will need its name, number, expiration date and CVV code).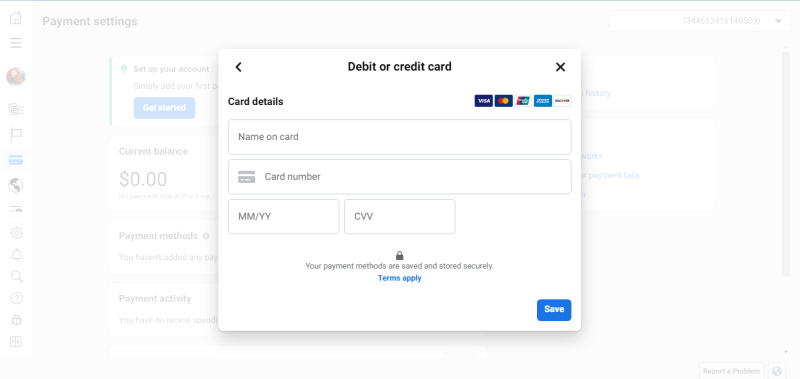 If you choose PayPal, log in to your PayPal account in the window that opens, or create one if you don't have one yet.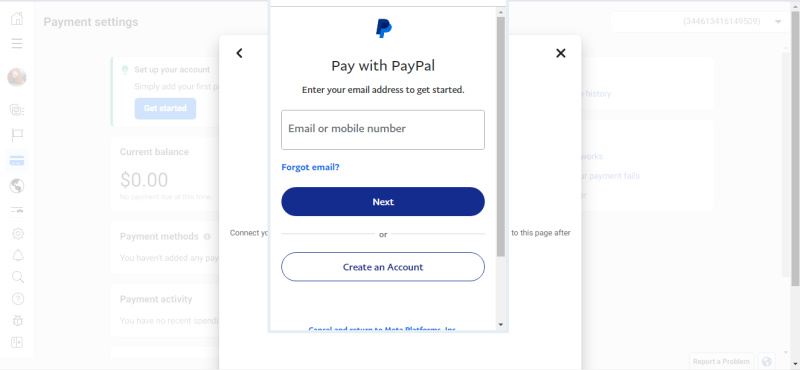 When choosing online banking, mark the one whose services you use in the list of banks that opens.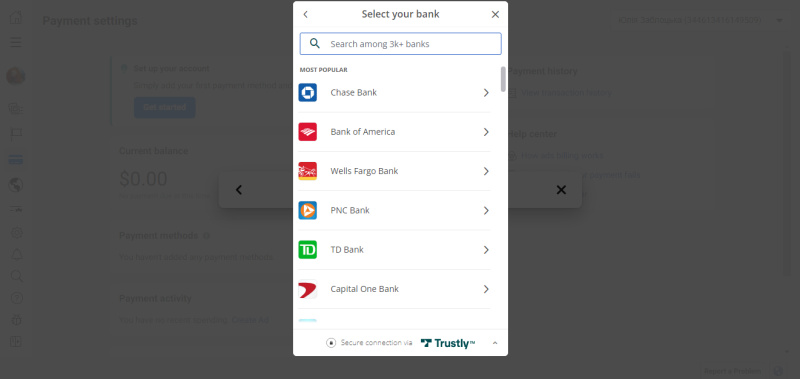 You can also pay for advertising through a special coupon that the social network Facebook itself gives. Have you chosen what you need? Then click "Save".
Connect applications without developers in 5 minutes!
After entering all the data and saving it, Facebook will prompt you to immediately deposit money from the added payment method to your internal account. At this stage, you can either replenish your account, or just close the window to do it later.
On the "Payment settings" page, you can immediately set your own financial spending limit to control advertising costs. To do this, in the "Account spending limit" category, click on the button with the ellipsis icon and click "Set limit".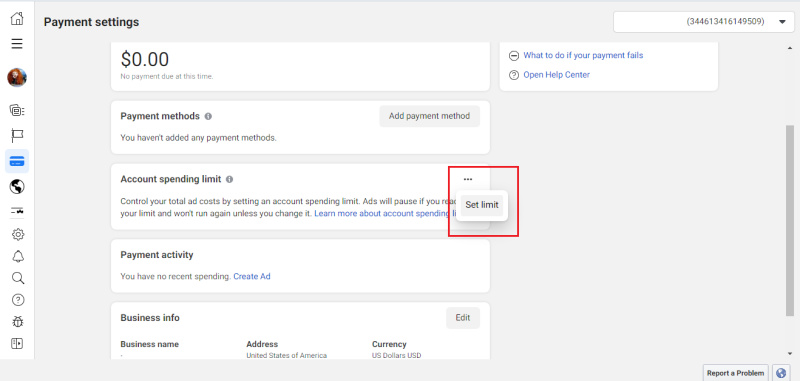 Nuances of linking a bank card
It doesn't matter which bank card you use. The main thing is the payment system (for example, Visa, Mastercard, American Express, Discover). It is also important that the currency you choose for your advertising account matches the currency in which your card account is opened. That is, if you link a dollar card to your account, you cannot select euros when setting up payment in Ads Manager.
It is not always possible to choose any payment system. Sometimes users encounter restrictions related to the country they specify during the ad account setup process. For example, in Vietnam you will not link an American Express card to your account, and in the US you will only be able to use a JCB system card if you have chosen the Japanese yen as the currency.
Please note that you must have at least $1 on your bank card. When you link it to your account, Facebook will deduct this amount from your account for the purpose of verifying your identity. Later this dollar will be returned. If you notice that $1 has disappeared from your card, don't worry. Remember that this is how the verification system works.
If necessary, the linked card can be changed to another one. To do this, go to the "Settings" section by clicking on the gear icon and select "Payment settings".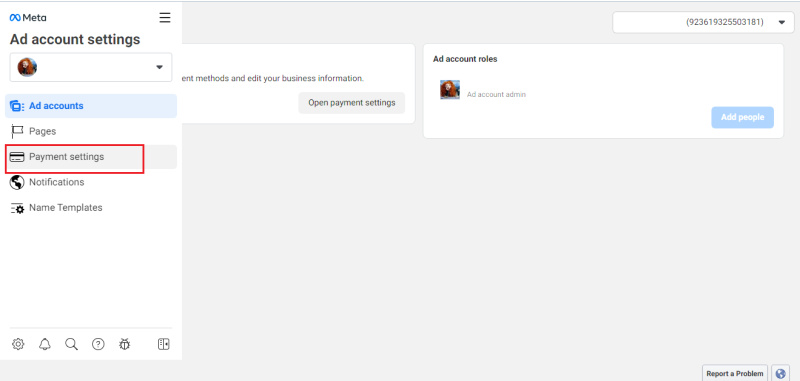 There you can link a new card using the same algorithm as the first one. After that, 2 cards will be displayed in your account. The one that you linked first will receive the status of the main one. If you want to make the main new one, put the appropriate mark in front of it, and leave the previous card or delete it completely.
What is important to consider when choosing a currency
You already know that the currency of your bank card and the one specified in Ads Manager must match. But what if you make a mistake? You can easily change the currency in the advertising account. But there is one important nuance. When you make such changes, you automatically lose your account and create a new one. All ads in the old account will stop showing. Therefore, carefully weigh the pros and cons before taking such a step.
***
You probably know that the speed of leads processing directly affects the conversion and customer loyalty. Do you want to receive real-time information about new orders from Facebook and Instagram in order to respond to them as quickly as possible? Use the SaveMyLeads online connector. Link your Facebook advertising account to the messenger so that employees receive notifications about new leads. Create an integration with the SMS service so that a welcome message is sent to each new customer. Adding leads to a CRM system, contacts to mailing lists, tasks to project management programs – all this and much more can be automated using SaveMyLeads. Set up integrations, get rid of routine operations and focus on the really important tasks.