Decided that Twitter is not for you or just want to create a new profile and start from scratch? We'll show you how to delete your old account.
***
Deleting an account starts with deactivation
To delete an account, you need to deactivate it. As a result, your username and profile will no longer appear on Twitter, but will remain on the servers for an additional 30 days.
If you do not log into your account within this period from the moment of deactivation, it will automatically be deleted for 31 days. All your data will be erased forever, and any other user can take the name.
If you log in at least once during these 30 days, all personal data will be restored. Thus, before the final deletion of the account, you have a time window within which the process can be canceled.
What you need to know before deactivating your account
After deactivating an account, links to it may remain in search engines along with some public data.
Mentions of the account may remain in the tweets of other users, but without links to your account.
If you only want to change your username, you don't have to delete your account to do so. Just go to the "Settings and privacy" - "Your account" - "Account information" - "Username" section and enter a new username.
If necessary, before deactivation, you can download your data stored by Twitter, including tweets, messages and profile pictures. This can be done in the "Settings and privacy" - "Your account" - "Download an archive of your data" section.
How to deactivate a Twitter account
1. Click on the three dots icon on the Twitter website, or if you're using the mobile app, open the sidebar.

2. Go to the "Settings and privacy" section.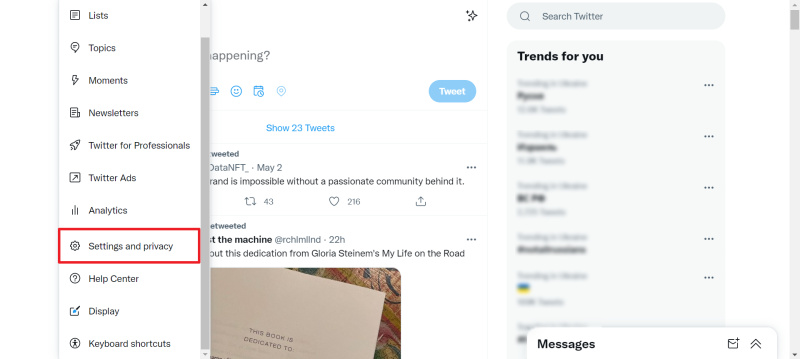 3. Click "Your account" and select "Deactivate your account".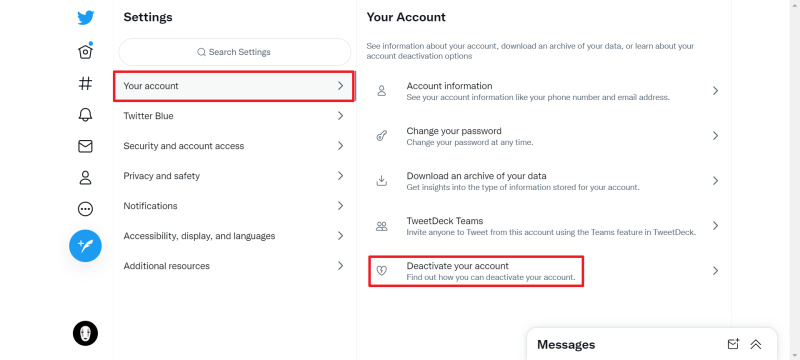 4. Read the help information that will be displayed on the screen and click "Deactivate" at the bottom.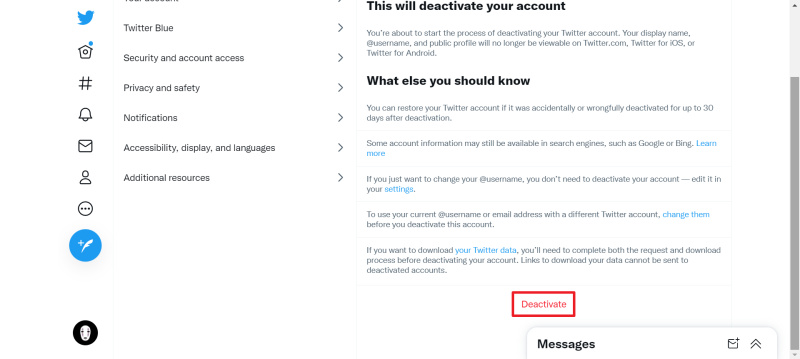 5. Enter your account password and click the "Deactivate" button.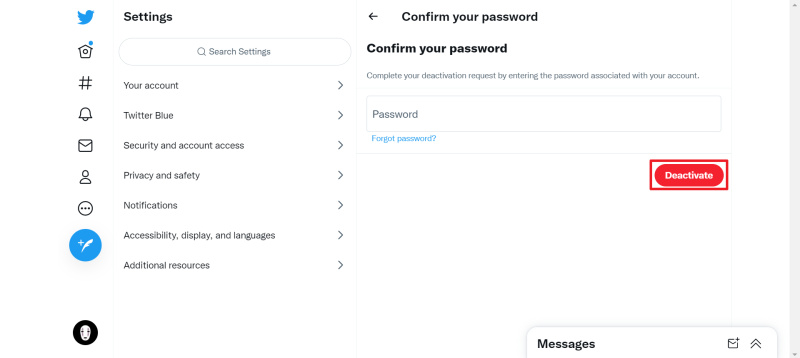 If you do not log into your account within 30 days from the date of activation, it will be automatically deleted.
***
Are you actively using Facebook Ads Manager in your advertising campaigns? Set up the integration of this service with other systems and take your business automation to the next level. For example, set up that contact information from leads left by potential customers will be used for automated email campaigns or for creating new contacts and tasks in your CRM. Sign up and try it for free!