eBay is a world-renowned US company that provides online auction services, operates its own website, and owns eBay Enterprise.
The online auction appeared in 1995 after the release of the first version of the platform. The founder and owner of the company is a programmer Pierre Omidyar. At that time, he already owned the Echo Bay Technology Group.
eBay history
Initially, the site was called AuctionWeb, it was part of his own site. The first thing that was put up for auction was Pierre's non-working laser pointer. He sold it for $14.
Initially, the auction was free, which attracted a large number of buyers and sellers. By the end of 1995, more than 1,000 auctions had already been held here. The site attracted not only the fact that there were no commissions, many people wanted to get rid of unnecessary things that are a pity to throw away, but to sell cheaply - just right. Moreover, in those years, various cheap goods were just popular on the site.
Despite the growing popularity of the project, Pierre decided to reconsider his attitude towards it only a few years later. As a result, eBay became not just a hobby, but a full-fledged project, and in 1997 the name AuctionWeb was changed to a more sonorous one – eBay.
How does eBay work
As the site grew in popularity, Omidyar began to realize that he had created something unique. As a result, he took up its active development. Then three basic principles of eBay were formulated:
Anyone can contribute.
All participants must be friendly to each other.

Communicate with each other with respect.

A few years later, the brainchild of Pierre took a leading position among similar auctions in America. The project developed rapidly and significant expenses began to be required to work on it. The developer decided to take a commission of 6% for each transaction, which covered part of the costs. At the same time, Omidyar realized that he could not cope with management and for the future development of the project, an intelligent manager who was well versed in business processes was needed.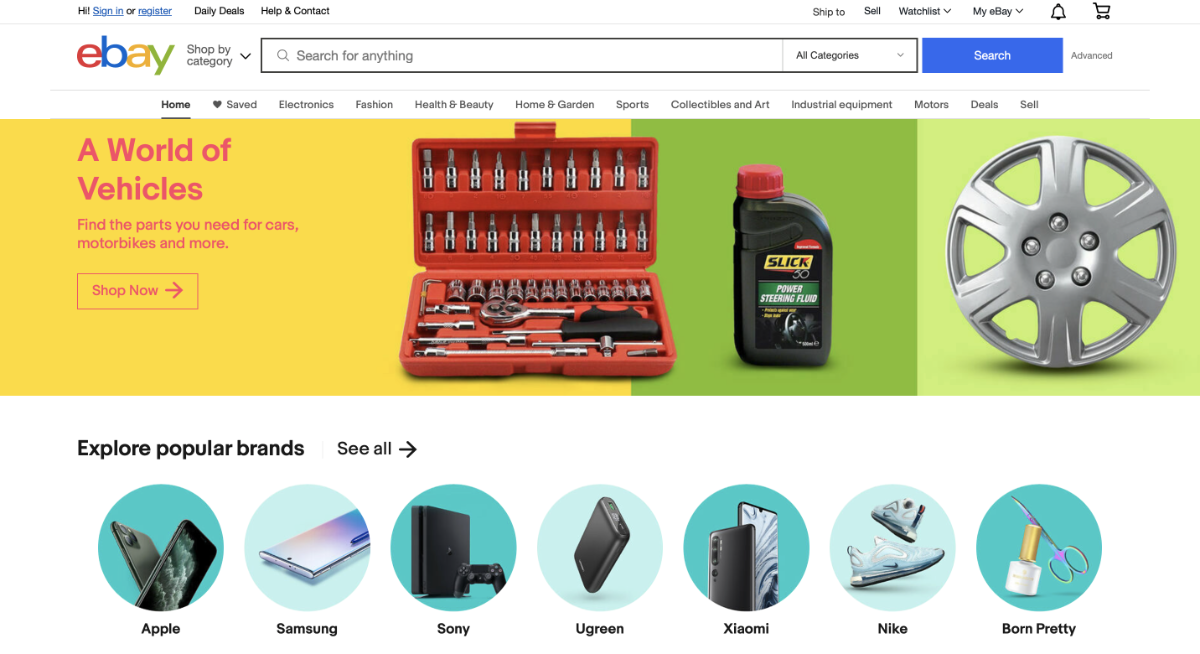 Starting the search for such a specialist, Omidyar even negotiated with Steve Jobs, who was just not busy and was considering suitable options for cooperation. The offer was almost accepted, but at the last moment, Jobs decided to return to his own brainchild - Apple. Later, a suitable manager was found. They became Margaret Whitman - at that time the manager of a company that was engaged in the production of children's toys.
Connect Facebook Lead Ads to CRM, Email, SMS & Spreadsheets
Use SaveLeads to connect Facebook to different apps. Over 120+ ready-made integrations available now
Automate the work with leads from the Facebook advertising account
Empower with integrations and instant transfer of leads
Don't spend money on developers or integrators
Save time by automating routine tasks
Test the work of the service for
free
right now and start saving up to 30% of the time!
Try it
Despite the fact that eBay is one of the leaders in online auctions, it has serious competitors: Yahoo and News.com, which also launched their own auctions. Deciding to follow in the footsteps of eBay, Yahoo also made its auctions free. In turn, eBay management bought up smaller online auctions in various countries.
Continuing the fight against competitors, eBay introduced the function of paying for purchases with credit cards, which were gaining wide popularity at the time. In 2002, eBay bought PayPal for $1.5 billion.
None of the auctions in the world can compete with eBay. The only market that this auction did not receive was Japan, where Yahoo! is the leader.
Interesting facts about eBay
During the existence of the auction, unusual lots were repeatedly put up for sale, for example:
a resident of America sold a place for an advertising tattoo on his forehead for $10,000;
In 2006, a Shakespeare manuscript that survived the great fire of London 350 years ago;
the world's only yellow McLaren F1 car;
space for advertising on the site, one pixel in size;
Volkswagen Golf, which belonged to Pope Benedict XVI.
Today, the Omidyar project is still the leader among online auctions. Branches of the company are open in more than 20 countries. Anything can be put up for sale, as long as it is not prohibited by law. And the eBay app – one is the most popular on mobile devices.
***
If you use Facebook Lead Ads, then you should know what it means to regularly download CSV files and transfer data to various support services. How many times a day do you check for new leads in your ad account? How often do you transfer data to a CRM system, task manager, email service or Google Sheets? Try using the SaveMyLeads online connector. This is a no-code tool with which anyone can set up integrations for Facebook. Spend just a few minutes and you will receive real-time notifications in the messenger about new leads. Another 5-10 minutes of work in SML, and the data from the FB advertising account will be automatically transferred to the CRM system or Email service. The SaveMyLeads system will do the routine work for you, and you will surely like it.