Are you looking for a video calling service and can't decide between Zoom and Discord? To understand which is better, we invite you to take a look at our Zoom vs Discord comparison, which will help you decide in favor of the best option.
About services
Discord and Zoom are the most popular services for video communication and video conferencing. Zoom appeared in 2011, and became popular in 2020, during the height of the COVID-19 pandemic. Interest in it then sharply increased tenfold and has not faded to this day. Even now people continue to actively use it for conducting school lessons, webinars, scientific conferences, business meetings, and so on. In April 2020, according to company representatives, the number of daily users of the service was about 300 million.

The first version of the Discord platform was introduced in 2015. This is a program for VoIP communication, which was originally made for communities — from gaming to business. The developers added the video communication function relatively recently — in 2017. As of 2021, the service has over 350 million registered users.

Zoom and Discord servers are located in different countries of the world. Both Zoom and Discord are used for communication: by voice, video call or correspondence. They differ in purpose and, accordingly, in the target audience: Zoom is usually preferred for online business meetings in a remote format, while Discord was originally developed for the convenience of streamers and professional gamers so that they can communicate by voice without being distracted from the gameplay. The ability to talk via video link appeared a little later.
There are also differences in the main characteristics of these two services. They have different interfaces, data encryption features, integration with other platforms, the level of communication quality, the maximum number of participants in a video meeting, and the price of paid versions. Is Discord better than Zoom? Now we'll find out.
Interface
Anyone who has ever seen Zoom and Discord knows that their interfaces are completely different. The appearance and menu of Zoom was developed for online conferences. A user who registers here gets the opportunity to create a conference, join it via an invitation link, conduct a conversation in text format (chat with contacts), change the background and share their screen.
The Zoom window contains 6 tabs:
«Home»;
«Chat»;
«Meetings»;
«Contacts»;
«Apps»;
«Whiteboards».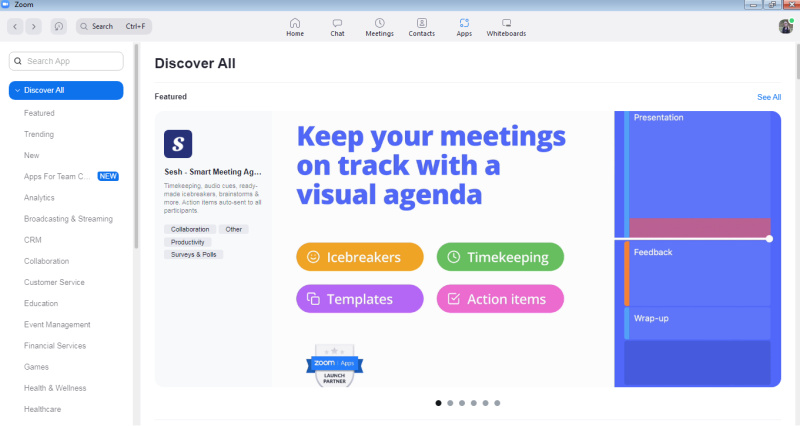 By clicking on "Home", you can create and schedule your own conference or go to someone already organized, show what is happening on your screen. The "Chat" tab is provided for text correspondence with contacts. In the "Meetings" tab you will find the saved data about your communication sessions. In "Contacts" there is a list of those whom you added during video conferences or via a link. "Apps" — a section that contains applications integrated with Zoom. "Whiteboards" — here are virtual interactive whiteboards with which you can interact before, during and after a video session, leaving comments, notes or making sketches.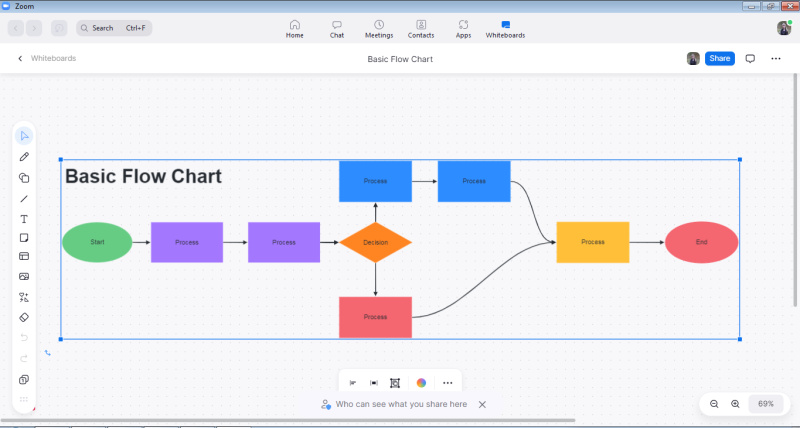 Discord is a hub with a lot of features. Here you can communicate not only "in PM", but also on dedicated thematic servers dedicated, for example, to games, movies or discussion of specific topics by a team of employees or friends (for example, "project X", "corporate", "abroad", etc. further).
All work in Discord is carried out in 2 sections: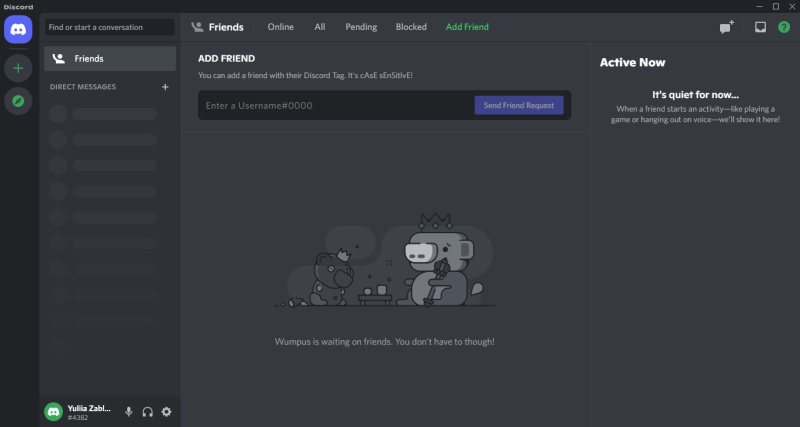 Outwardly, they differ only in the location of controls and a few functions (they are expanded in the "Servers" section). Visually, they are almost identical. If you switch between them, even the settings remain the same.
In the "Friends" section, you can talk with friends, colleagues, business partners. The bottom part of the window is the same for all tabs. It contains functions to mute the microphone and sound, configure user settings, view the current status and account code number. Entering the "Direct Messages" subgroup, you can click on the contact with whom you need to start a correspondence — a chat window will immediately appear next to it.
The "Servers" section contains a list of servers. Here you can go to the server you need or create it yourself. Inside the created server, you can open rooms (they are also called channels) for voice or text communication. The chat of the active channel is also located here. On the right side, you will see a list of all members ranked by online status and roles.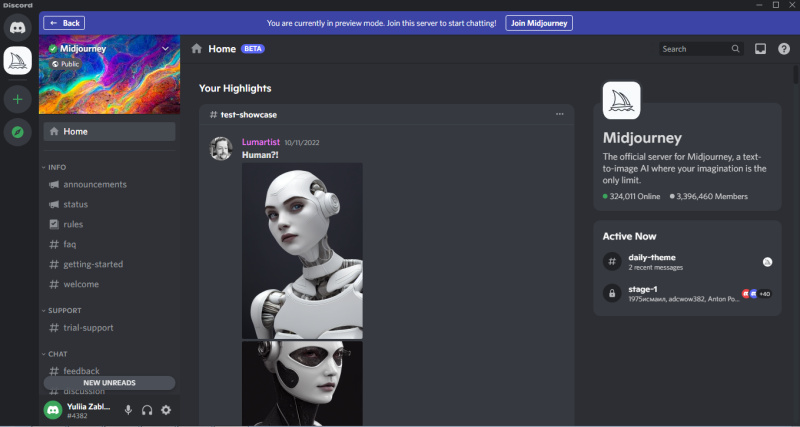 Audio and video communication
In Zoom the maximum number of participants in a video conference can reach hundreds. This, to some extent, explains the incredible jump in the popularity of the service in 2021. But Discord lags far behind in this criterion, since no more than 25 people can participate in the conference at the same time, regardless of the type of subscription. The advantage of Discord is the flexibility of settings: for example, the ability to adjust the microphone personally for each participant in a video meeting to ensure the comfort of communication.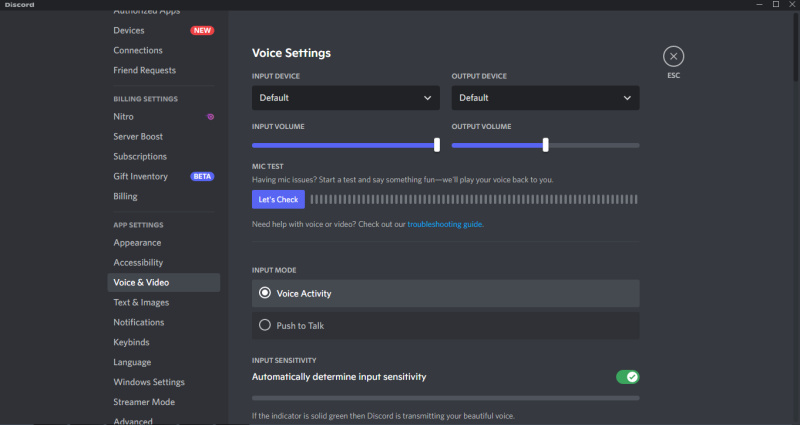 In Discord video call resolution — from 720p. Also in Discord video call quality is higher than in Zoom due to the limitation in the maximum number of conference participants. Thanks to servers that work according to the RTC standard, this service has a better secure and stable connection: during silence, data flows stop and thus the stability of the communication quality is maintained. In addition, when a video call is initiated, communication is not between its participants directly, but through a common server. This makes it possible to leave the conference available as long as there is at least 1 person with an active status in it. If this condition is met, other participants can leave the video meeting and return again at any time.
In terms of quality, Zoom is inferior to Discord. The main reason for interference in the video conference process here is the low speed and instability of the Internet among the connected participants. Even if only one person has connection problems, the rest will suffer as well. Another significant disadvantage of Zoom is the limitation of the duration of a video conference in the free version to 40 minutes.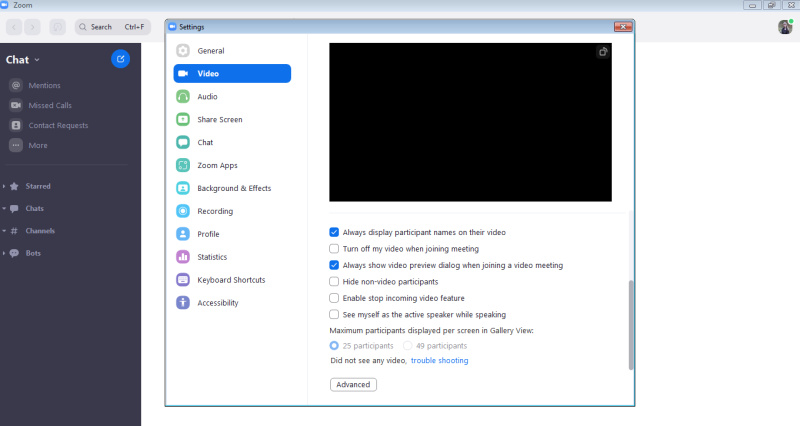 Encryption
Both services do not have end-to-end video encryption, so they have similar problems with protecting personal data. Although Discord still has a slight advantage: the platform encrypts voice communications — this is usually enough to comfortably communicate during the game.
Connect applications without developers in 5 minutes!
Unlike Discord, Zoom only encrypts chats with correspondence and a package of technical documents posted on the official website of the service. At the same time, audio and video communications remain easily accessible, which has led to large-scale information leaks and loud scandals in the Internet media on this basis.
In fairness, we note that it is not difficult in principle to provide end-to-end encryption to protect audio communications and text chat, but to do the same for video communications is much more difficult. Almost all video services today still cannot provide their users with such a high level of protection.
Bandwidth
Zoom performs bandwidth optimization based on participants' network capabilities to offer the highest quality experience. It is also characterized by automatic adaptation to the type of network used (wired or wireless connection, 3G, 4G).

Required minimum Zoom connection speed for tête-à-tête video calls:
for high quality video — 600 kbps for reception and transmission;
for HD video with a resolution of at least 720p — 1.2 Mbps for reception and transmission.
Required minimum Zoom connection speed for group video calls:
for high quality video — 1.0 Mbps for reception and 600 kbps for transmission;
for HD video with a resolution of at least 720p — 2.6 Mbps for reception and 1.8 Mbps for transmission.
Discord has no official network bandwidth requirements. For simple communication, 512 kbps is enough. But in practice, to conduct a high-quality stream, you need about 2-3 Mbps and even more, depending on the settings you have installed. Bandwidth problems can arise with a large number of viewers: broadcasting video content simultaneously to 8-10 people requires a much higher Internet connection speed.

If you think that these two services are too demanding on bandwidth, we will use the Skype video conferencing service for comparison. For a simple Skype video call, you need at least 300 kbps. For high quality video communication, you will need at least 500 kbps. To get HD video in a tête-à-tête conversation, you need a stable 1.2 Mbps. If there are more participants in the video session, throw another 1 Mbps per person. For example, when participating in a video conference, where 7-8 users will gather together, for a clear video picture, you should focus on 8 Mbps. Thus, if you compare Discord vs Skype bandwidth, you can see that they are practically the same.

Discord vs Zoom: Pricing
Zoom and Discord are completely free to use. True, the joy of saving money in this case will be overshadowed by some restrictions.

The free version of Zoom only allows you to use video calling for up to 40 minutes. This restriction is removed by paying for a subscription to the "Pro" tariff plan — you need to pay $14.99 monthly. In addition to unlimited video calls, you will also be given a "corner" of 5 GB in cloud storage. Those who wish can also choose the tariff plan "Business" — for it you will have to pay $19.99 monthly. The user who pays it gets the opportunity to create large conferences in which up to 300 people can participate, an unlimited number of message boards and a 5-gigabyte "cell" in the cloud storage. The Enterprise plan allows you to organize video conferences up to 1000 participants, provides a fully functioning office ATE for business, and also a Zoom Room and Conference Room Connector. Its cost is discussed individually.
The free version of Discord also has some limitations, though not as harsh as Zoom. Here the user is allowed to be on a maximum of 100 servers. The text message can contain no more than 2000 characters, and the weight of the attachment sent should not exceed 8 MB. The maximum video resolution for screen sharing is 720p. The paid version of "Nitro" allows you to personalize your profile, increase the size of the downloaded file, better customize the chat and server, use a higher resolution when sharing the screen. Nitro costs $9.99 to be paid monthly or $99.99 annually. There is a cheaper option — "Nitro Classic". It gives basic bonuses for chatting, but does not improve the functionality of the server. It costs $4.99 monthly or $49.99 annually.
If you sign up for an annual subscription to any Zoom and Discord plan right away, and not pay every month, you can save a little.
Discord vs Zoom: Integrations
Both Zoom and Discord are integrated with a small number of other services and applications. The reason for this limitation lies primarily in the purpose of these platforms.
Zoom is more focused on enterprise solutions and can be associated with Microsoft Office suite programs, Skype video communication service, cloud services (OneDrive, Google Drive, Google Workspace, Google Calendar). As a special plug-in, it integrates into the Chrome web browser.

Discord has focused on proprietary solutions that increase the comfort in the process of communication. The official website states that the service is integrated with the following platforms: YouTube, Facebook, Twitter, Reddit, Spotify, Twitch, Steam, Battle.net, GitHub, Riot Games, Epic Games, PlayStation Network, Xbox Live and PayPal.

If you need to link Zoom or Discord to any other system via API, we recommend you use ApiX-Drive. At the moment, this company offers 244 ready-made integrations for both services.
Final thoughts
Who won the comparison — Zoom or Discord? There is no unequivocal answer like "this service is bad, but that one is good". Zoom attracts with wide functionality, the ability to stream with the option of recording video and an impressive number of video meeting participants, which is available even in the free version. Among the shortcomings are vulnerabilities in terms of personal data security and significant restrictions on the time of a video session. Discord is better than Zoom for broadcasting computer games, corporate or friendly communication. In addition, just like Zoom, it can be used for conferences.
When making a choice in favor of one of these services, you need to clearly know what exactly you need it for. If only for conducting school lessons or participating in large-scale webinars and conferences, Zoom should be preferred. For internal corporate or domestic communication with colleagues and friends, Discord is best suited.
***
Don't waste another minute manually transferring leads from Facebook to other systems. SaveMyLeads is a simple and effective tool that will allow you to automate this process so that you don't have to spend time on the routine. Try SaveMyLeads features, make sure that this tool will relieve your employees and after 5 minutes of settings your business will start working faster.