When it comes to creating presentations, most people immediately think of the famous Microsoft PowerPoint (PP) program. Indeed, for many years it has been considered the most popular presentation editor due to its integration with the massively distributed Microsoft Windows operating system. However, the days of the PP monopoly are in the past because today there are many other services for developing presentations – convenient, functional and free. Many of them are no worse than the legendary software from Microsoft, and in some ways even better than PowerPoint. We present to your attention a selection of the best presentation editors for 2023. Each of them can be safely called a full-fledged and affordable alternative to PP.
Brief Overview of PowerPoint
PowerPoint was developed in 1987 for the Macintosh OS, and three months after its release, it was bought by Microsoft Corporation. In the late 1990s, this software had a 95% share of the presentation software market. As of 2023, it is still among the most requested editors due to its versatility and wide adoption. PP is available as a desktop program for Windows and macOS, a mobile application for Android and iOS. There is also a version of PowerPoint Mobile for Windows 10 and Windows 10 Mobile.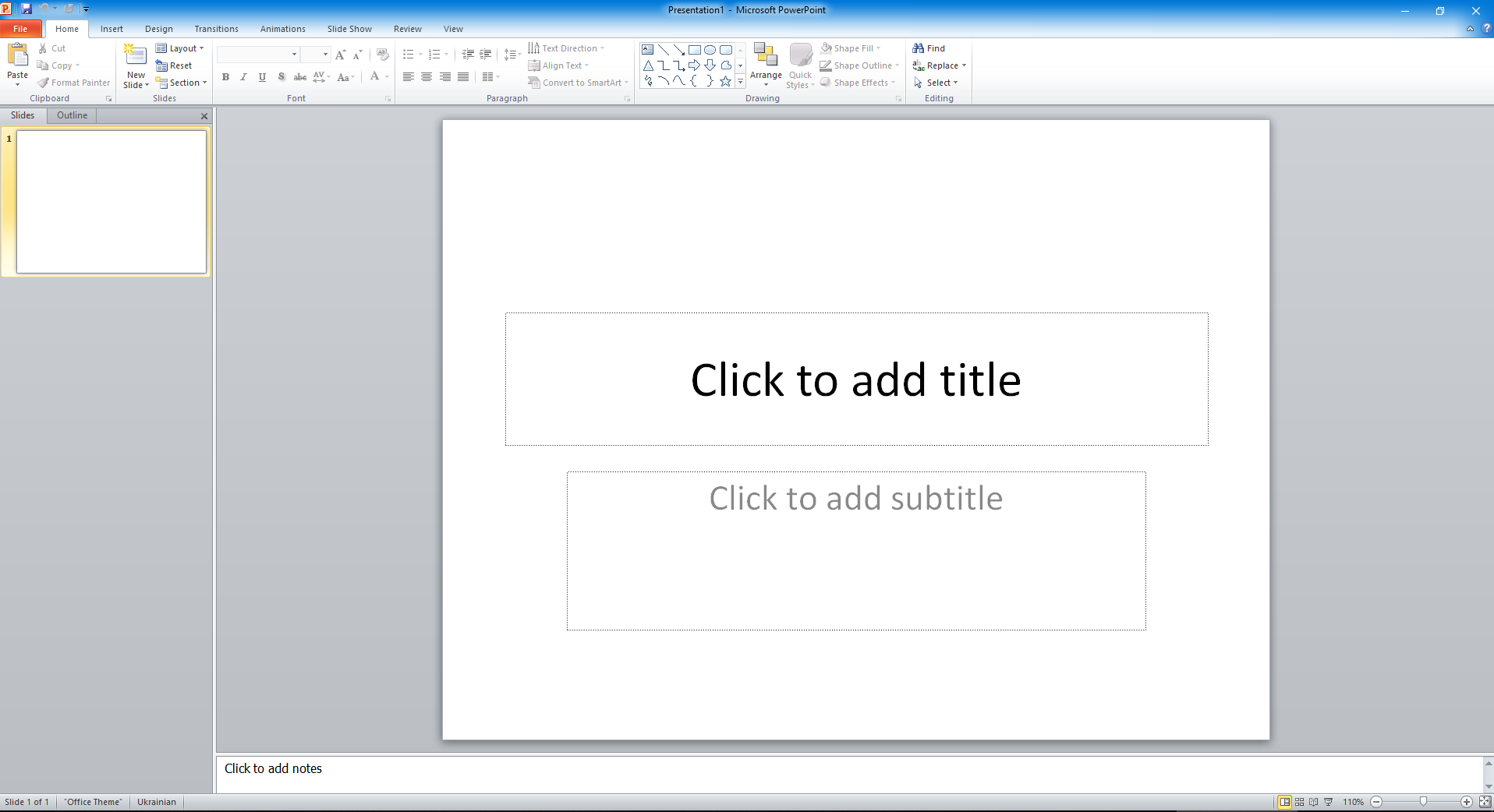 Previously, this program has become widespread not only because of its versatility and accessibility, but also because of the lack of worthy PowerPoint alternatives. However, today it is still popular with users: it is actively used in business, marketing, education, science and many other areas. Over the years of its existence, the program has been updated several times. The latest versions of PP have a very extensive feature set.
Among the features of PowerPoint, it is worth noting the following:
In addition to text, users can add pictures, graphics, tables, photos, videos, and other media content to their presentations.
The main component of the PP interface is a slide consisting of a body and a title. When designing a presentation, text and other content are placed on the slides. The main menu tools allow you to add new slides, change their sequence, choose the layout and edit the design of presentations, change fonts, adjust text size, and more.

Using the "Insert" menu, you can add the necessary media content to the slides: images, video, audio, symbols, shapes, and so on.

Users can create presentations from scratch or based on a solid database of templates from the built-in library. They also have several layout options available.

The program offers a number of formats for saving presentations. Among them there are both closed (PPT, PPS, POT) and open (Open Office XML) formats. The latter is well compatible with Power Point alternatives.

Slideshow with animation of transitions between slides. The user can choose visual effects to change slides and display text on them.

However, this program also has its drawbacks, which force many users to look for more suitable alternatives to PowerPoint. Here's what they don't like:
PP is a paid program. For legal use, you need to pay a monthly or annual subscription.
Frequent problems with opening and editing PPT presentations through third-party programs and services.

Difficulty collaborating on presentations.

Next, we will discuss free services that can fully replace PowerPoint.
Prezi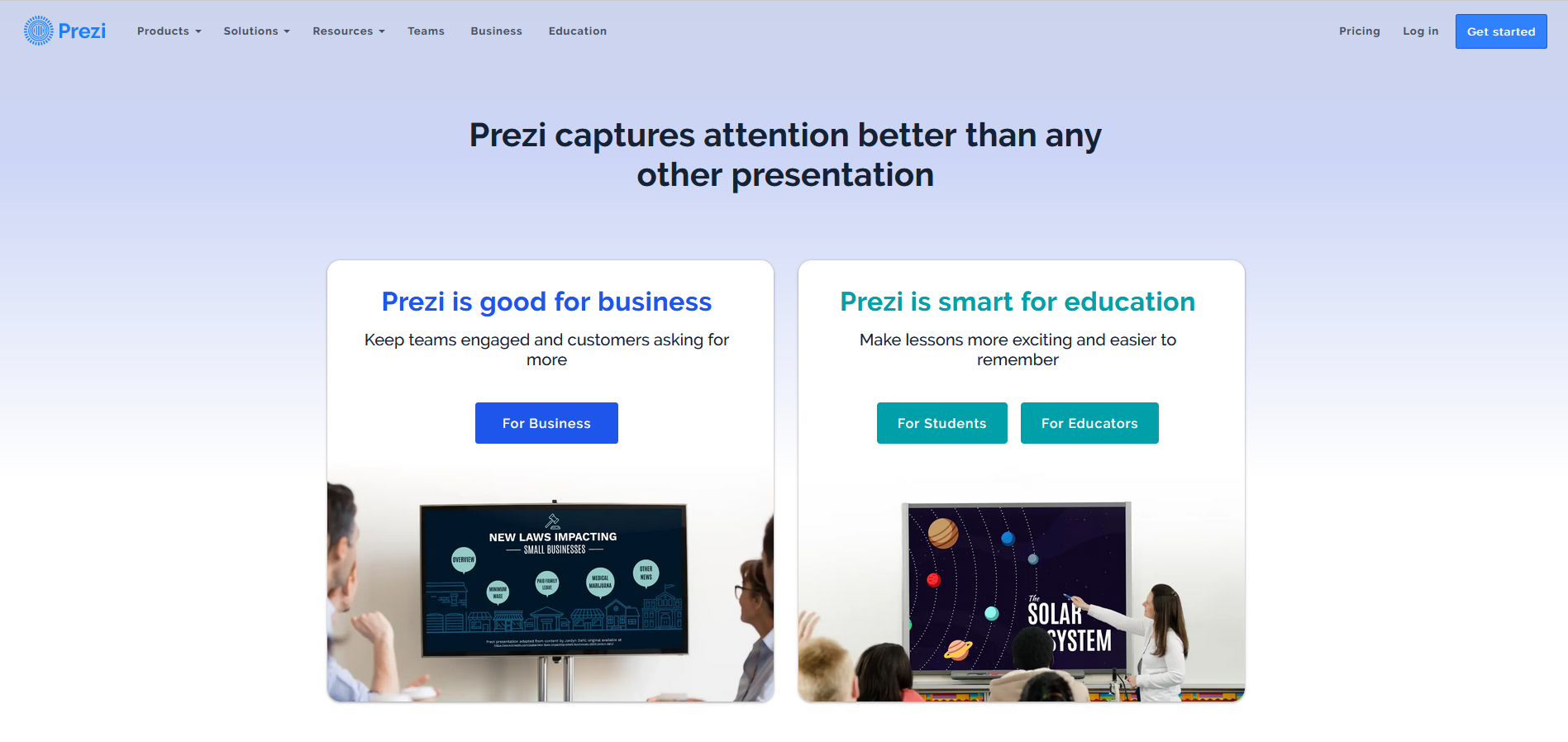 Cloud service Prezi is very popular among entrepreneurs, freelancers and students. It allows you to create custom animated presentations with an original structure. Instead of the traditional sequential arrangement of slides, its users get a large one-piece canvas. You can add blocks with text, images, animations and other media content to it, as well as create mini-slides on it. All operations are easily performed in drag-and-drop format.
This alternative to PowerPoint allows you to make non-linear presentations with a solid structure, original design elements, the ability to move and scale sections without explicit transition between slides. Switching from one canvas to another can be animated at will. The function of placing content on top of the video and other interesting features help to better attract and engage the audience.
All Prezi tools are available in the cloud. You can also save your presentations there. It is also worth noting the presence of built-in analytics, which makes it possible to track the effectiveness of the presentation as a whole and its individual elements. The service supports collaboration in groups of up to 10 people. You can use it through a web browser and mobile application.
Google Slides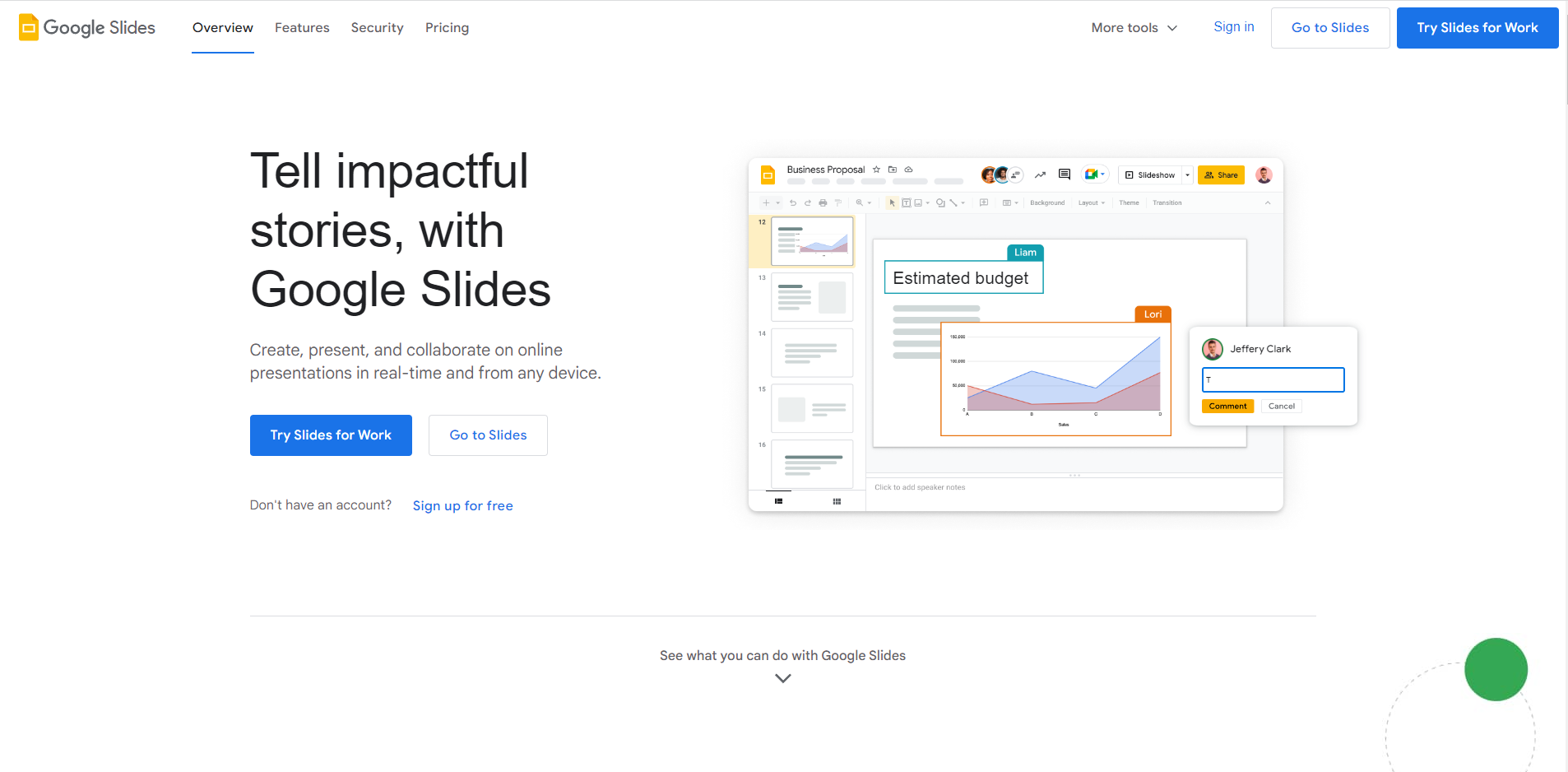 Google Slides is one of the most common and affordable PowerPoint alternatives. This free cloud service is part of the Google Workspace platform and provides many useful features. With it, you can create informative colorful presentations with graphs, charts, animations, videos and other media content.
Google Slides has a built-in template library, albeit with a rather limited selection. However, you have the option to import hundreds of free ones or create a unique design from scratch. As in the case of PP, with this service you can create traditional presentations without any special creative and interactive frills.
To use, the program does not require any subscriptions, you only need a Google account. One of its key advantages is the ability to work together with the function of saving all the changes made and version control. This means that many people can work on the presentation at the same time in real time. All Google Slides tools are available in any modern web browser and mobile app.
Canva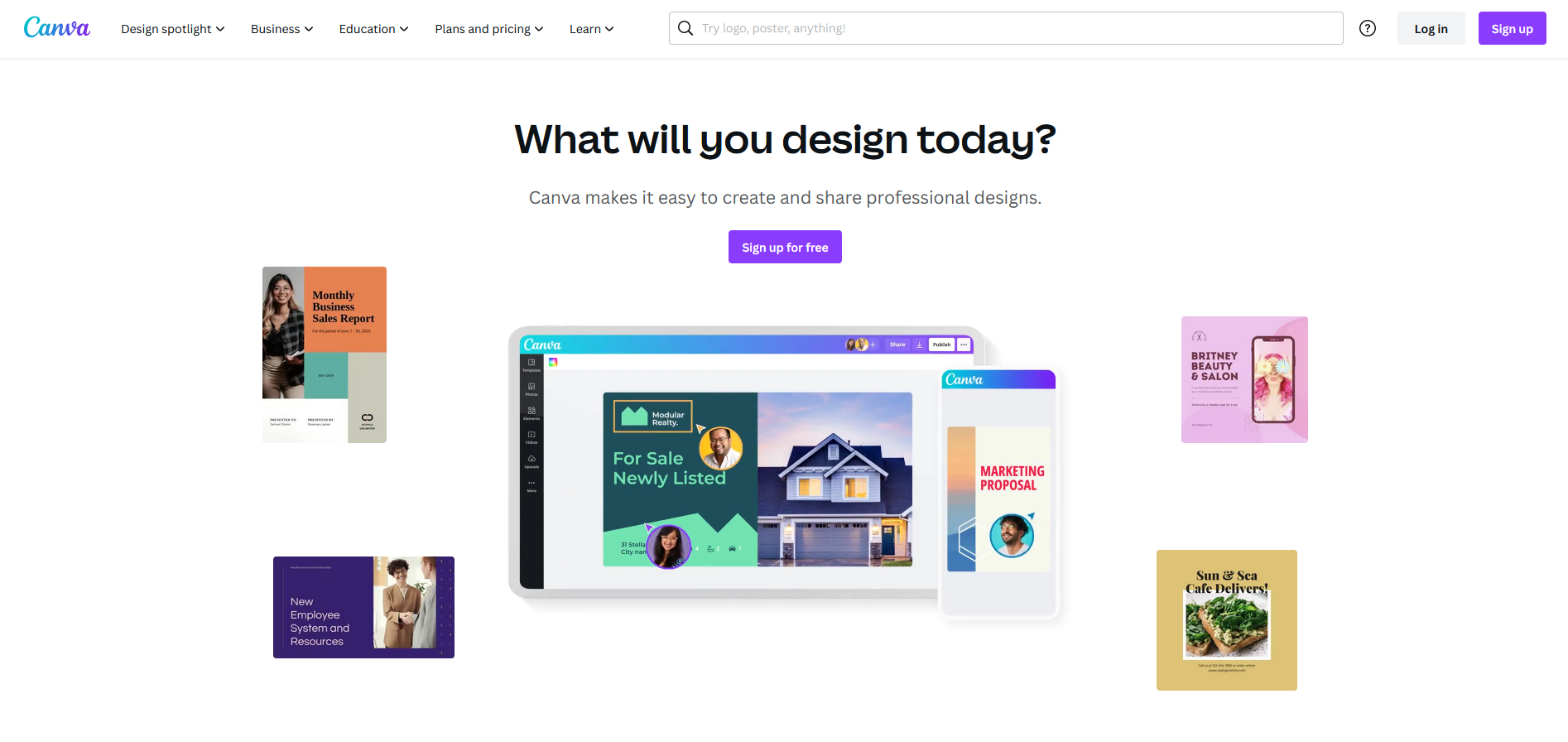 If you are looking for a convenient, efficient and free service for presentations other than PowerPoint, we recommend that you pay attention to Canva. It is ideal for those who do not want to create a design from scratch, but instead prefer to just choose the right template and add their content there. Unlike PP, Canva offers an impressive library of ready-made presentation layouts for a variety of topics and purposes.
The free version of the editor provides free access to over 8,000 templates and a built-in content repository containing over 1 million images. In addition, it has a number of useful tools for creating infographics and diagrams. Its simple, minimalistic interface is ideal for novice users. But for professional designers who create their own presentations from scratch, Canva does not offer many tools.
All design templates in the library of the service are easy to edit: add and remove slides, change their sequence, and so on. When it comes to online collaboration, Canva does provide that, although it doesn't support multiple users editing presentations at the same time.
Keynote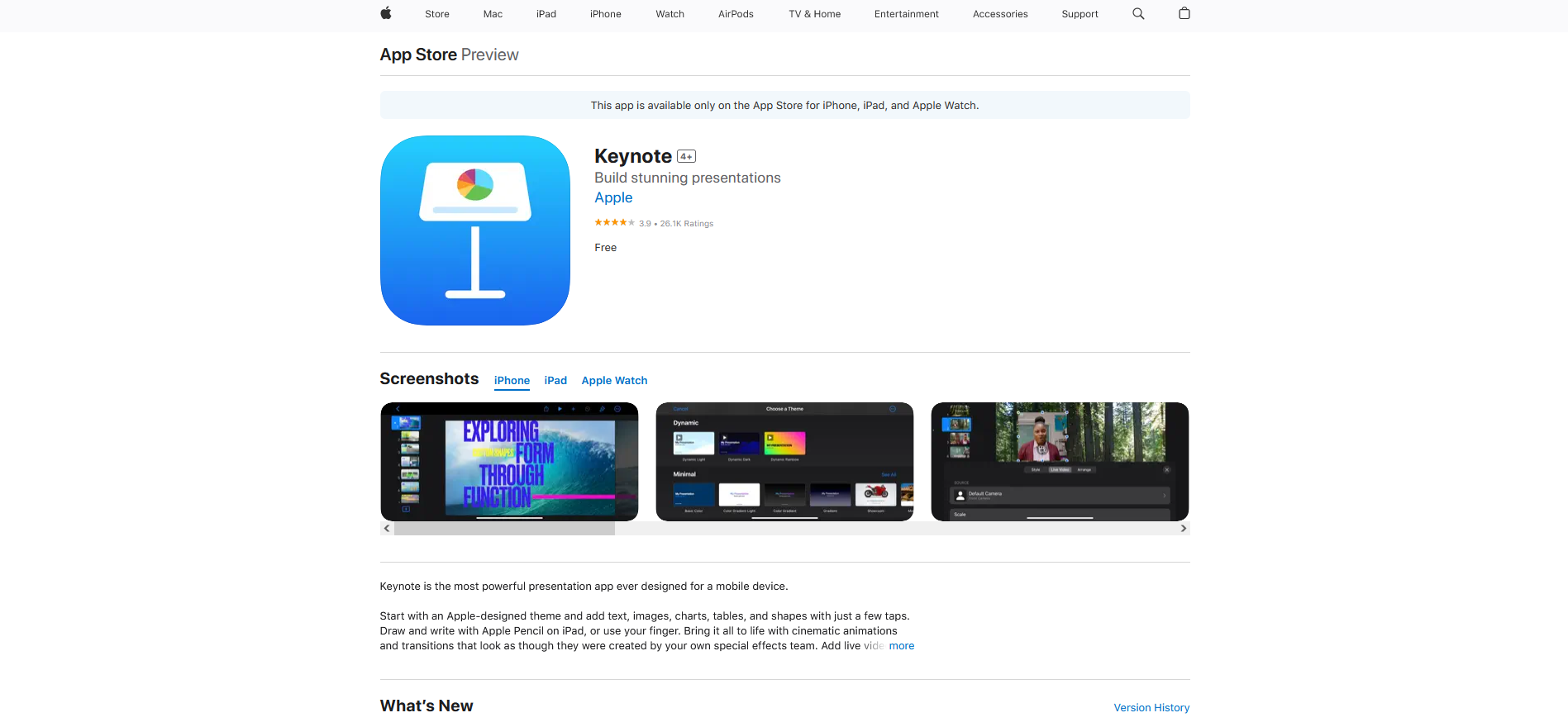 Developed by Apple, Keynote is one of the popular PowerPoint alternatives free. The program is preinstalled on iMac and MacBook. Its mobile version for iPhone and iPad can be downloaded from the App Store. One of the important advantages is a minimalistic and aesthetically pleasing interface. However, after other presentation editors, it may seem a bit confusing. In addition, the web version is really lacking.
Connect Facebook Lead Ads to CRM, Email, SMS & Spreadsheets
Use SaveLeads to connect Facebook to different apps. Over 120+ ready-made integrations available now
Automate the work with leads from the Facebook advertising account
Empower with integrations and instant transfer of leads
Don't spend money on developers or integrators
Save time by automating routine tasks
Test the work of the service for
free
right now and start saving up to 30% of the time!
Try it
The Keynote functionality puts a lot of emphasis on the visual side. Dynamic backgrounds are available in the service catalog to help bring your presentations to life. It also offers over 700 forms, images, videos, music, diagrams and other media content. The library of the service contains over 30 cinematic effects for text and objects, as well as dozens of professional design templates. iPad's owners can draw their own illustrations and diagrams for presentations using the Apple Pencil tool.
An equally significant advantage of Keynote is the ability to collaborate with other users in real time through different devices: Mac, iPad, iPhone, and even a Windows PC. The service supports importing and editing PPT files. Keynote presentations can be saved as PowerPoint formats.
Zoho Show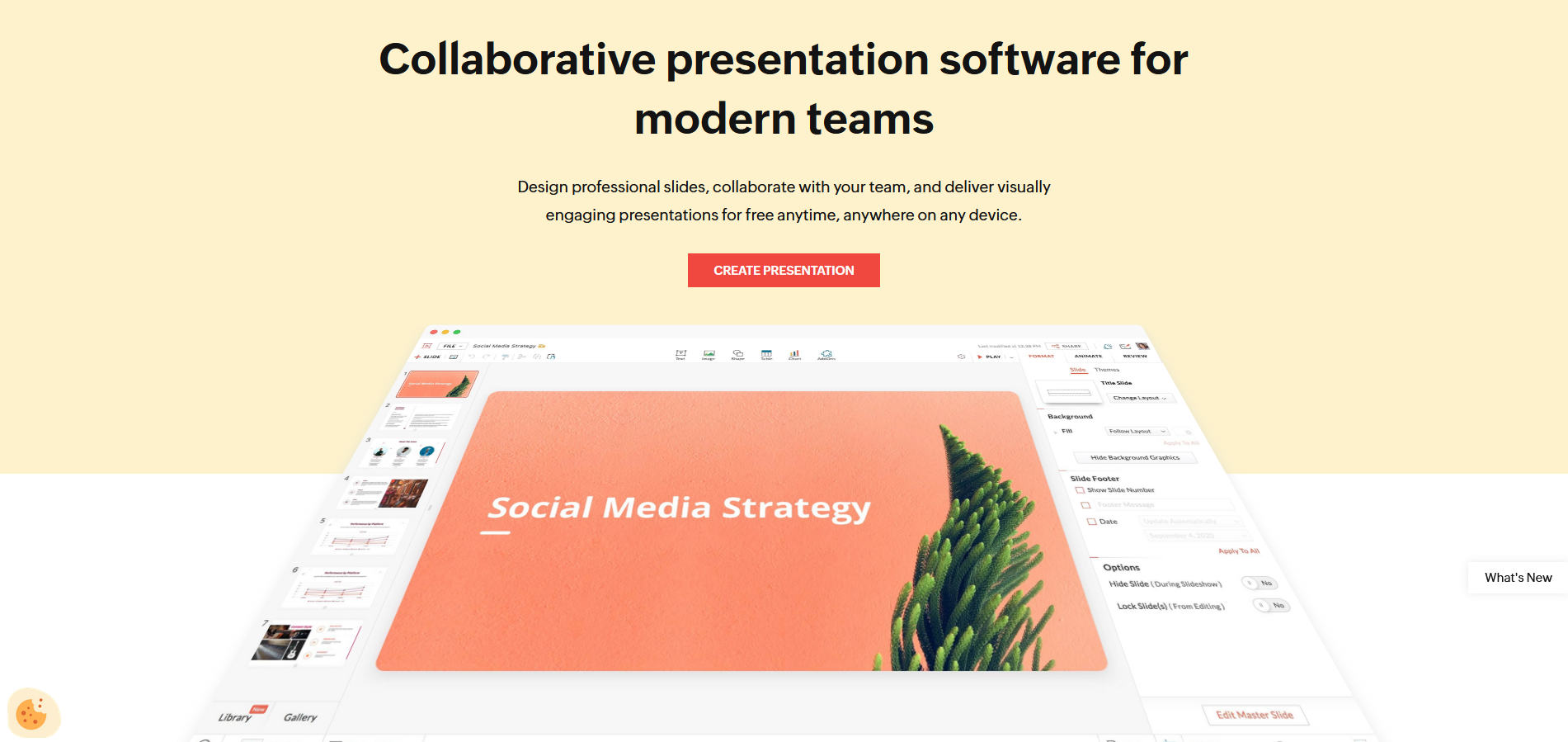 The free online presentation editor Zoho Show is similar to Google Slides in many ways, but surpasses it in a number of ways. It is part of the Workspace Bundle, allowing users to create and edit content through any internet browser. Also, in this program, you can open and edit PP presentations in .ppt, .pptx, .pps, .ppsx, .odp and .sxi formats.
Zoho Show provides a range of visual effects to make your presentations more vibrant and dynamic. Among them are attractive animations and transitions between slides, graphs and charts for visualizing data, and much more. The library of the service contains more than 100 professional presentation templates for different areas, tasks and categories of users: students, entrepreneurs, marketers, and so on.
Zoho Show is a program like PowerPoint, in addition, it lets you embed tweets, YouTube videos, Flickr images, and more into presentations. Users can demonstrate their presentations on any device, publish them on websites and blogs. Zoho Show also has a number of useful collaboration features. Key among them is the central presentation repository. It simplifies group access to them for viewing, commenting and editing.
Visme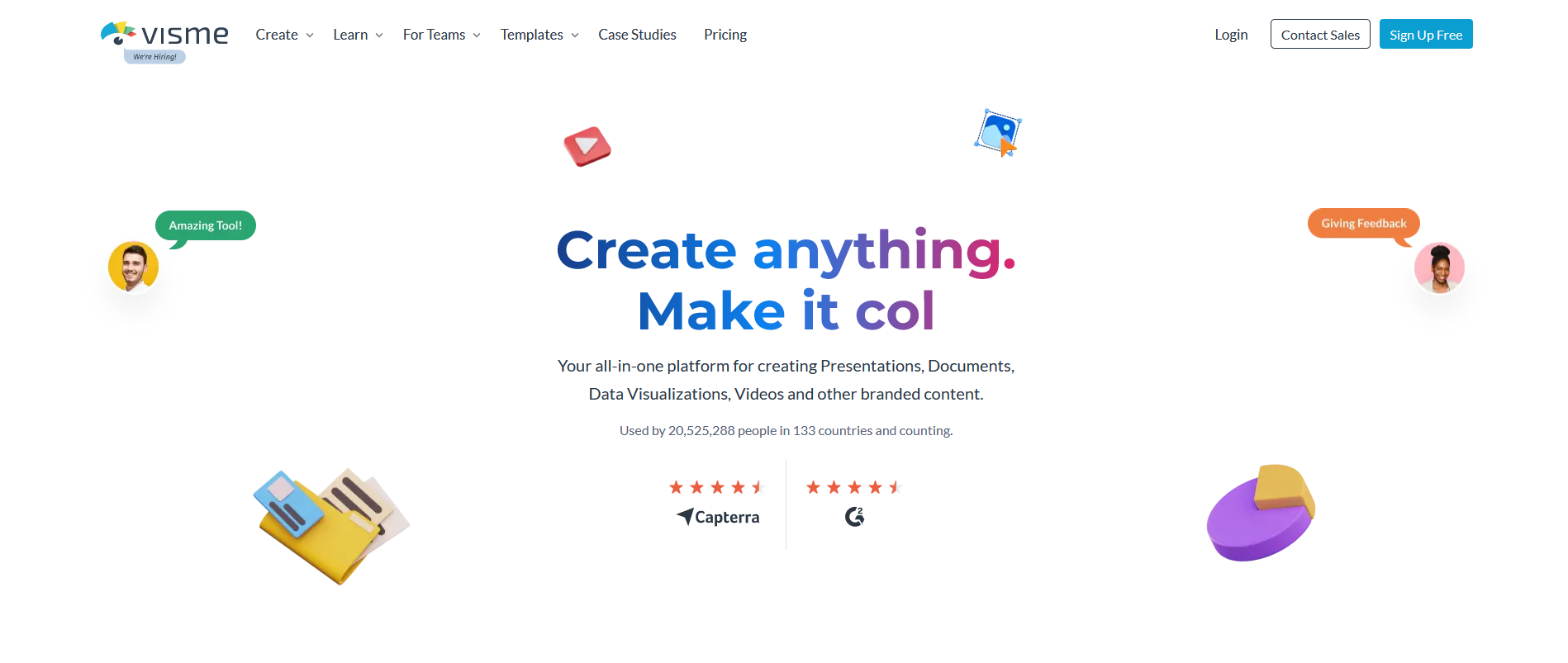 Cloud drag-and-drop editor Visme is one of the free PowerPoint alternatives. It is a universal program with which you can create not only presentations, but also summaries, infographics, reports, data visualizations and other documents. It has an extensive library of slides and templates with HD backgrounds and professional design layouts.
A variety of images, fonts, vector graphics, and a range of graphics tools are available to users of this free PowerPoint alternative. In addition, it allows you to easily and quickly change the colors of illustrations and other visual elements using the Color Dropper tool. The service also provides the ability to upload your own layouts and work with them.
With Visme, you can animate any presentation object (text, shapes, charts, tables), set up smooth transitions between slides, add third-party fonts, import ready-made PPT presentations and modify them in a drag-and-drop editor. The service supports integration with YouTube, Vimeo, JotForm, Google Analytics and a number of other systems. Other advantages of the program include the ability to share presentations with other users, protect them with a password and download in different formats (as an image, .pdf, .pptx or .html5).
Beautiful.ai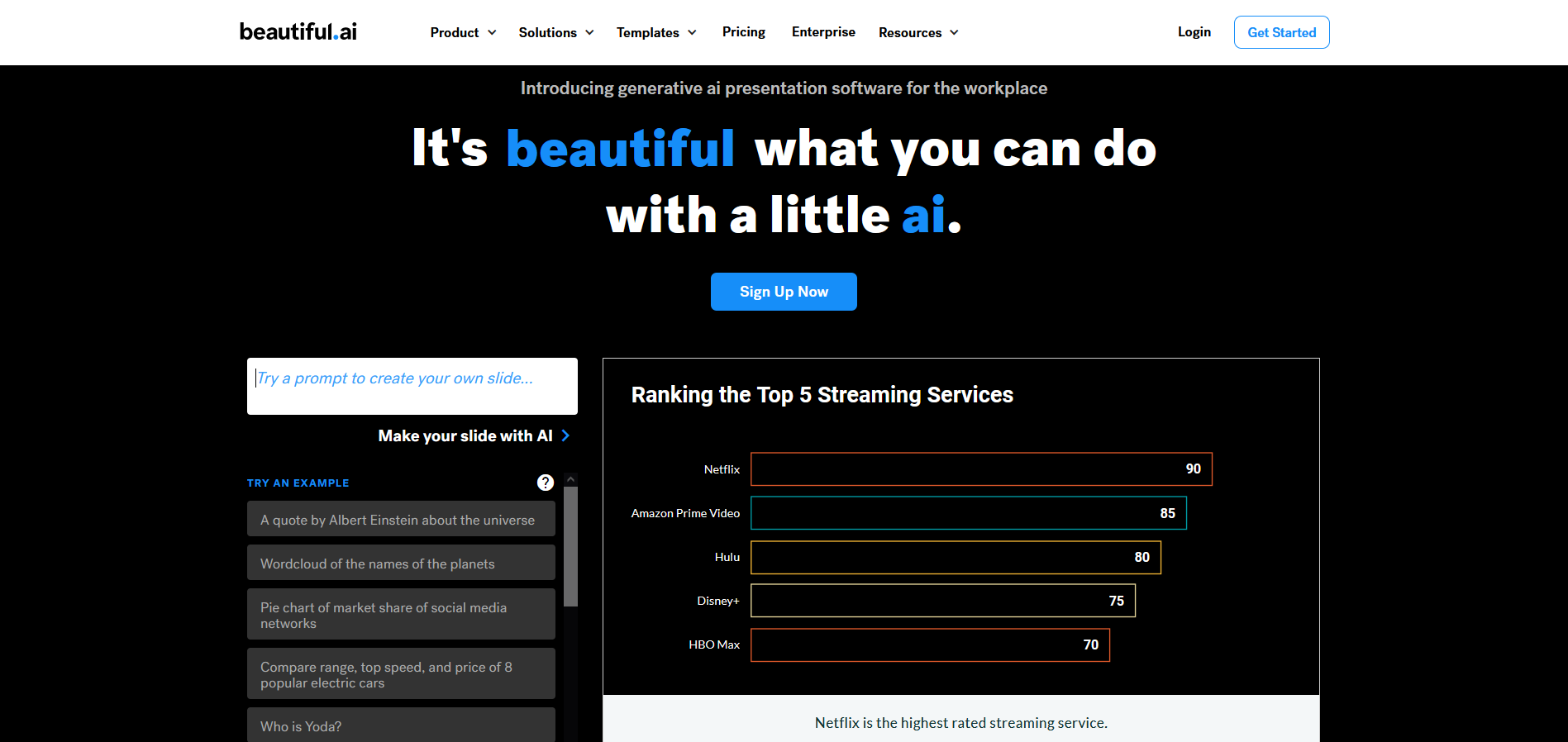 Beautiful.ai is a lesser-known but quite worthy online presentation editor. According to the developers, its functionality is enhanced by artificial intelligence technologies, thanks to which you can create beautiful professional presentations without much effort for the user. In addition, it has tools for content customization, but their capabilities are somewhat limited.
The service provides users with a solid database of stylish modern templates and the ability to automatically format slides. In addition, it allows you to flexibly modify and brand slides, maintain version control, use stock images from the built-in library, and import PP presentations.
Other useful features of Beautiful.ai include a color editing tool for the entire presentation or individual elements, and the ability to view in speaker mode with notes. Beautiful.ai users can invite others to collaborate on presentations, password protect their content, and export to .pdf or .ppt formats. Considering all this, it can be argued that the Beautiful.ai service takes its rightful place in the rating of PowerPoint competitors.
Slides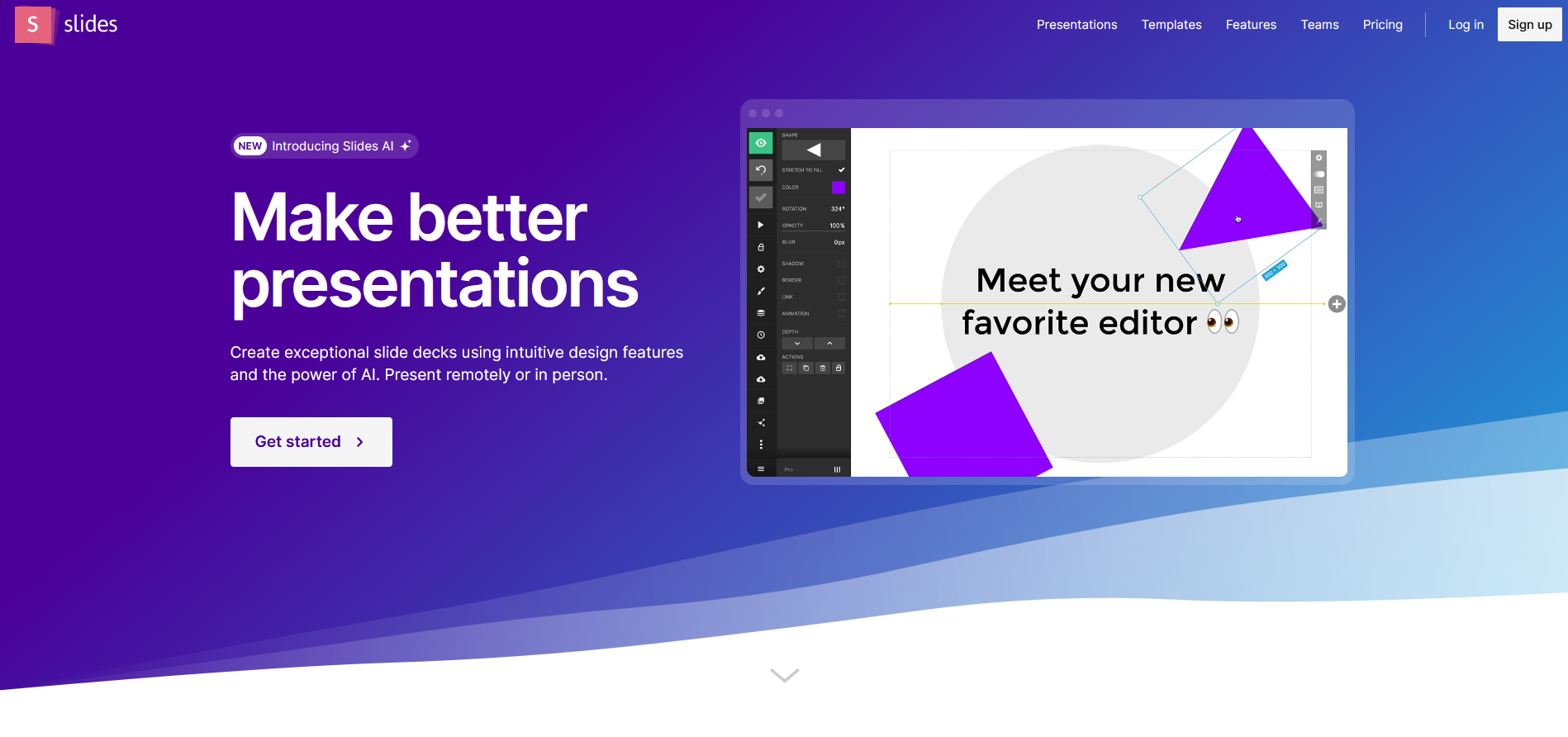 The cloud-based open-source Slides platform is one of the worthy free PowerPoint presentation alternatives. It offers a user-friendly, intuitive interface with a set of useful tools, as well as a customizable editor with rich collaboration features (such as member comments). With their help, users can easily and quickly create beautiful presentations based on an extensive catalog of themes and design layouts. In addition, the service provides the ability to add background images and use preinstalled presentation templates. By the way, a ready-made presentation can also become a template.
Slides users have access to a built-in media library containing stock images and videos. In the process of creating presentations, you can take materials from there, as well as from Giphy or Unsplash. Content customization flexibility is provided by support for HTML, CSS and JavaScript.
Among other advantages of Slides, it is worth noting the protection of presentations from unauthorized access, built-in analytics tools and tracking changes. The functions of user management and template branding deserve special attention.
Slidebean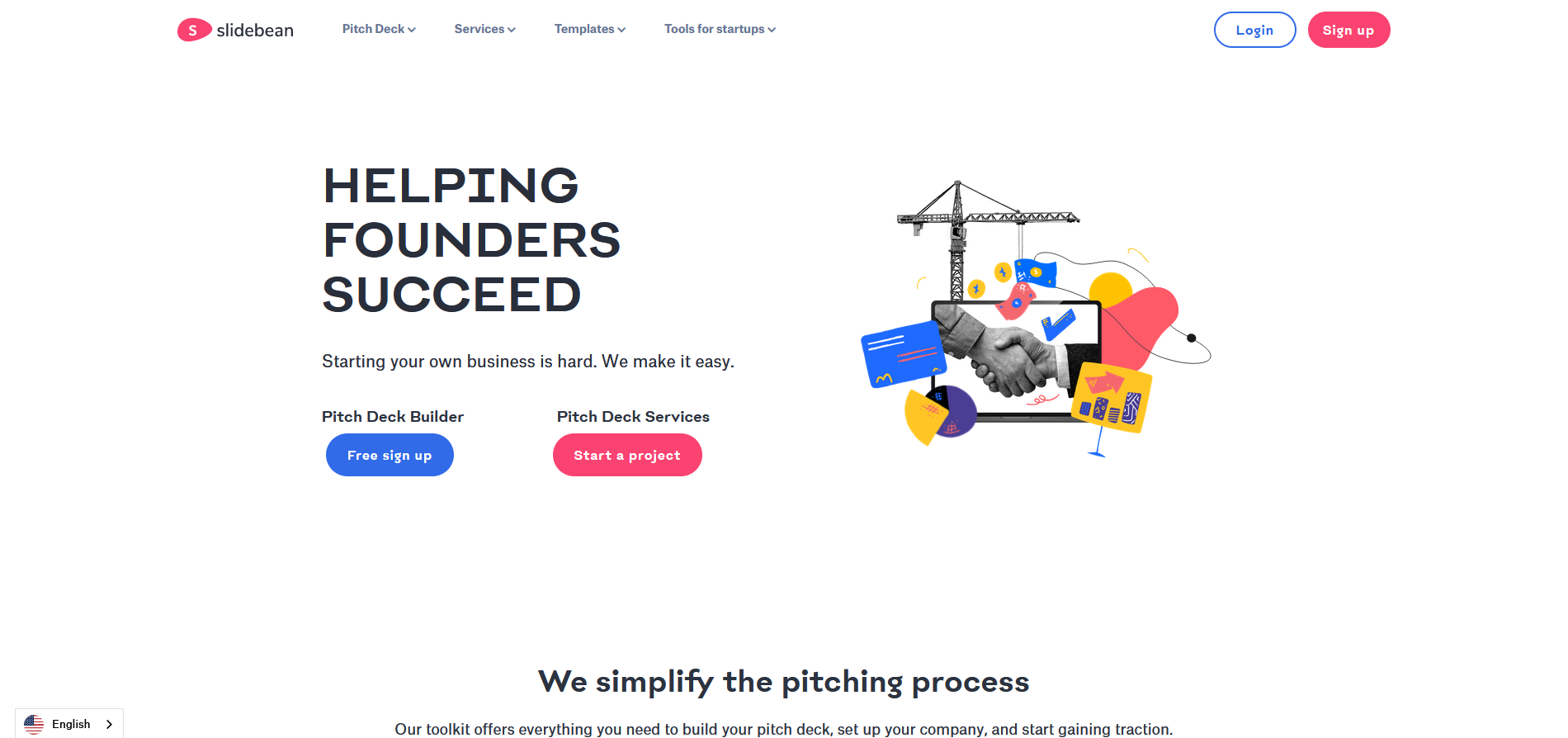 The Slidebean service completes our selection of PowerPoint like programs. It is ideal for those who do not want to waste time creating high-quality professional presentations on their own. Its functionality is tailored for the development of business presentations for startups and start-up companies – the so-called "pitch decks".
Just like Beautiful.ai, this service was developed using artificial intelligence technologies. With their help, users can create beautiful informative presentations automatically in minutes without any skills. The Pitch Deck Builder module with a set of useful tools allows you to make them manually from scratch.
Slidebean provides an impressive library of templates for different areas and purposes: marketing, business, startups, and so on. You can also import images or GIFs from Unsplash and Giphy into your presentation. Users also get access to thousands of icons and the ability to create graphs based on data from CSV files. Finally, there are tools for sharing and collaborating on presentations with built-in chat and version control.
Conclusions
If you are looking for a Power Points app free, it is not necessary to install an unlicensed version of the program. A much smarter decision would be to choose one or more of the free presentation editors we have described in the article. Most of them are available online, so you don't have to install programs on your computer to use them.
As you can see, all the PP alternatives presented here have their own characteristics. For example, Google Slides and Zoho Show have a convenient and intuitive interface, Prezi allows you to create original presentations with a non-linear structure. Canva has a huge catalog of design templates and images, and with Visme you can design not only colorful presentations, but also many other documents. Finally, Beautiful.ai and Slidebean let you automate presentations with built-in AI.
***
Use the SaveMyLeads service to improve the speed and quality of your Facebook lead processing. You do not need to regularly check the advertising account and download the CSV file. Get leads quickly and in a convenient format. Using the SML online connector, you can set up automatic transfer of leads from Facebook to various services: CRM systems, instant messengers, task managers, email services, etc. Automate the data transfer process, save time and improve customer service.