Artificial Intelligence continues to develop rapidly, penetrating literally into all areas of human activity. The IT solutions created on AI basis really bring significant benefits, helping to make people's lives easier and simpler, relieving them of repetitive routine tasks. Today, the abbreviation AI can be found in the name or description of actually every second online service: from accounting and spelling apps to fitness trackers and real estate search sites. The maximum prospects and demand for this area stimulates the emergence of many new startups in the field of AI technologies.
Given the relevance of this topic, we decided to prepare our new article in the form of an overview of the most interesting and promising AI startups at the beginning of 2023. From it, you will learn about what innovative solutions these companies created, when they appeared, how they develop and how much investment they managed to attract.
OpenAI
Location: San Francisco (California, US)
Founders: Sam Altman, Trevor Blackwell, Greg Brockman, Vicki Cheung, Reid Hoffman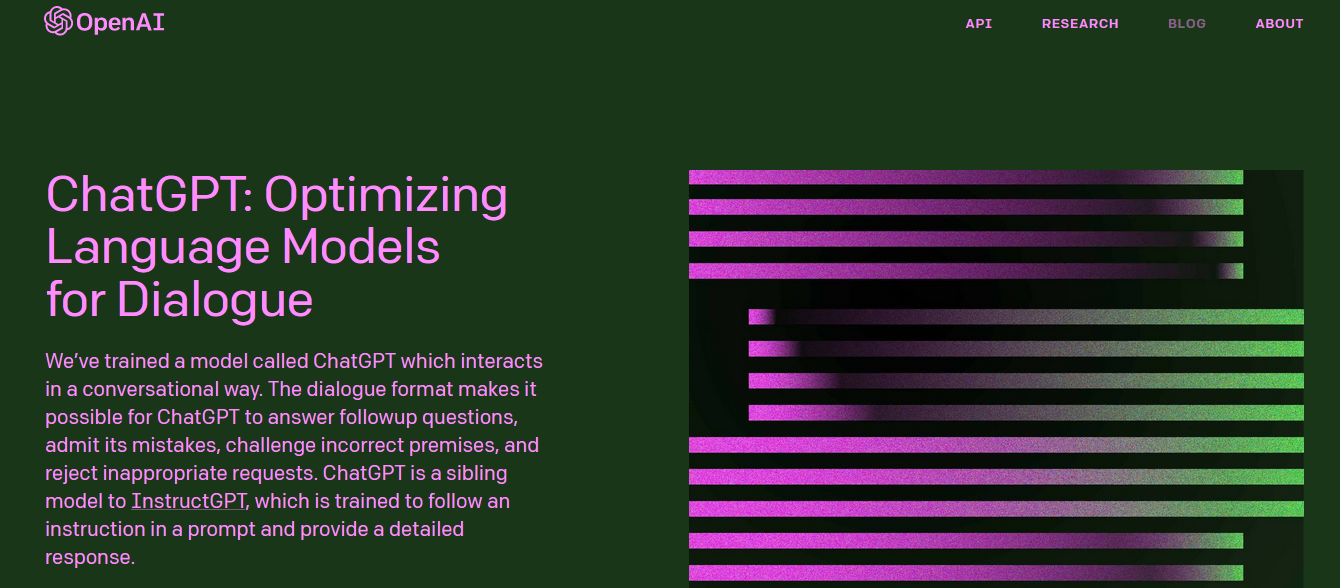 OpenAI is one of the top AI startups of recent years. It was founded in 2015 as an organization for the study of artificial intelligence. The first notable development of OpenAI was a platform for programming machine learning algorithms called OpenAI Gym, launched in 2016. It offered users a set of artificial intelligence algorithms that can become useful tools in software development for various purposes and areas (video games, simulators, robotics, etc.)
In 2017, OpenAI introduced the computer program OpenAI Five, whose bots were trained to play Dota 2 at a high level. In the same year, it beat professional players for the first time and then constantly improved. Further, this startup released several more noteworthy IT developments. These include the GPT-3 natural language processing algorithm and GitHub Copilot, a code completion tool for the Visual Studio Code, Neovim, and JetBrains IDEs. In 2021, OpenAI created the DALL-E deep learning (DL) model, capable of generating digital images based on their textual descriptions.
And the most relevant and well-known development of the startup was the ChatGPT chatbot, introduced in November 2022. Using AI algorithms, it can create and translate texts, write code and communicate with users in different languages. In the first days after the launch, well over 1 million users registered in it.
SoundHound
Location: Santa Clara (California, United States)
Founders: Keyvan Mohajer, Majid Emami, James Hom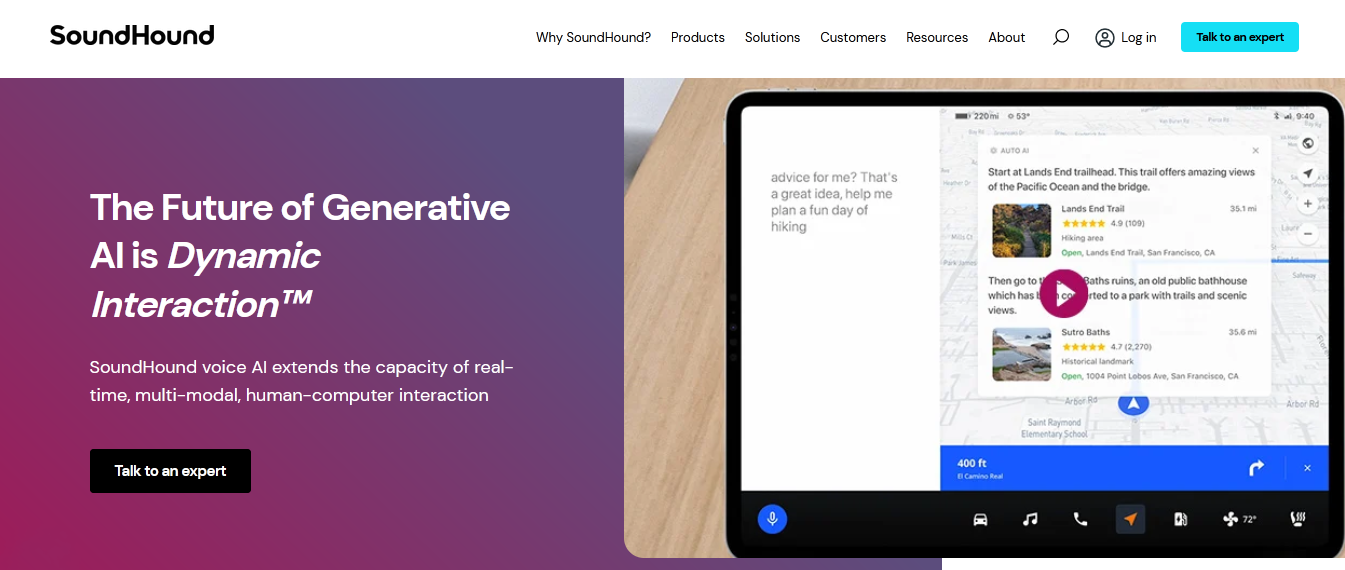 Founded in 2005 in California, SoundHound startup has been developing its software for recognizing human speech and other types of audio. By 2023, it managed to develop an innovative Voice AI technology that can recognize speech in the same way as the human brain does (according to the project developers). It converts a voice recording into text at an accelerated rate, immediately processing it in a "speech to meaning" format, instead of the traditional two-stage "speech to text" and "text to meaning" scheme.
Another important voice AI tool from SoundHound is Deep Meaning Understanding. It analyzes speech according to various criteria (including context, tone, etc.), which helps to recognize the meaning of what was said and the intention of the person. Multi-modal interface allows real-time voice recognition, and users can update or change their queries through voice or text input. In addition, Voice AI supports more than 25 languages with different accents, and also allows creating separate knowledge bases for voice assistants on external domains.
SoundHound provides turnkey solutions for many industries, including car computers, various smart devices, hotels, restaurants, and more. By 2015, over the 10 years of its existence, the startup had attracted more than $40 million in investments. In January 2017, $75 million were immediately invested in it, and in May 2018 – another 100 million. In November 2021, the company went public, after which it was valued at $2.1 billion.
People.ai
Location: San Francisco (California, United States)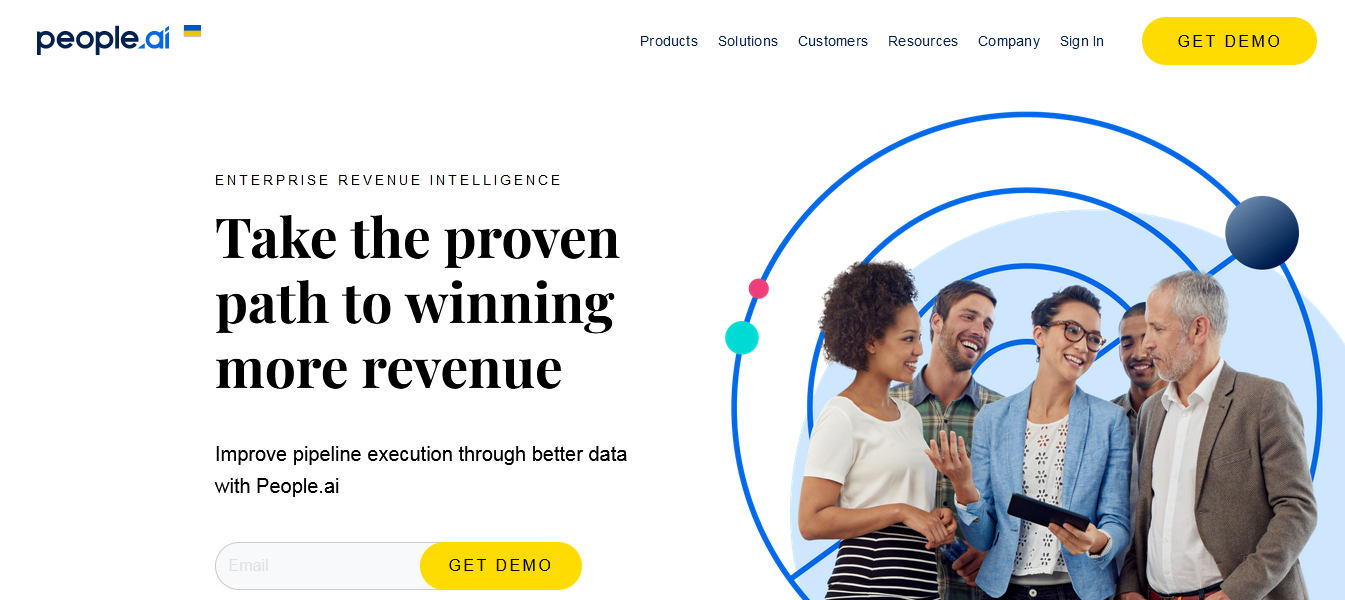 Artificial Intelligence startup People.ai owns an AI-powered cloud service that businesses can use to boost their sales and other metrics. Its algorithms can flexibly and quickly analyze the results of the work of company employees, including email correspondence, telephone conversations and business meetings. Based on the analysis, the platform makes personalized recommendations. People.ai functionality helps to optimize the work of various departments, including sales, marketing, customer service. There are also solutions for accounting and opportunity management (analysis of sales funnels, sales methodologies, etc.)
The startup was founded in 2016 by Oleg Roginskyy, a native of Ukraine, and is headquartered in San Francisco. The company began to attract investments almost immediately after its inception: in 2017 – $7 million, in 2018 – $30 million, in 2019 – $60 million. In August 2021, during the next round of financing, People.ai immediately received $100 million. Its estimated value reached $1.1 billion, which made it a "unicorn startup".
At the same time, in 2019 it was estimated at only $500 million: thus, it was able to double its capitalization in a couple of years. Among the investors of the project are well-known venture companies Andreessen Horowitz, Lightspeed Ventures, Y Combinator, Mubadala Investment, Iconiq Capital and Akkadian Ventures. The AI technology created by People.ai is used by many well-known enterprises: Zoom, Zendesk, Drobpox, Lyft and others.
AEye
Location: Pleasanton, San Francisco, Dublin (California, United States)
Connect applications without developers in 5 minutes!
Founders: Jordan Greene, Luis Dussan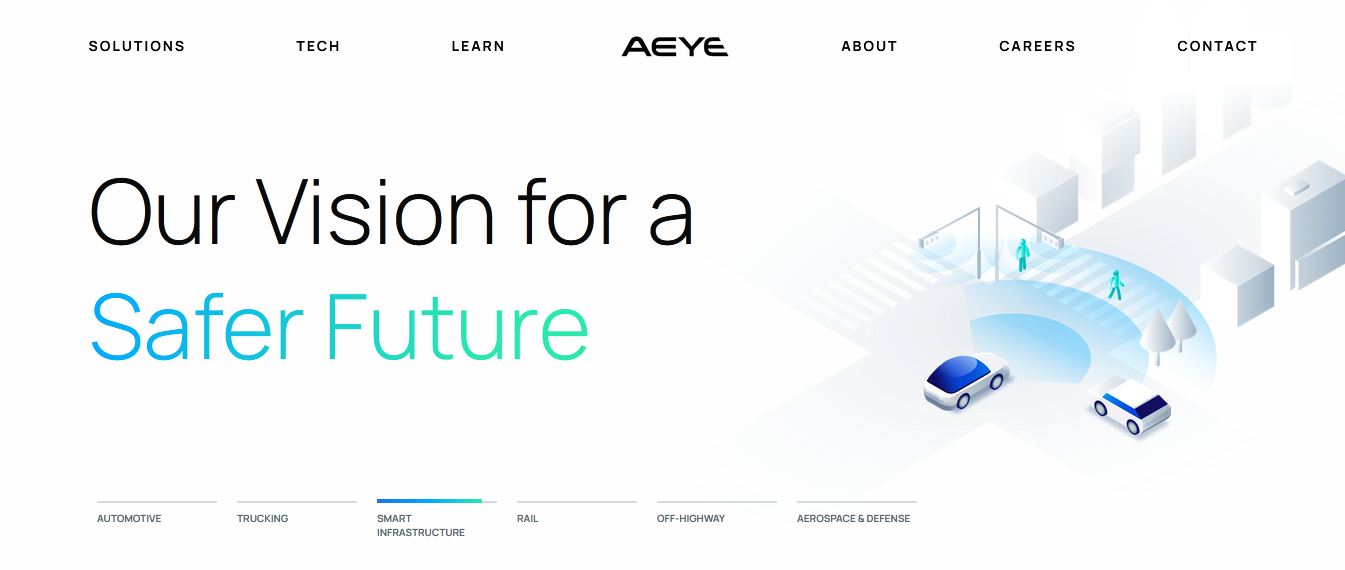 Founded in 2013, the Israeli startup AEye is a well-known developer of LiDAR light identification systems. It specializes in creating functional LiDAR systems for conventional and unmanned vehicles, as well as machine vision. The key product of this AI company is AEye's iDAR™ (Intelligent Detection and Ranging) 4Sight for automated analysis of the environment and detection of living objects in it.
AEye provides a wide range of software solutions for various tasks and areas of activity, primarily for safe navigation and movement in space. The company has developed AI-based Advanced Driver Assistance Systems (ADAS) and many autonomous applications for cars/trucks and rail vehicles. The list of its products also includes separate applications for safe off-road driving, aerospace, military purposes, and the creation and maintenance of smart infrastructure.
At the heart of the LiDAR solutions created by AEye is the Intelligent Sensing Platform, which actively uses artificial intelligence technologies. Thanks to this, they are able not only to perceive the environment the way a person does, but also to respond as quickly as possible to any changes in it. Unlike static LiDAR scanners, the 4Sight system automatically adjusts and optimizes scan settings for a specific application and task.
In 2018, startup AEye received $40 million investment from investment firm Taiwania Capital. In 2021, the company went public through a merger with CF Finance Acquisition Corp, after which its estimated capitalization reached $2 billion. Under the terms of the deal, CF Finance has invested $230 million in the startup, and it has received $225 million from a group of investors including GM Ventures, Subaru-SBI, Intel Capital, Hella Ventures and Taiwania Capital.
Darwinbox
Location: Hyderabad (India)

Founders: Chaitanya Peddi, Jayant Paleti, Rohit Chennamaneni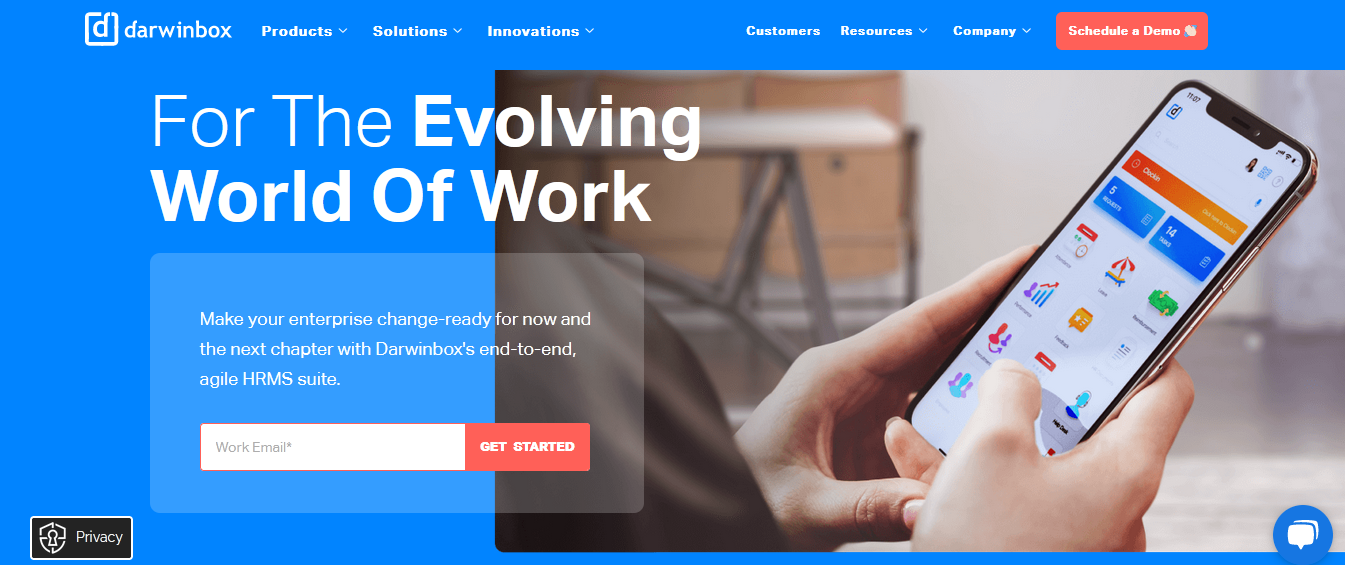 Darwinbox is a cloud-based Human Resources Management Software (HRMS) using artificial intelligence and machine learning technologies. It was developed by an Indian startup company of the same name, founded in 2015. The system helps HR professionals to automate and optimize many processes related to personnel management. These include finding, hiring and onboarding new employees, payroll, engagement and motivation, ability management, and detailed analytics.
According to the startup developers, at the beginning of 2023, the product is used by more than 700 companies from 90 countries, employing over 2 million people. Among them are such well-known brands as Bitkub, Starbucks, Domino's Pizza, SEPHORA, AXA, Cigna and many others. The Darwinbox platform significantly speeds up and simplifies the process of interaction between the employer and the employee at all stages of their cooperation – from hiring to dismissal or retirement.
In January 2022, the startup raised a substantial $72 million investment. It received them from Technology Crossover Ventures (TCV), which previously provided funds to other well-known IT projects: Netflix, Meta, Spotify, and Airbnb. Darwinbox raised this investment in a Round D that also included Lightspeed Venture Partners, Sequoia Capital India, Salesforce Ventures, 3One4 Capital, Endiya Partners and SCB 10X. The total amount of funds received by the startup reached 110 million dollars. The estimated capitalization of Darwinbox exceeded the $1 billion mark, which made it a "unicorn".
Observe.ai
Location: San Francisco (California, United States)
Founders: Swapnil Jain, Akash Singh, Sharath Keshava Narayana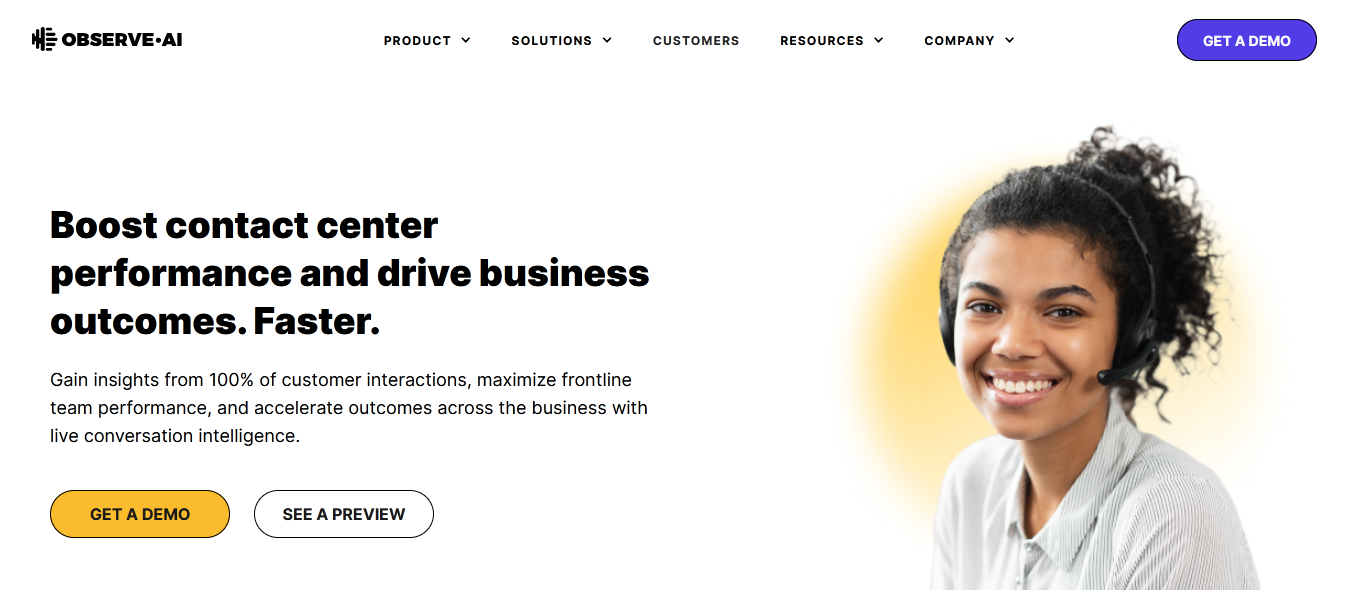 Another San Francisco-based startup, Observe.ai, has developed an AI-enabled service to automate and streamline contact centers. It contains tools based on artificial intelligence to analyze voice and text communication between operators and users. After processing this information, AI algorithms generate personalized insights to improve the user experience.
Observe.ai analyzes and provides insights into every interaction with current and potential customers. It is important that it can be used not only by the support department, but also by other departments of the company – in particular, the sales department. The startup offers many ready-made solutions for various fields of activity, including financial and insurance companies, collection agencies, online stores, medical institutions, etc.
The Observe.ai platform includes a wide range of products: Conversational Intelligence, Agent Assist, Supervisor Assist, Auto QA, Quality Assurance, Agent Performance & Coaching, Reporting & Analytics, Consulting Services. In addition to analyzing communication and compiling insights, the system allows you to automate repetitive workflows and increase the productivity of customer service.
In April 2022, startup Observe.ai raised $125 million in a Series C round involving key investors such as SoftBank Vision Fund, Zoom, Menlo Ventures, Scale Venture Partners, Nexus Venture Partners and others.

Abnormal Security
Location: San Francisco (California, United States)
Founders: Evan Reiser, Sanjay Jeyakumar, Jeshua Bratman, Dmitry Chechik, Abhijit Bagri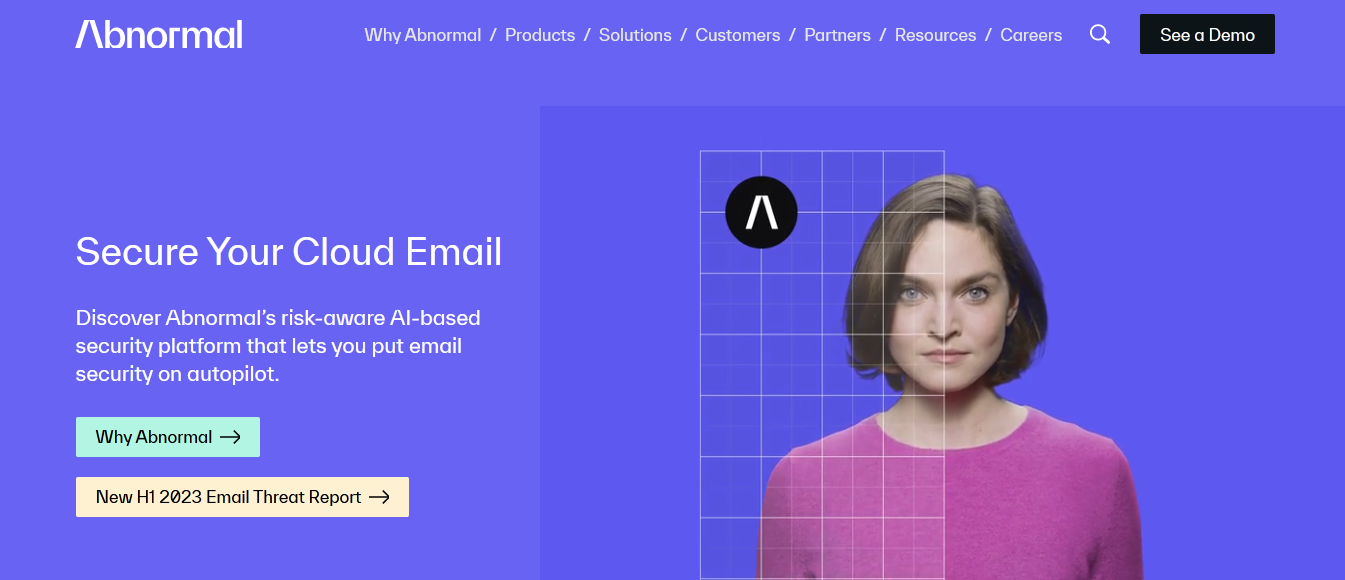 Startup Abnormal Security, founded in 2018, introduced an innovative email security platform for enterprises and organizations. The system developed using AI protects corporate mail from targeted email attacks. Its capabilities are capable of resisting a variety of malicious attacks, including phishing, malware, ransomware, social engineering, identity spoofing, supply chain compromise, spam, greymail, and more.
The Abnormal Security service continuously and automatically analyzes not only incoming emails, but the entire surrounding email space for all sorts of anomalies. The AI algorithms of the platform can to instantly detect and prevent many obvious and potential threats. Including the connection of third-party programs and applications, suspicious user activity, exceeding the authority of administrators, MFA bypasses and other methods of cyberattacks.
In May 2022, one of the best Artificial Intelligence startups announced the completion of a round C investment campaign, during which it managed to receive another tranche of $210 million. To date, the total amount of funds raised by the company has reached $284 million, and its estimated capitalization is 4 billion USD.
Summing Up
In this article, we have looked at just some of the most famous AI startups at the beginning of 2023. In fact, there are many more of them, as the field of cloud services with the participation of artificial intelligence is actively developing. According to experts, the total investment in the AI-enabled software market could reach $126 billion by 2025. Therefore, it is not surprising that AI startups regularly appear and will continue to appear in fields ranging from medicine and security to art and entertainment.
***
Don't waste another minute manually transferring leads from Facebook to other systems. SaveMyLeads is a simple and effective tool that will allow you to automate this process so that you don't have to spend time on the routine. Try SaveMyLeads features, make sure that this tool will relieve your employees and after 5 minutes of settings your business will start working faster.