The Internet of Things (IoT) is a concept that today provides companies with the opportunity to increase their value and outperform competitors. In this area, there is a chance to make money and become a leader for both start-ups and enterprises with a history. From our article, you will learn how the Internet of Things market is developing now and what interesting startups on IoT you should pay attention to in 2023.
IoT Market: Prospects and Risks
Over the past few years, the IoT field has developed rapidly, bringing humanity closer to the 4th industrial revolution. The technologies on which the Internet of Things is based today allow you to automate many processes and reduce costs. Among the most famous examples:
Remote transfer and analysis of data from different sensors and indicators (Smart Home/City);
Telemetry in industry, utilities, agricultural business; systems for remote monitoring of temperature readings, humidity levels, the volume of electricity, gas, and water consumed.
According to analysts at the Indian consulting company Fortune Business Insights, the global IoT market in 2018 was $160 billion. According to their forecasts, by 2026 it will overcome the $1 trillion. The main driving force that has provoked such unstoppable growth is the introduction of AI (Artificial intelligence) and ML (Machine learning) systems in almost all industries. In addition, the development of this area is facilitated by an increase in the number of users of smart gadgets and smartphones, as well as a steadily growing desire for energy saving.
IoT is a very promising area. However, it is not without risks. The main ones are:
Information leak. Developers, users and potential investors are most afraid of it. Smart gadgets collect and transmit a range of data that is classified as "sensitive". Their disclosure in some cases can lead to extremely negative consequences. To prevent leaks, information security specialists must regularly improve their skills and always be one step ahead of cybercriminals. Also, a company that develops in the field of IoT needs to conduct IT audits frequently.
Legal problems. Since the Internet of Things has appeared relatively recently, many communication transmission standards have not yet been regulated by the relevant laws. Moreover, different countries have their own, local, nuances. Currently, active work is being carried out in this direction, which means that there is hope that this risk will disappear soon.
Signs of a Successful IoT Startup
The best IoT startups do an excellent job of managing analytics, AI, and online monitoring, thereby providing a high-quality customer experience. The main signs of the success of a startup in the field of the Internet of Things:
Demonstrates high potential to create a new profitable business model early on, revitalizing the industry where it is applied;
Offers a unique approach to solving complex problems of the enterprise;
Creates valuable new patents that contribute to the implementation and development of IoT.
We suggest you familiarize yourself with the top IoT startups that you should pay attention to this year. Each of them is designed to solve different problems. And yet, the best IoT companies have something in common: one day, their founders took a risk, applied technology in an original way, and succeeded.
Span.io
Location: San Francisco, California (USA)
Funding: $133.8 million (Series B)
Investors: FootPrint Coalition, Angeleno Group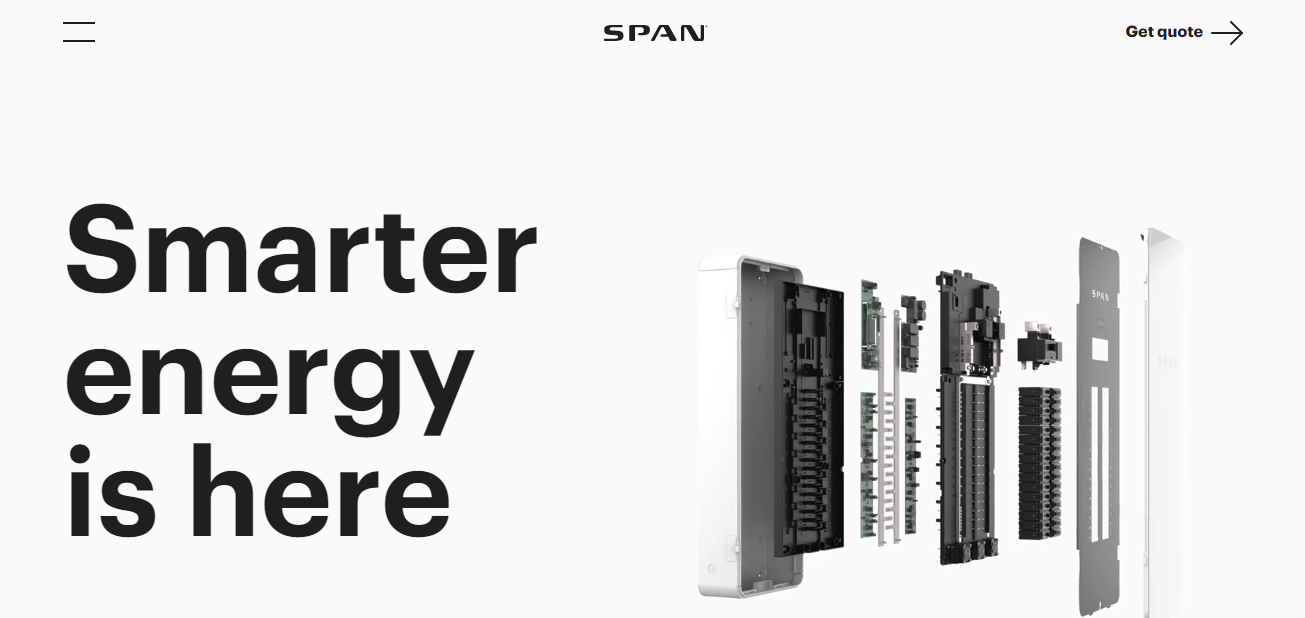 Span is one of the IoT companies in Silicon Valley, creator and manufacturer of smart electrical panels. By connecting them to the SPAN Home AI application, a person can control the energy consumption of the home. Online monitoring and data analytics functions allow monitoring the energy consumption of household appliances and optimize it. You can manage panels through the application from anywhere. There is support for Amazon Alexa.

In essence, Arch Rao reinvented the switchboard and made it the center of a smart home energy system. With it, you can adjust the operation of home batteries, solar panels and even charge an electric car with one touch of your finger.
Another product company – a smart charger for an electric car Drive. It charges any electric vehicle at optimal speed 24/7 and integrates with the SPAN electric panel.
Span is one of the fastest growing IoT companies. Since 2018, it has raised a total of $133.8 million in venture capital across 6 startup funding rounds.
Drixit Technologies
Location: Buenos Aires (Argentina)
Founders: Mariano Focaraccio, Maximiliano Focaraccio, Martin Giachetti
Funding: $1.6 million (Seed)
Investor: Globant Ventures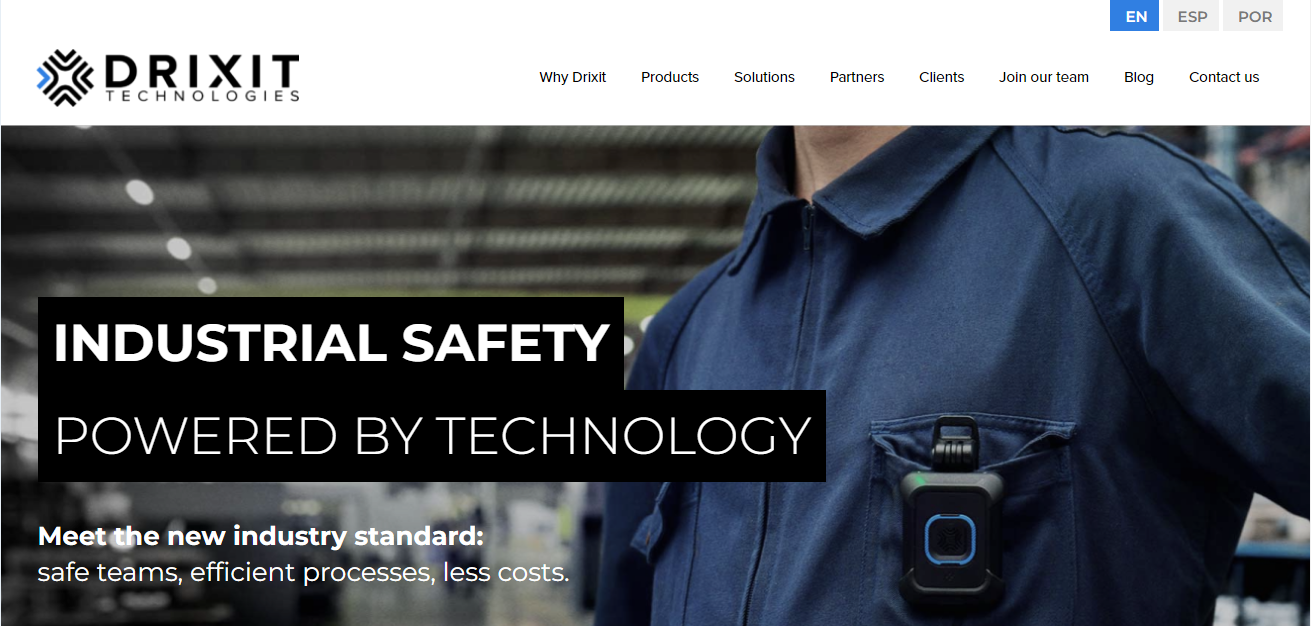 Internet of Things startup Drixit Technologies focused on solutions that could improve the protection of workers in hazardous industries. According to the company's specialists, every minute 600 adverse incidents occur in factories around the world, threatening the health and even the lives of employees. The Drixit Technologies product will significantly reduce the number of such incidents.
The company has developed the Drixit Tag smart wearable sensor. The device, despite its miniature size, has a fairly wide functionality: determining the location of an employee, tracing contacts, fixing potentially dangerous incidents (strong blow, fall). The principle of its work is simple. Using the virtual map of the enterprise, the manager can observe the movements of the employee, on whose clothes the Drixit Tag is attached. When the system recognizes a threat, it sends an alarm. In addition, the sensor has an interesting "side" function – it helps to identify inefficient employees. Thanks to the device, you can track how much time employees spends directly on the performance of their direct duties and how much time they spend on smoke breaks and coffee breaks.

Drixit Tag can be easily integrated with controllers and other smart devices that the enterprise has. For example, if an ammonia detector installed in the workshop detects a leak, employees near the accident site will immediately receive an alert about this.
Since 2018, Drixit Technologies has managed to raise a total of $1.6 million in 2 startup funding rounds.
xFarm Technologies
Location: Manno, Canton of Ticino (Switzerland)
Connect Facebook Lead Ads to CRM, Email, SMS & Spreadsheets
Use SaveLeads to connect Facebook to different apps. Over 120+ ready-made integrations available now
Automate the work with leads from the Facebook advertising account
Empower with integrations and instant transfer of leads
Don't spend money on developers or integrators
Save time by automating routine tasks
Test the work of the service for
free
right now and start saving up to 30% of the time!
Try it
Founders: Martino Poretti, Matteo Vanotti, Salvatore Ferullo
Funding: $20.7 million (Series B)
Investors: Swisscom Ventures, United Ventures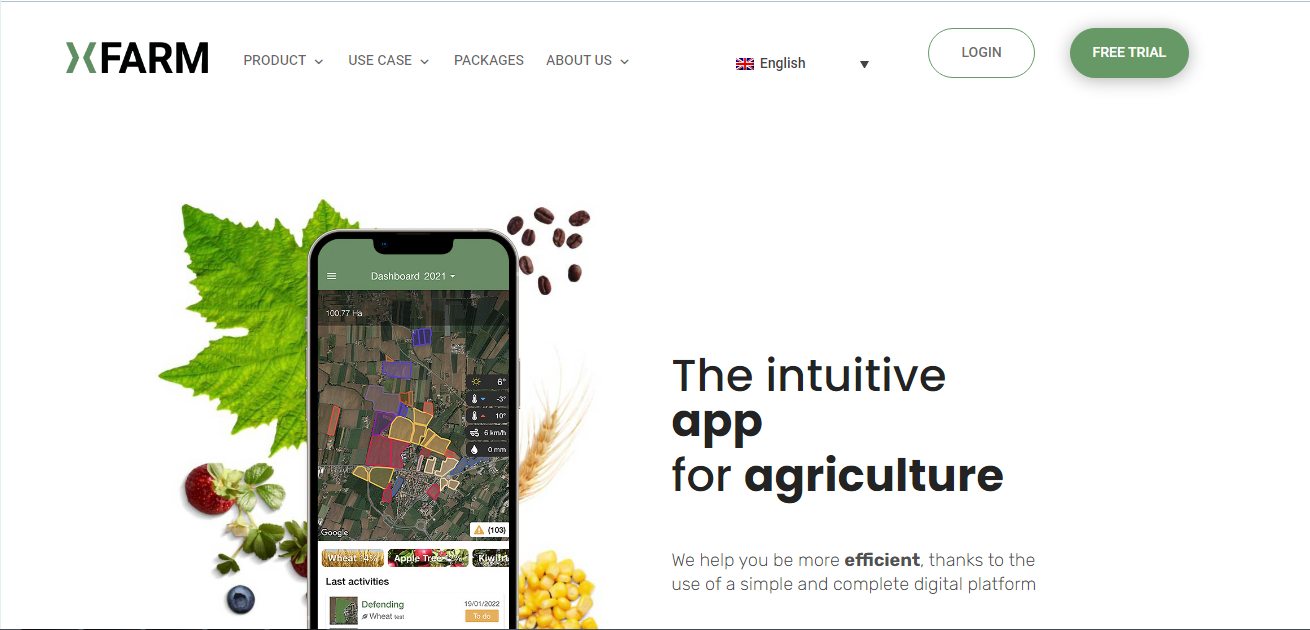 xFarm Technologies is an agricultural startup IoT. The main vector of the company's activity is the digitalization of the agricultural industry around the world, as well as assistance to agricultural enterprises with certification against the backdrop of growing requirements for them.
The xFarm Technologies product is a digital ecosystem with innovative tools. It consists of the following components:
A free application that can be integrated with premium class modules that expand functionality (mobile and desktop versions are available);
Professional Analytics Dashboard;
A line of optimized IoT sensors connected to the xFarm app.
Farmers and other representatives of the agricultural industry can use the platform to get high-quality analytical data. This will help them make effective, balanced and reasoned decisions regarding various crops, certification and other tasks.
Since 2017, xFarm Technologies has managed to raise a total of $20.7 million in venture capital across 3 startup funding rounds. Another major investment was received on August 5, 2022.
Hypervolt
Founders: Benjamin Edwards, Flavian Alexandru
Funding: £2.5m (Series A)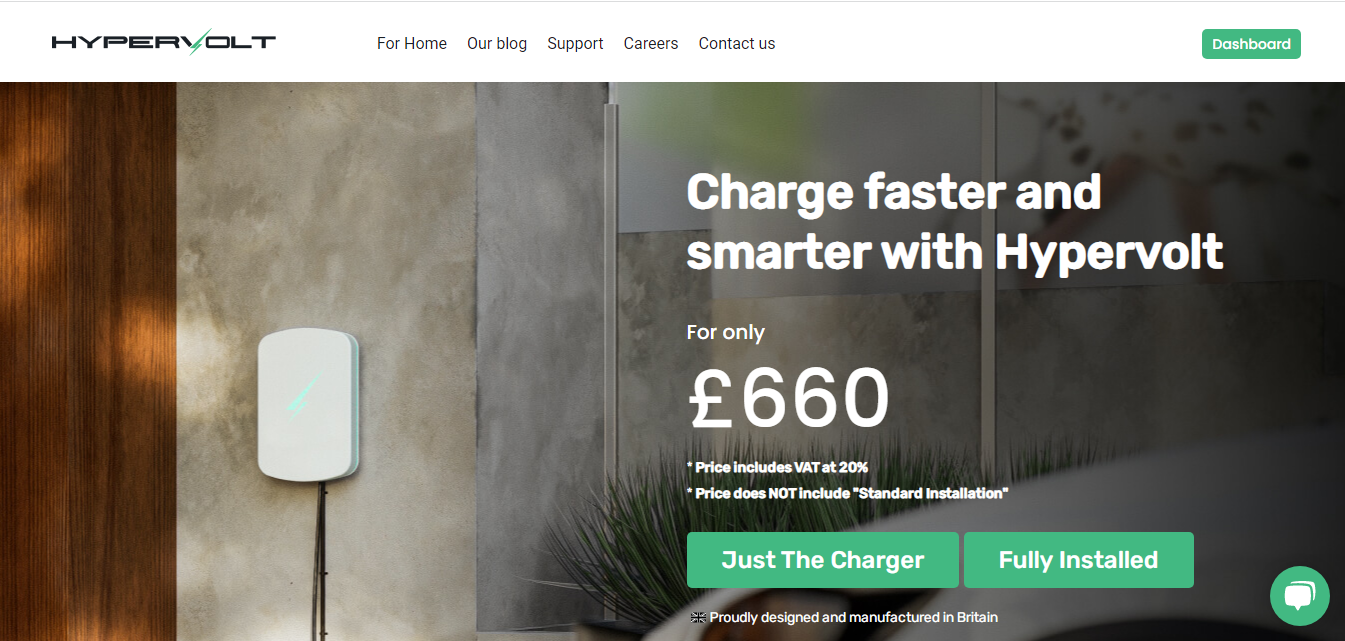 Hypervolt is one of the top IoT companies developing smart IoT charging for electric vehicles. Its product is no ordinary charger. Basically, it's a high-performance computer with many handy features. For example, here are some of them:
Charger voice control with Amazon Alexa;
Status check, brightness control, charge scheduling, cost control;
Automatic adaptation to household loads (no need to be afraid that the network will be overloaded, and the fuses will work);
Advanced expense reports;
Hypervolt Sense is a feature that detects when your solar panels start producing more electricity than you can use. At such moments, Hypervolt automatically turns on to absorb excess electricity and charge the electric vehicle with 100% clean, free home electricity.
Combining standard electric grid charging with cloud-based software proved to be a successful idea that allowed the company to produce low-cost smart charging stations for electric vehicles. One of Hypervolt's strengths is compatibility with over 100 makes and models of machines.
Since 2018, Hypervolt has been able to raise a total of £2.5 million in venture capital in its 1st round of startup funding. The investment was received under Series A on May 1, 2021.
Wiliot
Location: Tel Aviv (Israel)
Funding: $269 million (Series C)
Investors: 83North, NTT DOCOMO Ventures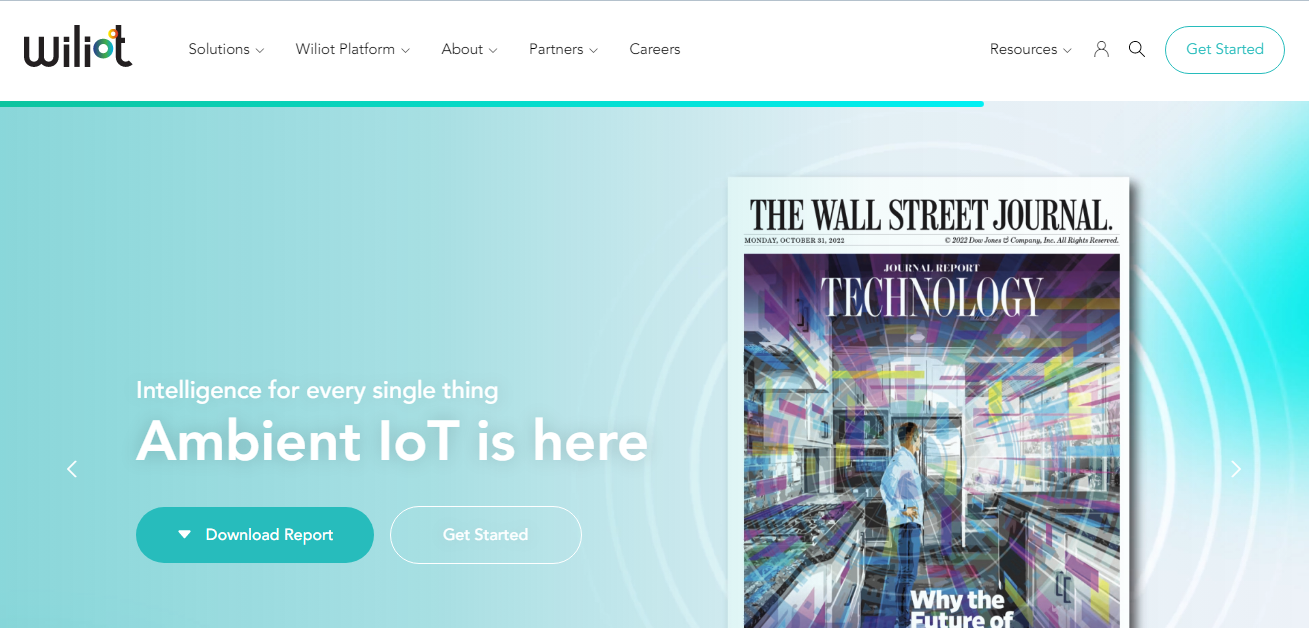 Wiliot is an IoT startup that has developed a system that can connect almost any product to the Internet. It gives companies involved in the production of goods the opportunity to obtain important information about their products, such as who primarily uses it, when it needs to be replenished or replaced by another. The IoT system is represented by microchips that can be attached to anything. It is based on Wiliot IoT Pixel technology, patented by the company.
The Wiliot Pixel2 Bluetooth tracker is a 3-core mini computer that makes and manages things smart. The beacon is no larger than a postage stamp. It is equipped with several sensors to control various parameters: temperature and humidity levels, movement and degree of filling, unauthorized access. And the most interesting thing is that it does not need a battery. According to Steven Statler, vice president of Wiliot, this computer is completely autonomous – it feeds itself using the collected energy of radio waves. He also clarified that the IoT Pixel technology is a significant step towards the transition from the premium Internet of things to the Internet of ordinary things, the achievement of which will lead to a 100-fold increase in the number of smart things connected to the network.
Since 2017, Wiliot has raised a total of $269 million in venture capital across 5 startup funding rounds. Another major investment was received on July 27, 2021.
Summing Up
IoT solutions are now being implemented in almost all industries. Companies are investing in them because they provide an opportunity to reach a higher level of productivity, efficiency, and safety. However, it is important to understand that when developing a strategy for implementing and deploying IoT, one should consider not only the benefits of this concept, but also the risks and difficulties that may be encountered in the process of using it.

The more "smart" devices a person adds to his environment, the more IoT solutions it will be need to connect everything and ensure uninterrupted data exchange between all smart gadgets. This suggests that the IoT market will continue to evolve and grow. The Internet of Things has long gone beyond enterprises and is actively penetrating our daily lives. And this is an excellent signal for both the biggest IoT companies and startups.

***
If you use Facebook Lead Ads, then you should know what it means to regularly download CSV files and transfer data to various support services. How many times a day do you check for new leads in your ad account? How often do you transfer data to a CRM system, task manager, email service or Google Sheets? Try using the SaveMyLeads online connector. This is a no-code tool with which anyone can set up integrations for Facebook. Spend just a few minutes and you will receive real-time notifications in the messenger about new leads. Another 5-10 minutes of work in SML, and the data from the FB advertising account will be automatically transferred to the CRM system or Email service. The SaveMyLeads system will do the routine work for you, and you will surely like it.