Educational technologies, or edtech, are one of the most promising IT trends of the last decade. It is sometimes considered synonymous with online learning, although the phenomenon has long encompassed much more. In short, edtech includes any technology that facilitates the educational process. Moreover, they are suitable not only for online but also for offline learning: for example, interactive whiteboards, VR simulators, training programs, and so on.
The possibilities of the modern edtech industry are truly enormous, and this is confirmed by the steadily growing popularity of such tools. Thanks to it, millions of people of different ages are now gaining new, in-demand knowledge and skills, even in the most remote parts of the world. They are helped in this by various ed tech startups, which include services for teaching children, coaching and streaming platforms, marketplaces for online courses, and much more. In our article, you will learn about five edtech startups whose products are among the top solutions for online education.
GoStudent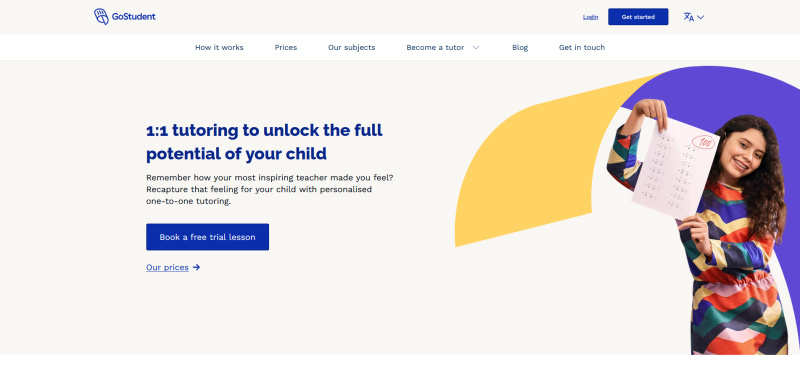 Founded in 2016, the Austrian startup GoStudent is rightfully among the best edtech companies. To date, it has attracted almost 600 million euros in investment, making it a "unicorn" with an estimated value of 3.5 billion euros. The company provides a universal edtech platform for online education. Its users study more than 30 subjects remotely from anywhere in the world. GoStudent has more than 1,500 employees and a physical presence in 22 countries. Over 400,000 people enroll in GoStudent courses every month.
The system uses AI technology to accurately determine the student's needs and level of preparation, and also select the ideal tutor.
Students attend classes online using a computer or smartphone.

The platform offers a number of tools for organizing the educational process, including whiteboarding, collaboration on documents, screen sharing, video recording of lessons, and so on.

Subjects available on this platform include mathematics, physics, chemistry, economics, biology, computer science, history, geography, and accounting. Also, here you can learn English, German, French, Spanish, Italian and master a number of other specialties.

First, students undergo an onboarding procedure under the guidance of a personal mentor (an education advisor) and with the participation of AI algorithms. This helps you decide on a teacher and get the most effective training.

The first introductory lesson for each new user is absolutely free. This way, you can evaluate the potential of this online learning platform and decide whether to stay with it or not.

The built-in GoChat messenger application supports quick and convenient communication between students and tutors. Through it, they can exchange study assignments, find out the class schedule, and quickly receive feedback.

Users have the opportunity to independently choose the duration of training courses and the frequency of classes in accordance with their wishes and budget. Each online lesson lasts 50 minutes.

If you choose a package with 4 lessons per month, the average subscription cost will be 30.49 euros per lesson. A package with 8 lessons per month costs 24.49 euros per lesson. Custom plans are also available.
BetterUp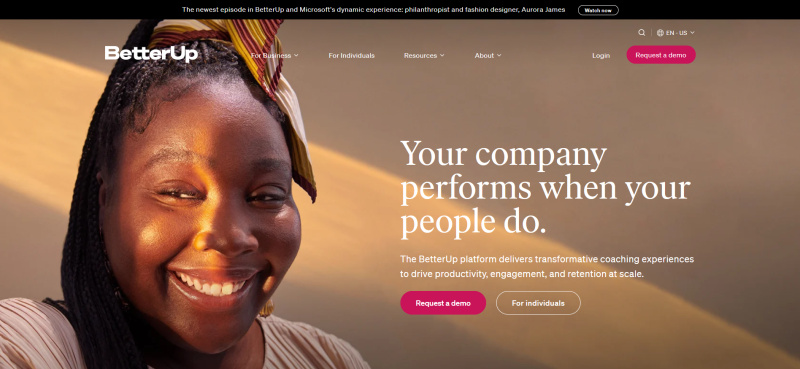 The American company BetterUp takes a well-deserved place in the ranking of the top 5 edtech startups. In 2013, it released the platform of the same name for online coaching, mentoring and consulting. Today, its estimated value has reached $4.7 billion. The company cooperates with more than 3,000 coaches who provide services in 60+ languages in 90+ countries. Its service combines world-class coaching with AI technologies and behavioral disciplines to provide clients with the best results.
The platform offers interactive content for professional development, real-time insights and detailed analytics to quickly and accurately monitor user progress.
BetterUp Connect, powered by AI, provides a precise, automated selection of coaching programs for managers. Artificial intelligence algorithms assess their needs, develop a personalized program for each, integrate into corporate training methods, and perform support functions.

The training process on the platform is presented in a number of formats, including text prompts, training videos, private communication with trainers, and group coaching sessions. High flexibility and versatility make its tools easily scalable to thousands of managers.

BetterUp Care is an exclusive corporate-level mental fitness program. Subscribers are offered coaching sessions from behavioral health, nutrition and sleep specialists, and other experts. Participation in such trainings helps employees cope more effectively with challenges and adapt to changes more quickly.

The BetterUp Lead leadership development program offers a full range of coaching services: individual, specialized, on request, and so on.

The platform has an extensive library of educational content for intensive personal and professional development. Home to thousands of exclusive videos, podcasts and articles, carefully curated by a team of content experts.

Built-in integrations with such popular systems as Slack, Microsoft Viva, Workday, Salesforce and SAP help expand the capabilities of BetterUp's edtech tools.

There is no pricing information on the BetterUp website. To receive an individual offer, you need to contact the company's sales department.
MasterClass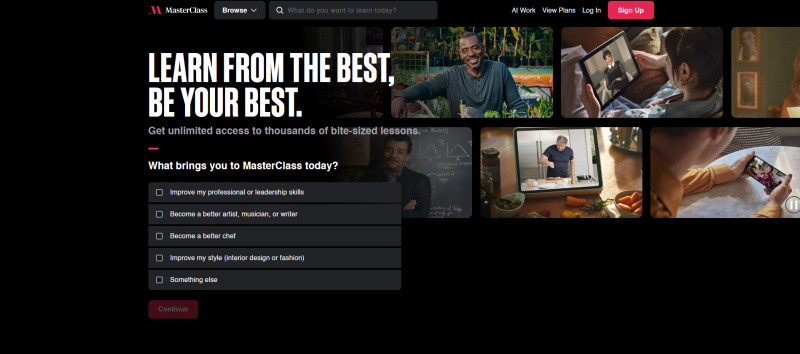 Next on the list of top edtech startups is MasterClass, founded in 2014. It has developed a unique streaming platform at the intersection of education and entertainment. Its users gain access to hundreds of educational videos in a number of areas, recorded by celebrity experts. For example, here you can get an online tennis lesson from Serena Williams or a cooking class from celebrity chef Gordon Ramsay. The well-chosen niche provided the company with rapid success among the audience and, over time, increased its estimated value to $2.75 billion.
Connect applications without developers in 5 minutes!
The platform's catalog includes courses in the following categories: arts and entertainment, home and lifestyle, music, writing, business and leadership, cooking, design and style, sports and gaming, community and politics, wellness, science and technology, photography and others.
Subscribers can view video lessons anytime and anywhere via computers, tablets, smartphones, Apple TV, and Fire TV. In addition, it is possible to study materials in audio format.

The duration of each course ranges from 2 to 5 hours. For convenience, they are all divided into several dozen lessons of 10–20 minutes each.

In addition to videos, MasterClass courses contain additional materials in the form of downloadable workbooks, interactive assignments and online group events.

Unlike other well-known edtech industry products, MasterClass does not issue course completion certificates. Thus, it can exclusively be used for self-development or entertainment. For professional education with supporting documents, it is worth looking for something else.
The platform offers a Sessions service for those who want to study a particular subject in depth. It includes a 30-day practical course with trained teaching assistants.

Subscribers to the service can view private live streams of their tutors on YouTube.

A single MasterClass subscription costs $180 per year, or $15 per month. It gives you unlimited access to all courses and materials on one device. The Duo plan with support for two devices will cost $240 per year. For the Family plan (up to 6 devices), you will have to pay $276 annually.
The service does not offer a free trial period, but it does offer a 30-day money-back guarantee. In addition, new users can get 14 days of guest access for free from already registered users with a paid subscription.
Outschool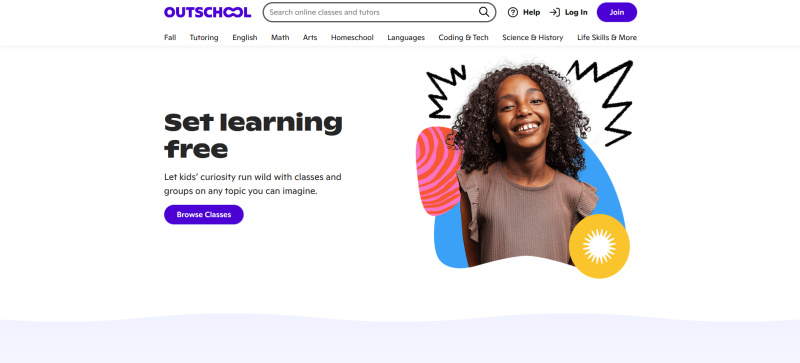 Outschool is not just another online learning platform. It has useful edtech tools for teachers and is essentially a global marketplace for educational services. The service appeared in 2015 and immediately became in demand among those parents and their children who were interested in convenient and effective homeschooling. During the COVID-19 pandemic, its popularity increased significantly. Today, Outschool delivers more than 140,000 online classes to more than 1 million students in 183 countries.
Children of any age can study on the platform, from preschoolers to high school students, as well as adults.
Popular courses include various languages (English, French, Spanish, Chinese, German, Hindi and others), mathematics, programming, music, writing, reading, drawing, history, science, social skills and so on.

In addition to individual subjects, Outschool users can take full education courses at the elementary, middle, or high school levels.

Students have access to a number of courses from the After School category: clubs in coding and gaming, art, debate and chess; practices in reading, writing and mathematics; intensive Spanish and so on.

The Tutoring function allows you to select a mentor for individual training. The platform cooperates with 10,000+ teachers. Data about them is conveniently organized in an extensive database equipped with many filters. Users can choose the optimal tutor based on parameters such as specialization, student age, duration/cost of classes, and more. Each specialist has a rating and reviews from students.

Outschool, one of the best edtech startups, has special programs for children with special educational needs (autism, dyslexia, ADHD).

The service is popular among independent teachers, giving them the opportunity to teach a motivated audience with a free schedule and without unnecessary paperwork, as well as set their own prices for their work.

The platform helps teachers not only teach remotely, but also create and promote their own courses. They have access to an online class listing, a student community, secure online payments, integrated messaging and video chat modules, a help desk and other equally attractive features.

Registration as a teacher in the Outschool database is only available to residents of the USA, UK, Canada, Australia and New Zealand.

The cost of classes varies depending on their format, time, subject and age group. The most expensive individual lessons cost $55–60. With a shortened training format (from 2 meetings with a teacher per week for 1–7 weeks), you will need to pay $17–21 per lesson. As for age groups, the rate for children 3–5 years old is $20–24 per lesson, for users 6–15 years old – $17–20 per lesson, and for those who are already 16–18 years old – $20–41 per lesson. If the class lasts less than 30 minutes, it can cost $20–26 per hour. If longer – $16–20 per hour.
Udemy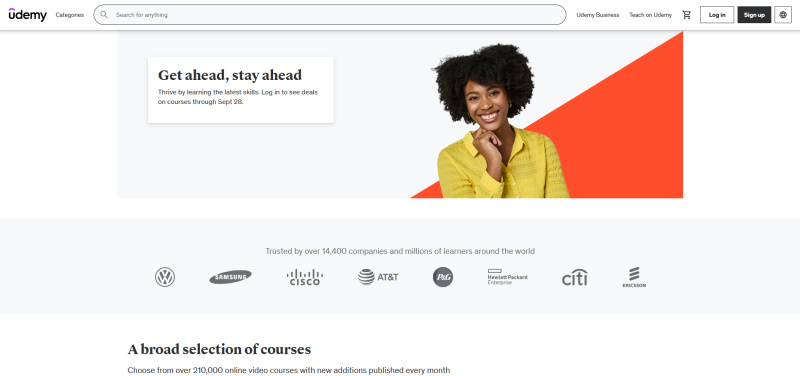 Our selection of the best edtech tools is completed by the American startup company Udemy. In 2010, it released a universal online learning platform, which is successfully operating and developing to this day. Its users can not only study many subjects remotely, but also launch their own courses. This sets Udemy apart from other educational technology services. Today, the platform provides over 210,000 online video courses, available in 75+ languages. There are now more than 62 million students here, taught by 57,000 expert teachers.
All courses in the catalog are divided into thematic categories: software development, design, marketing, business, photography, music and more. Each of them highlights the most popular topics: web development, machine learning, Photoshop, cybersecurity, financial analysis, databases and others.
Subscribers can watch training videos online through the web interface, as well as online and offline through the mobile application. In addition, they can view courses via Apple TV and Google Chromecast. There is no option to download videos.

Users are given complete freedom to learn at their own pace, with no time limits on enrolling in courses or completing assignments. Each of them can subscribe to any course available here at any time.

Udemy's edtech tools allow you to watch videos or listen to audio lectures, complete exercises, take notes, download additional materials, and interact with teachers and other students.

Upon completion of the courses, the platform provides official certificates. Therefore, it is suitable for vocational training.

The enterprise version of Udemy Business gives entrepreneurs and companies the ability to effectively train their employees to strengthen their skills. It contains more than 24,000 curated courses in 15 languages, as well as certifications in technology and business.

Udemy provides experts across industries with helpful resources for teaching online and making money from it. Any specialist can create a curriculum here, record videos, and launch their own course.

Teachers set their own subscription prices for their courses. Dozens of them are available for free. On average, their cost is $20–30 per course, but can reach $200.
Conclusion
Our collection of top edtech companies turned out to be quite diverse. Here you will see IT solutions from different directions, so it is not advisable to compare them with each other in the "better-worse" or "cheaper-more expensive" format. Almost all of them offer different types of products aimed at different audiences.
For example, the Outschool platform is ideal for homeschooling children. The GoStudent platform is aimed at those who would like to receive higher education online. The MasterClass service is tailored for adult users who want to learn an interesting hobby for entertainment. The BetterUp coaching platform is designed for those interested in career and personal growth. Finally, the startup Udemy is in demand among those wishing to improve their professional qualifications or learn a new specialty.
***
Don't waste another minute manually transferring leads from Facebook to other systems. SaveMyLeads is a simple and effective tool that will allow you to automate this process so that you don't have to spend time on the routine. Try SaveMyLeads features, make sure that this tool will relieve your employees and after 5 minutes of settings your business will start working faster.