Today we will tell you why you need to pay attention to the design of banners and videos for FB, as well as present a list of services that will help you easily and quickly design them.
***
Facebook offers great opportunities to promote a variety of products or services. Advertisers can create unlimited ad campaigns and customize them flexibly in Facebook Ads Manager. The platform supports all existing media content formats, including images and videos. It allows you to publish them both individually and as a set. You can launch campaigns not only on FB, but also on Instagram and partner resources through its advertising cabinet.
However, Facebook ads have not only advantages, but also "pitfalls." For example, the social network has quite strict requirements for the design of advertisements and especially media content (images and videos). Today we will tell you why you need to pay attention to the design of banners and videos for FB, as well as present a list of services that will help you easily and quickly design them.
Why is so important
Each ad format on FB indicates specific technical requirements for the content. For example, an image for a news feed must have a certain resolution (at least 1080x1080 pixels). Videos are subject to their own requirements, which include not only resolution, but also minimum/maximum duration, file size limit, etc. If your content does not meet these standards, you will not be able to upload it to your Advertising Campaign on Facebook or Instagram.
Banner pictures, videos and other advertising content should look perfect on all devices and platforms that your target audience uses (or may use).
Carefully prepared media content increases ad efficiency, as users tend to trust such ads. While fuzzy, disproportionate or blurry images or poor-quality videos will scare away many potential customers.
So, where can I order a professional banner design or create videos? Here's a selection of the most popular services.
99designs
99designs is one of the most famous design service exchanges, launched in 2008. It offers an extensive catalog of freelance designers from all over the world. Employers can choose specialists in many areas of activity, more than 90 in total. Among them, we might mention web pages design, WordPress themes, landing pages, and applications.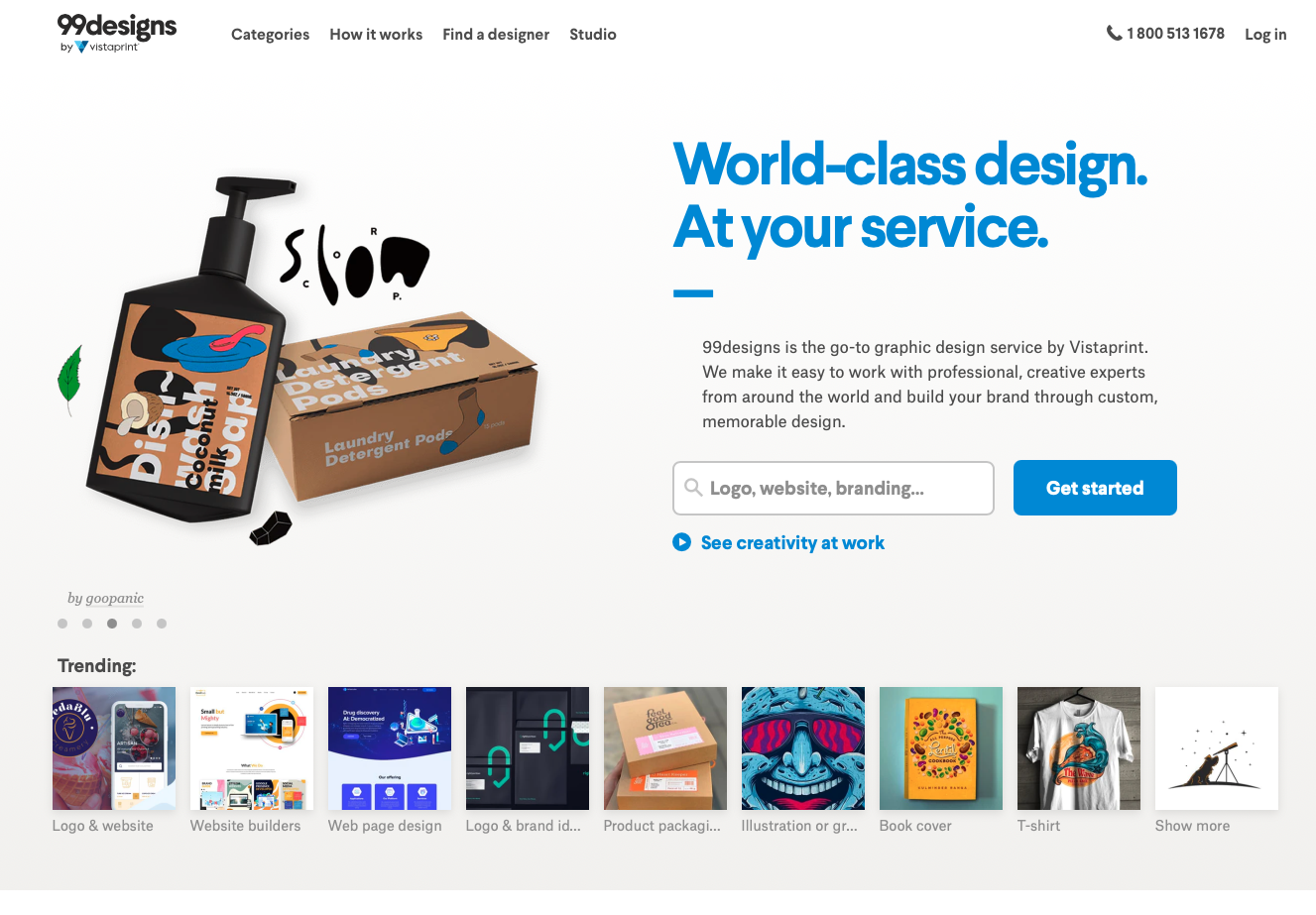 There are also designers of logos and branding, illustrations and other graphics, product packaging, leaflets and flyers, social media pages, email newsletters and, of course, advertising banners and videos. In addition, 99designs offers a number of other filters. For example, you can choose designers with a specific thematic specialization: business, medicine, technology, architecture, art, cars, food, etc.
It is also possible to choose a designer by the level of training (initial, secondary, high) and by the language or languages he speaks (English, German, French, Chinese, etc.). To order a banner or video for FB ads, create a project, fill in the brief and invite local freelancers to consider your task.
Dribbble
Connect applications without developers in 5 minutes!
Dribbble is a social network for designers, which will also be interesting for those who want to order some content from them. An important feature of the platform is that it has a wide base of ready-made works, for example, there are more than 10,000 banners. Portfolio search allows finding ready-made banners by tags (for example, Facebook and Instagram banners, etc.) and other criteria: popular, new, created with Adobe XD, Figma, Sketch, etc.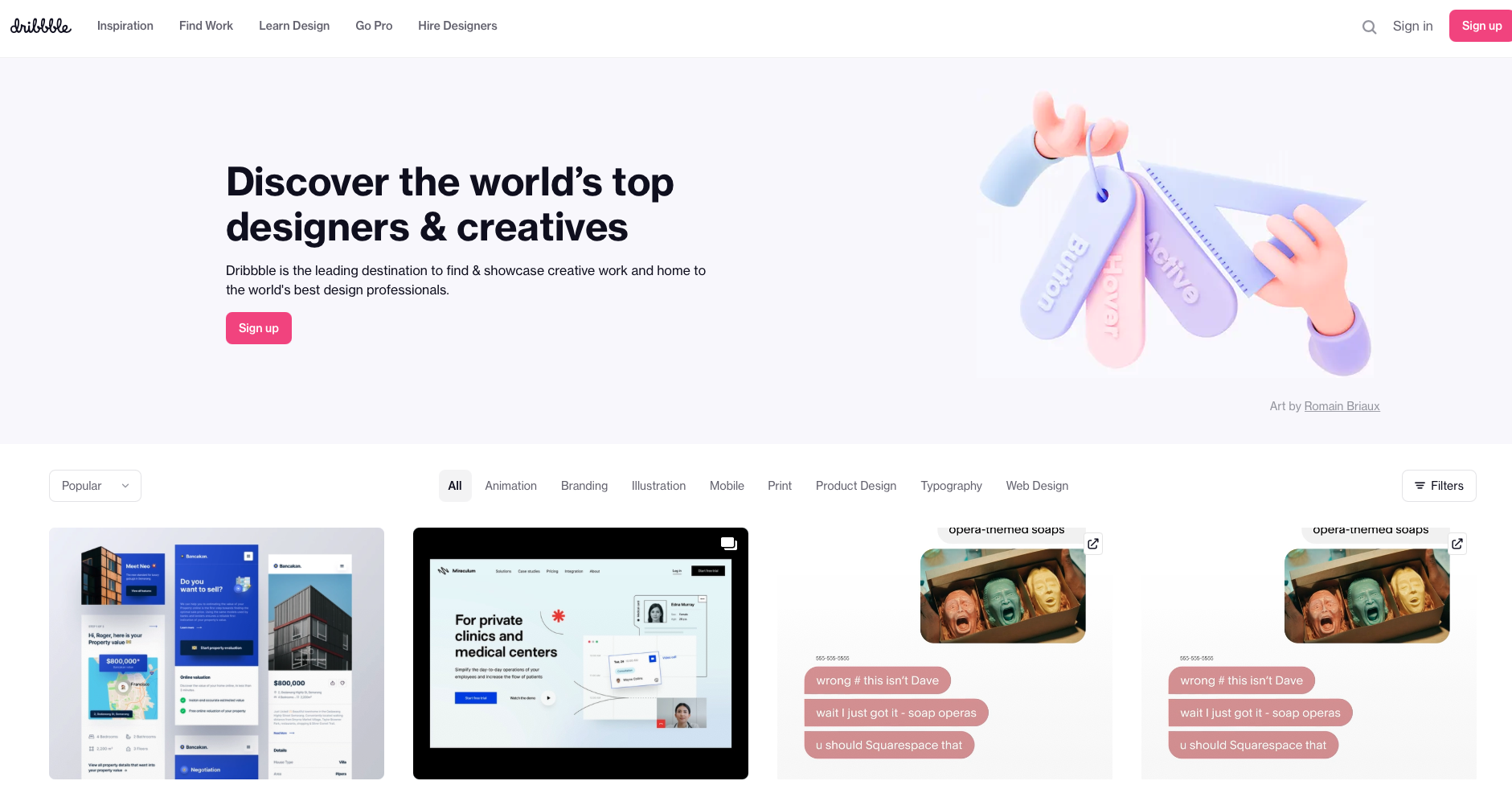 Thus, you can easily find works that are suitable for your style and order banners for your product, service or brand. In addition to searching by work, Dribbble provides the ability to search by designer and team.
You can use filters to find the highest-rated specialists, or those who have the highest number of works in the field of advertising banners/videos, or by other criteria. Another advantage of the platform is a large community of designers, where you can always post your task and choose the best offer.
Upwork
Upwork is one of the largest and most famous freelance exchanges on the Internet, founded in 2015 during the merger of the oDesk and Elance freelance exchanges. It has more than 18,000,000 registered freelancers and more than 5 million customers from all over the world. Specialists of various digital professions offer their services there, including designers and video makers from whom you can always order any creative content for your product or brand.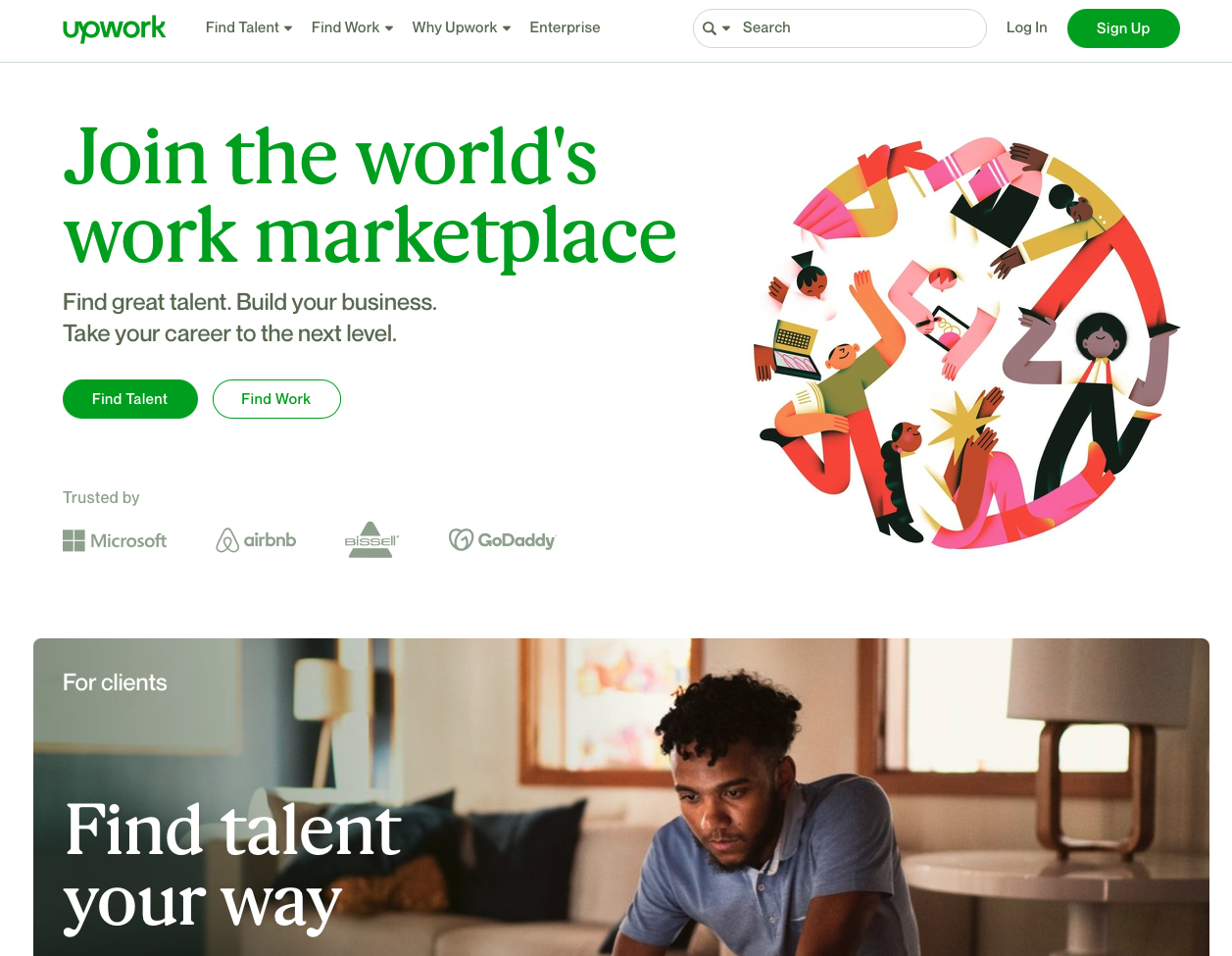 An important feature of the Upwork exchange is that it has separate category of freelancers specializing in advertising on Facebook. Thus, you can easily find here not only designers for banner design, but also other useful specialists who have extensive experience with this social network and know all its subtleties.
For example, on Upwork, it's easy to find copywriters to write ads on FB or those who can set up and run your turnkey ad campaign. The profile of each freelancer indicates his skills and specializations, as well as other useful information (rating, number of completed orders, hourly rate, etc.).
Video Hive (Elevated Market)
Video Hive (now – Elevated Market) is a well-known online video content store that offers an extensive library of stock videos and a variety of effects, templates and motion graphics, more than 2.5 million titles in total. There are also many projects for such programs as After Effects, Premiere Pro, Stock Footage, Motion Graphics, Apple Motion and others. For example, openers, backgrounds, scripts, presets, titles, etc.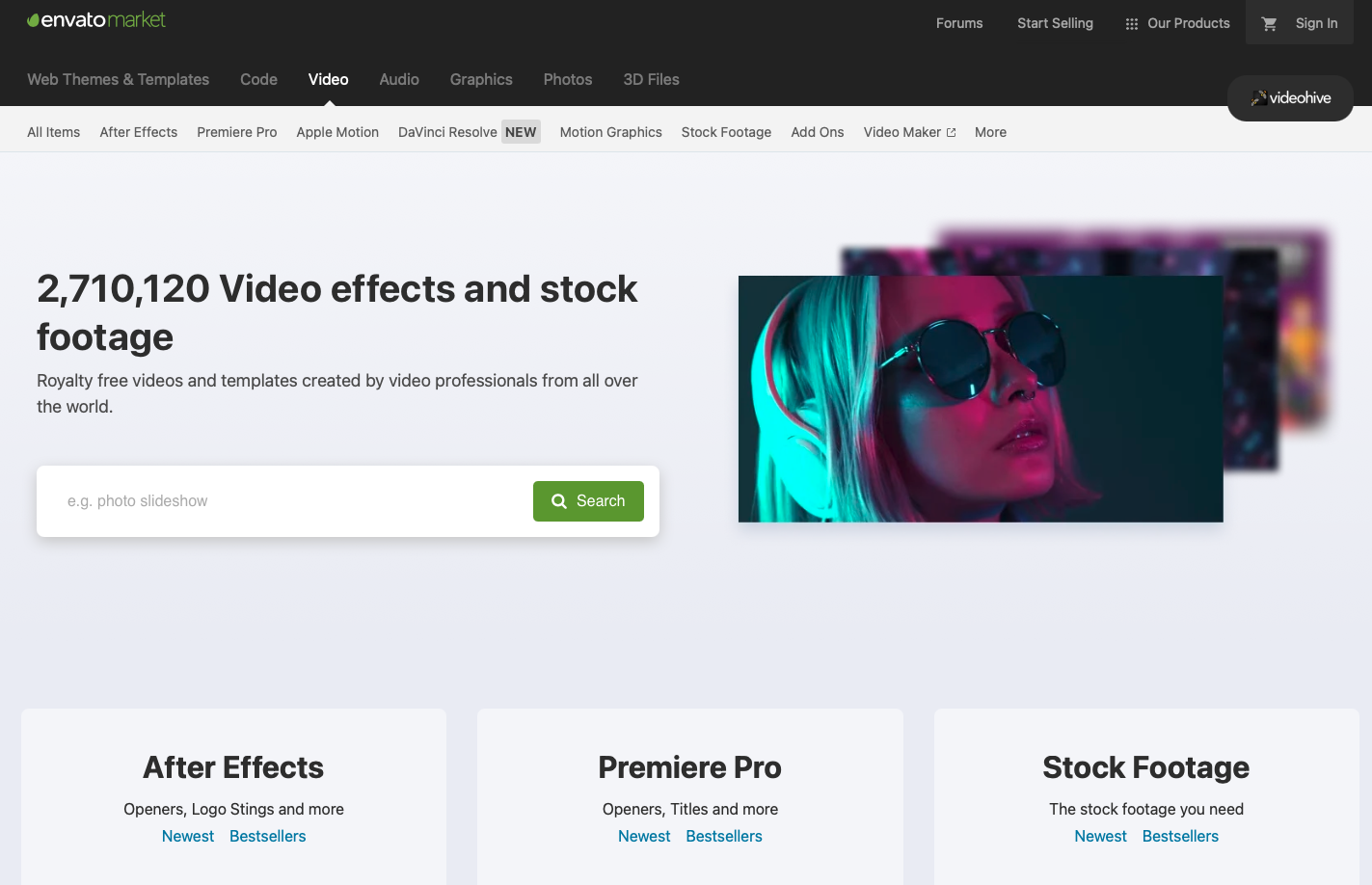 The main advantage of Video Hive is a wide selection of ready-made original videos and effects, which you can download for a moderate fee (starting from $8-10). A convenient and intuitive catalog with a flexible system of filters, including search by content type and category, keywords, and other parameters, will help you do this.
You can sort titles in different order: most popular, cheapest, discounted, etc. If you want to buy ready-made high-quality video for advertising on FB quickly and inexpensively, without ordering it from freelancers, then Video Hive will be the ideal place for this.
Conclusion
If you are going to run ad campaigns on Facebook, we recommend that you pay special attention to the design of banners and videos for ads. They must fully meet the technical requirements of the site and look professional so as not to scare away the target audience. Today, there are a number of services that will help you with banner design or video production. For example, you can order such content from a freelance designer on the 99designs, Dribbble, or Upwork exchanges, download a ready-made video from the Video Hive catalog, or develop a creative banner for your ad using the Canvas online editor.
***
Are you actively using Facebook Ads Manager in your advertising campaigns? Set up the integration of this service with other systems and take your business automation to the next level. For example, set up that contact information from leads left by potential customers will be used for automated email campaigns or for creating new contacts and tasks in your CRM. Sign up and try it for free!