Marketing automation is the optimization of processes for promoting a product, service or brand using special services. The introduction of additional tools allows you to minimize the volume of routine operations and improve the quality of marketing mechanics.
Many small and medium business owners are in no hurry to implement marketing automation services. Often this approach is based on the reluctance to introduce an additional item of expenditure and change already "working" schemes. However, marketing automation is not just about saving time. This is an increase in the quality and speed of work, which is directly related to the efficiency of the business and its competitiveness.
What is marketing automation
Marketing automation is the introduction of special services to minimize routine work in the promotion of a product/service/brand. Such an upgrade of work processes is relevant not only for large companies, but for almost all entrepreneurs, regardless of the size of the business. Ignoring marketing automation often reduces the speed and quality of promotion.
Today, there are many automation programs that significantly reduce costs, increase customer flow, and with it the prospects for scaling without additional investments in staffing and business maintenance. Specifically in Instagram automation, there's wide availability of software that you can utilize to improve your online presence.
What marketing tasks can be automated
Among the main tasks of digital marketing are the following:
increase in lead generation indicators;
ensuring communication with clients;
implementation of advertising campaigns;
processing of customer data (segmentation, personalization of offers, etc.).
Marketing automation systems can be implemented to address each of these challenges. Among the main tools that help a digital marketer in their work are the following: CRM systems, chat bots, SMS and Email services, CDP platforms, online connectors, auto-posting and advertising management services.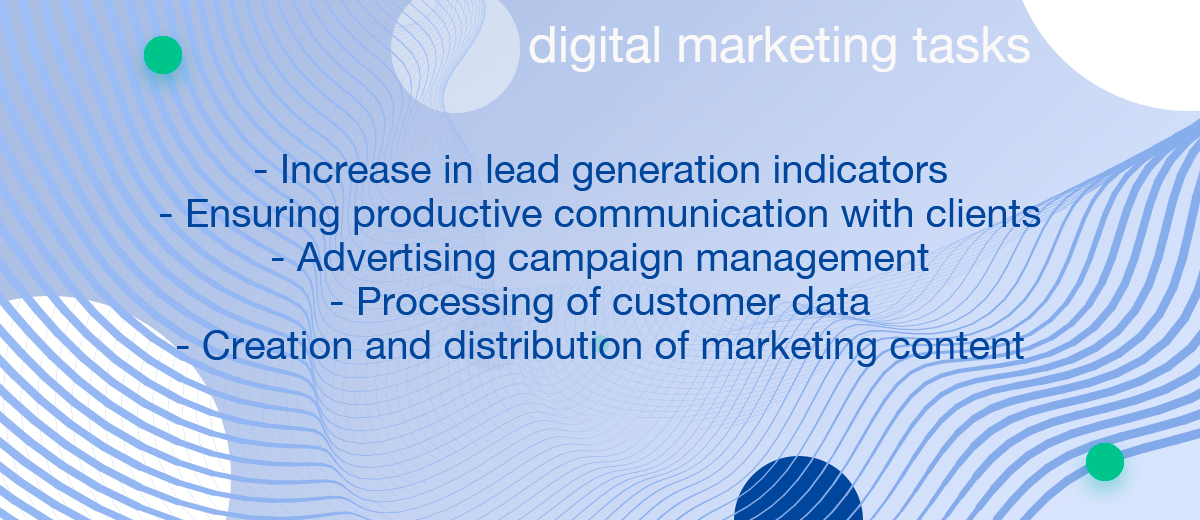 Content management
It is difficult to present and promote a company, product or service without a platform on the Internet. For this, a landing page or a website that can be easily assembled using no-code constructors is best suited.
For effective promotion, constant activity in social networks is important. As a rule, several platforms are used at once, and the publishing process can take a decent amount of time. To simplify the creation and posting of content on social networks, you can use services such as Statusbrew, Onlywire, HootSuite, etc.
Email remains one of the most important channels of communication with customers. With the help of emails, you can inform about loyalty systems, make personal offers, introduce company news, and build more complex triggered interactions. To work with this communication channel, it is convenient to use email marketing mailing services (NotifyVisitors, MailChimp, MailerLite, GetResponse, etc.).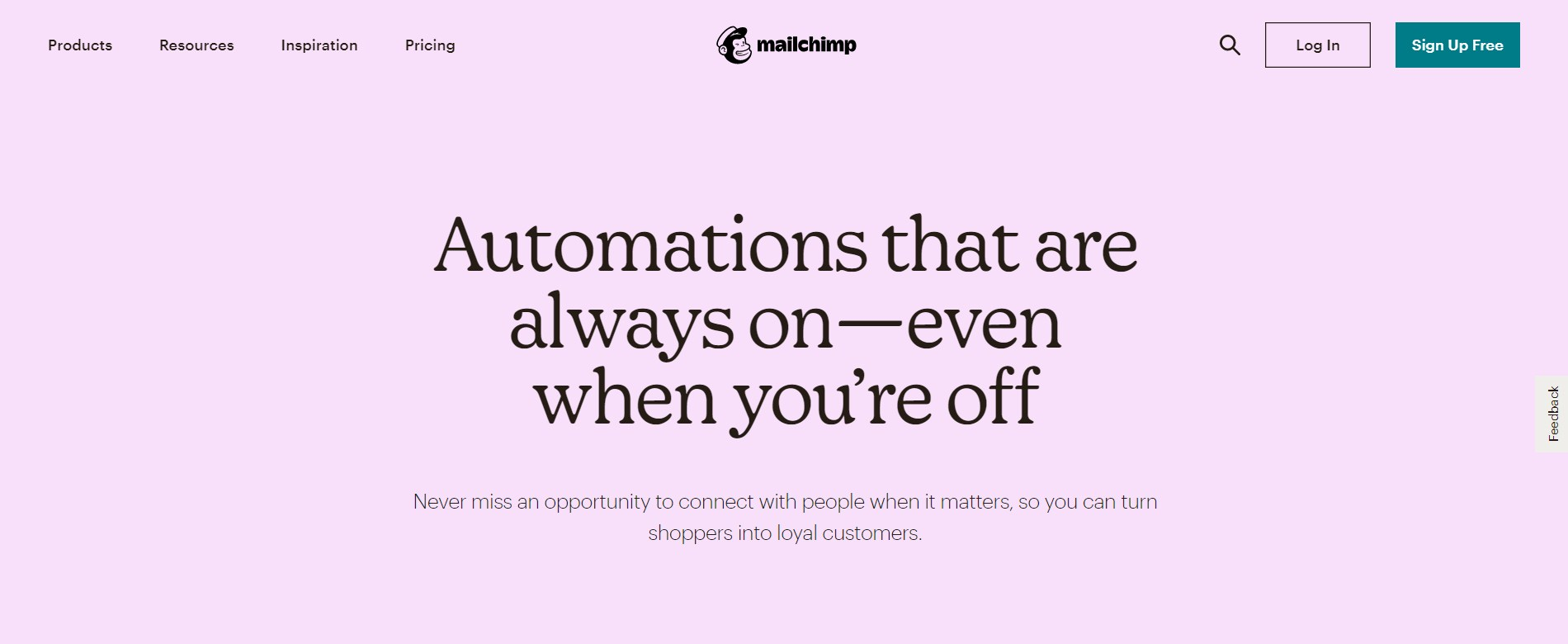 Launching and managing advertising campaigns
As soon as the offer is published, you need to launch an advertising campaign. There are many options: contextual advertising, social media targeting, affiliate programs, and more. For advertising, there are a lot of tools that optimize its launch, coordination and analysis:
auto-bidders (automatic bidding for contextual advertising);
parsers (data collection for analysis and audience search);
services for automatic testing of ads;
platforms for monitoring advertising campaigns;
connectors for loading statistics from analytics services.
Work with traffic and requests through the site
There are also a lot of tools for converting traffic from the site: lead catchers, pop-up windows with a newsletter subscription, personalized content, and more.
With the help of integrator services, you can set up automatic transfer of information from the site (for example, from a completed form) to the CRM system. After that, the fixation of the client's request through the web resource will be performed automatically in CRM.
Converting leads into customers
When a person subscribes to the newsletter, he automatically enters the sales funnel. Now the lead needs to be constantly "warmed up" so that he returns to the site or follows your offers in other Internet channels. To communicate with the lead, you can use: email newsletters, push notifications, chat bots and instant messengers.
Connect Facebook Lead Ads to CRM, Email, SMS & Spreadsheets
Use SaveLeads to connect Facebook to different apps. Over 120+ ready-made integrations available now
Automate the work with leads from the Facebook advertising account
Empower with integrations and instant transfer of leads
Don't spend money on developers or integrators
Save time by automating routine tasks
Test the work of the service for
free
right now and start saving up to 30% of the time!
Try it
CDP platforms are an excellent tool for working with clients. These are systems that analyze all user interactions with a brand/product and form a detailed questionnaire. Both online and offline touches are taken into account, which allows you to create the most accurate portrait.
Combining the capabilities of the CDP platform and other services, you can build complex automated scenarios for interacting with the client (trigger mailings, personal motivational offers, etc.).
Analytics
After you have built the system, you need to implement analytics services that will help you track performance. Such platforms pull data from a variety of sources, generate statistics and graphs that display the success of the marketing mechanics used.
Benefits of implementing automation
Automation is not just a trend, but a tool to improve business efficiency and profitability. Special assistant services can be implemented in various processes, including Internet marketing. What dividends does automated marketing bring:
effective distribution of working time;
improving the quality of implementation and analysis of the marketing strategy;
minimizing errors when working with data;
increase the speed of advertising campaigns and other interactions with customers.
The work of the marketing department, as a rule, consists of thinking through promotion mechanisms, creating content and a set of repetitive operations (processing information, transferring data from one system to another, etc.). At the same time, routine actions take up a significant part of the time resource. Automation tools allow marketers to focus on analytics and creativity. In addition, the introduction of auxiliary software eliminates the human factor in monotonous data processing.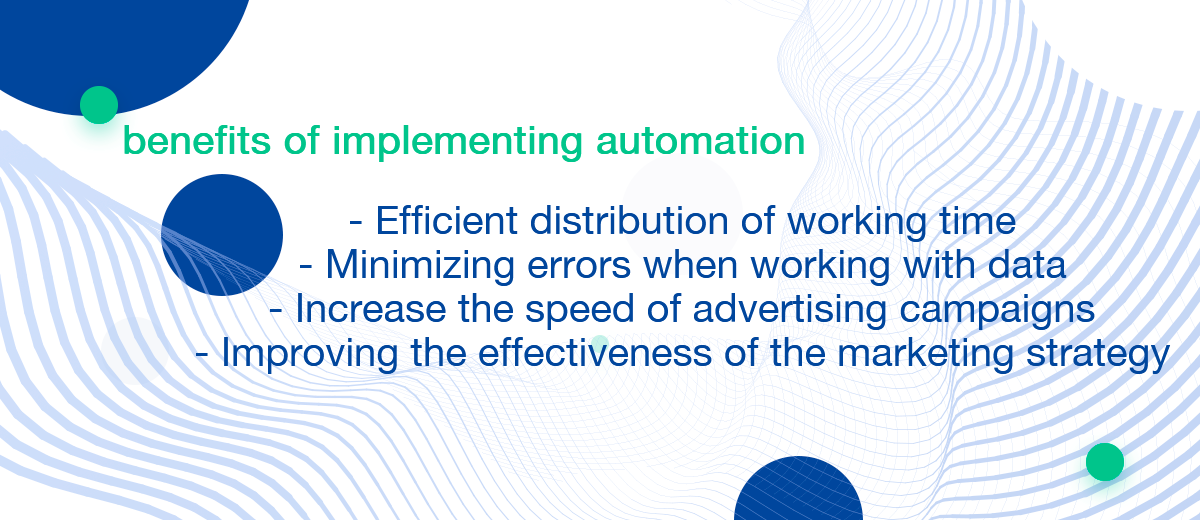 Don't delay implementing automation!
Automation of marketing processes is not an exhaustive condition for increasing sales and active growth of loyal leads. However, marketing optimization allows you to promote a product/company/brand much more efficiently and use more communication channels for this.
However, not every company is in a hurry to implement tools for automation. What are the limiting factors?
waste of time setting up automation;
additional expense item for software;
the likelihood of attracting programmers to work;
the need for additional employee training.
Each of the above reasons is actually not a serious problem for a long time. The organization of automated processes does require some time. However, this is an "investment" to save an incomparably greater time resource in the future.
Many automation systems are paid, and some tools require quite substantial financial investments. However, almost every popular service has a free package with limited functionality or the so-called "trial period". Marketers get the opportunity to evaluate the benefits of the service for their specific needs and choose the optimal ratio of functionality/price. Some tasks can be successfully solved with the help of free tariffs. This is a great opportunity for small and medium businesses to start the process of marketing automation without spending money.
As for the additional involvement of IT specialists and long-term training, these concerns are also no longer relevant. There are a sufficient number of cloud no-code services for automation. This means that you can work with them without programming skills and directly in the browser. As a rule, the creators of such online tools focus on a simple and intuitive interface in order to simplify the work of users as much as possible.
Conclusion: Automation is not just a trend, but a necessity
Probably, for some entrepreneurs, automation is not an urgent solution for business development. Especially if the activity is predominantly carried out offline. However, the vast majority of companies operate using online tools.
Even a small store on the marketplace must process information about its customers, conduct advertising activities in social networks, send emails, notify customers about delivery or new promotions through the messenger. One way or another, employees will have to deal with a large amount of repetitive work that can be done offline.
In a competitive environment, not only the quality of the product plays an important role, but also the speed of service. The advantage is given to the one who processes the client's request faster, is the first to make an interesting offer, and provides prompt feedback. The use of intelligent automation platforms allows you to increase the speed of working with customers and their data, which is a good help for the company's competitiveness.
***
Use the SaveMyLeads service to improve the speed and quality of your Facebook lead processing. You do not need to regularly check the advertising account and download the CSV file. Get leads quickly and in a convenient format. Using the SML online connector, you can set up automatic transfer of leads from Facebook to various services: CRM systems, instant messengers, task managers, email services, etc. Automate the data transfer process, save time and improve customer service.