It this article we will tell you how to avoid mistakes with image and video parameters when launching a Facebook ad campaign.
***
Facebook is a truly powerful ad platform. Its number of active users exceeded 2.6 billion in 2020. However, it is not enough for advertisers just to pay and launch advertising campaigns (AC), they also need to be able to set them up properly. This social network has strict requirements for ad media content, that are constantly changing and updating. In this article, you will learn about image and video parameters (format, resolution, etc) required for Facebook Ads.
Why is it so important?
The images are the most important Facebook ad feature. For this reason, you should pay special attention when you choose them. If you really want your ad campaign to bring traffic and customers, never upload the first available images! But why is a smart choice of media content so important for ad setup?
If an image in your ad has a wrong ratio it may look blurred or stretched which will have negative consequences on ad performance.
Image aspect ratio, resolution, and other parameters must meet the technical requirements of chosen advertising formats.
The images and videos must be correctly displayed on all devices and platforms your audience may use.
What are Facebook's ad requirements for existing ad formats?
Newsfeed
Facebook Newsfeed advertisements are considered to be very effective for a reason. This part of the webpage is very popular among the users and generates the most conversions. Moreover, here you can place any type of advertising content like text, images, or video, which will be displayed on the mobile and desktop devices of all users.
Supported file types for images: JPG and PNG (relevant to all formats and placements)
Supported image aspect ratio: from 16:9 to 9:16 (changes to 1.91:1 when adding a link)
Minimum image resolution for all formats - 1080x1080 (1200x628 recommended)
Header lenght – 40 characters max. (for all formats).
Text length limit 125 characters max. (for all formats)
Link description length – 30 characters max. (for all formats)
Image size – 30 MB max. (for all formats)
Right column
The right column is another popular type of Facebook ad content that is also worth attention. It should be noted, it is available only on the desktop version. Here are the guidelines for the right column ad images:
Supported image aspect ratio: from 16:9 to 9:16
Image width (minimal): 254 pixels, height: 133 pixels.
It is not recommended to upload the images with text here due to the small ad block size.
Instant Articles
Instant articles allow users to view expanded text ads directly – there's no need to click on an ad link to visit the advertiser's site. This option is designed only for mobile devices and available in the FB mobile application. It's worth mentioning, that only verified users may place images, videos, and other ad content, in order to promote their products or services.
Recommended image resolution with a link – 1200x1200 pixels.
Supported image aspect ratio – from 16:9 to 9:16 (1:1 for ad with a link)
Marketplace
The targeted ad on Facebook is available not only on the network pages. There is also Facebook Marketplace, which makes it for users possible to buy and sell products locally or worldwide. Here you can place advertising media content with the following parameters:
Recommended image resolution with a link – 1200x1200 pixels
Supported aspect ratio – from 16:9 to 9:16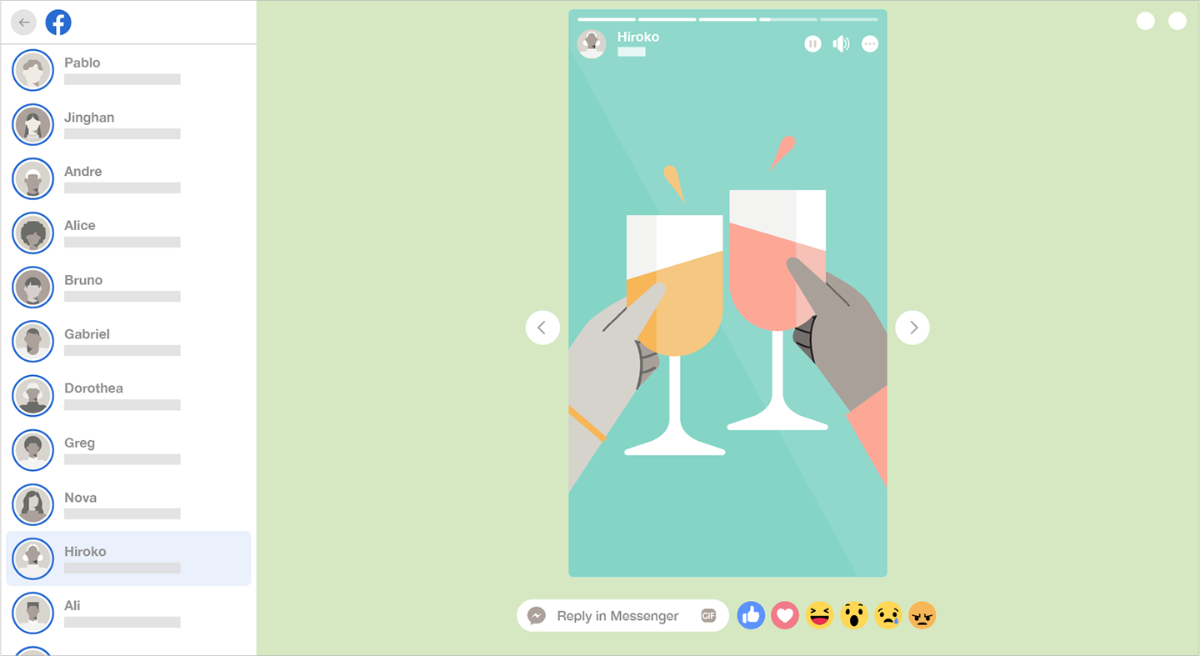 Stories
Stories is another ad content placement option on Facebook. They show the audience the brand/product or service-related pictures. Here you can decorate your media with different creative elements like emoticons, stickers, etc. The advertisement in Facebook Stories is shown for 5 seconds or till a user swipes the screen.
Supported image aspect ratio – from 9:16 to 1.91:1
Minimum image width – 500 pixels
It's not recommended to place text or logo on the top or bottom side of an image.
Search
All verified advertisements are also displayed in search results on Facebook and Marketplace. Targeted advertising in Facebook search is shown to the selected target audience according to search query context.
Supported image aspect ratio – from 1.91:1 to 1:1
Image size (height and width) – 600 pixels (admissible deviation – 3%)
Collections
Collection ads are an excellent choice to showcase your product line but they have one lack – the absence of call-to-action buttons.
Recommended image resolution 400x150 pixels
Canvas
Facebook Canvas is a new ad format available only for mobile app users.
Recommended image resolution 1200x628 pixels
Supported image aspect ratio – 1.91:1
The text shouldn't exceed 20% of the image area
Audience Network
This ad format allows you to increase audience reach by customizing the ad display on third-party sites and in mobile applications via the Facebook ad account. Audience Network supports the ad placement of all available types like banners, native and interstitial ads.
Minimum image resolution 398x208 pixels
Supported image aspect ratio – from 9:16 to 16:9
Carousel
Carousel is a very effective and popular format that makes it possible to use a whole selection of pictures or videos in an ad unit, and rotate it. Carousel content can be placed wherever you want: news feed, messenger, instant articles, Marketplace, right column, Audience Network, etc. Here are the media content format requirements:
Image resolution 600x600 pixels (254х133 for Facebook Messenger)
The carousel can contain from 2 and up to 10 images or videos
Recommended image aspect ratio – 1:1
The text shouldn't exceed 20% of the image/video area
Messenger
This ad format is quite useful for product or service promotion among active Facebook Messenger users. Currently, only images with the following parameters can be placed here:
Supported image aspect ratio – from 16:9 to 9:16
Image width – 254 pixels; image height – 133 pixels (minimum)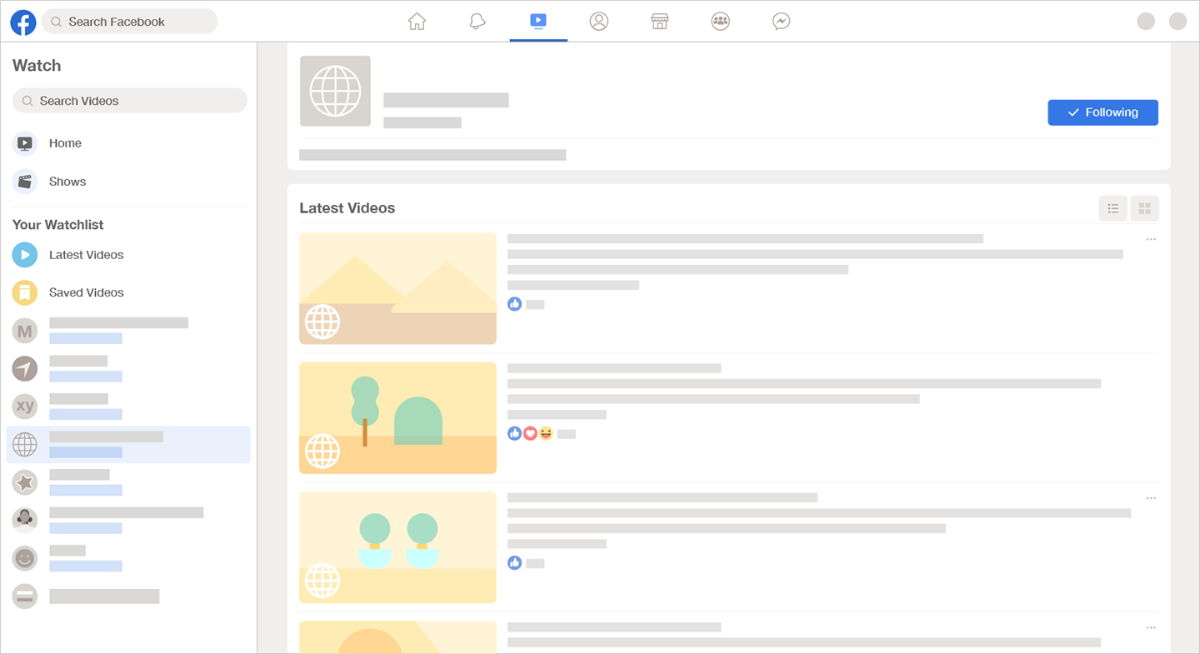 Video
Video advertising is becoming more and more popular with advertisers and Facebook users, so it's worth paying attention to it. Dynamic content is more attractive than static images and allows for a more detailed and convincing presentation of the brand's benefits and its product. It is possible to place video in the news feed, Facebook Marketplace, In-stream, Stories, and Instant articles.
Recommended video resolution – HD (1280х720)
Maximum file size – 4 GB
Supported aspect ratio – from 16:9 to 9:16 (Stories: from 1.91:1 to 9:16)
Minimum duration of a video – 1 sec. (In-Stream – 5 sec.)
Maximum duration of a video – 240 min. (In-Stream – 15 sec. and Stories – 5 sec.)
Conclusion
As you can see, Facebook offers advertisers a wide range of ad formats with placement possibility of different media content like images and videos. Before launching the main advertising campaign, it is worth choosing a few of the most promising ones for the test, taking into account the preferences of your target audience. It is also very important to follow the technical requirements of the content in order to optimize it for the chosen format. By following these guidelines, you will be able to set up your Facebook ads quickly and easily and get the expected results.
***
Are you actively using Facebook ads to promote your business? Then our service will be very useful for you. SaveMyLeads will allow you to create the integration between Facebook Lead Ads and other systems, enable uninterrupted data transfer. Using the information left by the user on the Facebook lead form, you can automatically create new tasks and contacts in CRM, make personalized mailings or add new lines to Google Sheets. This is a great opportunity to automate your business! Sign up for free trial!