The emergence and development of AI tools have had a significant impact on many types and formats of internet activities. One such direction is social media, which combines text, graphic, audio, and video content, as well as involves intensive customer engagement. In this article, which will add to our series of materials on artificial intelligence, we will discuss the best services in this area, what they can be used for, and what to pay attention to when choosing them.
AI tools for social media: what they are and why they're needed
Modern artificial intelligence and machine learning technologies are truly versatile. They can be flexibly adapted to perform a range of tasks in almost any field of activity. They are also suitable for working with social media: planning and preparing campaigns, creating, processing, and analyzing content, and interacting with its audience. For this purpose, it is recommended to use not only chatbots developed based on natural language processing models but also more multifunctional systems. The latter are even preferable.
Key functions of such platforms:
Content creation. Cutting-edge neural networks can automatically generate virtually all existing formats of web content today: texts, images, videos, speech, music, and sound effects. With their help, the content creation process can be easily and quickly automated in different languages for any purpose.
Idea generation. Now, authors and marketers no longer need to rack their brains searching for new ideas for social media campaigns. It is enough to provide AI with your wishes and other input data to get original, relevant concepts for your brand in a matter of seconds.

Sentiment analysis. Another useful feature of AI services is the analysis of text sentiment. With its help, algorithms recognize the emotional tone of a text and determine whether the tone of the message is positive, negative, or neutral. Companies can use this tool for social media optimization and improving customer service quality.

Content optimization. Artificial intelligence algorithms not only create content from scratch, but also optimize it. They make it more human and relevant to audience queries, clean it from grammatical and stylistic errors, check for plagiarism, and select and place appropriate keywords in it. They can also automate content scheduling and perform several other essential tasks.

Reporting and analytics. Neural networks flexibly optimize the processes of collecting, processing, and analyzing data on current and completed advertising campaigns. Moreover, they provide a valuable predictive analytics function, which helps predict a range of important indicators (results of future campaigns, audience reaction, and so on) based on collected information and using statistical modeling and other methods. Thanks to them, businesses gain valuable insights for improving content strategy.

Audience interaction. The functionality of AI services includes not only personalized communication with users (for example, through AI chatbots) but also other possibilities. For instance, target audience analysis, social listening (automated social media monitoring), and influencer discovery (finding influencers suitable for the promoted brand/product, campaign goals, and tasks).

How to choose the best AI service for social media
Effective social media management services help optimize campaign performance, making it more organized, consistent, and coordinated. With their help, you will be able to flexibly track and analyze publications, automate the process of planning and placement, as well as receive audience response statistics and quickly adapt your content strategy.
When choosing AI tools for social media, consider the following factors:
AI. First, look at the capabilities the service provides. Often, such systems can be equipped with NLP technologies (for sentiment analysis), generative AI (text and other content generation, image recognition, etc.), and auxiliary machine learning for making predictions and performing various operations.
Interface and technical support. Good AI services have a convenient, intuitive interface that any user can easily understand without preparation. It is useful to make sure that onboarding, user documentation, and technical support are available.

Integrations. The more integrations with third-party software a service will have, the better. As a must-have, note the presence of integrations with the main social networks where you will be placing the created content: Facebook, Instagram, YouTube, LinkedIn.

Automation. Check for features that will help you save time typically spent on planning, preparing, and publishing content.

Analytics. High-quality AI platforms must be equipped with tools for tracking audience engagement statistics, monitoring their reaction to posts, and collecting other essential data necessary for adjusting the content strategy.

Emplifi (Socialbakers)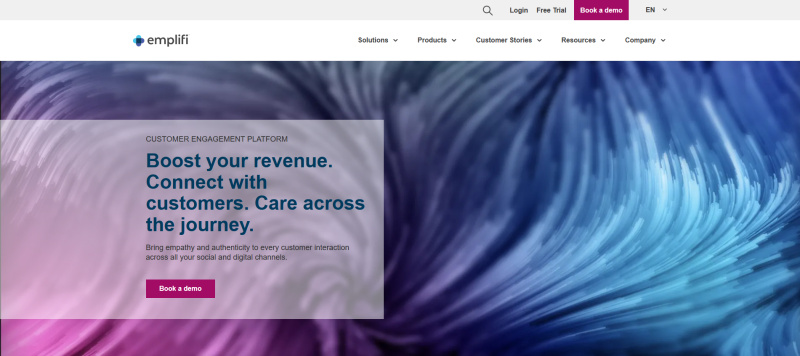 Emplifi offers a set of AI-powered social media management tools. Among them, multichannel management, a dashboard with tracking and monitoring features, and an integrated content feed are especially valuable.
Emplifi provides in-depth insights into the audience and their interaction with publications in real-time. It also offers tools for selecting and evaluating influencers. The universal content feed allows users to easily and quickly create and publish posts across all relevant social networks.
It is worth noting the comprehensive analytics panel and smart planning tools. They use AI potential to calculate the best time to send publications. The AI algorithms offered by Emplifi significantly improve SMM indicators by automating all stages of posting on social media.
In addition, the service has a range of features for managing user-generated content (UGC), which can help increase brand authenticity. Tools for optimizing workflows will make the work of content creators and marketers more coordinated and effective.
ContentStudio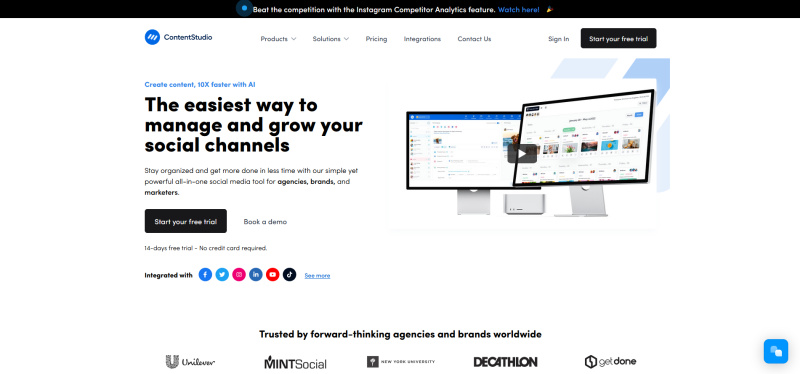 The universal platform ContentStudio rightfully ranks among the top AI tools for social media marketing. It is mainly used by marketers, agencies, and brands. Its tools help to significantly simplify and accelerate the processes of planning, creating, and posting content on various social media platforms.
This AI-supported service offers a wide range of content generation and management capabilities. With its help, you can quickly find original content ideas, generate descriptions for social media posts, rewrite texts, and use ready-made templates for different types of publications on Twitter, Instagram, and Facebook.
ContentStudio algorithms can make posts more visible to the target audience by selecting the most relevant hashtags for them. In addition, its artificial intelligence can automatically add suitable emojis to the text, analyzing its emotional tone using sentiment analysis. Another useful feature of this service is the built-in AI image generator that converts text-to-image.
Among other features of ContentStudio, it is worth noting the automatic replies to comments and incoming messages. These will help to effectively interact with the audience and quickly provide feedback.
Flick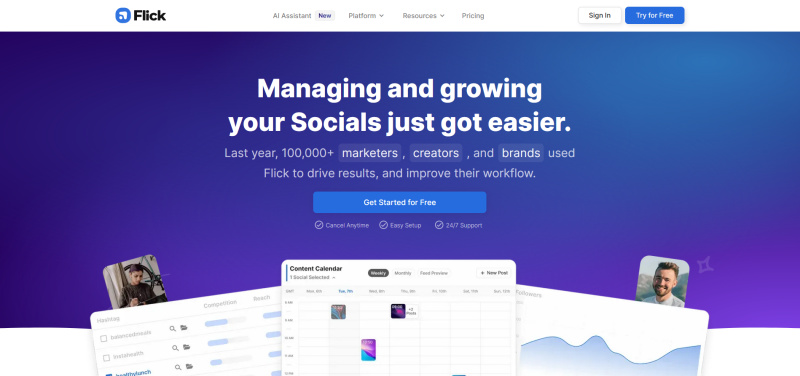 Flick is one of the popular AI platforms for social media, allowing users to easily and quickly create and scale content. The service boasts an impressive library of templates and educational materials. According to its developers, users can generate unique personalized descriptions for posts 10 times faster with Flick.
It is worth mentioning the Flick AI Social Media Assistant – a powerful marketing tool designed for finding ideas, planning, and writing texts for social networks. Artificial intelligence algorithms eliminate the need to come up with topics and prepare posts yourself, automating this process based on minimal input data.
In addition, Flick provides users with a content planner that allows for creating publications in advance and automatically posting them according to a predefined schedule. It also has a hashtag analysis feature, which makes it easy and quick to select the most relevant tags for posts. The built-in analytics will be helpful for assessing the effectiveness of content in real-time.
Cortex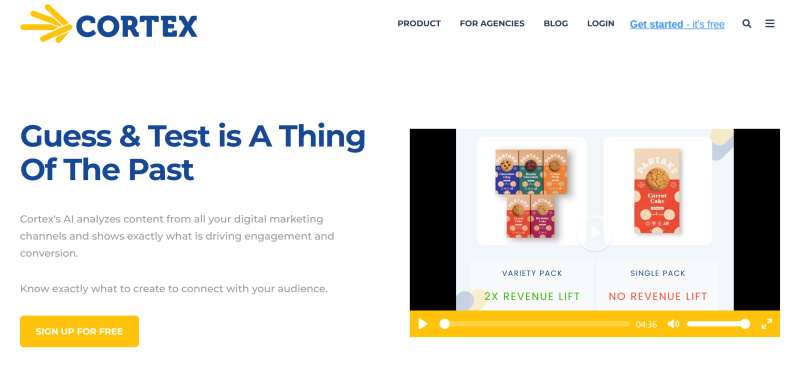 One of the honorable places in the ranking of best artificial intelligence tools for social media belongs to the Cortex platform. It provides a set of tools for smart posting of content on social networks in 25 different languages. Its algorithms, based on collected data and detailed analysis of competitors, recommend to users when and how often to publish content.

Connect applications without developers in 5 minutes!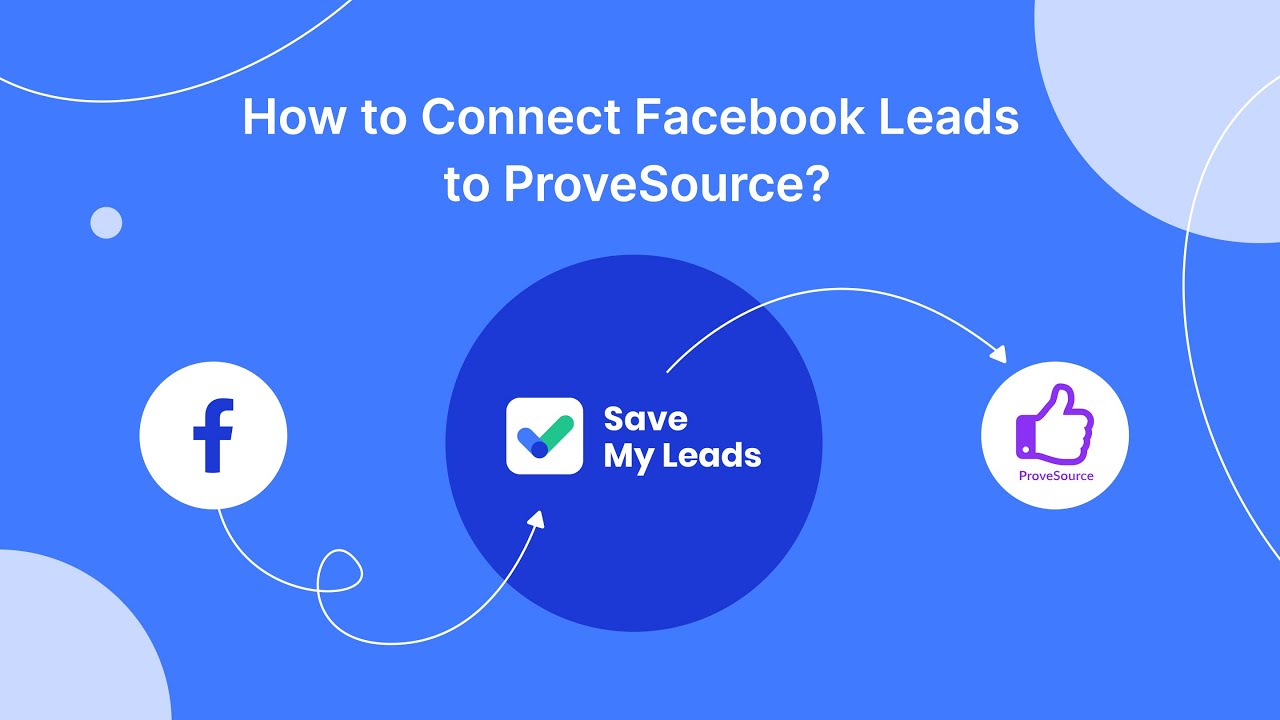 How to Connect Facebook Leads to ProveSource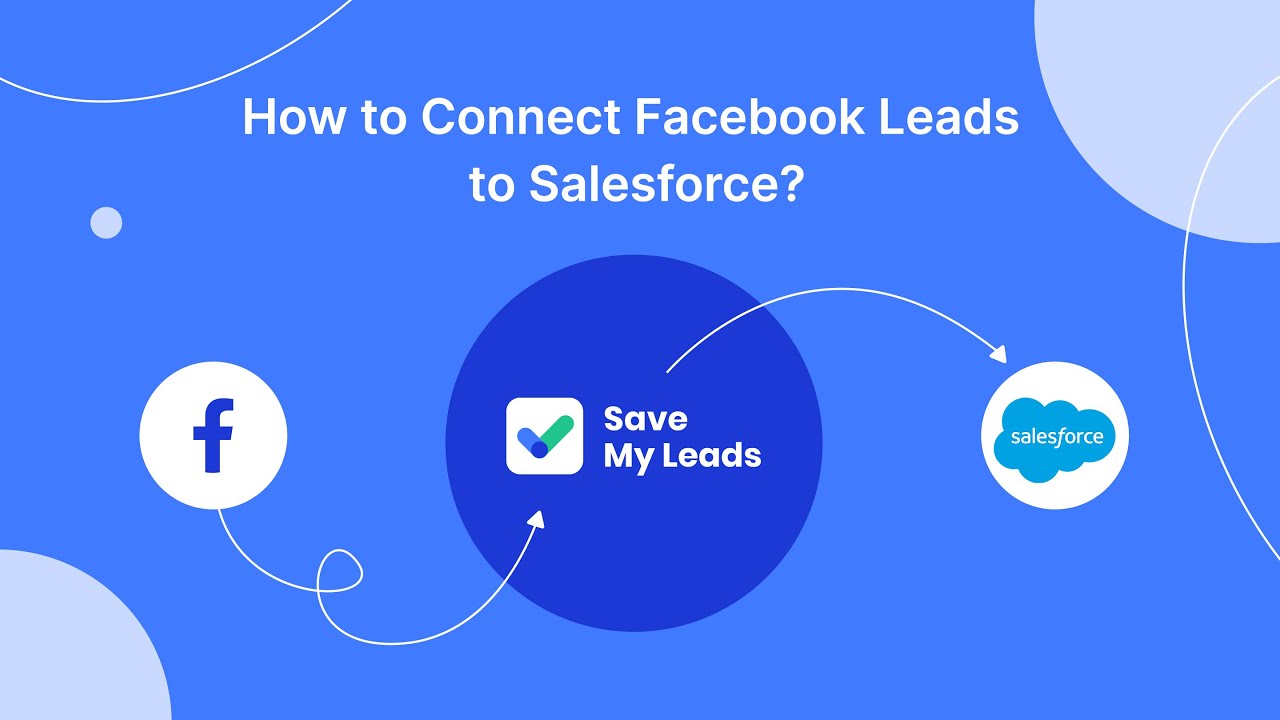 How to Connect Facebook Leads to Salesforce (Create Lead)
With Cortex, you can choose the most suitable illustrations for your posts. Simply upload two photos or images, and the neural network will automatically select the best one based on color analysis.
The service's catalog includes more than 60 post templates. In addition, there is an AI assistant for quickly writing posts, a built-in chatbot, a browser extension, and numerous integrations.
QuillBot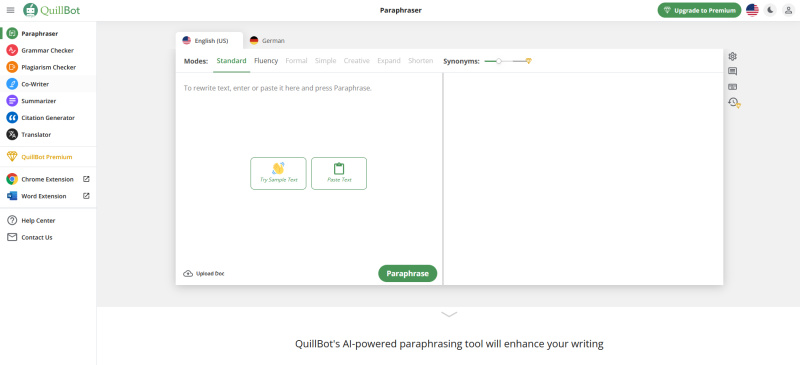 Discussing how AI is changing social media marketing, it is worth mentioning another popular service in this series – QuillBot. Like other similar platforms, it provides users with a set of useful tools for optimizing content on social networks. With its help, you can automate the process of paraphrasing and summarizing content. The smart bot helps to easily and quickly perform text rewriting, creating unique materials for social media posts, email newsletters, and other tasks.
QuillBot is considered one of the best tools for autorewriting content. You can use it directly in your browser (there is an extension for Google Chrome) or in a text editor (Microsoft Word, Google Docs). During the process, AI algorithms recognize and highlight the most important information while preserving the essence of the written text.
Among other features of QuillBot, the built-in dictionary, online translator, grammar check, plagiarism check, text summarization, and quote generator deserve attention. In addition, the service allows you to choose the rewriting style (standard, smooth, formal, simplified, creative, expanded, or condensed), as well as use the intensity scale for applying synonyms.
Lately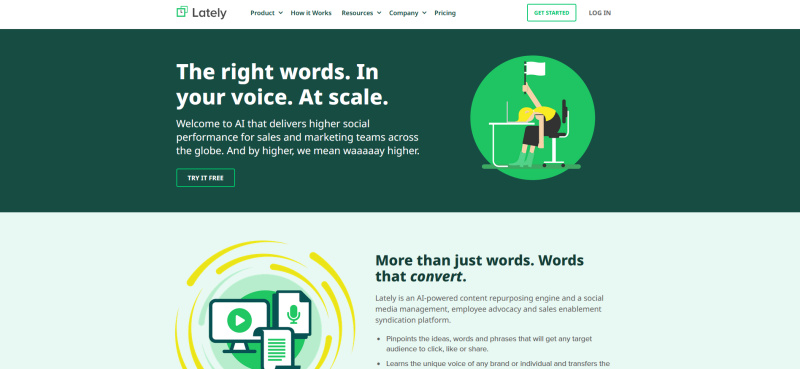 Lately is considered no less popular among AI solutions for content creation and analytics. It provides an extensive panel of tools that help flexibly plan publications and manage content for social networks. A wide range of features for analyzing social indicators allows you to track the effectiveness of content and determine the best time for posting.
In addition, Lately has a built-in AI content generator. With its help, you can create multiple tweets or other posts based on links, documents, or other sources of information. Among other useful features of this platform are tools for sales and conducting SMM campaigns, as well as a video content generator.
Lately's AI algorithms offer other possibilities as well. They can find ideas for new content, identify keywords and phrases, and turn long texts, audio, and video content into a series of concise, engaging, and effective posts for the selected social media.
Buffer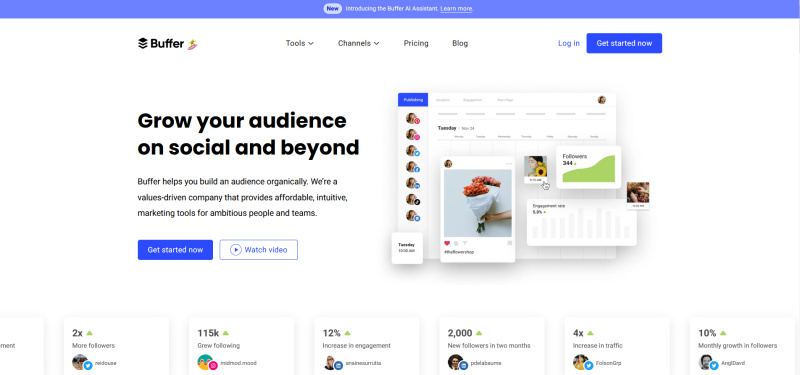 Buffer is one of the useful AI-driven tools for social media automation. It is a versatile, multifunctional service equipped with a multitude of tools for generating, monitoring content, and managing it on social media.
The primary functionality of Buffer is dedicated to post publication. The provided tools help flexibly plan and prepare content (individually or collectively), and then automatically publish it according to a predetermined content plan. The second set of features relates to analytics. With its help, you can collect data to post metrics and create reports with useful insights. The third block allows you to work on audience engagement: timely tracking comments and responding to them.
In addition, Buffer provides users with an AI assistant that helps generate ideas, edit posts, and rewrite texts. It is worth noting the presence of a built-in landing page builder. With it, you can create personalized landing pages in just a couple of minutes.
HelloWoofy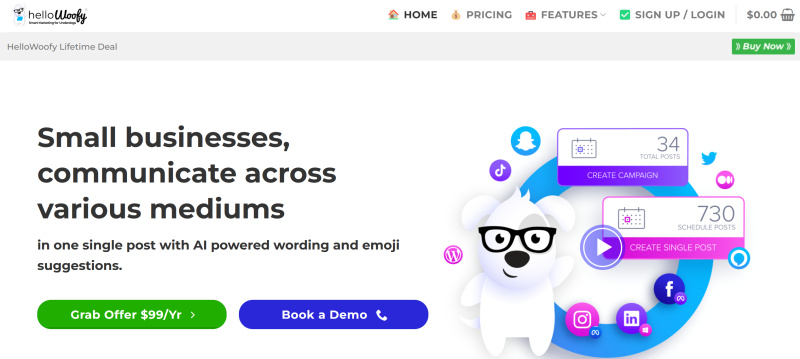 HelloWoofy is a cloud-based system for managing content on social media. It is suitable for various industries and business formats. The tools it offers help content creators and marketers carry out content management, smart planning, and management of SMM campaigns.
With HelloWoofy, you can set up automatic posting of content to selected social networks with a specific frequency: for example, once a week, once every two weeks, or once a month. The platform is compatible with all popular social media, including Facebook, Twitter, Instagram, and TikTok.
In addition to autoposting, HelloWoofy offers users a range of other equally useful features. Auto-completion of text posts or articles, creating content for social networks based on images, automatic placement of emojis in texts – all these functions will help you automate and thus speed up the work on materials for social media.
Let's summarize
Today, artificial intelligence technologies are gradually encompassing various business sectors, taking them to a new level of development. Social media marketing is no exception. The use of AI tools by SMM specialists allows for better understanding of the target audience, accelerating the achievement of set goals, increasing work efficiency through automation of routine tasks, and maintaining or even raising competitiveness.
If you are striving to improve marketing performance on social media, we recommend using AI-based services right now. Pay attention to the tools that we have introduced you to in our article. These platforms will help you with content creation and effective management. Each of them is available for trial use. Try and choose the most suitable AI service for solving your tasks.
***
If you use Facebook Lead Ads, then you should know what it means to regularly download CSV files and transfer data to various support services. How many times a day do you check for new leads in your ad account? How often do you transfer data to a CRM system, task manager, email service or Google Sheets? Try using the SaveMyLeads online connector. This is a no-code tool with which anyone can set up integrations for Facebook. Spend just a few minutes and you will receive real-time notifications in the messenger about new leads. Another 5-10 minutes of work in SML, and the data from the FB advertising account will be automatically transferred to the CRM system or Email service. The SaveMyLeads system will do the routine work for you, and you will surely like it.