Everyone who has access to the Internet knows about TikTok. You have definitely seen videos with this logo on Facebook or Instagram, even if you are not yet registered with this social network. Check out ten interesting facts about TikTok - and then you might want to become a part of it too.
***
Benefits of TikTok
TikTok is one of the most popular and fastest growing social networks in the world. In fact, this is a platform for creating, hosting and distributing video content. Users can record short videos with music, interesting filters, and other features. The endless tape of "sticky" videos is so catchy that it's easy to get hooked on it. Some even develop a very real addiction. So remember: everything is good in moderation.
The main advantages of TikTok:
unlimited entertainment;
anyone can become an original content creator;

it is much easier to collect a lot of views and likes here than, for example, on Instagram.

We bring to your attention 10 interesting facts about the social network TikTok. If you are already using it, you will learn something new for yourself and once again make sure that it is not in vain that you registered here. If you are just looking closely, let this information be your first acquaintance.
What do the logo and name mean?
The application icon looks like this: on a black background, a white note "hangs" in the center, on which it looks like a 3D filter has been applied (because of this, it looks voluminous and seems to be blurry, with turquoise and pink stripes along the inner and outer edges). Below it is the inscription TikTok. By the way, since the official launch of the social network, its icon has not changed much - initially it was a simple schematic drawing of a note.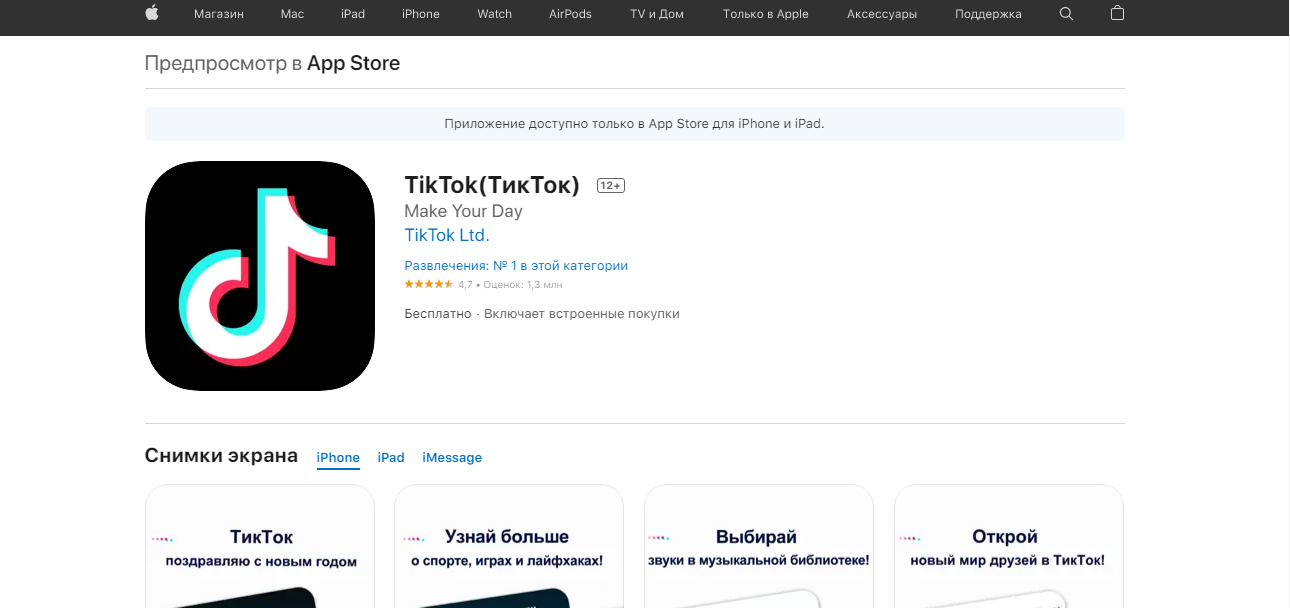 The concept of the logo was born by the designer when he was in a dark concert hall and everything vibrated before his eyes from the volume of sound. On that day, he realized that the black background is ideal for placing the right accents, and the softness of the lines reflects the life of any musical track.
The name of the social network at first consisted of two separately written words - Tik Tok. Later they decided to combine them into one. It has no special meaning and semantic load. True, for some, it is associated with the character of the same name in Frank Baum's books about Oz.
TikTok is Douyin
In this case, we are not talking about plagiarism, but really about "twin" applications. China has its own separate TikTok - a 100% analogue of the one we know. How did it happen?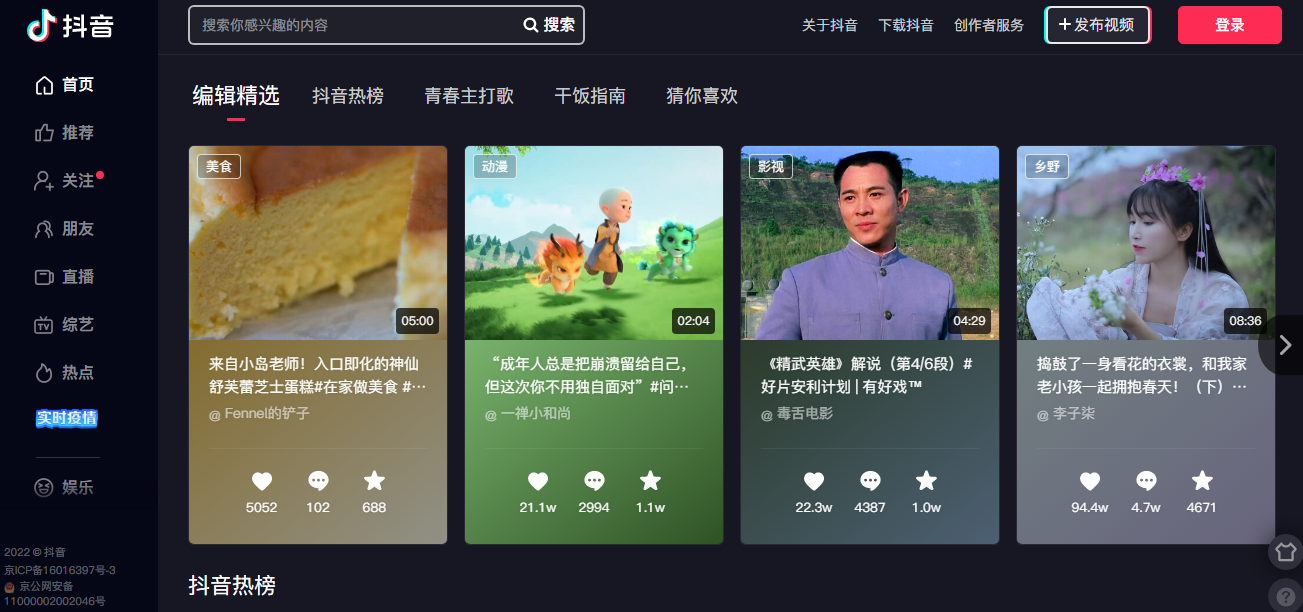 In 2016 ByteDance Ltd. officially launched the original application. The developers called it Douyin, as this social network was "sharpened" for the Chinese market, in particular legally. A little later, they presented an exact copy, already intended for Western users. That's how she got the usual name for us TikTok. That is why Douyin is TikTok.
How many people are using TikTok
Since the launch of the social network, it has been rapidly growing in popularity. As of January 2021, TikTok had 689 million monthly active users globally, according to analytics platform DataReportal. This indicator brought it to the 7th position among other platforms - it managed to beat Twitter, Pinterest and Snapchat.
For comparison, it took TikTok less than 3 years to gain the same monthly active users as Instagram, which had to spend as much as 6 years on it. Moreover, these 689 million do not include the Chinese, who use Douyin, numbering 600 million daily. If you combine them, it turns out that TikTok and Douyin together have 1.29 billion active video creators and viewers of other people's work around the world.
Where TikTok is Most Popular
The highest popularity of TikTok is recorded in its homeland - in China. True, it would be more correct to say that in this case we are talking about Douyin. As for the Western version of the application, Brazil ranks first in terms of the number of its users (in September 2020, it was downloaded here 3.08 million times). The second position belongs to Mexico (3 million downloads per month). Rounding out the top three are the United States (2.31 million downloads).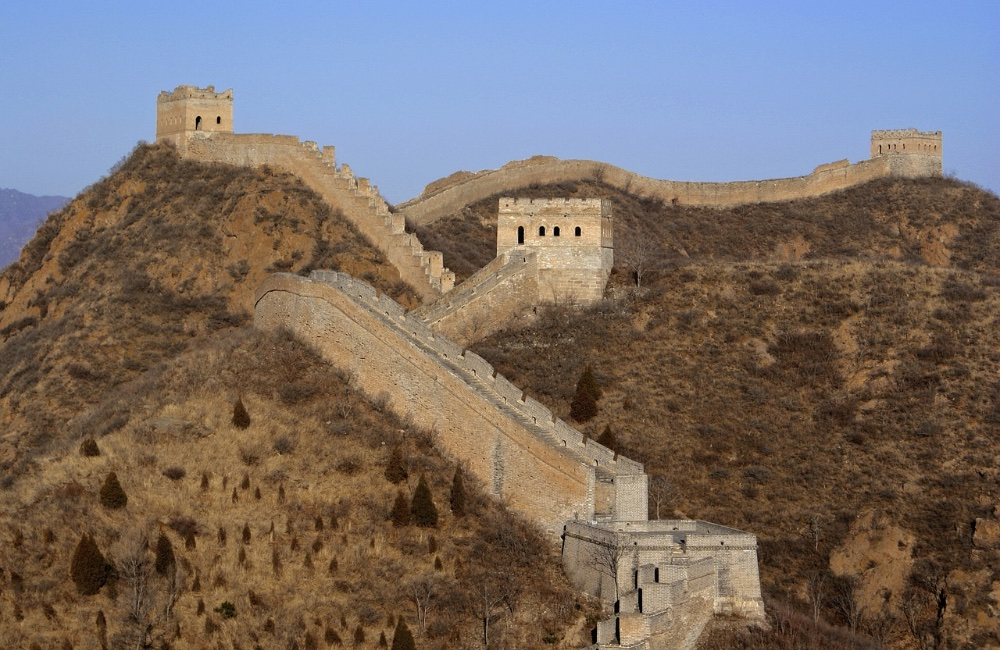 Pakistan could well compete with the Americans, which climbed to 5th place with 1.65 million app downloads in 3 months. But this is unlikely to succeed now, since in October 2020 the country's authorities blocked TikTok, arguing their decision with the "obscenity and immorality" of the content distributed there. This happened 4 months after the ban of the social network in India, where the number of downloads was also huge and amounted to almost 30% of the global.
How much time does a user spend on TikTok
According to AppAnnie data from June 2021, TikTokers spend over 24 hours on the app each month. More than even YouTube, on which the average user spends 22 hours and 40 minutes. Considering that these indicators were obtained only from those who access the social network from a smartphone on the Android operating system, and the owners of iOS devices were not included in the statistics, the result is staggering.
Connect Facebook Lead Ads to CRM, Email, SMS & Spreadsheets
Use SaveLeads to connect Facebook to different apps. Over 120+ ready-made integrations available now
Automate the work with leads from the Facebook advertising account
Empower with integrations and instant transfer of leads
Don't spend money on developers or integrators
Save time by automating routine tasks
Test the work of the service for
free
right now and start saving up to 30% of the time!
Try it
What does all of this mean? The conclusion is simple: a huge number of people use the application every day to create short videos or to see what others have done and shared. Regardless of the goal, they spend almost 1 hour daily on the social network. That's why some people call TikTok a "time waster".
The most expensive social network in the world
TikTok is owned by ByteDance Ltd., a Chinese private Internet holding company founded in 2012 by entrepreneur Zhang Yiming. Analyst firm CB Insights reported that in February 2021, the company's shares were sold privately at a price that suggested a total business value of approximately $200 billion.
In October 2021, Bytedance's capitalization was estimated at about $400 billion, according to Bloomberg, an American financial information provider. Moreover, in August this figure was higher - $ 450 billion, and in July - $ 500 billion. A significant increase in the share price was due to the increased interest of investors in the ByteDance business, as well as the desire of its owner to enter an IPO (the release is scheduled for the end of 2022). This cost allowed her to bypass the major oil company Exxon Mobil and the world's leading producer of soft drinks - Coca-Cola.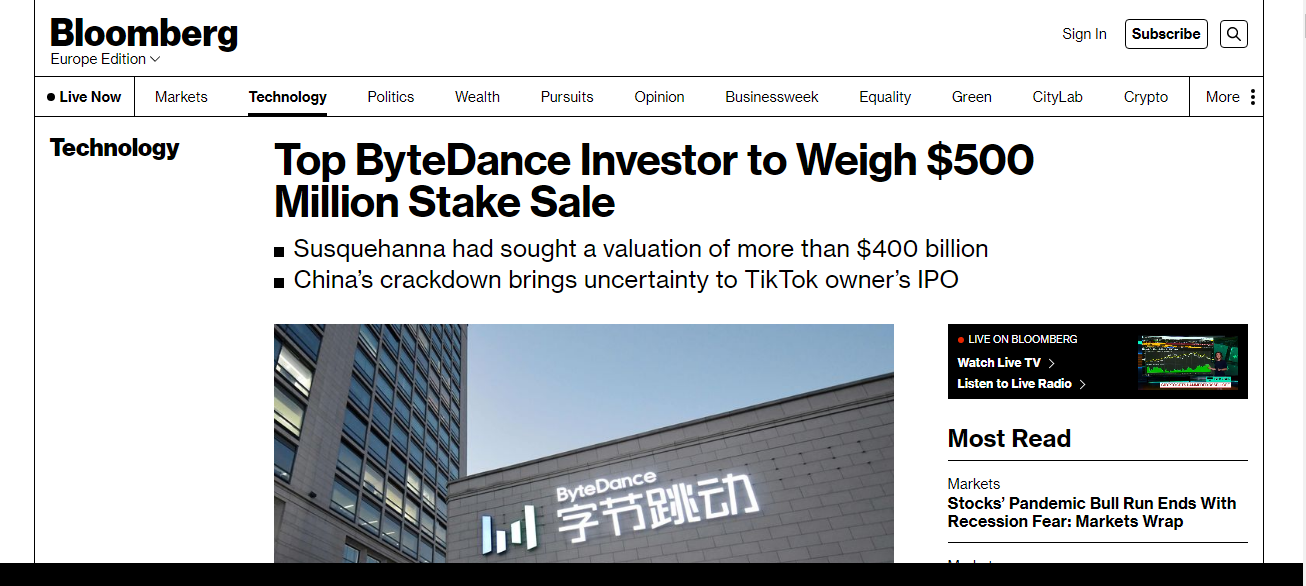 The main audience is generation Z
The social network TikTok has the youngest audience when compared by age with other platforms. About 70% of all users are aged 16-24. Those who are already 25 years old are a minority here - they are only 30%.
Many people are biased against TikTok and consider it "teenage entertainment" due to its very young audience. Nevertheless, this social network is worthy of the attention of people of mature age. Remember how Facebook started. At first, students mostly hung out there. The first users of this social network were much younger than those who are currently "sitting" in it.
Same story with Instagram. 20-year-olds left Facebook because their moms and dads came there, and even grandparents followed them. Having no desire to participate in generational conflicts, they migrated to Instagram. Some time passed, and our parents "tasted" Instagram - the average age of users of this social network has grown again. Guess where the boys and girls fled from there? That's right, TikTok. Probably, teenagers will "sit" here until their parents master the new application.
How many languages does TikTok speak?
TikTok is a worldwide app in the literal sense of the word. To enter the international arena, the developers conscientiously prepared it for a multinational user and translated it into 37 languages of the world.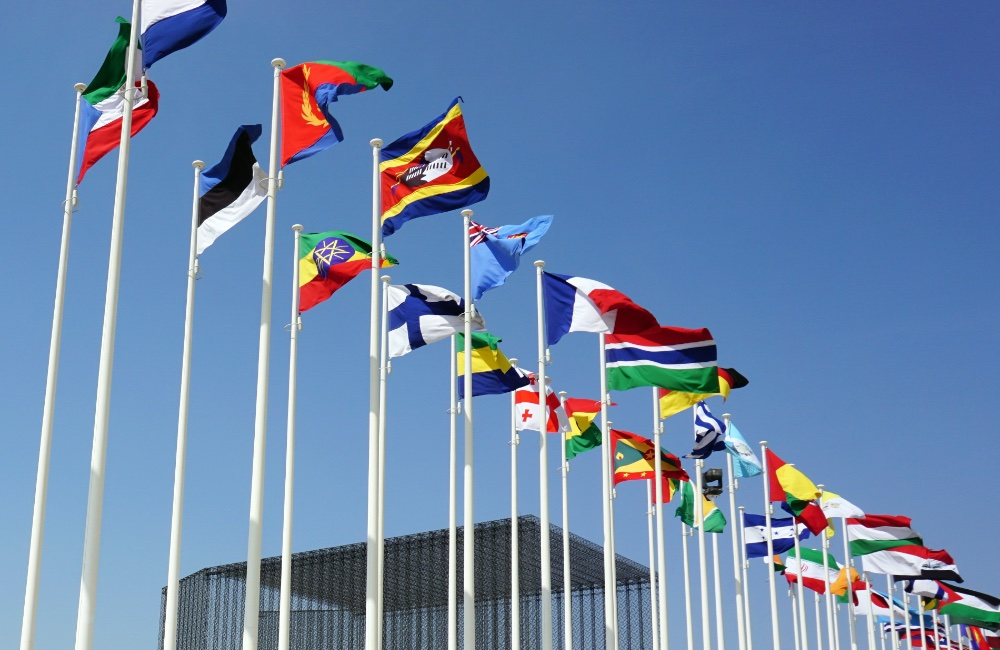 By the way, opinions differ about the number of languages that the social network "speaks". Some sources claim that TikTok can be used in 75 dialects. At the same time, the App Store platform indicates that it is currently available in 37 languages. You can change them if necessary at any time in the settings of the application itself.
Most Viewed Video
Surely every "tiktoker" at least once saw a video with a funny lip sync from Bella Poarch, which she recorded under the song "M to the B". It looks nothing special: the girl just shakes her head in the frame. But users were hooked not by a banal swing, but by her unusual, "cartoonish" facial expressions. It was thanks to this video that it became viral - and away we go.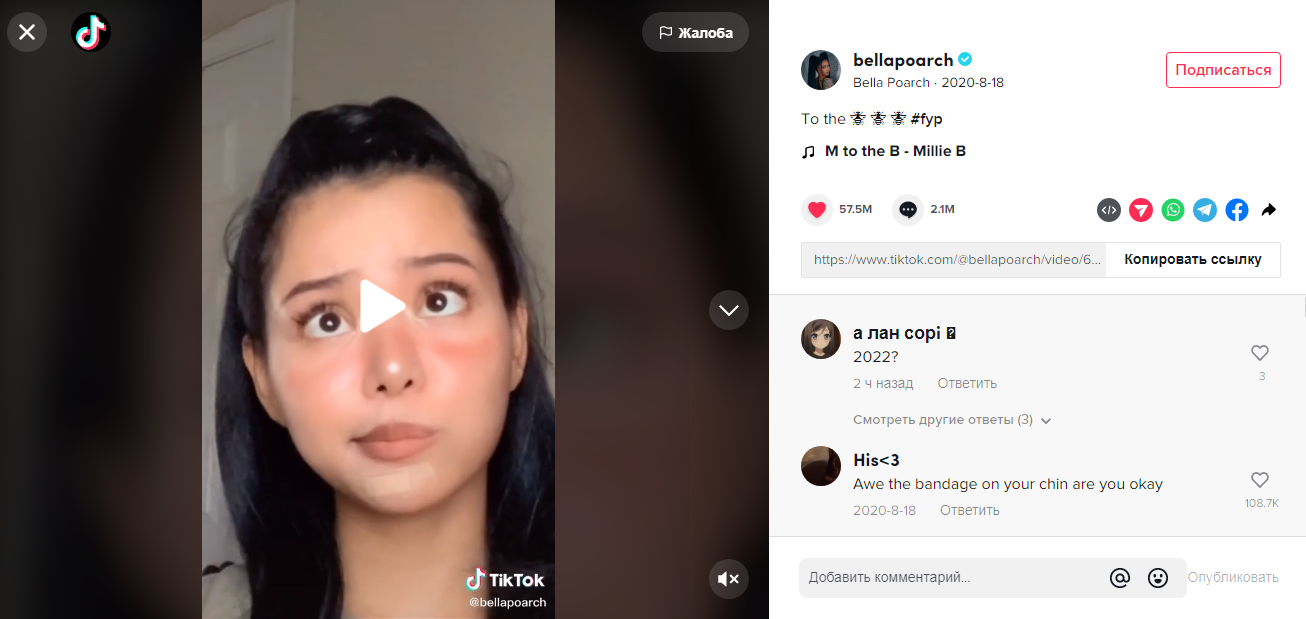 A funny video made Bella Porch incredibly popular in less than 1 month. Now the TikTok star has 90 million followers. Her "M to the B" video has already been viewed 697.8 million times, received 57.4 million likes and 2.1 million comments. The social network even organized a challenge, for participation in which it was necessary to accurately repeat her movements. Bella's other videos are also getting millions of views, but this record is still not broken.
From conception to birth – 200 days
A very short but interesting fact about the social network. It took a Chinese team of programmers 200 days to fully develop the original TikTok app. That is how much time it took to make from scratch and release the finished working version "to the world".
And one more thing
TikTok is the only non-American or even non-Western popular social network. It homeland is China.
It's missing the "smart feed" that a lot of people don't like on Instagram. Here, completely different algorithms work: thanks to organic reach, even a beginner can get into the "rivers" by uploading his first video.

There is no "luxury life". At the top of the social network are the most ordinary people. Here, there is no desire of users to demonstrate to everyone "successful success" and elements of a luxurious life, as, for example, on Instagram.

Minimum toxicity. The audience of "tiktokers" is characterized as more empathic and responsive. It is believed that there is the smallest number of haters, compared to other social networks.

TikTok's biggest investors include American clothing brand Guess, fast food chain Chipotle, and the National Basketball Association (NBA).

Anyone can become a TikTok star. The application has a built-in editor, with the help of which even a person who is very far from video editing is able to make a bright video.

The COVID-19 pandemic has increased the popularity of TikTok: more people, while in self-isolation, paid attention to the social network and began to shoot videos right at home.

TikTok is the most downloaded app on the App Store platform. This status was assigned to it in 2019 - just 3 years after the launch. Despite this, over 90% of users access the social network from devices based on the Android operating system.

According to statistics, 68% of registered users only view other people's work, and 55% also record and upload personal videos.

On average, a TikTok star earns between $50,000 and $150,000 a year.

Let's summarize
The TikTok application has brightly and rapidly burst into the social networking market. Today it successfully competes with such Internet giants as Instagram and YouTube. This platform focuses on creators of engaging content and the opportunity to express themselves. The secret of its stunning popularity lies in the ease with which every ordinary person can become world famous, just by being creative.
***
Do you want to achieve your goals in business, career, and life faster and better? Do it with SaveMyLeads – a tool that will save you from the routine work, and free up additional time for realizing your goals. Test the capabilities of SaveMyLeads for free and enjoy the effectiveness of this tool.