Inbox.lv is a multifunctional Latvian Internet portal. One of the main products of the resource is the mail service Inbox Mail. If you use this mail and also work with Facebook Lead Ads, pay attention to our article. We will show you how to create an integration between Facebook and INBOX.LV. You can independently set up an automated process for sending emails to each new lead from Facebook and Instagram. The second option for using the integration is automatic notifications to the mail of any employee of the company about new orders from social networks.
***
Facebook Lead Ads is an effective tool for expanding your customer base and collecting contacts. Users can apply by reviewing the offer and filling out the form directly on Facebook or Instagram. Thus, you can develop your business and earn income even without your own website or landing page. Lead forms can be an effective lead generation channel, but it's important to remember that the sales conversion rate is directly proportional to the speed at which leads are processed.
You should not force users who have shown interest in your ad to wait a long time for feedback. One way to quickly respond to a request is to send an email to the client. The welcome email may include order details, instructions, a link to a lead magnet, etc. For high-quality processing of a request, it is necessary that the data quickly get to the manager, warehouse worker, etc. The tasks of sending letters to new leads and delivering information to the right employee can be solved using the Inbox Mail mail service. In addition, we propose to fully automate these processes.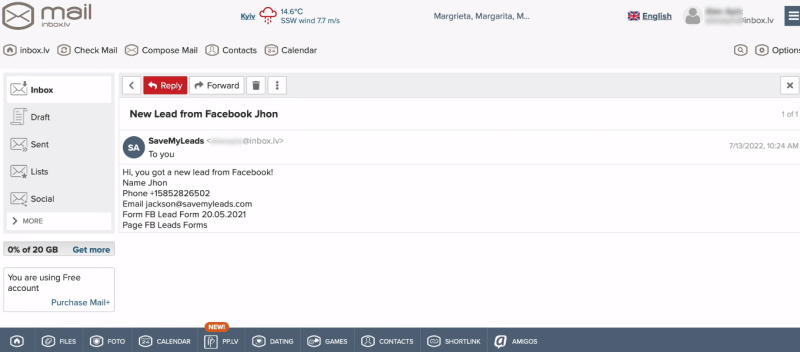 How to set up Facebook Lead Ads and INBOX.LV integration
The SaveMyLeads online connector helps you connect your Facebook ad account with other systems to automate various business processes. How it works? Facebook account is connected as a data source. The SaveMyLeads service monitors the appearance of new leads and downloads the necessary information. You do not need to constantly check your FB advertising account and upload data on new orders in CSV format.
Various platforms and applications can act as the second integration node (receiving system). In our case, this will be the mail service Inbox Mail. Let's take a step-by-step look at the process of creating an integration between Facebook Lead Ads and Inbox.lv mail. You do not need special knowledge or programming skills. Integration is created through a web interface. To work, you need access to Facebook and Inbox Mail accounts. Also, register on our website and go to your personal account.
Setting up a data source — Facebook Lead Ads
Click "Create connection" to create a new integration.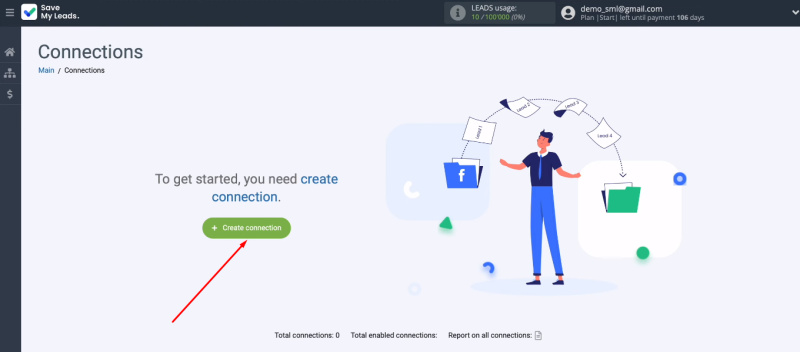 The SaveMyLeads system offers dozens of ready-made customization templates for various tasks. We are interested in "Inbox.lv (Send Email)".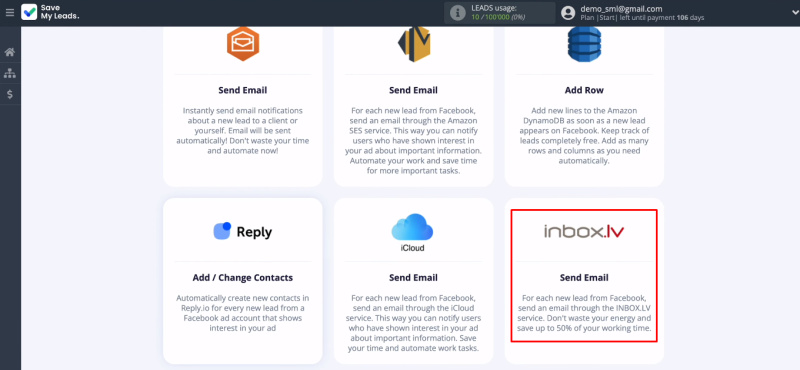 Connect your Facebook account with the required parameters.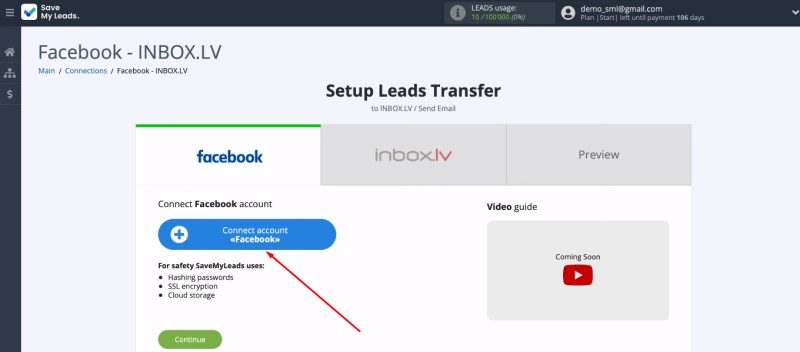 Enter username and password from your FB account.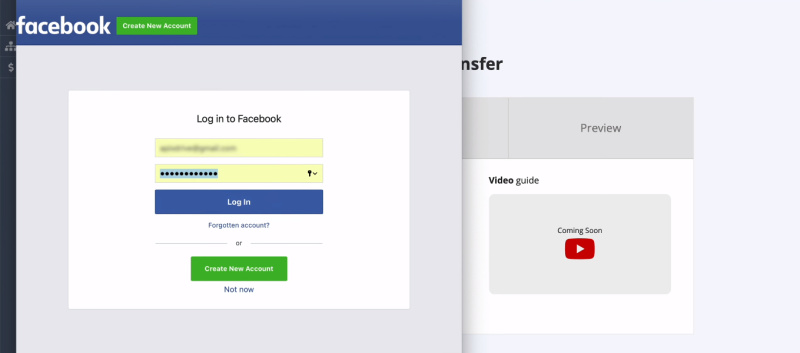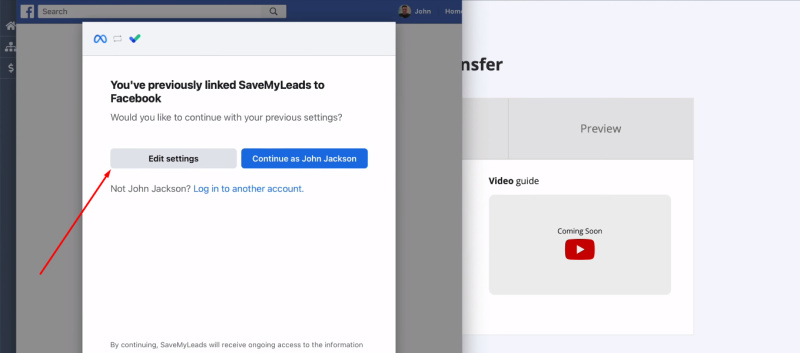 In the next window, you will see a list of advertisement pages. Select the pages for which you want to receive leads. We recommend that you mark all available advertising pages at once in order to be able to work with them in the future.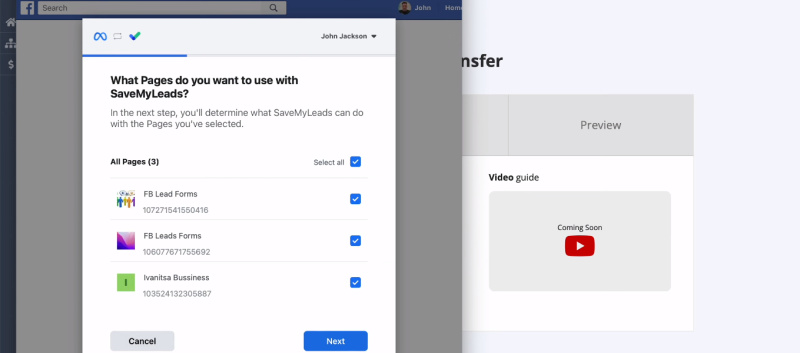 All access checkboxes must be enabled. Click "Done".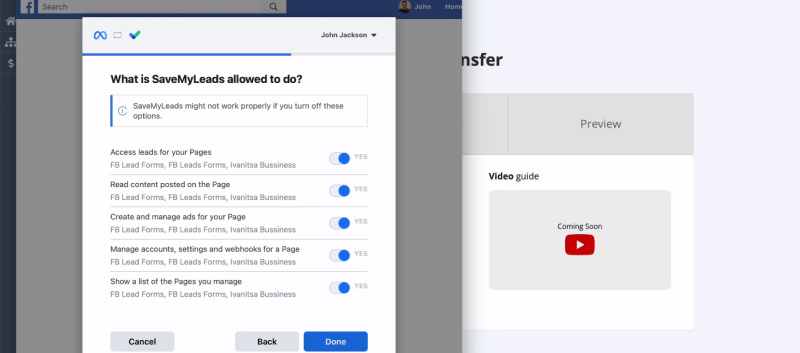 Facebook account successfully added to SaveMyLeads system. Click "OK".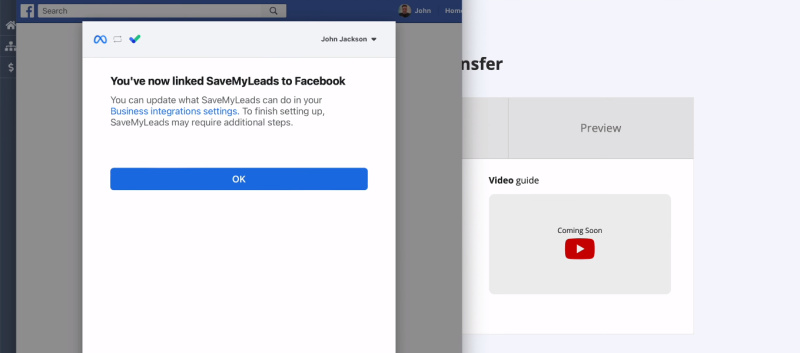 Select a connected account.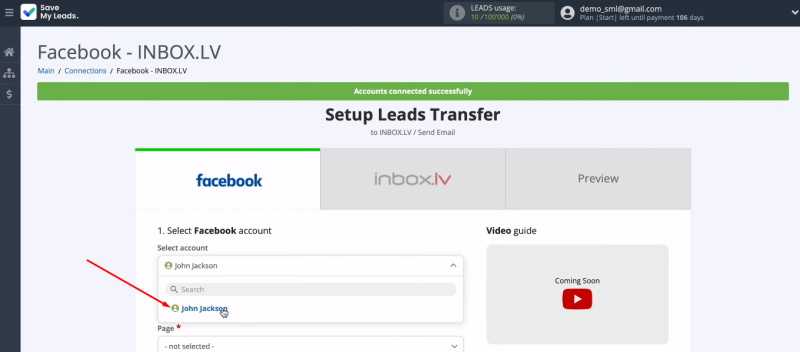 Select an advertising page and lead form, click "Continue".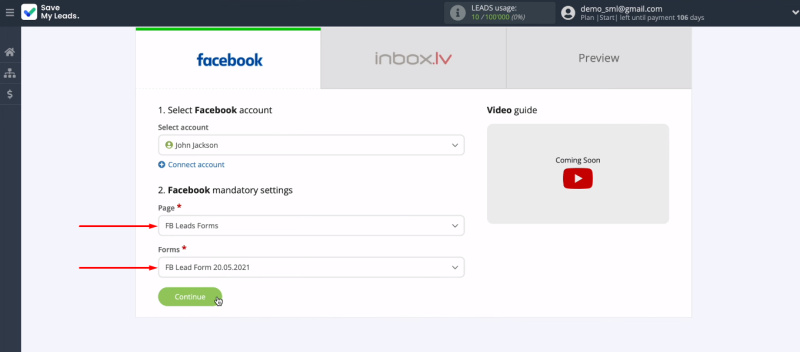 If you need to upload leads for different advertising pages or lead forms, set up separate connections.
Setting up a receiving system — INBOX.LV
Click "Connect account INBOX.LV".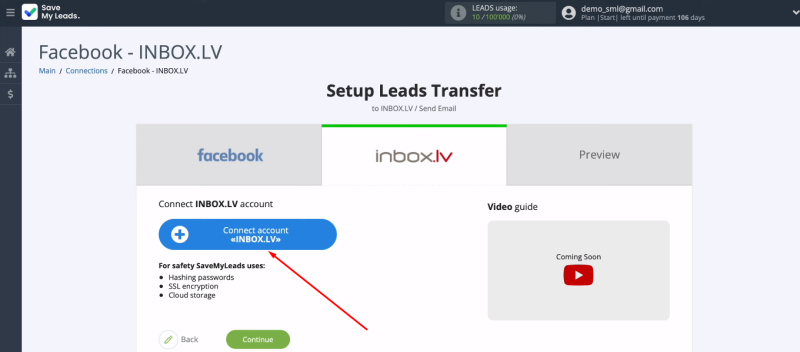 Specify the email address of your INBOX.LV account.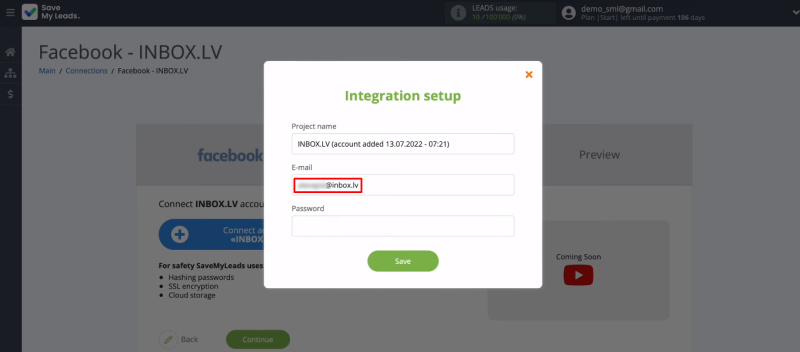 Now go to Inbox Mail. Go to settings.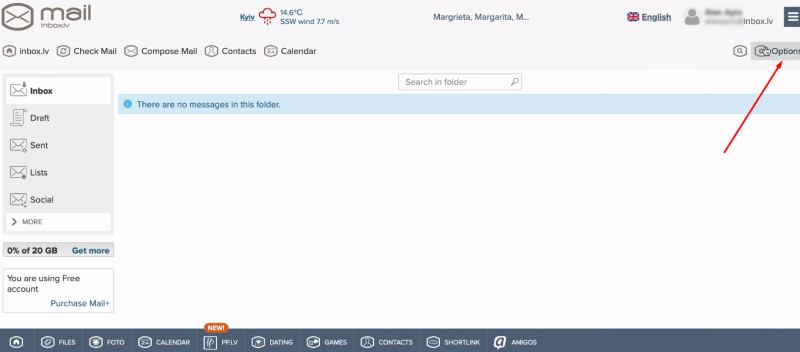 Go to the "Outlook, email programs" section. If you do not yet have a password for third-party programs, click "Enable".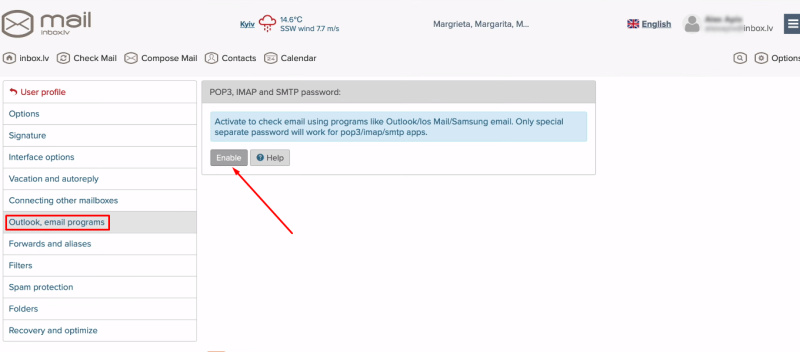 Copy the generated password. Click "OK".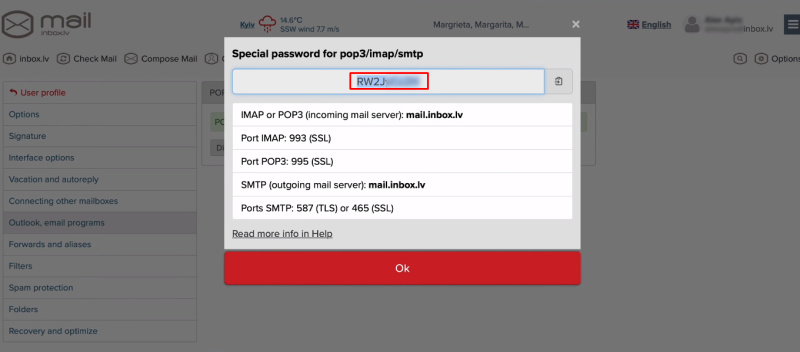 Return to the SaveMyLeads system, paste the password you copied earlier and click "Save".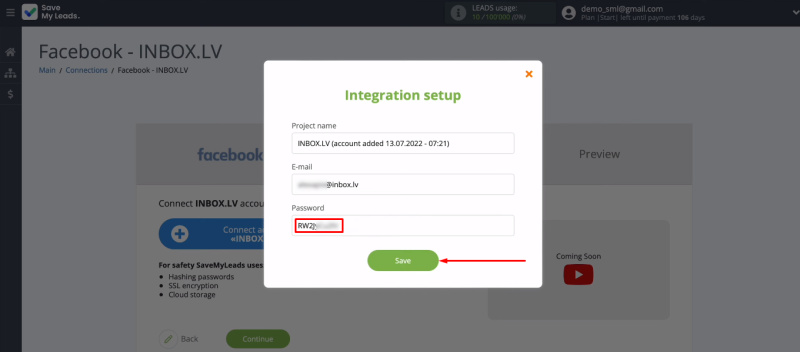 The connected account INBOX.LV appeared in the list of available logins. Select it for further customization.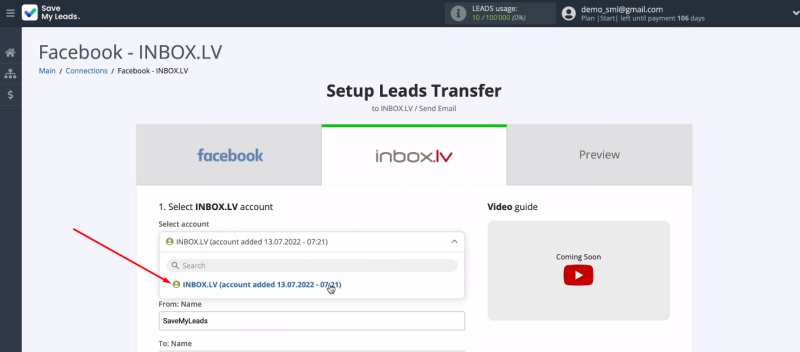 Now we need to configure the parameters of the letter that will be sent via Inbox Mail. Our integration can solve different problems. If you want to send letters to new Facebook leads, then in the "To: E-mail" field you need to insert a variable with the customers' mail. Click in the field and select the desired Facebook variable from the list. Set the subject and body of the email. Use data from completed lead forms (for example, a variable with the customers' name) to personalize content. Also add text manually.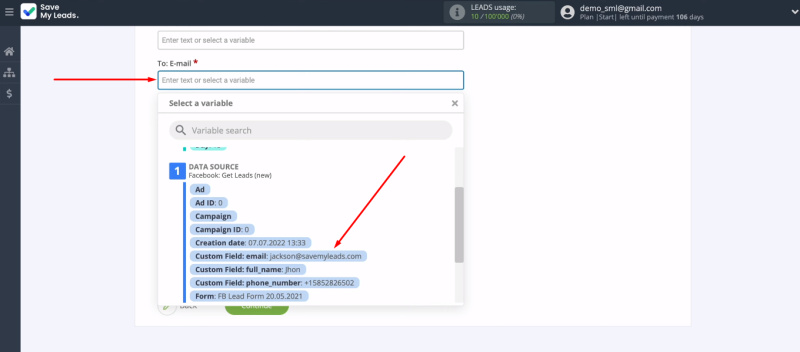 With the integration of Facebook and Inbox Mail, we can set up automatic notifications about new leads to employees of the company. To solve this problem, manually enter the employee's mailbox in the "To: E-mail" field. Customize the content of the letter so that it is convenient for the recipient to read and process the data. When the contents of all required fields are defined, click "Continue".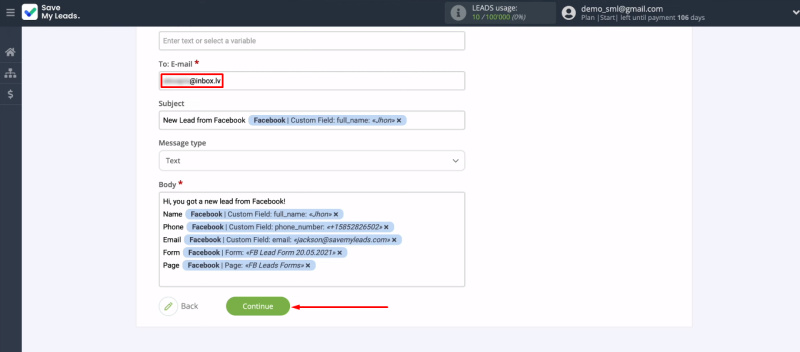 In the next step, you can check the test data that will be used when sending the email. To make any changes, go back one step ("Back" button). If everything suits you, click "Send test data to INBOX.LV".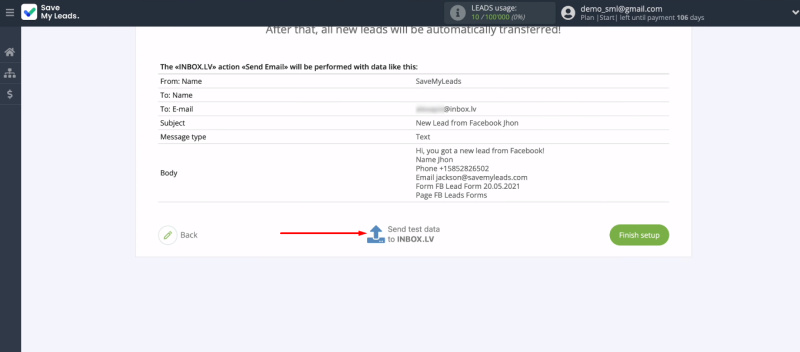 Go to the mailbox that you specified as the recipient. Check for a new test email and its contents.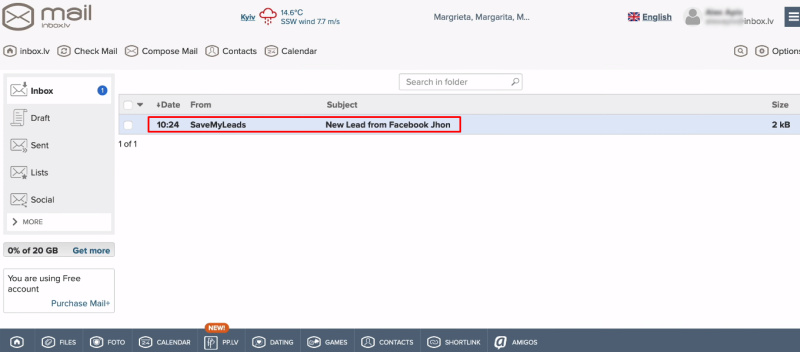 Activate the integration — turn on auto-update
In order for each new lead to be tracked in the FB advertising account and converted into an email, you need to activate the integration. Return to the SaveMyLeads workspace and click "Finish setup".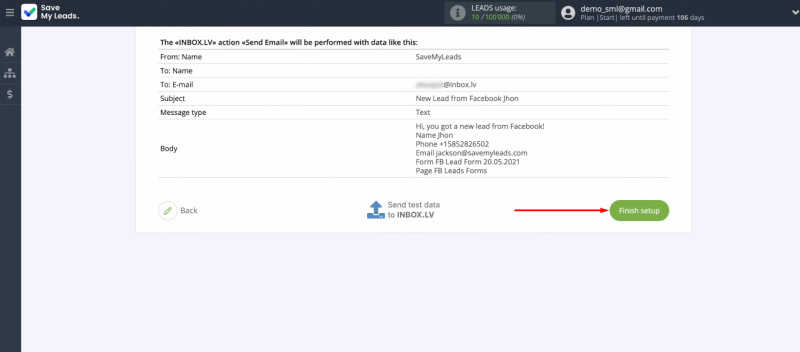 After creating an integration, you can change its name or add it to a group. For example, you can combine connections for different lead forms of one advertising page into one group.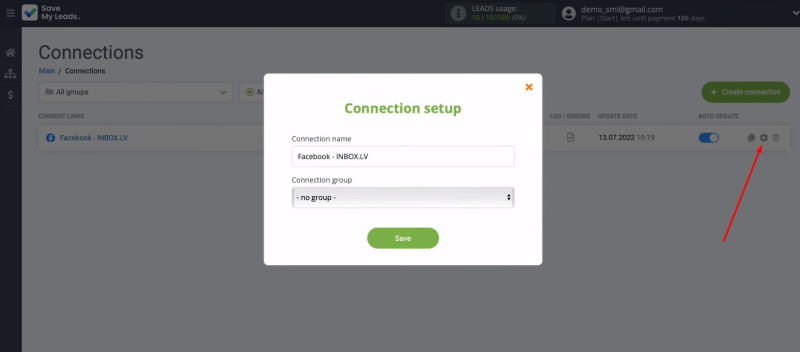 The result of Facebook and INBOX.LV integration
INBOX.LV is one of the most popular portals in Latvia. The platform offers a wide range of products and services, including Mail and Mail+ email services. We linked the Inbox.lv account and the Facebook advertising account to automate the following processes:
sending emails to each new lead from Facebook and Instagram;
sending notification letters to employees about new requests via social networks.
The integration was created in the SaveMyLeads system. The entire setup process took about 10 minutes. If you use Facebook Lead Ads for lead generation and do not want to manually upload leads and transfer them to other systems, use our service. The SaveMyLeads online connector takes care of the data transfer and allows you to focus on more important tasks.