In this tutorial, we will show you how to set up the upload of leads from your Facebook advertising account to the Meistertask task manager in 5 minutes in the form of new tasks without programming knowledge.
***
Today, many companies actively use social networks to promote their products and business in general. Thanks to their multi-million audience, you can significantly expand your client base. But, despite the fact that most social networks have begun to add various tools to their functionality that allow you to trade directly from their accounts, they are not enough for effective business.
That is why the owners of advertising and business accounts cannot do without integrations with various services and systems so that they can automate various business processes as much as possible and effectively work with leads. One of these services is the Meistertask task manager.
Thanks to the integration of an advertising account on Facebook and the Meistertask system, users will be able to automatically transfer new leads from Facebook to Meistertask in the form of new tasks to which you can assign responsible managers, process them in a convenient interface, form client bases and then interact with them in every possible way.
Thanks to the automatic unloading of leads from Facebook, company managers will be able to quickly respond to customer requests, without having to constantly monitor incoming messages and comments on FB. All work with clients will be carried out in one place. Thanks to this, the speed of processing incoming applications is significantly increased, and, accordingly, customer loyalty to the company and its products. Leads will not go to competitors for similar products, as they will receive prompt communication, and thanks to various mailings, they will always be aware of the new products of your company.
How to set up Facebook and MeisterTask integration
Without developer help, setting up automatic uploads will be difficult, especially if you don't have programming skills. If such a specialist is not on the staff of the company, then funds and time will have to be allocated for his services, respectively, your leads on Facebook may be left unattended and, as a result, will go to competitors.
In order not to waste time and money on the services of programmers and set up the upload yourself, use the SaveMyLeads service. Due to the simplicity of its interface, you, not without skills in IT development, sending API requests, coding, will be able to independently configure the automatic unloading of leads from the Facebook advertising account to the Meistertask task scheduling service in just 5 minutes. Our step-by-step instructions will help you with this.
Connect Facebook Leads Ads
To start setting up, create a new connection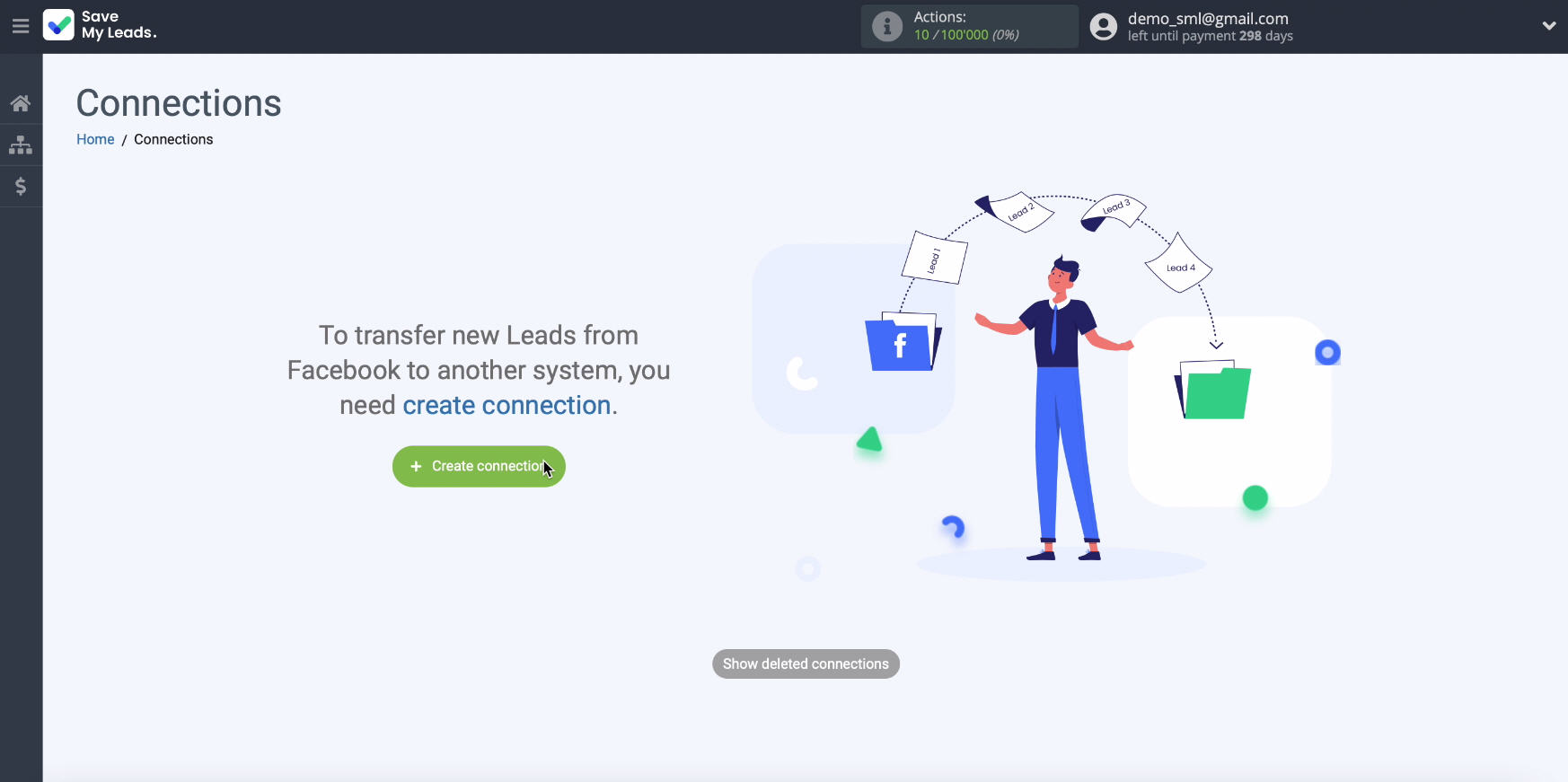 Choose among the ready-made templates for systems the one to which you want to transfer data, in our case - Meistertask.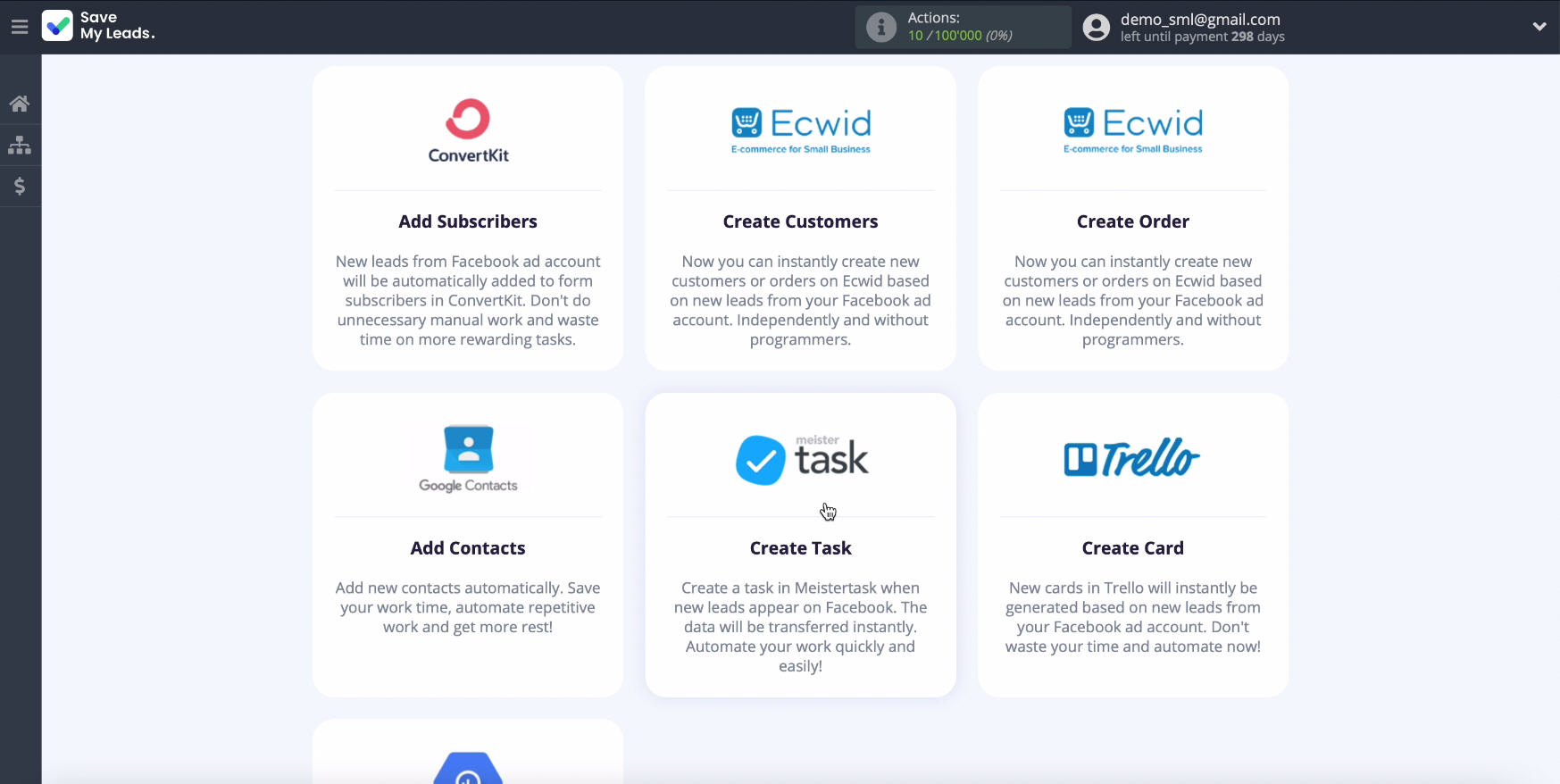 Next, connect your Facebook account to the SaveMyLeads system

To connect your Facebook account, in the window that appears, you must enter your username and password from your personal account in FB.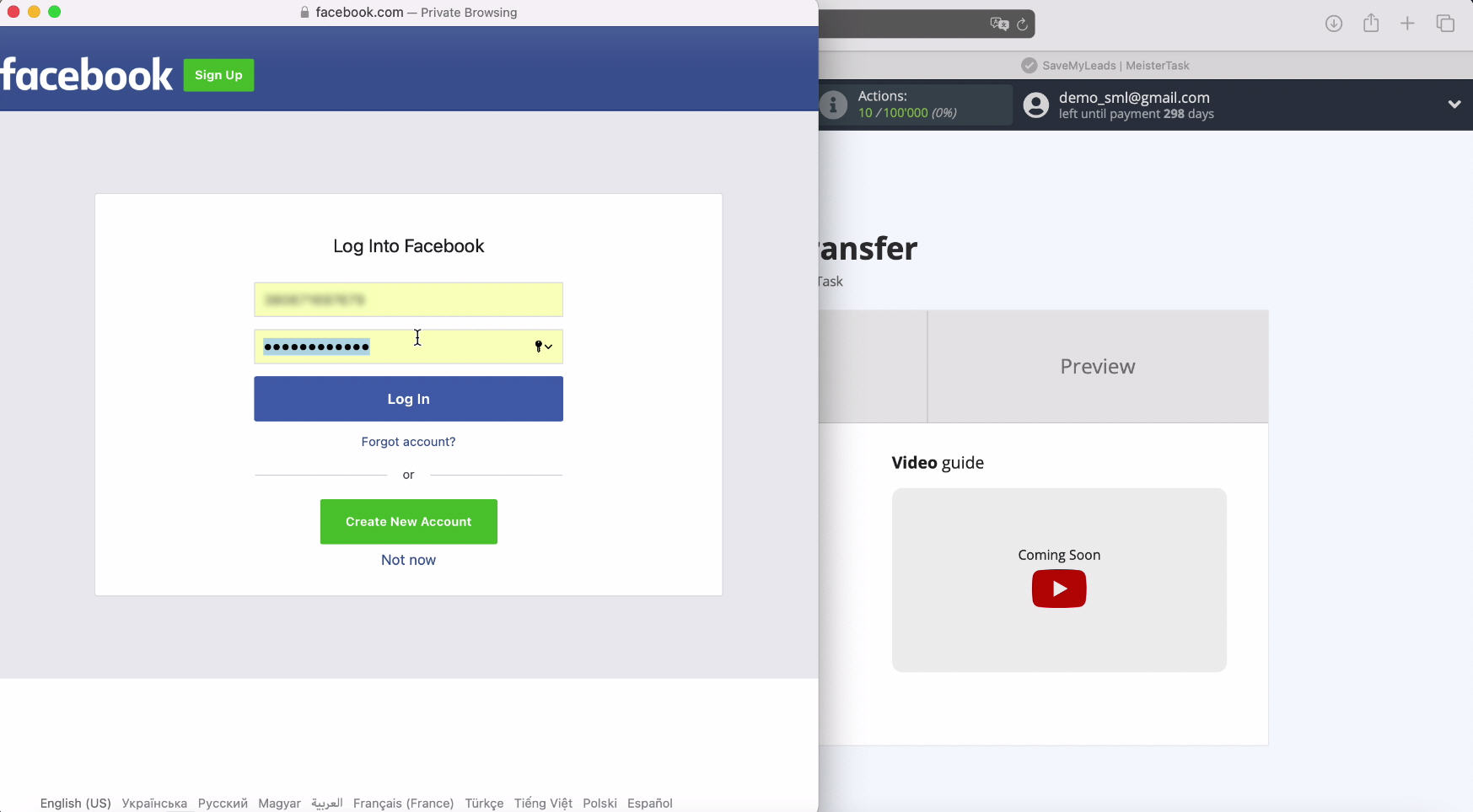 To continue setting, click Edit Settings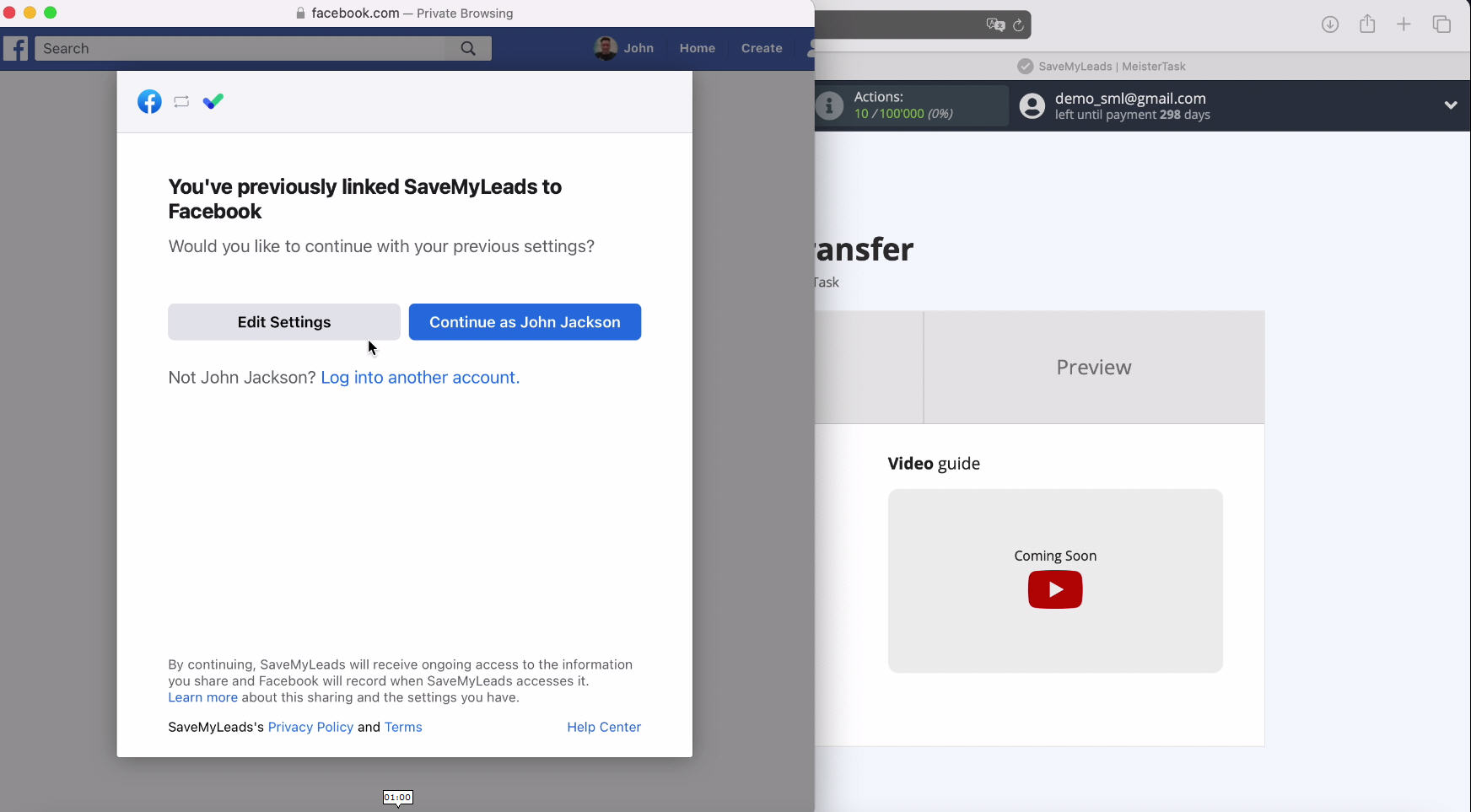 In the window that opens, you will see all the advertising pages available to you. Check the boxes next to all. This is necessary so that in the future you will have the opportunity to work with them if necessary.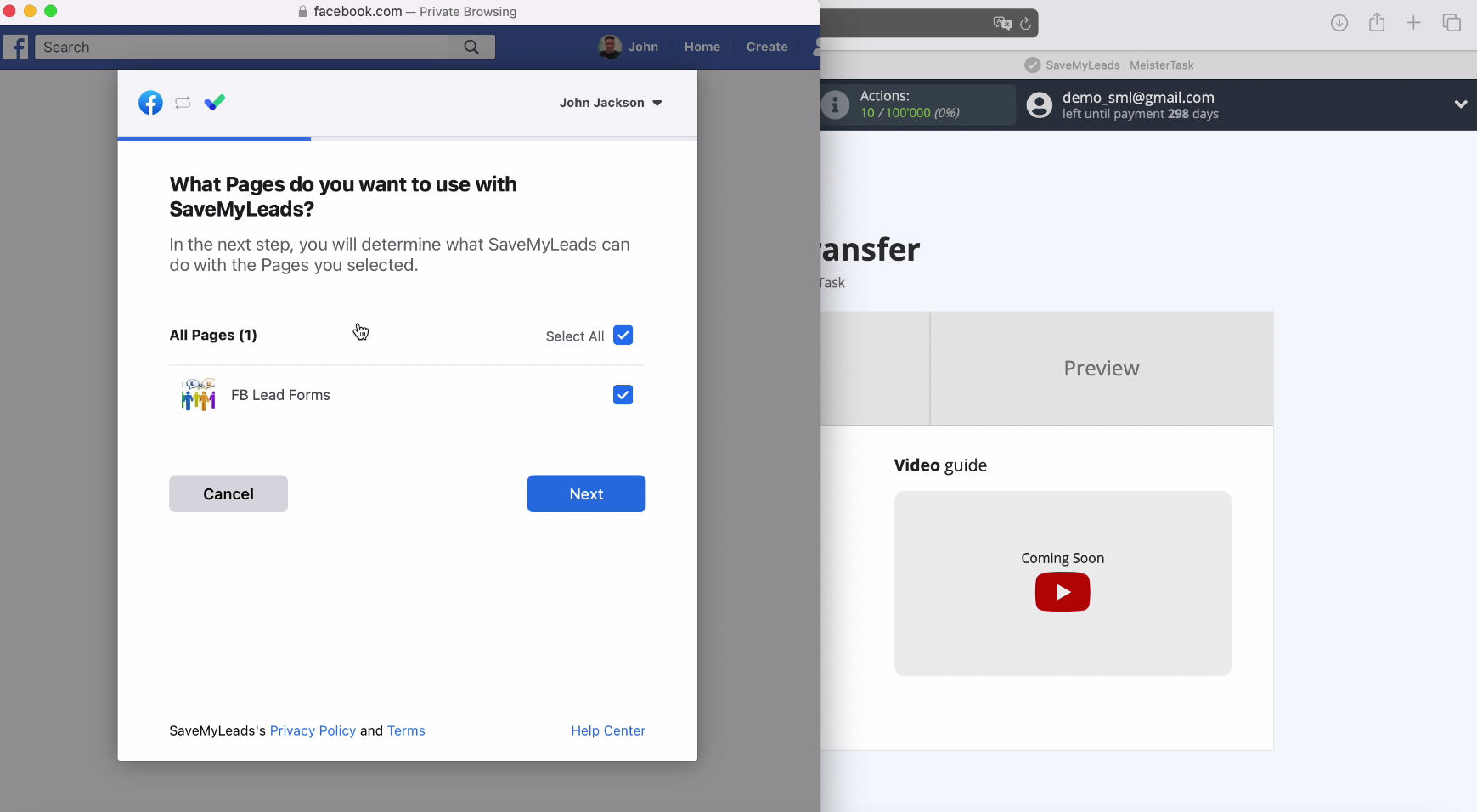 Оaccess checkboxes and click "Continue".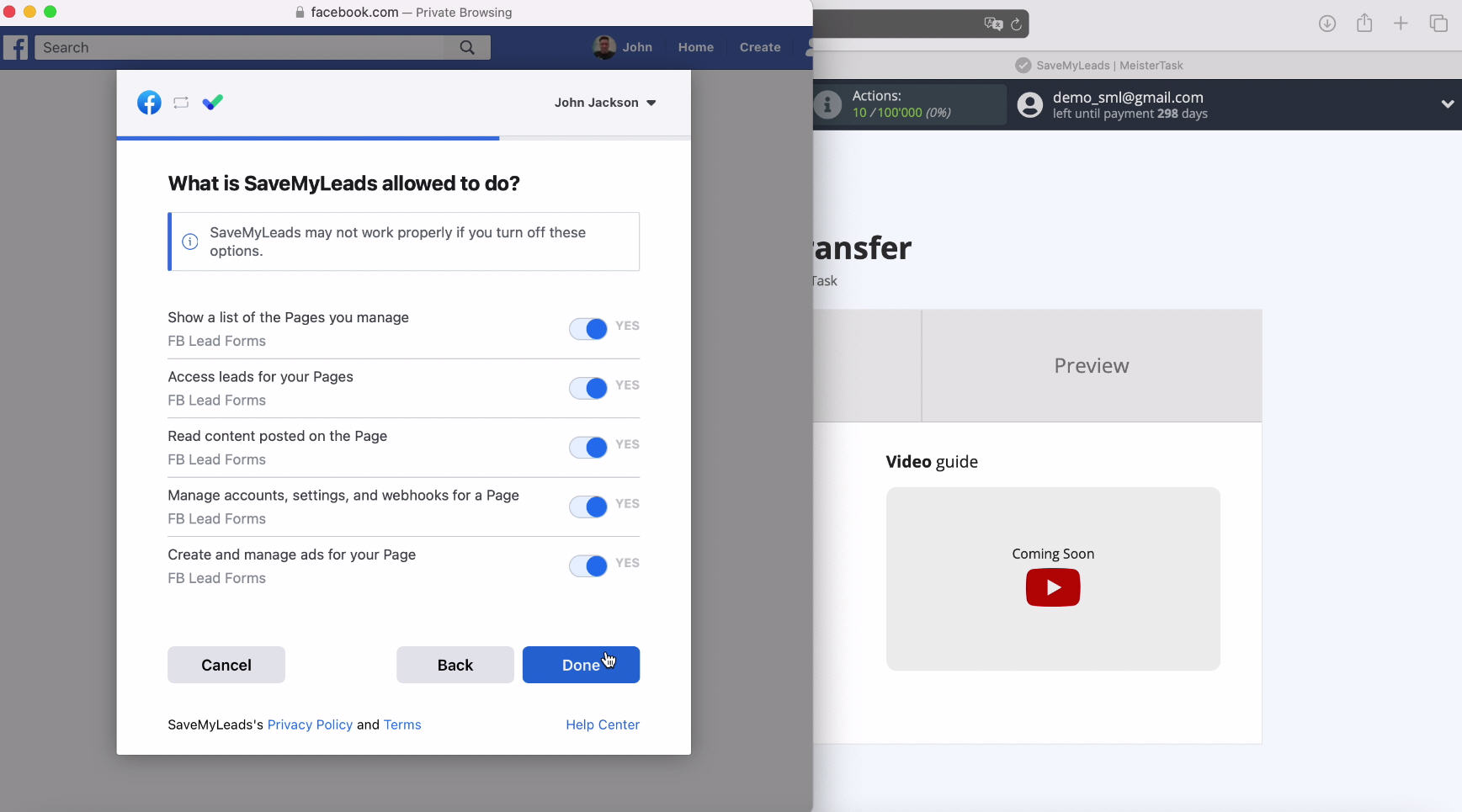 In the window that opens, you can see your connected account, select it from the list.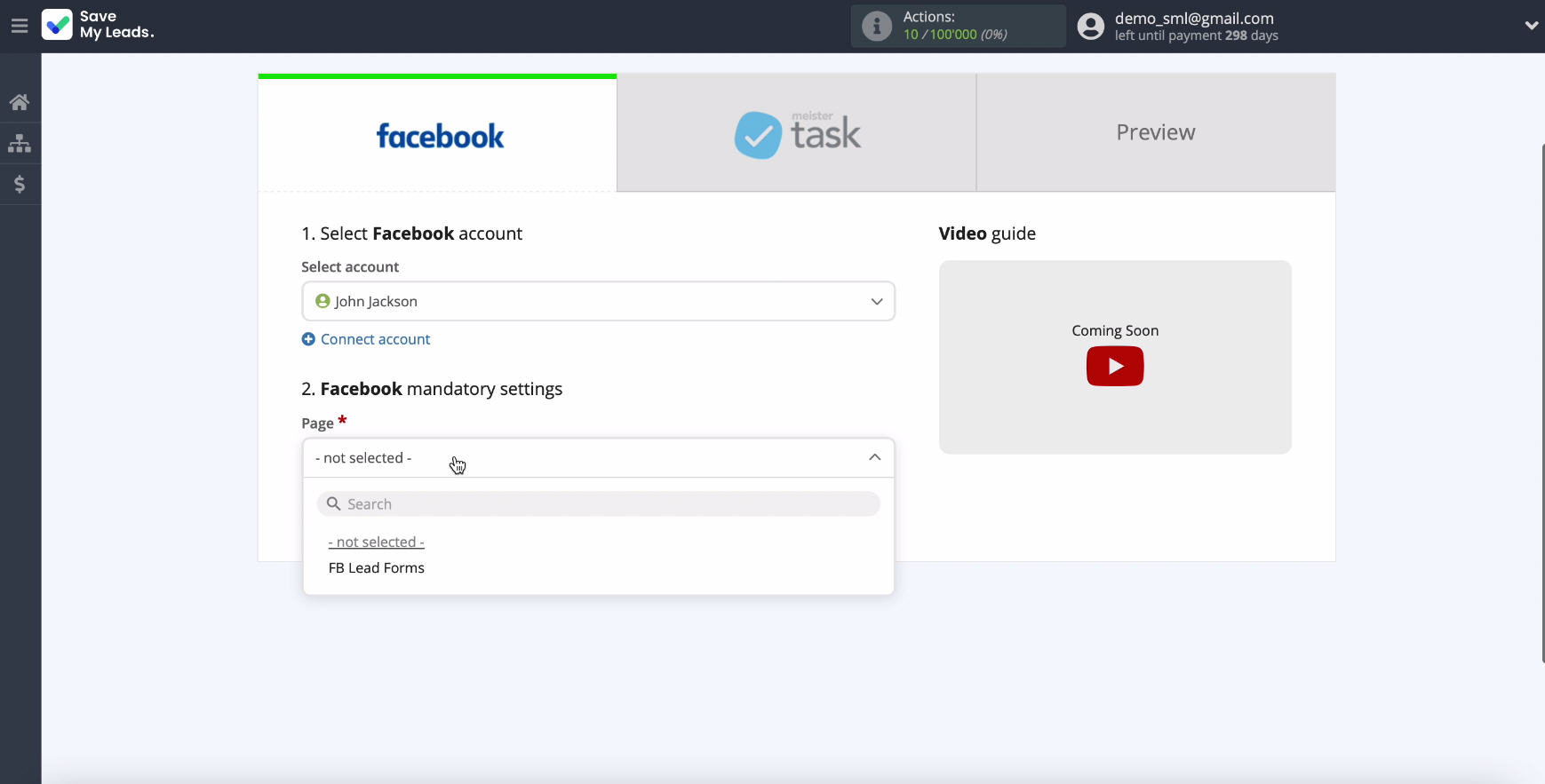 Next, in the same window in the "Page" field, select the advertising page for which you want to send leads.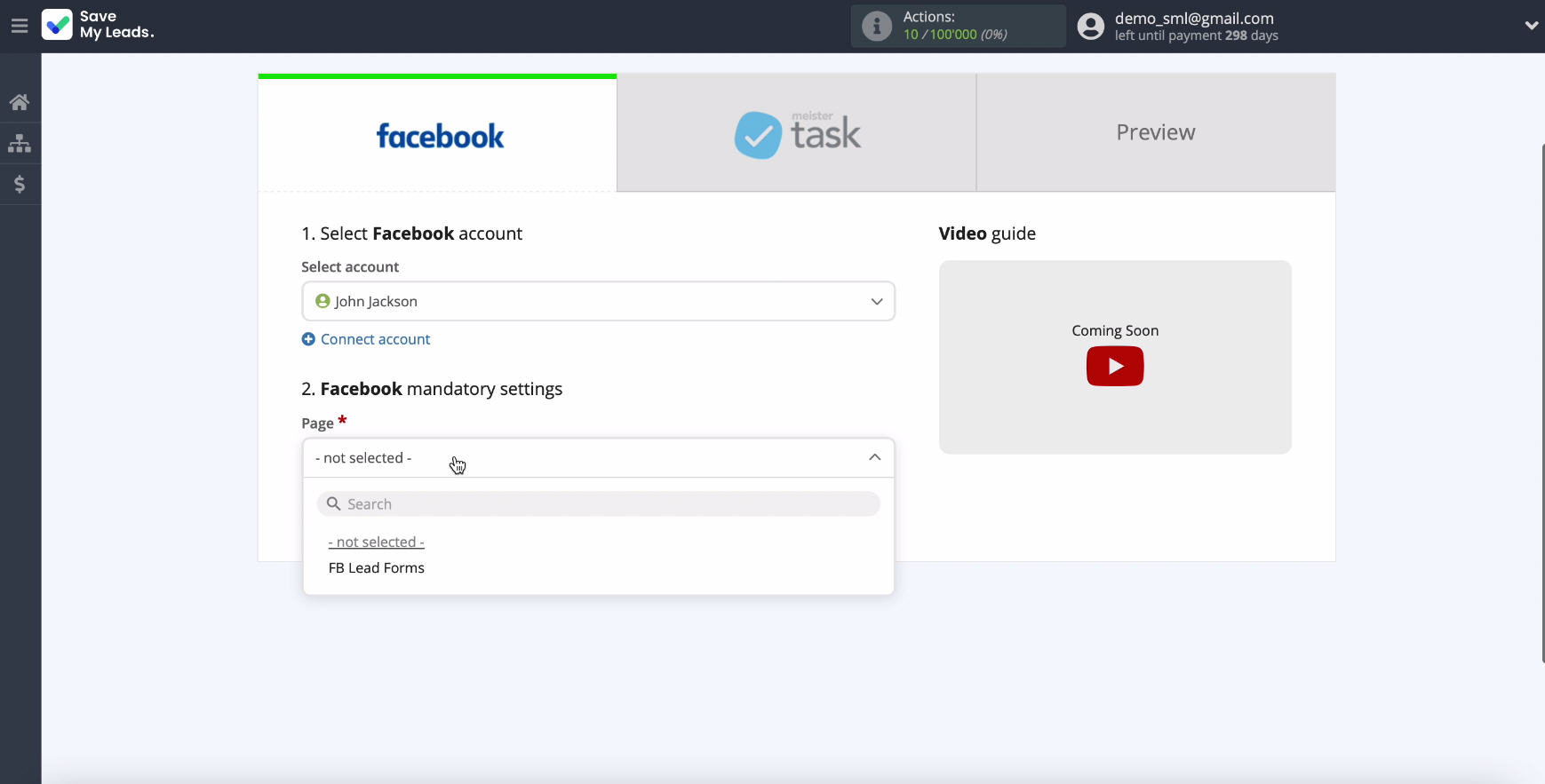 Specify the forms for uploading data. I fyou have multipleforms,then each of them will need to create a connection.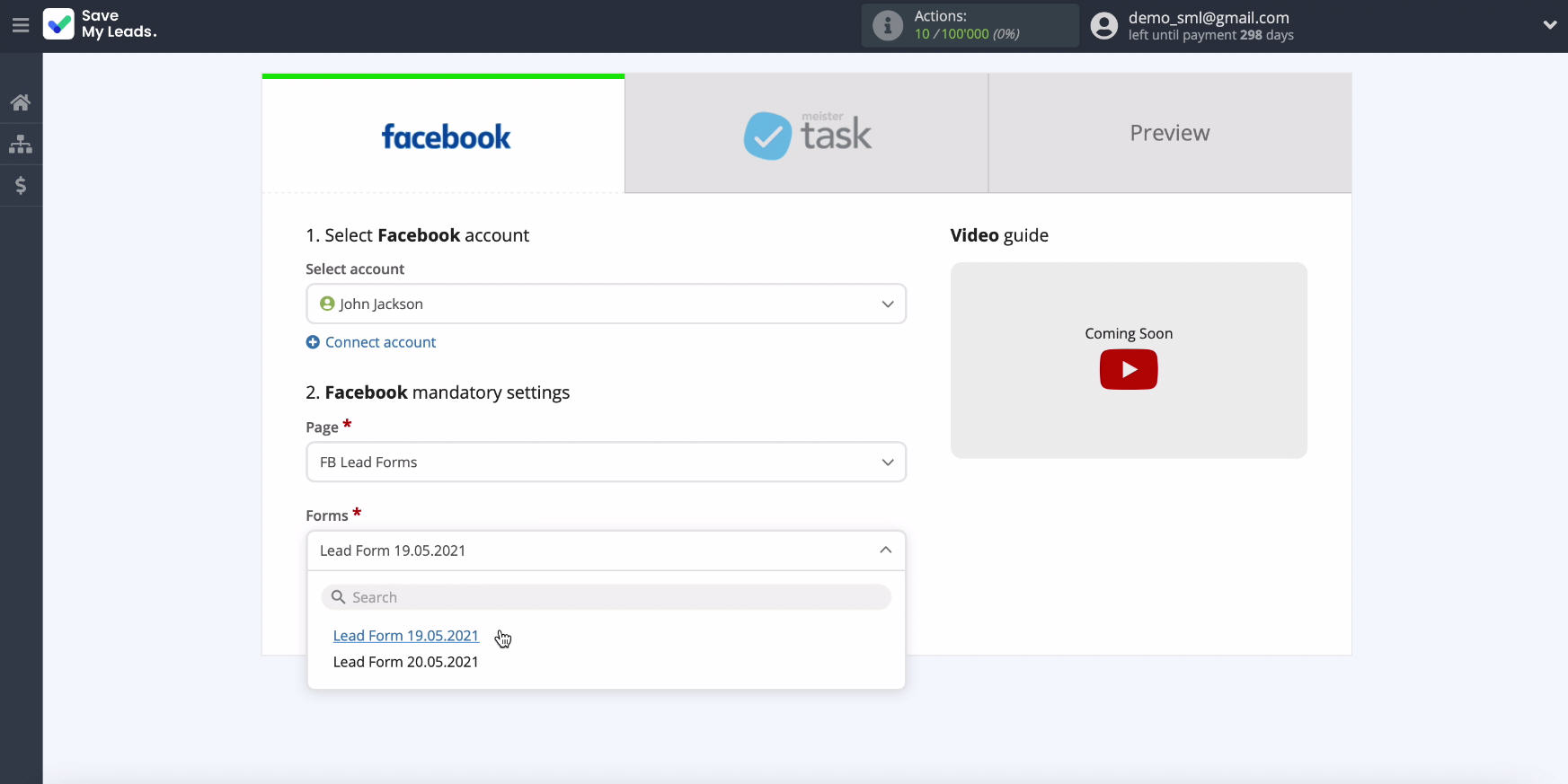 Connect MeisterTask
To proceed with the configuration, you need to connect your Meistertask account to SaveMyLeads.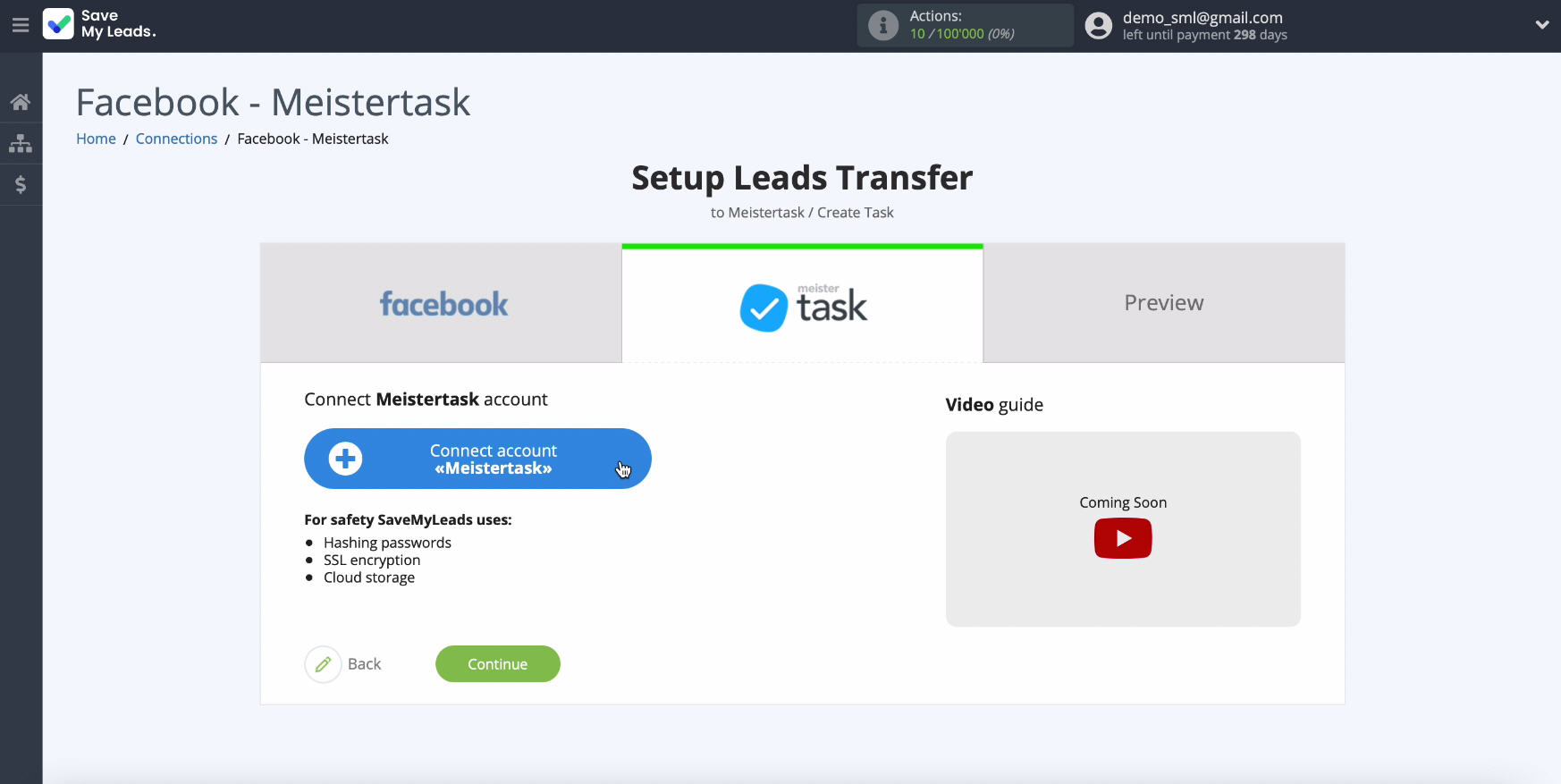 In the connection window that appears, specify the login and password from your Meistertask personal.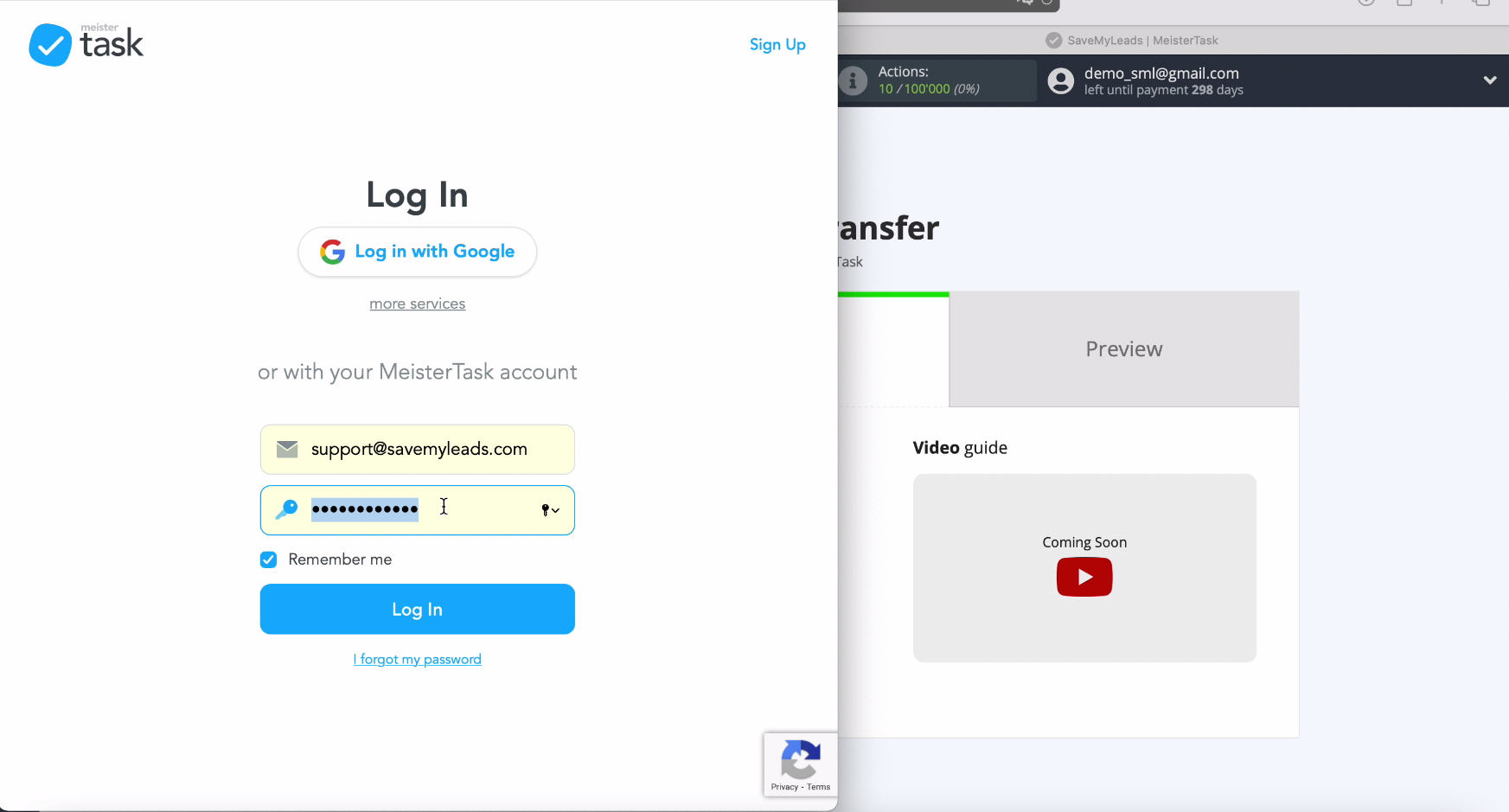 In the list, select your connected account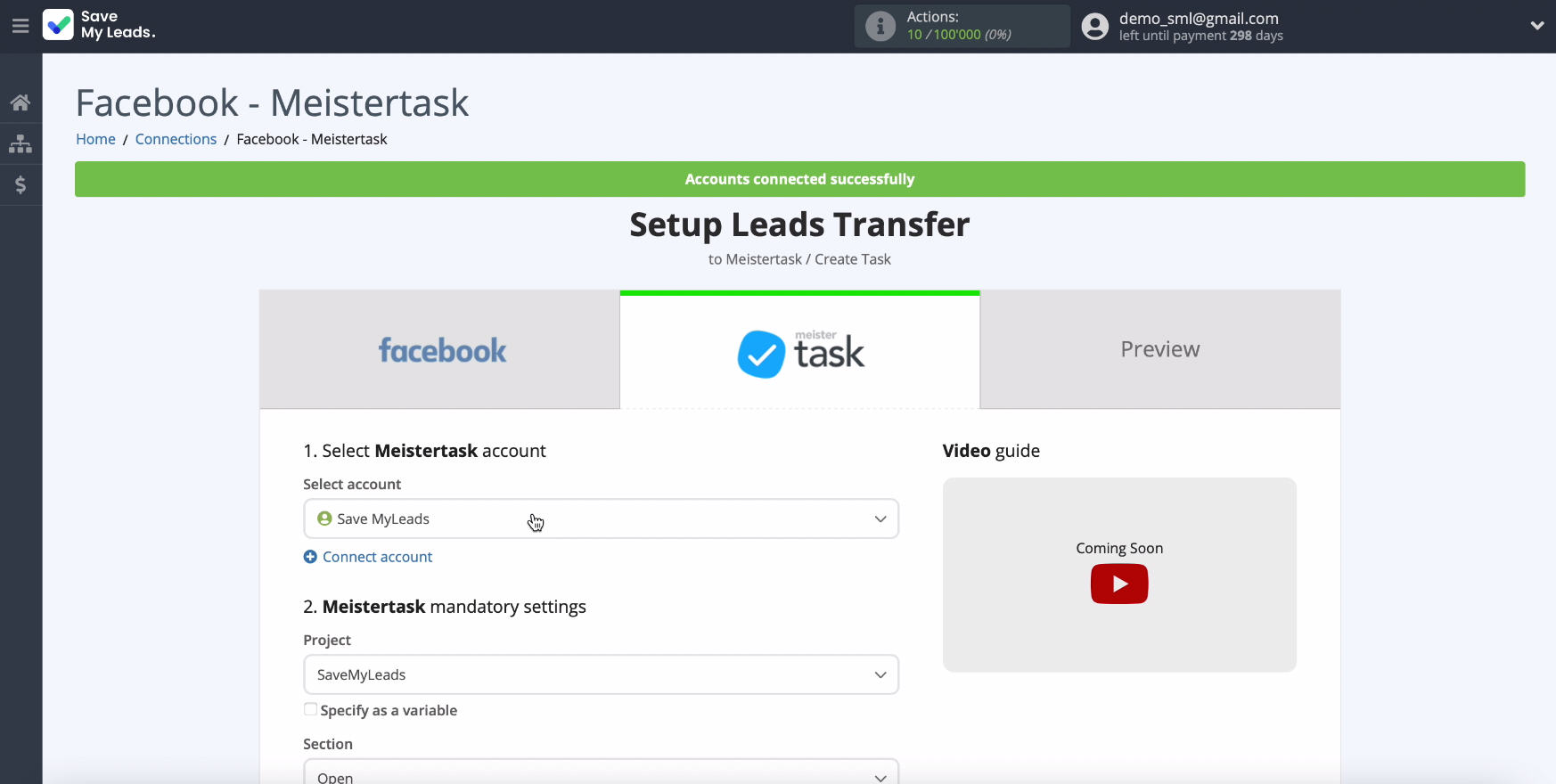 In the same window, in the Project section, specify the project to which you will upload the data.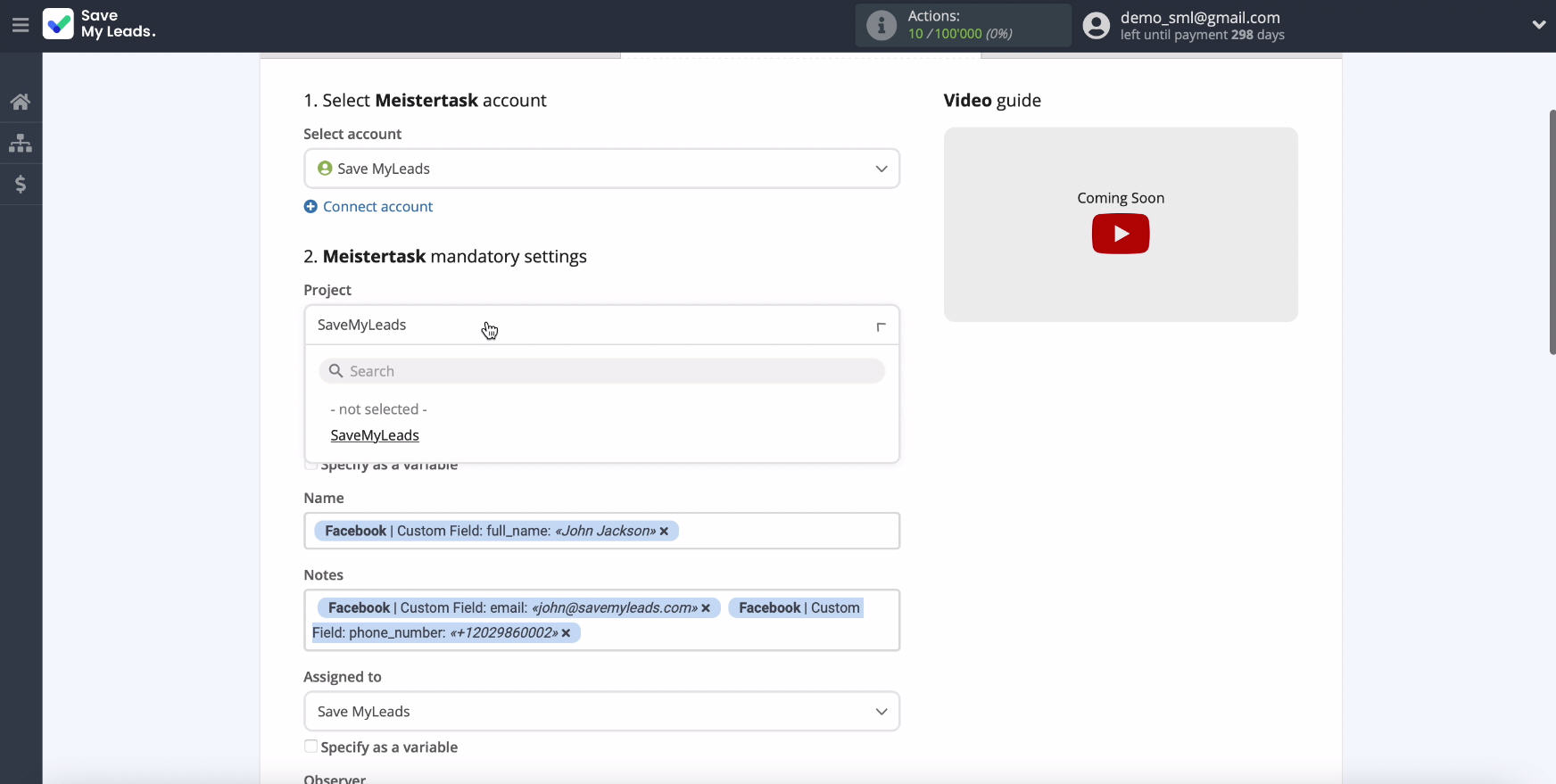 Now you will see a field for the task, which will transfer the data from Facebook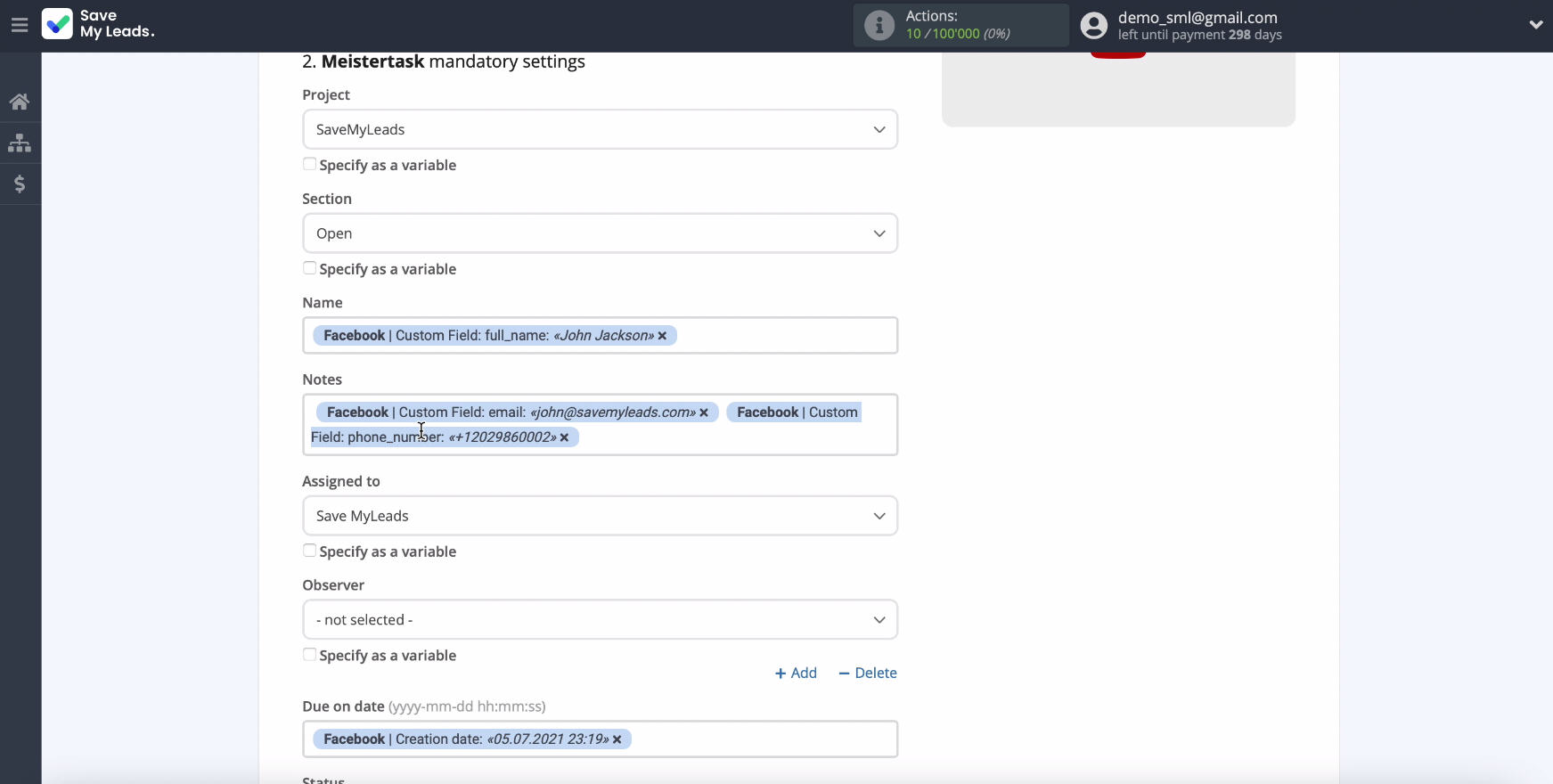 Define variables from Facebook in the field for Meistertask. To do this, click in the appropriate field and select a variable from the drop-down list.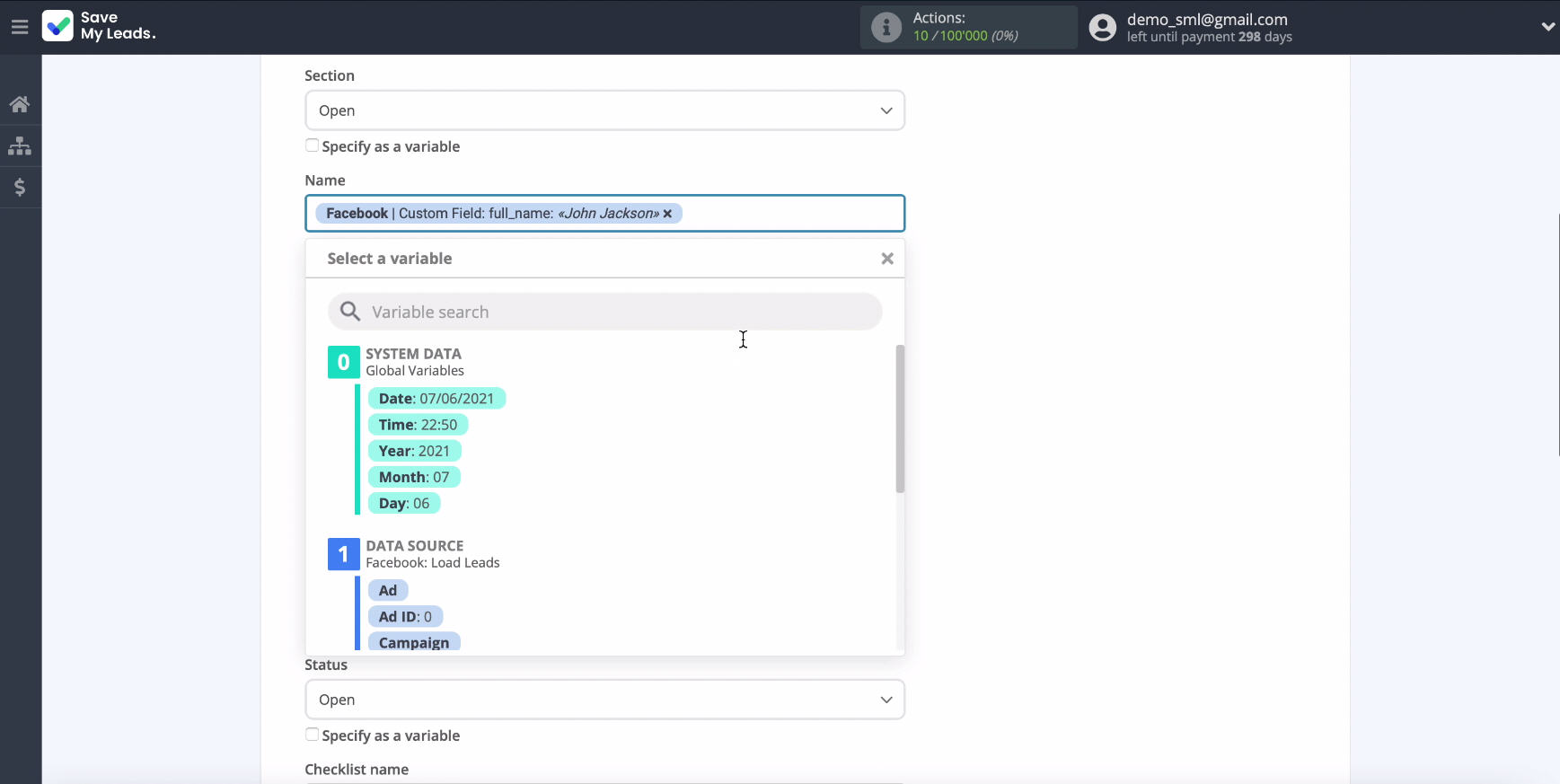 If the initial presettings in the fields suit you - leave everything unchanged and click the Continue button.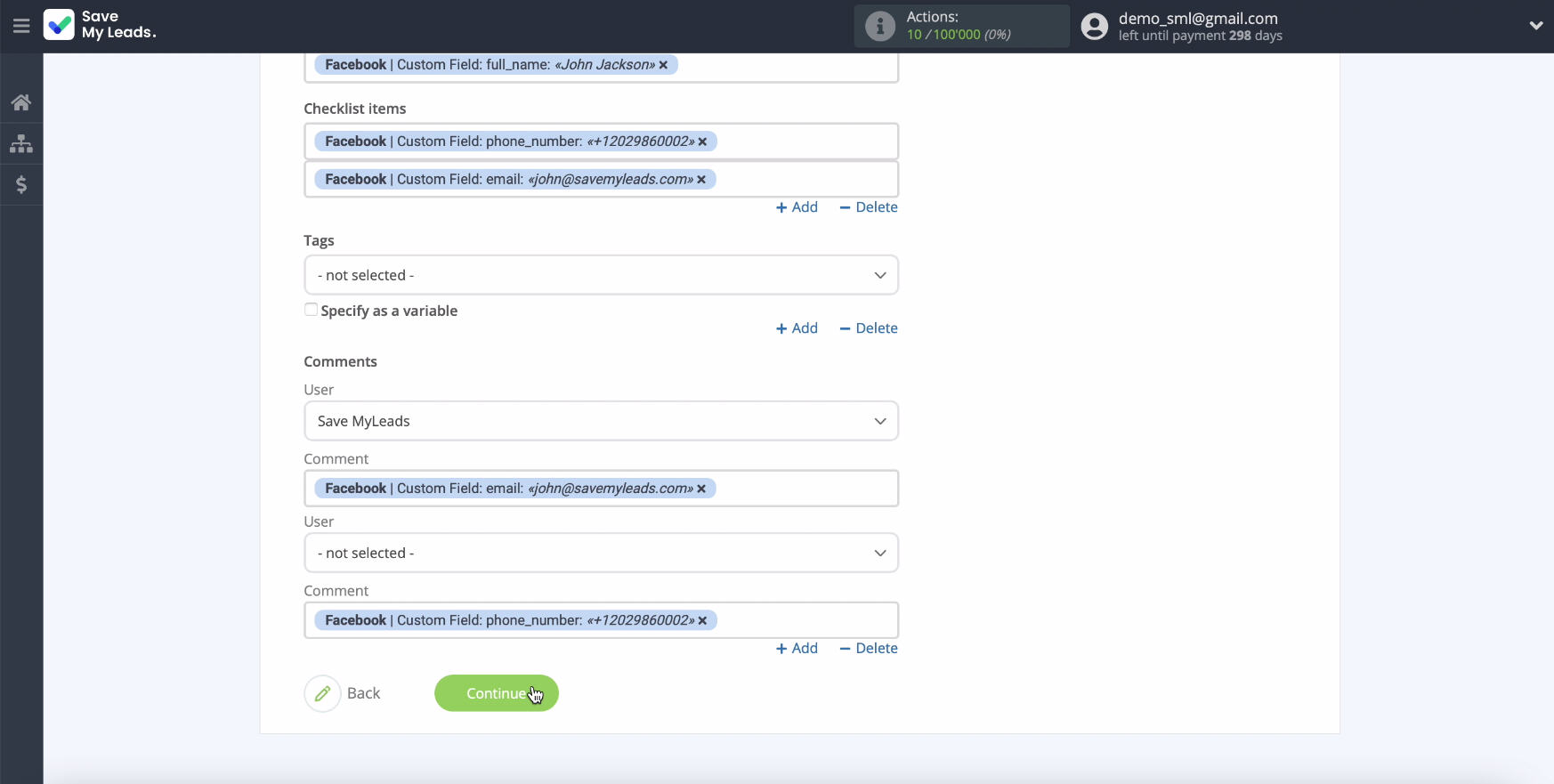 Now you will see an example of filling out a task based on data from Facebook. If you want to check the correctness of the settings, click the Send test data to Meistertask button.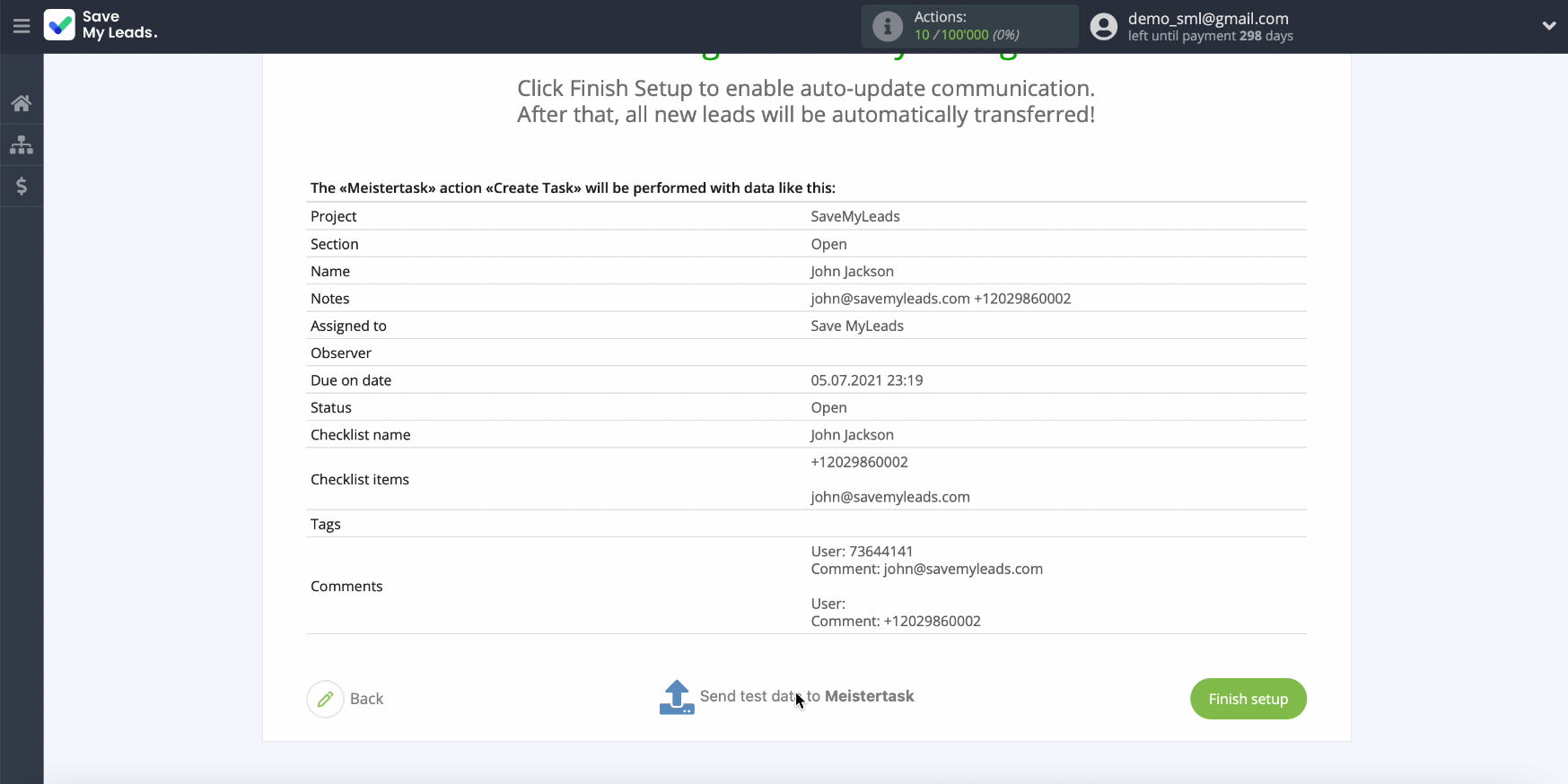 To test the result, go to Meistertask.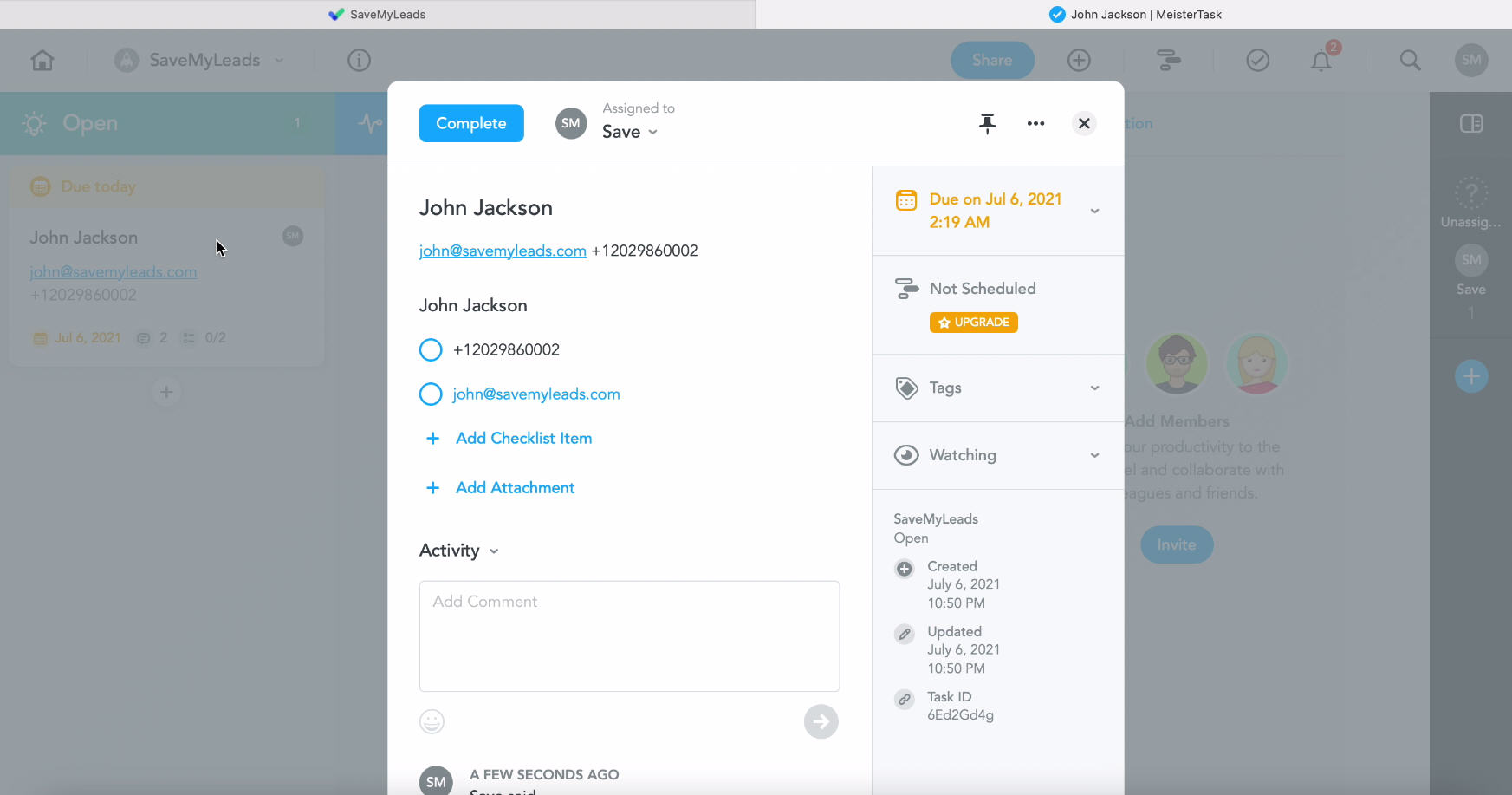 If you are satisfied with the result, return to SaveMyLeads and complete the setup. It remains to enable auto-update.
Automatic data update
To instantly create tasks in Meistertask based on new leads from Facebook, enable auto-update by clicking Finish Setup.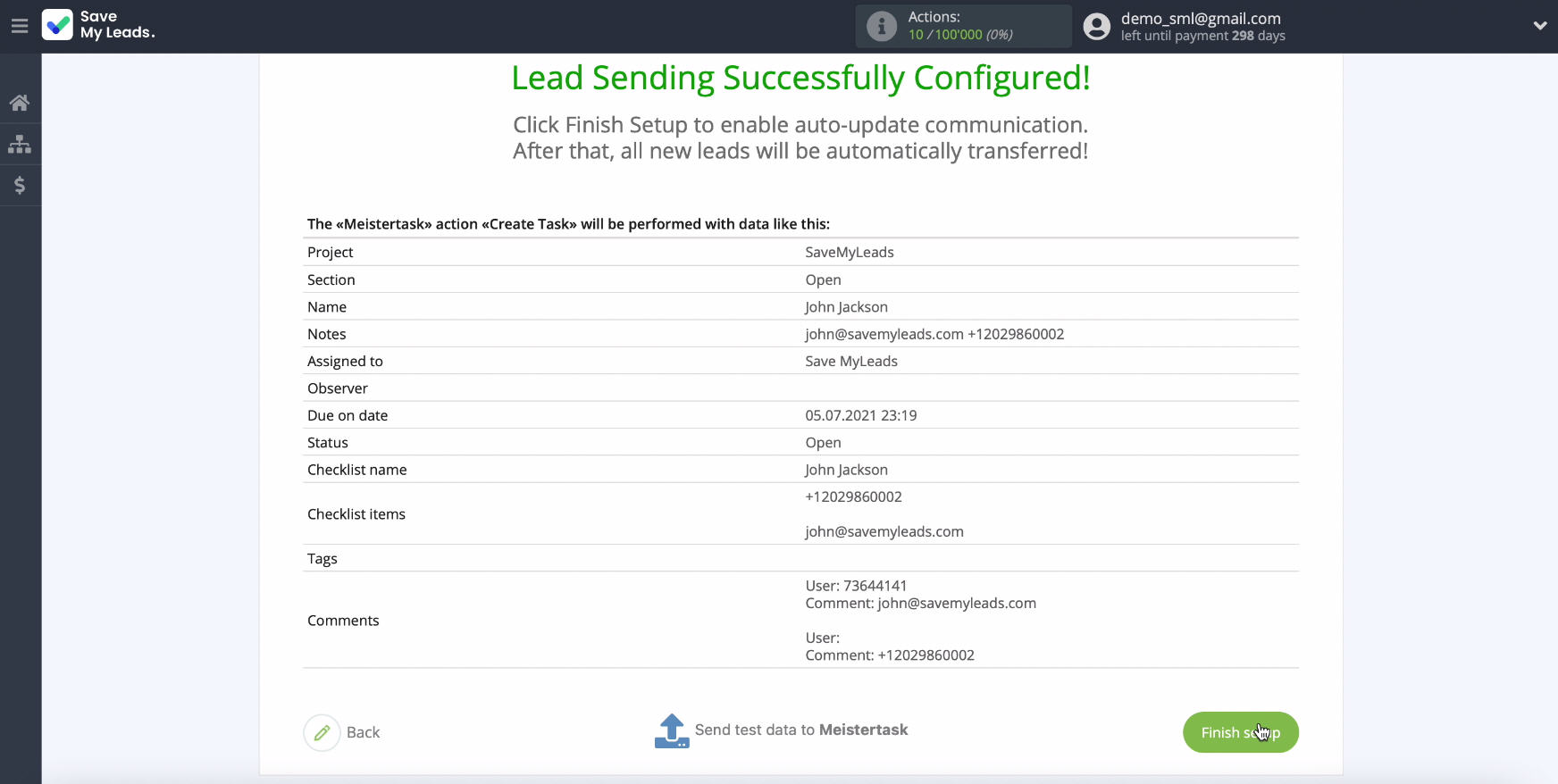 If necessary - you can change the name of the link. To do this, go to its settings.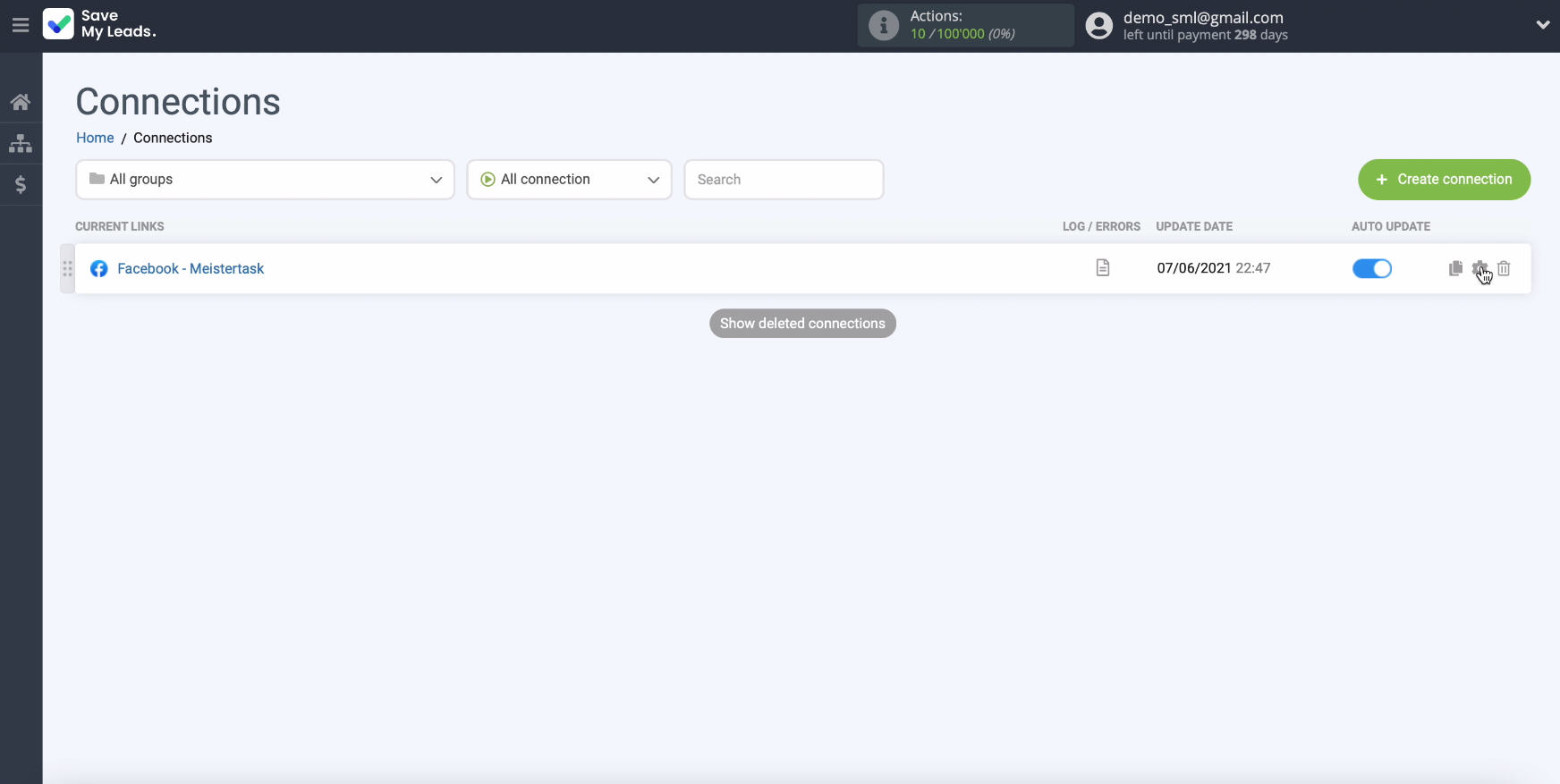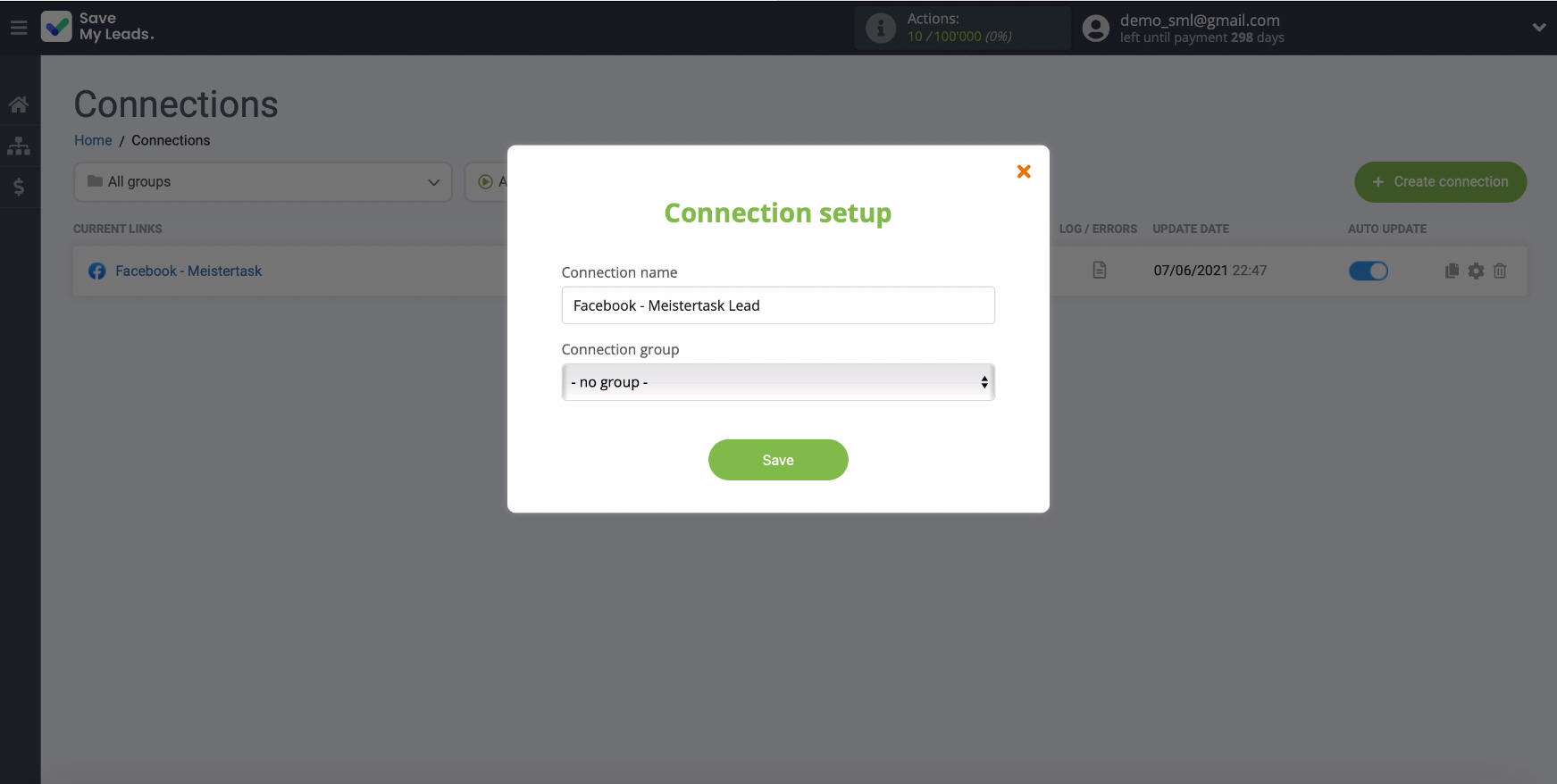 Finish the setup
You will not spend more than 5 minutes of your timesetting up automatic unloading of leads from your Facebook advertising account in Meistertask in the form of new tasks. At the same time, you do not need the help of programmers and knowledge in IT development.

Connect applications without developers in 5 minutes!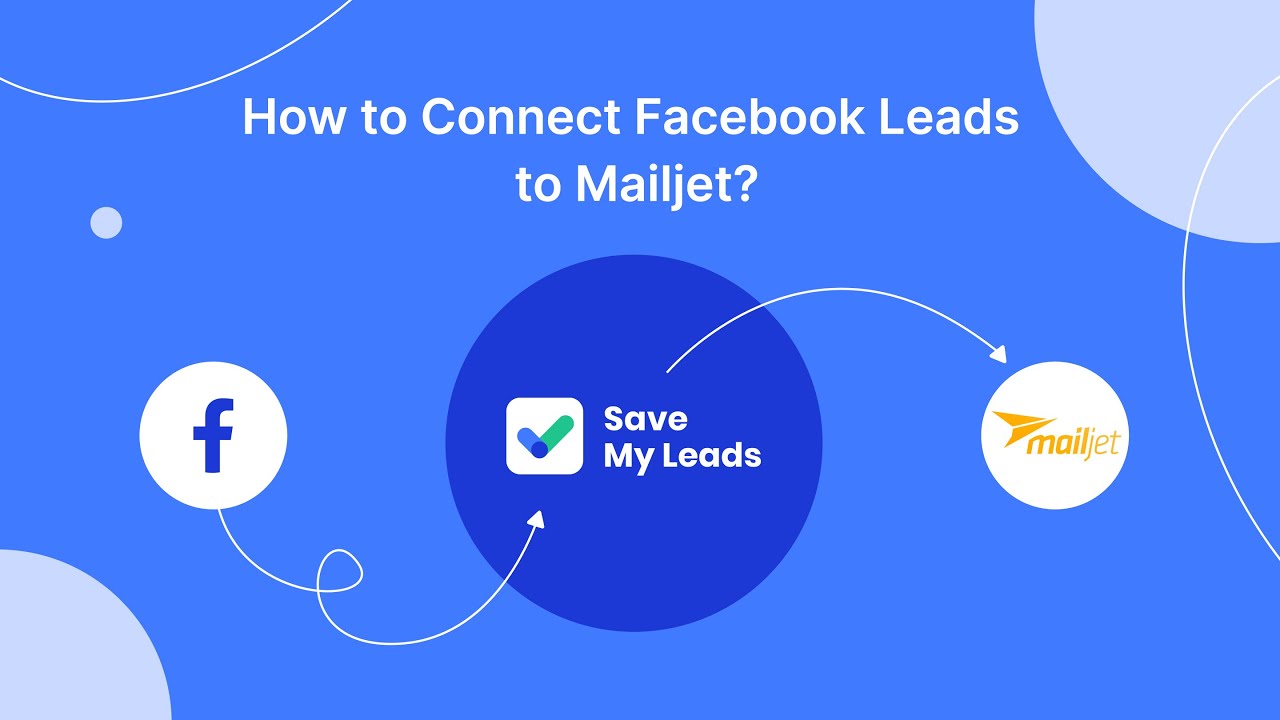 How to Connect Facebook Leads to Mailjet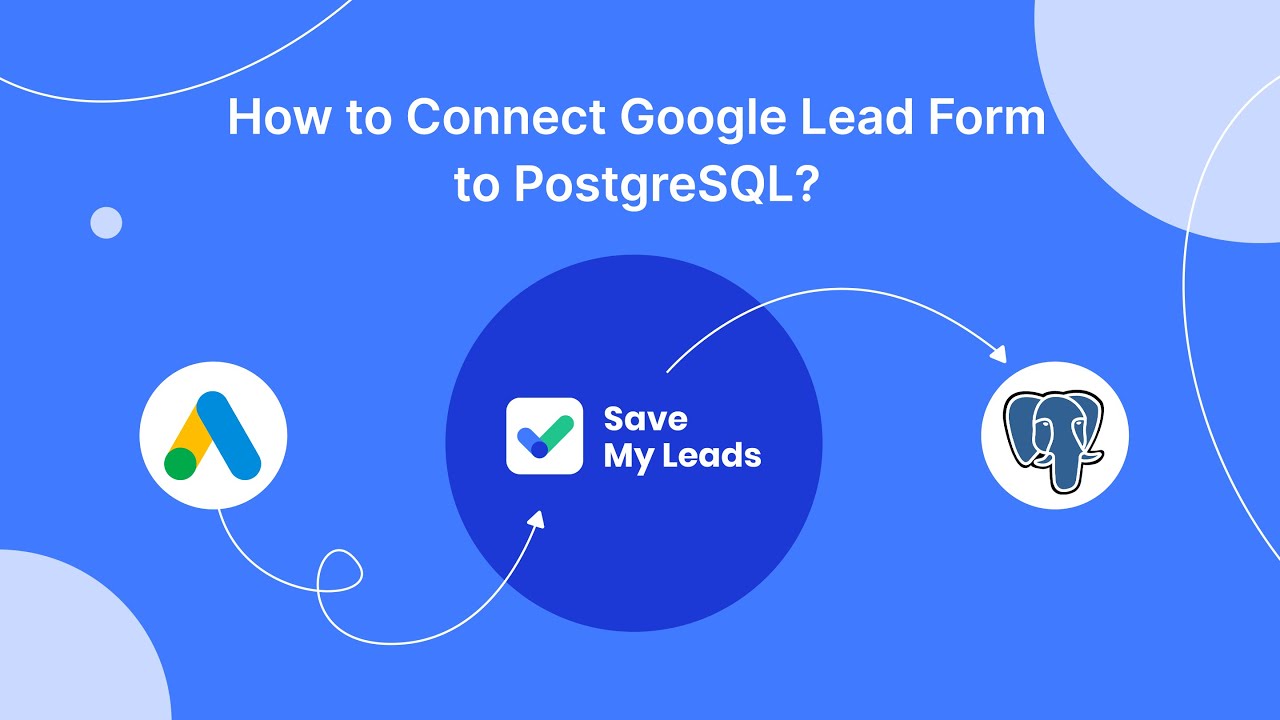 How to Connect Google Lead Form to PostgreSQL