It is inefficient to replenish the subscriber base manually. Set up automatic import of contact data from a Facebook lead form to your Benchmark mailing list. This will save your working time. The SaveMyLeads service will help you set up automation in five minutes and without programmers.
***
Do you want the leads attracted through Facebook to automatically get into the contacts database of your newsletter in Benchmark? All you need to do is set up data transfer between these systems using SaveMyLeads. As a result, our service will convert each new lead into a new subscriber without any effort on your part.
Let's look at how automation can help your business:
1. You will save yourself from unnecessary routine. Manual data transfer is a laborious and time-consuming job, especially with a large flow of leads. SaveMyLeads can take care of it entirely. The service is able to independently upload new leads from Facebook, extract contacts from them and copy them to the selected mailing list. This will allow you to reduce the amount of work routine and devote yourself to other things.
2. Contacts will be instantly added to the list. SaveMyLeads constantly monitors Facebook. As soon as a new lead appears in the form, our service instantly converts it into a subscriber. Thus, adding contacts occurs in real time without breaks and weekends. You no longer have to worry about not having time to add all new contacts before the next mailing list.
3. You can forget about data errors. When manually adding contacts, there is always a risk of entering the recipient's email or name incorrectly, missing some contact, or messing something up. Automation eliminates such problems. SaveMyLeads uploads the data in the form in which the client leaves it in the Facebook form.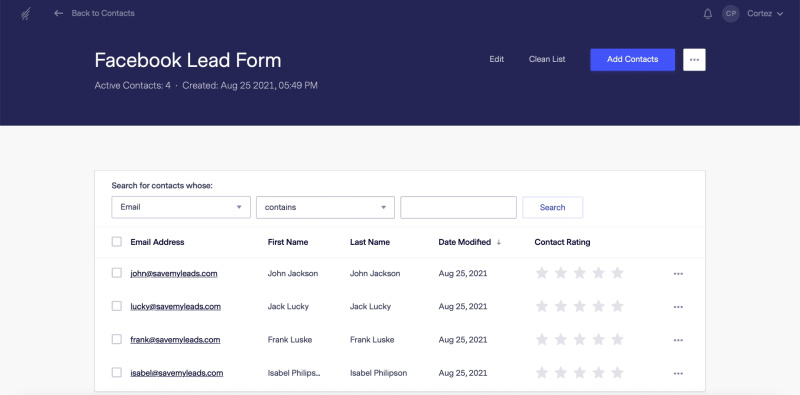 How to connect Facebook and Benchmark
You don't need to know how to code to set up automation. It is enough to register on the SaveMyLeads website, select the Benchmark connection to Facebook and follow the interface prompts. It will help you link the accounts of these systems and select data transfer options.
To make it easier for you to understand, we will analyze the creation of a connection step by step. We will assume that you have already set up a Benchmark account and created a Facebook lead form. Also, be sure to add one contact to it - you will need it for the test.
Getting started with SaveMyLeads
Registering on the SaveMyLeads website. Click "Create connection".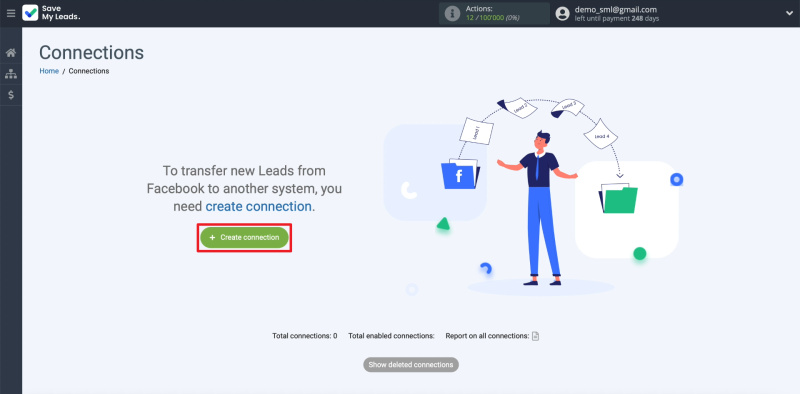 A list of connections supported by SaveMyLeads should appear on the screen. Each of them is designed to transfer data from Facebook to some external service. Select the connection that is used to transfer contacts to Benchmark.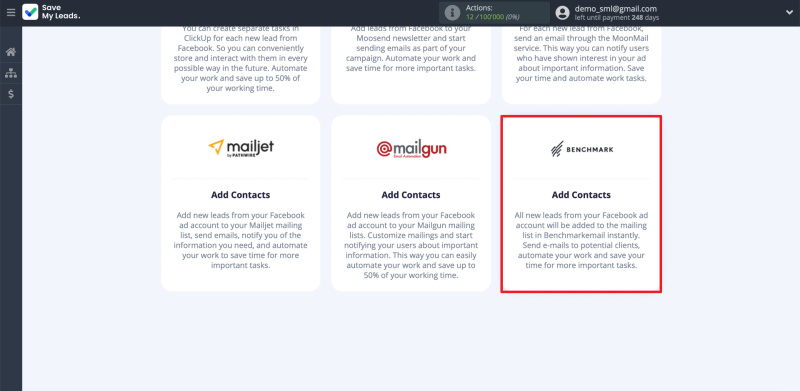 Connecting Facebook Leads Ads
In order for SaveMyLeads to upload leads from the form, we connect our Facebook account to it. To do this, click "Connect account "Facebook", and then enter your username and password. Be sure to give SaveMyLeads all the requested permissions so that the service gets access to the leads.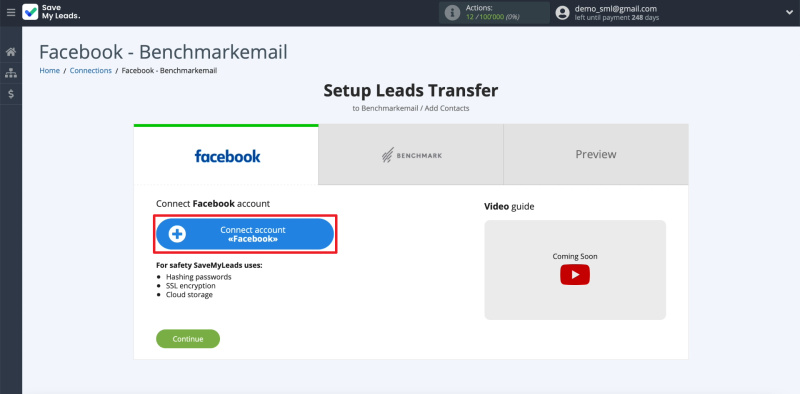 Next, we need to show SaveMyLeads where it can upload leads from. First, select the newly connected account. Then we indicate the business page for which we set up advertising. After that, select the form intended for collecting leads.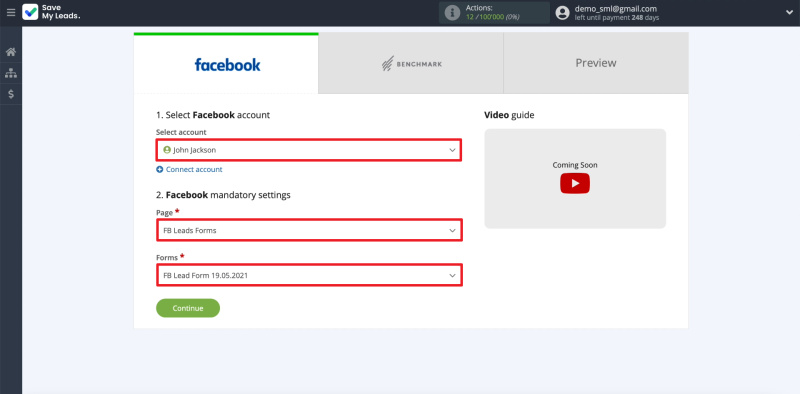 Only one form can be selected per connection. If you want to set up uploading leads from several forms, you need to create a separate connection for each of them.
Connecting Benchmark
In order for SaveMyLeads to add uploaded leads to the mailing list, we will connect a Benchmark account. Click "Connect account "Benchmarkemail".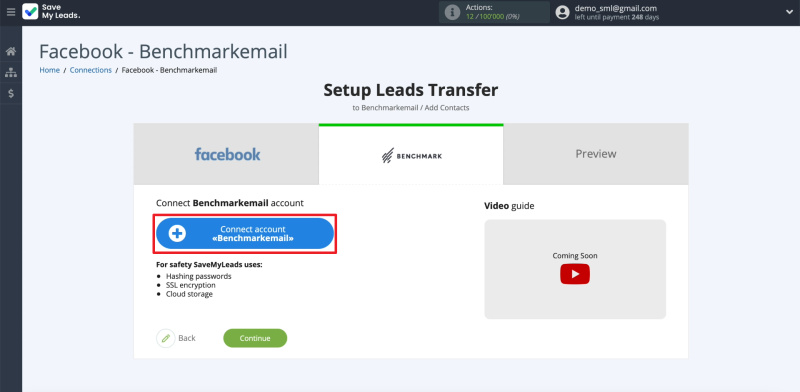 Enter the API Key - a special code required to connect.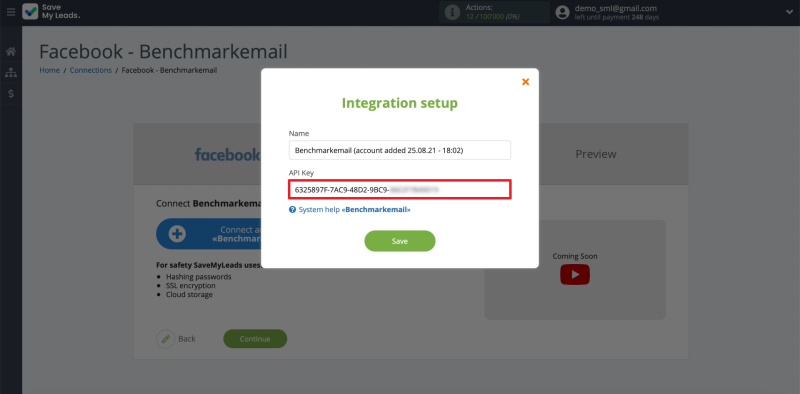 API Key can be found and copied in your account on the Benchmark website. To do this, click on the profile name and go to the "Integrations" - "API Key" section.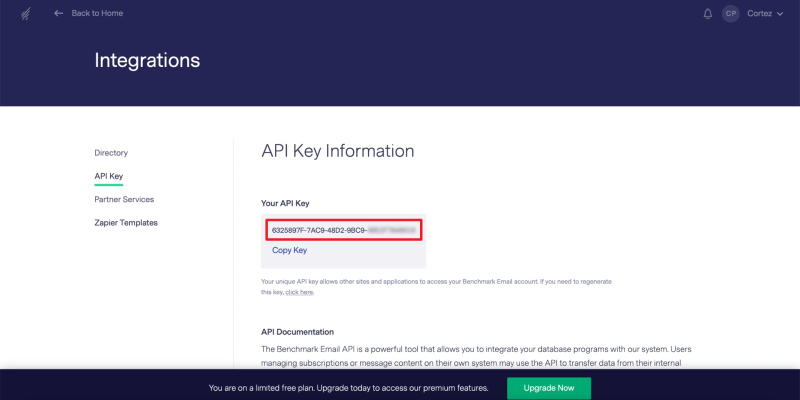 Now let's show SaveMyLeads where it should transfer data: select the newly connected account.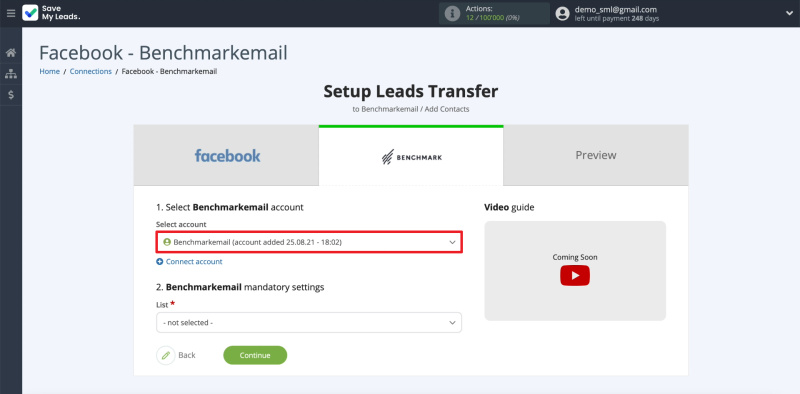 Then choose the appropriate mailing list. And below it, we indicate what kind of data SaveMyLeads should transfer to the subscriber card. To do this, click on each field of the card we need and select the information that will be transferred to it. Leave the extra fields blank.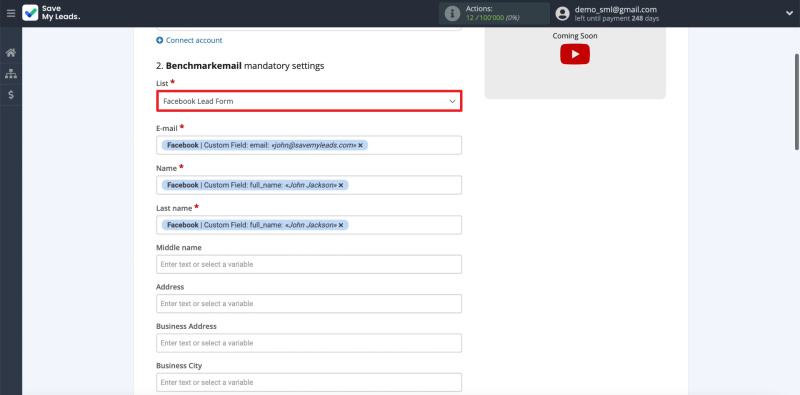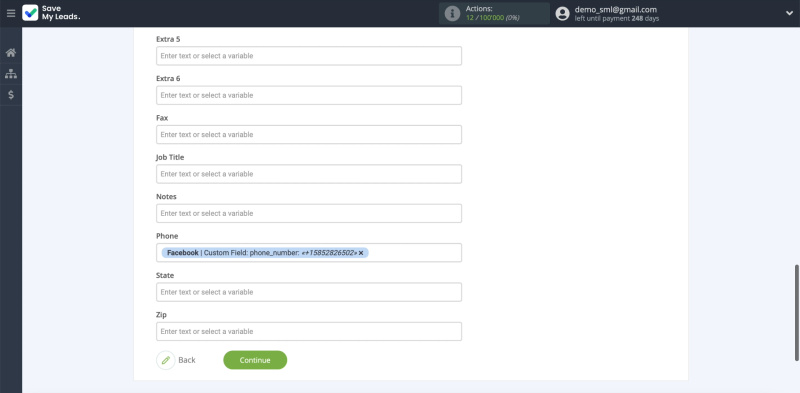 Testing data transfer
Pass At this point, SaveMyLeads should upload the lead we asked you to add to the form and display its data.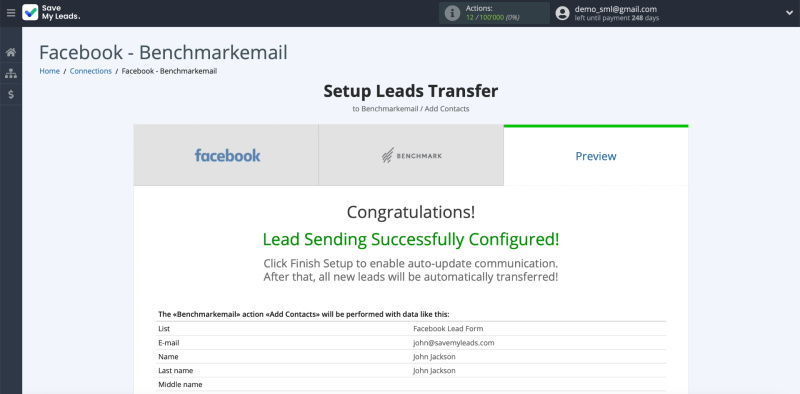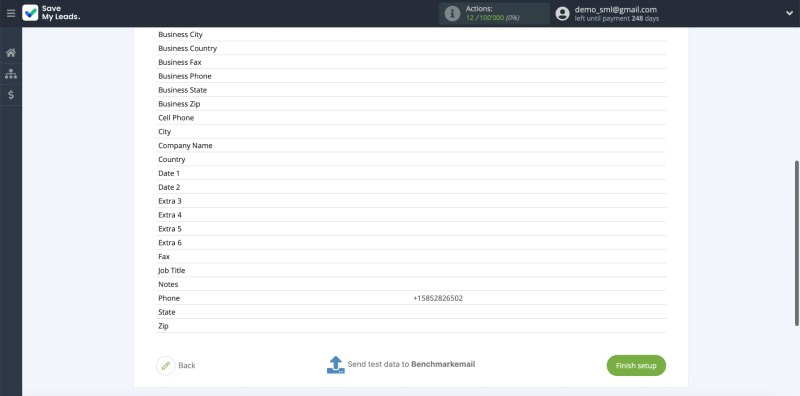 Click "Send test data to Benchmark" to test the transfer of data to Benchmark.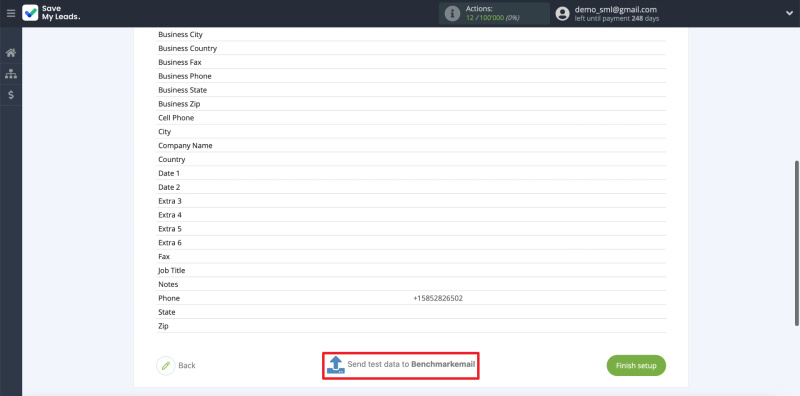 If everything is set up correctly, SaveMyLeads will add the submitted data to the new subscriber's card in Benchmark. If this does not happen, check the correctness of the previous configuration steps.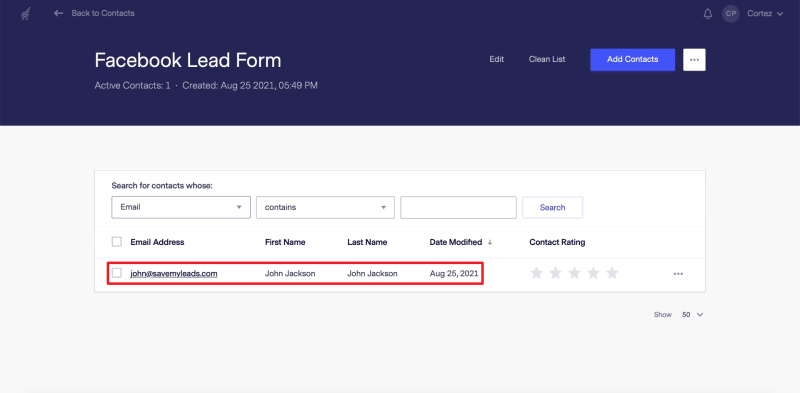 Finishing setup
Click "Finish setup" to complete the connection setup and start automatic uploading of contacts.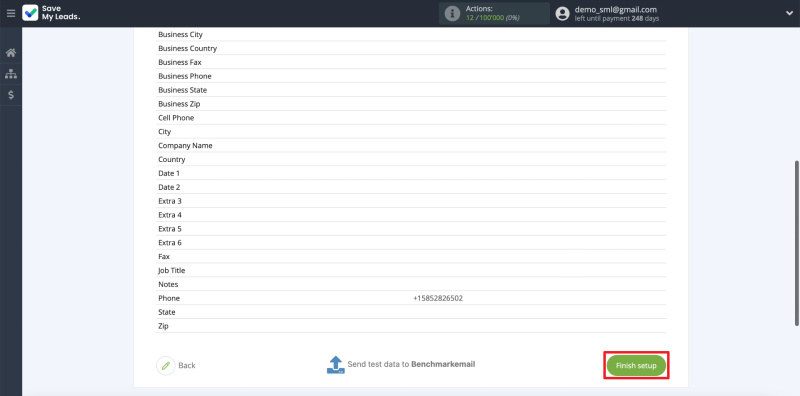 If there is such a need, you can edit the name of the connection. To do this, click on the gear and enter the desired text in the field.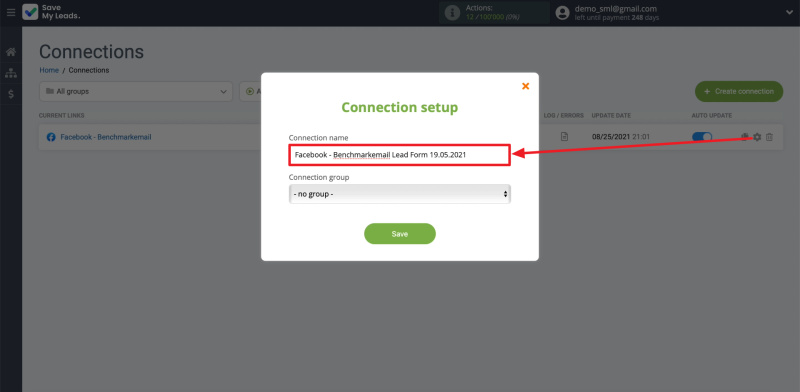 That's all! The connection is set up and ready to go. Now SaveMyLeads will upload contacts from the Facebook lead form to the Benchmark mailing list according to the specified parameters.