Messaggio is a service for sending messages via instant messengers and SMS. In this article, we'll look at how to set up automated transfer of new leads from Facebook to Messaggio. In just a few minutes, we will create an integration that will allow you to get rid of a regular routine operation. Leads from your Facebook ad account will be automatically uploaded and added to your mailing lists.
***
High-quality communication with customers is a necessary condition for business development. Using various communication channels, you can implement marketing campaigns, accompany transactions, make up-sells, provide useful information, and attract the target audience. The Messaggio service is an effective tool for sending messages via Viber and WhatsApp, as well as using SMS messages. The platform offers rich functionality and a simple interface for solving various problems. With Messaggio, you can send multi-channel mailings, set up triggered notifications, support chats with clients, make "smooth" mailings, etc.
Messaggio helps to implement service and advertising campaigns in messengers. Marketers can create interactive templates, set up a multi-user workspace, organize contact lists for different tasks. Contacts are the basic element of any mailing list. Marketers need to regularly update their contact lists. We will tell you how to significantly simplify this work.
Let's consider a situation where the Facebook Lead Ads tool is used to attract new customers and collect contacts. An employee needs to constantly check the FB advertising account, upload data and transfer it to Messaggio for mailing. If you create an integration between Facebook and Messaggio, then the process of transferring data from one system to another can be automated.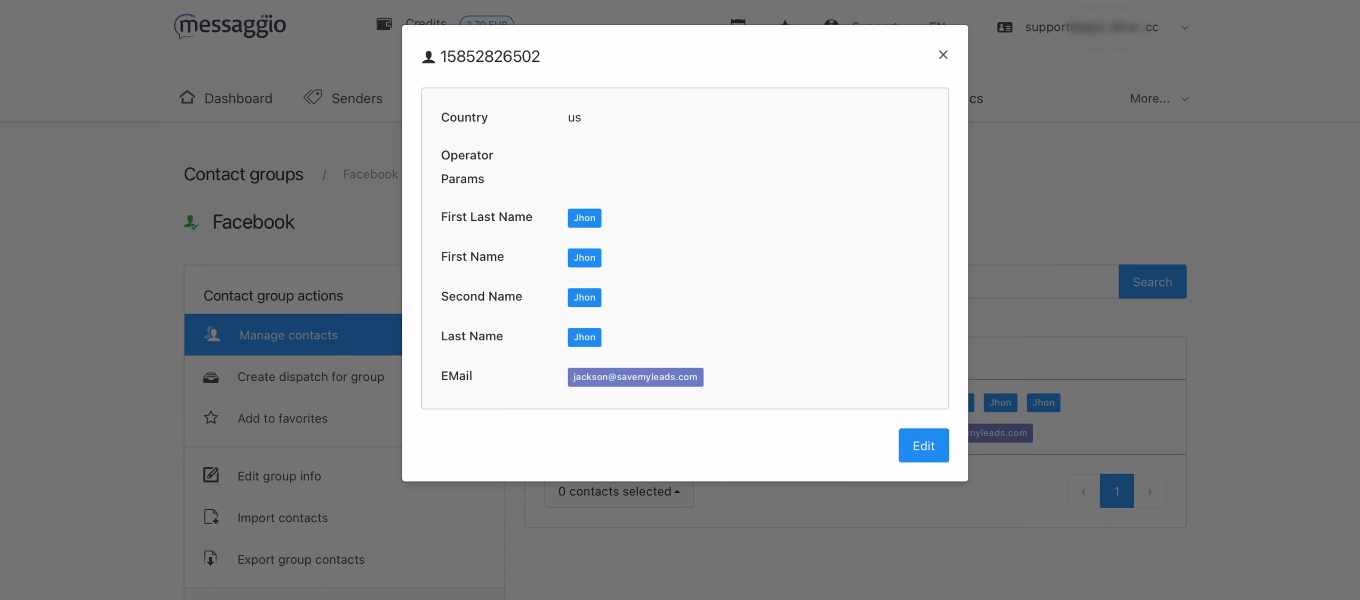 How to create a Facebook and Messaggio integration
To combine the two systems and set up an automated lead transfer, we will use the SaveMyLeads service. It is an online connector that helps connect Facebook with various applications and platforms. The SaveMyLeads service monitors the emergence of new leads from Facebook and Instagram in real time. When a user fills out a lead form on a social network, the data will be automatically downloaded and sent to the receiver, which can be a CRM system, mailing service, messenger, Google services, etc.
You don't need to learn API technology or have special skills to set up Facebook and Messaggio integration. Users with almost any level of computer literacy can work in the SaveMyLeads system. Integrations are configured through the web interface. The entire setup process takes about 10 minutes. Let's create an integration together. You will need access to Facebook and Messaggio, as well as a SaveMyLeads account.
Connect Facebook Lead Ads account
Go to your SaveMyLeads account. Create a new connection.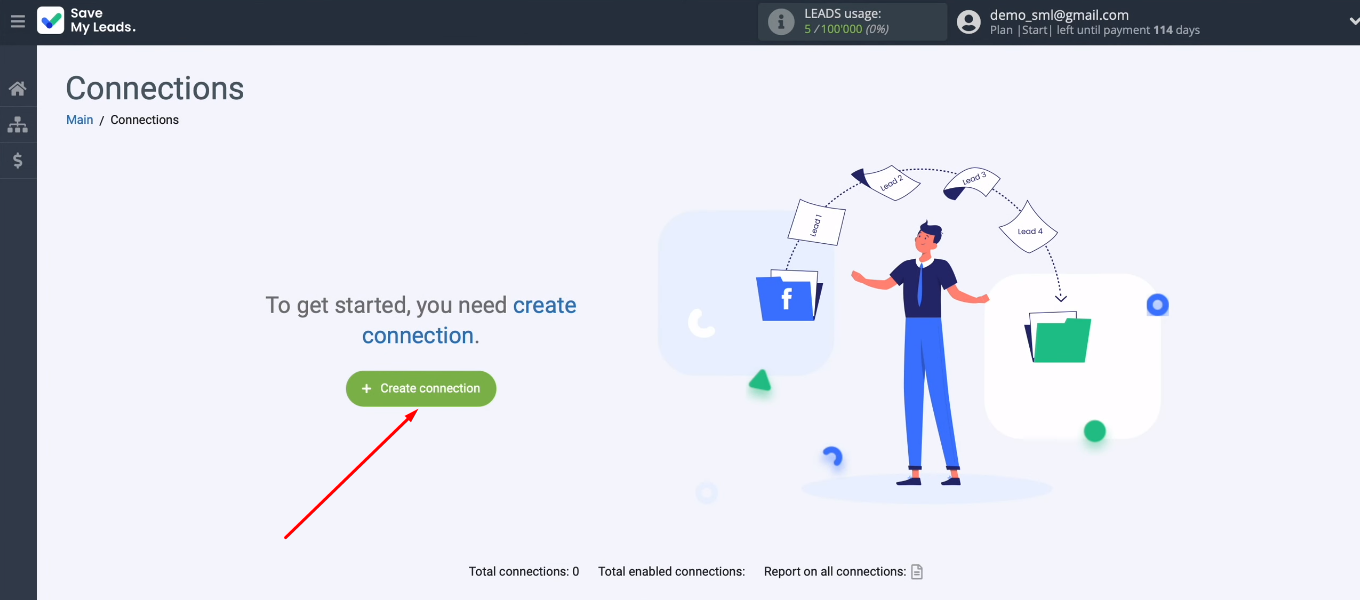 Select the "Messaggio (Add contacts)" customization template.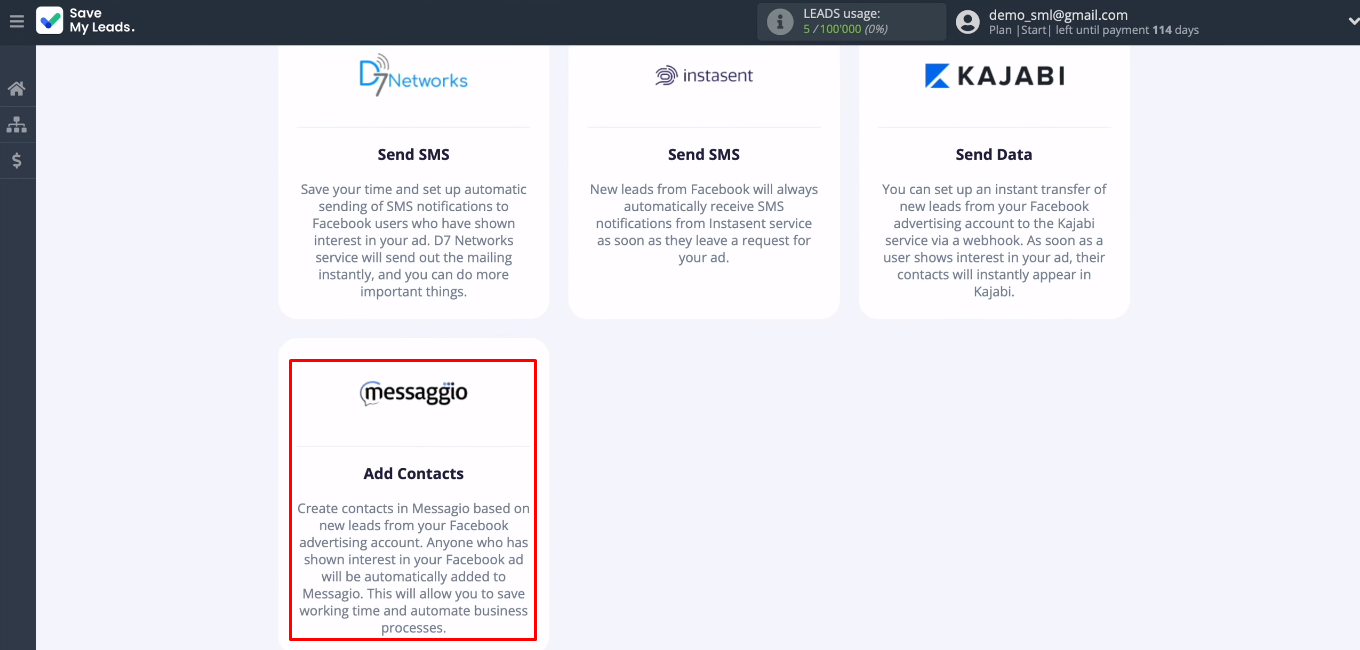 First you need to add your FB account to the SaveMyLeads system.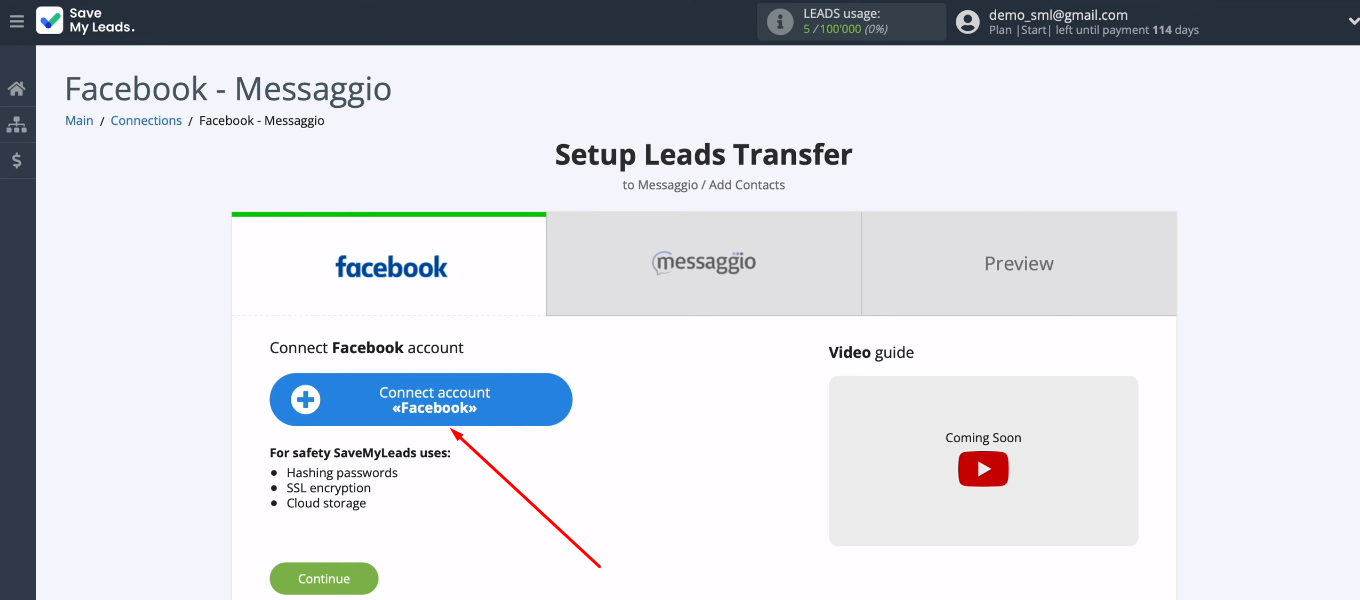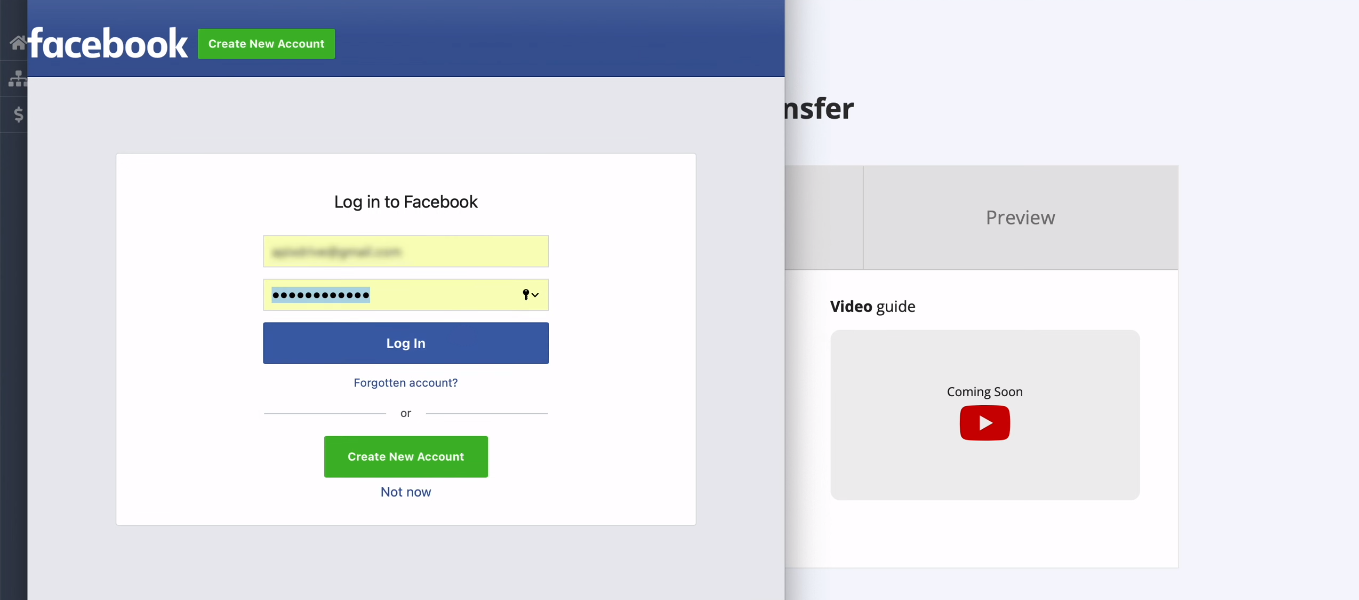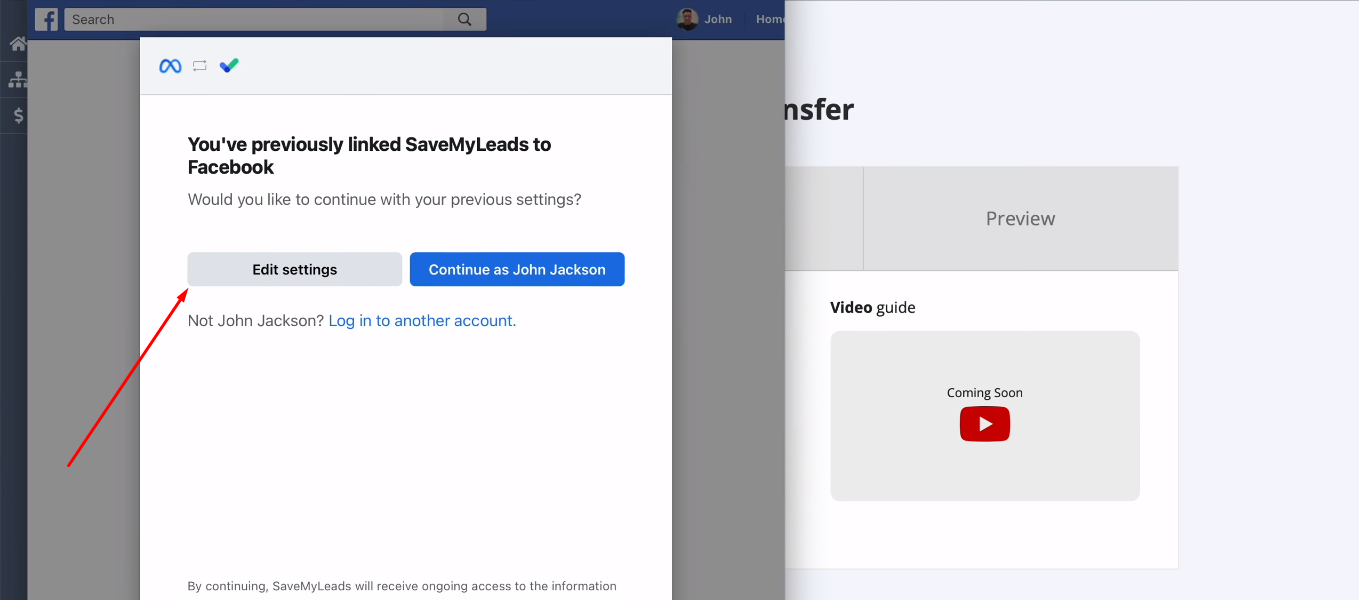 Mark the advertising pages you want to work with in the SML system.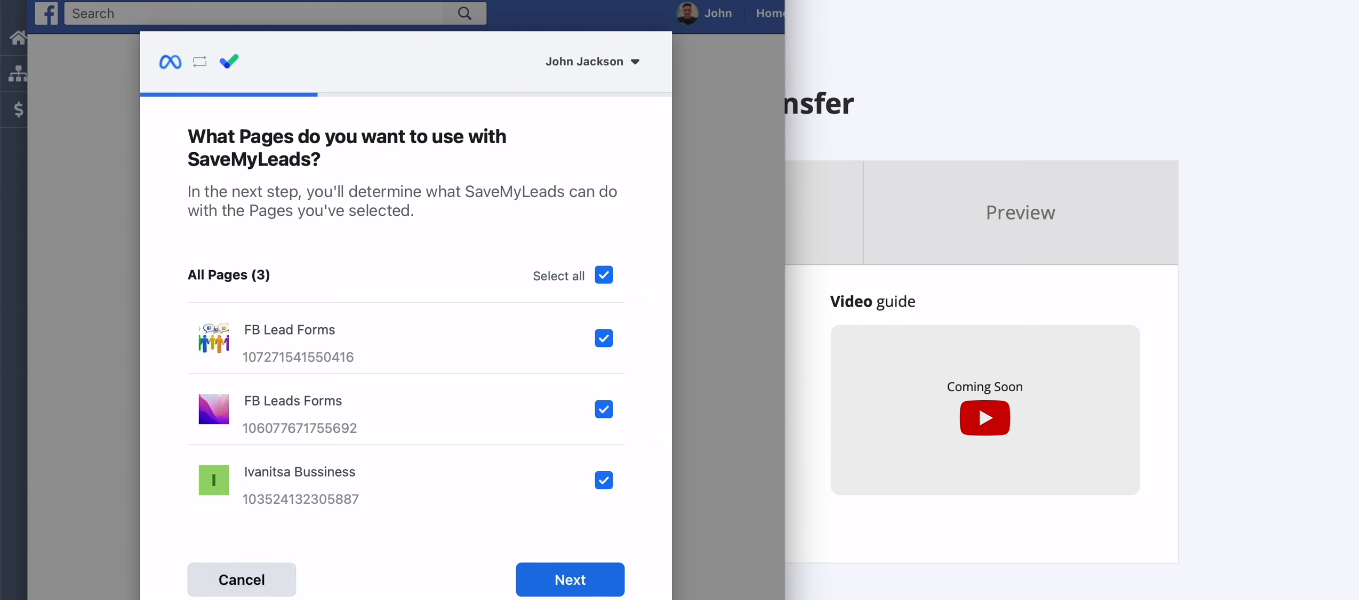 Give the SaveMyLeads service all the necessary access. Click "Done".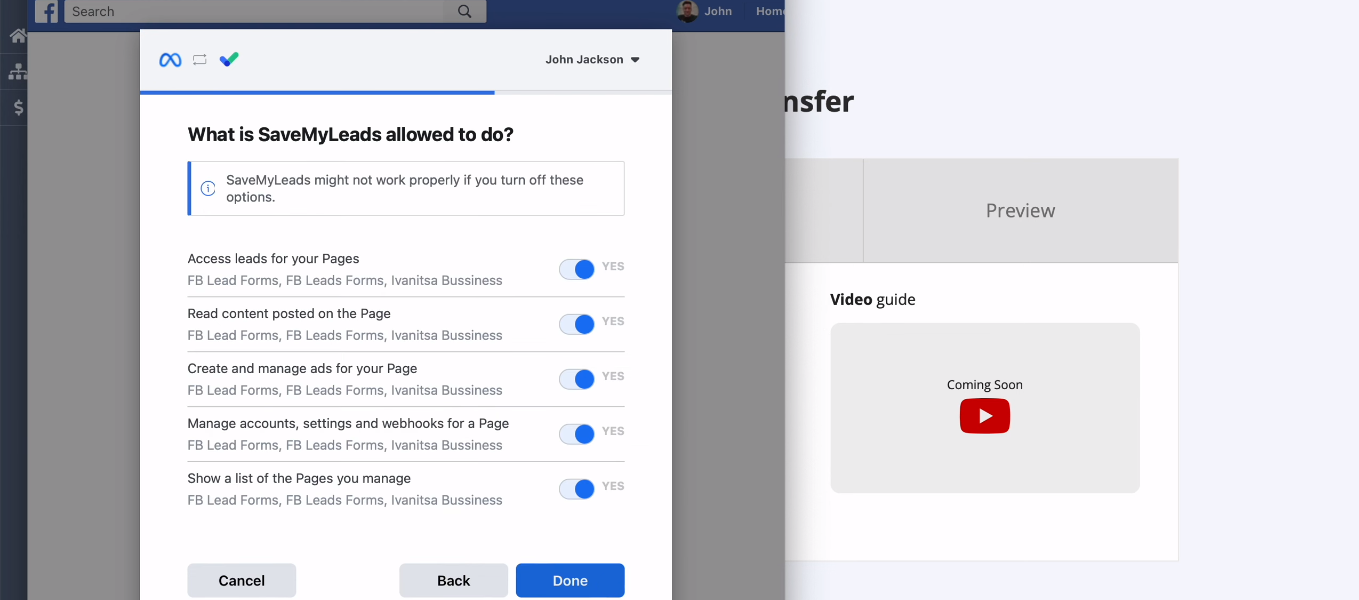 Facebook account added. Continue setting.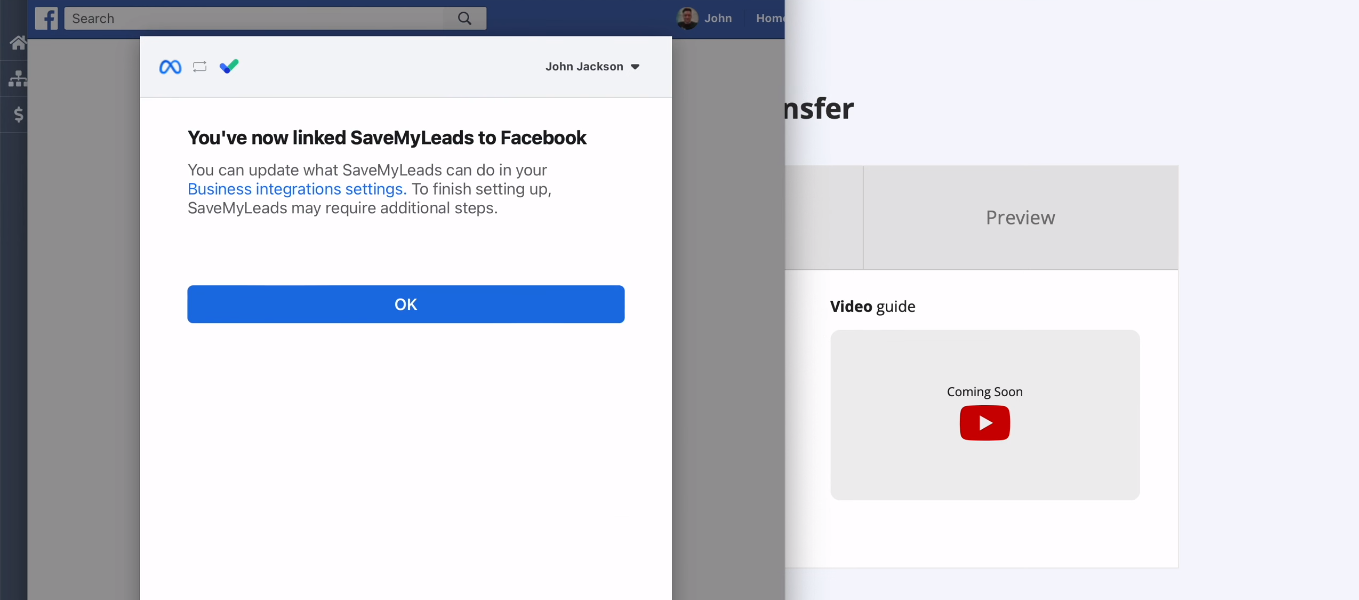 From the list of available FB accounts (you may have several), select the desired account.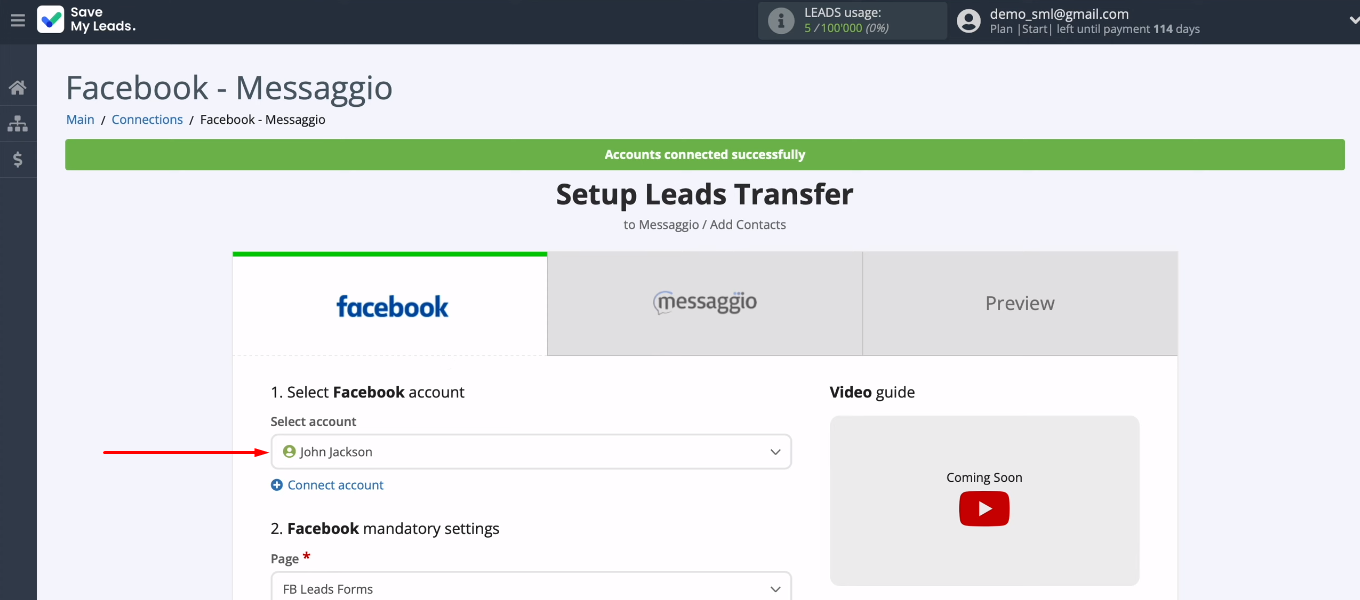 Specify the advertising page and lead form. Click "Continue".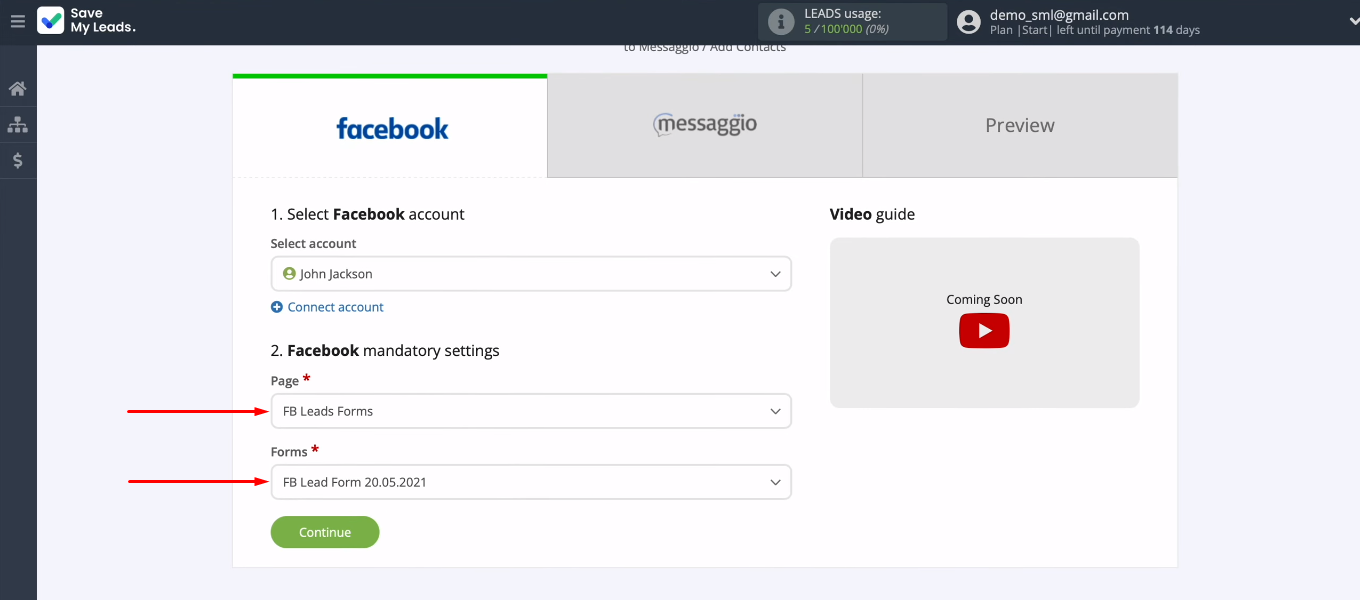 Connect Messaggio account
Click "Connect account Messaggio".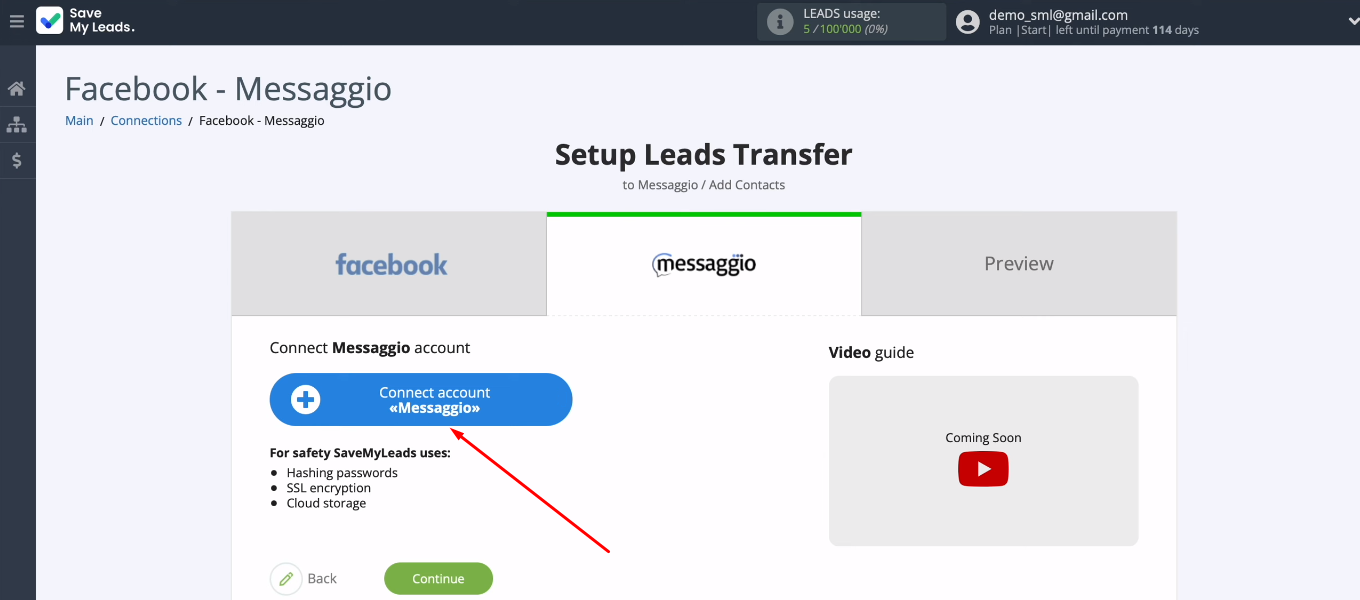 Enter the login and password of your personal Messaggio account. Click "Save".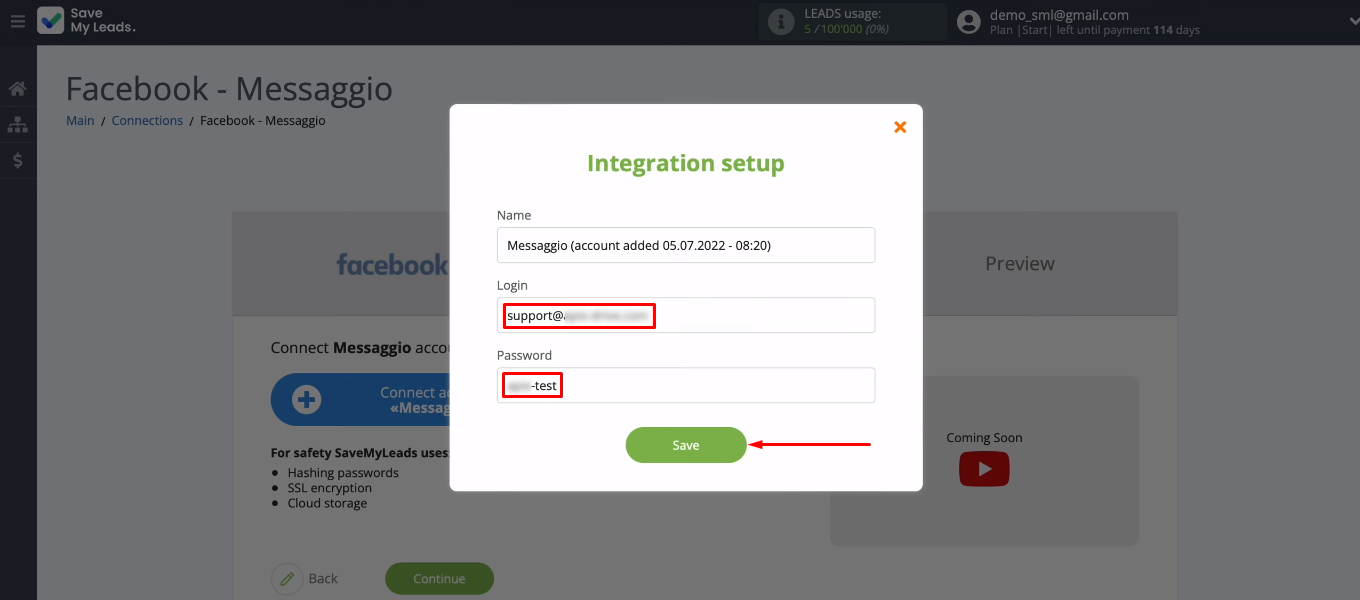 Select the connected Messaggio account from the list of available ones.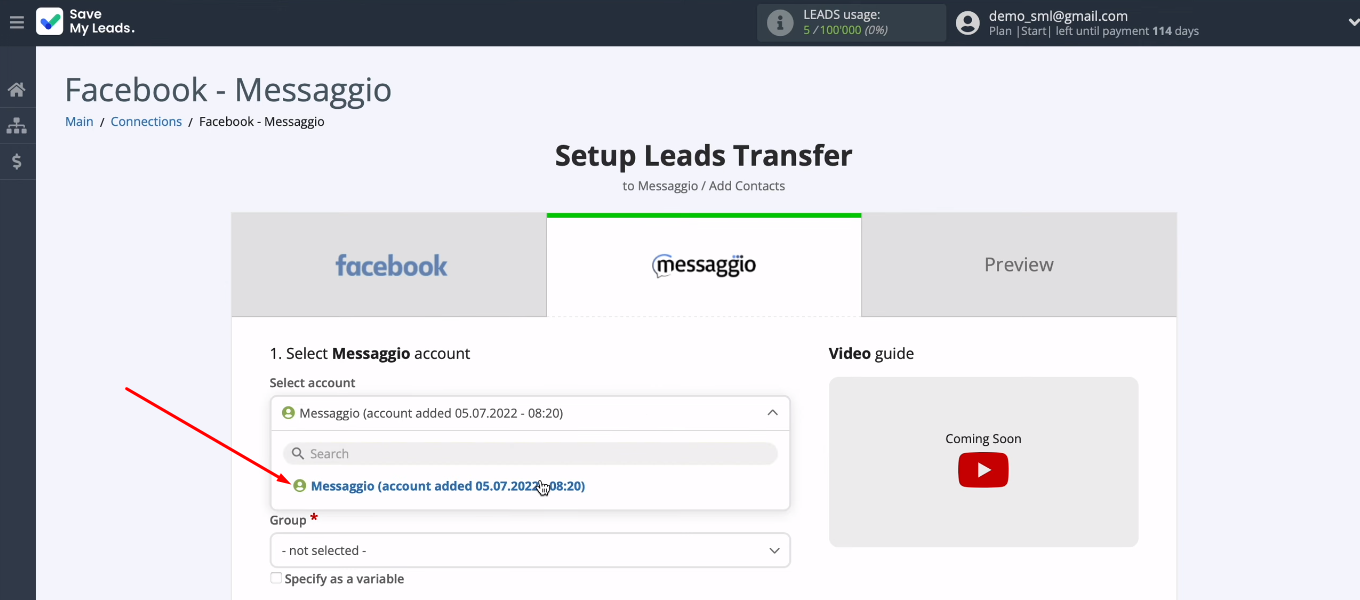 Select the group to which new contacts will be added. Set up the Messaggio fields, the data from which will be used when creating new records. To assign a variable, click in the field and select the desired value from the drop-down list. You can also search for variables via the search bar.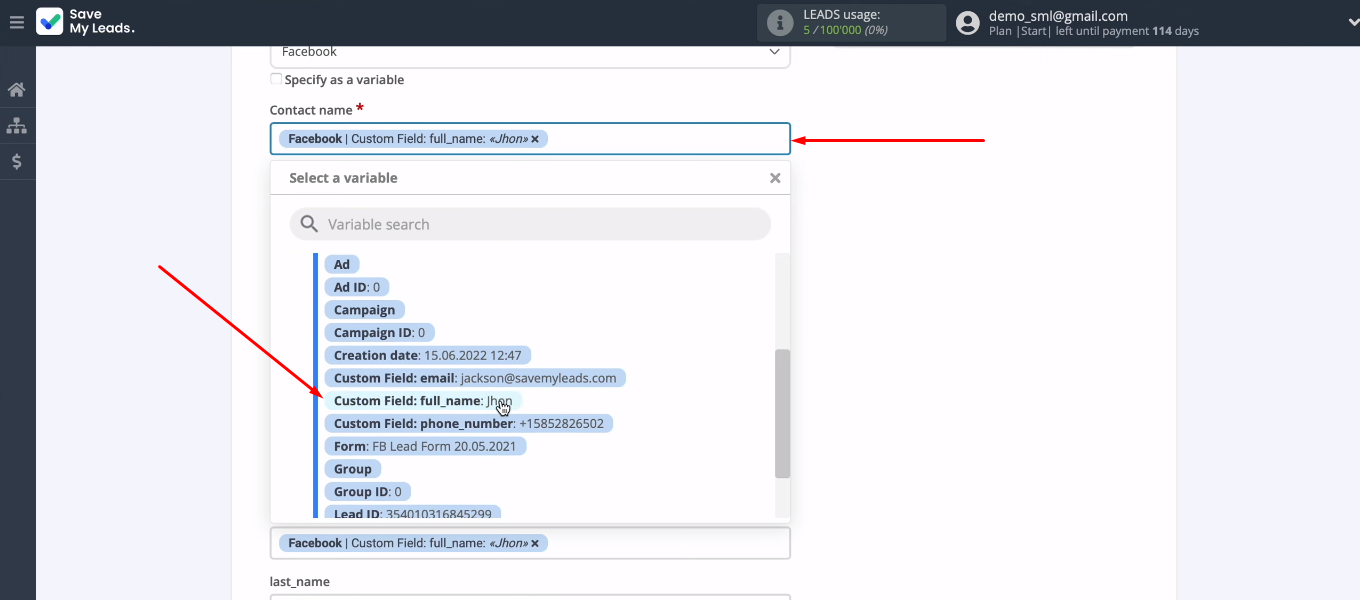 If you are satisfied with the predefined values in the Messaggio fields or you have configured all the required fields yourself, click "Continue".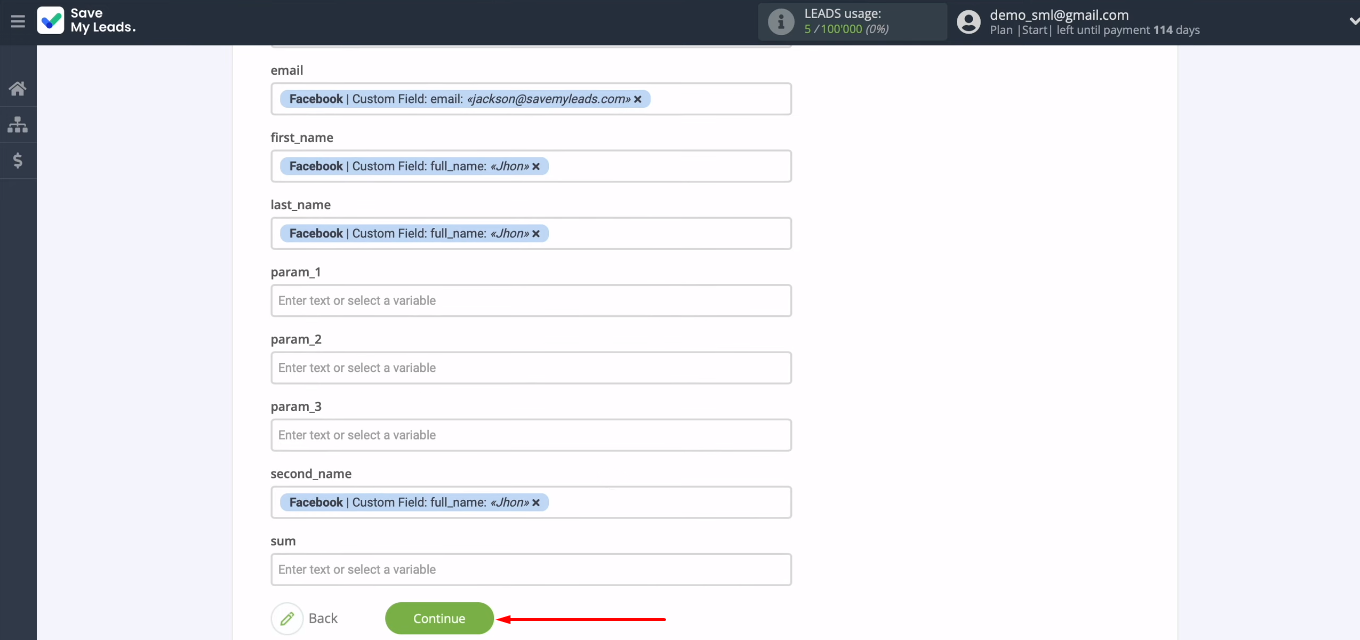 The next step is to check the connection. Click "Send test data to Messaggio".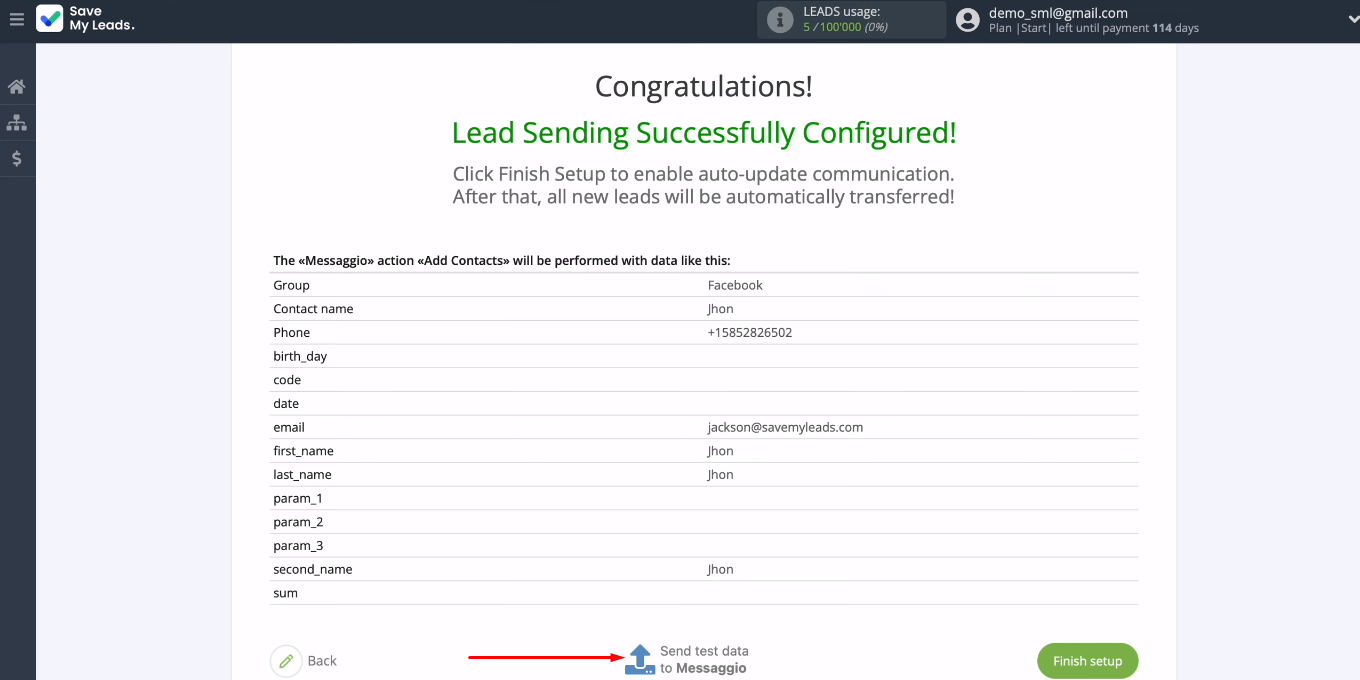 Go to your personal Messaggio account and check for a new test contact.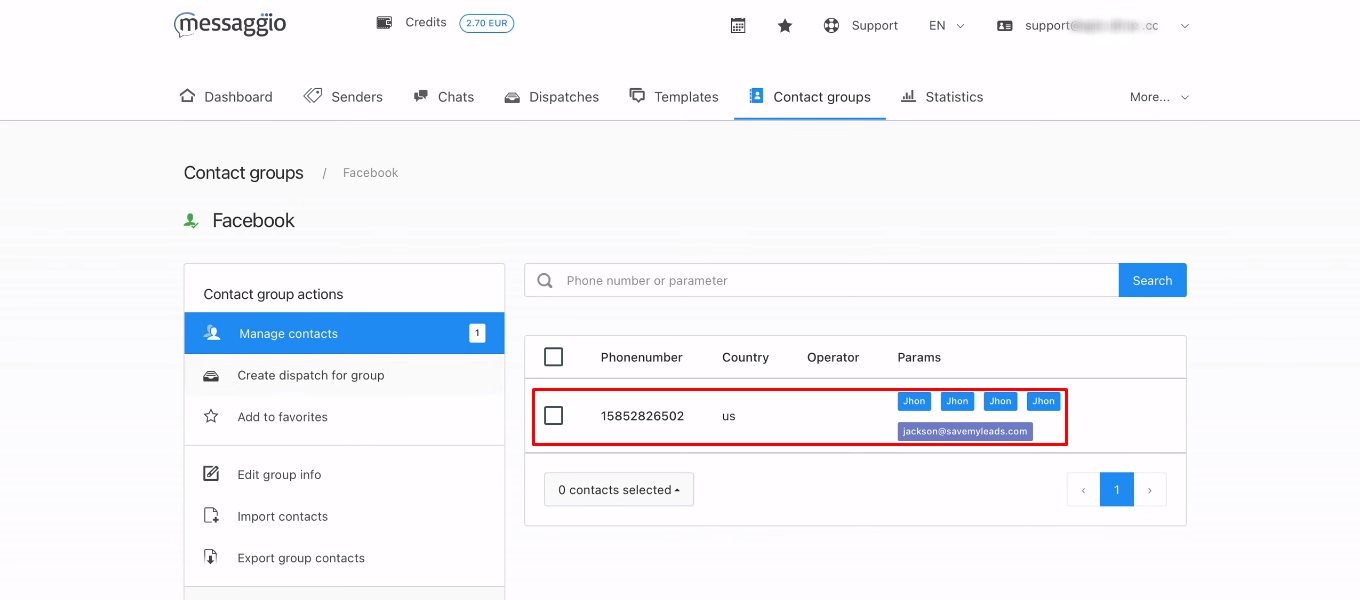 Enable auto-update
In order for each new Facebook lead to be automatically converted into a Messaggio contact, you need to activate the integration. Turn on auto-update data — click "Finish setup".

After the integration is created, you can change the name of the connection and add it to the group. Create integration groups for quick search and association by common feature (for a specific task, individual employee, etc.).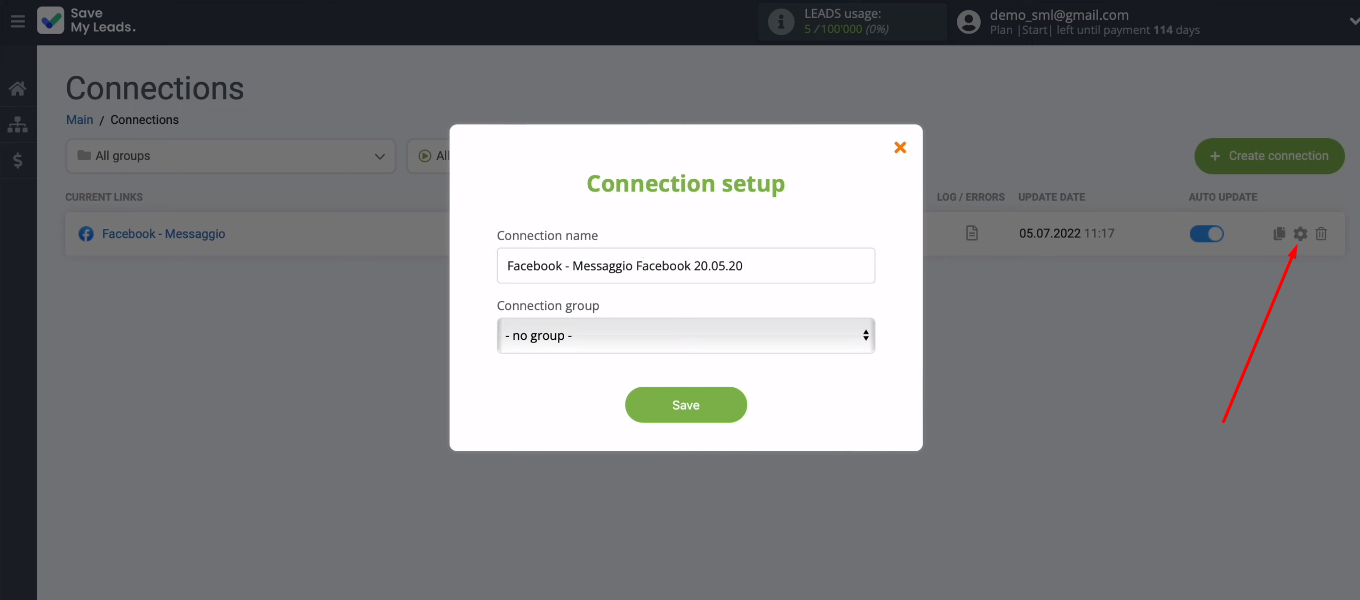 Integration result
By setting up the integration of Facebook and Messaggio, we got rid of several routine tasks at once. Now you do not need to constantly check the advertising account for new leads, upload them manually and transfer them to the mailing service. The list of customer contacts from Facebook and Instagram is updated automatically in Messaggio. The problem was solved using the SaveMyLeads service. We spent about 10 minutes to save a significant amount of time every day.
Connect applications without developers in 5 minutes!
SaveMyLeads is an online connector that will help you combine your Facebook ad account with various services and applications. If you are still uploading new leads in CSV format and manually transferring them to other systems, then you should consider automating these processes. Eliminating routine activities helps increase productivity and allows you to focus on more important tasks.