ConvertKit is a cloud platform that automates online marketing processes. One of its most popular tools is managing email campaigns. If you use the social network Facebook for your business and your leads come from there, automating the addition of new subscribers to ConvertKit will significantly increase the speed and efficiency of working with potential customers. In our article, you will learn how to quickly and easily set up the ConvertKit and Facebook integration for contact transfer.
The social network Facebook appeared in 2004. Now the number of its users has reached 3.03 billion. Initially, the platform was developed as a platform for active communication as well as the publication of text, photo, and video content. It is also attractive because here you can create thematic communities – groups where people gather, united by some common interest. PR professionals, marketers, and those involved in Internet business have long been actively using Facebook to promote a brand, products, and services, as well as for advertising campaigns, social surveys, and agitation.
ConvertKit is a cloud-based platform for automating a wide range of email marketing tasks. Most often, it is chosen for the effective management of email newsletters. This service provides users with ready-made branded templates for promotional emails, as well as the ability to create unique mailing lists using the built-in editor. In addition, it allows you to automatically send out a series of emails according to a predetermined schedule or when a subscriber performs a specific trigger action, resend ignored emails, target content, segment an audience, and manage a sales funnel. The developers of the service claim that the deliverability rate of mailing lists that were created in ConvertKit and carried through this platform is 98%, and the open rate is 30%.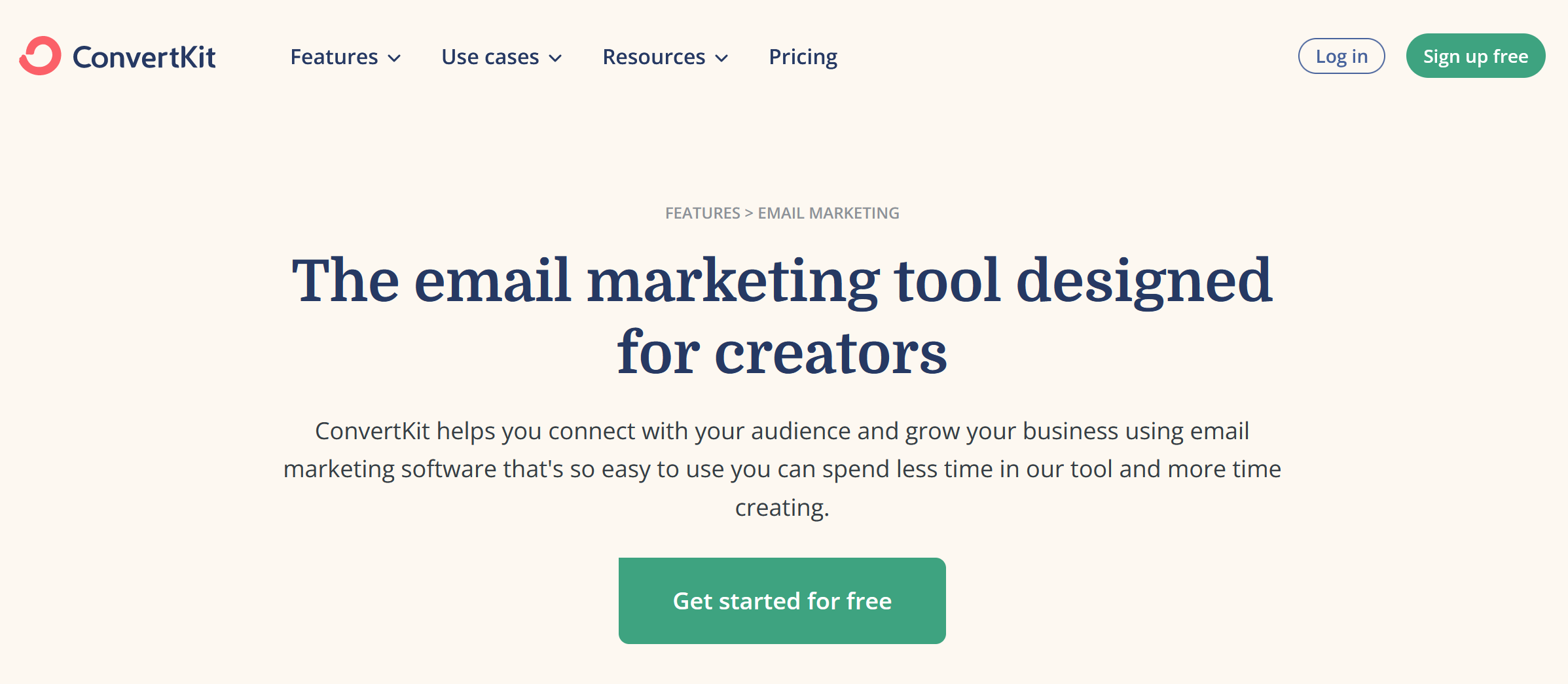 When using Facebook and ConvertKit services in Internet marketing, eventually, there will be a need to automate the transfer of data from one system to another. If your lead list is growing very fast, it may take too long to transfer followers from Facebook to ConvertKit. Getting rid of manual labor will allow setting up a connection between these two platforms using the SaveMyLeads no-code service. The Facebook and ConvertKit integration streamlines your workflow and boosts your productivity. By combining them through SaveMyLeads, you automate routine tasks, significantly reduce the amount of manual labor, and improve the quality of interaction with colleagues. We will tell you how to set up the transfer of contacts so that it works smoothly.
How to Create a Facebook and ConvertKit Integration
Any experienced programmer can implement Facebook - Convertkit integration via API. But why take extra steps, involving a separate specialist who will do the integration from scratch, if the SaveMyLeads online connector provides a ready-made solution? Besides the fact that creating and configuring this connection using SML is faster, it will also cost you less than the services of a programmer. SaveMyLeads is a no-code platform with an intuitive interface and working principle. New subscribers will be added to ConvertKit as soon as a new lead appears on Facebook.
Here's how the system works:
The platform monitors the emergence of new leads on Facebook around the clock.
As soon as the lead has appeared, the contacts are automatically added to the ConvertKit mailing list.

As you can see, for ConvertKit - Facebook integration will only bring advantages. To link your accounts on those platforms through SaveMyLeads, you don't need any programming knowledge or skills, even minimal ones. The whole process consists of only three steps:
Connect your Facebook Lead Ads account.
Connect your ConvertKit account.

Activate automatic data transfer.

How to Set up a Data Source – Facebook
First, you need to create a new connection.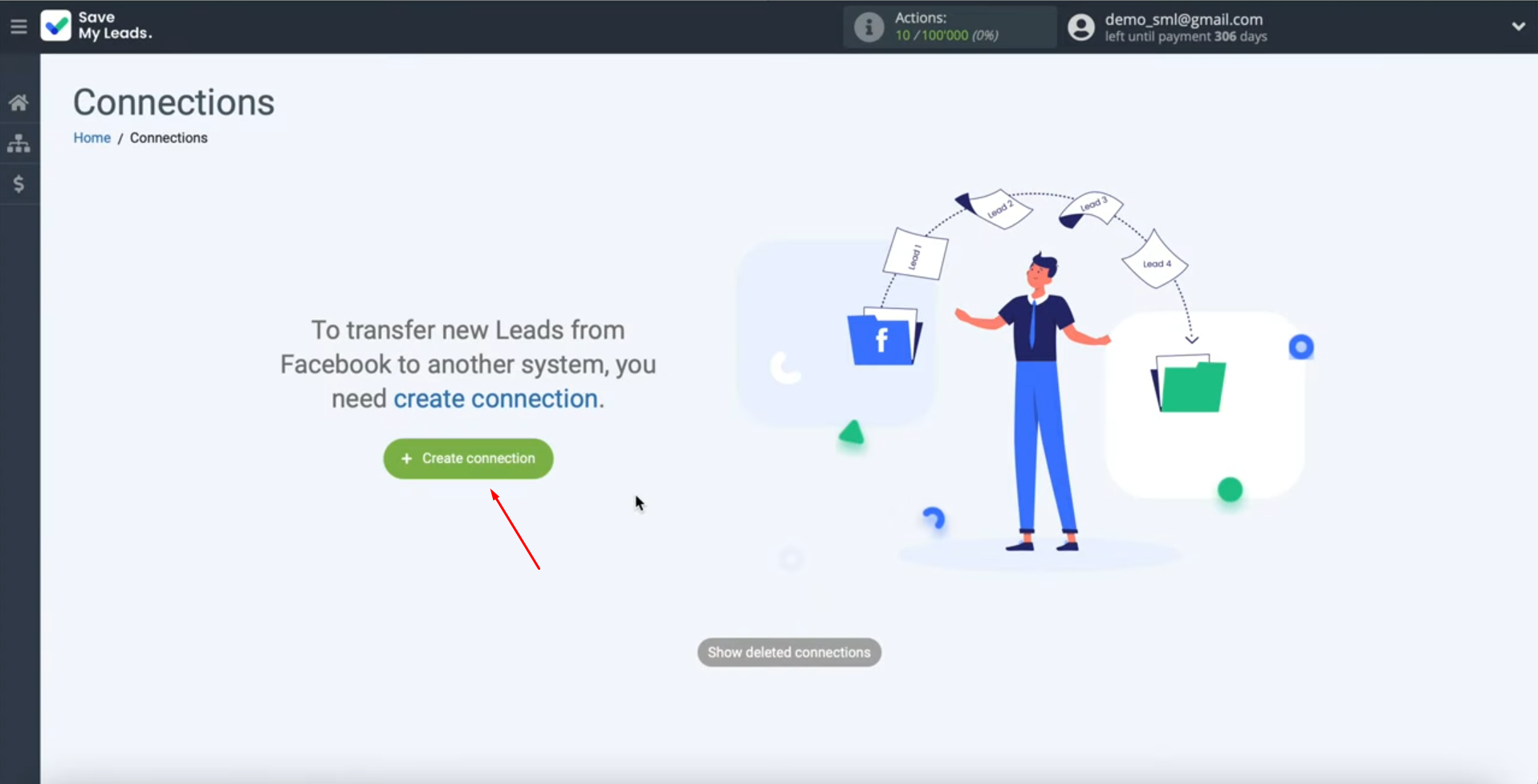 We need to select the ConvertKit system template.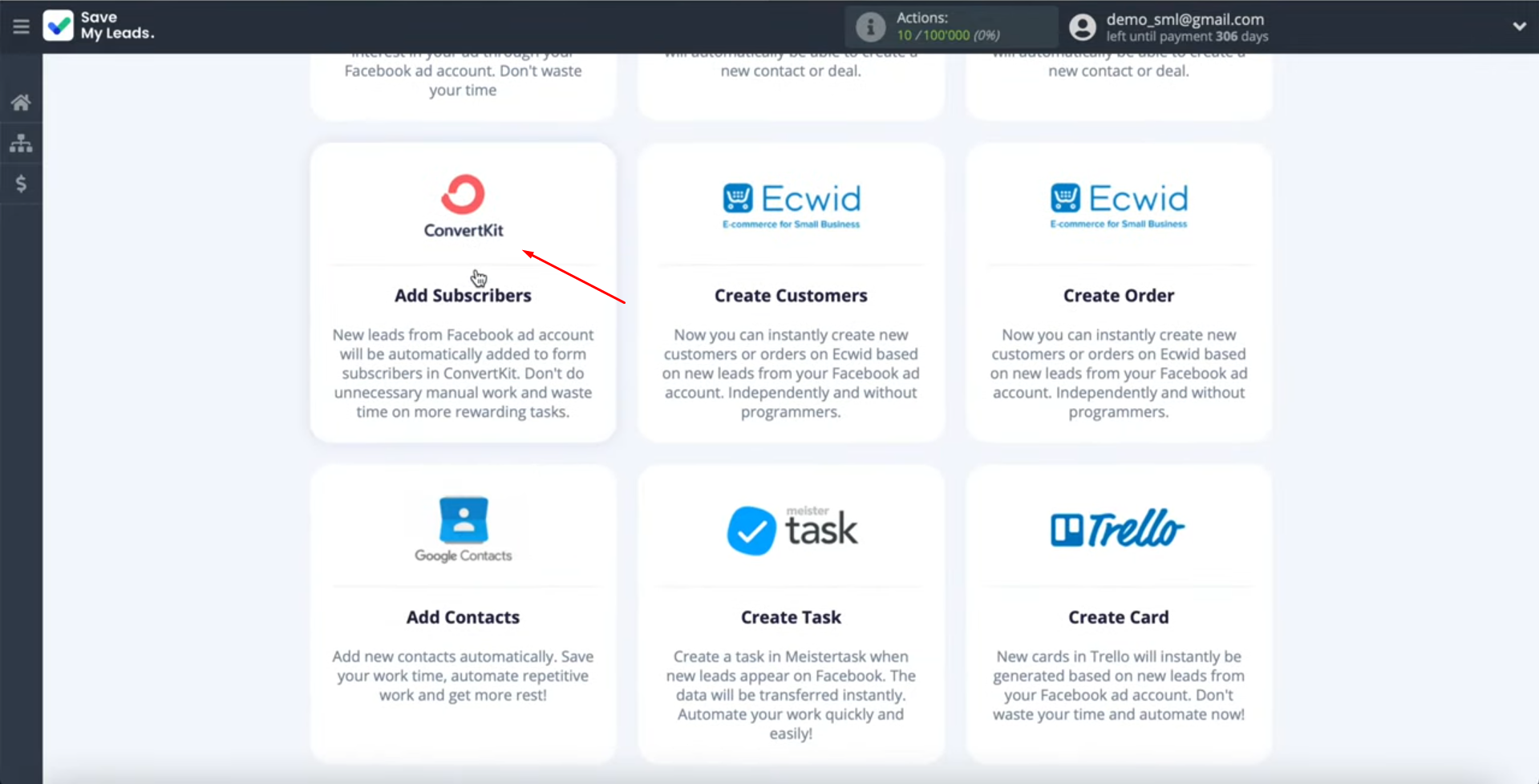 At this stage, you have to connect your Facebook account to the SaveMyLeads system.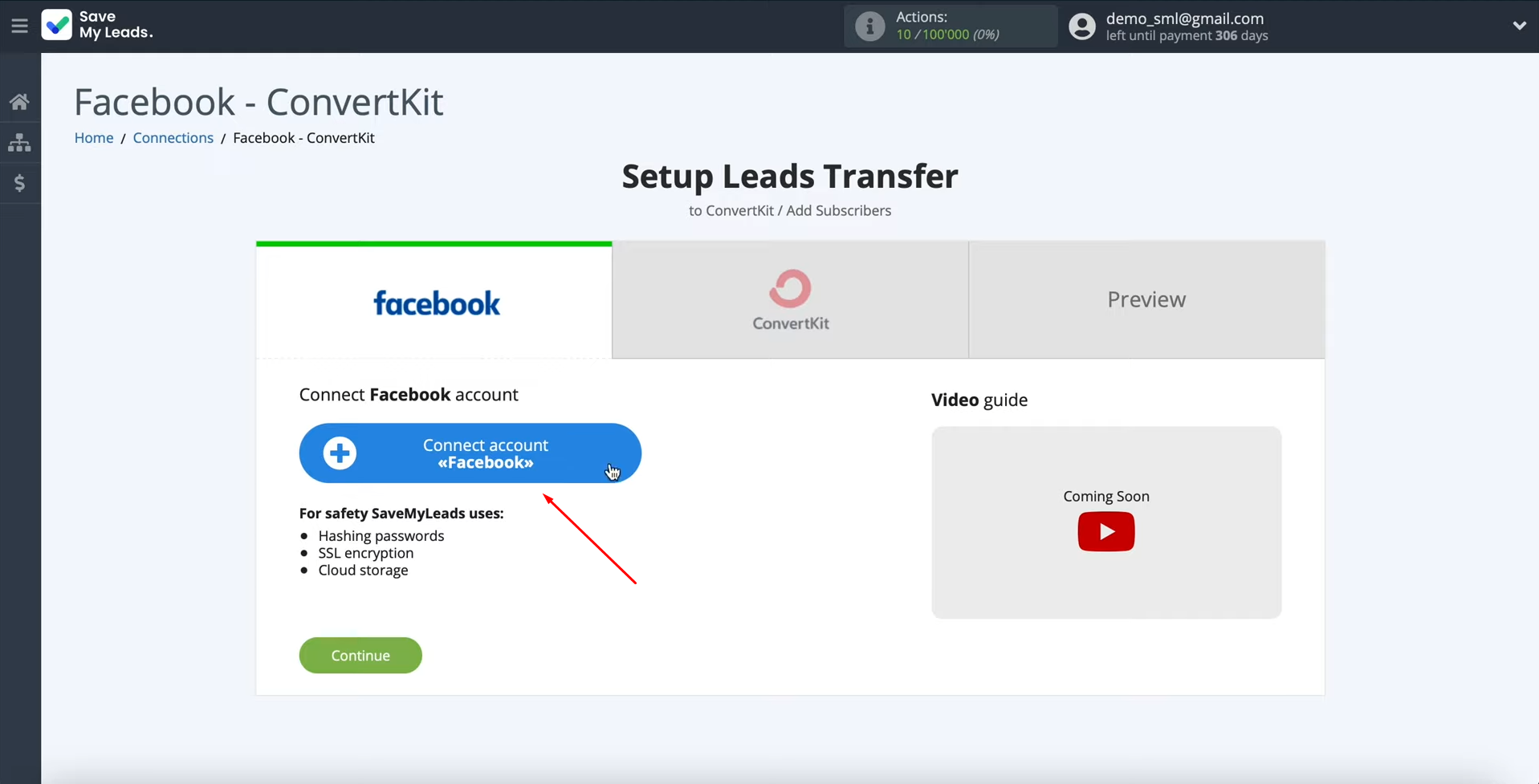 First, you have to specify the username and password for your Facebook account. Click "Log In".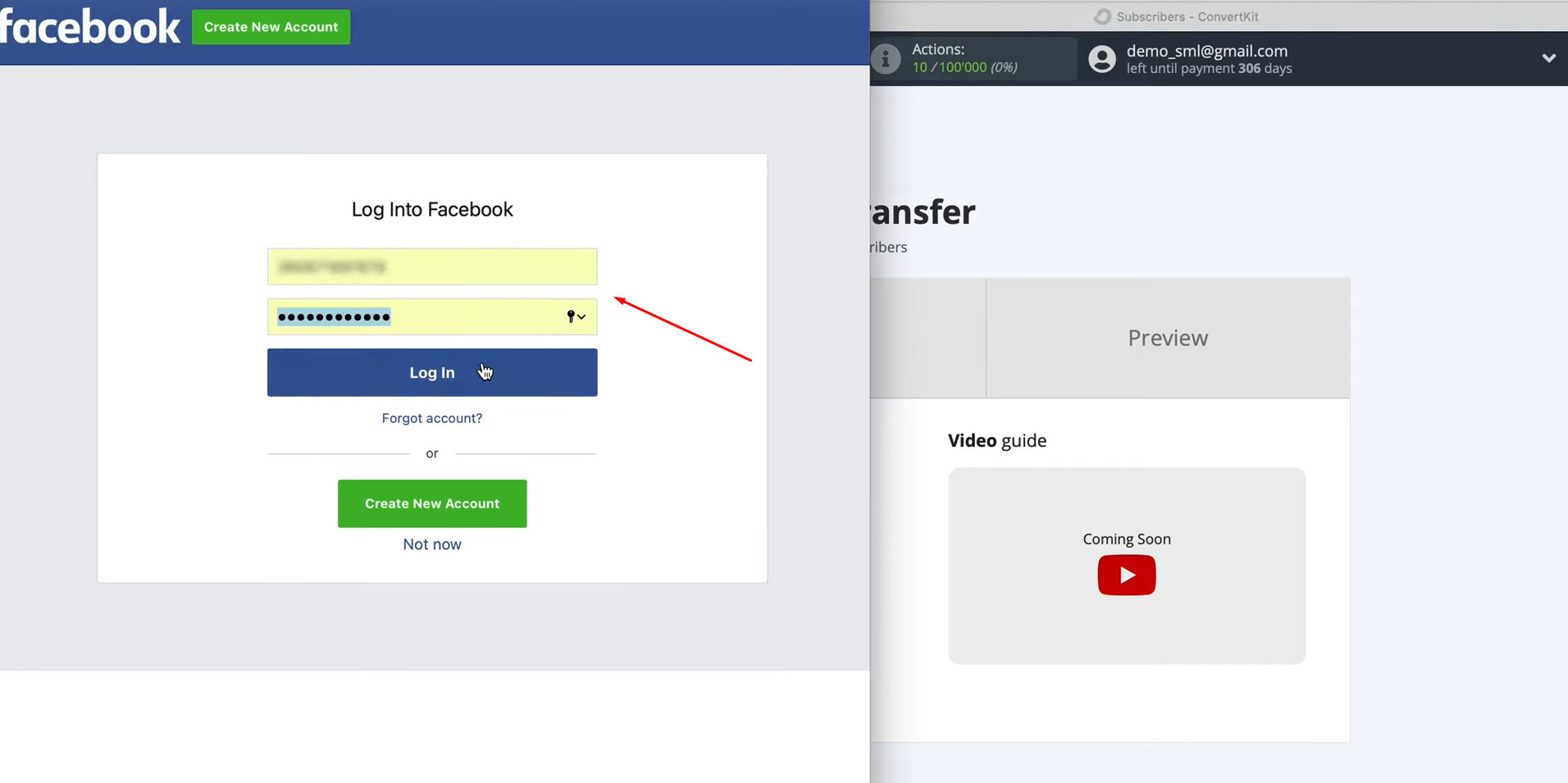 Then click "Edit Settings".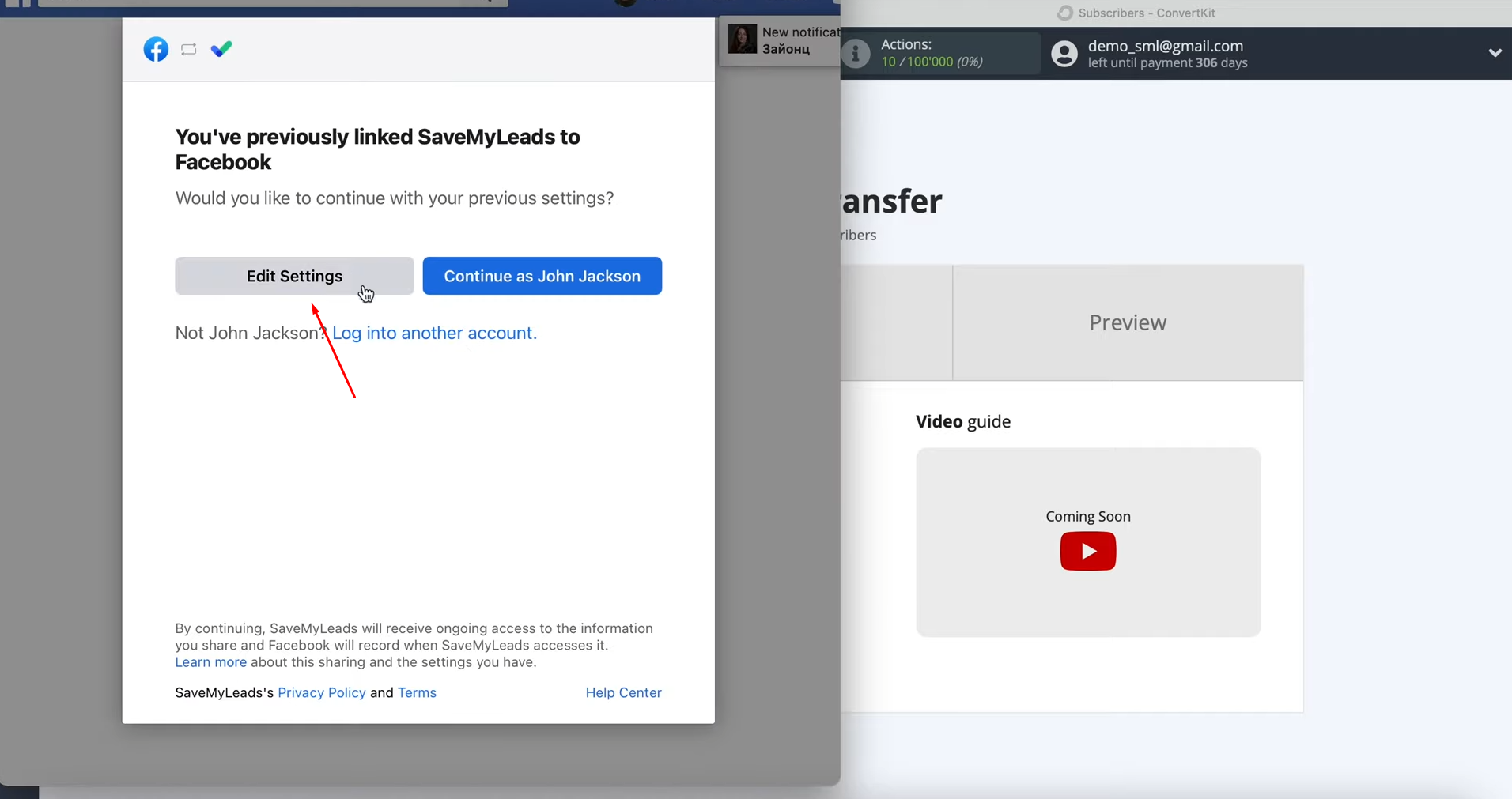 At this stage, you see all the advertising pages to which you have access. We recommend that you check all the fields at once to be able to work with them in the future. Click "Next".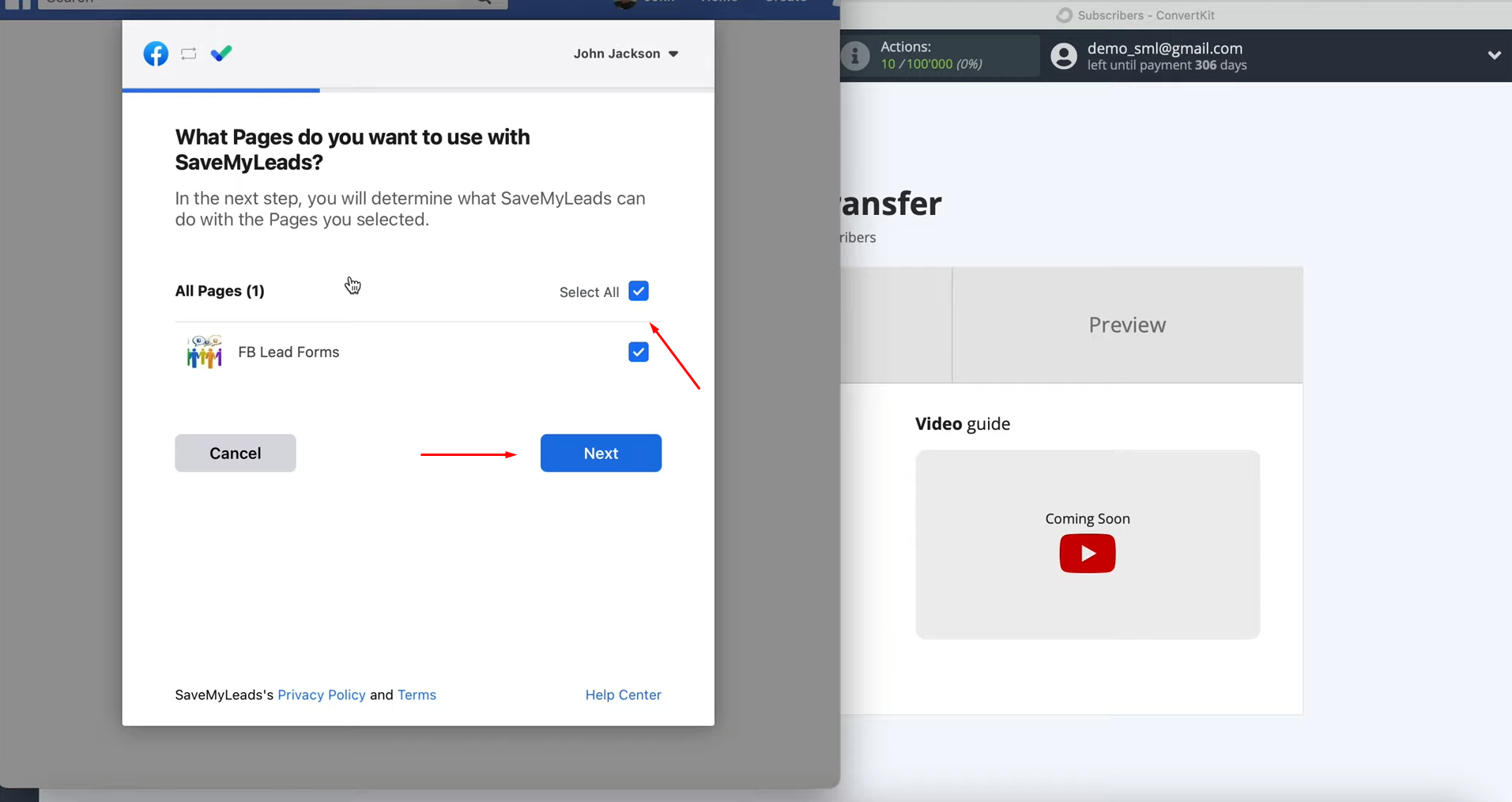 Now you have to leave all access checkboxes enabled. Click "Done".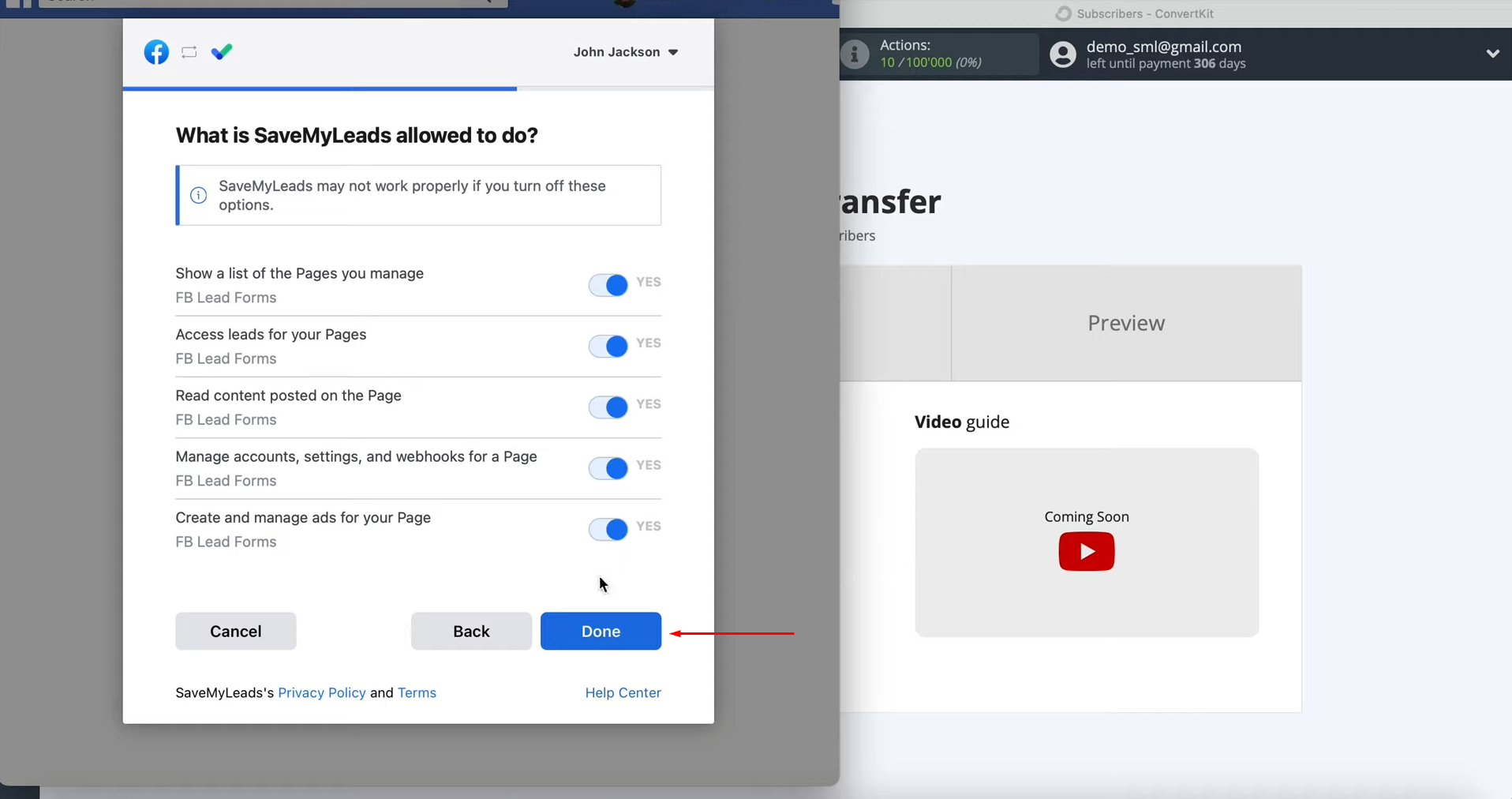 In the next window, you will see the message that you've now linked SaveMyLeads to Facebook. Click "Ok".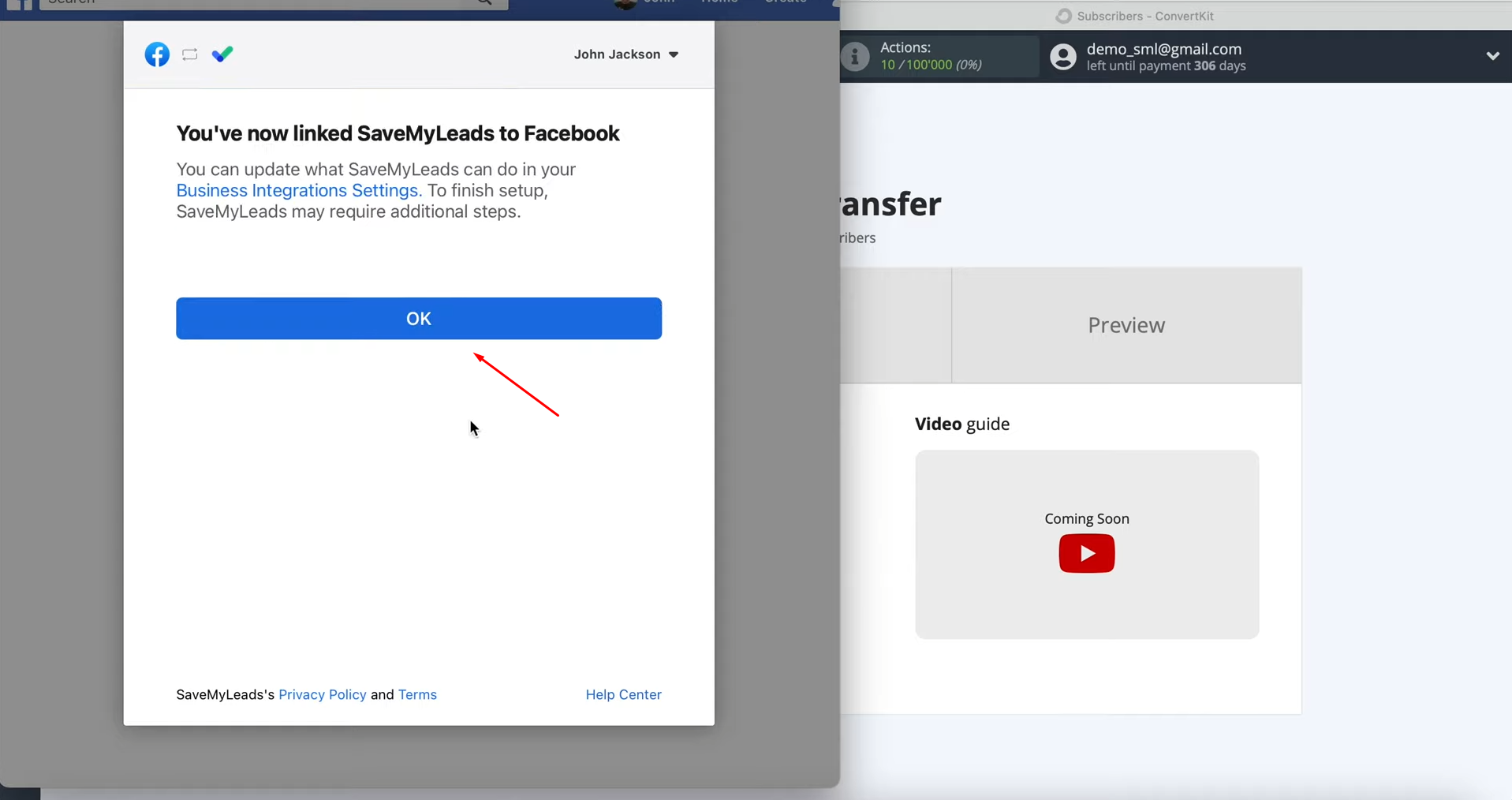 When the connected account is displayed in the list, it must be selected.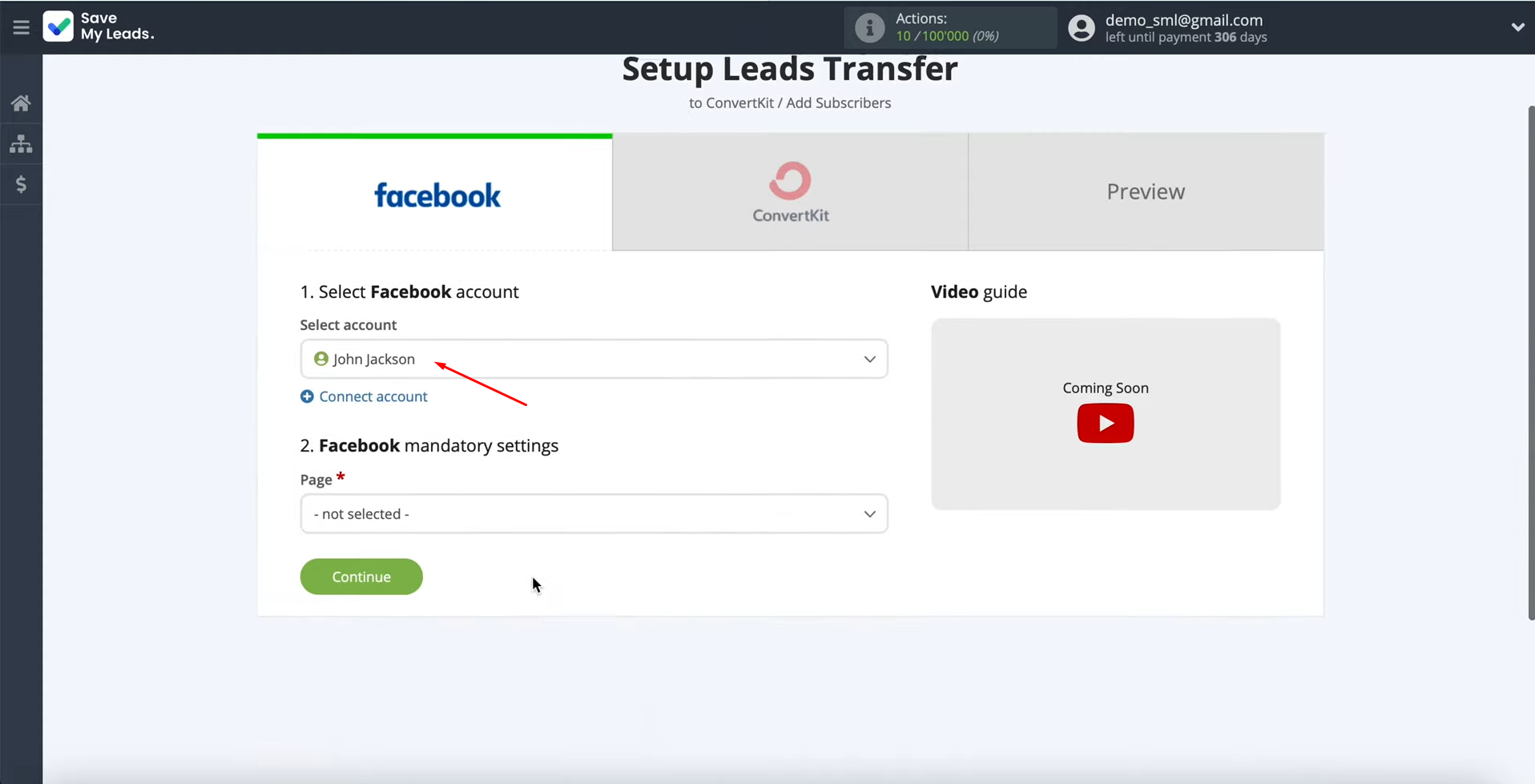 After that, select the advertising page from which we want to send leads.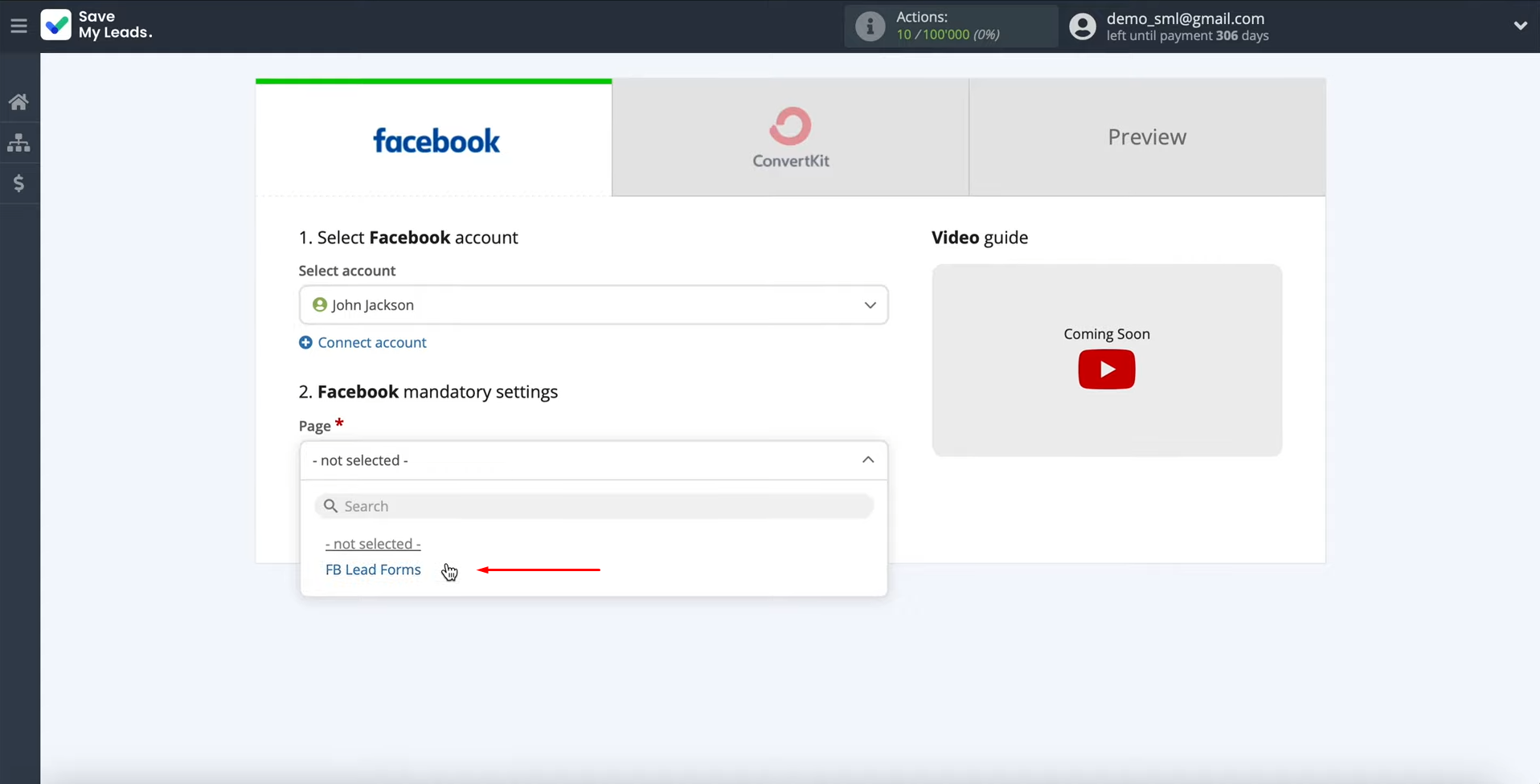 Then you need to specify the form from which the data will be downloaded. If you have several forms specified, you will need to create several connections for each of them. Click "Continue".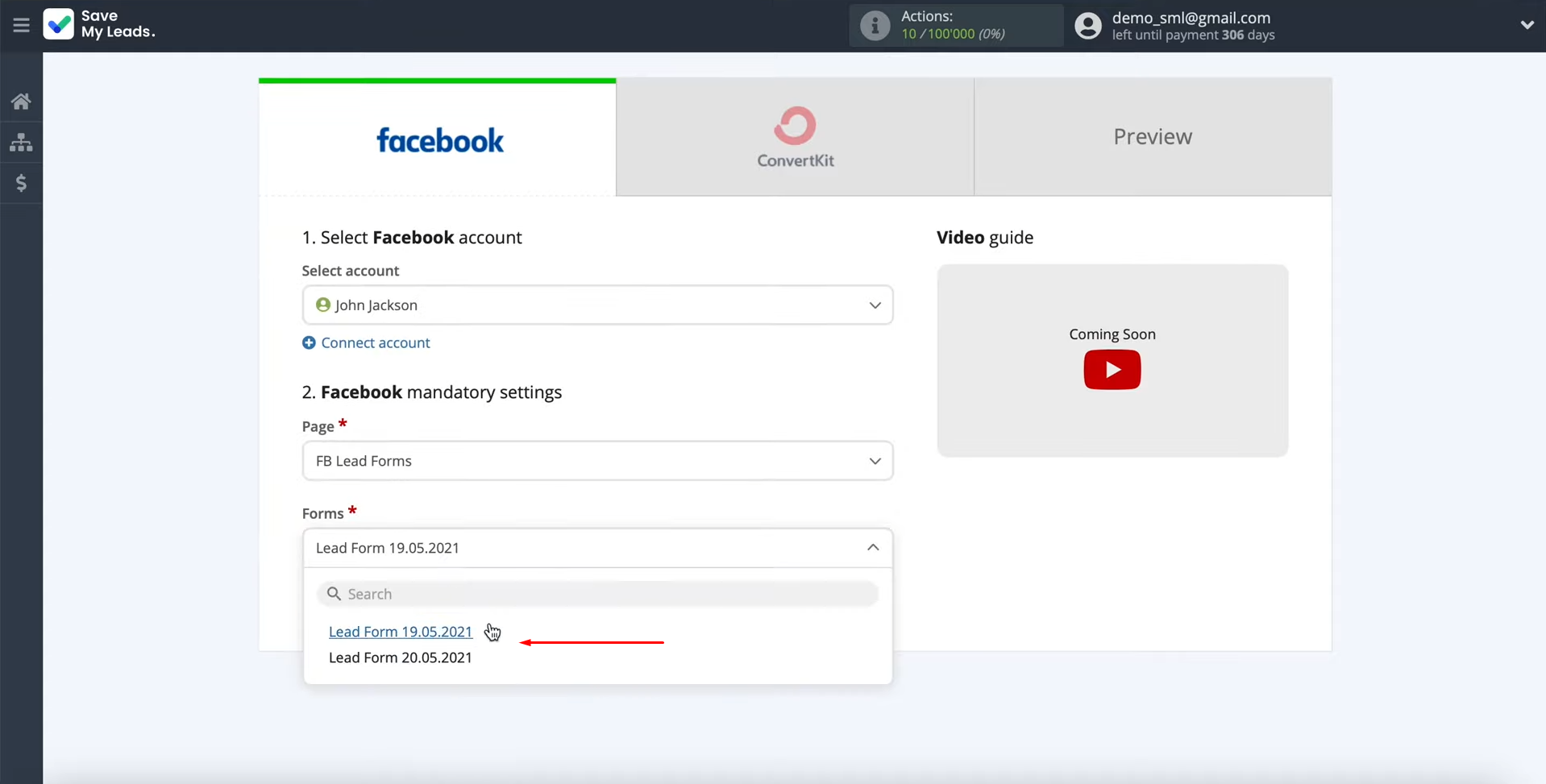 How to Set up a Data Sink – ConvertKit
At this stage, you have to connect your ConvertKit account to the SaveMyLeads service.

For this, you have to specify the API secret.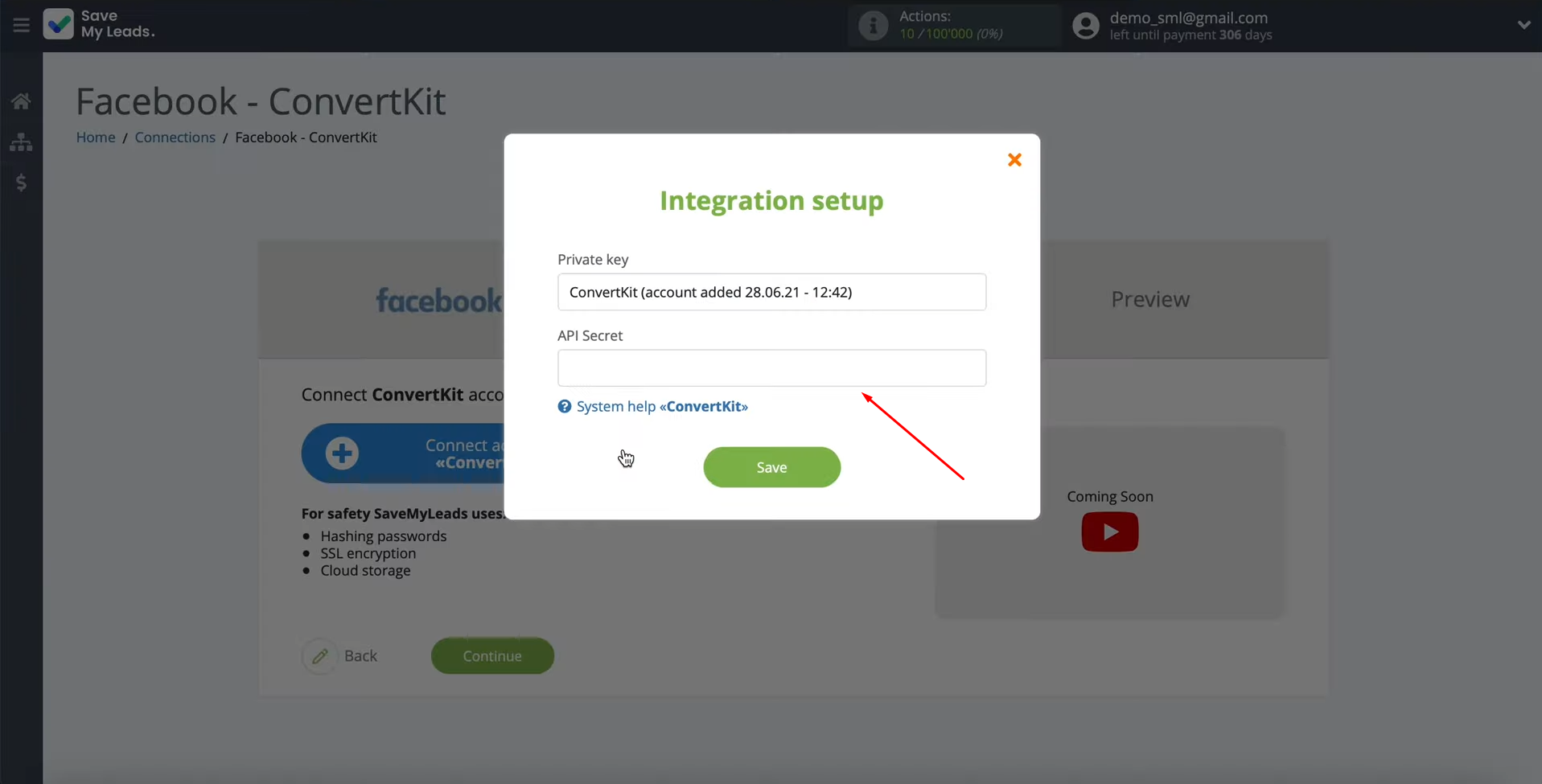 To get it, go to your ConvertKit account. Then you have to go to the settings section.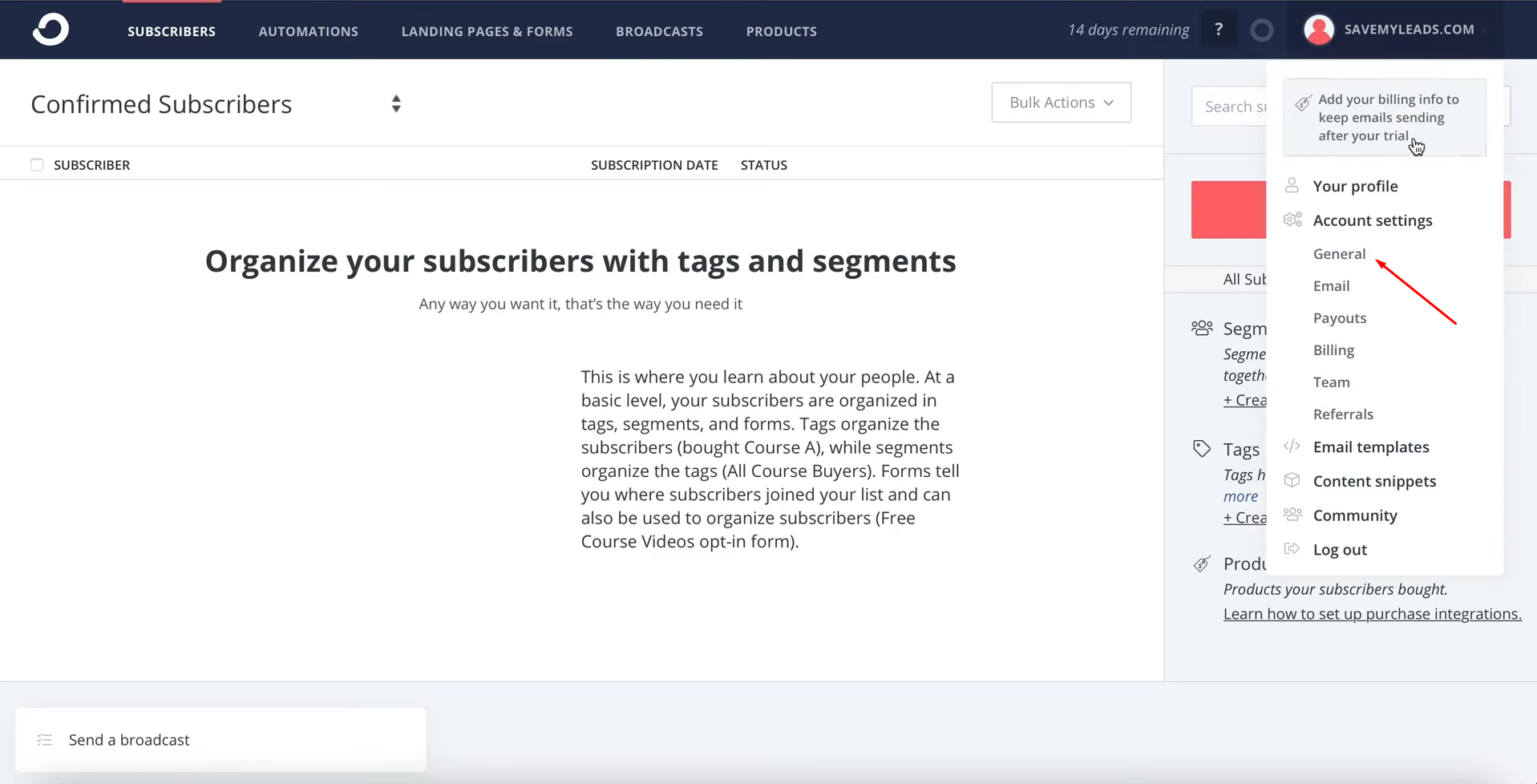 In the API secret field, click "Show".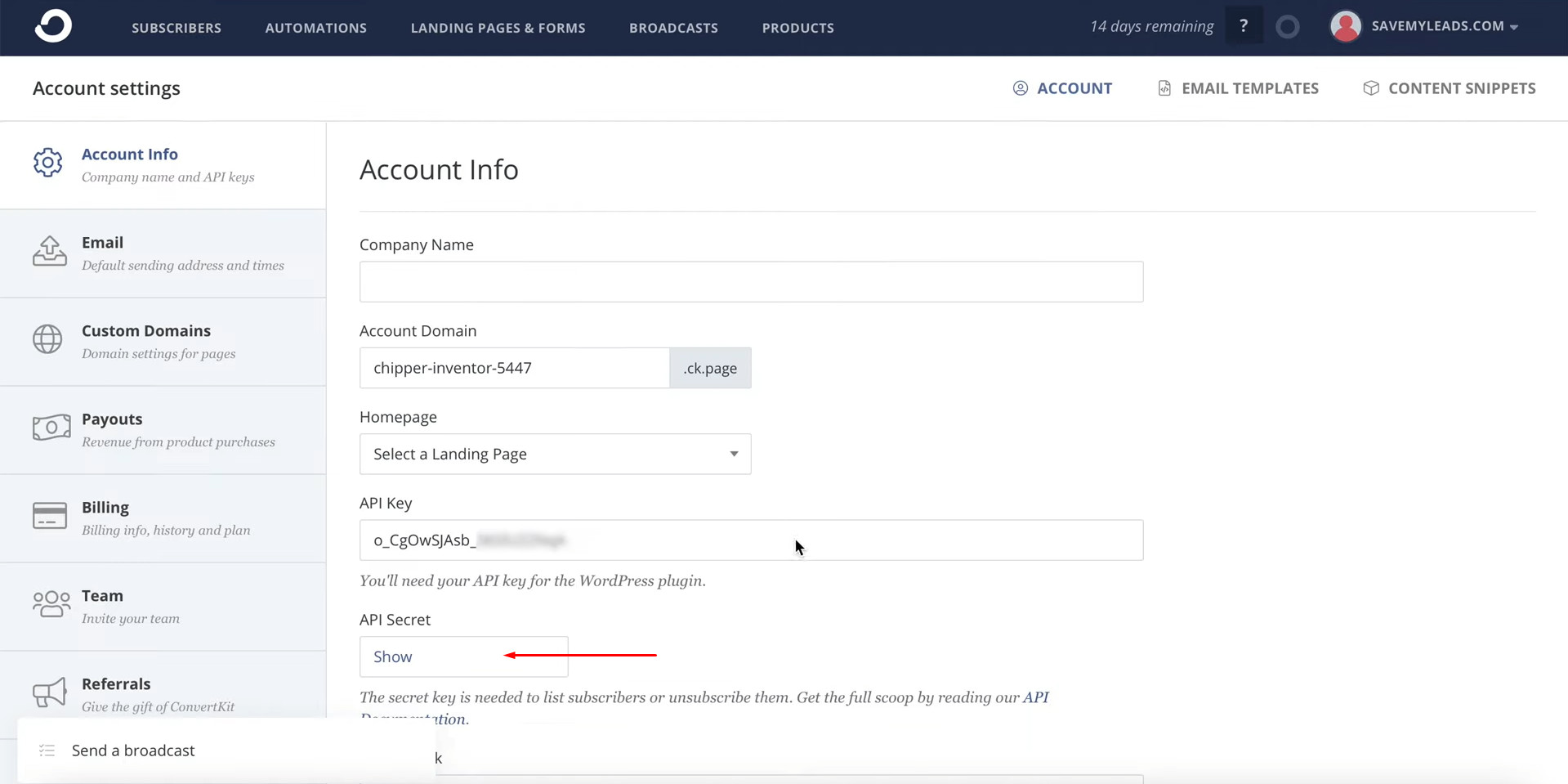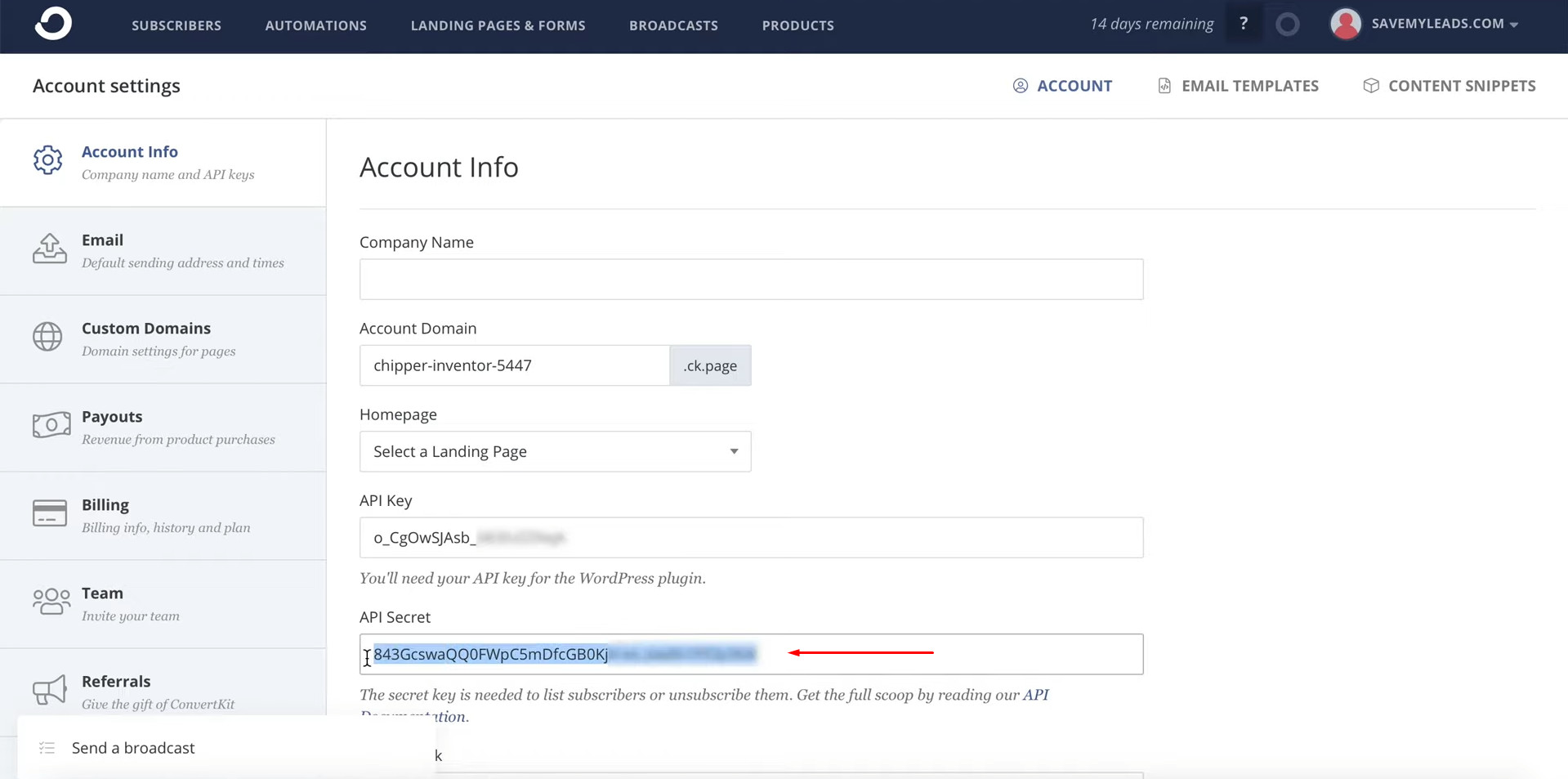 Paste it into the corresponding field in the SaveMyLeads service. When the required field is filled, click "Save".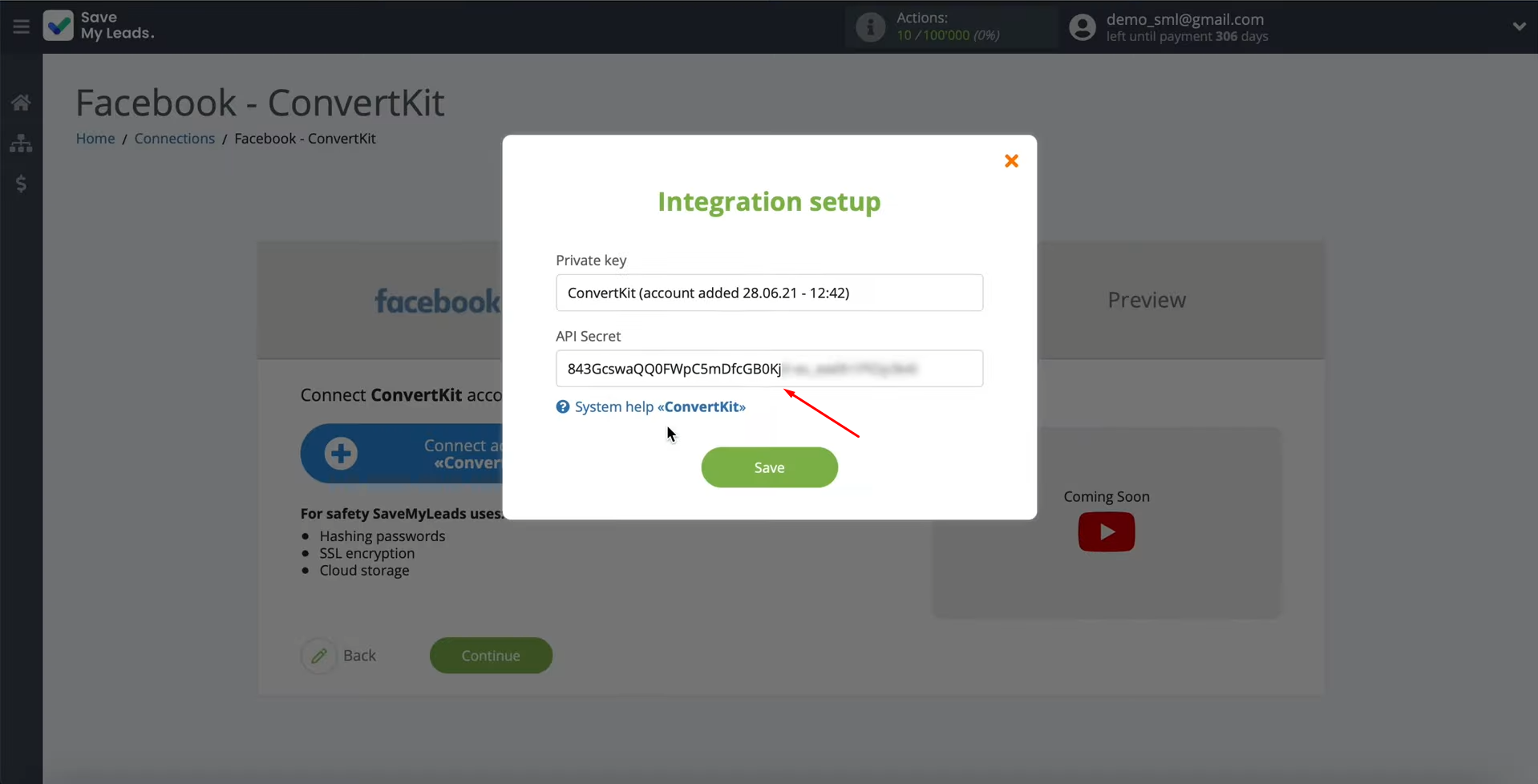 When the connected account is displayed in the list, select it.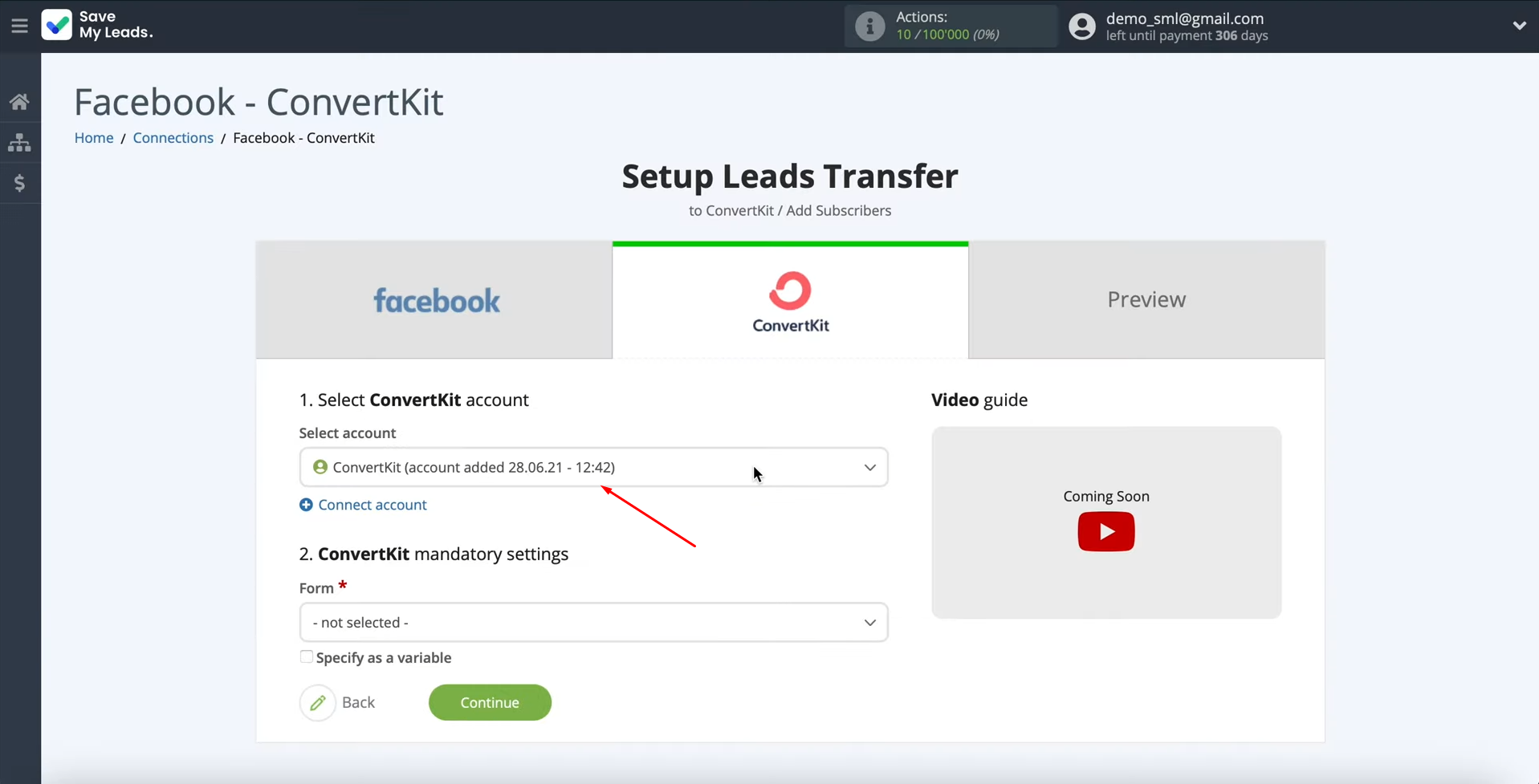 Now we need to select the form to which new subscribers will be added.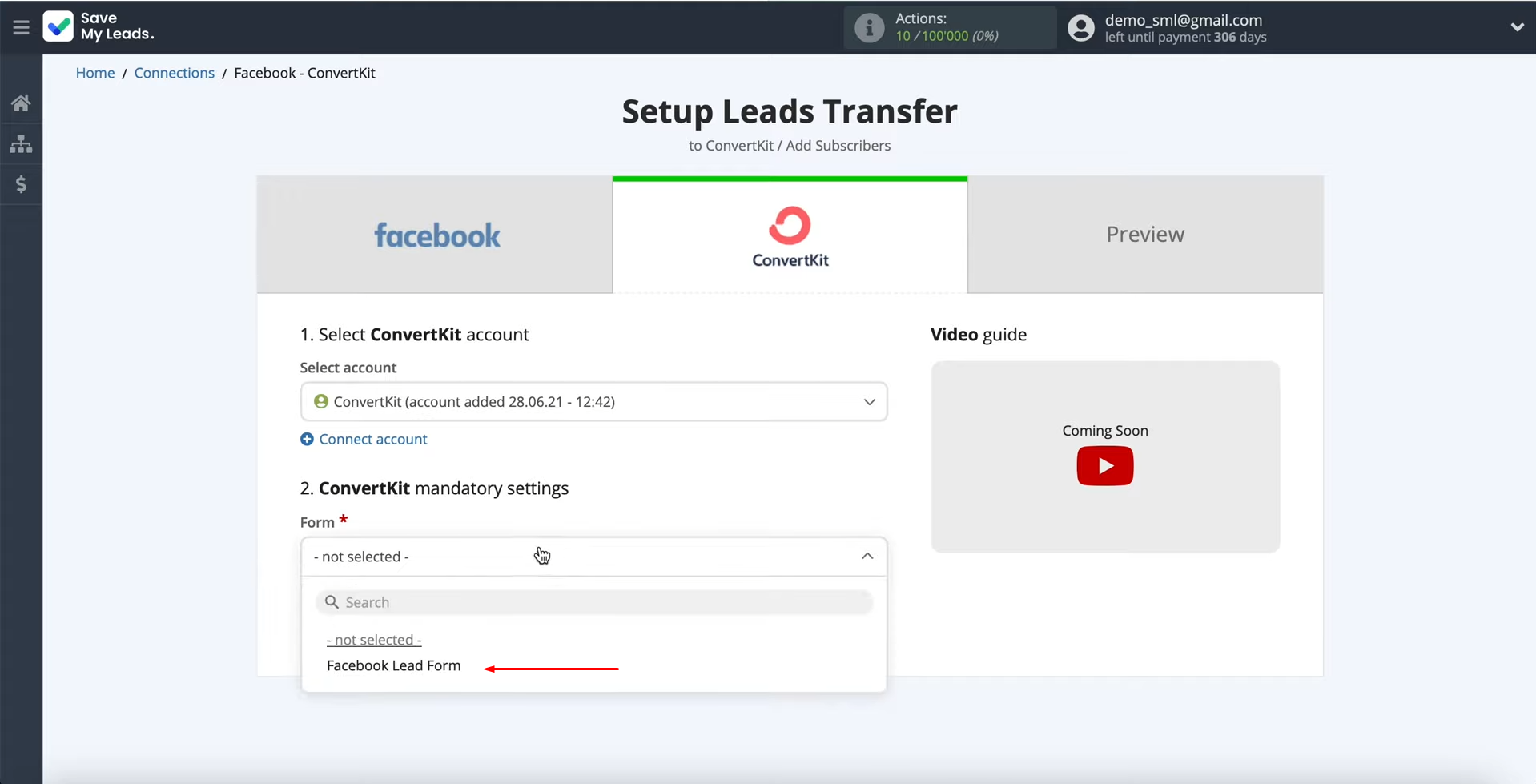 Now you see the subscriber fields that you need to fill out.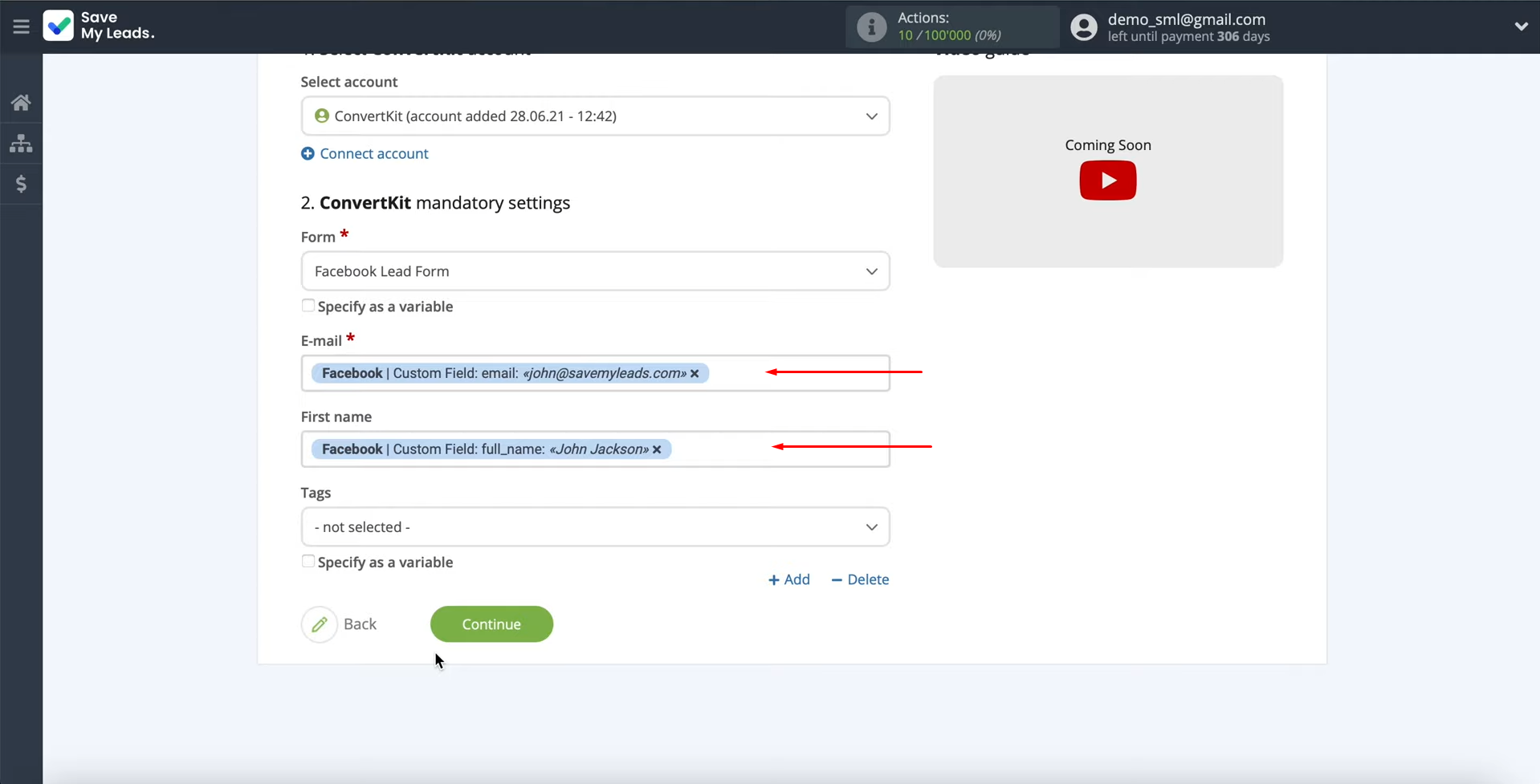 You can assign variables from Facebook to them. To achieve this, click in the field and select a variable from the drop-down list.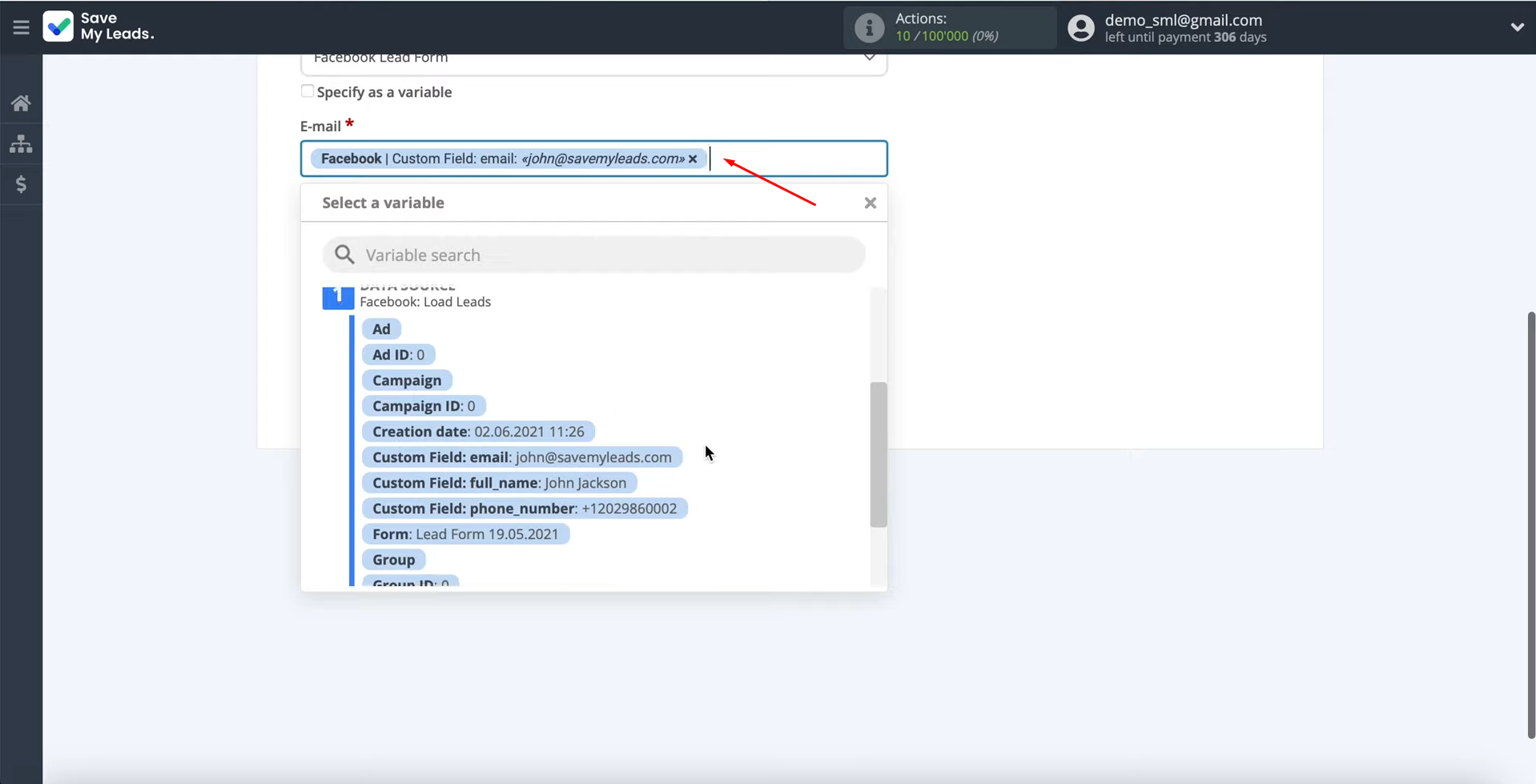 If you are satisfied with the presetting of the fields, you can leave them unchanged, then click "Continue".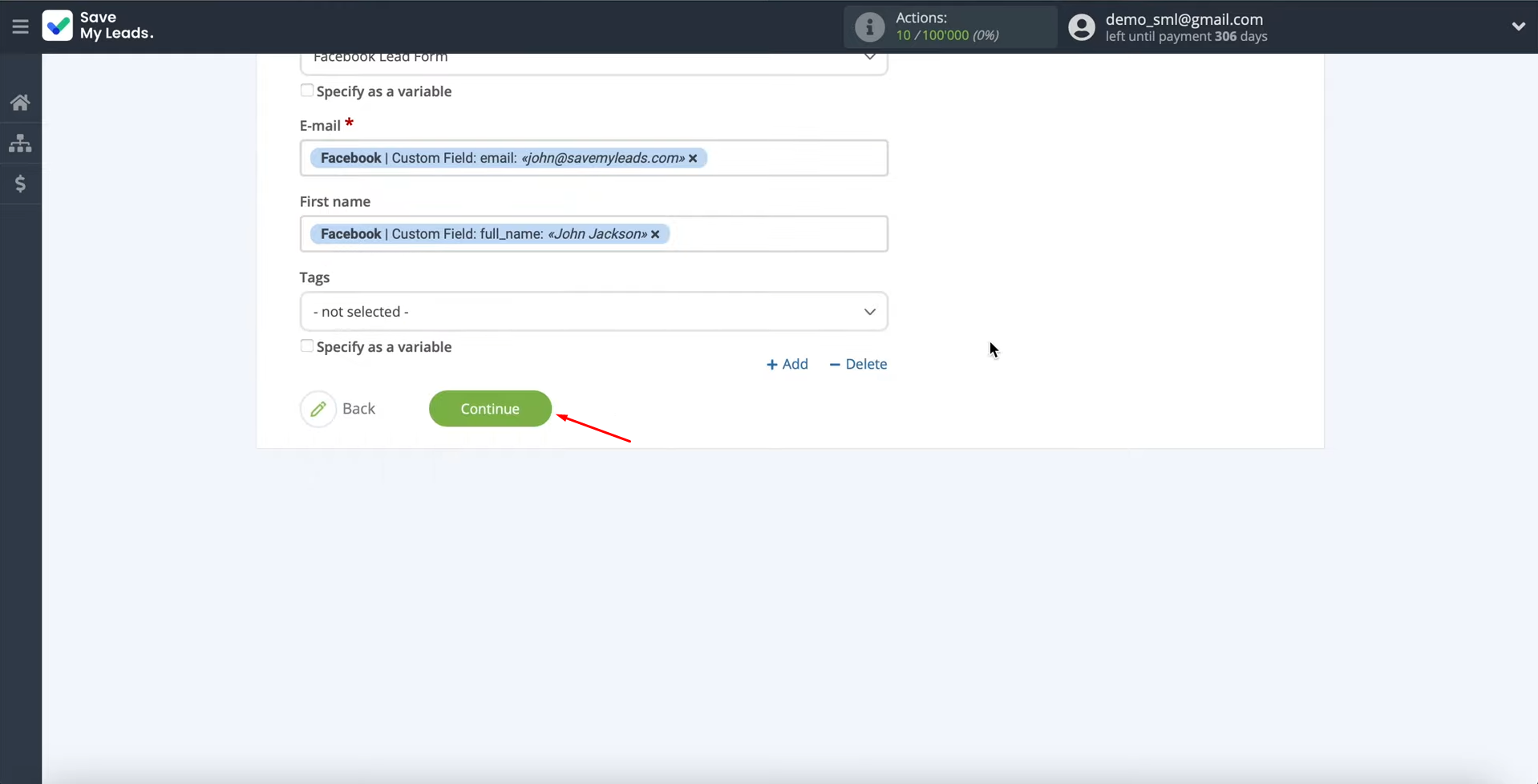 At this stage, you can see the pre-configuration of the fields for creating new subscribers in the ConvertKit service. To check the correctness of the settings, click "Send test data to ConvertKit".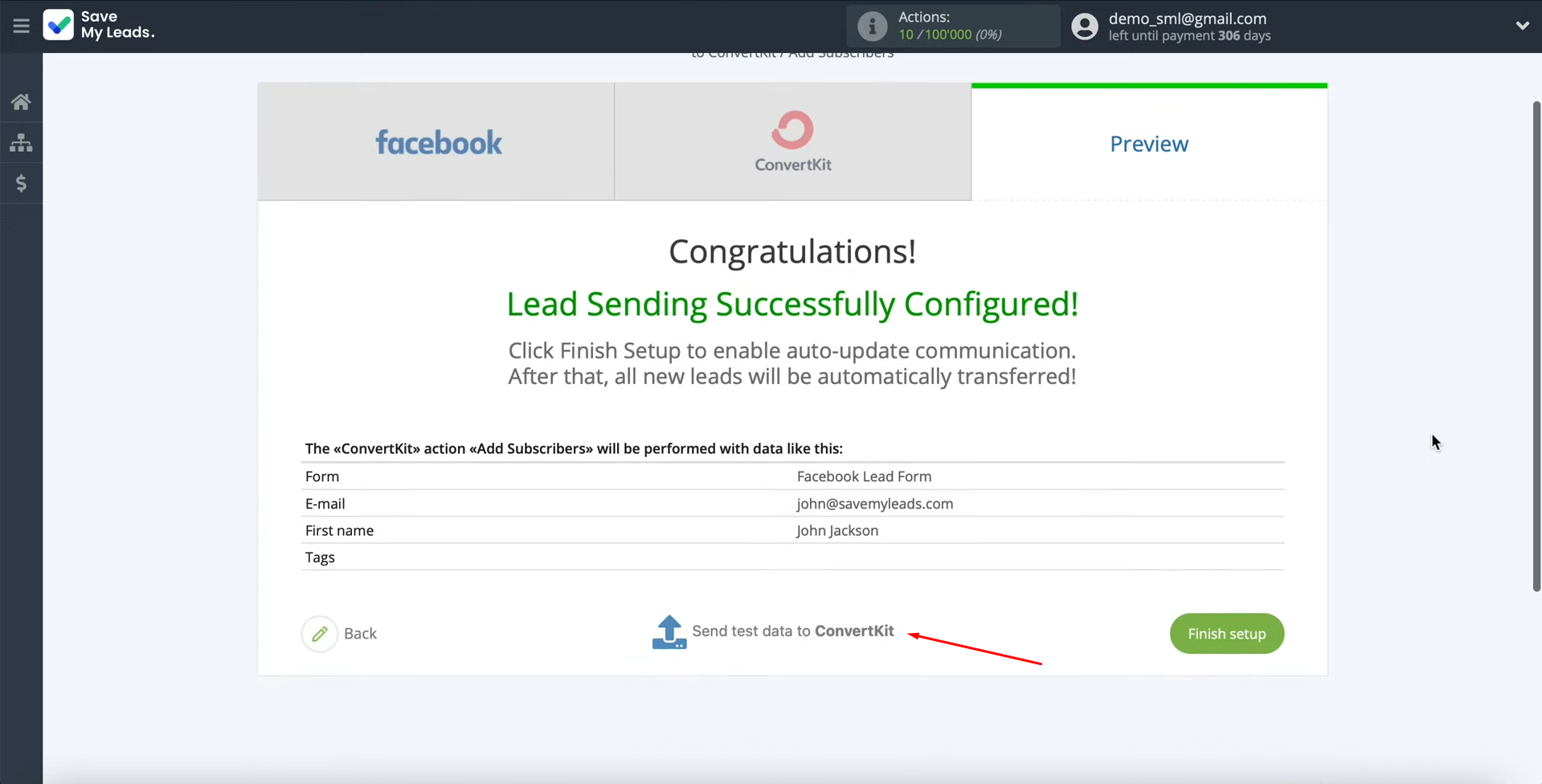 After a successful submission, go to ConvertKit and check the result. If everything suits you, return to the SaveMyLeads service and complete the setup.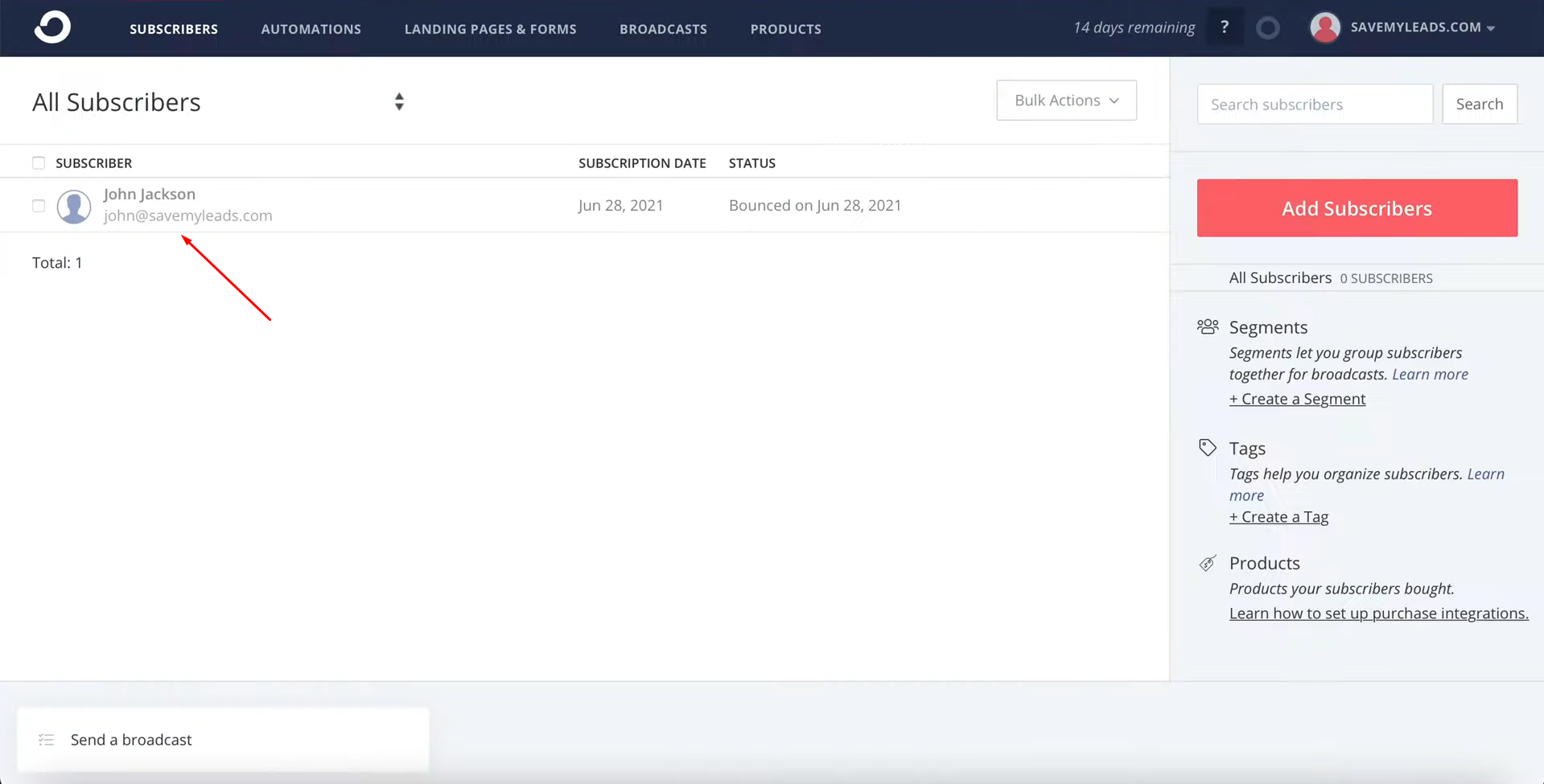 Setting up Auto-update
To instantly add new subscribers to the СonvertKit service based on new leads from Facebook, you need to enable auto-update. For this, click "Finish setup".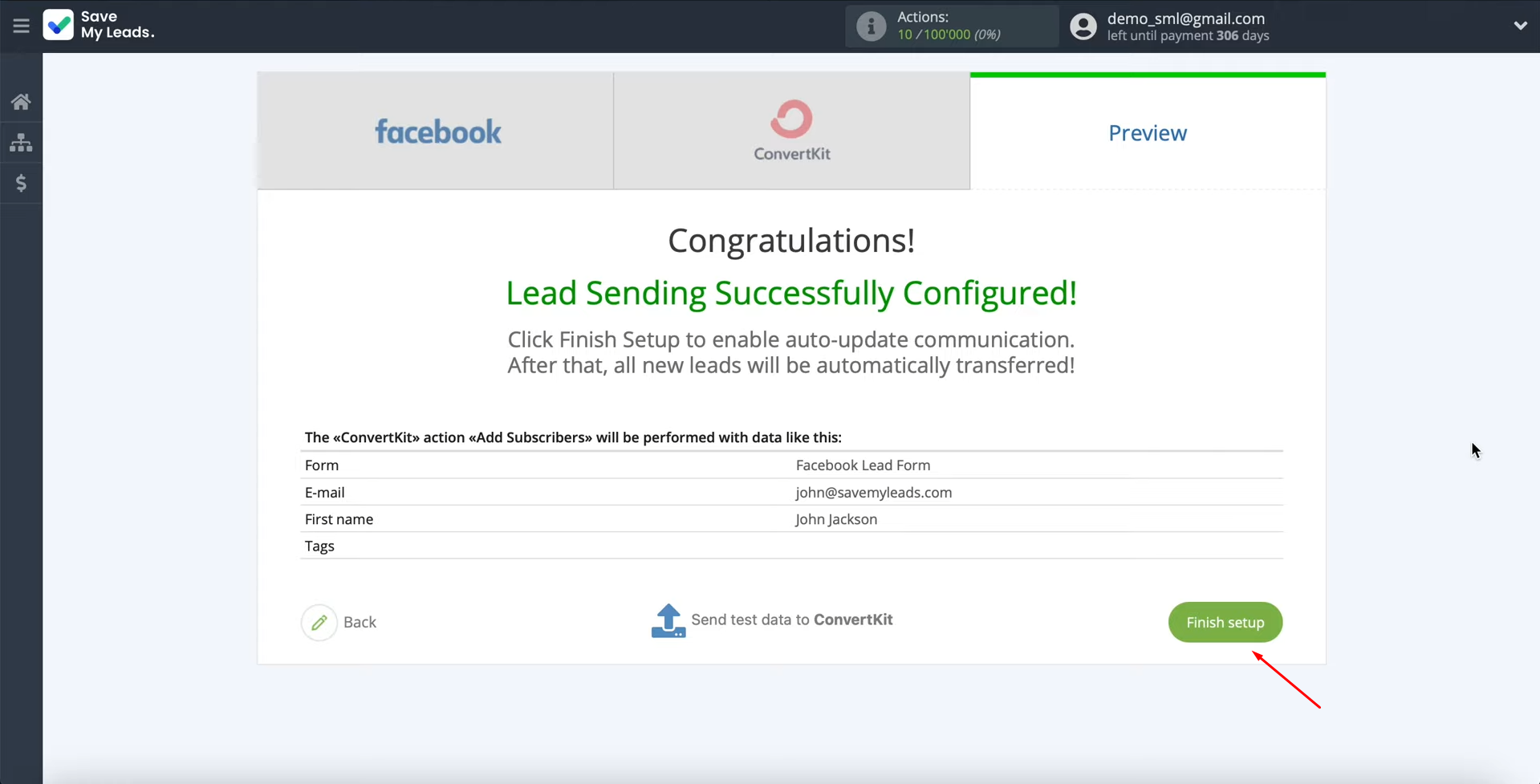 If necessary, you can change the name of the connection. For this, go to settings.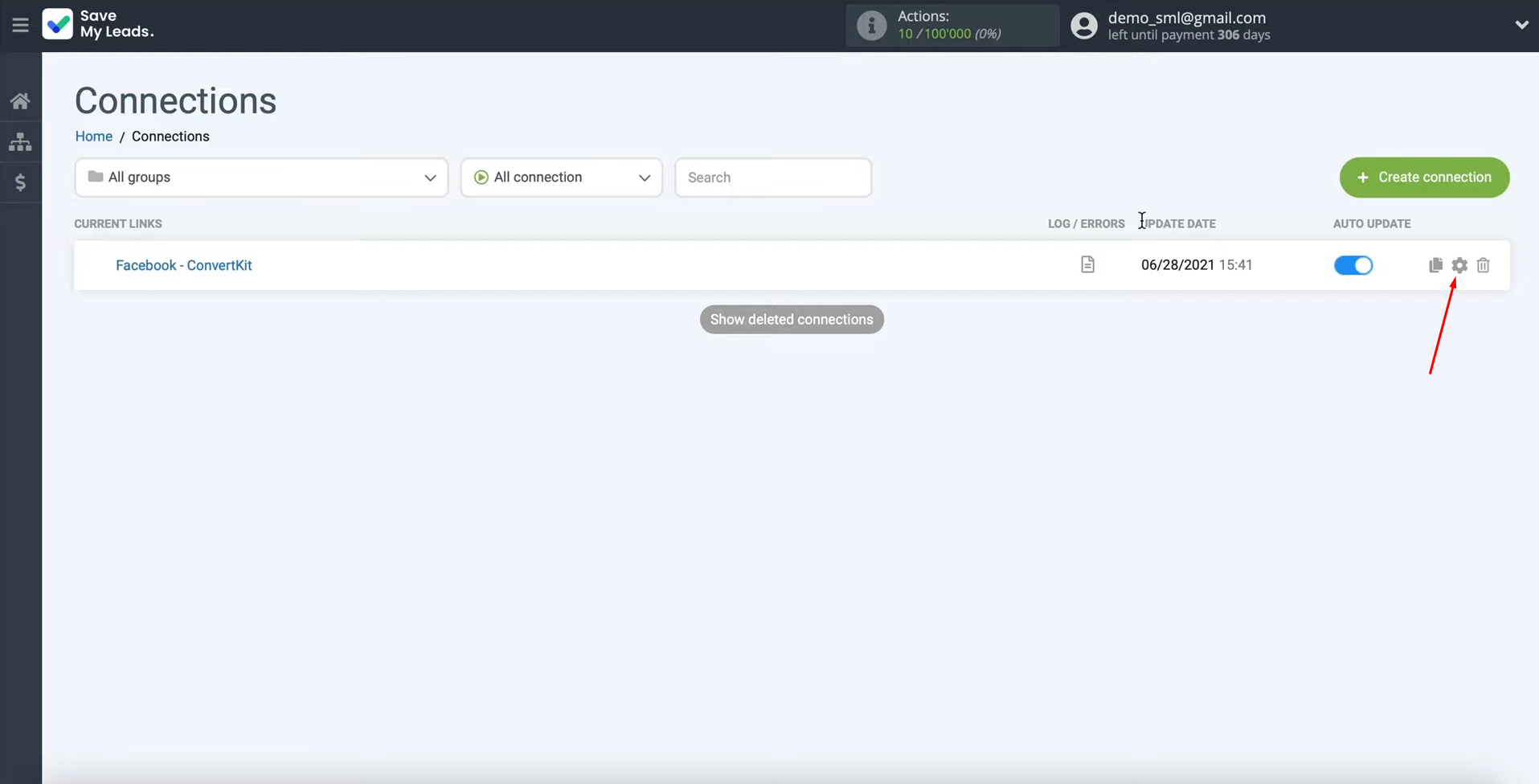 Correct the name of the connection or write a new name. After changing, click "Save".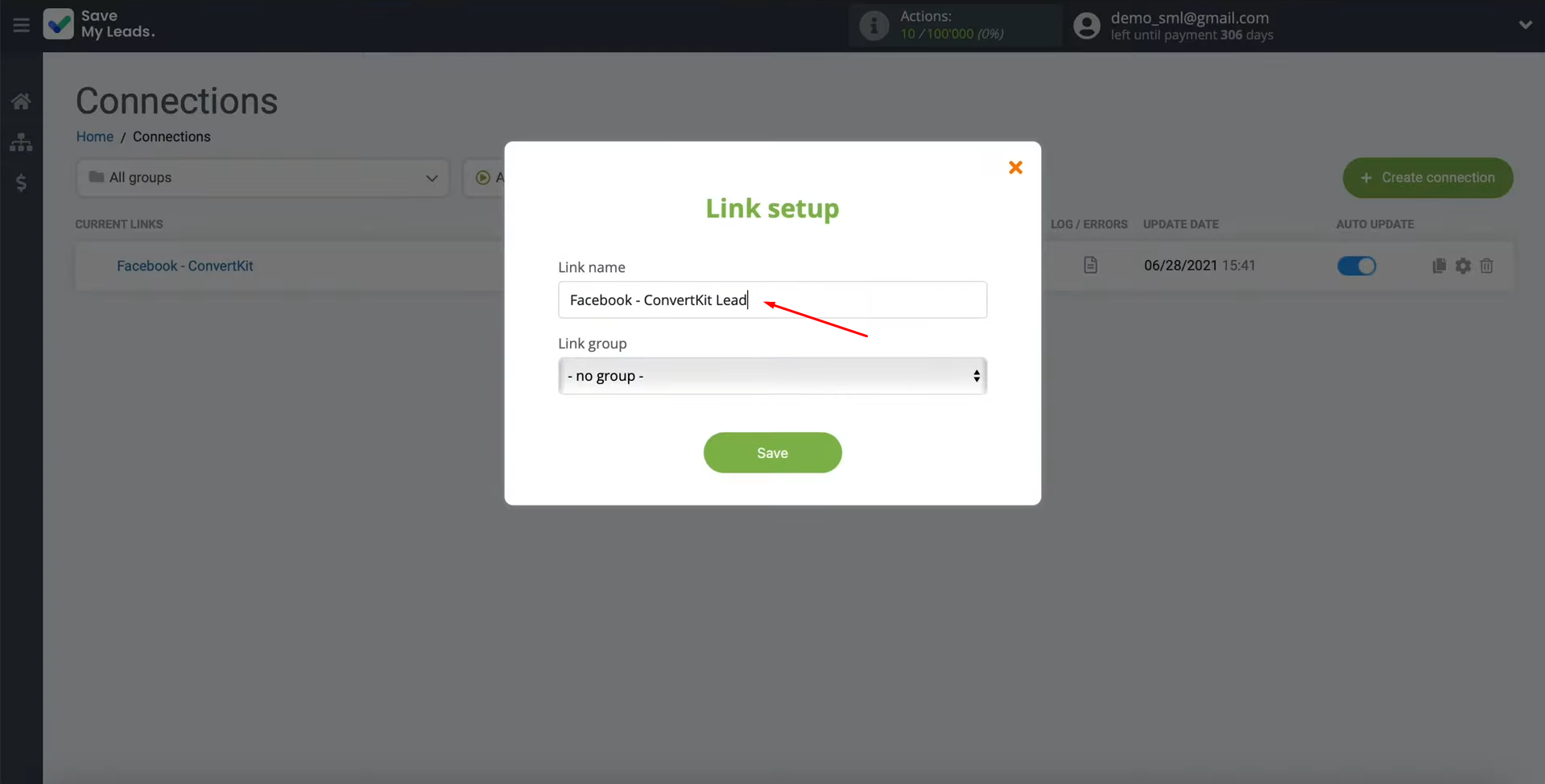 That's all. Facebook Lead Ads and ConvertKit integration is finished.
The Results of ConvertKit and Facebook Integration
So, you have successfully set up the Facebook-Leads und ConvertKit integration, spending only about 10 minutes on it. As a result, leads are automatically uploaded from Facebook to ConvertKit without your participation. By linking Facebook and ConvertKit with the SaveMyLeads online connector, you'll no longer be manually transferring lead contacts from one system to another. Thus, you will free up time that you can use to solve other tasks and increase your productivity.
***
SaveMyLeads is a simple and effective service that will help you automate routine tasks and optimize business processes. Stop wasting time uploading leads from Facebook manually – you can do it automatically, saving a lot of time and money. Eliminate routine from workflows and achieve more with minimal investment of money, effort and human resources.